Discussions & Student Discussion Task
Messages have transformed into Discussions, providing threaded conversations all on the one page, expandable replies for space efficiency, reactions and E-mail notifications to engage your users. This release includes:
The ability to customise the "Discussion" label via your School Terminology Settings
The ability to pin "Discussions" to keep them at the top of the list
A condensed layout to allow reading of a full thread on one page
Specific sections for Key Discussions (from Year Groups, Classes & Activity Groups) and Calendar Discussions (from Events, Deadlines and Tasks)
A new assessment type, the "Student Discussion Task"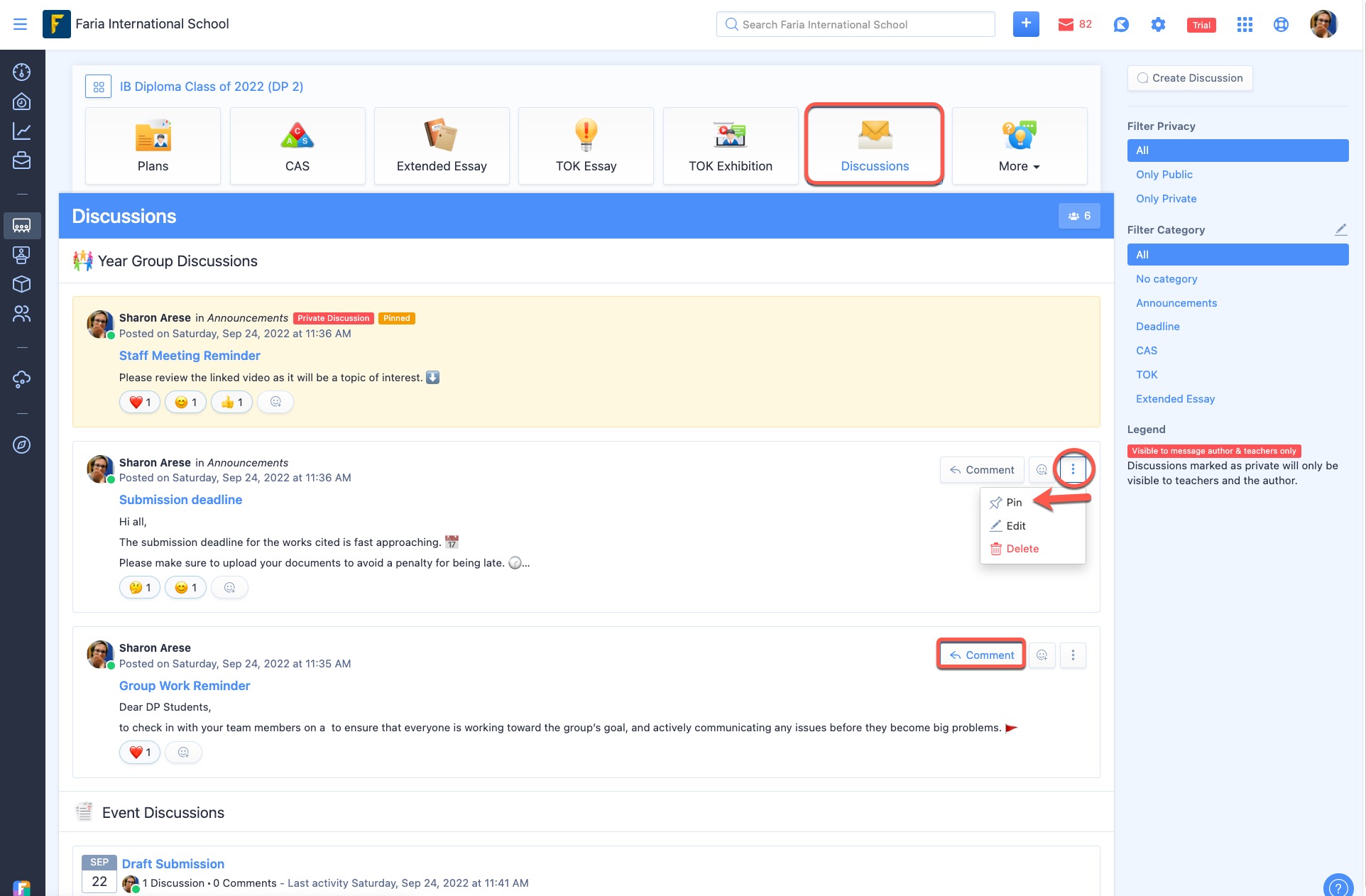 The new Student Discussion Task requires students to make comments or replies in an auto-generated Discussion thread. Once a student completes the required number of posts their binary grade is set to complete in the GradeBook.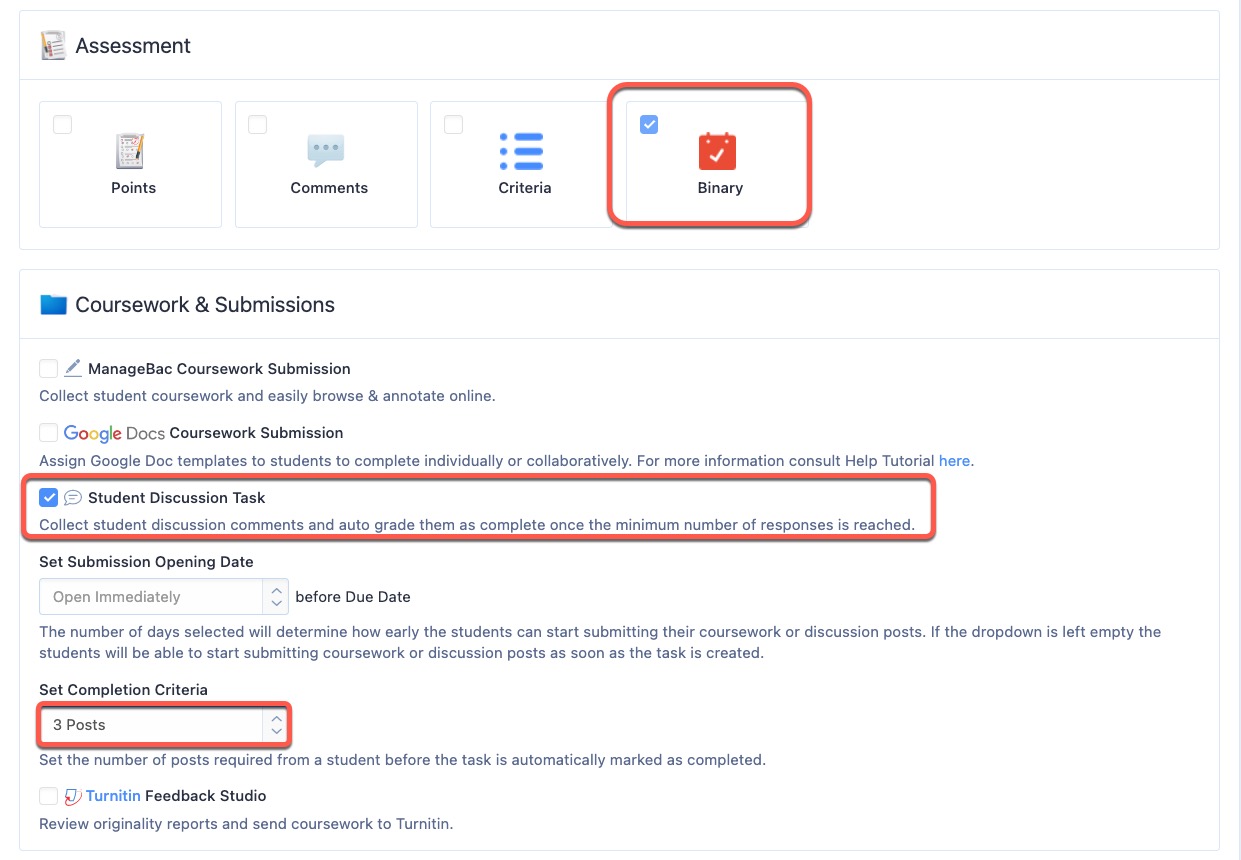 May 2023 TOK Prescribed Titles Updated
September 21, 2022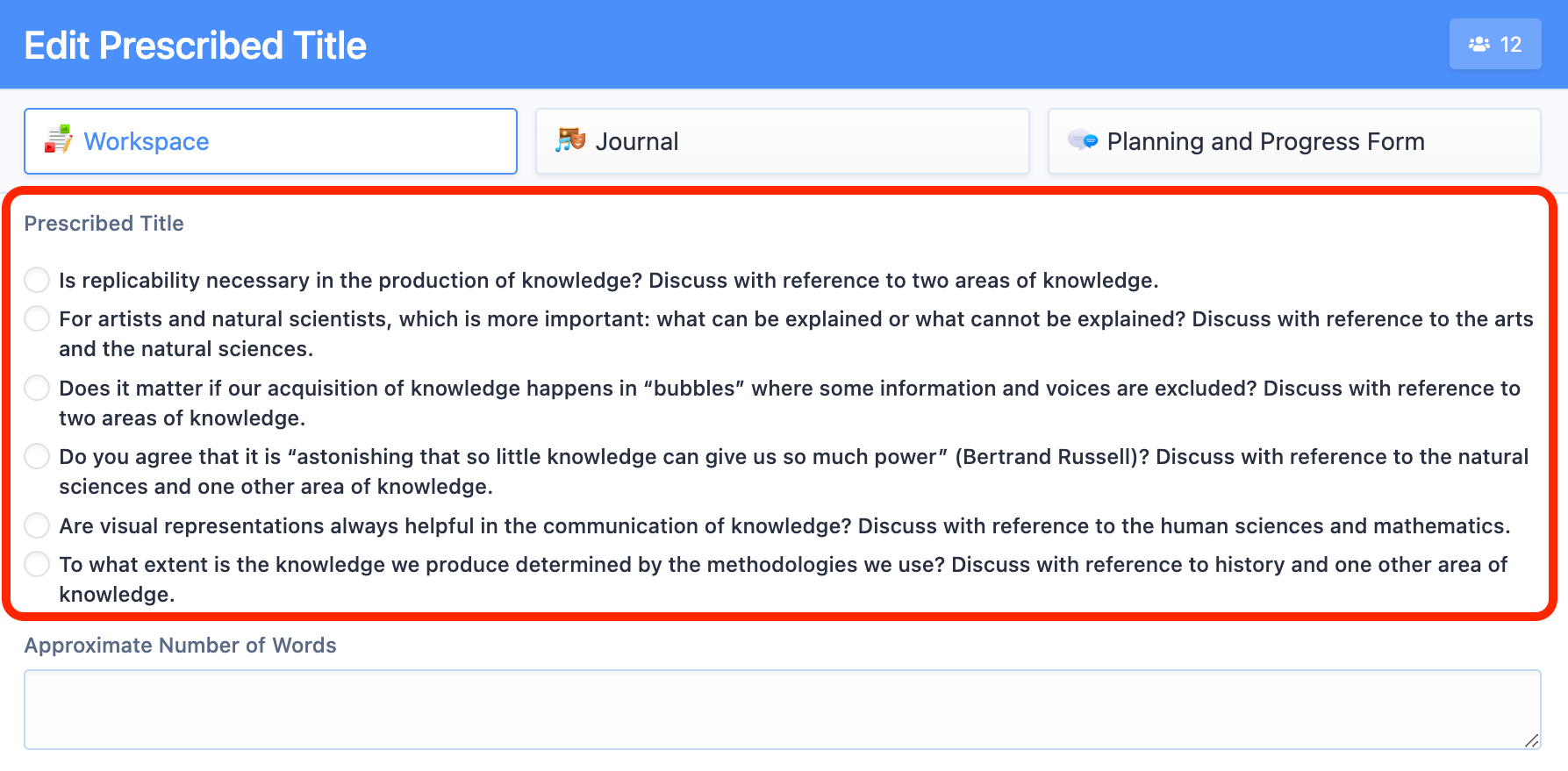 The TOK Essay prescribed titles were updated for all TOK Essay project-based learning templates that were imported from our template library. Students in November session schools will now see the updated May 2023 titles when editing their TOK Essay Proposals. These were updated in English and Spanish.
Schools who previously edited their TOK prescribed titles via Settings > IB Diploma > Project-based Learning > TOK Essay template > Framework > Proposal, will not have received this update to not overwrite the custom data entered.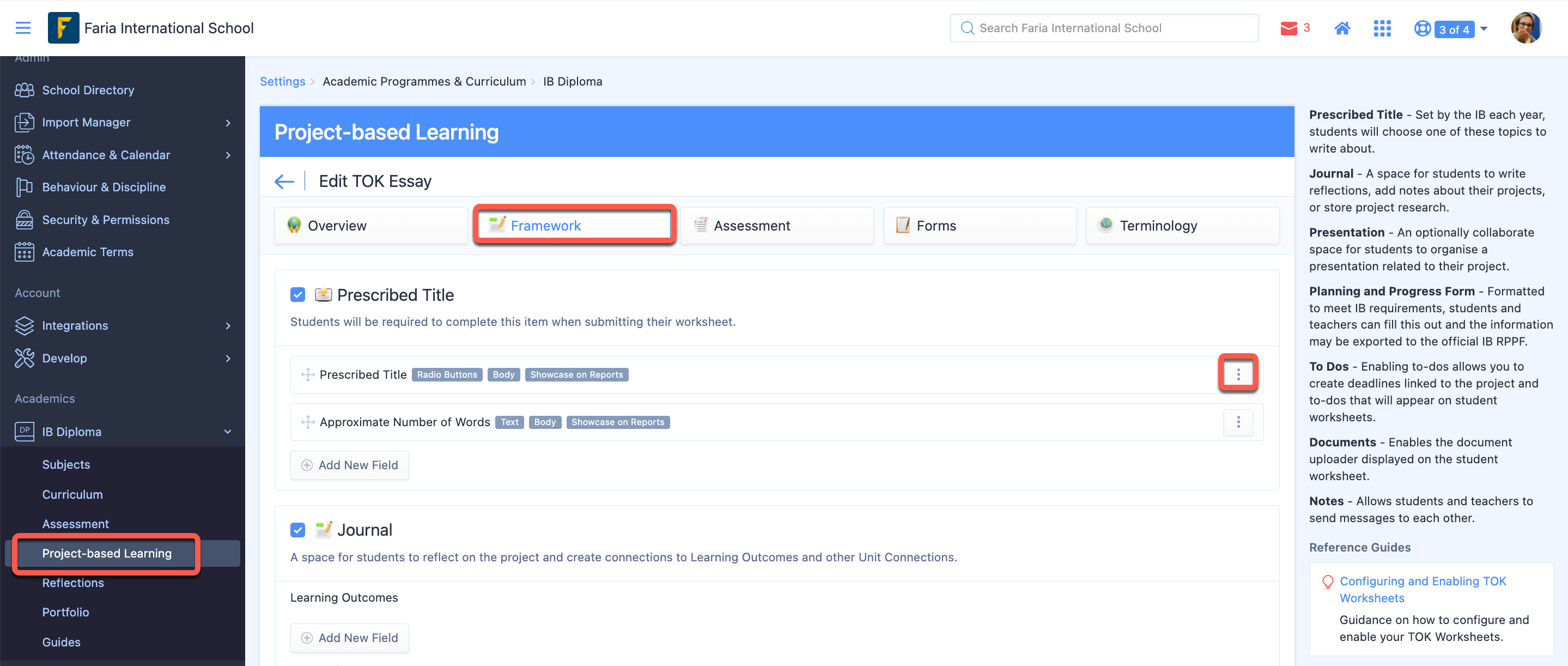 Prescribed titles can be edited via the Framework page of the TOK Essay template in Settings and by selecting the 3 dot button. Please see Configuring & Enabling Theory of Knowledge (TOK) Worksheets for further information on how to customise project templates.
Updated Format Options for Rich Text Editor
July 27, 2022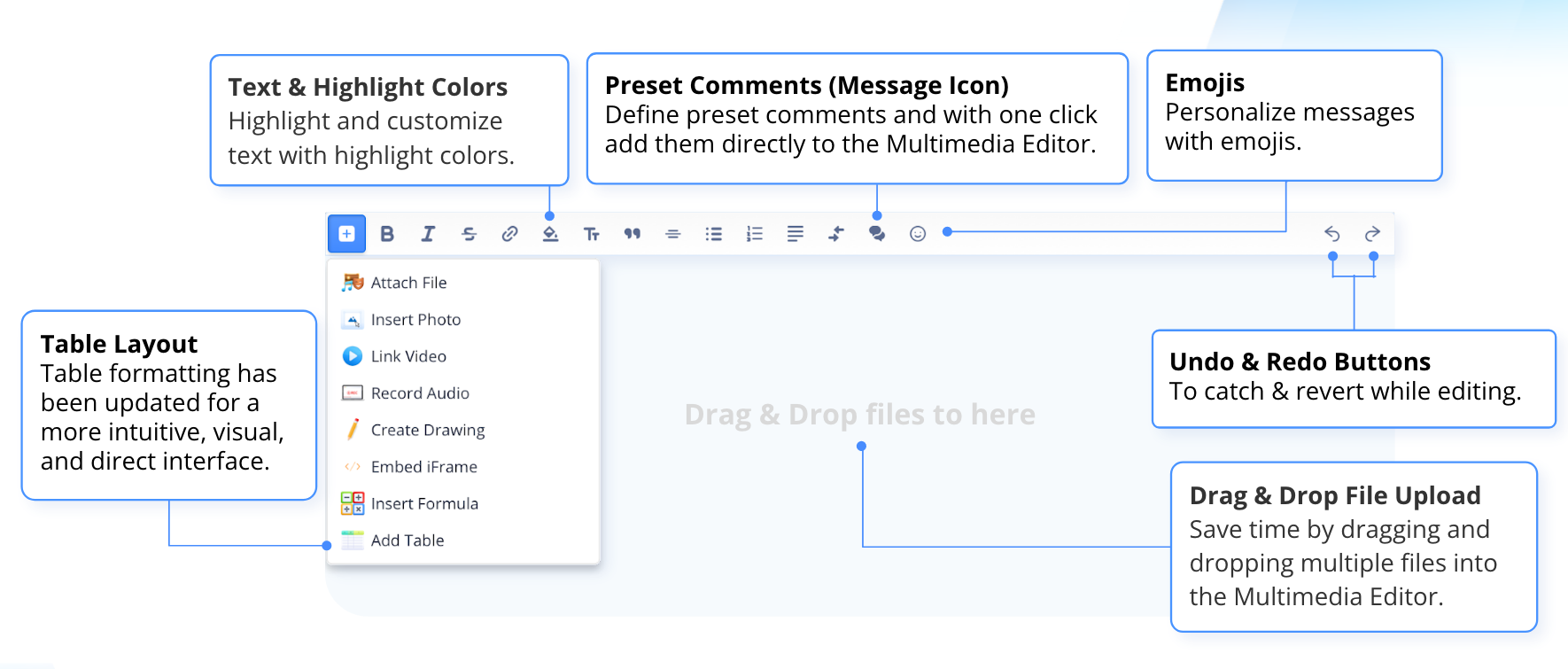 Some of the updated options for rich text editor boxes are available right away and others will follow in the next few weeks.
For this update we focus on simplifying the rich text editor interface as well as expanding certain formatting options. In detail, we did the following:
All supported resources can now be added through the new

button. This button helps organize and declutter the text box options bar.
The general layout of the RTE was improved for quick access to all important text formatting options.
Drag and Drop functionality supports multiple files dropped into the text editor at once.
Formatting from Google Docs or Sheets is preserved after pasting content into the text box.
Table formatting was updated for a more intuitive, visual, and direct interface.
Task Gradebook updates
July 19, 2022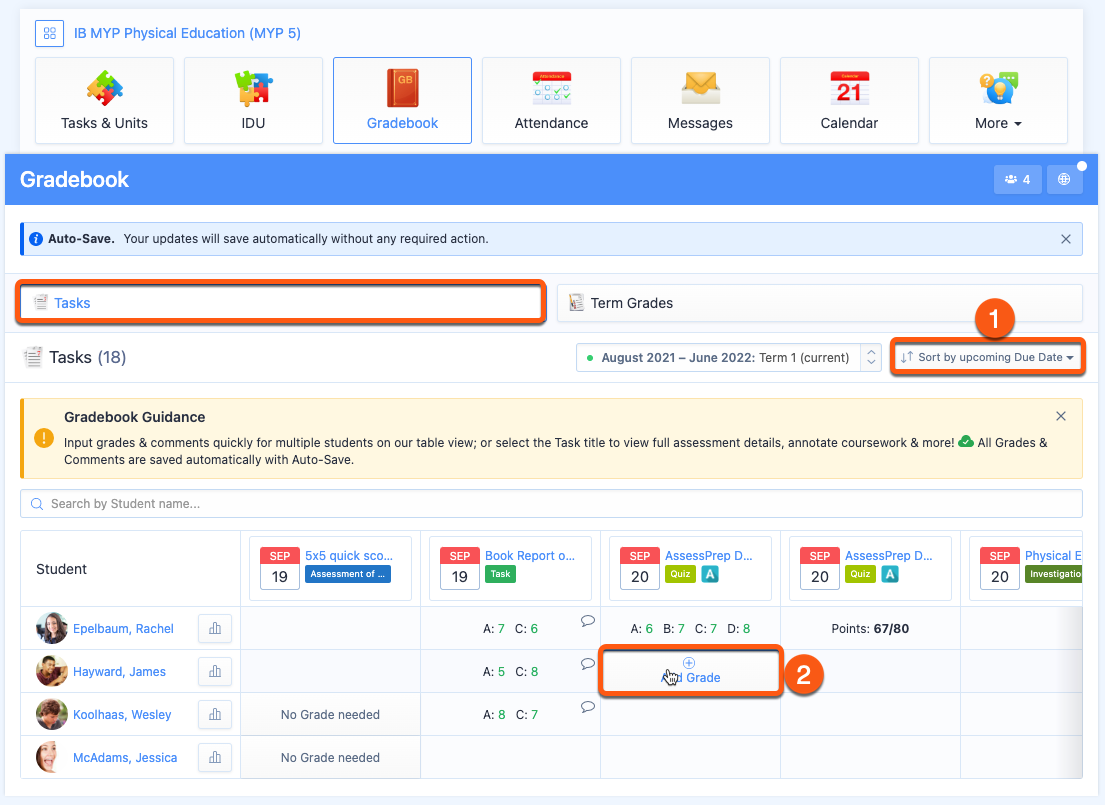 The Tasks section of Gradebooks have been updated to include 1) sorting options for the Tasks within the selected term and 2) provide the ability for teachers to enter Task marks and scores directly from the Task roster without needing to open the Task itself.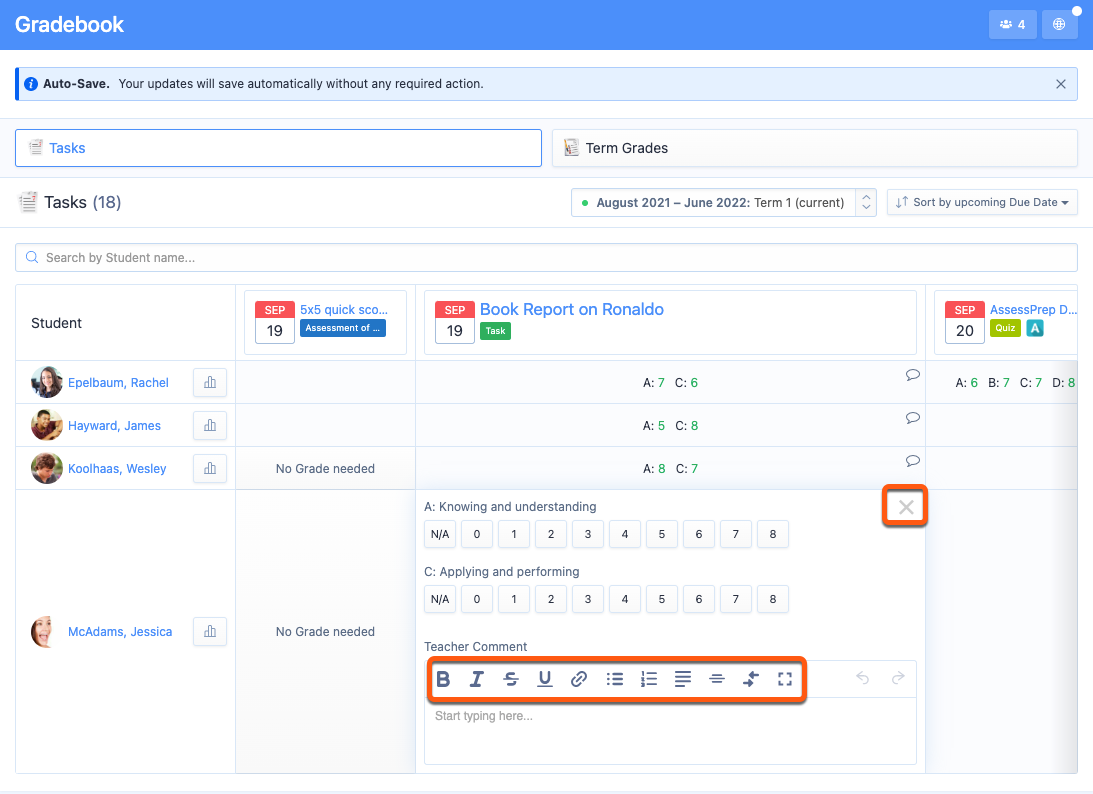 The pop-out for grades entry can be closed with the X icon or by clicking into another cell of the gradebook roster. If comments are included as assessment model of the Task, the rich text editor options will be available as well.
Custom Event Category colours are available
July 12, 2022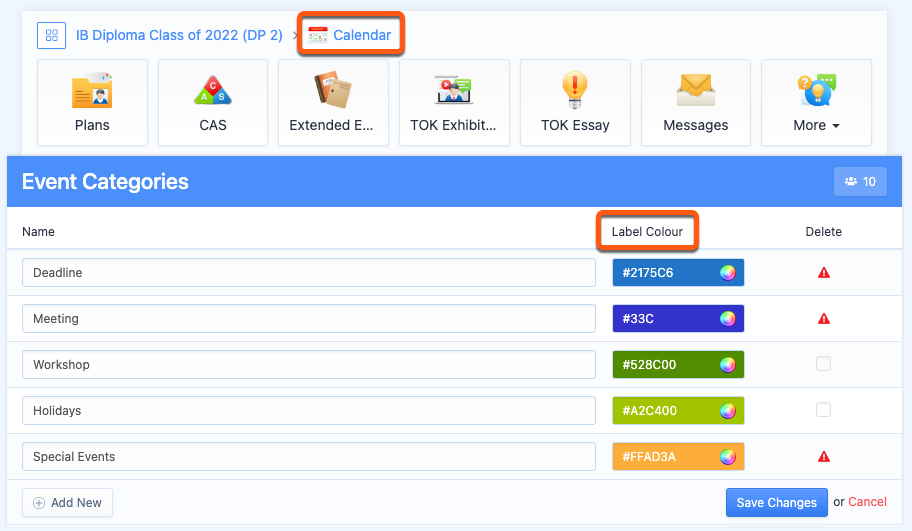 Event Categories in Calendars can now have differentiated colours. Not all Events will need to appear in the same colour any longer.
Behaviour & Discipline Module updates
July 11, 2022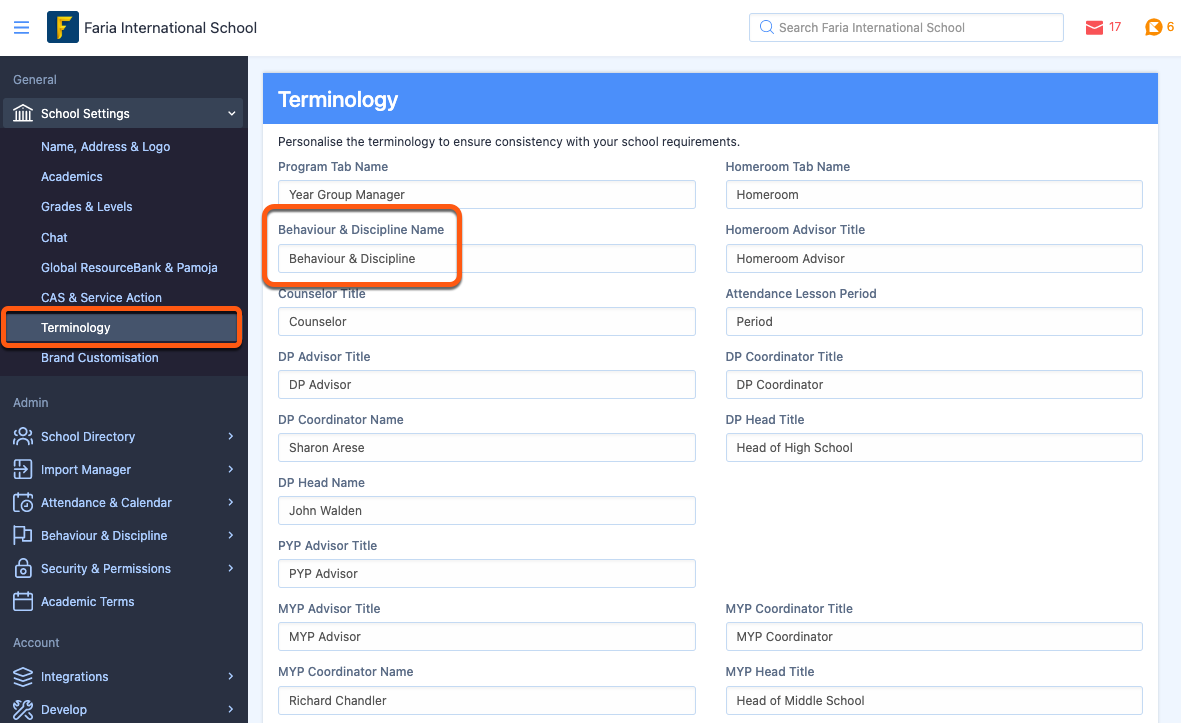 Schools with Behaviour & Discipline module enabled can now relabel this in the Settings > School Settings > Terminology page. That will then change the tab name in student Profiles accordingly.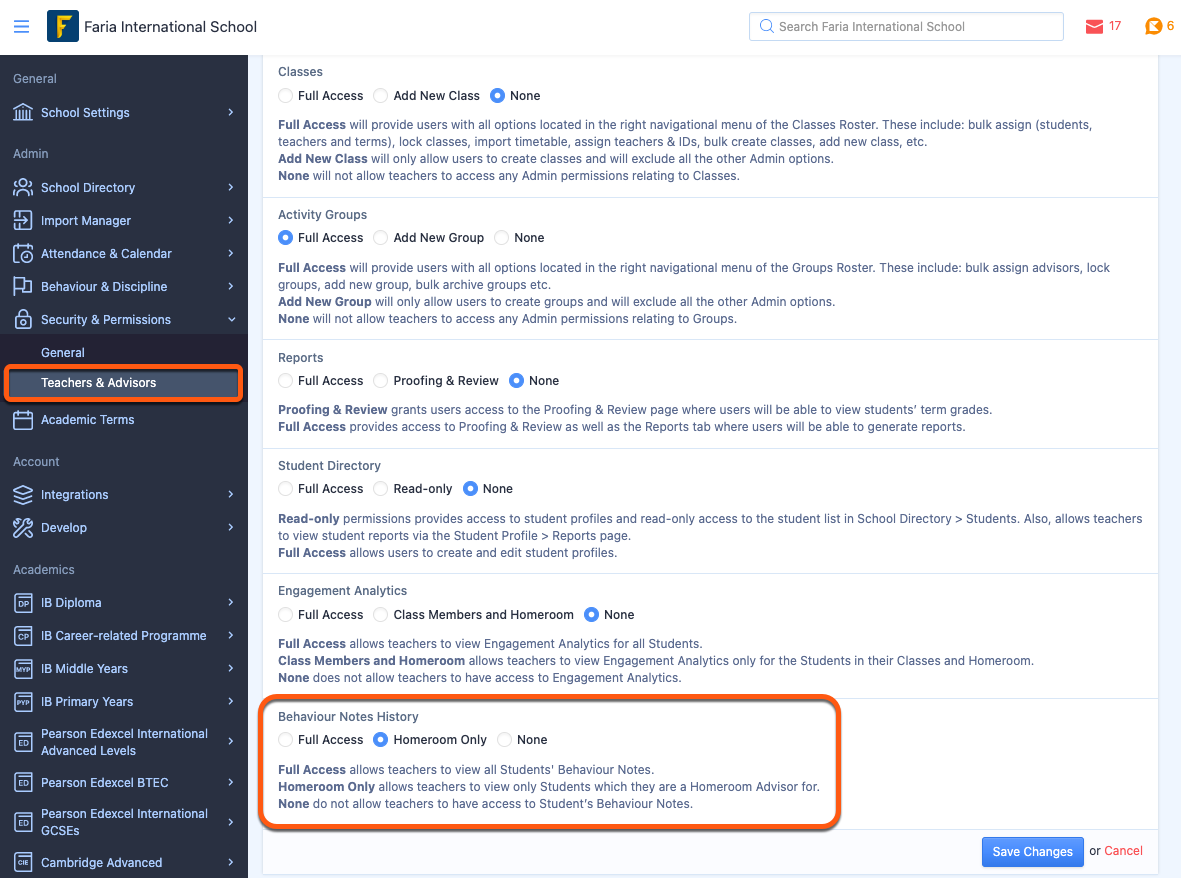 Teachers can now also be granted access to the Behaviour Notes History pages via Settings > Security & Permissions > Teachers & Advisors pages. This can be set for all teachers in general, or per individual teacher.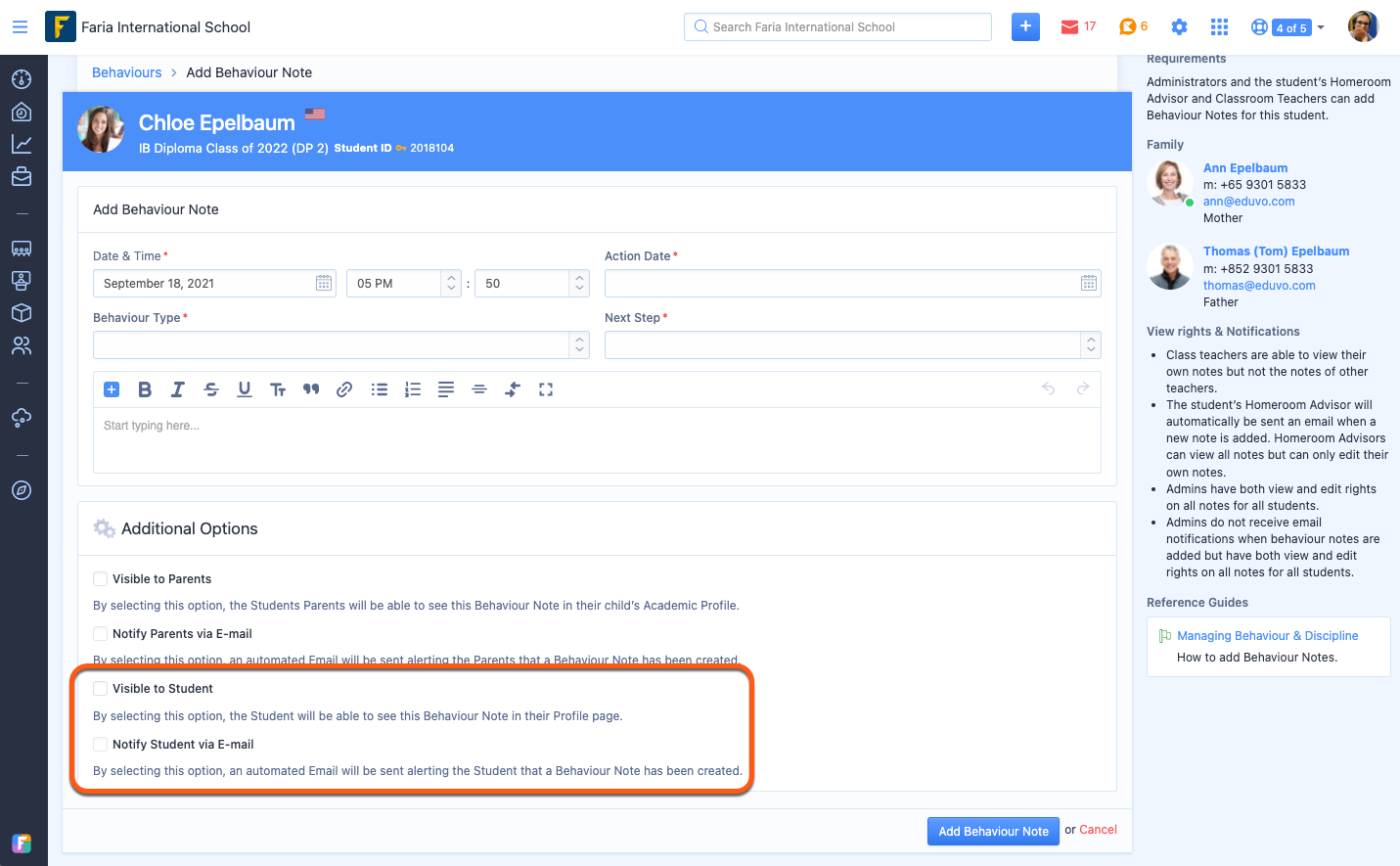 Furthermore, it is now also possible to make Behaviour Notes visible to students per each individual note. Only notes that are marked as visible to students via the tick box can also be sent to students as email notification.
Chat with 1:1 Direct Messaging functions
July 4, 2022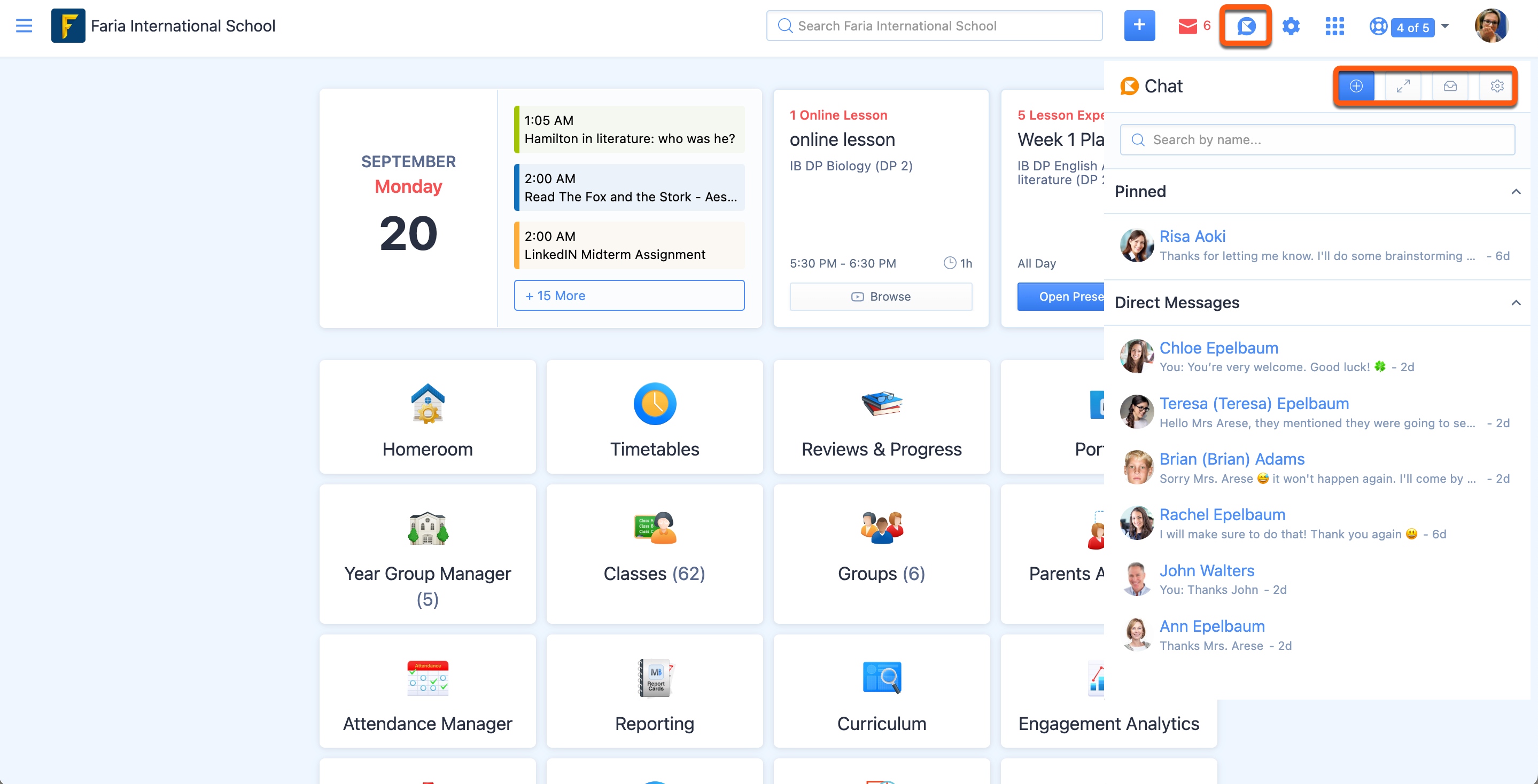 Schools now have the ability to enable one to one Direct Messaging in ManageBac for their schools. As administrator, look for the Chat icon at the top right of any ManageBac page to learn more or review our Chat: 1-1 Direct Messaging article for additional details. This is the first phase of the Chat features with more to follow soon.
IB DP TOK, EE and IB CP RP Classes grade scales update
June 23, 2022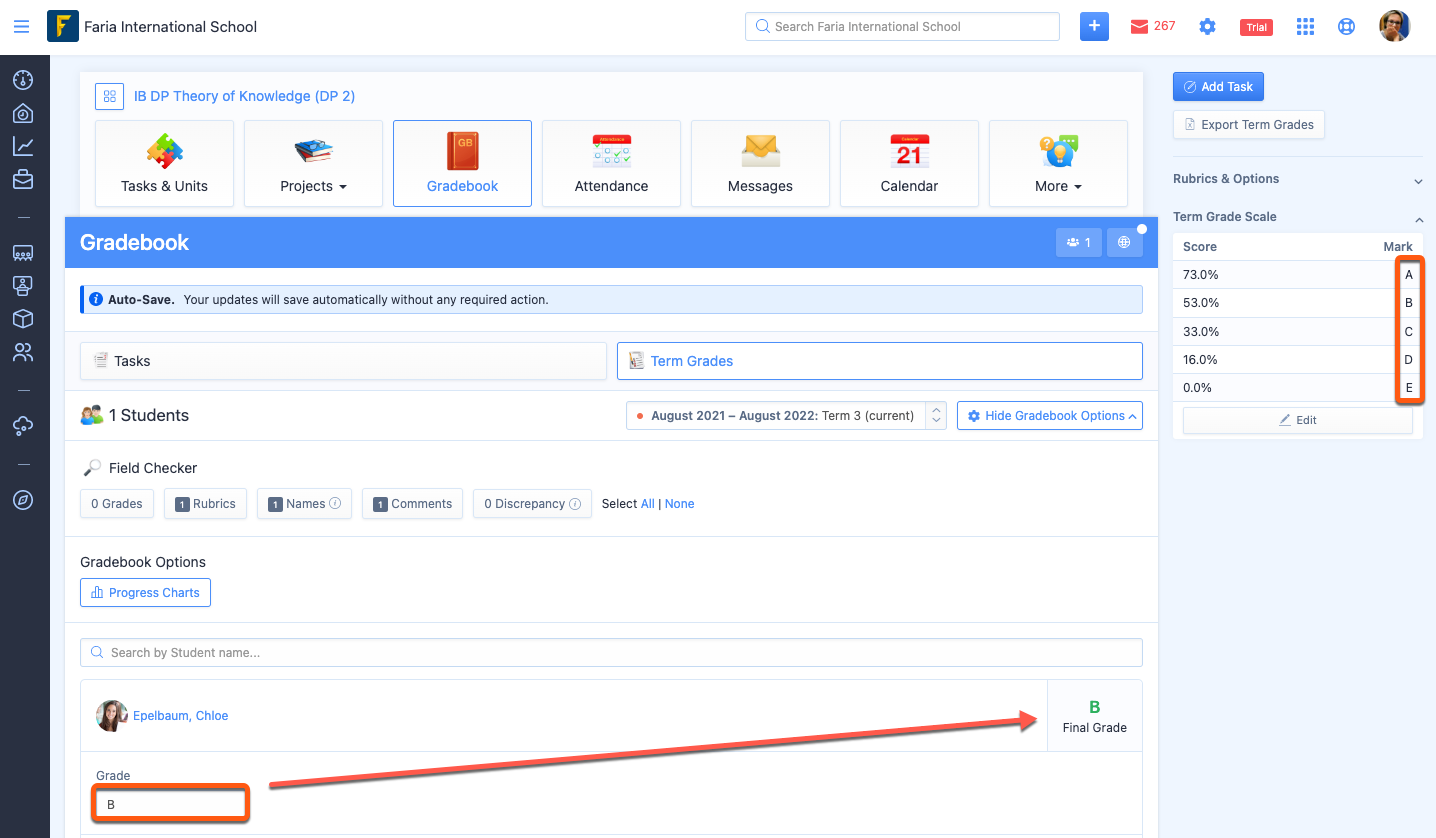 Classes linked to IB DP Theory of Knowledge, Extended Essay or IB CP Reflective Project subjects will now display the Term Grades grade scale using A-E letters instead of 1-7 marks. This applies to all future classes created in these subjects or existing classes without edited grade scales. Review our help article on Configuring Gradebook Calculation Options for further information on editing grade scales per class if further changes are needed.
IB DP Plans views for Teachers
June 7, 2022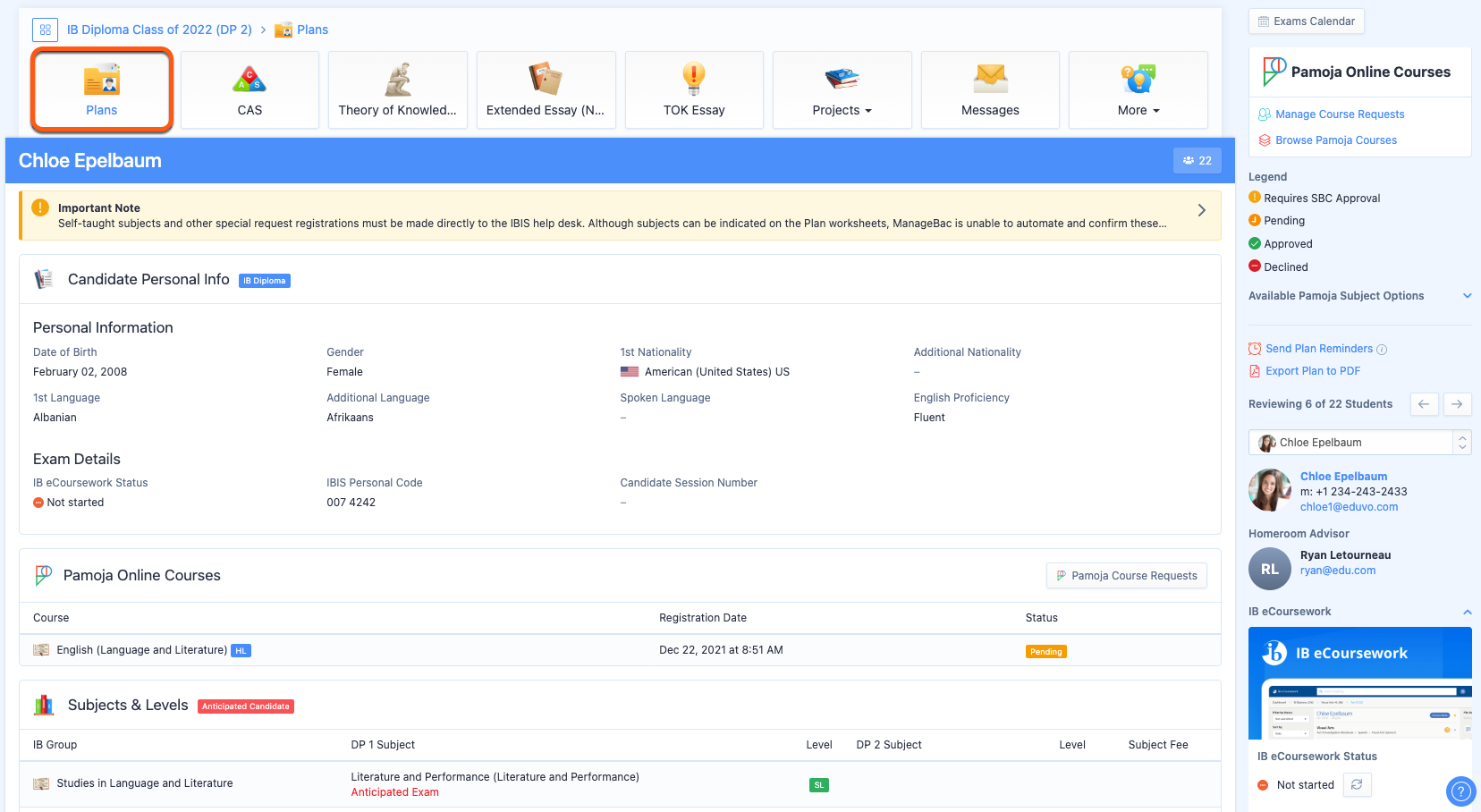 Teachers have now the ability to view IB DP Plans for students. They are able review the information but not edit for those students they are not assigned to as Homeroom Advisors. Full editing permissions are admin privileges. Teachers with Full Access Permissions to the Student Directory are also able to update Candidate Personal Information in Plans. Assigned Homeroom Advisors can also change student Subject and Levels on the Plans worksheet. See our IBIS Exam Registration Quickstart Guide for additional information.
Task Gradebook interface updates
May 6, 2022

Task page of the Gradebook can now be sorted in ascending, descending or upcoming due dates for Tasks.
Task views of a given Task with the Gradebook allows for additional information like Task Description and linked Unit. All Tasks have the ability to use Gradebook Field Checker options, with field checkers for the enabled Assessment models per Task. The Progress Bar Graphs and Annotation icons have also been updated.
Please see our tutorial on Adding & Managing Tasks for additional information.
MYP Binary Assessment Updated
April 19, 2022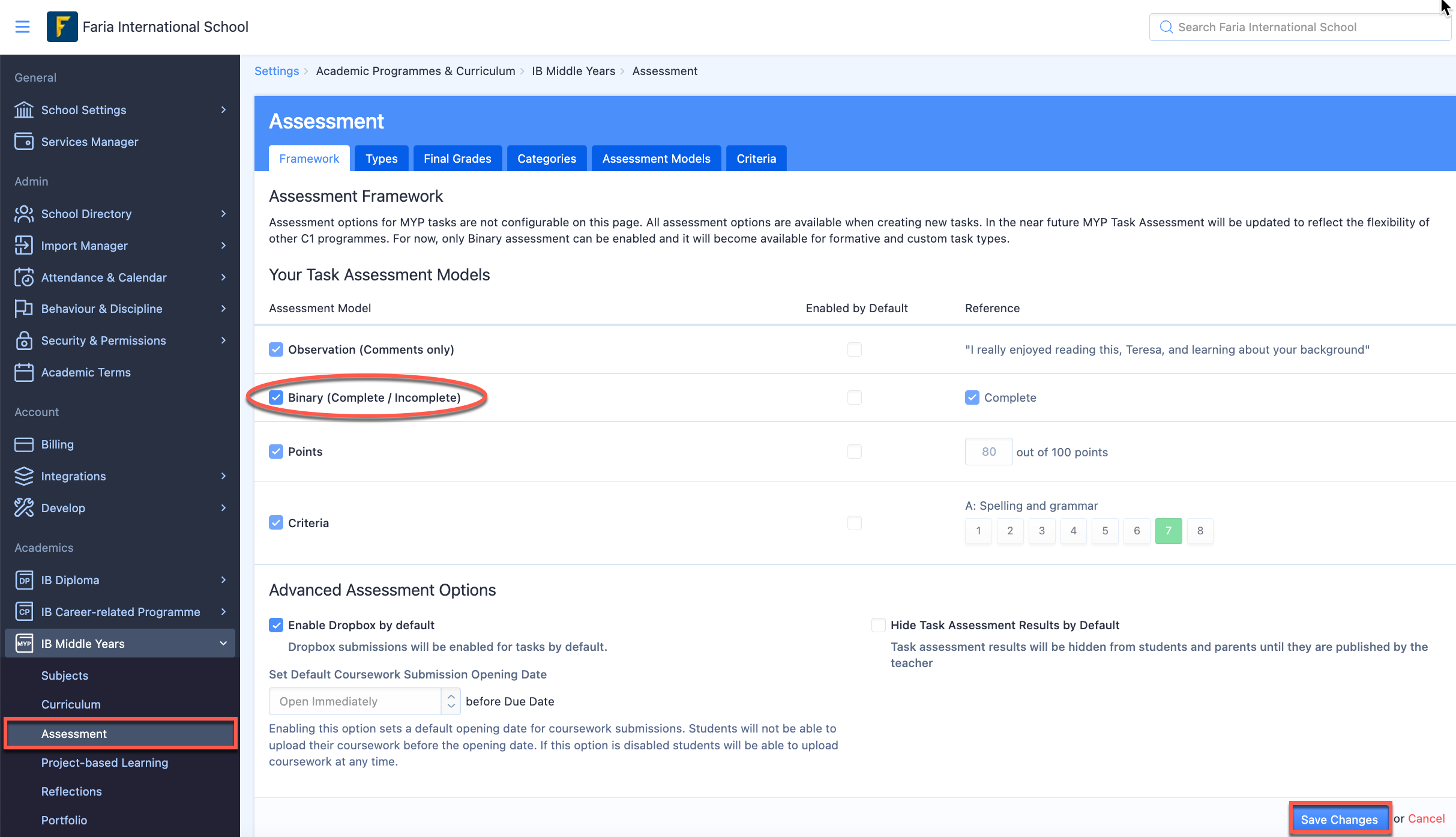 In the IB Middle Years, we have now added the assessment option of "Binary (Complete/Incomplete)" for MYP courses. Binary – Permits marking a task as either Complete or Incomplete, Achieved / Not achieved, Pass/Fail etc.

Any admin or Teacher (with permissions) can enable Binary assessment via Settings > IB Middle Years > Assessment > Framework > Check "Binary". Ticking Enabled by Default will mean when your teachers add a new task, this option is enabled, however, they can still disable it if needed.
November 2022 TOK Prescribed Titles Updated
April 13, 2022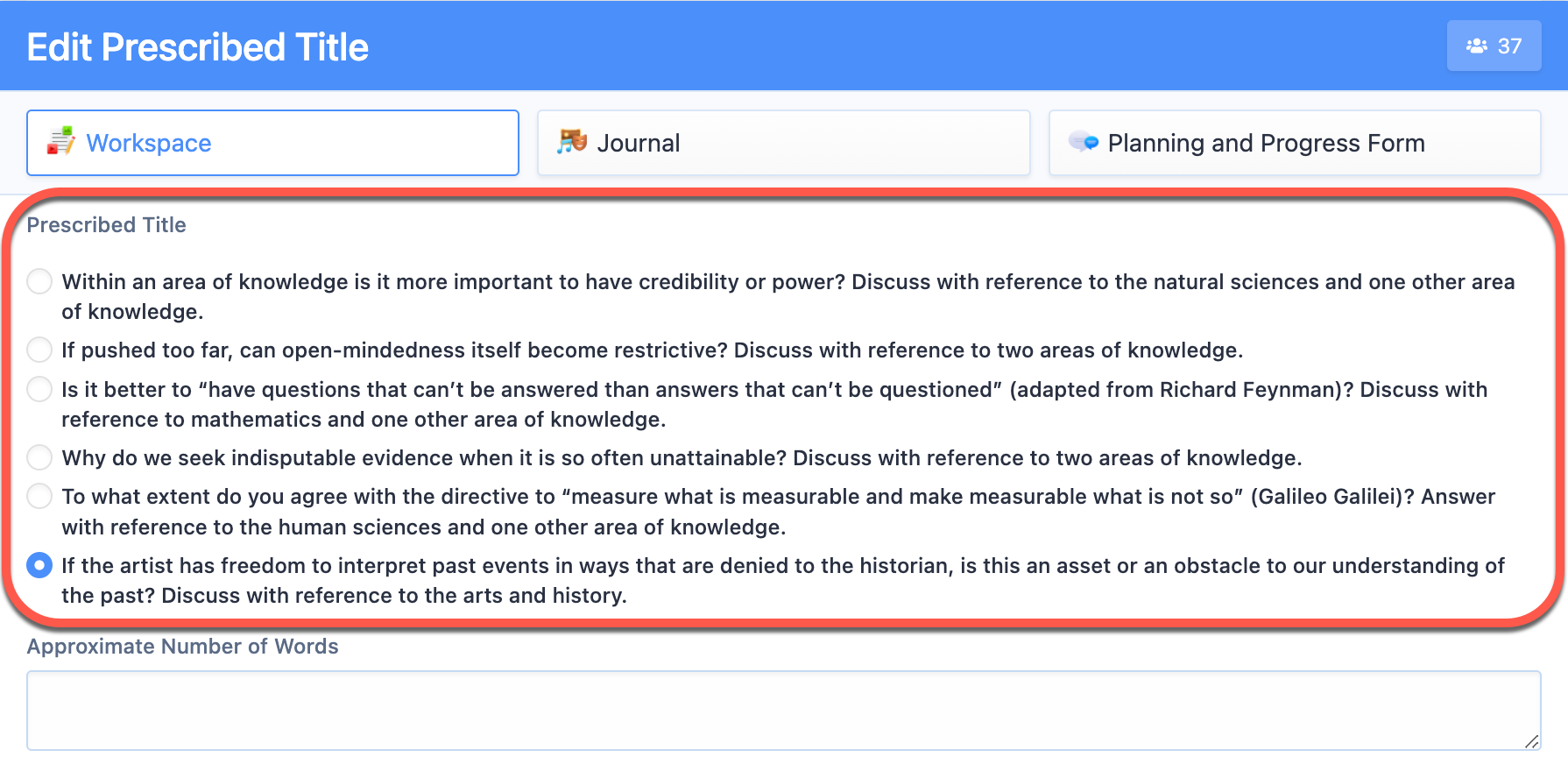 The TOK Essay prescribed titles were updated for all TOK Essay project-based learning templates that were imported from our template library. Students in November session schools will now see the updated November 2022 titles when editing their TOK Essay Proposals. These were updated in English and Spanish.
Schools who previously edited their TOK prescribed titles via Settings > IB Diploma > Project-based Learning > TOK Essay template > Framework > Proposal, will not have received this update to not overwrite the custom data entered.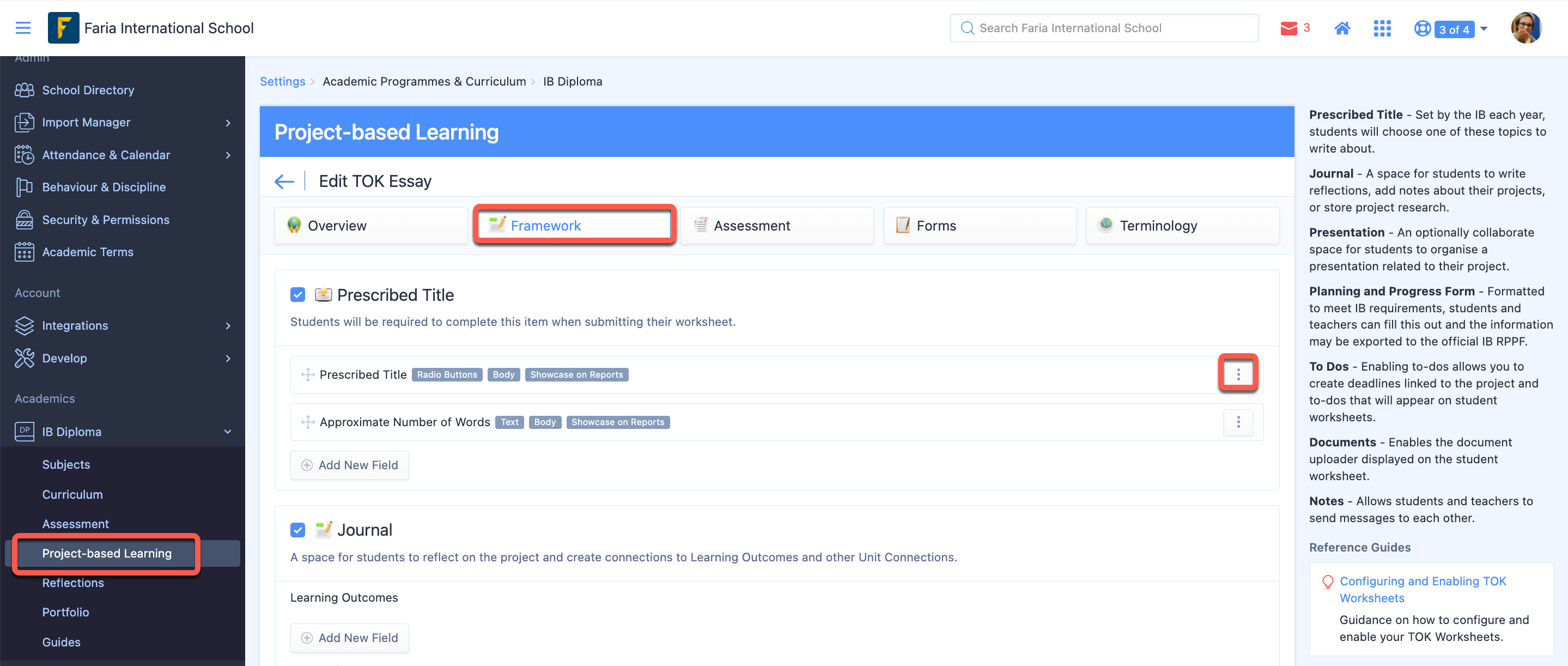 Prescribed titles can be edited via the Framework page of the TOK Essay template in Settings and by selecting the 3 dot button. Please see Configuring & Enabling Theory of Knowledge (TOK) Worksheets for further information on how to customise project templates.
New Home Menu is available as landing page upon login
March 29, 2022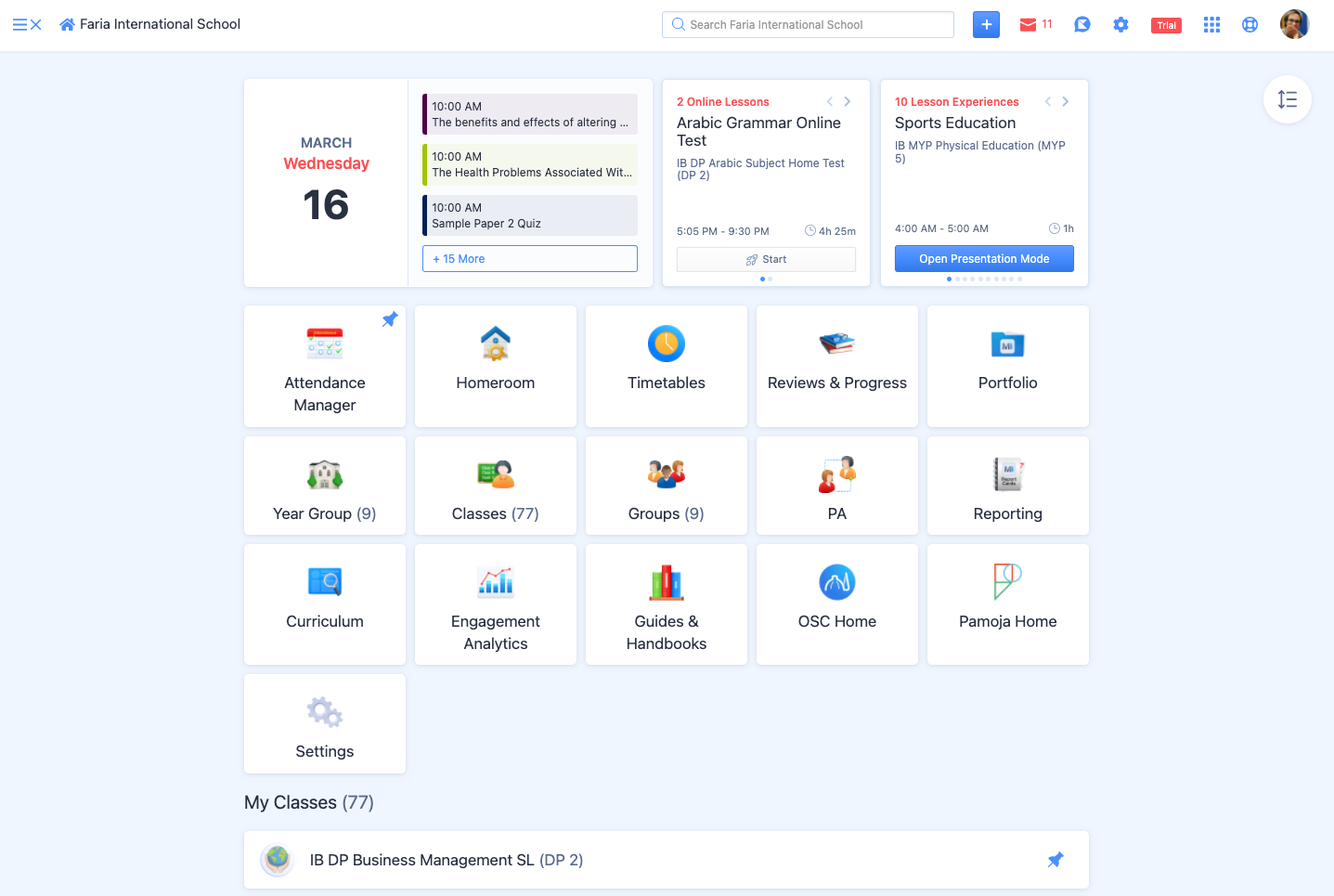 Following our announcements earlier in 2022 in this blog, we have now released the new Home Menu page. It is available as default landing page for all ManageBac users and provides greater flexibility for customisation to meet users' workflows and processes.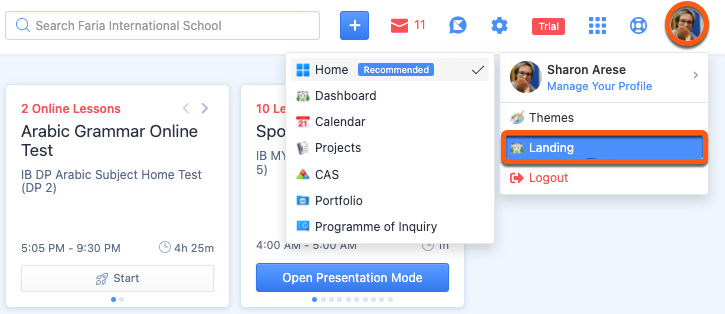 Changing the Landing page is possible via the user avatar and Landing menu.

Expand the left menu via the top left icon to access ManageBac pages from the Home Menu as previously done. From any page in ManageBac, click the school name to return to the Home Menu and use the right side button to customise the layout and order of your Home Menu contents.
Archive Term Grades rubrics for DP and non-IB classes
March 16, 2022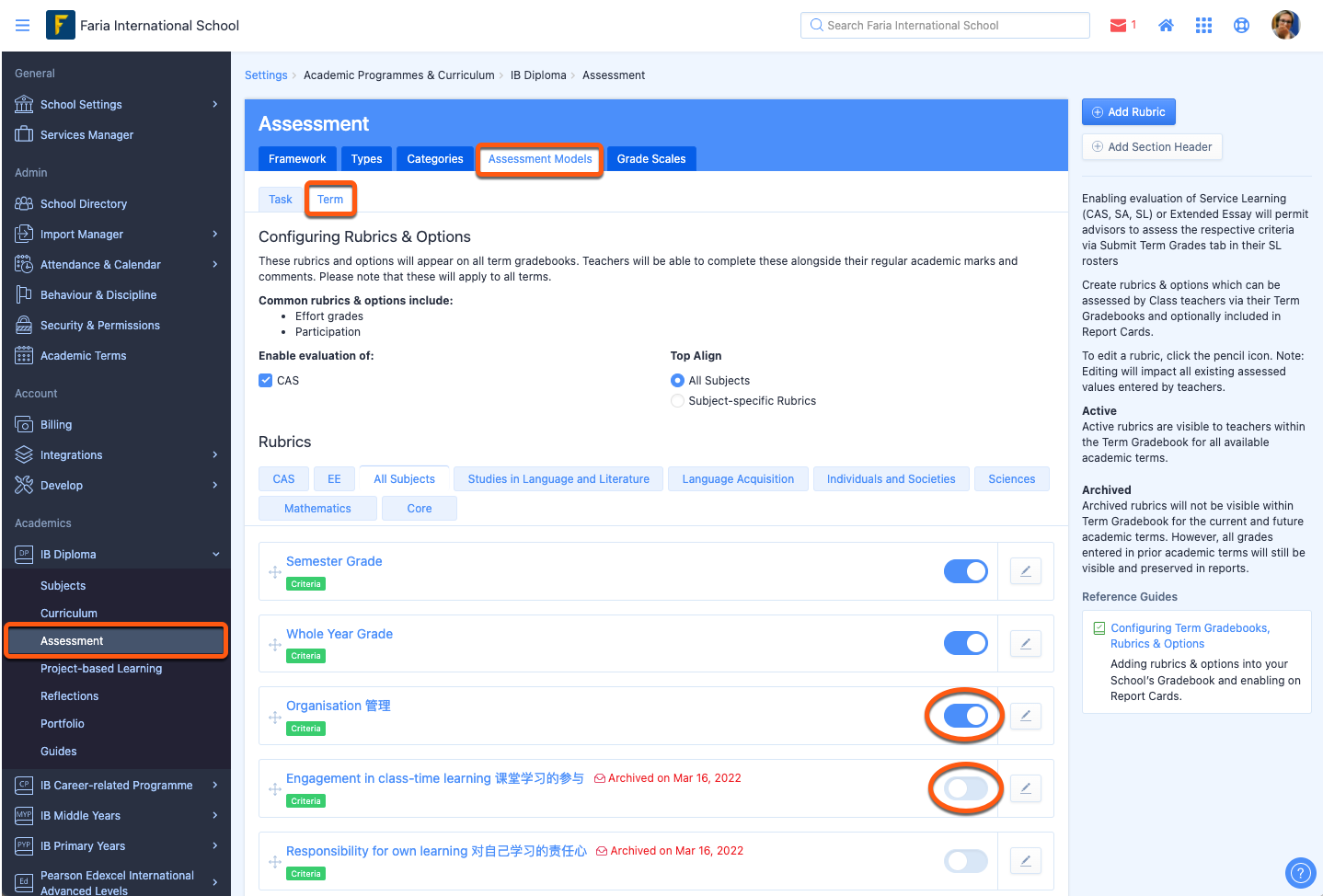 Administrators can hide different rubrics from the Term Grades pages of Classes via Settings > Select programme (DP and non-IB) > Assessment > Assessment Models > Term page. The active/archived toggle switch will hide the rubric and grades entered for it from the Term Grades page of classes in present and future academic terms if rubrics are archived.
Past academic terms will also show any archived rubrics with grades entered. Archived rubrics can still be included in Report Card templates for previous terms.
See our Drafting, Proofing & Publishing DP Report Cards article for additional information.
Term Grades Data Validation for all Classes
February 22, 2022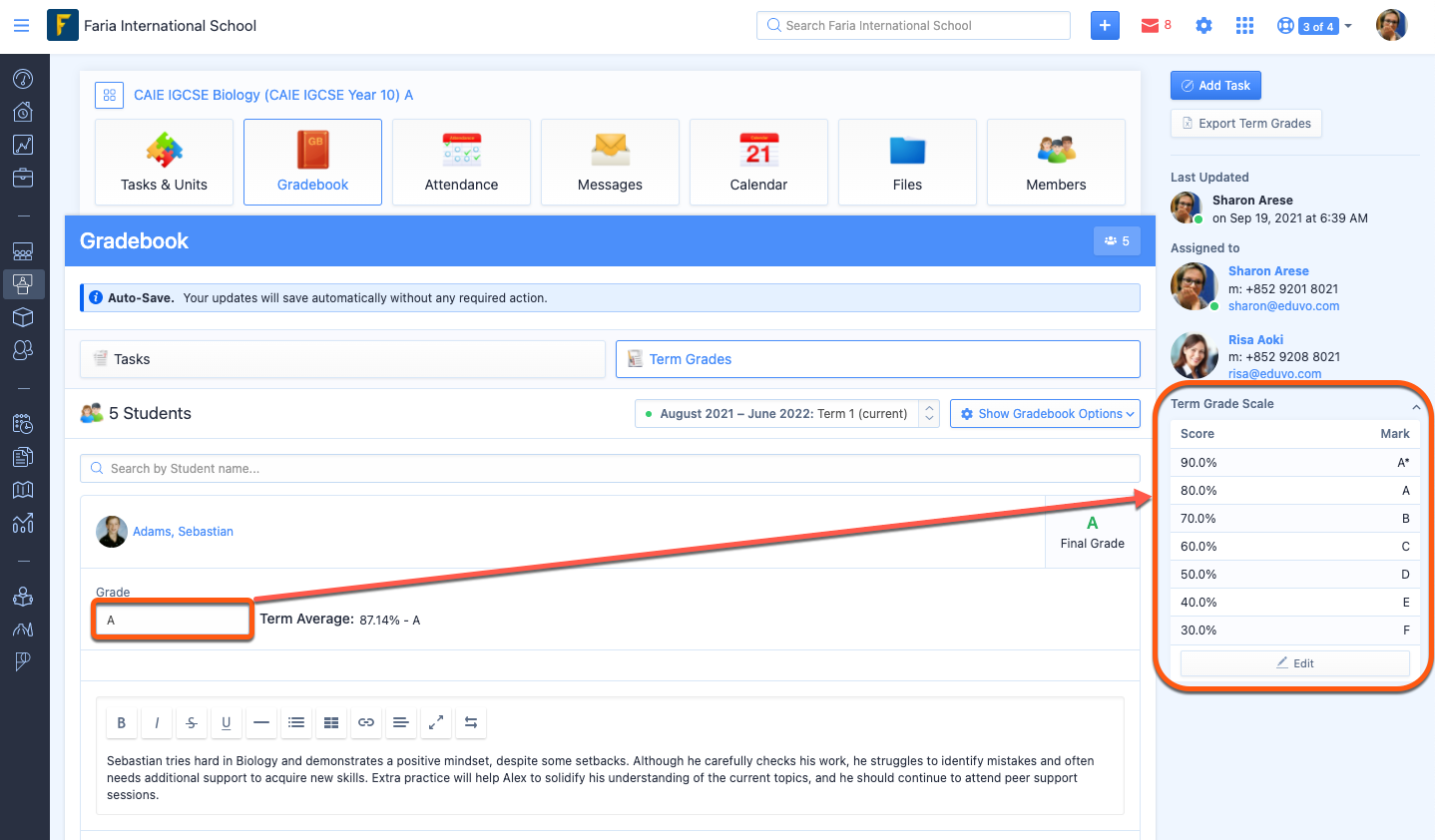 Previously, only IB DP Classes would apply data validation when teachers entered Term Grades, i.e. grades had to match IB DP 1-7 numbers. Now, this kind of validation is added to all Classes where teachers enter Grades based on the Term Grades scale available in the class. Teachers are only able to enter grade values that are listed in the Term Grade Scale in the class or configured for the programme.
Zoom integration for Calendar Events
February 19, 2022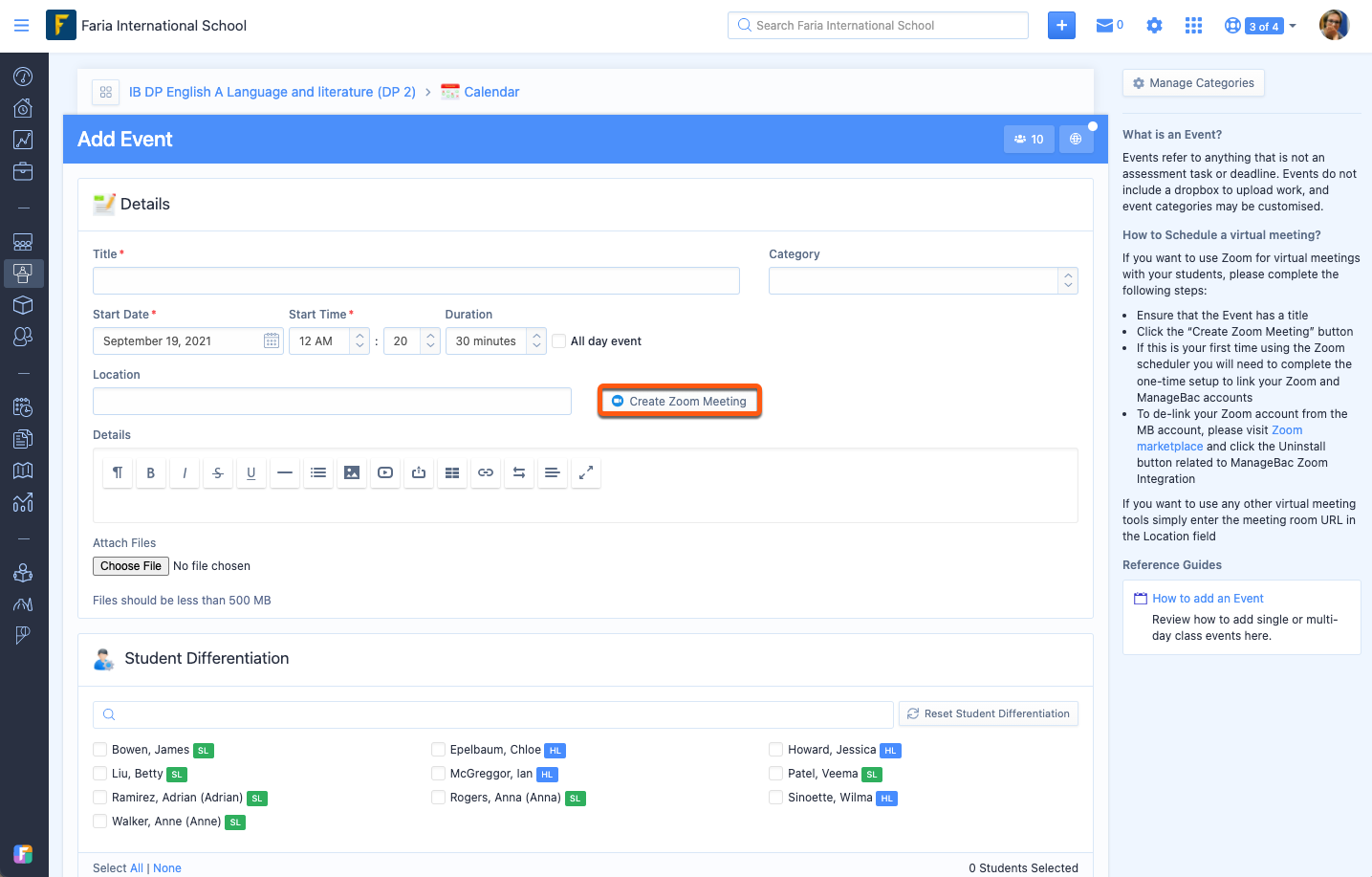 The same Zoom integration that is allowing for Online Lessons to be created and linked to Zoom is now enabled for Calendar > Events. Add a new Event to the Calendar using the Add Event button to see the updated Event interface with Create Zoom Meeting button. Events differentiated for different students will show and allow only linked students to join the Zoom call.
The location field also supports custom meeting room URLs. If a URL is detected in the location field a "Start" or "Join" button will be shown on the Event tile.

For Events that have corresponding Zoom Meetings MB will automatically make any recordings available in MB. After Zoom processes the cloud recordings, which can take up to an hour, MB will show a Download Recording button to immediately download the recording file and a Play Recording button that will open in a new tab and allow for recording playback.
Note: The recording buttons will be available for as long as the recording is present on Zoom Cloud.
Student Differentiation for Class Events and Deadlines
February 19, 2022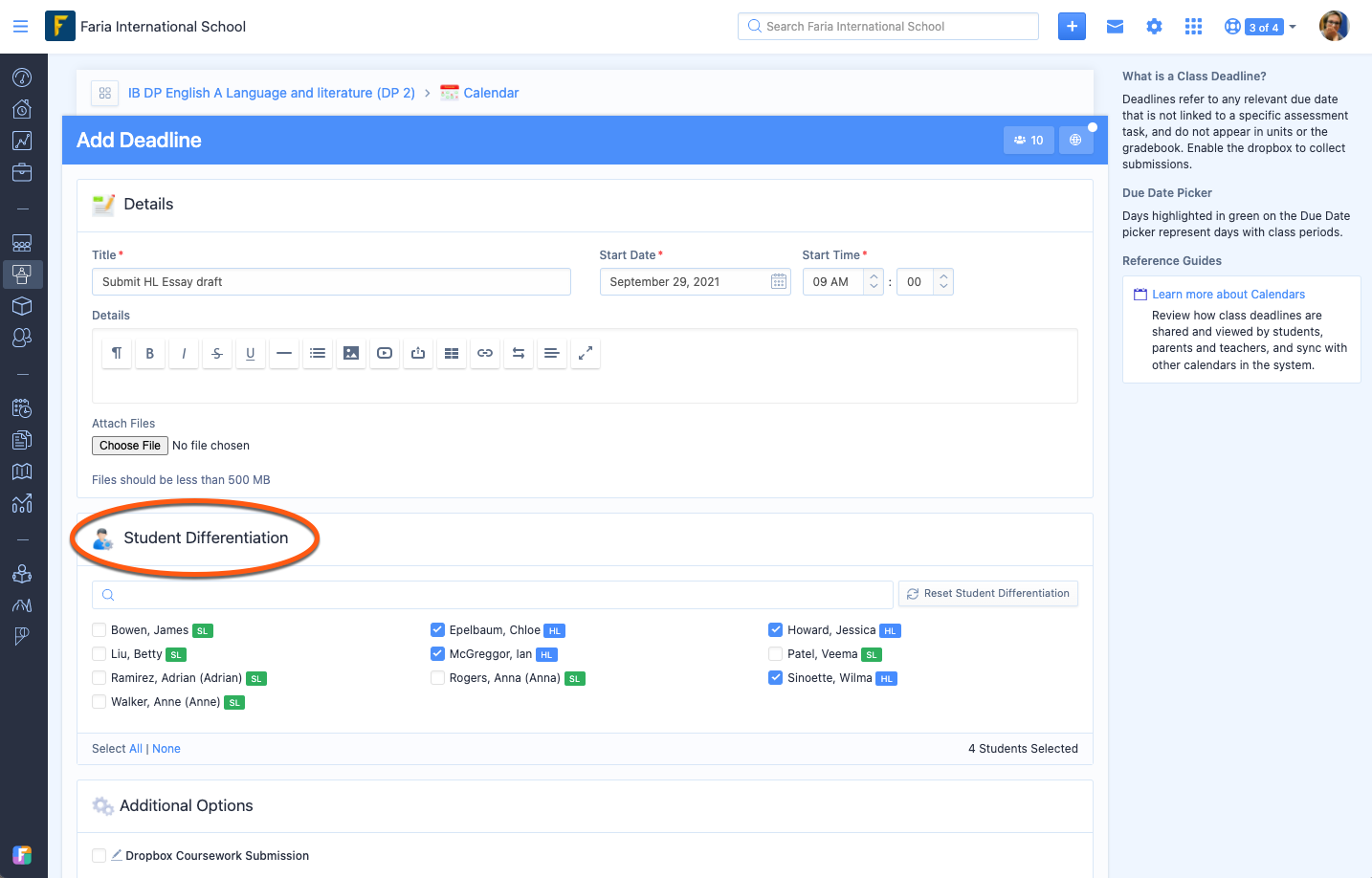 Class Events and Deadlines can now be assigned to specific students only, similar to Tasks. Open the Calendar within your class and click Add Event/Deadline. Then select the Student Differentiation section when creating new Class Events or Deadlines and pick the students this Calendar entry is assigned to. Year Group Events and Deadlines to follow shortly.
User Profile Design Updates
February 18, 2022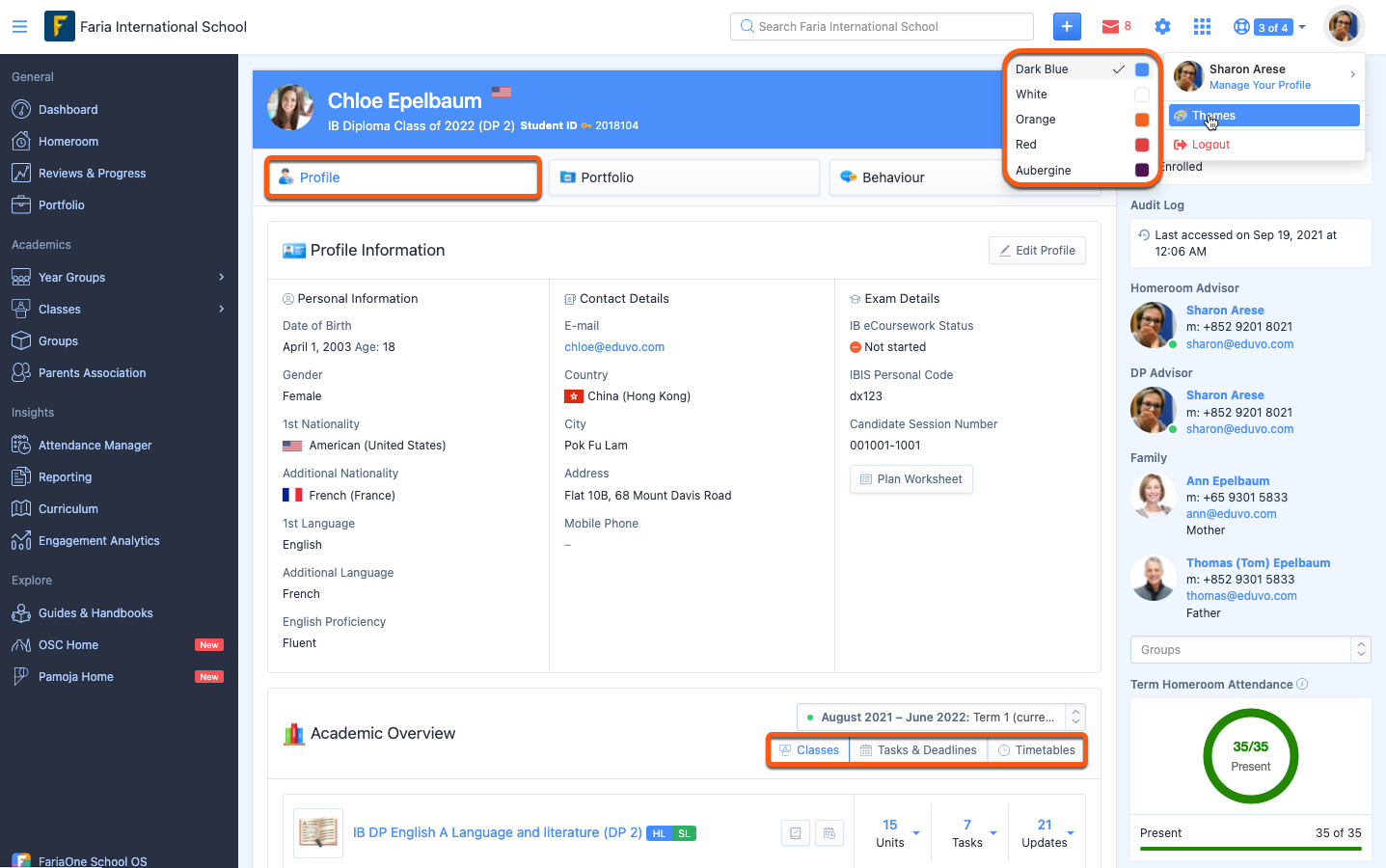 All user profiles have been updated to follow the same design structure as our previous updates across the interface. This includes moving away from tabs across the top of the profile and using individual profile pages instead. It also meant to move the Theme selection for all users to the top right avatar so that themes can be selected directly in any ManageBac page.
Student Academic Overview information also has been updated to reflect the recent layout and information of all Classes pages in ManageBac. Further updates will be made to ensure teachers and administrators have the same access levels as prior to the user interface updates.
Assign Head of Subject users via Subject Home pages
February 17, 2022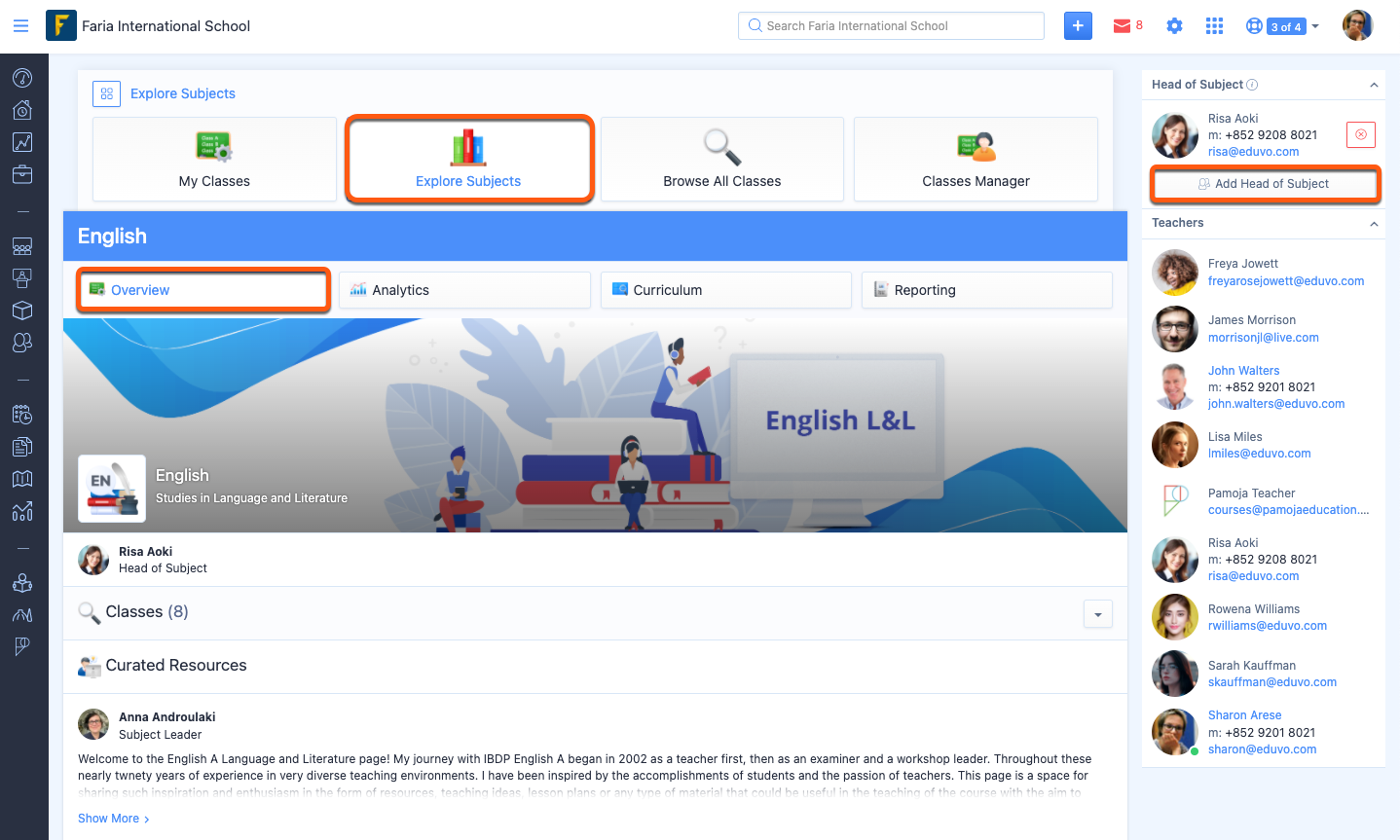 Administrators can now assign Head of Subject users for each subject of any academic programme via the Classes > Explore Subjects pages.
Head of Subjects will appear to all teachers on the Subject pages with their email and contact information. In the future, we are planning to deploy additional permissions for Head of Subjects.
Please see our Explore Subjects pages for overview of subject contents article for additional information about the Subject pages.
Selectable Project-based Learning Fields for Report Cards
February 7, 2022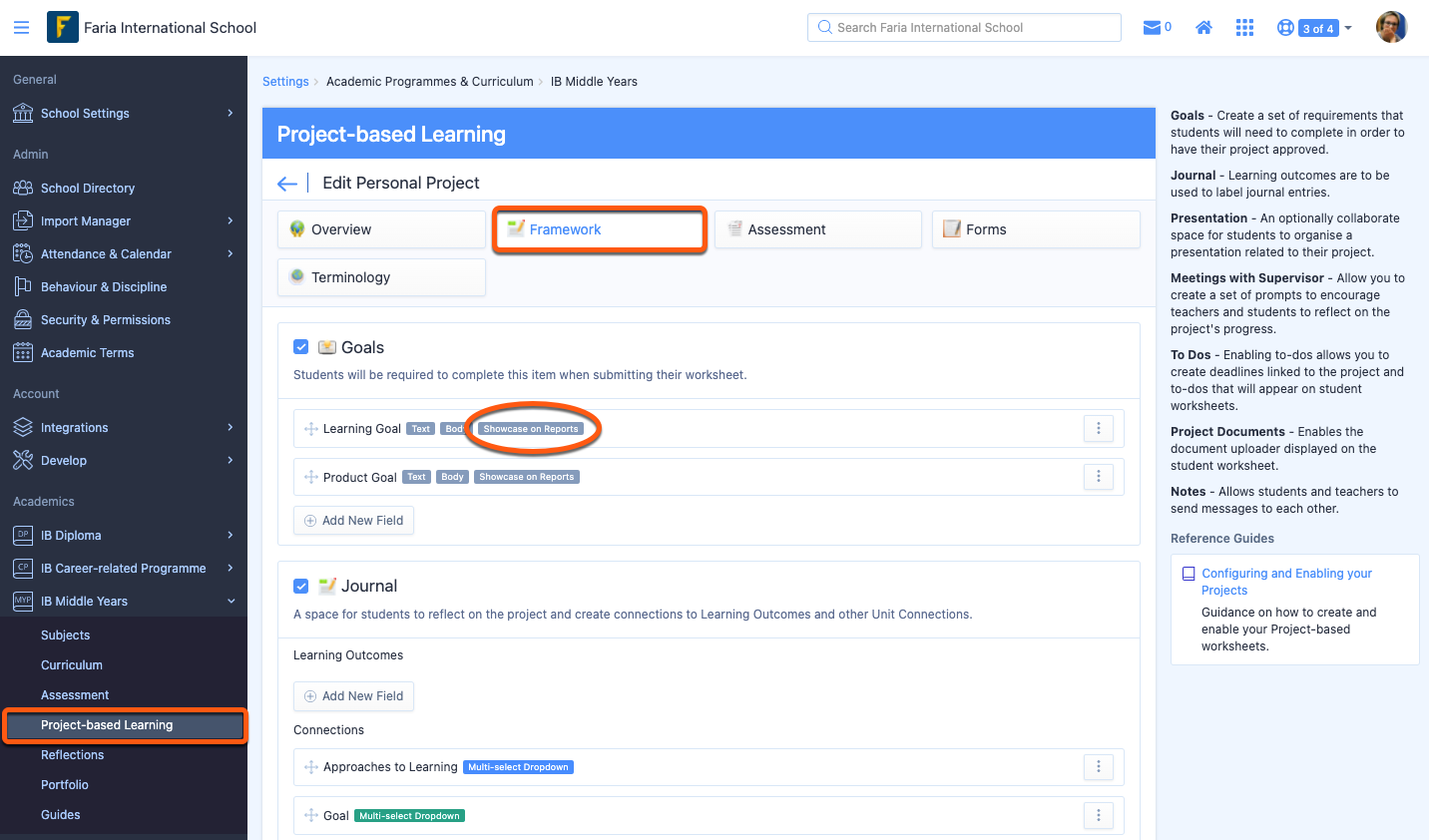 Schools using ManageBac for Report Cards can include information about Project-based Learning templates on Report Cards.
Now, it is also possible for schools to select which fields they wish to include on the Report Card per PBL Template. A tick box to indicate Showcase on Reports per field in the PBL template Framework serves as selector of whether the content of the field appears on Report Cards or not.
The same selection also adds this field to the roster page of the project template when enabled in year groups. See below for reference.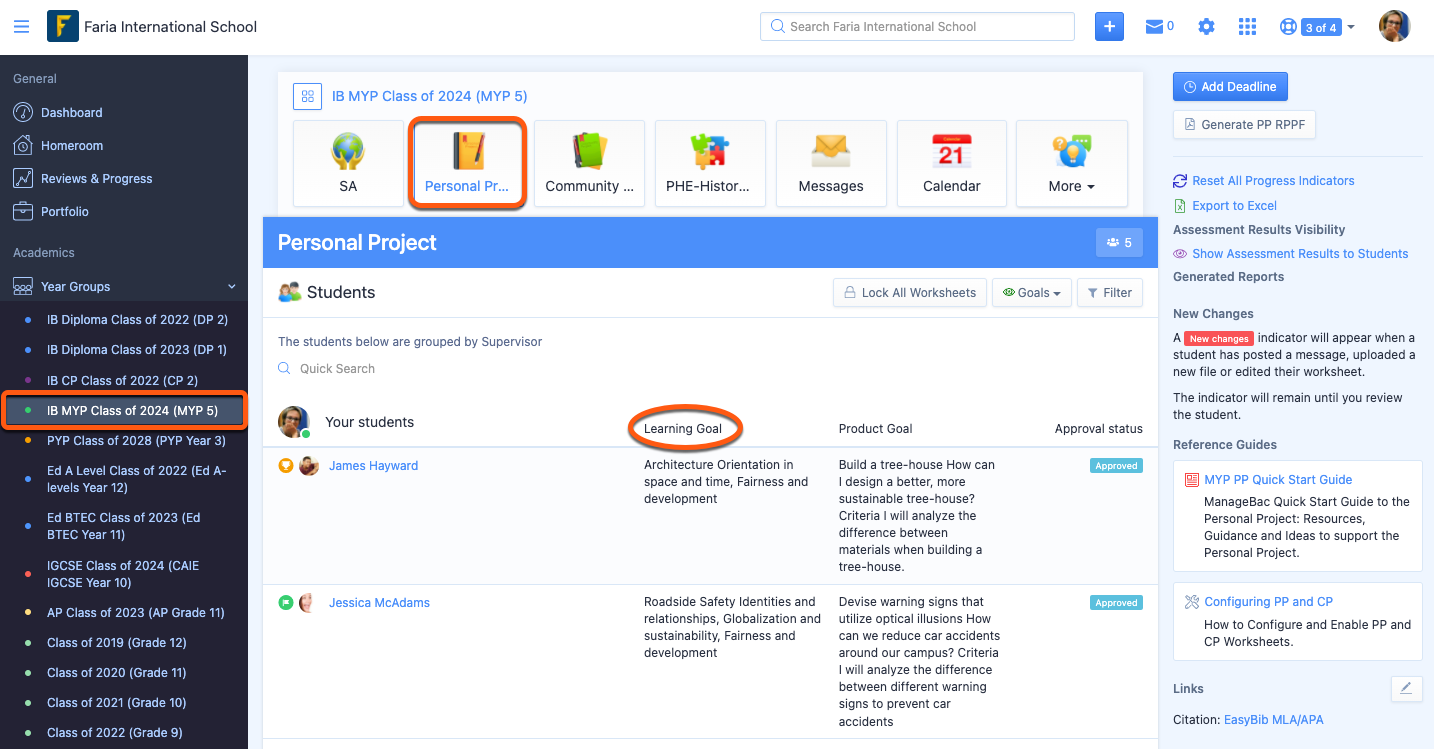 Task Due Date Extensions per Student
January 24, 2022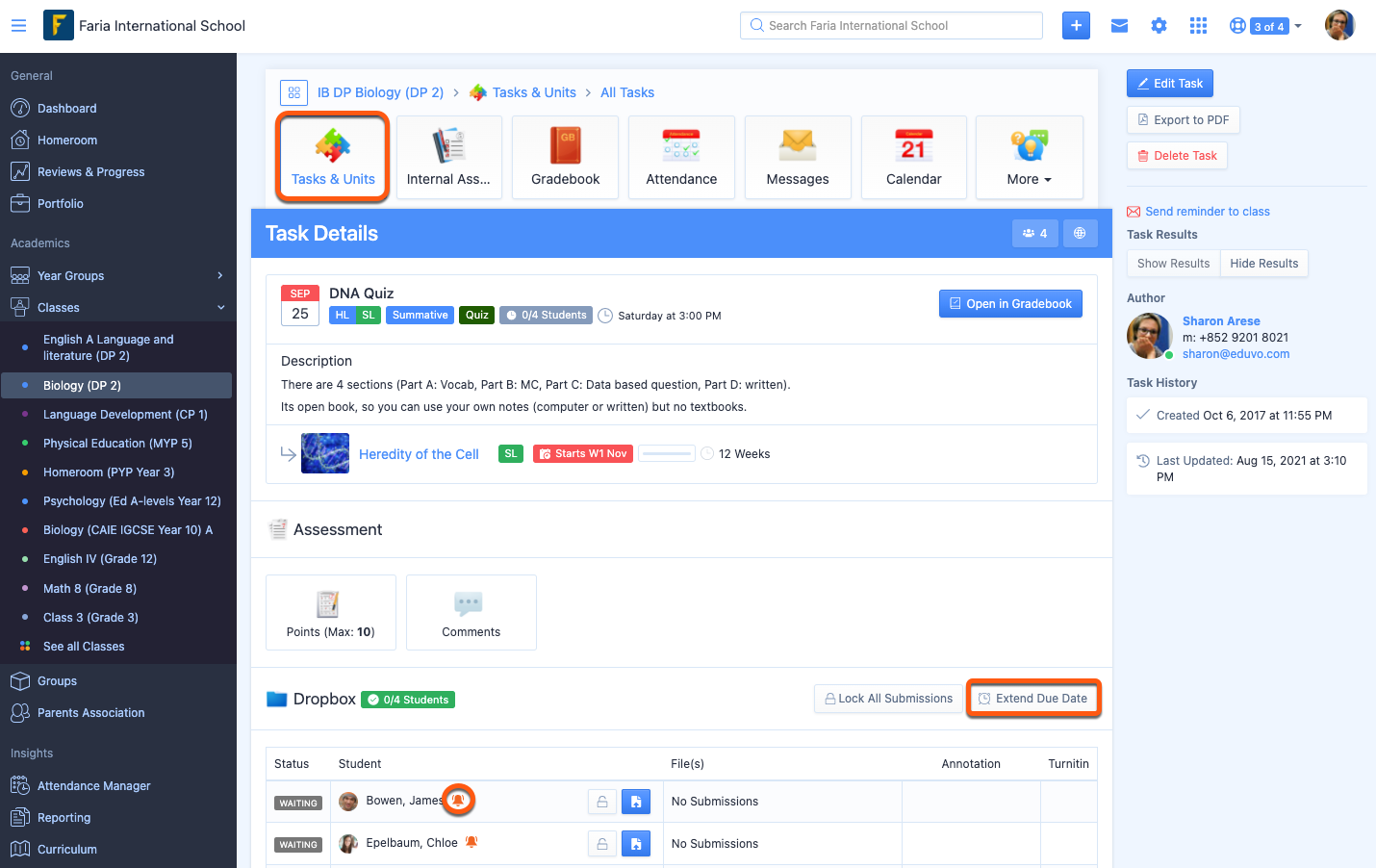 Teachers can extend the due date of Tasks for individual students in all Tasks with Coursework submission options enabled. Use the Extend Due Date button to set how many days the due date should be extended per student. A bell icon indicates to the teacher the due date has been extended for the student.
See our Adding & Managing Tasks article for further details.
Floating Profile Overview tiles
January 19, 2022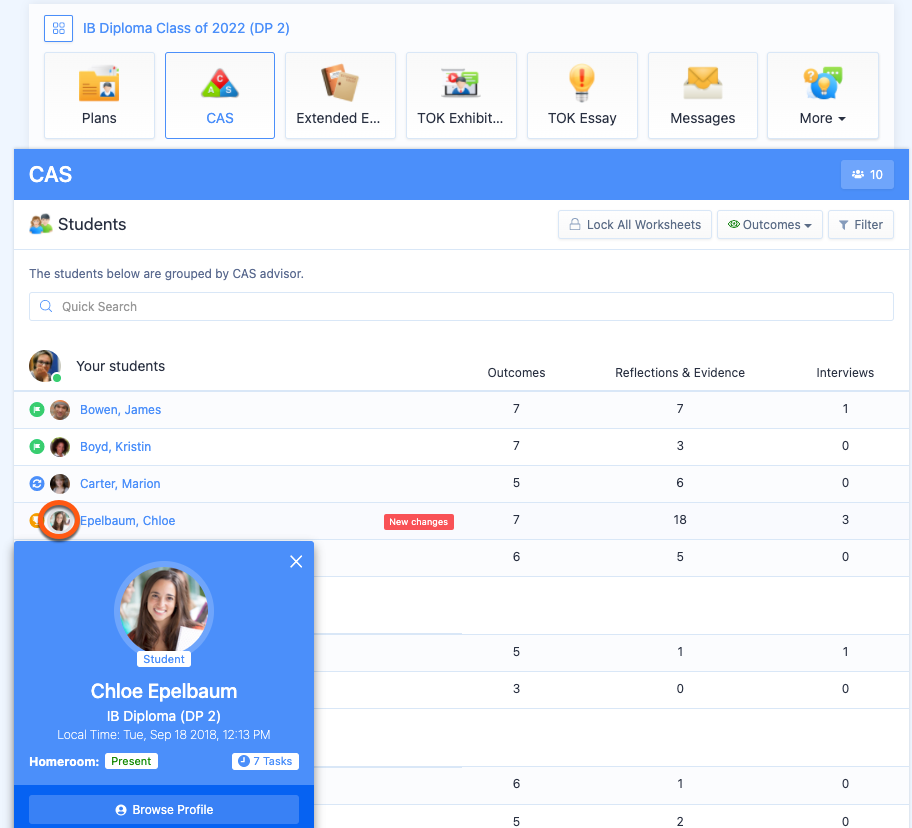 Click the avatar of any user in any page of ManageBac to expand a floating overview menu. For students, information such as Homeroom Attendance status and upcoming Tasks due will be included. Local time and date for all users is also included based on the Timezone the user set in their profile. All floating menus include a button to access the user's Profile if access is granted for that.
Reviewing Options for Term Grades
January 18, 2022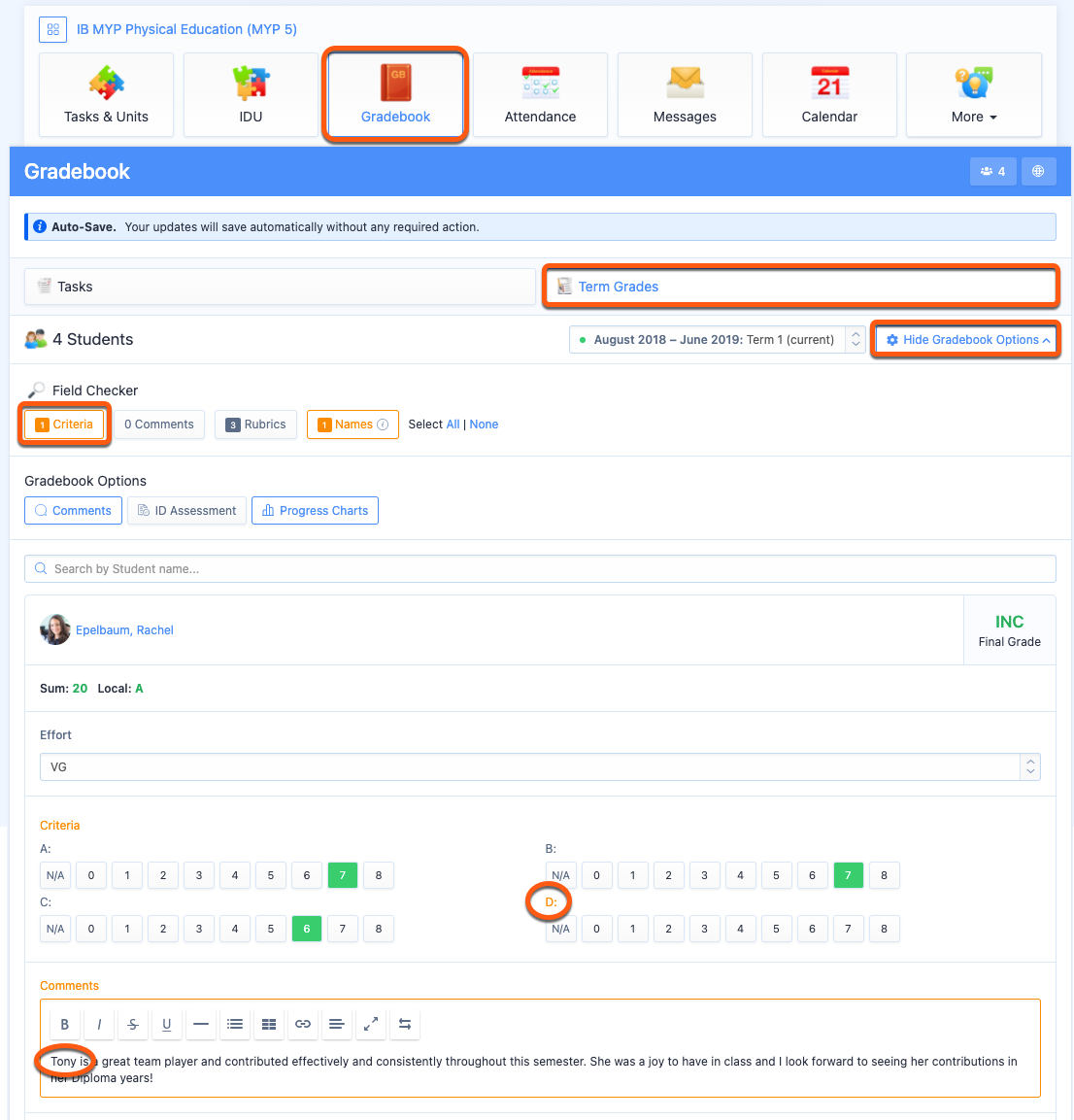 We have released a major update for all Classes > Gradebook > Term Grades pages. It is now possible to enable or disable Gradebook Options which allow teacher to utilize Field Checker options or hide or make previously existing options visible.
The Term Grades layout was also adjusted to better accommodate the new reviewing options. Every Student now has a gradebook table of their own with Rubrics, Grades, Final Grade, Comments and Progress Charts.
The Field Checker options will highlight fields that are incomplete or not matching as expected. Above we show a Criterion that has not been marked yet and the name in the Comment box does not match the student's name. The enabled or disabled options will indicate how many fields could use additional review.
Include up to 4 terms of Term Grades on Report Cards
January 18, 2022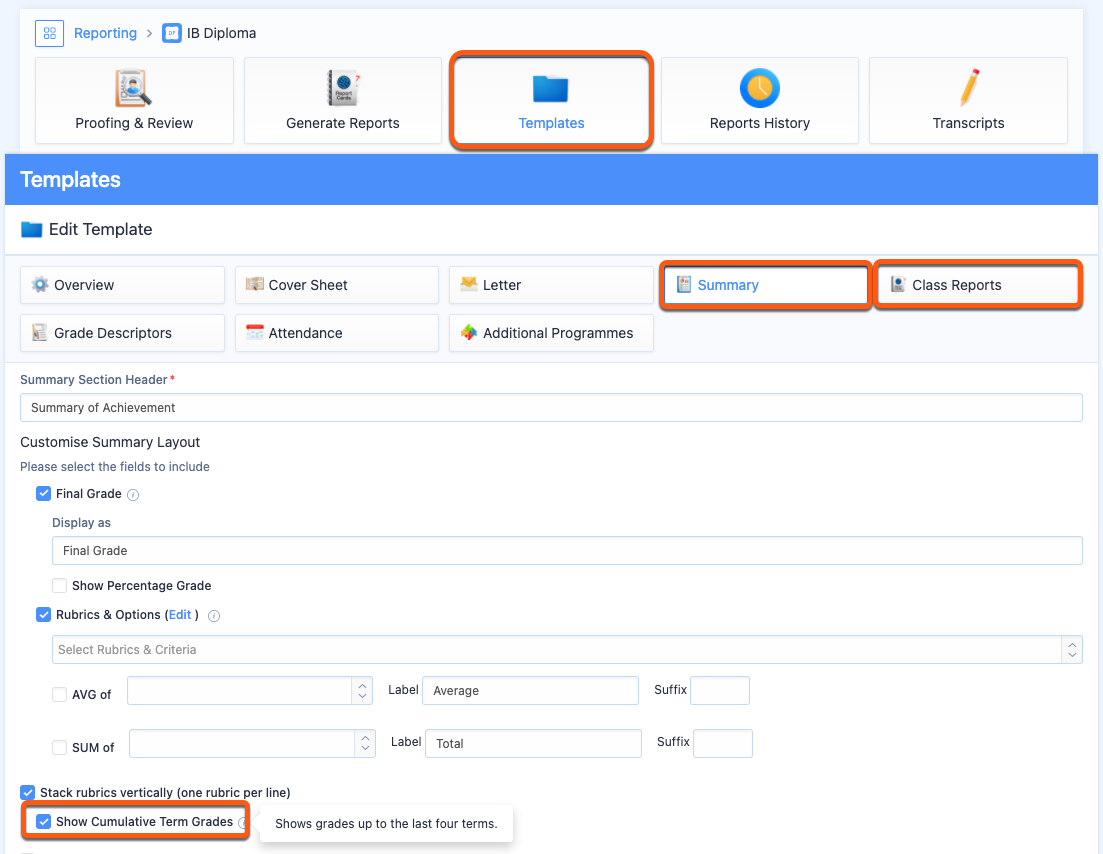 It is now possible to show up to 4 sets of Term Grades on a Report Card in Summary of Achievement or Class Reports for all academic programmes except IB PYP.
With "Cumulative" Term Grades enabled, all Teacher Comments are hidden from the Summary of Achievement section.
Timetables include Grade level of the Class
January 10, 2022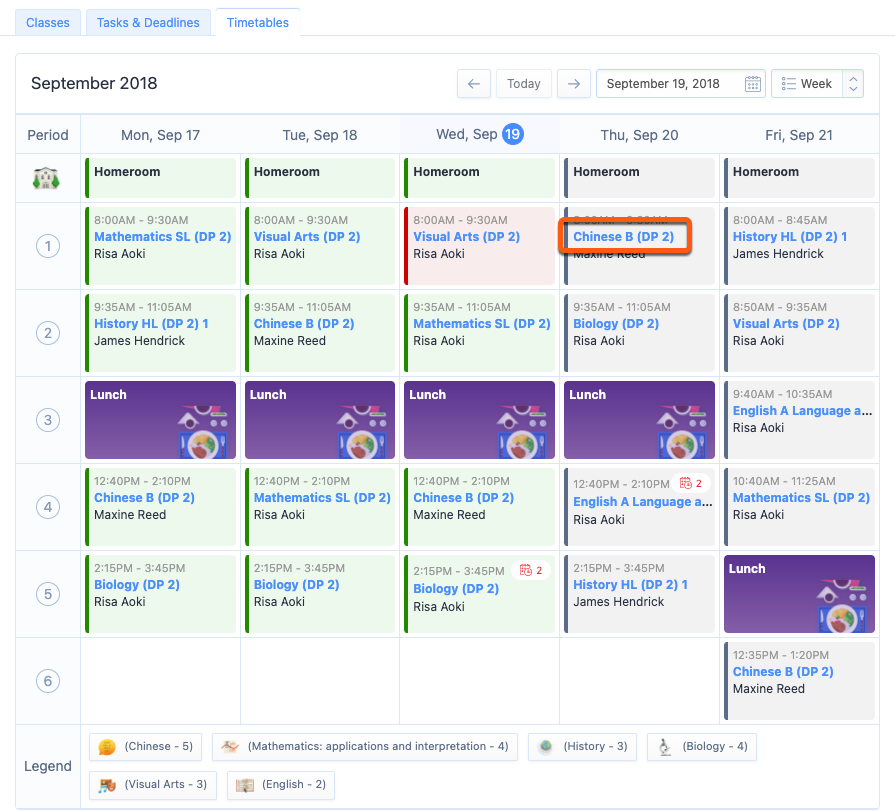 All Timetables have been updated to include the grade level of each class next to the class name. If long names of classes hide the grade level, the timetable can be exported to PDF to reveal the grade level for each class.
Setting Time Zone Selections from User Profile
November 14, 2021

Users can change and set their own time zone via the Profile > Manage My Profile page on the right navigation panel. This helps students who are connecting to their schools remotely from places other than the school itself.
TOK PPF PDF for TOK Essay templates
November 4, 2021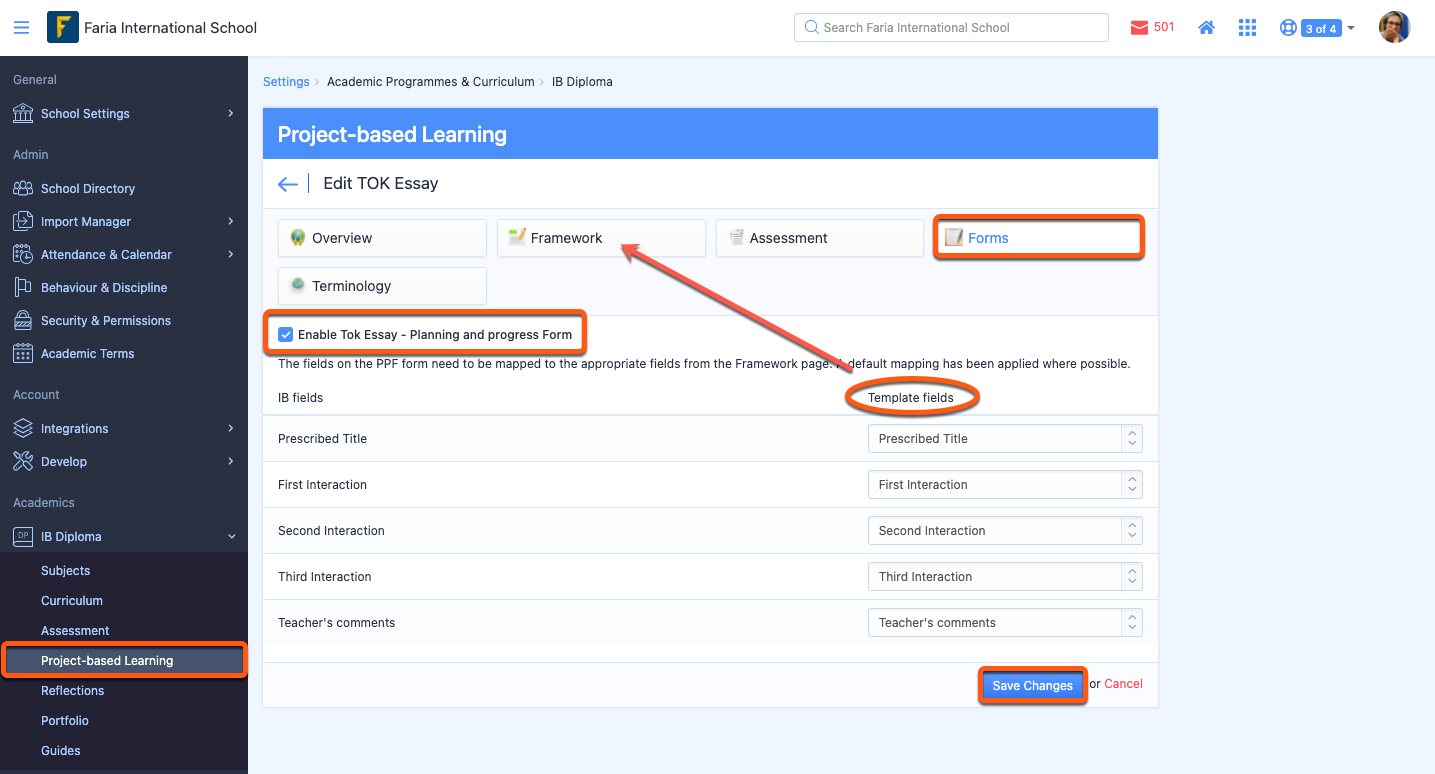 The TOK PPF can be enabled with a tick box for Enable TOK Essay - Planning and progress Form via Settings > IB Diploma > Project-based Learning > TOK Essay template > Forms.
The Template Fields dropdown menu correspond to the field names created in the Framework section of the template. By default the IB fields will be preselected.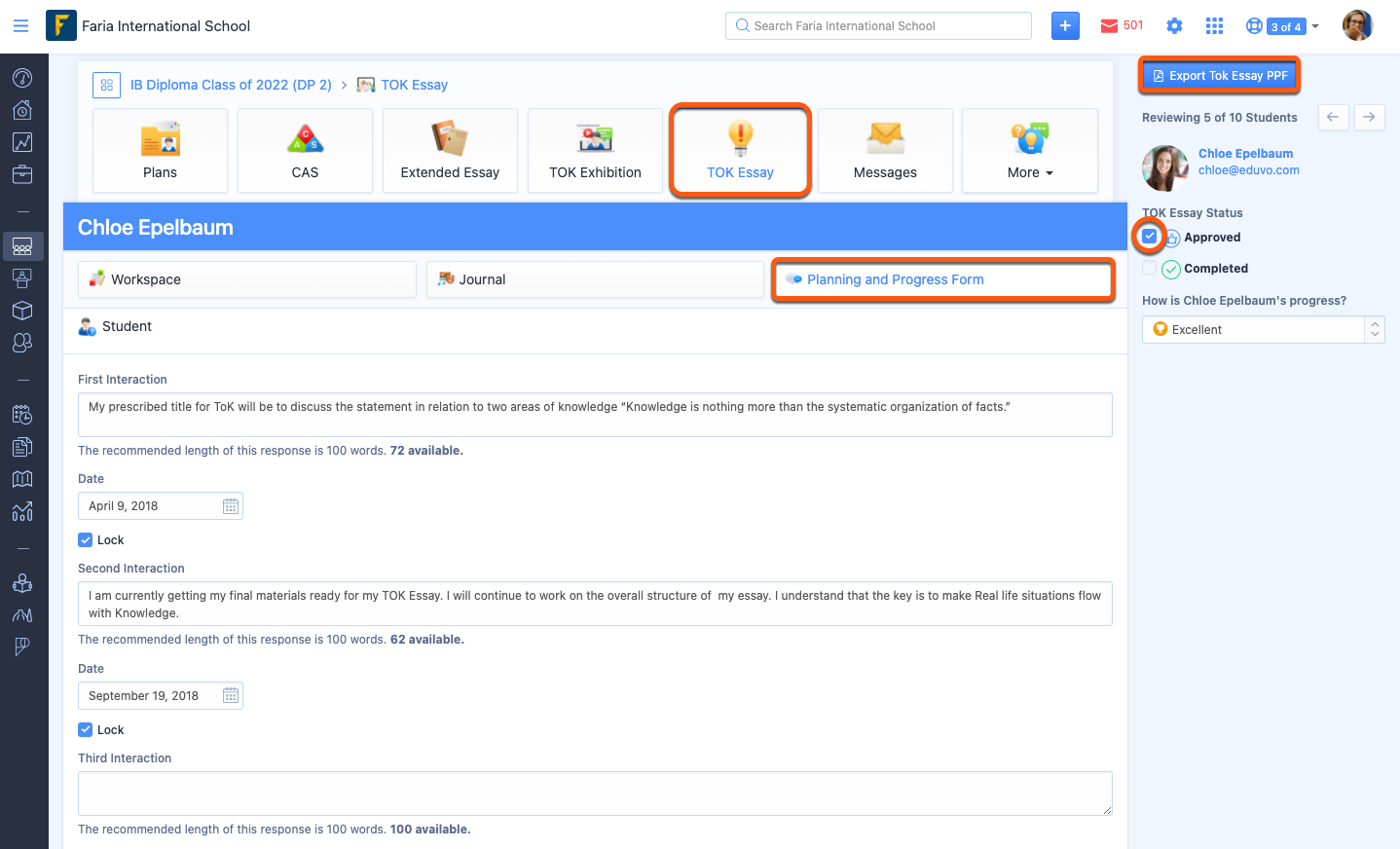 The PDF can be exported per student via the TOK Essay workspace and in the Planning and Progress Form tab on the right navigation panel. Please note, the TOK Essay Status has to be approved or completed before the button to Export to PDF will be available.
The TOK PPF will be included in the student's Portfolio > eCoursework folder once generated for submission to IBIS eCoursework.
Updates to Engagement Analytics
October 21, 2021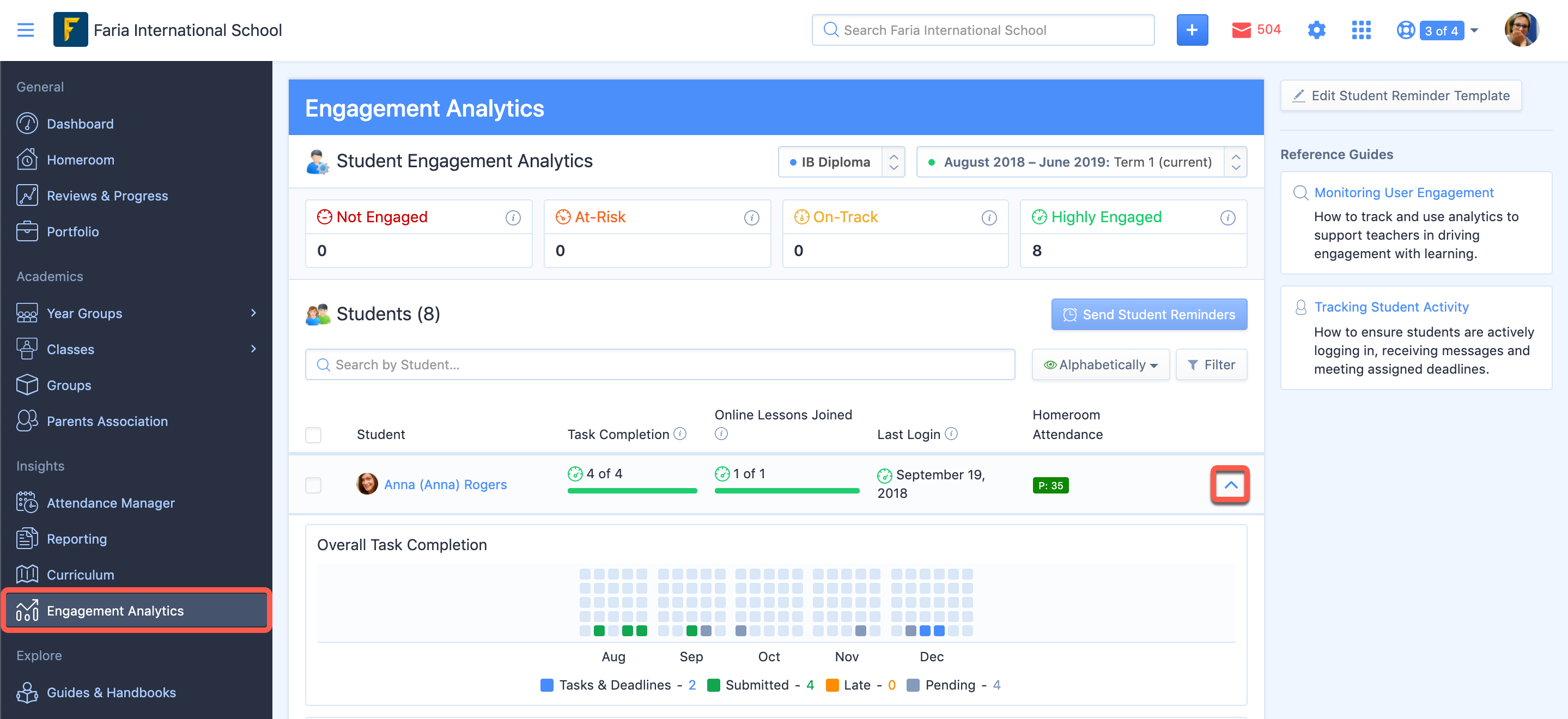 Overall Task Completion diagrams have been added to the Engagement Analytics pages for every student. This provides a quick overview of which Tasks students submitted work to on time, late or not at all as well as which Tasks did not have a coursework submission option enabled.
Expanding the dropdown menu will show which Tasks the student has submitted or not submitted work for as well as which Online Lessons they joined or did not join.
See our article on Monitoring User Engagement Analytics for further information.
May 2022 TOK Prescribed Titles Updated
September 28, 2021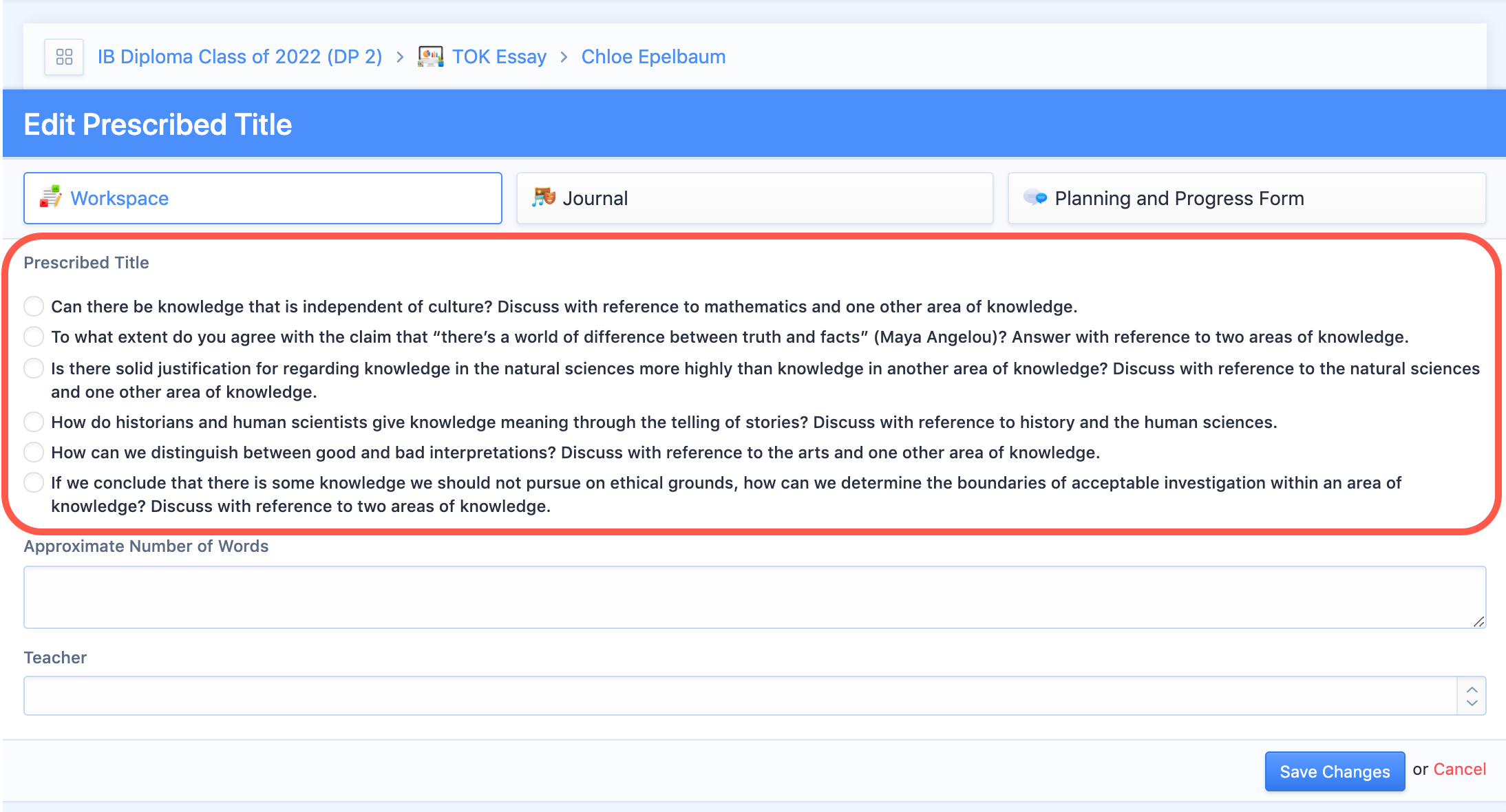 The TOK Essay prescribed titles were updated for all TOK Essay project-based learning templates that were imported from our template library. Students in May session schools will now see the updated May 2022 titles when editing their TOK Essay Proposals. These were updated in English and Spanish.
Schools who previously edited their TOK prescribed titles via Settings > IB Diploma > Project-based Learning > TOK Essay template > Framework > Proposal, will not have received this update to not overwrite the custom data entered.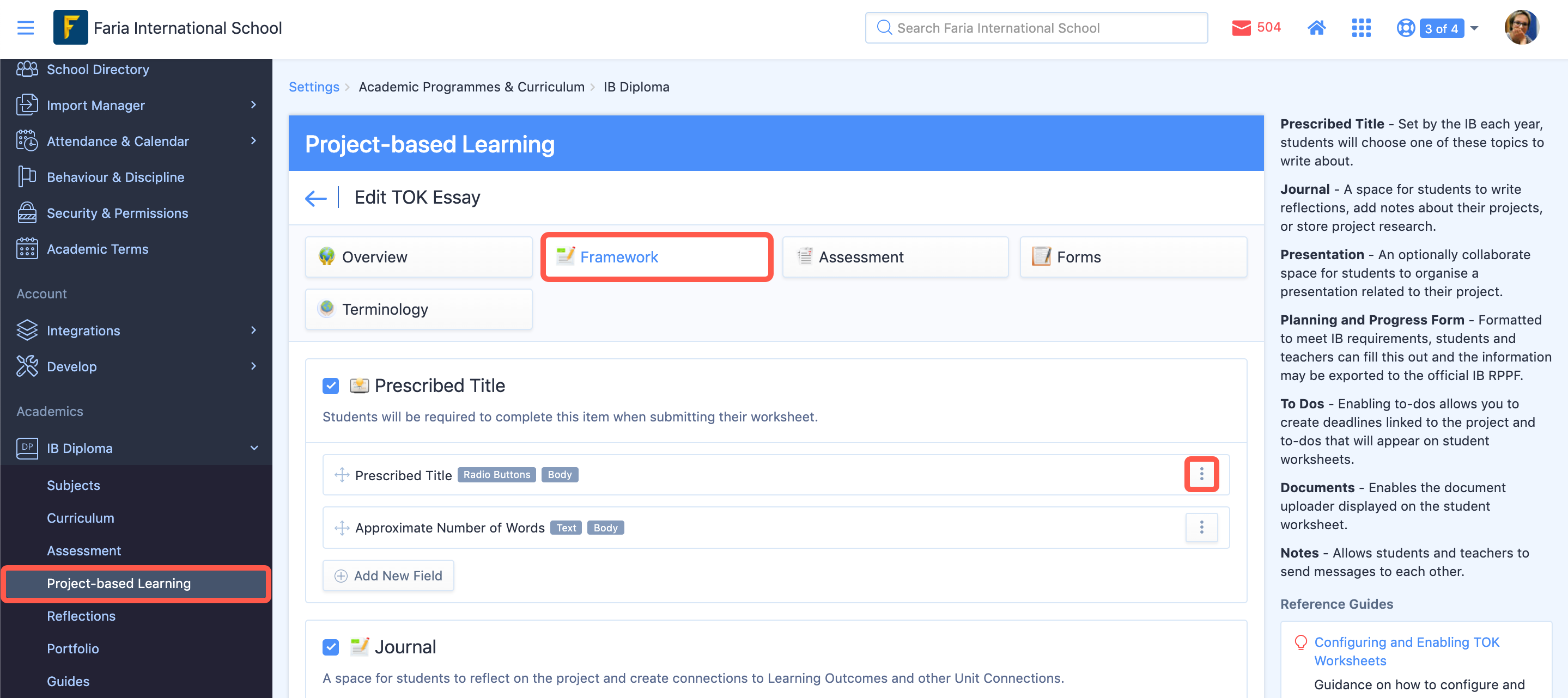 Prescribed titles can be edited via the Framework page of the TOK Essay template in Settings and by selecting the 3 dot button. Please see Configuring & Enabling Theory of Knowledge (TOK) Worksheets for further information on how to customise project templates.
All-New Design
August 27, 2021
Just in time for Back to School, we are excited to introduce several key design updates to improve your teacher, student and parent experience on ManageBac.
We have listened to your feedback and over the past year, our team has been hard at work reimagining ManageBac with several key design updates to provide clarity of focus, improved usability, and streamlined navigation. Read and watch What's New.
IB MYP Interdisciplinary Unit Planner Updates
August 18, 2021
Read more about the updated Interdisciplinary Unit Planners for IB MYP in our MYP Interdisciplinary Unit Plans & Assessment article and blog post describing the changes we implemented.
Unit Planner Template reset option
August 16, 2021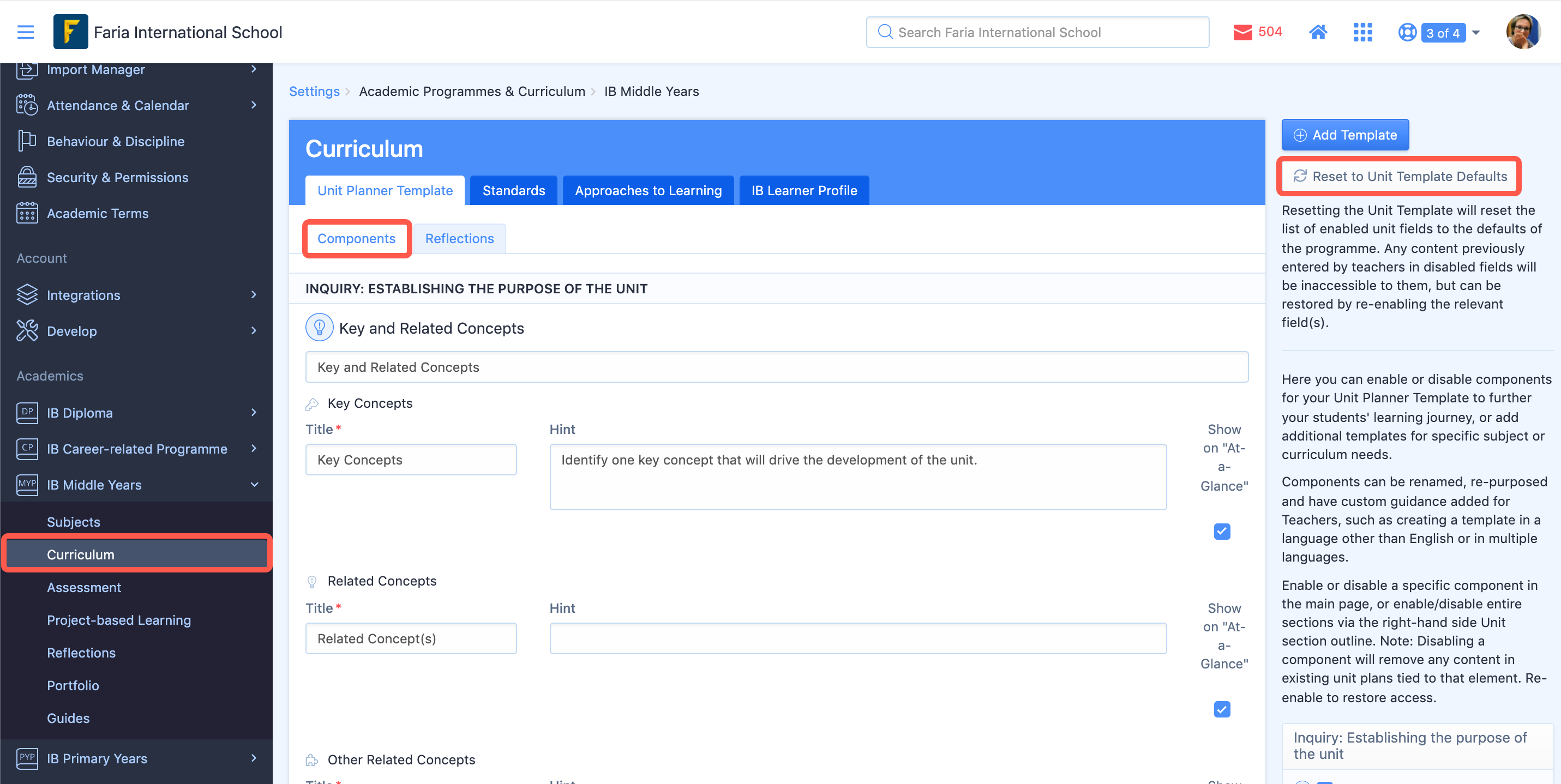 Unit Planner Templates can now be reset to the Programme default enabled fields and hint texts via the right navigation panel of any unit planner template. Read more about this option in our Customising Unit Planner Templates article.
MYP Year 0 Now Available on ManageBac
July 22, 2021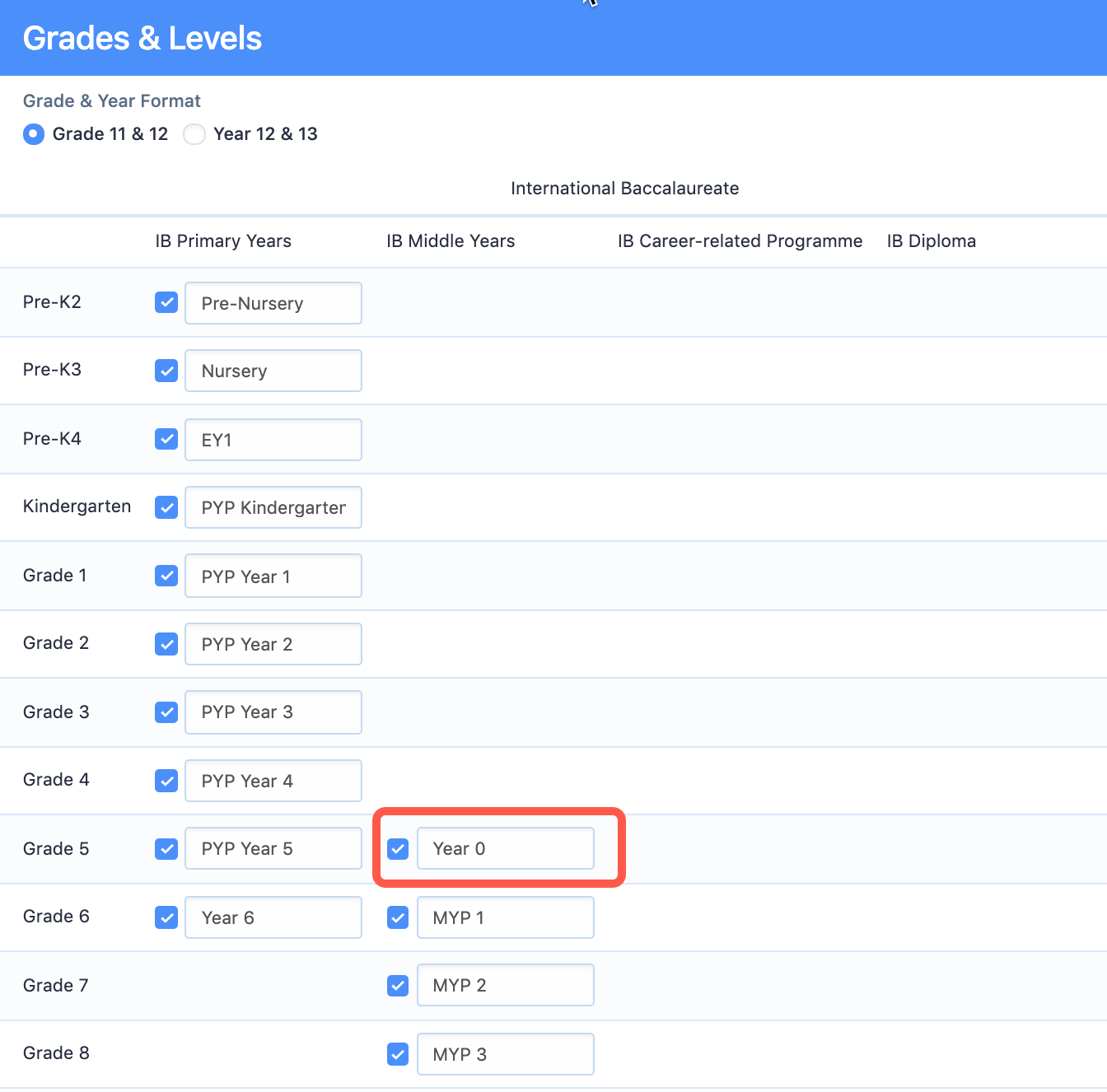 MYP Year 0 is now available to add to all IB MYP schools on ManageBac. To enable this year level, an administrator on the account may go to Settings > School Settings > Grades & Levels.
Please note that if your school has previously used a different year level for Year 0 to build units, we recommend getting in touch with us for assistance in moving your units over. You can reach out via support@managebac.com for further help.
IB CP Reflective Project customisable word counts
July 8, 2021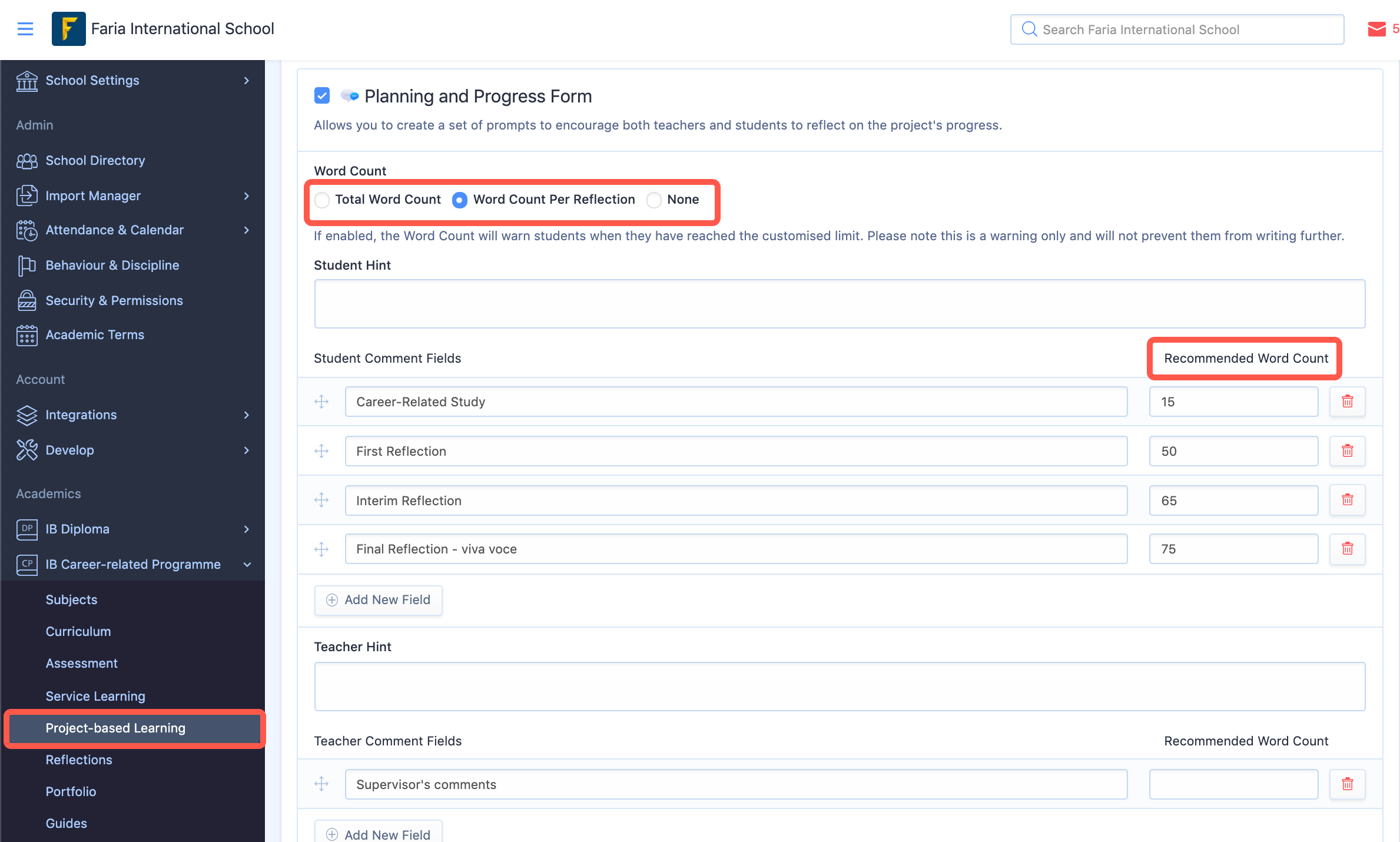 The word counts per reflection for IB CP project-based learning templates can now be customised for each created reflection/student comment field. This allows schools to prevent students from writing too much for the Career-Related Study field for example and cut text off on the RPPF PDF document.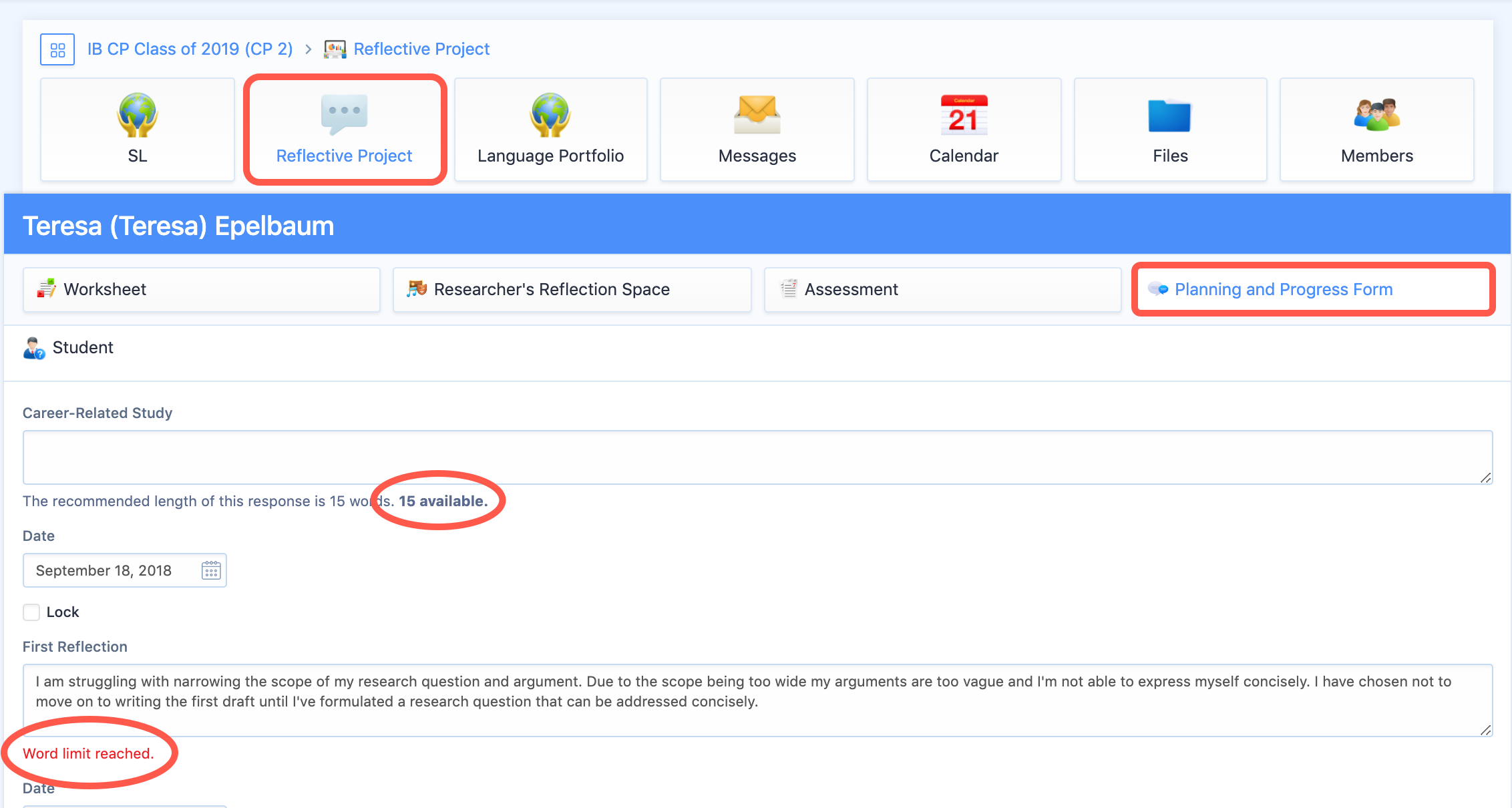 For more information on PBL template configurations, please visit our Configuring & Enabling Project-based Learning (PBL) Frameworks article.
Learner Portfolio now moves across class sections
June 24, 2021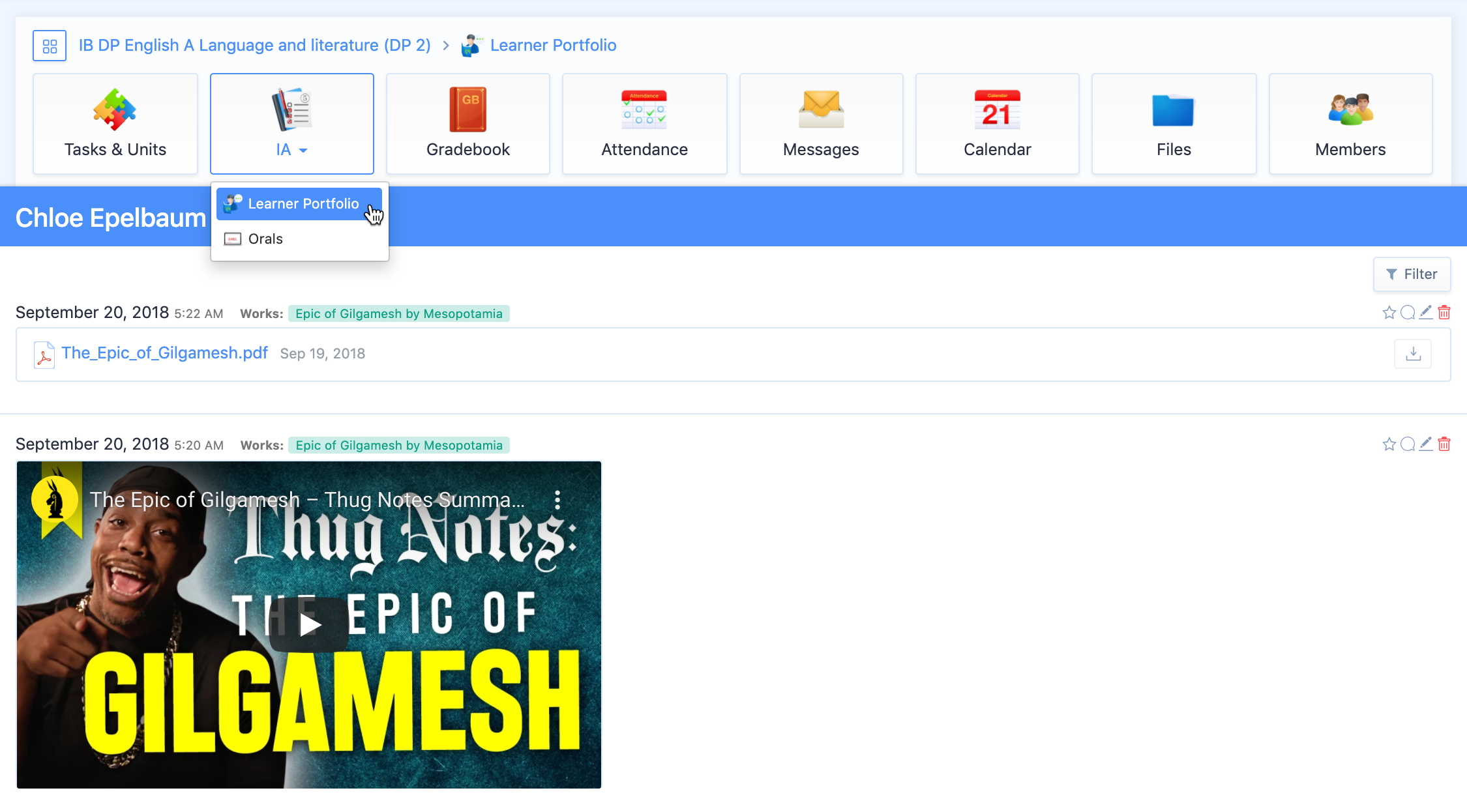 IB Diploma student Learner Portfolios in Group 1 subjects will now stay with students even if they switch to a different class of the same subject. This change will assist in the yearly transition from IB Diploma Year 1 to IB Diploma Year 2 for schools whose class rosters change with each year.
Please note if students are moved to a new class, their work will move with them, but they will not be able to edit it in the new class - it will be read-only. They can still add new entries in the new class.
Report Stamps, File Name and Margin Customization
June 19, 2021
We have now released a few additional options to our Report generation and template process, including:
Adding a School Stamp to the Cover Sheet


Via your report template's Cover Sheet, you can now add an image of a stamp if your school needs to officially stamp the front of each report card. The stamp will appear near the bottom of the cover sheet.


Customising File Names when reports are downloaded


Via Reporting > Generate Reports, you can now select what you want to include in each file name when downloading the reports in bulk via Reporting > Reports History.


Adding additional page margin option



Via the Overview of the Report template, you can now add additional space at the bottom of each page, which will allow for government stamps or signatures as needed. Please note this will make the report card longer.

New Mobile App Calendar Released
June 10, 2021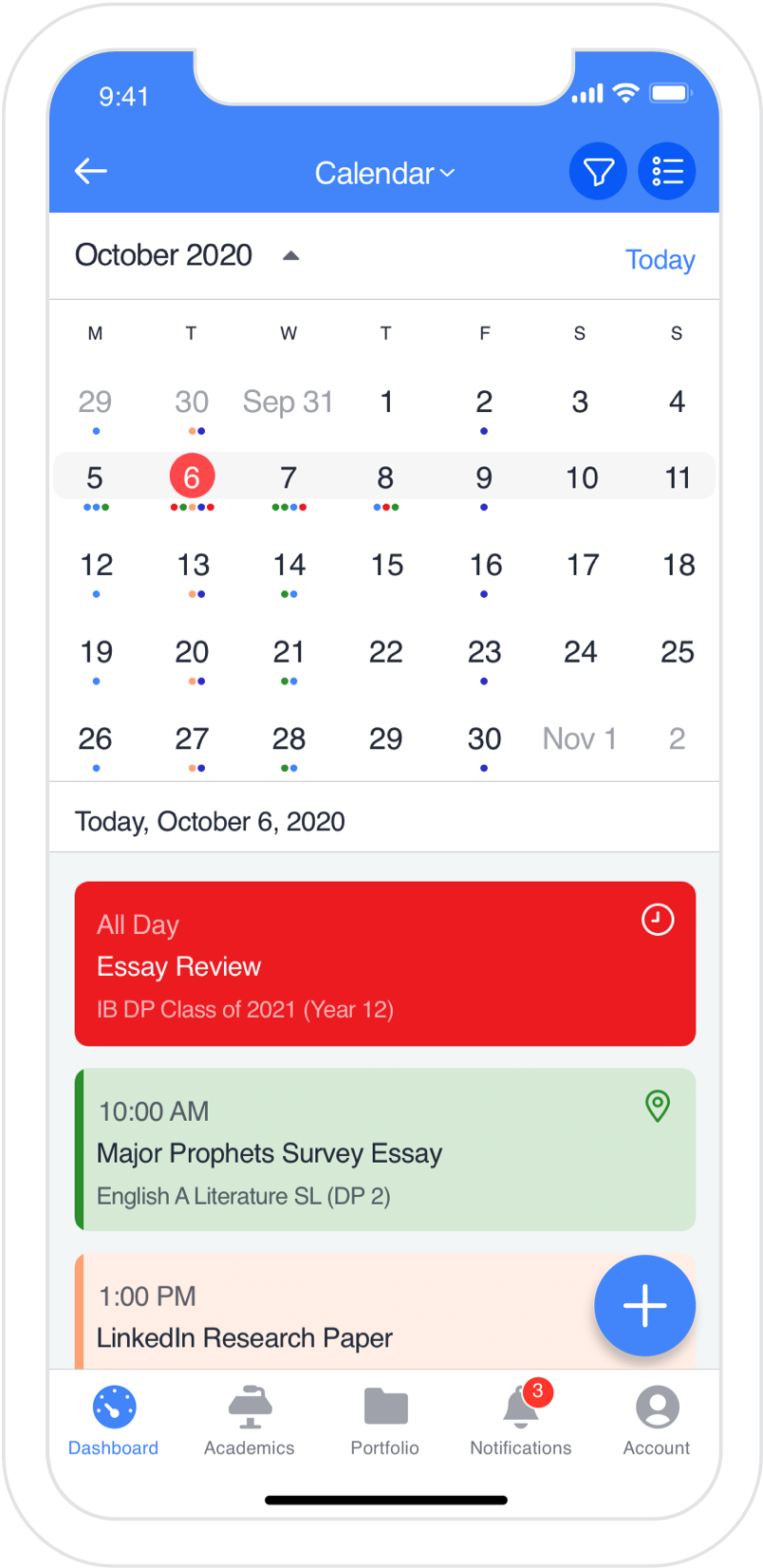 The ManageBac Mobile team has now released a new native mobile calendar to the ManageBac app! The calendar will now be the default landing page for all users with the latest version of the app. Other improvements include:
Agenda & Day Views
The new calendar will allow users to seamlessly cycle between days, weeks, and months. Two new views have been added to the calendar. The agenda view will consolidate and display users' tasks, online lessons, events and deadlines within a list view. This will be the default view for all user types. The day view will display the users' tasks, online lessons, events and deadlines in a timeline view.

Monthly and Weekly Calendar
For both the agenda and day view, users will be able to expand the calendar to view the entire month or collapse the calendar to view the selected week. Additionally, each day on the calendar will display dots for each task, online lesson, event, or deadline. This will give users a quick indication of the number of events for each day. The color of each day will indicate the category type (as defined by teachers within each class, year group, or group).

Filters
A filter button has been added to the top right of the new calendar page. From this menu, users will be able to easily filter calendar events by the year group, class, or group that they belong to.

Action Menu
A "+" button has been added to the bottom right of the new calendar page. From here users will be able to add events and deadlines.
Updated Dashboard for All Users + New Functions
June 9, 2021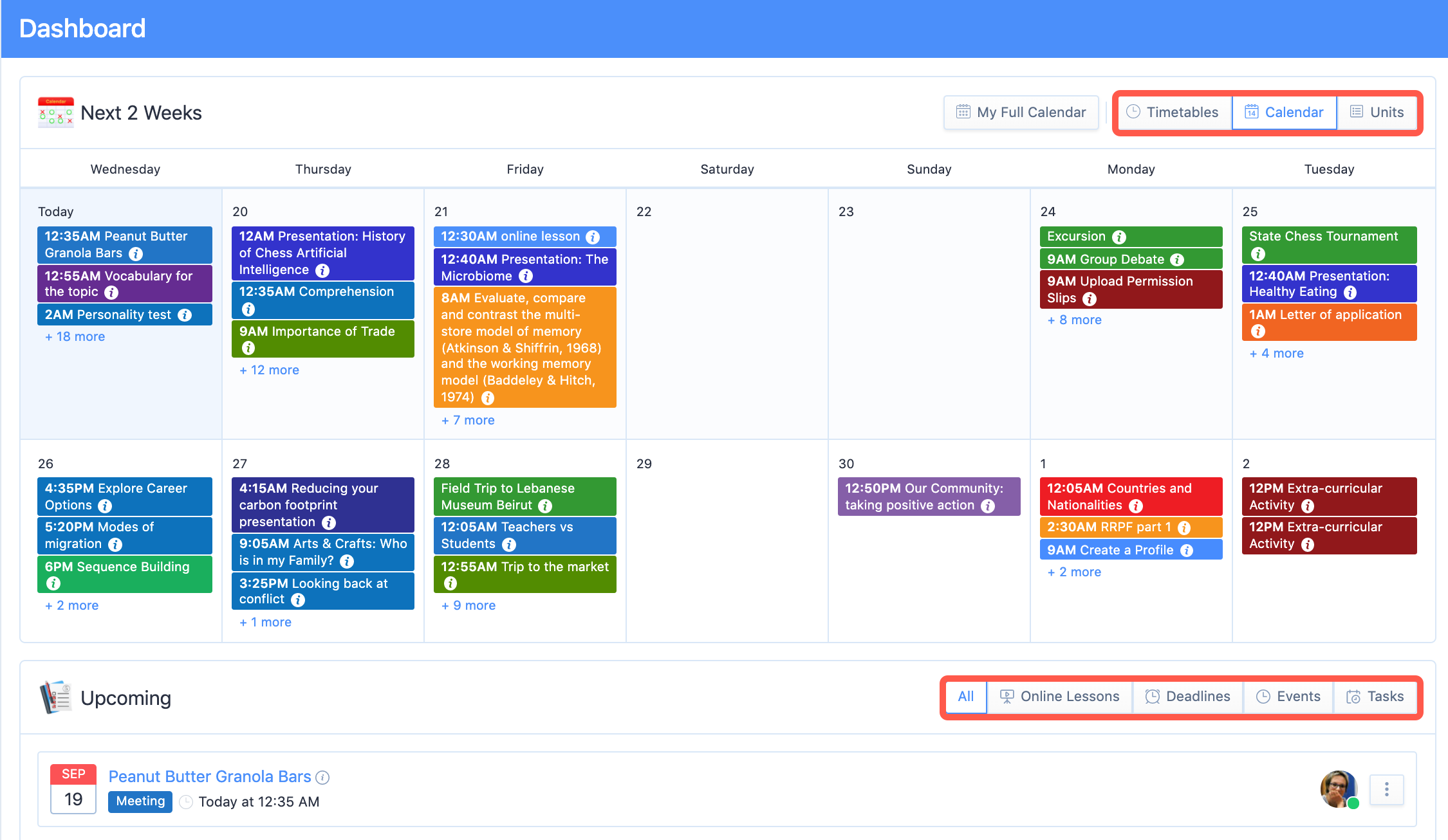 ManageBac has now published the first phase of our Dashboard improvements for 2021.
The updated dashboard aims to improve the user experience by reorganizing the dashboard into key sections (2-Week Calendar/Timetable/Unit Calendar, Upcoming Tasks/Online Lessons/Events/Deadlines, Classes). These sections will consolidate existing sections of the dashboard to make scrolling easier, while adding new functionality.
The topmost section of the dashboard will consolidate the user's 2-week calendar, unit calendar (admin & teachers only), and timetable. Users will be able to cycle between each of these views via buttons on the main header.
The upcoming section on the dashboard has also been updated. Previously, online lessons were displayed separately from tasks, deadlines, and events. All of these categories are now available under one section to provide a better big-picture view of the school day. Users will also be able to filter by each category. Again, this helps reduce the length of the dashboard without taking away existing functionality. The student dashboard will also have direct access to the student's portfolio, service learning, and project worksheets.
Behaviour Notes added to ManageBac API
June 8, 2021

Administrators using ManageBac's API will notice a Behaviour Notes retrieval option now available via Settings > Develop > Reference Docs. This will allow the API to retrieve all the behaviour notes in your school's ManageBac account.
Quick-Add now including Online Lessons
June 8, 2021

The Quick Add button on ManageBac has received several upgrades, including:
Ability to start scheduled Online Lessons
Ability to schedule new Online Lessons
(For Students) Ability to join scheduled Online Lessons
All forms (e.g. Posting Messages or Adding Resources) now also keep you on the same page you were working on. The exception is creating unit planners and assessment tasks, which will still take you to the class you select to complete your unit or task.
Attendance and Timetable interface improvements
May 19, 2021

ManageBac has released several user interface upgrades and improvements to our Attendance and Timetable system. These include:


Parents Only
The

attendance

page has been consolidated into the Timetable

page. Parents can now add and view attendance excusals directly on their child's timetable.
From the new attendance excusal modal, parents will also be able to edit or delete incorrect attendance excusals.
All User Types
A new

homeroom

row has been added to students' timetables. This row will indicate students' attendance for each day.
Attendance excusals

will now be displayed directly on the timetable. Excusals will be displayed directly above the new "homeroom" row.
A new

attendance excusal

modal has been added to the timetable. This new modal will display the attendance excusal start date, duration, and reason.



A new

upcoming tasks & online lessons icon

has been added to the top right corner of each class. This icon will indicate the number of upcoming tasks & online lessons for each day. Each upcoming task and online lesson will be displayed on the updated class modal.
Tooltips for each class have been removed

from the timetable. Users will simply need to click on the cell to display the class modal.

From the class modal, users can now directly

email all teachers

who are members of the selected class. The Send E-mail link will open whatever e-mail system is being used by the user on their computer and auto-fill in the teacher's e-mail address.
Bulk Hide Task Assessment Results
May 16, 2021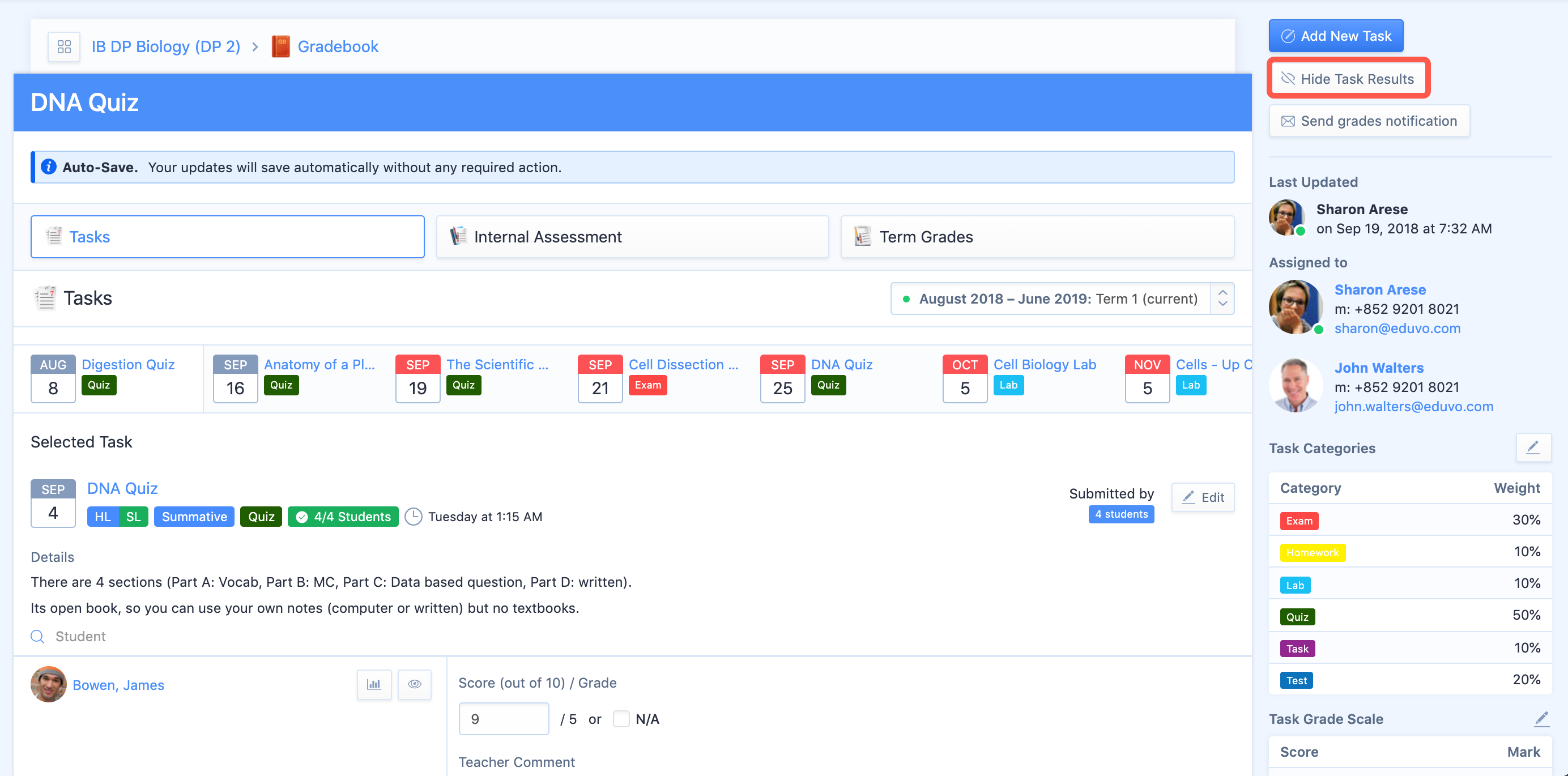 Teachers now have the ability to hide task assessment results from their class until they are ready to share them with students and parents on ManageBac. To use this new function, navigate to the class Gradebook or Tasks tab, select the task in question, and click on Hide Task Results on the right navigation panel.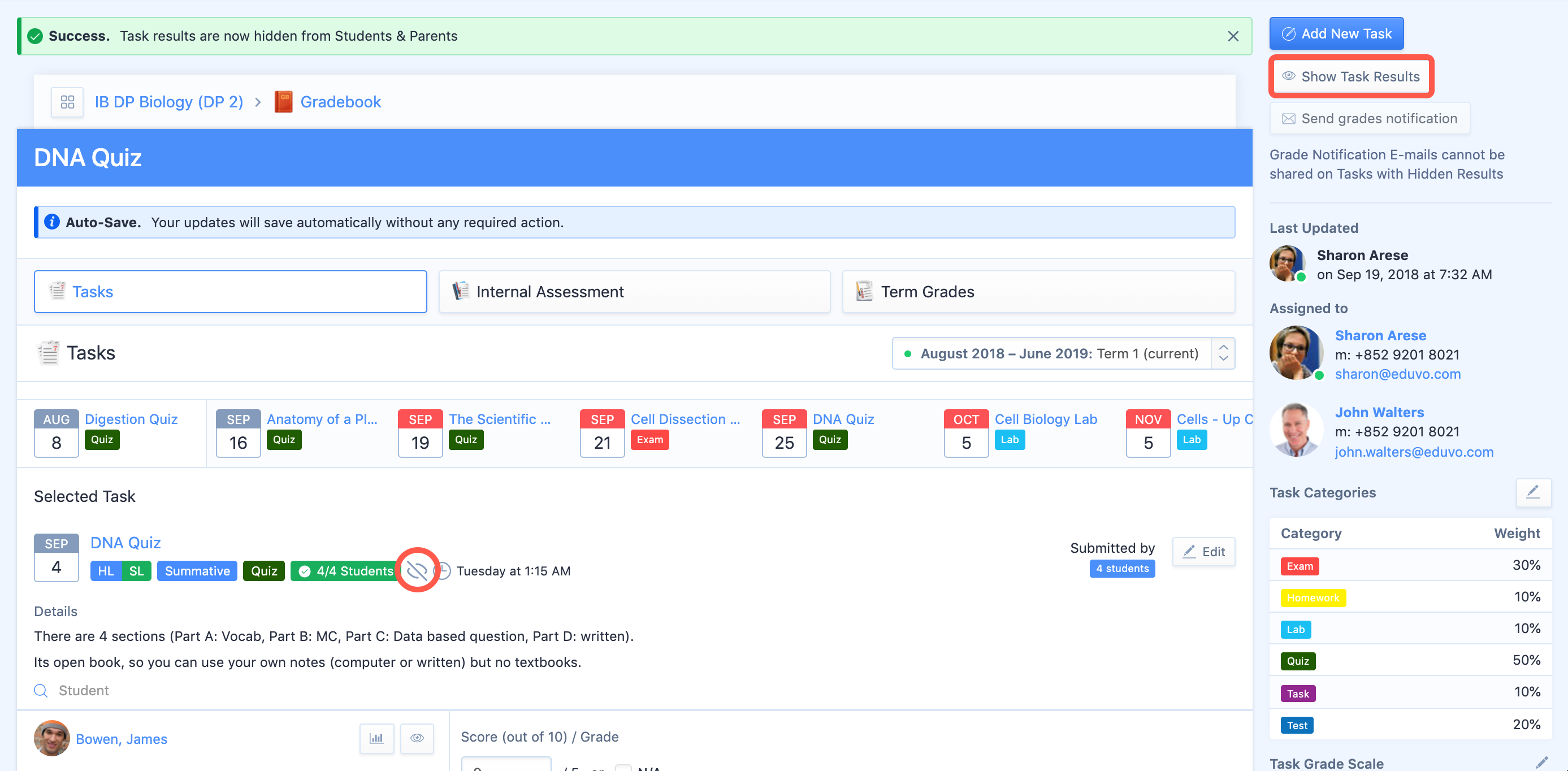 If task results have been hidden, a hidden 'eye' symbol will appear next to the task title. To share task assessment results, teachers may click on Show Tasks Results on the right navigation panel.
Tasks with hidden results will still appear on student and parent calendars, and they can still upload work to the dropbox. Only grades and comments will be hidden from their view.
Please note you cannot send grade notifications to parents and students via email if Hide Task Results is on for that task.
Rich Text Options for Term Grade Comments available
May 14, 2021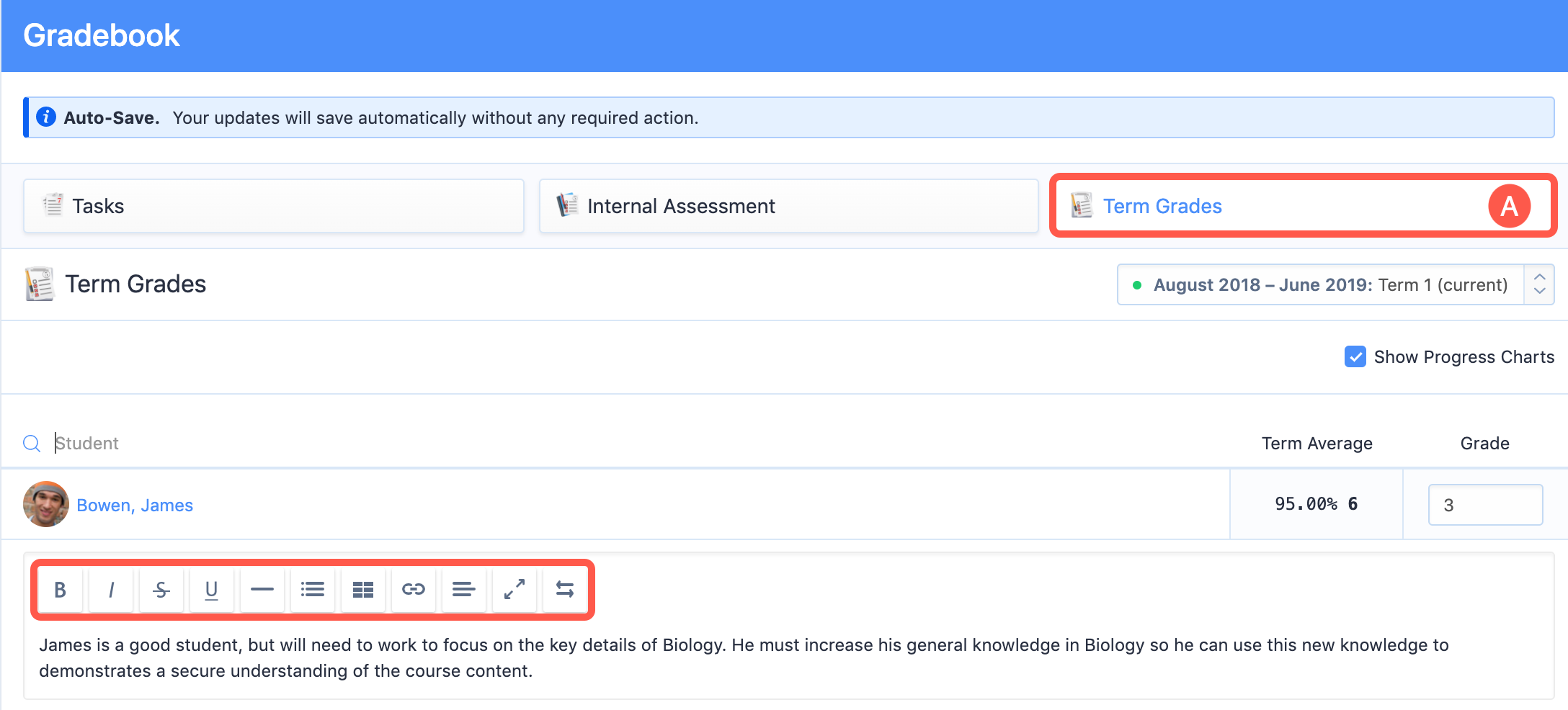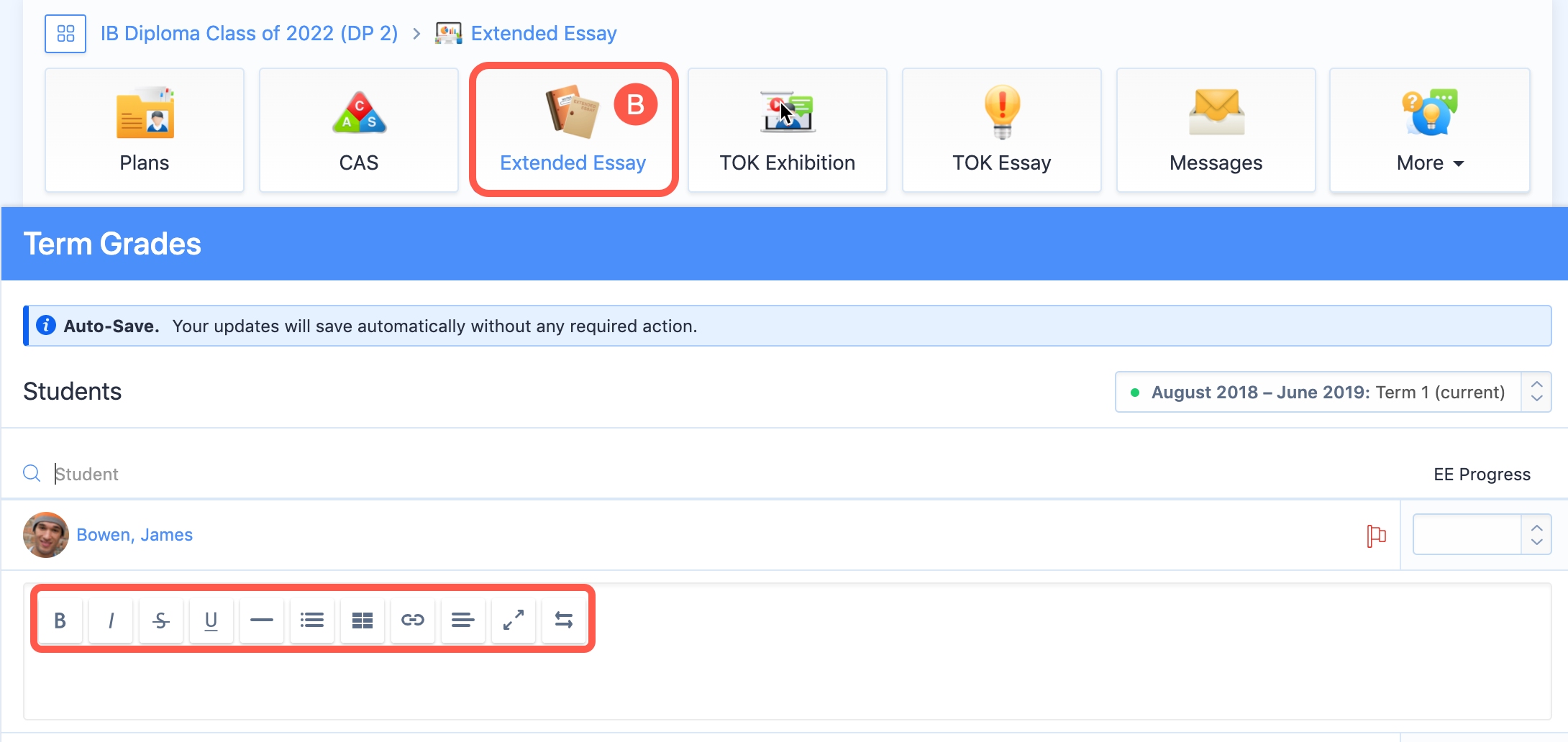 Rich text editor formatting options have been added to Term Grade Comments and Advisor comments in three places - A in Classes > Gradebook > Term Grades, B in Core Projects > Submit Term Evaluations and C in Advisor Comments. This allows class teachers and advisors to enter comments with additional formatting options, such as bolding or changing the text direction to right to left and left to right.
Term Gradebook Lock excludes Account Admins
May 13, 2021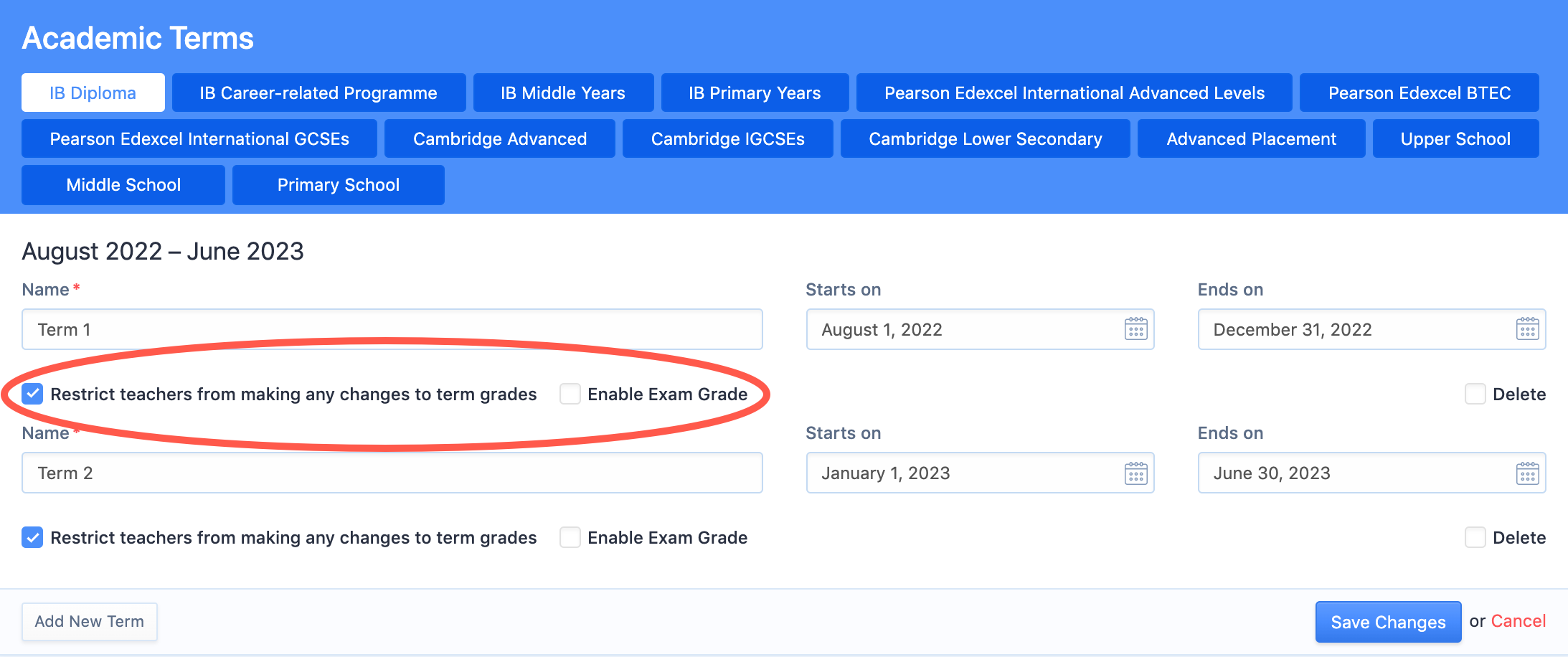 Via Settings > Academic Terms, any account administrator can lock term gradebooks once they are ready for the final proofing and review or report publication stage. This can be done by editing the Term in question, and selecting Restrict teachers from making any changes to term grades.
Account administrators are now excluded from this lock, and will still be able to edit any term gradebook while it is locked, to allow for more efficient proofing and review processes.
Date Picker added to Assessment Task Creator
May 13, 2021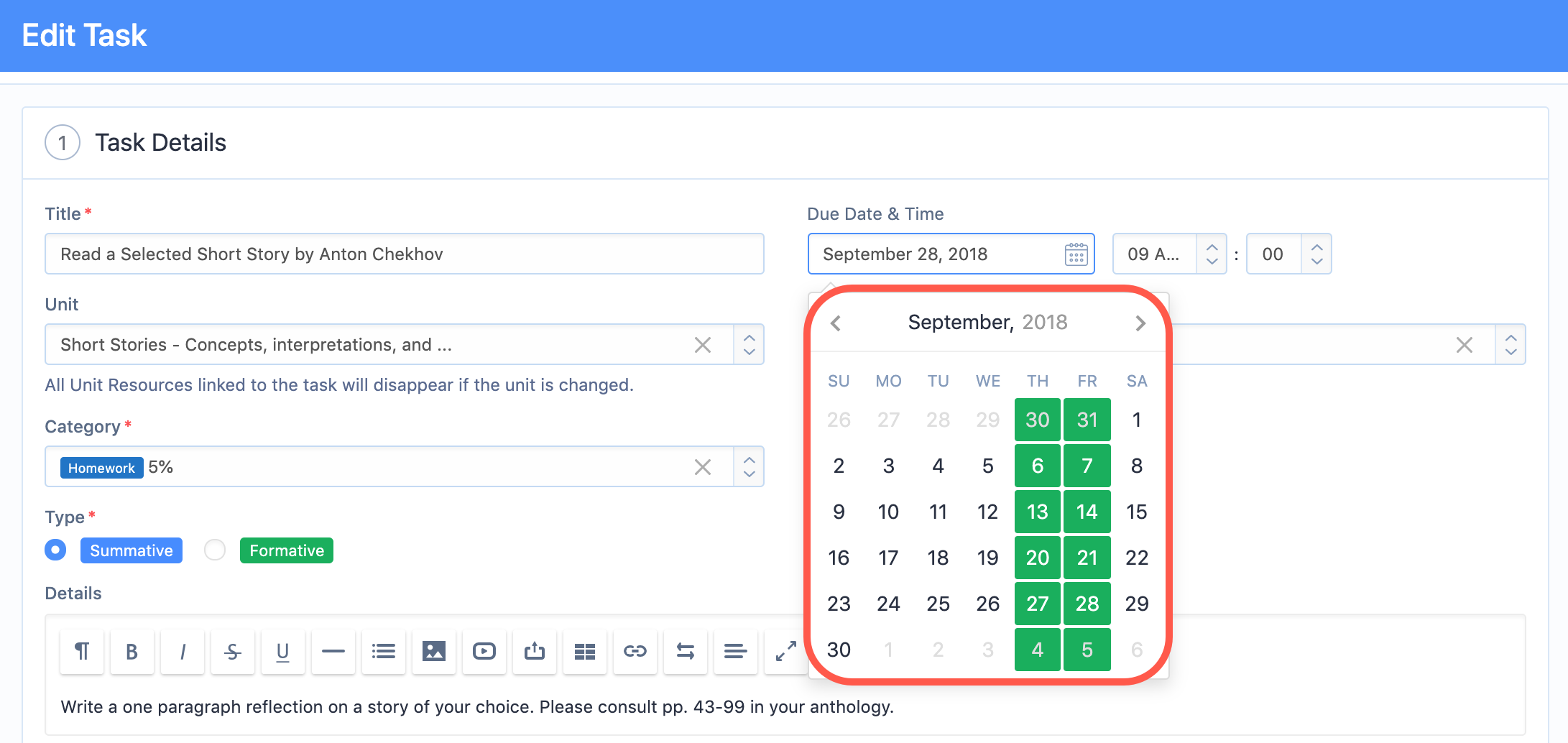 When creating a task, teachers can now see at a glance which days that class has lessons in the school timetable. Dates marked as green have lessons scheduled, days marked as white do not.
To learn more about how to create timetables in ManageBac, click here.
PYP Reports > Subject Assessments Format adjusted
May 13, 2021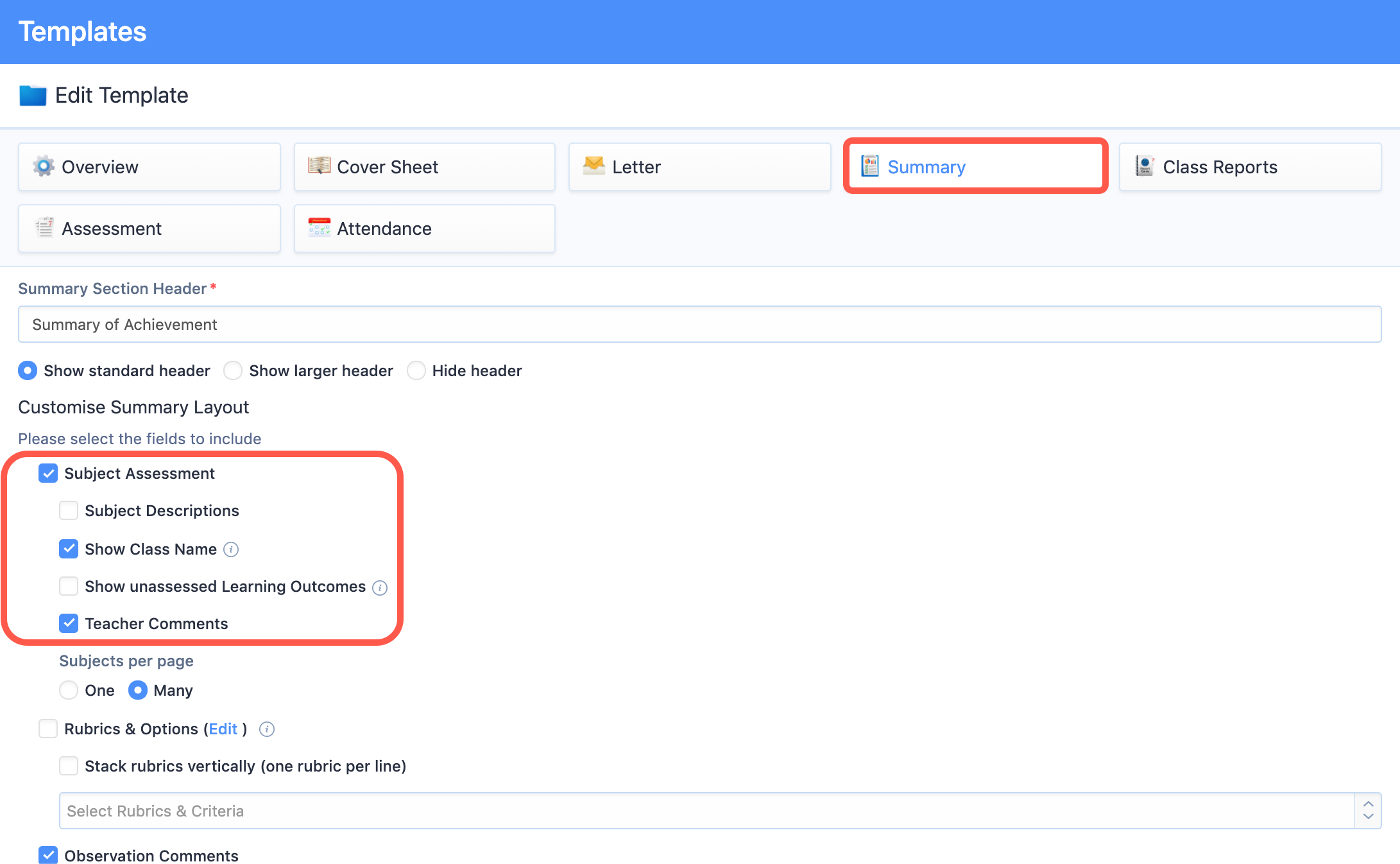 The order of items in the Enhanced PYP Report Template > Summary of Achievement > Subject Assessment section has been updated on the printed PDF report cards to resemble the same order as in the template.
The updated format will show Subject Descriptions ahead of Subject assessments which is ahead of Subject Comments.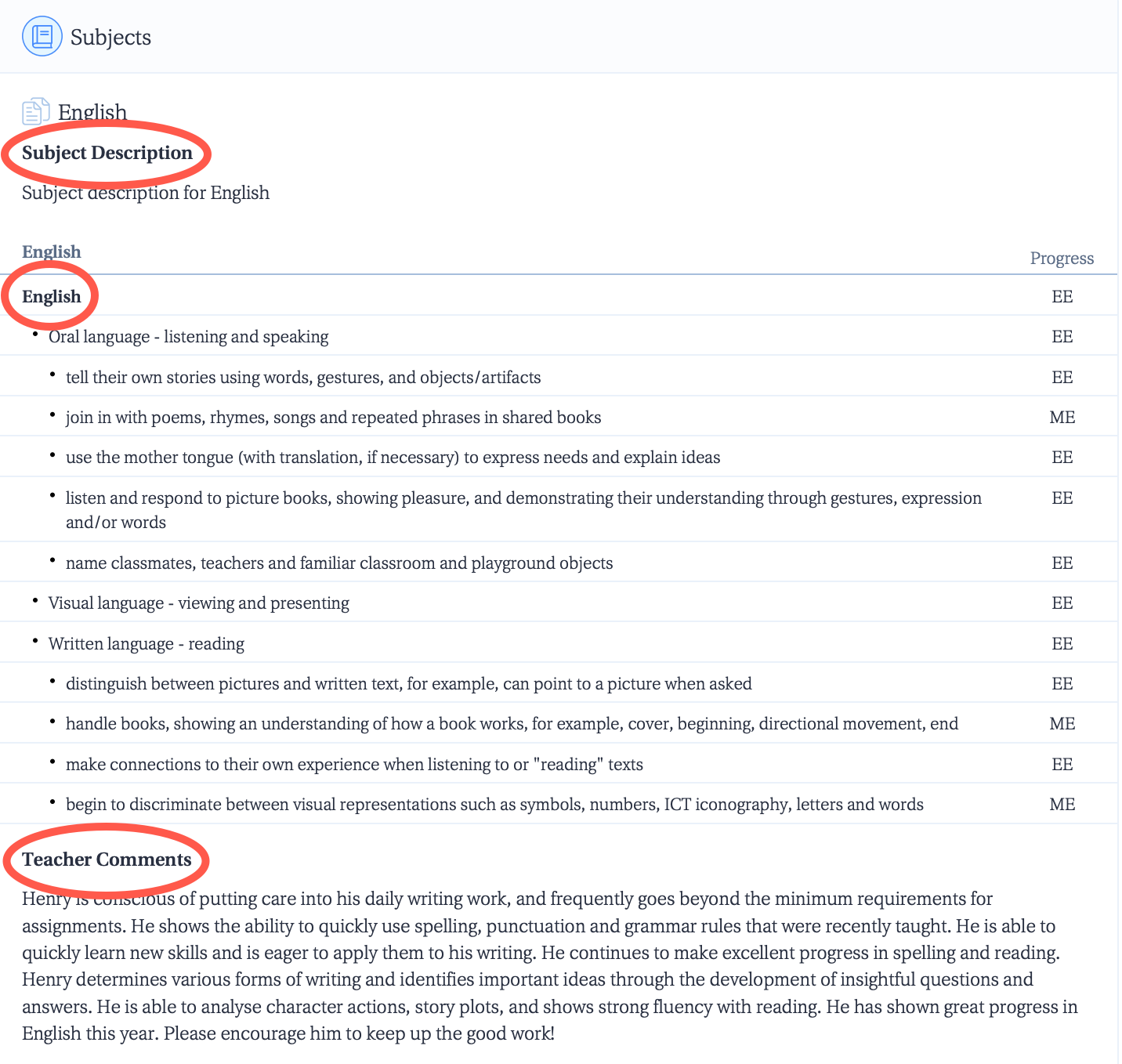 This order now follows other report templates where a more general subject/class description appears first and is followed by more detailed subject assessments and comments.
Rich Text added to Gradebooks and Advisor Comments
May 12, 2021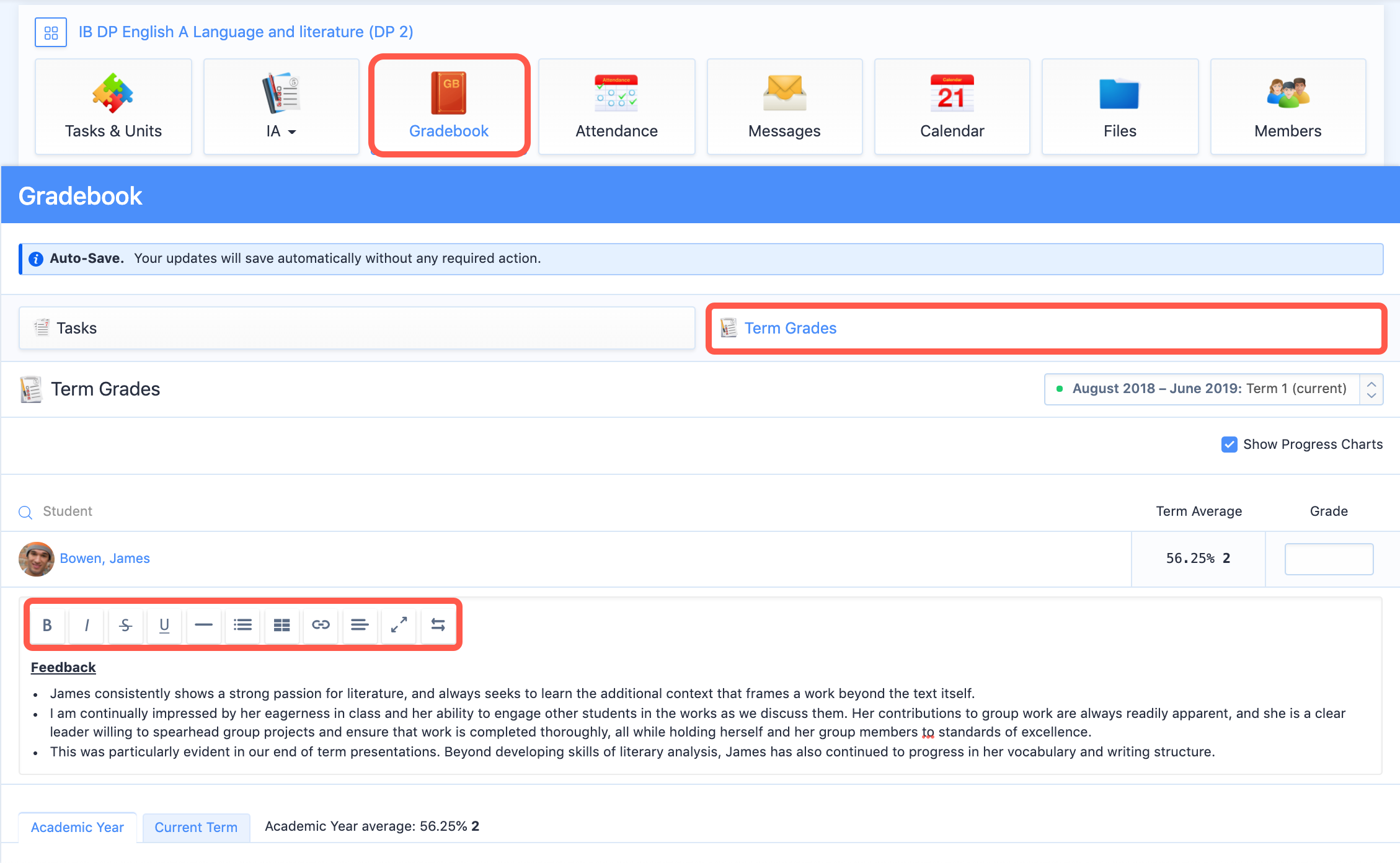 Teachers can now use our Rich Text Editor Lite to format term gradebook and homeroom advisor comments in ManageBac. The new formatting options include the ability to bold, italicize, strikethrough, underline, add dividing lines, add lists, and hyperlink.
Teachers may also switch text from left to right into right to left, to allow for correct formatting in other languages such as Arabic.
IB CP RPPF export for Reflective Project available
May 6, 2021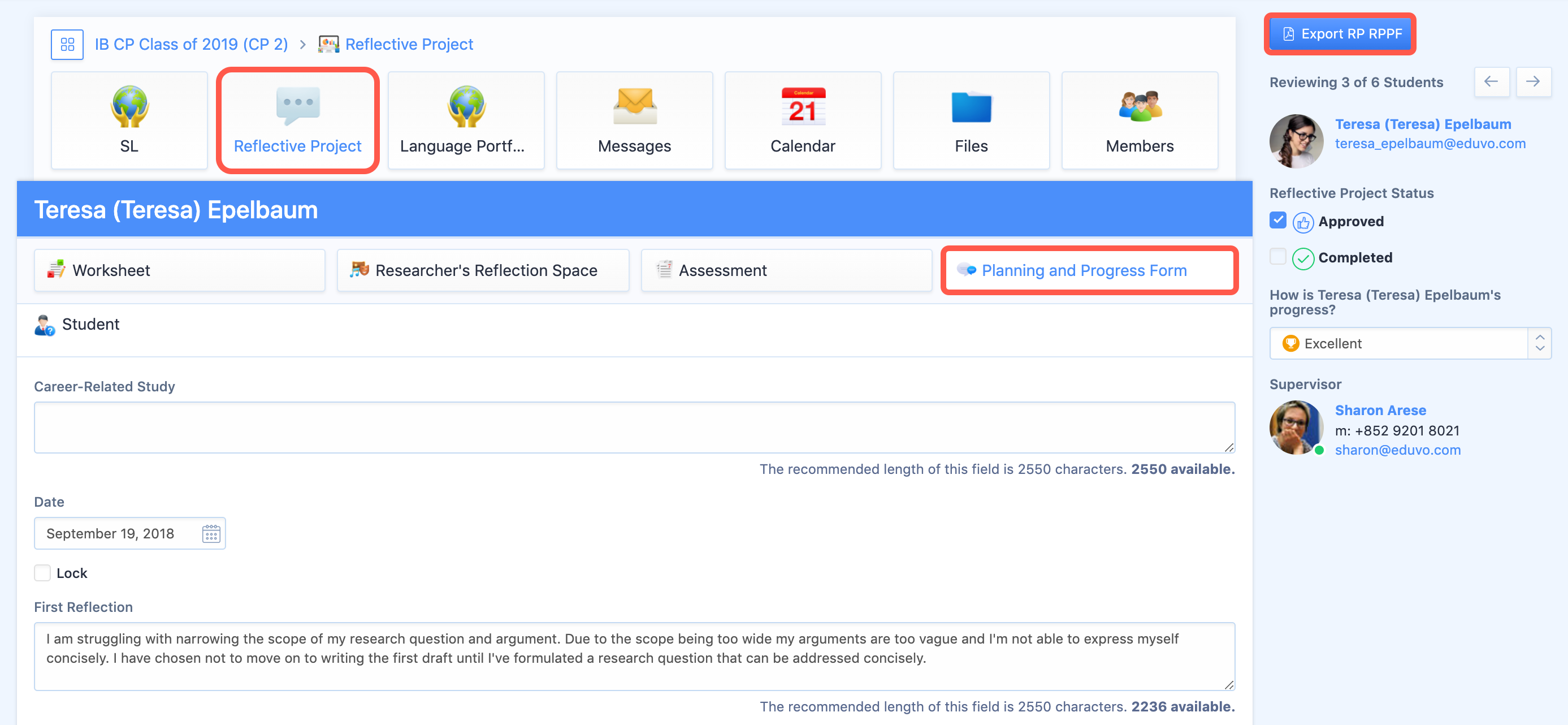 The official IB form for the IB Career-related Programme Reflective Project is now available for export on ManageBac. Students and Supervisors may fill in the reflections and comments via the Planning and Progress Form tab within the Reflective Project, and this information will transfer to the official form. The form itself can be exported on the right navigation panel.
To enable the form, please go to Settings > IB CP > Project-based Learning, and select the Reflective Project. Under the Framework tab, enable the form. You may also add custom student hints and directives here: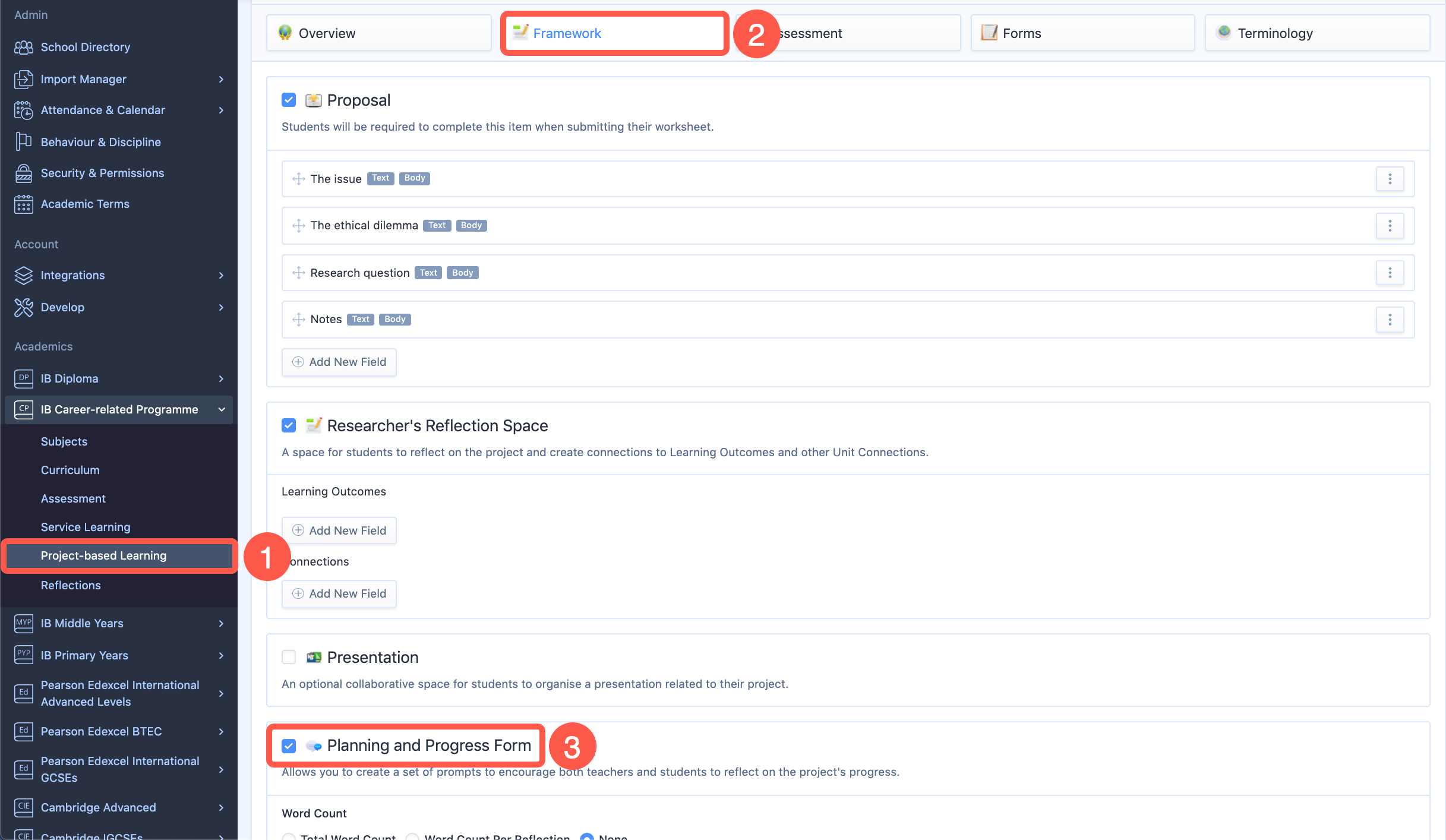 Settings User Interface Updated
May 5, 2021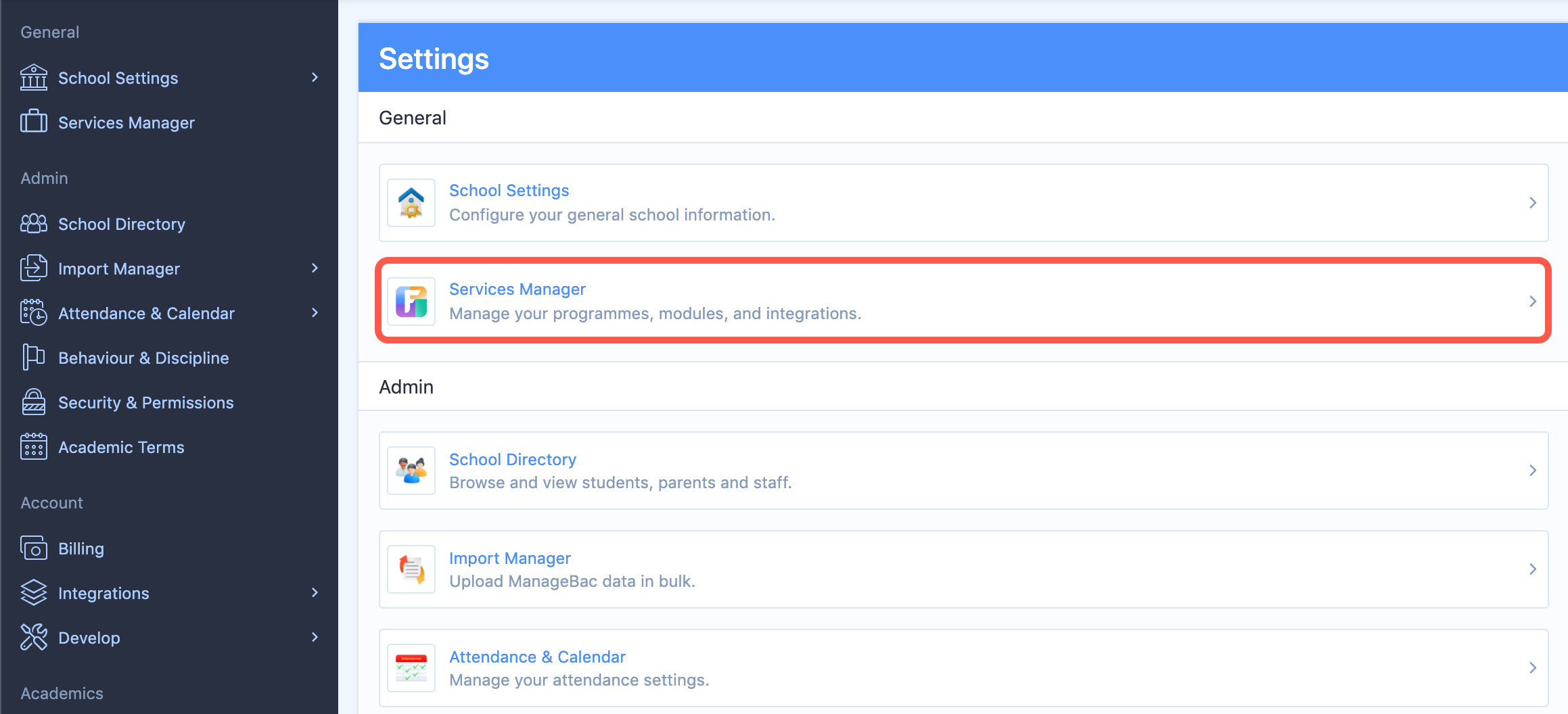 Administrators in ManageBac will see several design and navigation improvements to our Settings interface, including easier-to-read labels and icons on the main page, and a re-ordered menu.
Schools also now have access to the Faria Services Manager, which provides a clear overview of the programmes your school is currently subscribed to, as well as what else is available in the Faria family of products and integrations.
Bulk Submit Google Docs templates
Apr 29, 2021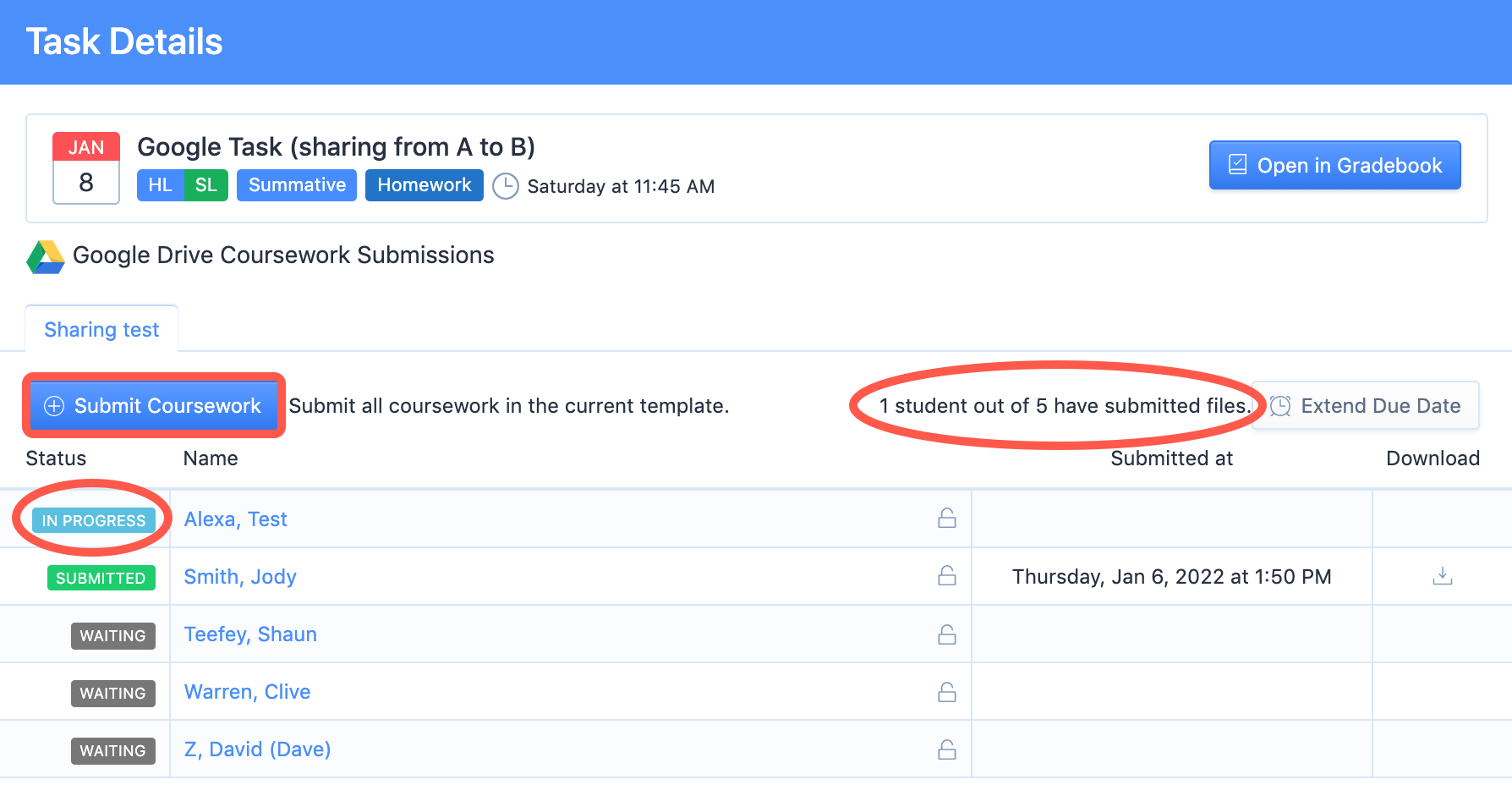 Teachers now have the ability to bulk submit students' Google Doc templates using the Submit Coursework button for each linked template in a Task. The count of how many students have already submitted their template shows on the right above the student list. This will force-submit and revoke writing access for all students the selected template is assigned to.
See our Enabling Google Task Templates and Adding & Managing Tasks with Google Docs Templates articles for more information about Google Doc template Tasks in ManageBac.
Updated Homeroom Absence notifications for Parents
April 16, 2021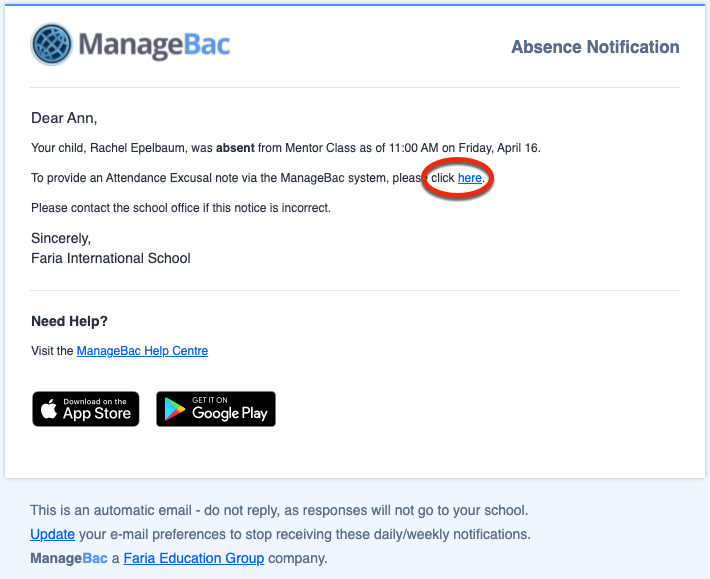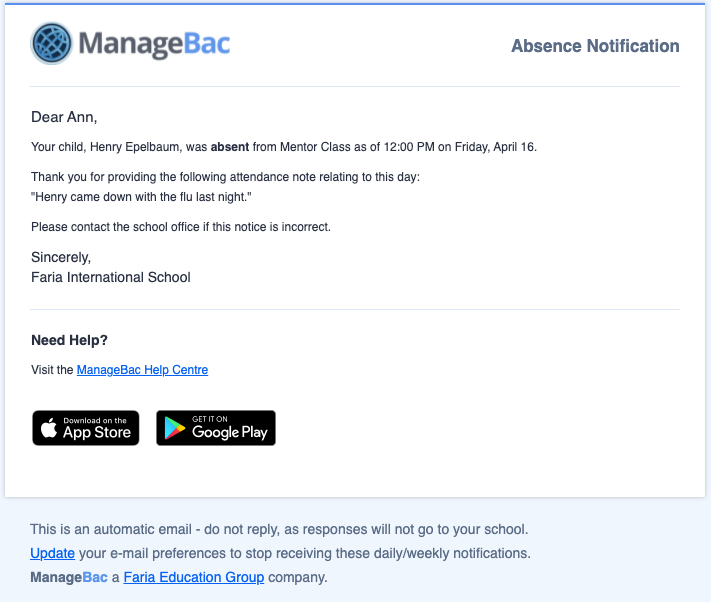 Homeroom Absence notifications have been updated for parents, if schools notify parents of homeroom absences via email.
Parents can now directly access the Attendance Excusal page to submit excusal notes via a link in the email notification or they will see their excusal note as part of the email notification.
Mobile App includes Portal Access, Drag n Drop Files
April 13, 2021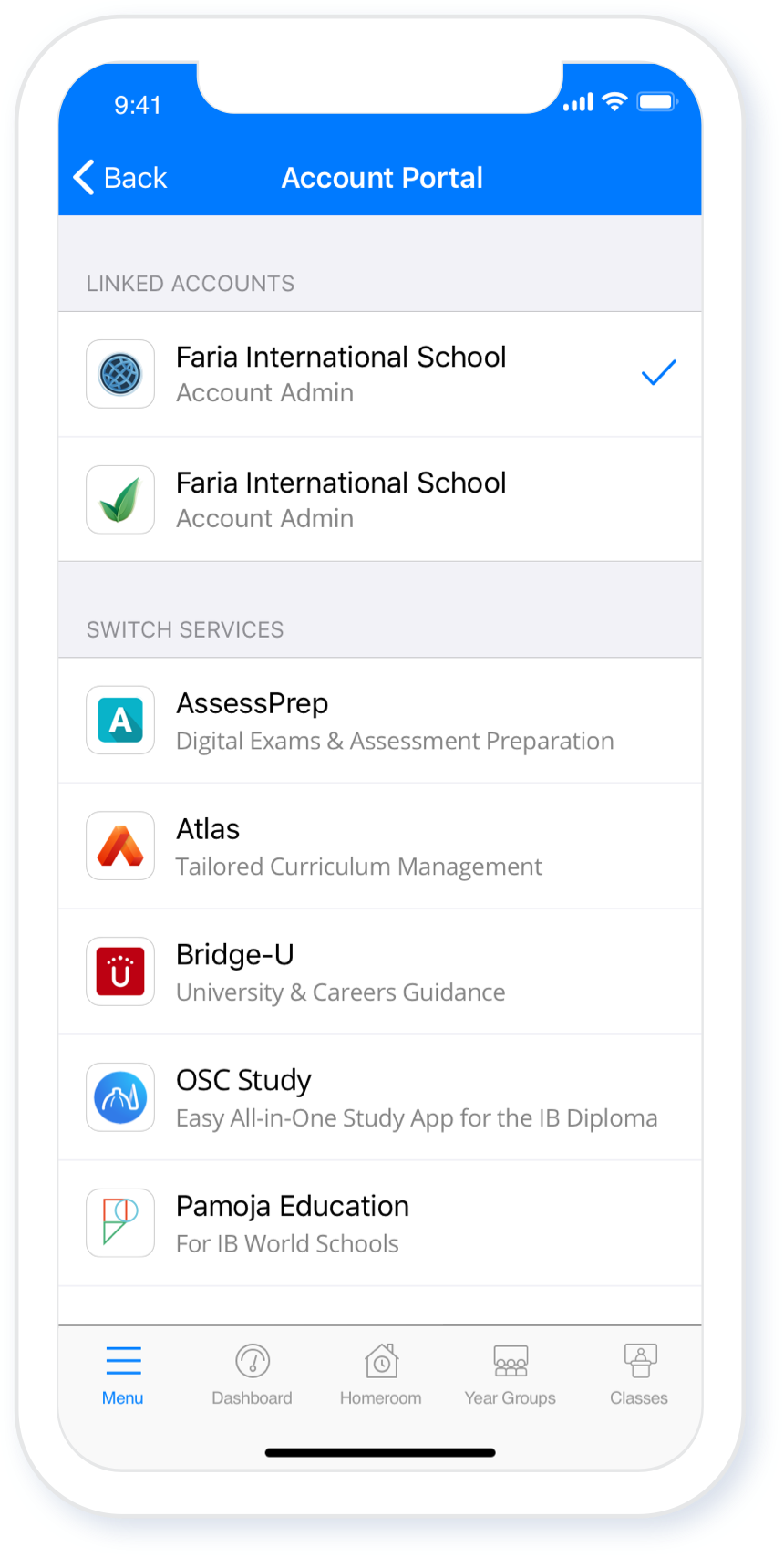 The next released update of the Android and iOS ManageBac app has several exciting new features, including:
1. Accounts Portal (Android + iOS)
The accounts portal has been added to the main menu of the app. This will allow users to seamlessly navigate to other integrations.
2. Quick Lock Functionality (Android)
From the accounts page users can select the Quick Lock option. This option will provide users with additional security. If the app is inactive for 2 minutes the user will be required to input their password. By default, this will be disabled. This feature works with passcodes, face recognition, fingerprint scanner, and pattern unlocking mechanisms.
3. Drag and Drop Support for Files
Users will be able to drag and drop files from their phones into the ManageBac app. This will work any on any page that supports file uploads (E.g. Coursework Submission, Portfolio Resource, Unit Stream & Resources, etc).
Import Subjects in Bulk via CSV for Non-IB Programmes
April 1, 2021

Schools using ManageBac for custom, national, and non-IB programmes can now import their own subject lists via Settings > [Programme] > Subjects > Import Subjects. A CSV template will be provided, and required fields include Subject Group and Subject Name.
Pamoja Online Course Registration for MYP 5 Students
March 17, 2021

Schools with IB DP, IB MYP and Pamoja Online Courses integration enabled can now include a special version of the IB Diploma Plans worksheet for their MYP 5 students.
This allows students during their final MYP year to select their IB DP subjects and register for Pamoja Online Courses for the following first year of IB DP. Please see our Pamoja Online Courses QuickStart Guide for additional information about the registration process.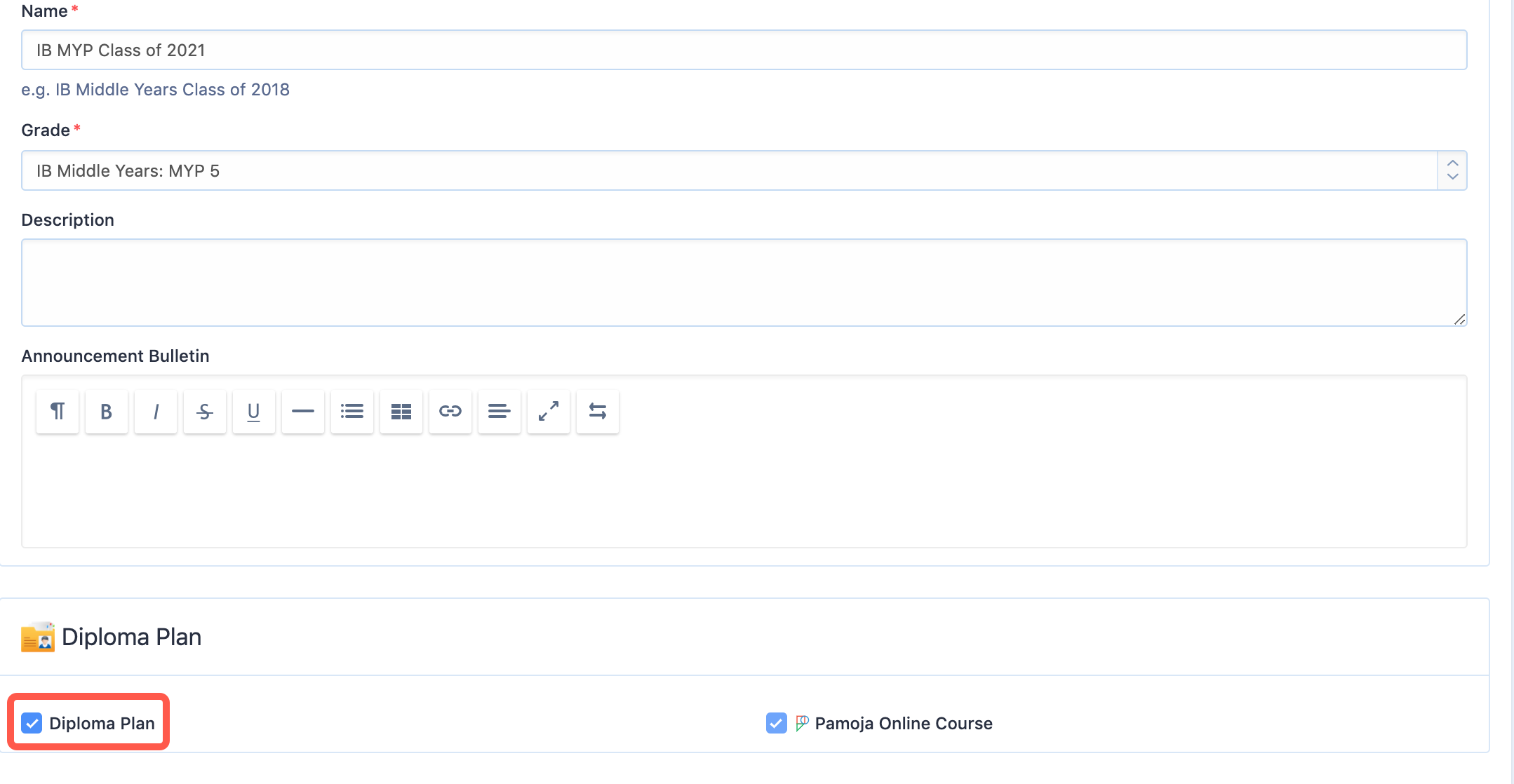 The Diploma Plans Worksheets can be enabled in the Overview > Edit Year Group Settings page of the MYP 5 Year Group.
Add Custom Standards Sets to any Programme
March 16, 2021

Schools can now create school-specific sets of Standards that can be selected in any Unit Planners of the corresponding academic programme via the Settings > Select Programme > Curriculum > Standards pages. Please see our Adding Standards as an Administrator article for additional information and details.
IB DP Group 1 Orals and Extracts updated
March 15, 2021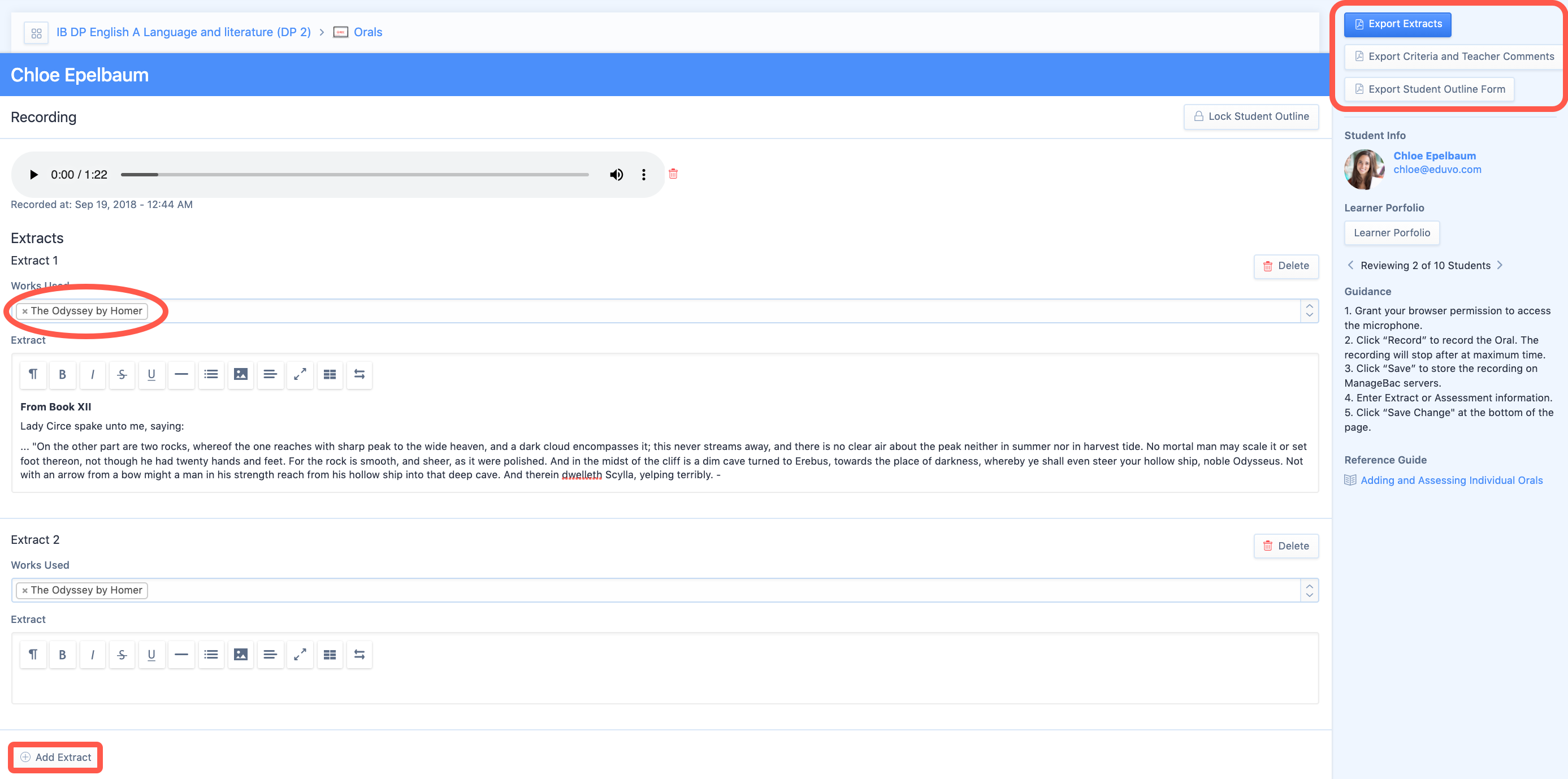 Extracts added to IB DP Group 1 Classes and linked to Works Studies for the Oral recordings, have now updated text editor options and the entire Extract text or images can be exported to a PDF document for IBIS eCoursework submission.
Student Outline information and Assessment Criteria and Teacher Comments for Orals can also be exported to separate PDF documents for submission to eCoursework. See our updated Managing Individual Orals in Group 1 and Group 2 classes tutorial article for more information.

The Generate IB Forms button in students' Portfolio > eCoursework folder will also generate those PDF documents for each student together with other IB relevant files.
TOK Prescribed Titles updated for November 2021
March 5, 2021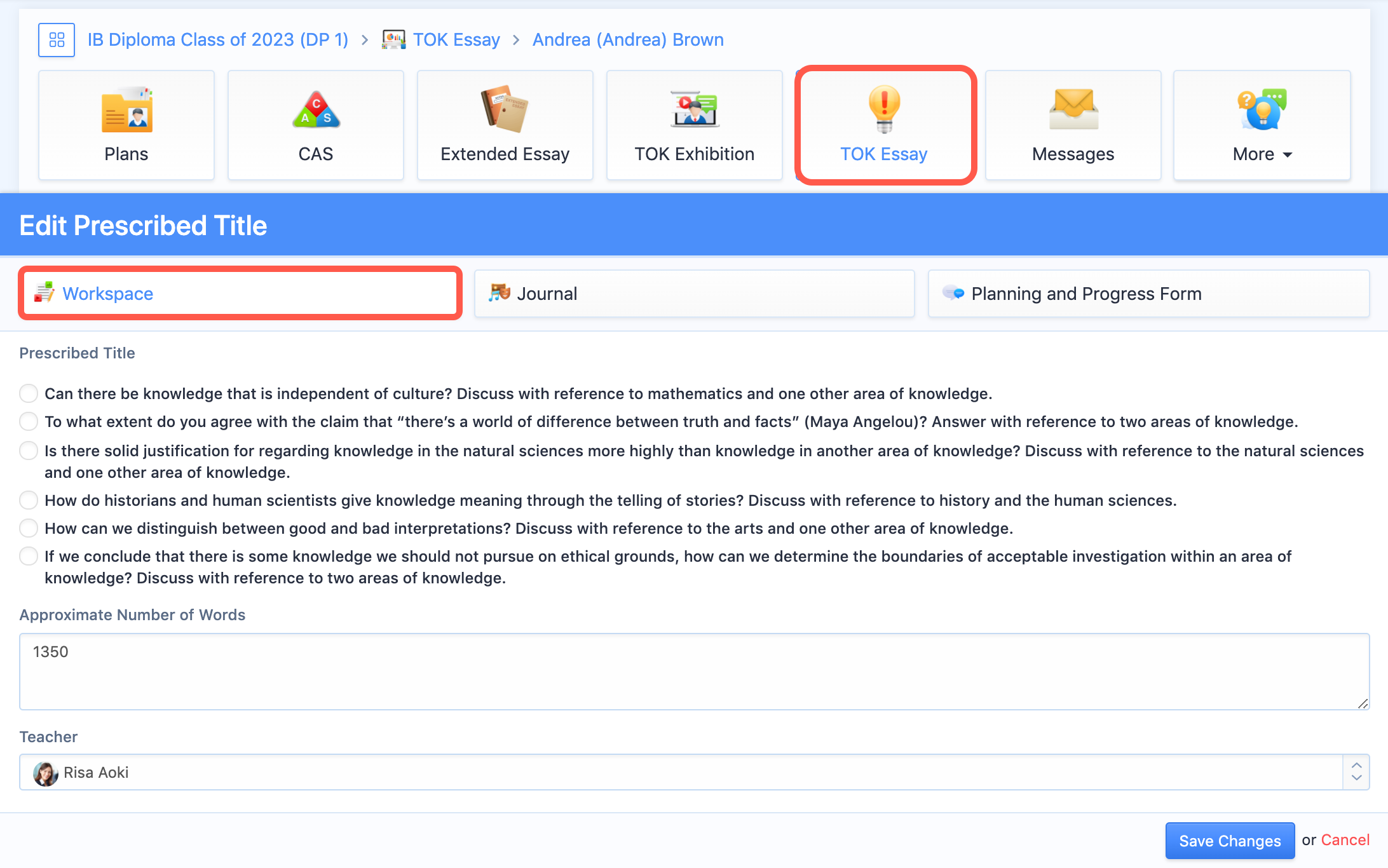 November 2021 Theory of Knowledge prescribed titles are now available on ManageBac. We have also updated our prescribed title format to include their numbers, as listed by the IB. This was done to make it easier for IB Diploma coordinators to enter in the student's chosen prescribed title number into IB eCoursework.
For more information about TOK, particularly our new TOK 2022 updated options, please click here.
Assessment Task pages have been updated
February 24, 2021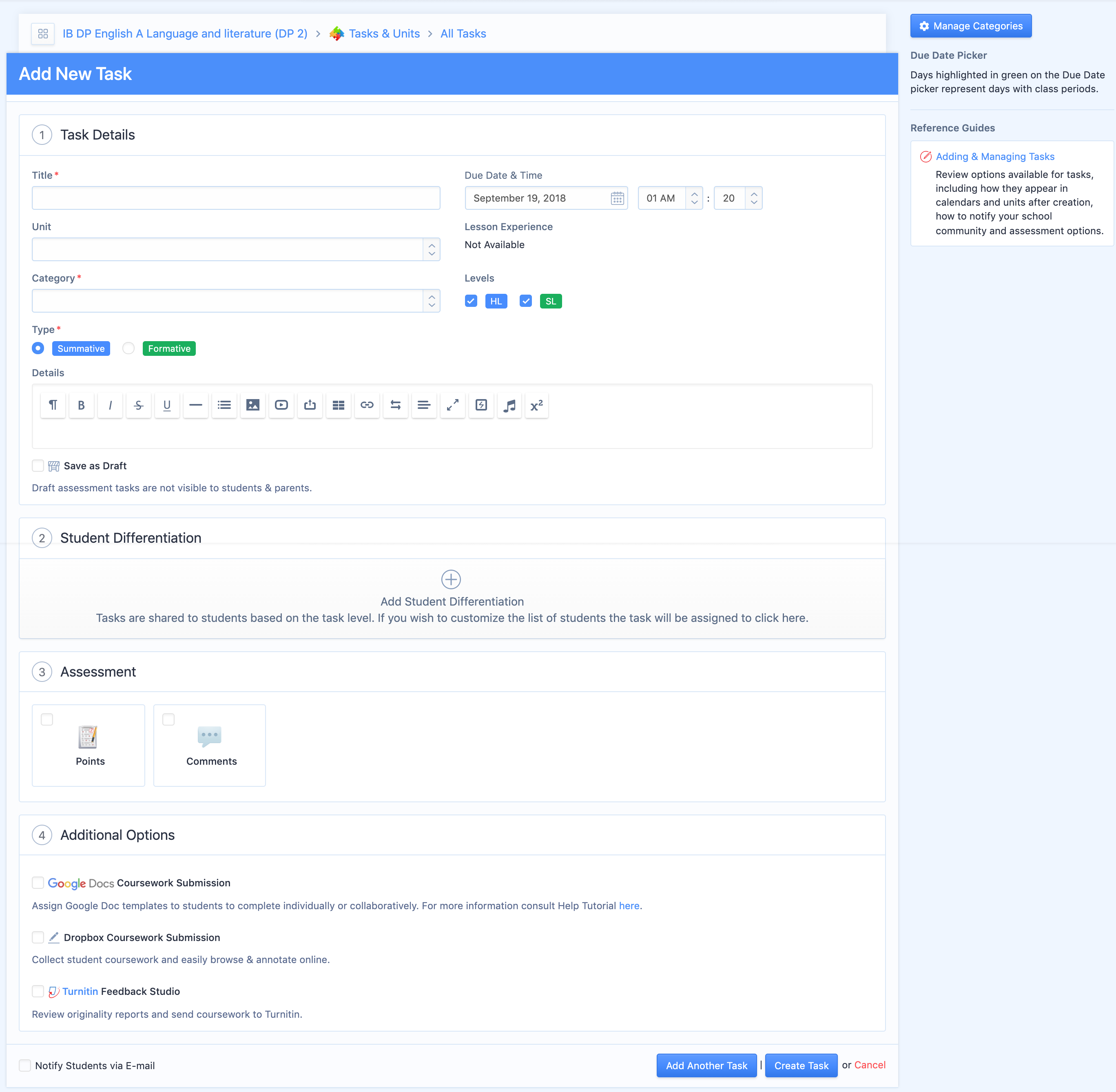 We are very excited to be able to provide an updated view and additional functionalities for the Add Task pages across all programmes. The major changes are an updated layout of the page as well as having the ability to differentiate Tasks for students in a class.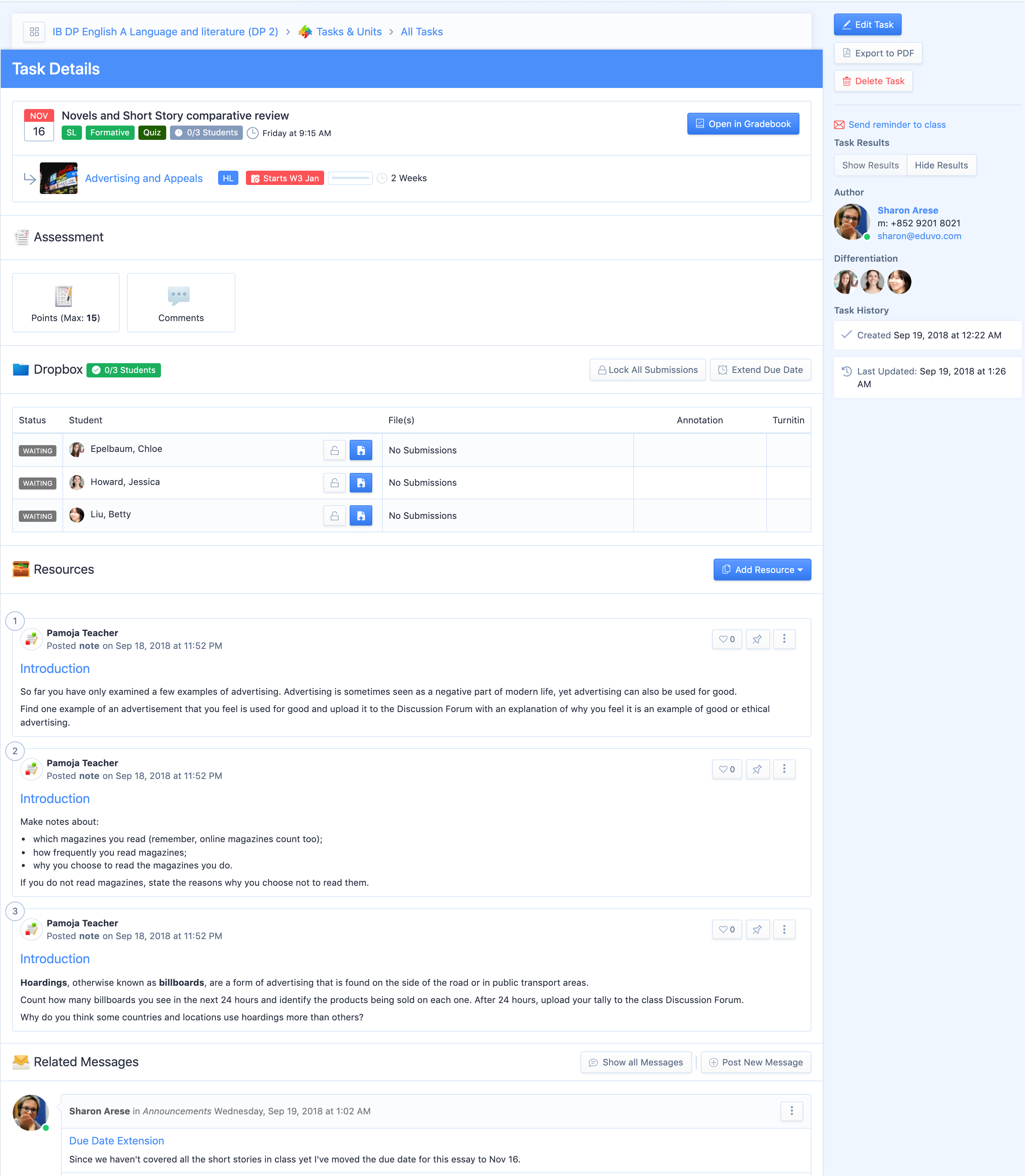 The Task page layout has also been updated in this process and we included additional improvements for the Resource and Task Sharing processes.
Please feel free to read more about the Assessment Task Improvements in our blog article here.
Bulk Approve Students in CAS and SA Groups
February 24, 2021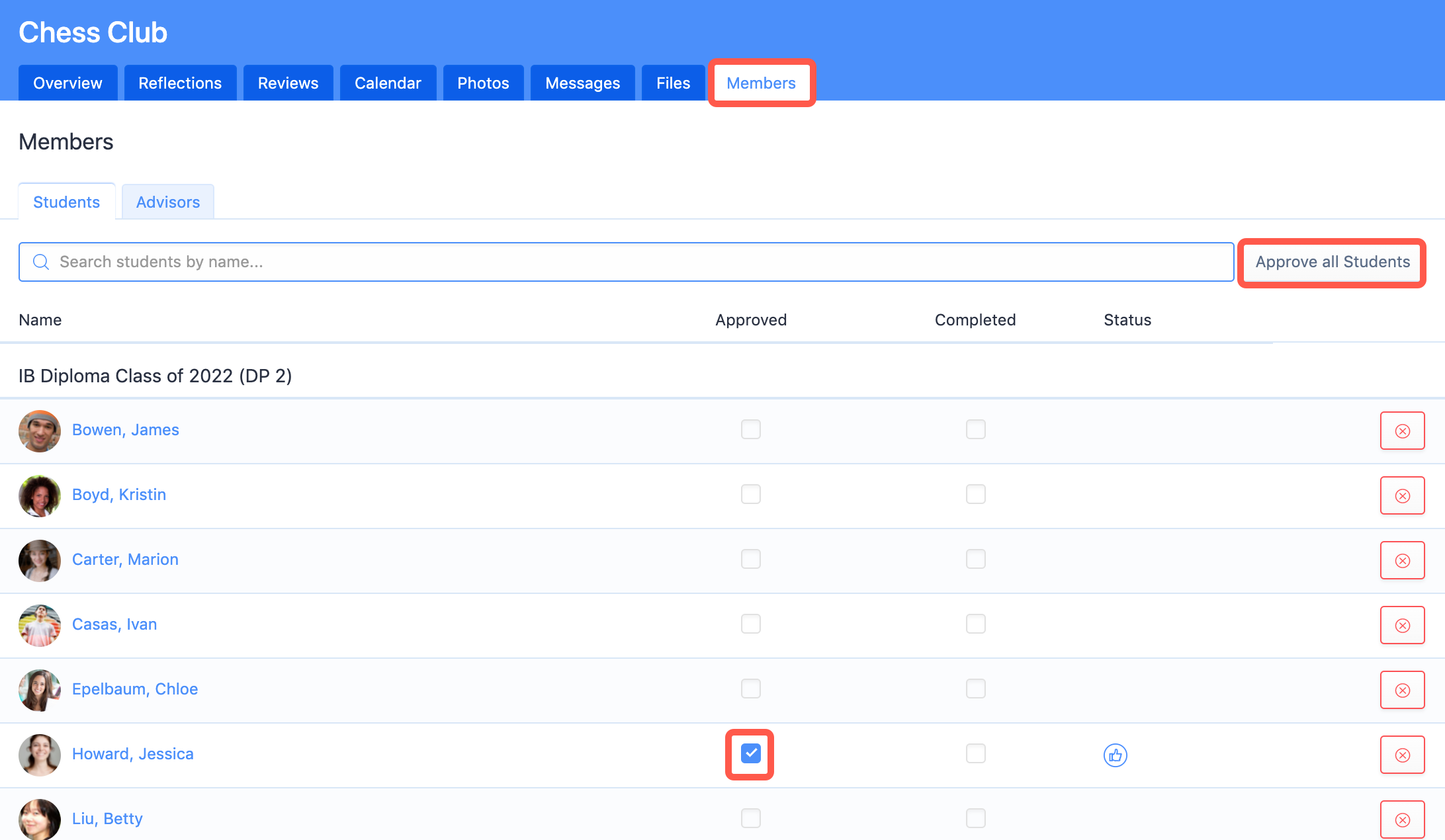 Students can be bulk approved via the Members tab of CAS Project or SA Groups. This will automatically add the Group as CAS Experience or SA Activity to the students' CAS or SA worksheets. Please see our Creating CAS Project Groups for additional information.
Messages & Notification Preferences have been updated
February 23, 2021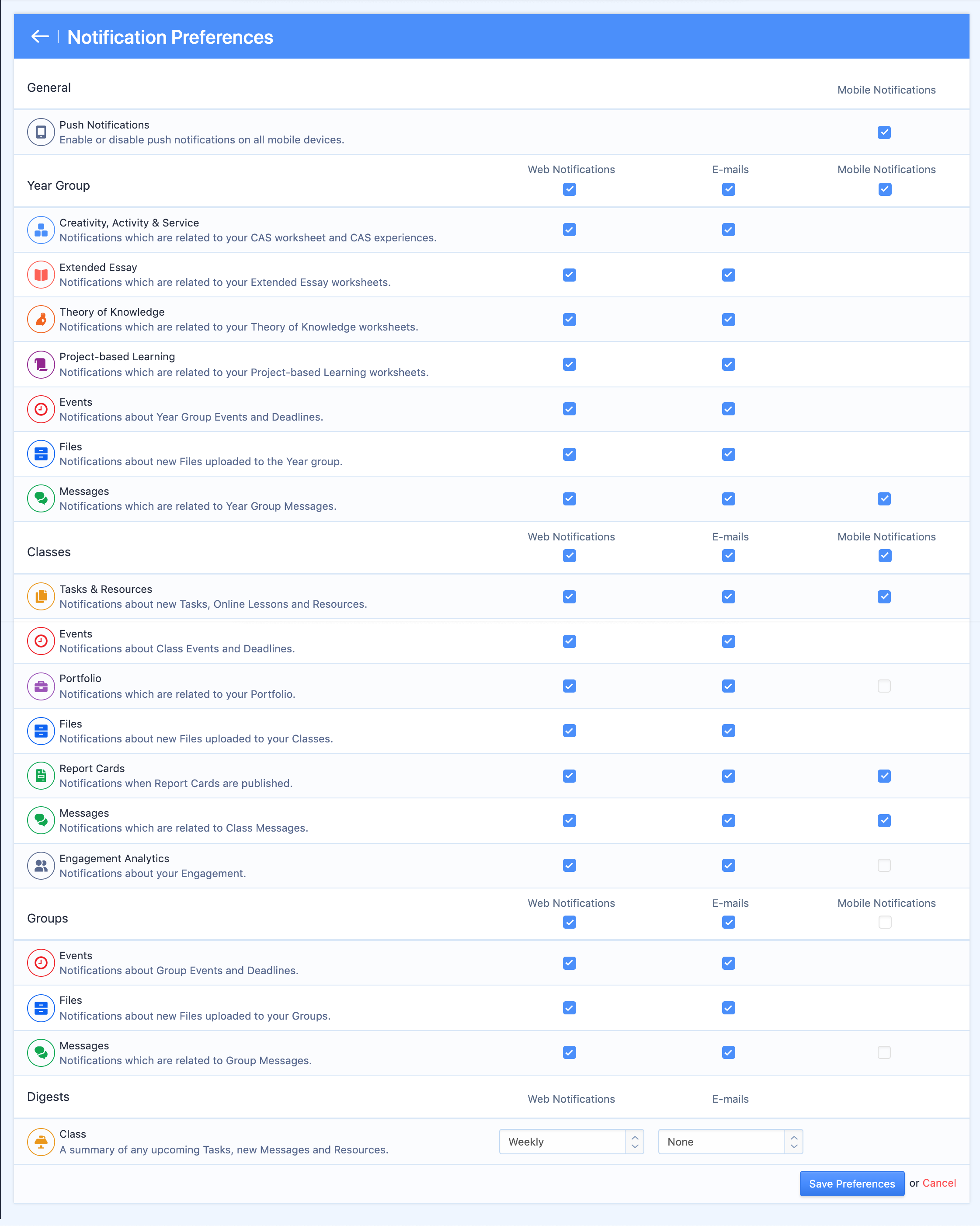 Access the updated Notification Preferences page to review and adjust types of notifications and Digest intervals enabled. We have added new Digest notifications for Teachers, Students and Parents in this update. To read more about the new digest options, please review our blog post here.
Resize and reposition Unit cover images
February 23, 2021
At-a-Glance section of Unit Plans provides a read-only unit summary view. This represents what a Student or Parent sees when accessing the unit. Upload a cover image to enhance visibility.

The cover image can be resized and repositioned to fit the At-a-Glance cover image field for all Unit Planners. Learn more about Unit Planners in our Unit Planning tutorials
Students can upload to Tasks from Google Drive
February 22, 2021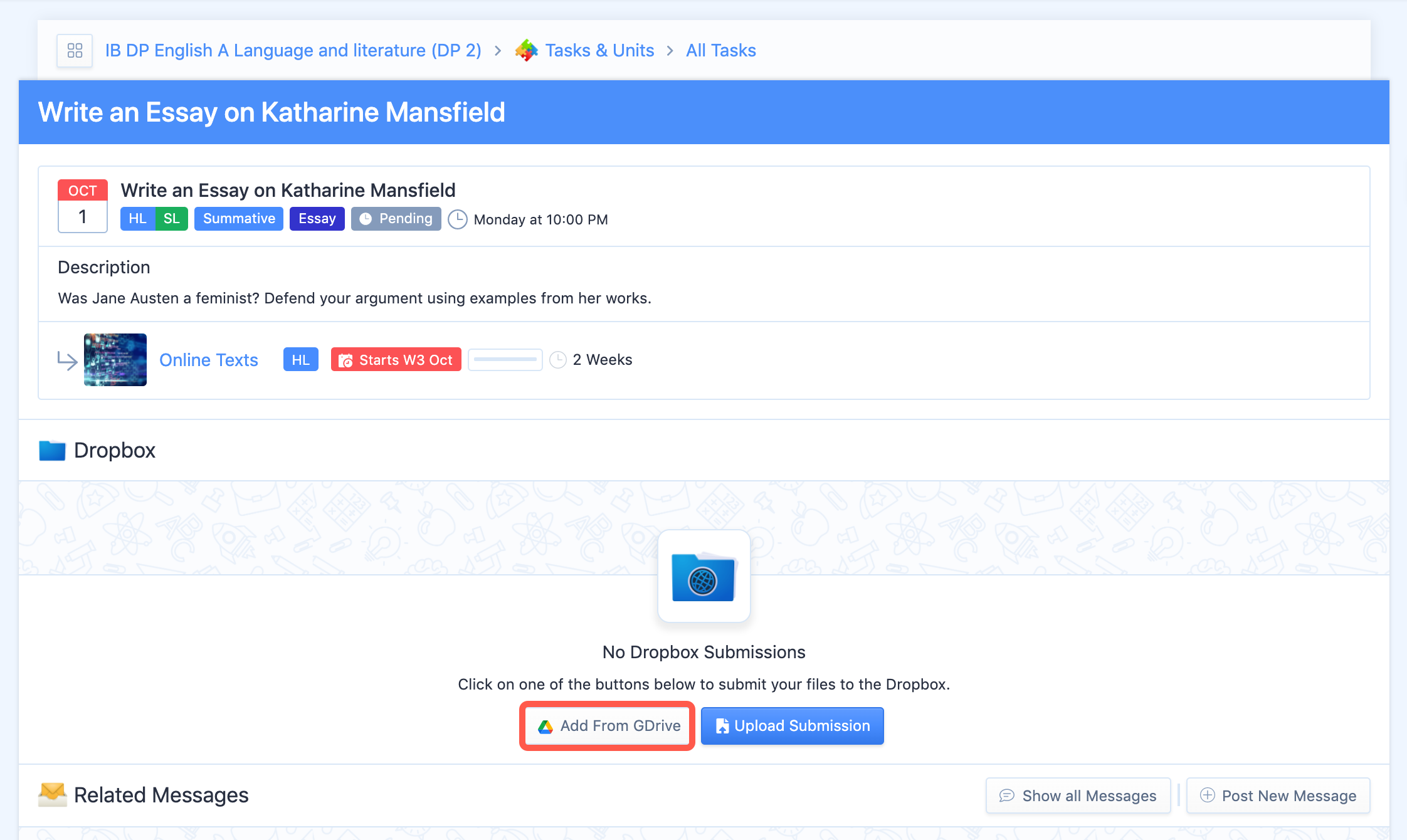 Students can now submit to Tasks with Dropbox Coursework Submission directly from Google Drive if the Google Upload integration is enabled for the school. Learn more in our Enabling Google Drive Uploads tutorial about this integration.
Lock Coursework Submissions in Tasks and Deadlines
February 22, 2021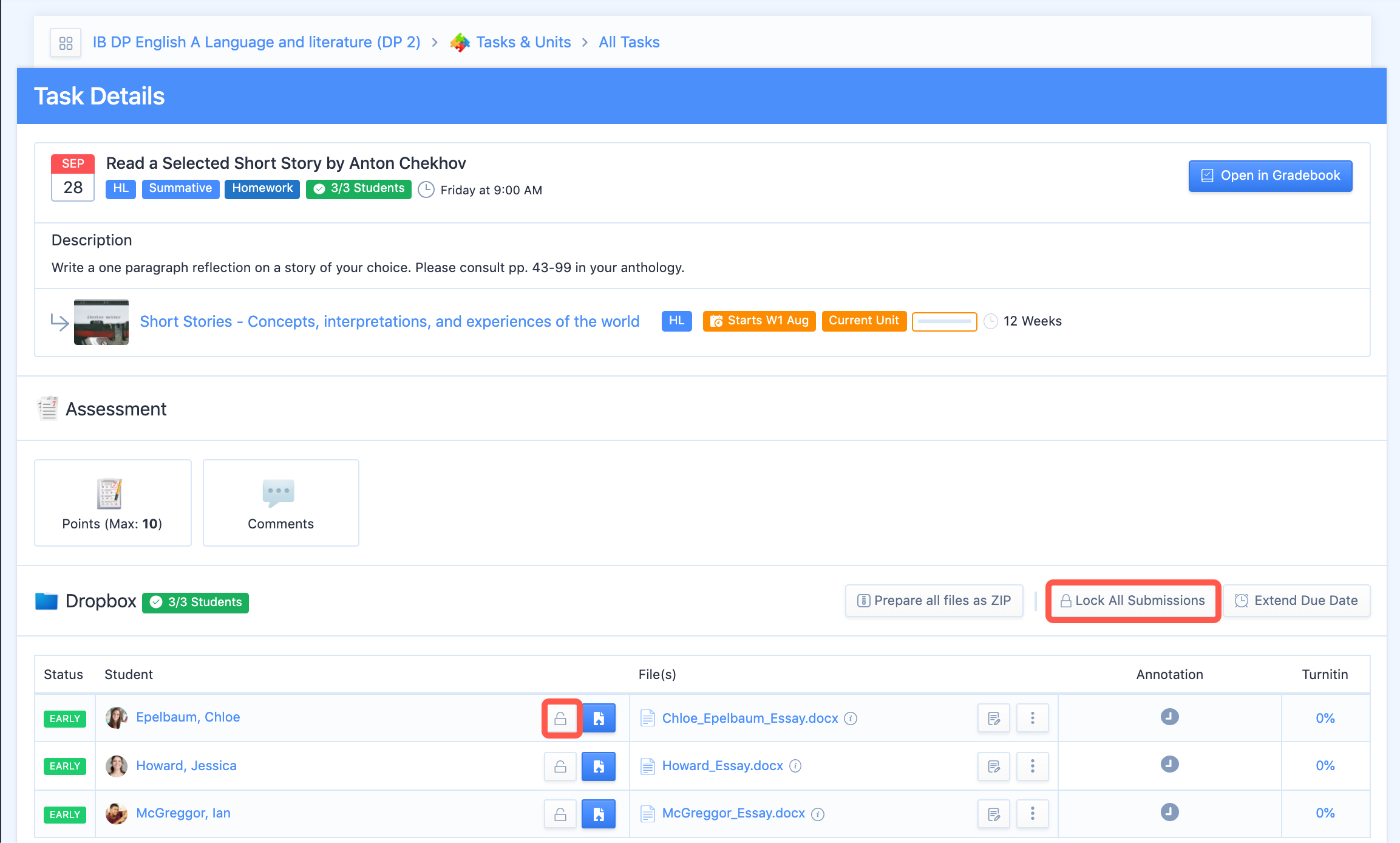 Select a Task or Deadline in your class with Dropbox Coursework or Google Coursework submissions enabled. Teachers can lock and unlock submissions for Tasks and Deadlines either for individual students or for all students in the class/year group.
Mobile App adds Scan Coursework for Assessment Tasks
February 3, 2021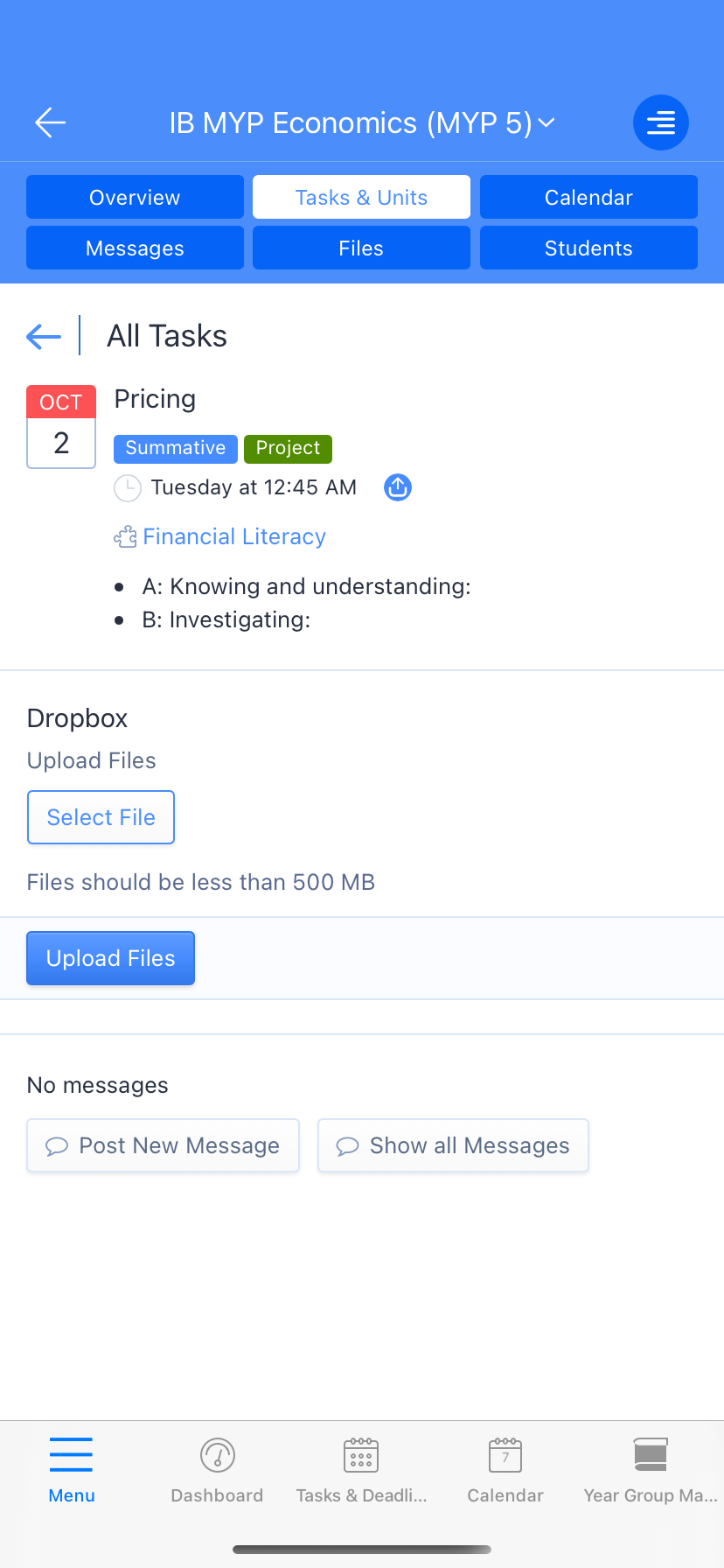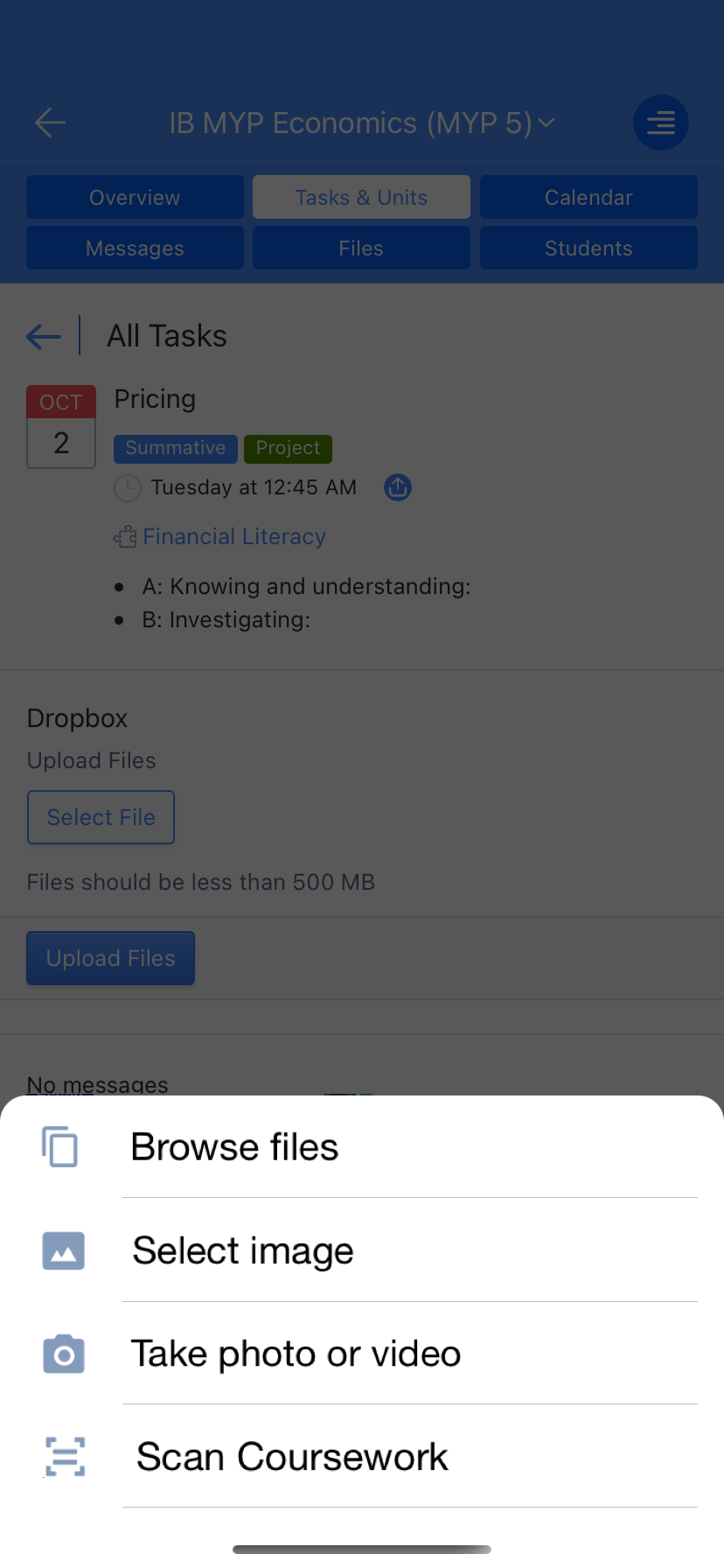 ManageBac's free iOS and Android app has expanded our Scan Coursework functionality. Previously available to upload work to Portfolios, the built-in scanner now also appears as an option when students upload work to their assessment tasks.
This functionality will be available for iOS immediately, and Android within the next week. Users are advised to update their app to the latest version to take advantage of this new feature.
IB DP Group 1 Orals update
February 1, 2021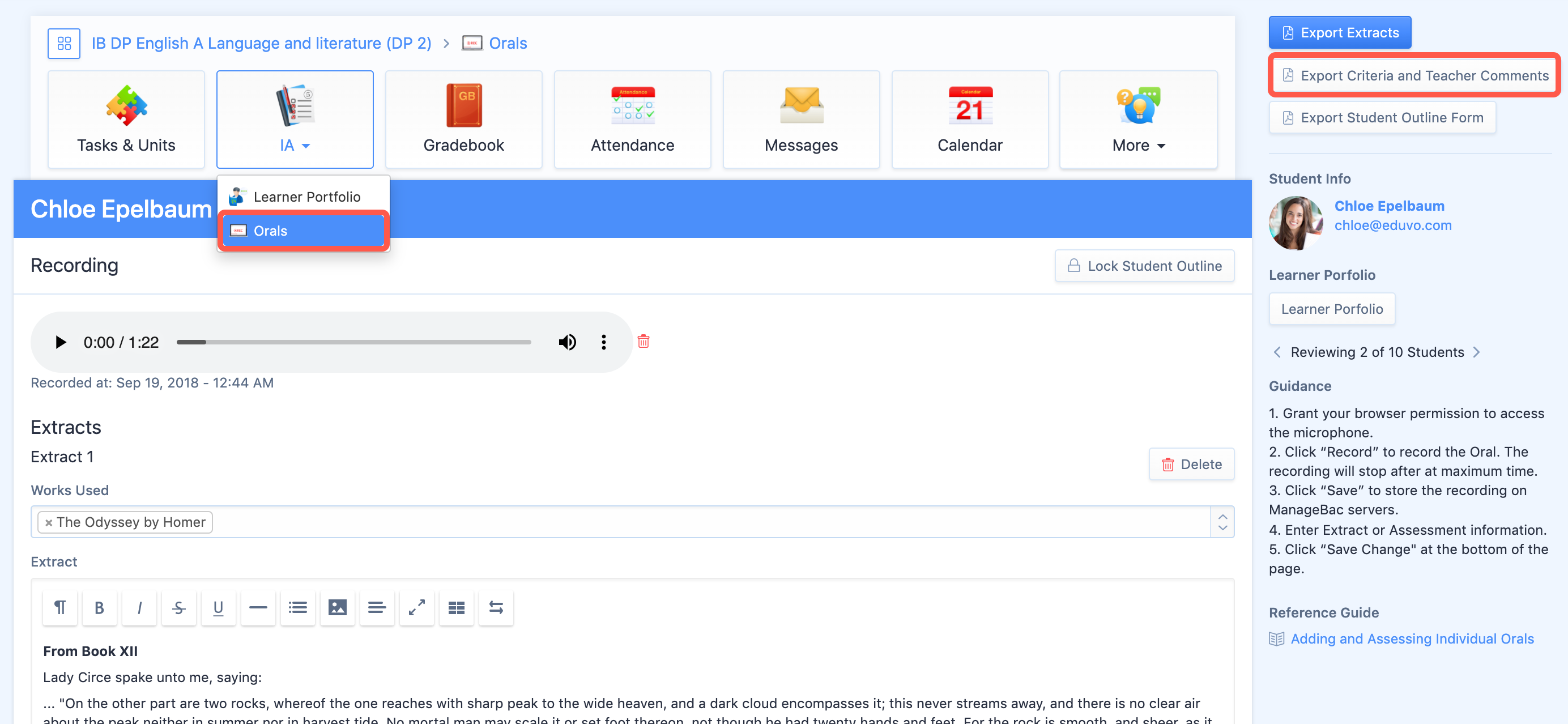 Export Criteria and Comments was added for all Orals in Group 1 IB DP classes in response to changed submission requirements for May 2021. This now allows teachers and admins to generate a PDF document for each student with assessed Orals Criteria and Comments.
Guiding Questions have been removed from all IB DP Studies in Language and Literature classes in the Orals pages for all students. The Guiding questions are no longer part of the Studies in Language and Literature Internal Assessments and were replaced by Extract documents that are now submitted with the recording to the IB. We are continuing to work on making necessary changes to allow schools to export the required documents for submissions to eCoursework for May 2021.
Parents may now view IB Diploma Plans and invoices
January 18, 2021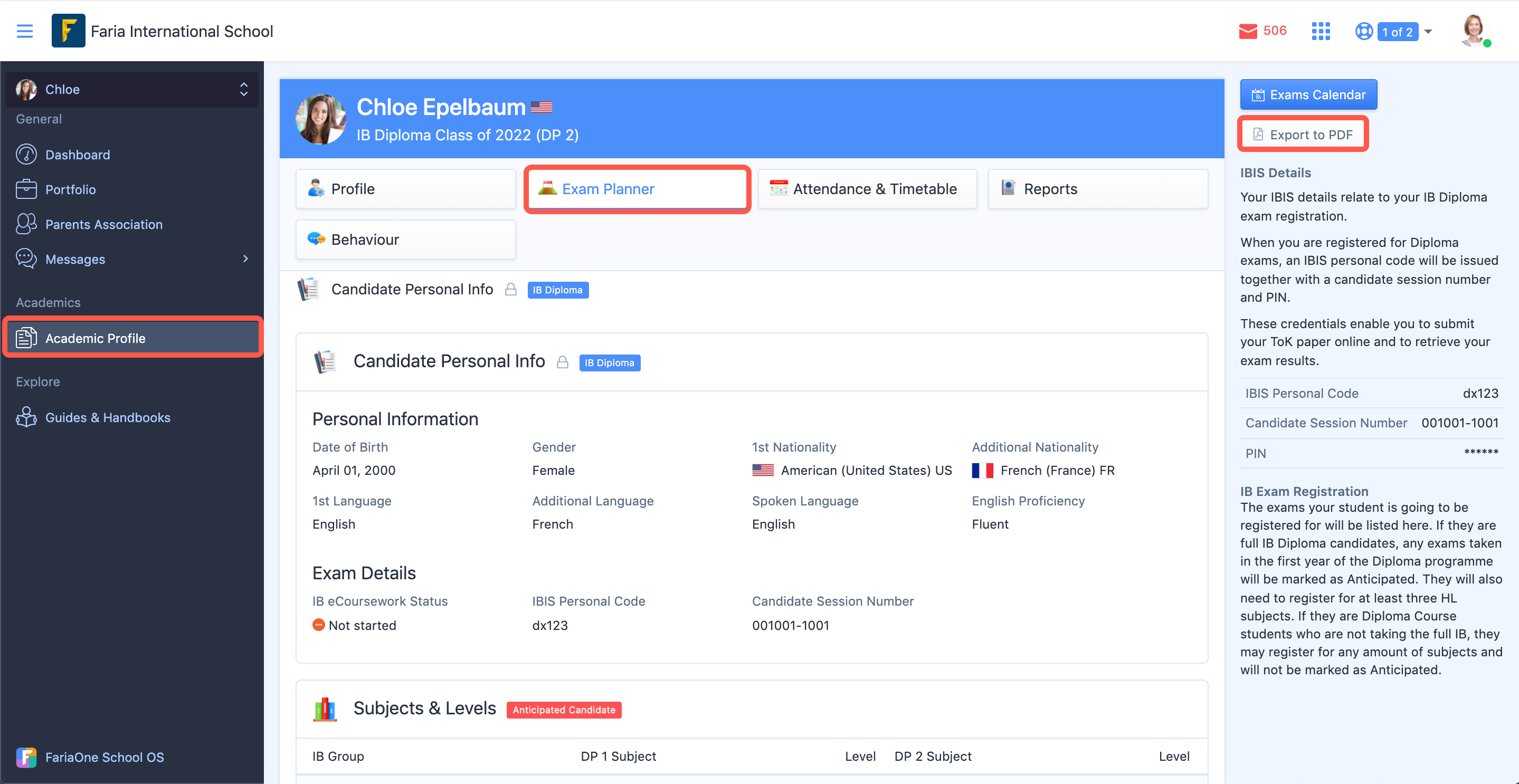 Parents of IB Diploma students may now review their Plans worksheet, if it has been enabled by the school for that year group. This read-only view allows parents to see the subjects and personal information the student will be registered for on IBIS.
It also allows them to Export to PDF, which will allow them to print the information. If invoicing has been enabled by the school, the PDF will include invoice information.
To learn more about enabling Plans and invoicing, check out our tutorials here.
Customisation Option for Report Card Logos Added
January 12, 2021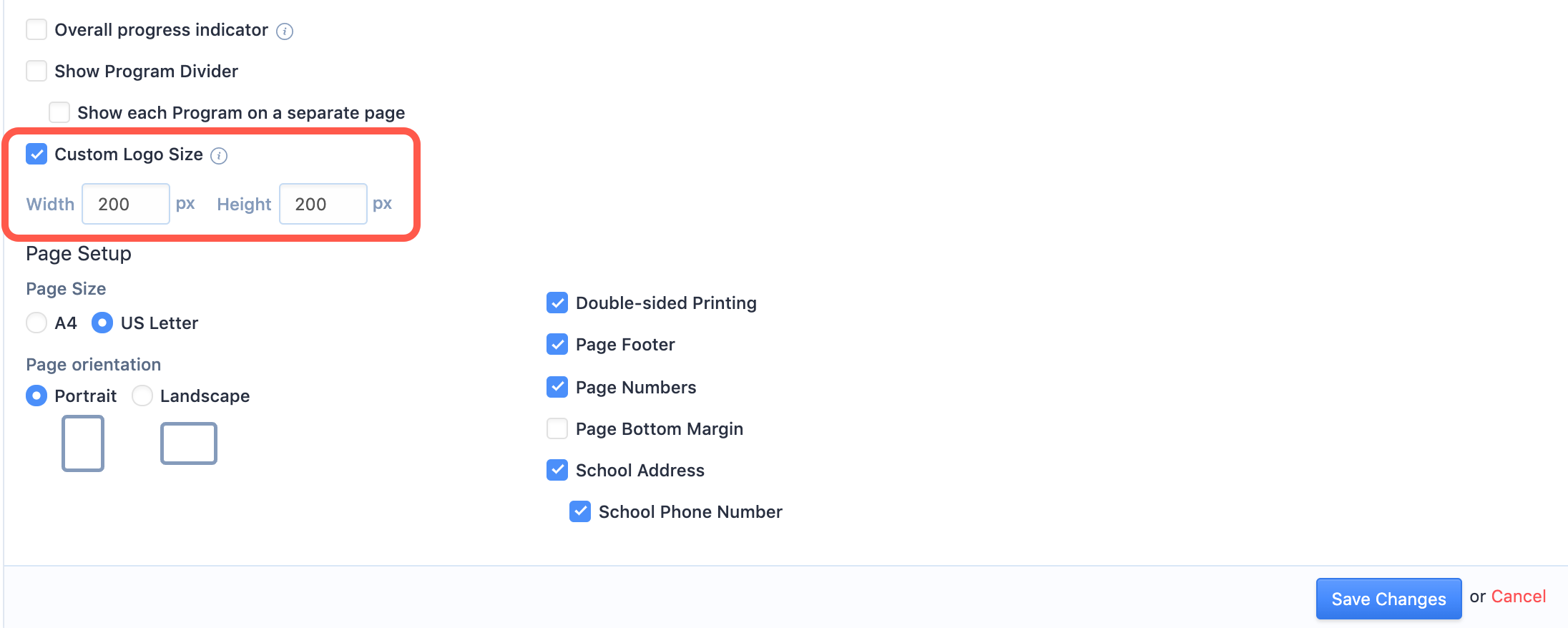 Schools using our report cards can now adjust their school's logo on a template-by-template basis. Via the Overview tab, tick Custom Logo Size to adjust the logo size on the cover sheet of the report card.
The default logo size is 30% or 100% of page width. A default square logo at 30% equals 200 pixels width by 200 pixels height. If the logo is rectangular and oriented either vertically or horizontally, we recommend a ratio of 1:2 for custom height and width.