Configuring General User Access Permissions
Logged in as an administrator, navigate to Settings > Security & Permissions.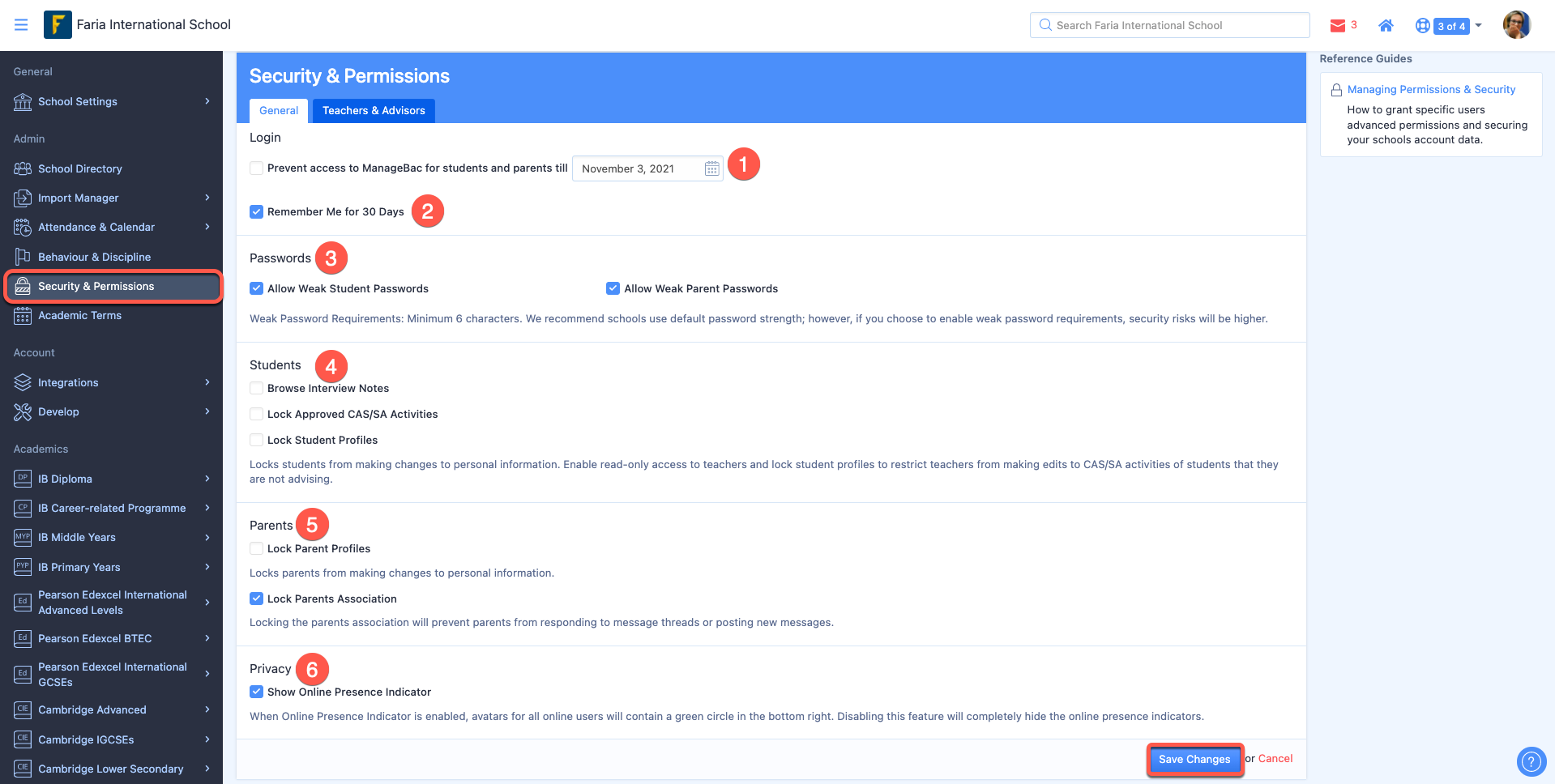 Via the General tab, the following can be configured:
Prevent access to ManageBac for students and parents (up until set date)
Remember me for 30 days (allowing users to remain logged in to their ManageBac accounts)
Weak passwords for students and/or parents
Student permissions
Parent permissions
Indicates whether a user is 'Online' with a green circle in the bottom right of their profile icon
ManageBac User Types
There are six different types of users on ManageBac: Students, Teachers & Advisors, Group Advisors, Parents, Observers and Admins.

Here is an outline of the different user types along with instructions on how to customise user access permissions.
New users are added via Settings > School Directory > Add User. For guidance on how to add new users individually, click here.
Manage Teacher Permission Levels
Teacher permissions can be customised via the Teachers & Advisors tab. Here, you can set default permissions for all teachers or individual teacher permissions.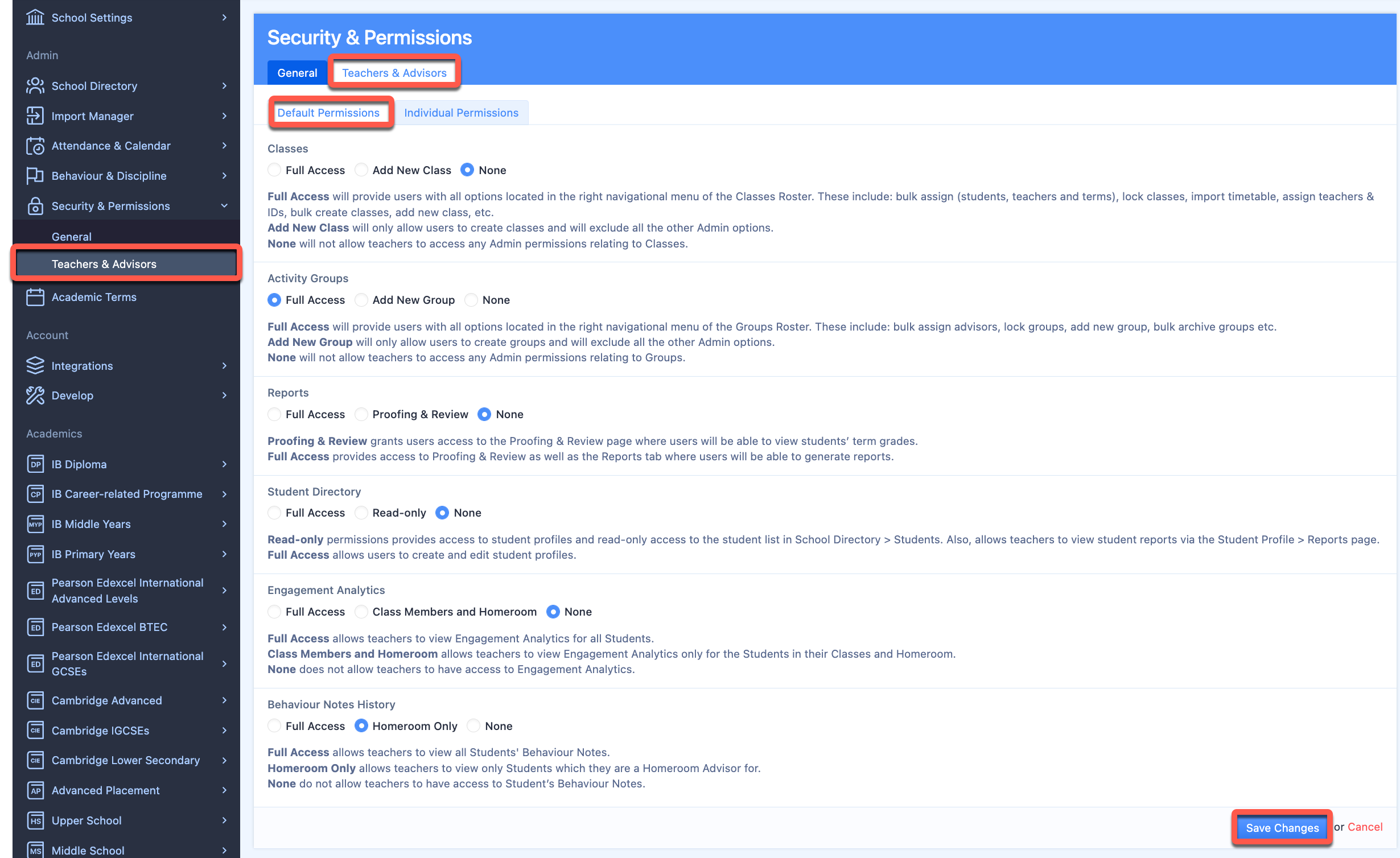 Default Permissions: We recommend making default permissions more restrictive so that account set-up permissions are only given to a few teachers/admins. The above screenshot outlines the recommended default permissions levels.
Set Teacher Permission Levels in Bulk or Individually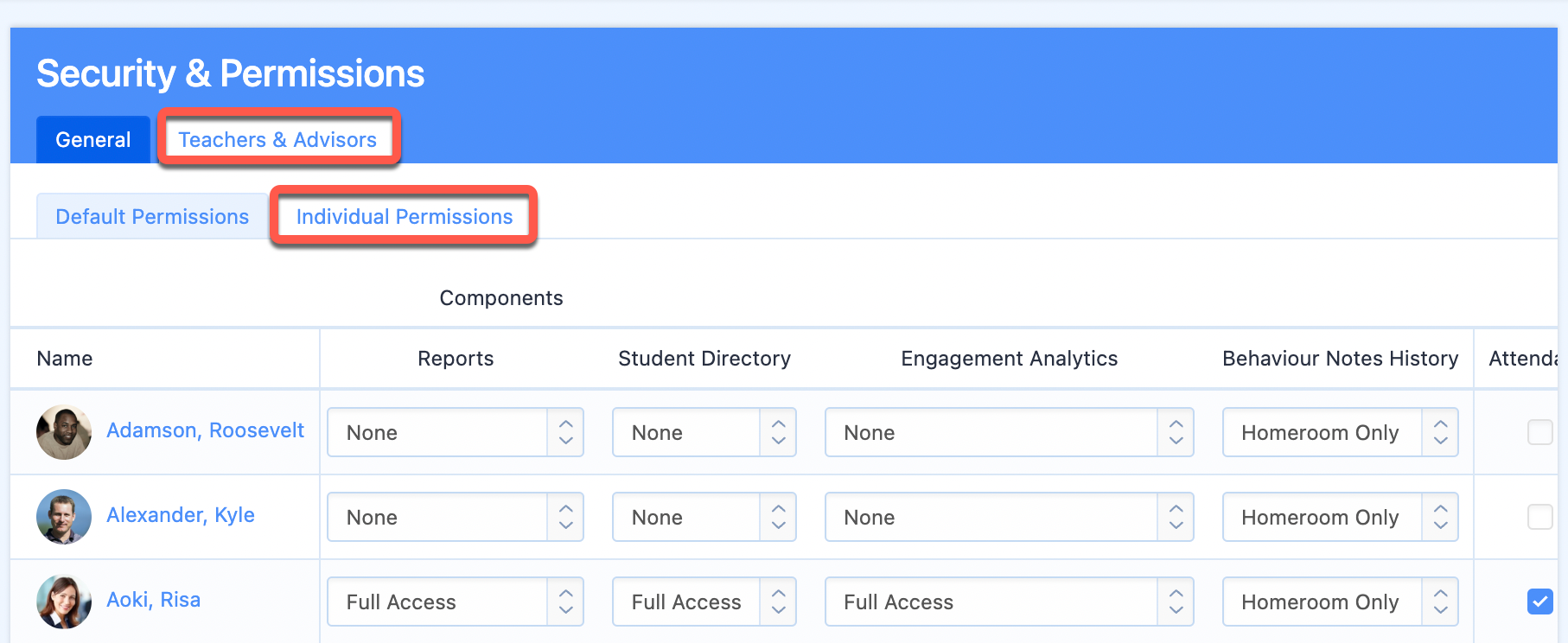 Individual Permissions
Here you can customise individual teachers' access permissions:
Attendance Manager: Provides access to edit all attendance data across the entire account.
Import Users: Provides access to import new users (students, teachers, parents).
Class Management:
'Full access' provides access to set up classes in bulk, across all programmes, including adding, archiving, locking and assigning users to them.
'Add New Class' provides access to create classes and will exclude all the other Admin options.
Activity Groups:'Full Access will provide users with all options located in the right navigational menu of the Groups Roster, including bulk assign advisors, lock groups, add new group, bulk archive groups etc. 'Add New Group' will only allow users to create groups and will exclude all the other Admin options. 'None' will not allow teachers to access any Admin permissions relating to Groups.
Reports:
'Full access' provides access to edit grades across the entire account and generate report cards.
'Proofing and Review' provides access to the Proofing & Review page where users can view and edit term grades. Also, allows teachers to view student reports via the Student Profile > Reports page.
Student Directory:
'Full Access' provides access to create, edit, archive and delete student profiles across the entire account. It also provides full access to student worksheets in the Year Groups.
'Read-only' provides access to student profiles and read-only access to the student list in School Directory.
Engagement Analytics: 'Full Access' allows teachers to view all student engagement across the school. 'Class Members and Homeroom' allows teachers to view student engagement for only students assigned to their homerooms and classes.
Academics: Provides access to academic programme settings, via Settings > Academics.
Behaviour Notes History: Allows teachers to view a record of students' behaviour notes. 'Homeroom Only' gives teachers access only to the behaviour notes of students in their homeroom.
'Full Access' gives teachers access to the Behaviour Notes History tab on the left navigation menu.
Set Individual Teacher Permissions via their Profile
Note that teacher permissions can also be customised via the Teacher Profile. Navigate to a teacher's profile via Settings > School Directory > Teachers & Advisors > select a teacher and click the Edit Profile button and then the Permissions tab.