The Parents Association is a group feature that allows schools to make announcements and add calendar events for their students' parents.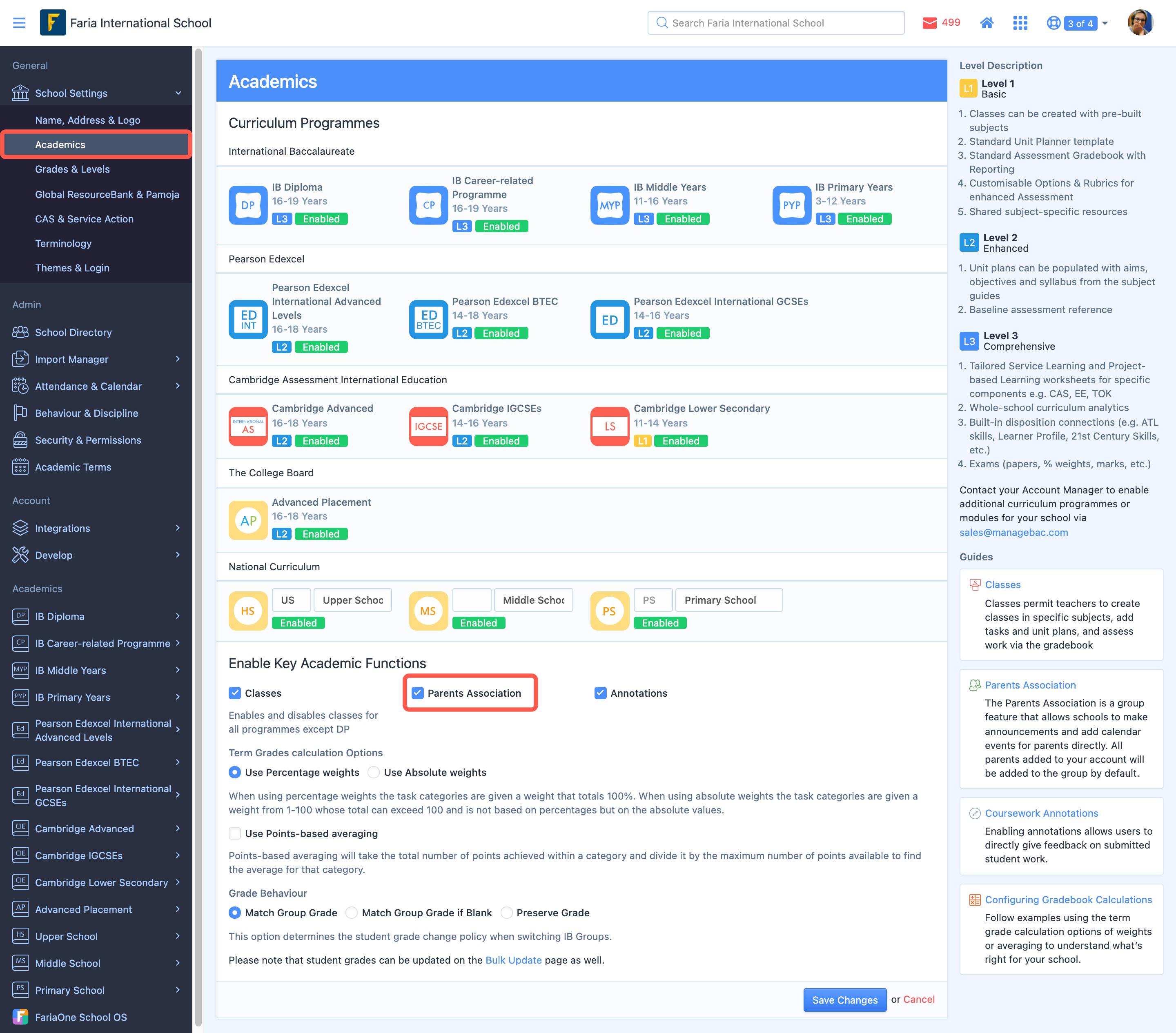 To enable the Parents Association, administrators may navigate to Settings > School Settings > Academics > Enable "Parents Association" > Save Changes.
Once the Parents Association is enabled, schools may add parent evenings to parent calendars via Parents Association > Calendar > Add New Event.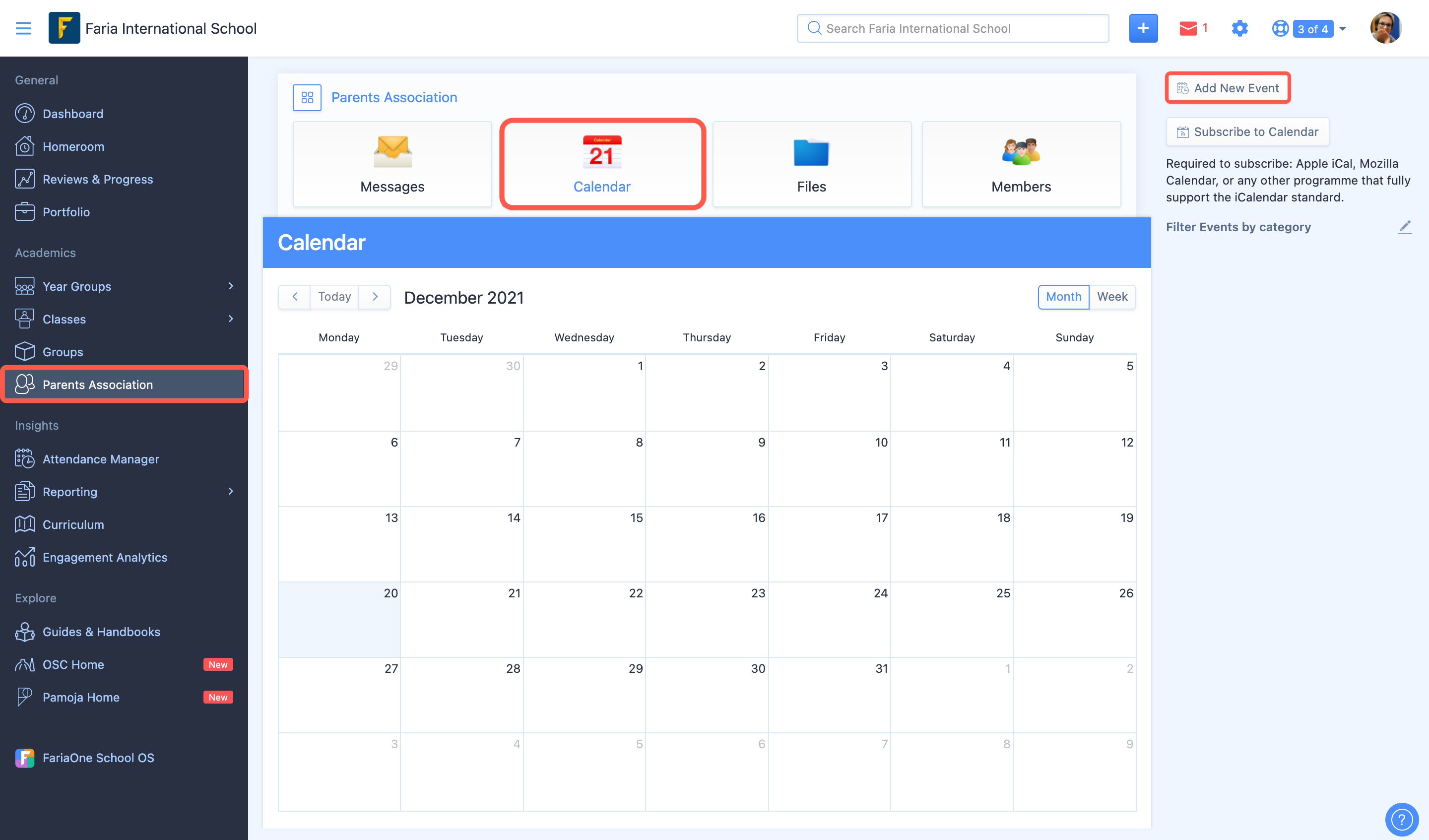 You may enter in the title of the event, category, location, and Year Groups that the event is to be shared with. Please note, that this feature is only available to be set up for all parents in their respective Year Groups and not individually by parent.

It is now possible to schedule Online Meetings/Parent Evenings with your school community. Add a new Event to the Parent Association > Calendar using the Add Event button to see the updated Event interface with Create Zoom Meeting button.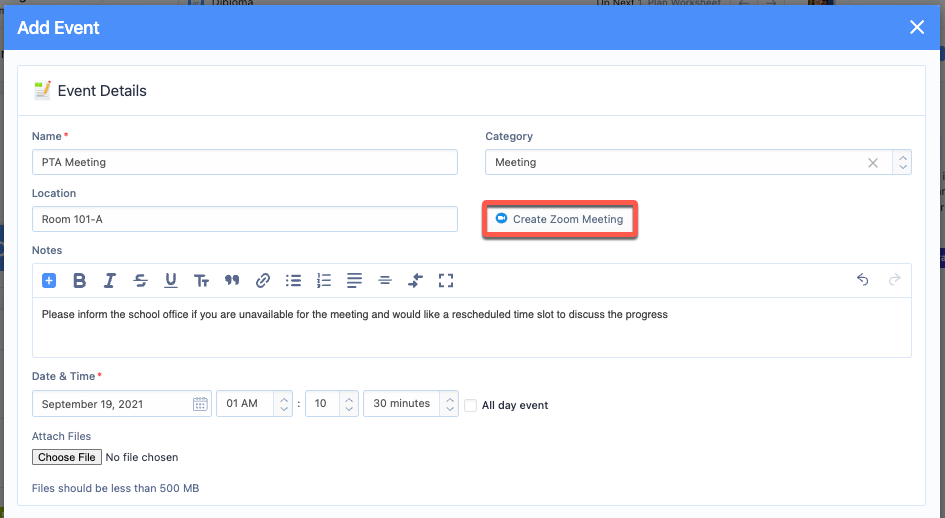 To prepare parents for the conferences, we recommend having parents browse our tutorial on Navigating ManageBac as a Parent if they are going to be logging into their ManageBac account. Having parents login in advance will allow them to review their child's homework and grades, so they can come to the meeting prepared.
Please have parents follow our online Password tutorial which will assist them in creating an easy to remember strong password. Please note, that parents will need a unique email address to log into ManageBac.
For the sake of privacy for other students, we recommend utilizing the quick search feature which can be found on the dashboard, if teachers plan to share their screen with parents during the session: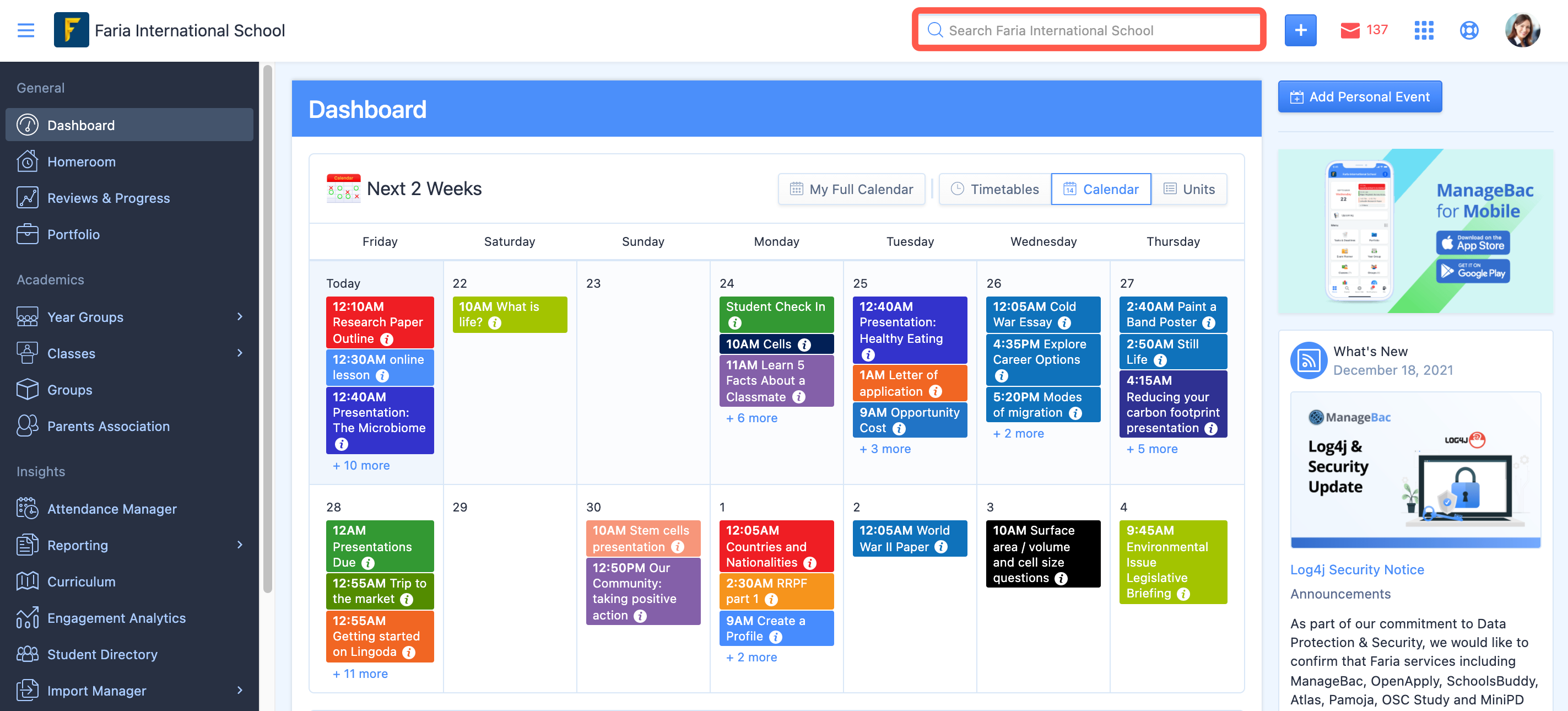 You may search for students directly without showing other students' information.
You may also have a Year Group window open to navigate through individual student after student via the Members tab.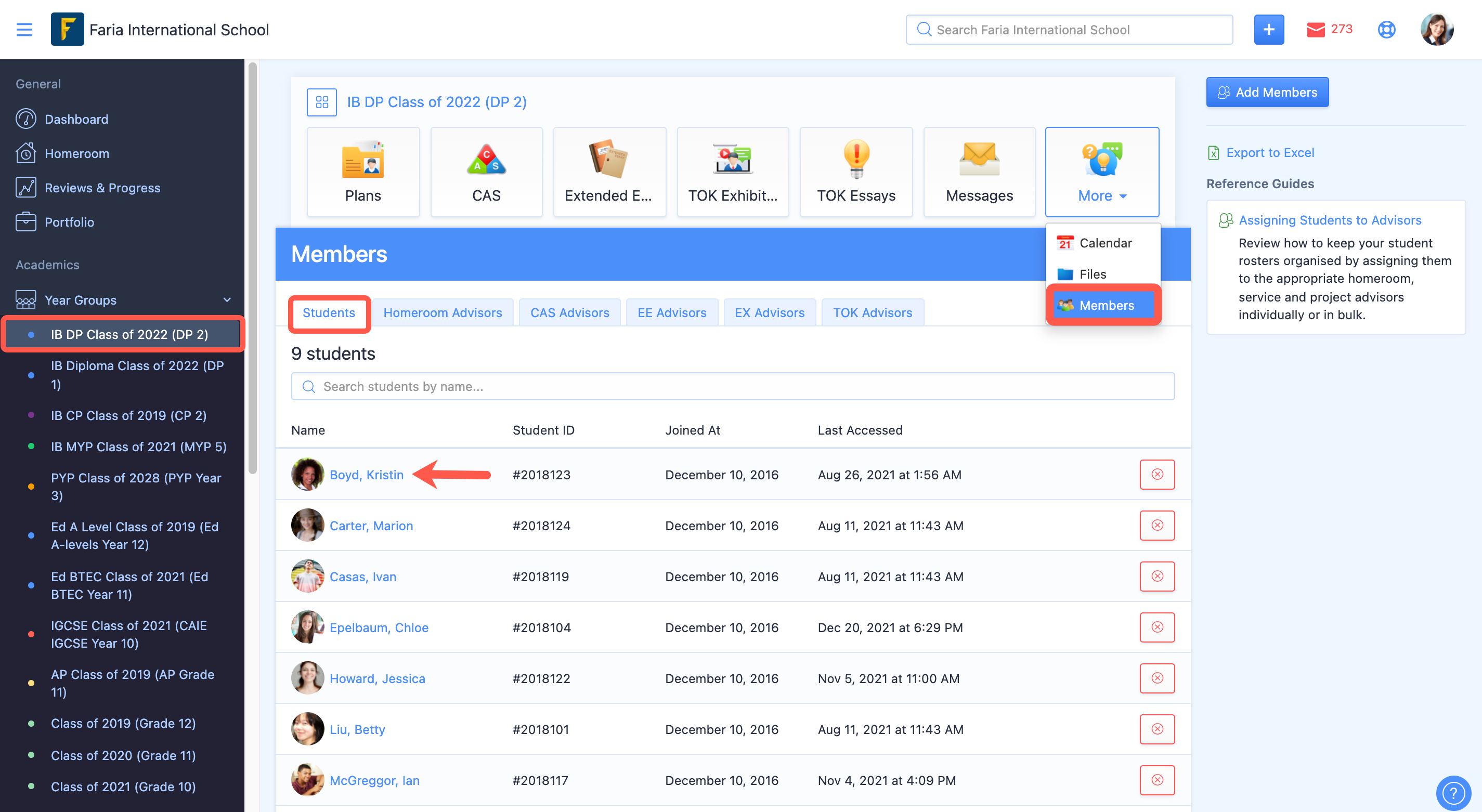 Teachers can view student profiles individually by navigating to the Class > Members > Students > Select Student.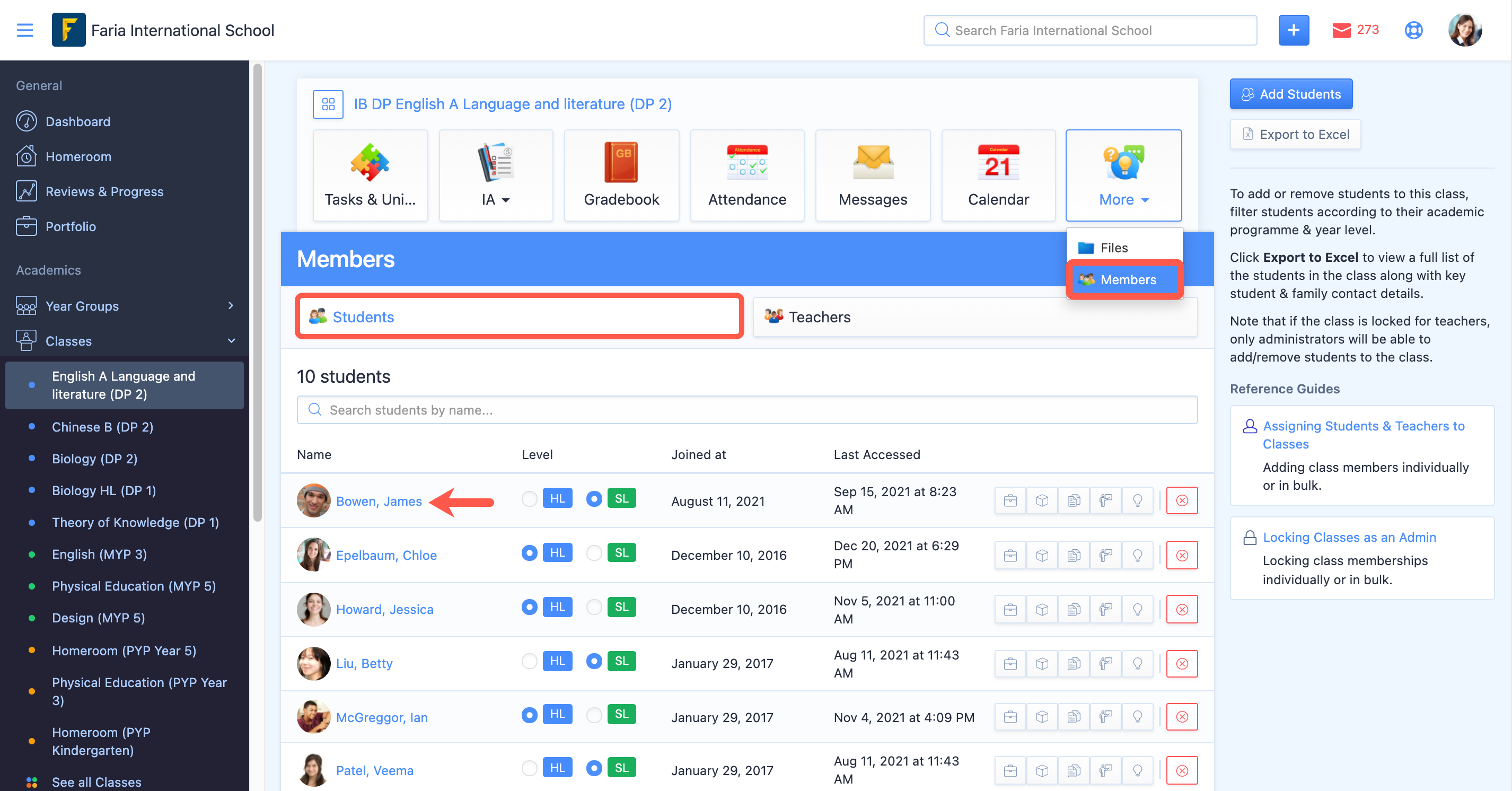 Once the student is selected, you will be directed to the student's profile and may select any of the classes the student is a member of under Academics Overview to view the class in more detail.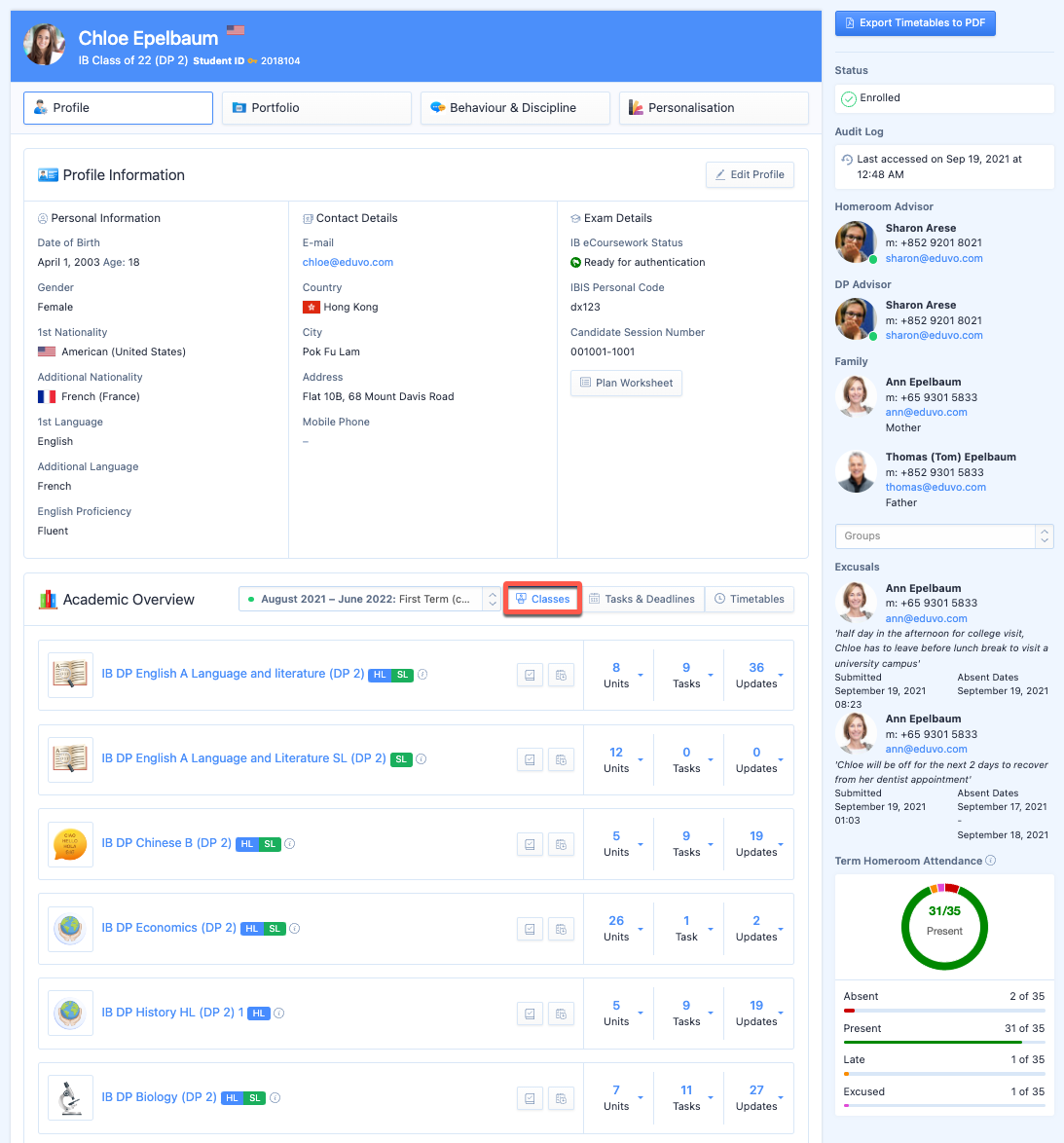 Students' individual Reports can be viewed by navigating to the Reflections & Reports section: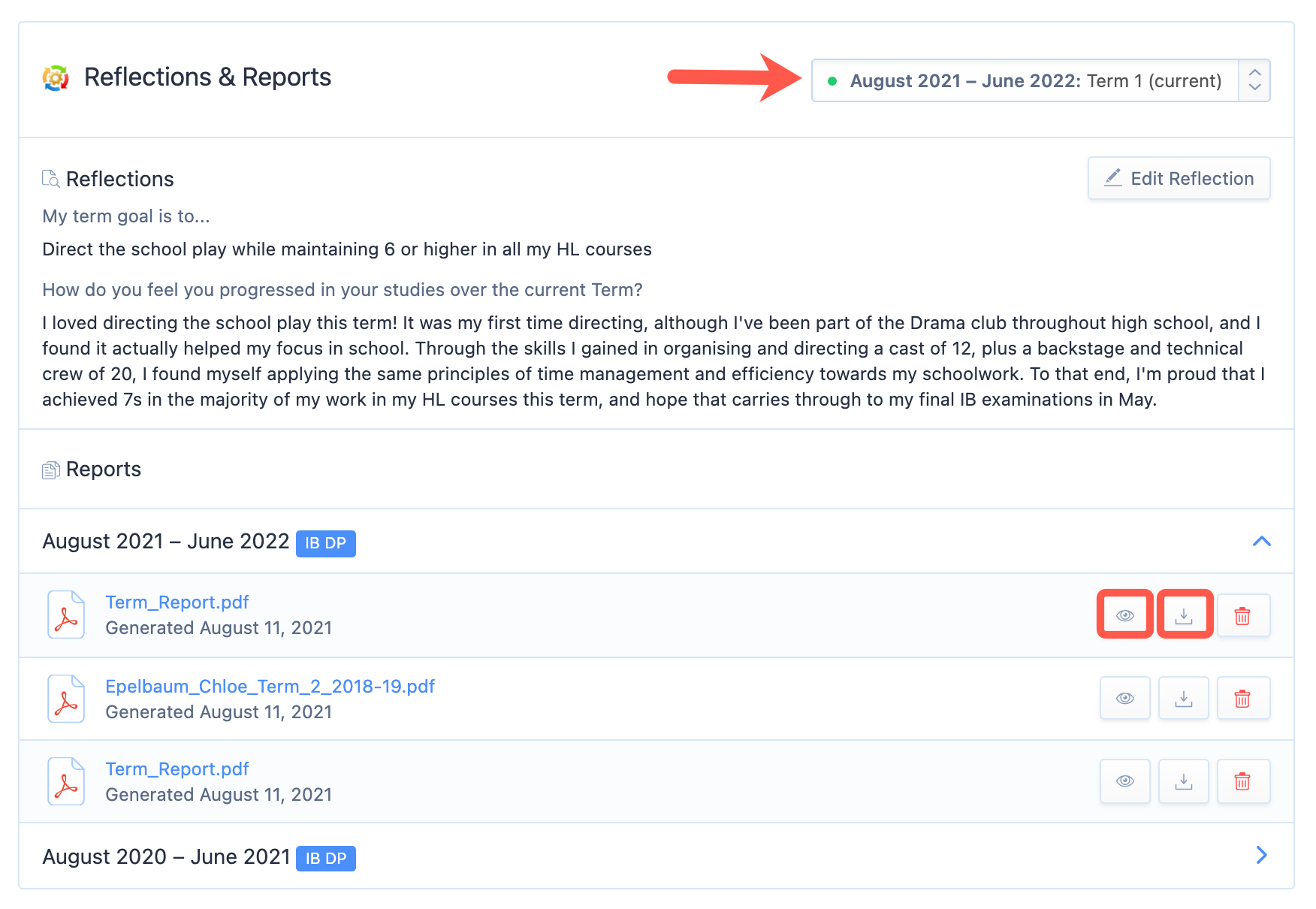 You may select the Academic Term as well as annotate and download the Report.
To give all teachers Proofing & Review access to Reports, you may navigate to Settings > Security & Permissions > Teachers & Advisors > Default Permissions.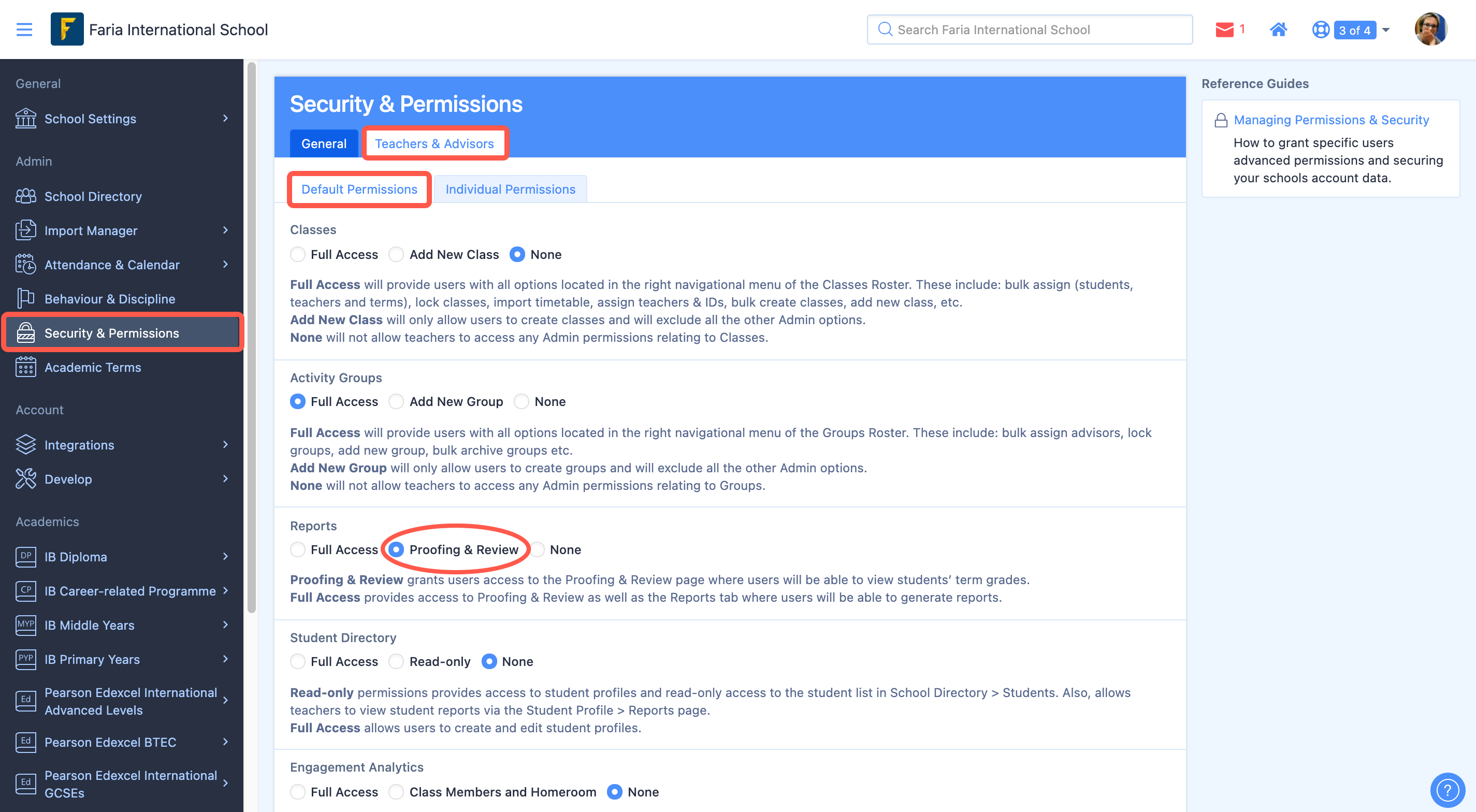 Proofing & Review grants users access to the Proofing & Review page where users will be able to view students' term grades. This is useful for counsellors or teachers who need to see term grades for all classes the student is enrolled in, not just their own. Please note this will give them editing permissions for the term grades, so it is recommended that this be limited to only those that need this function.
Individually, teachers can be granted Proofing & Review access via Settings > Security & Permissions > Teachers & Advisors > Individual Permissions: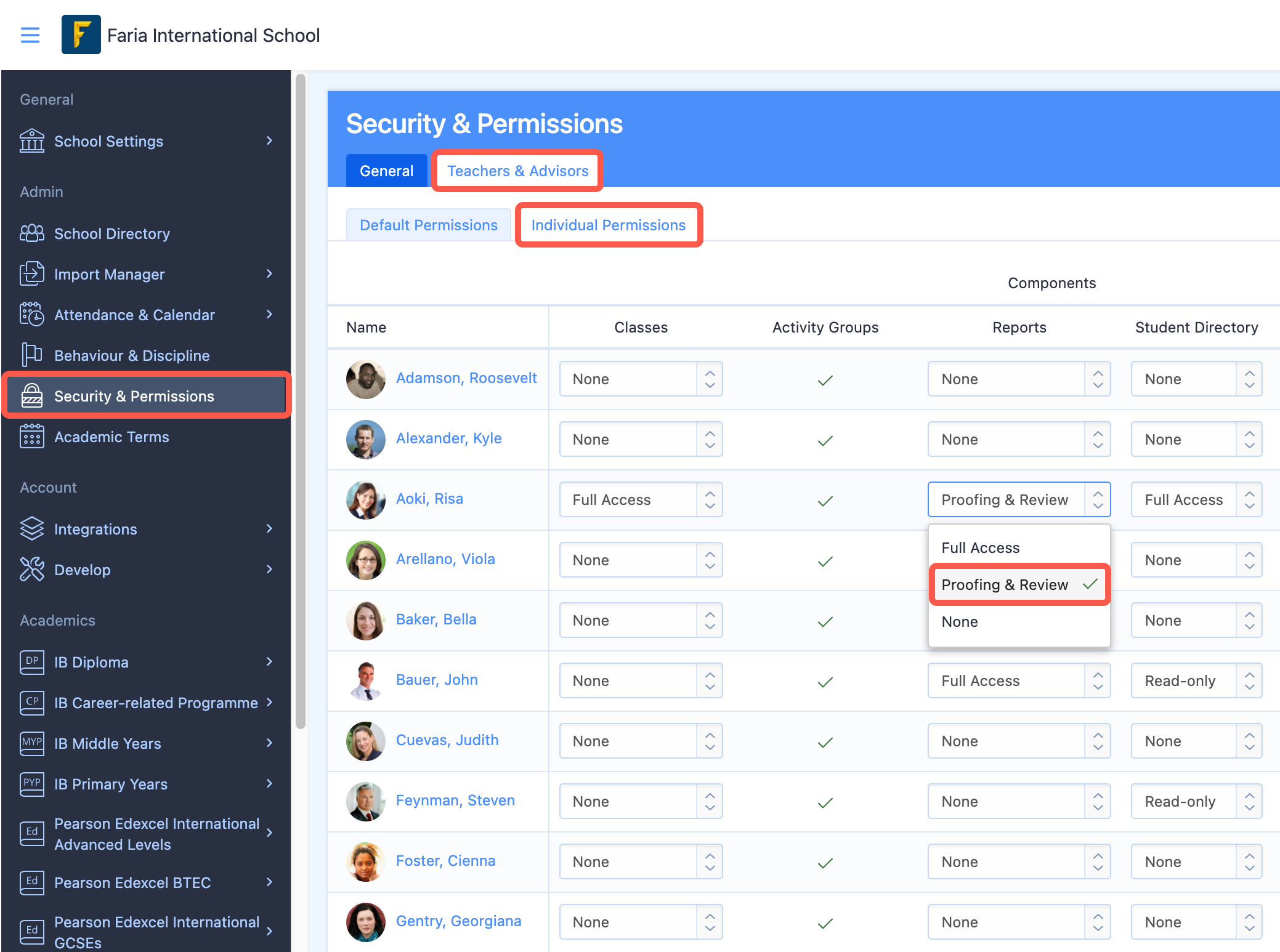 For more information, please reference our guide on Managing User Permissions & Security
For those who are given access, they may navigate to Reporting > Proofing & Review > Select Programme. From here you can view grades from all classes by Subject or by Student.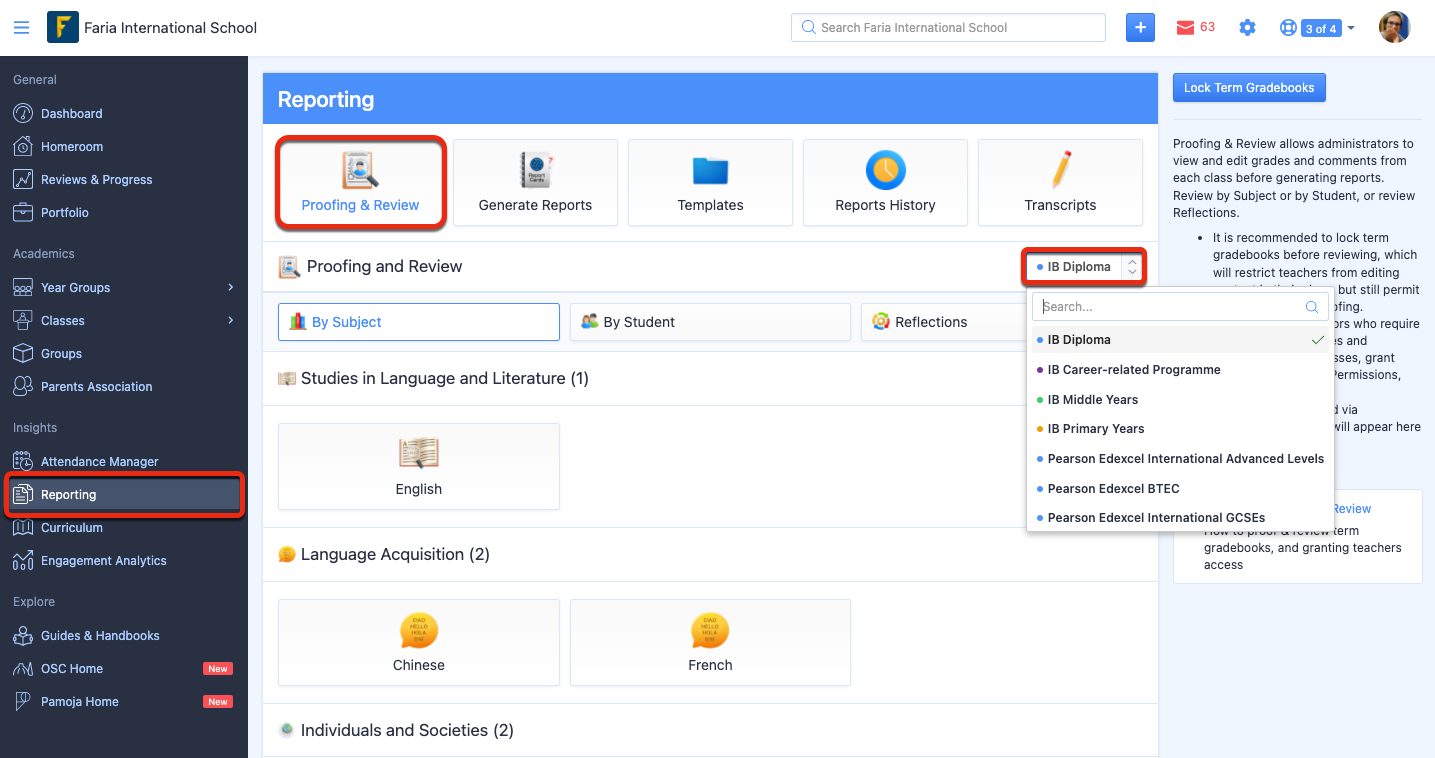 Please note, that Homeroom Advisors may also navigate to Dashboard > Homeroom > Term Grades Review to review the term grades of their assigned Homeroom students: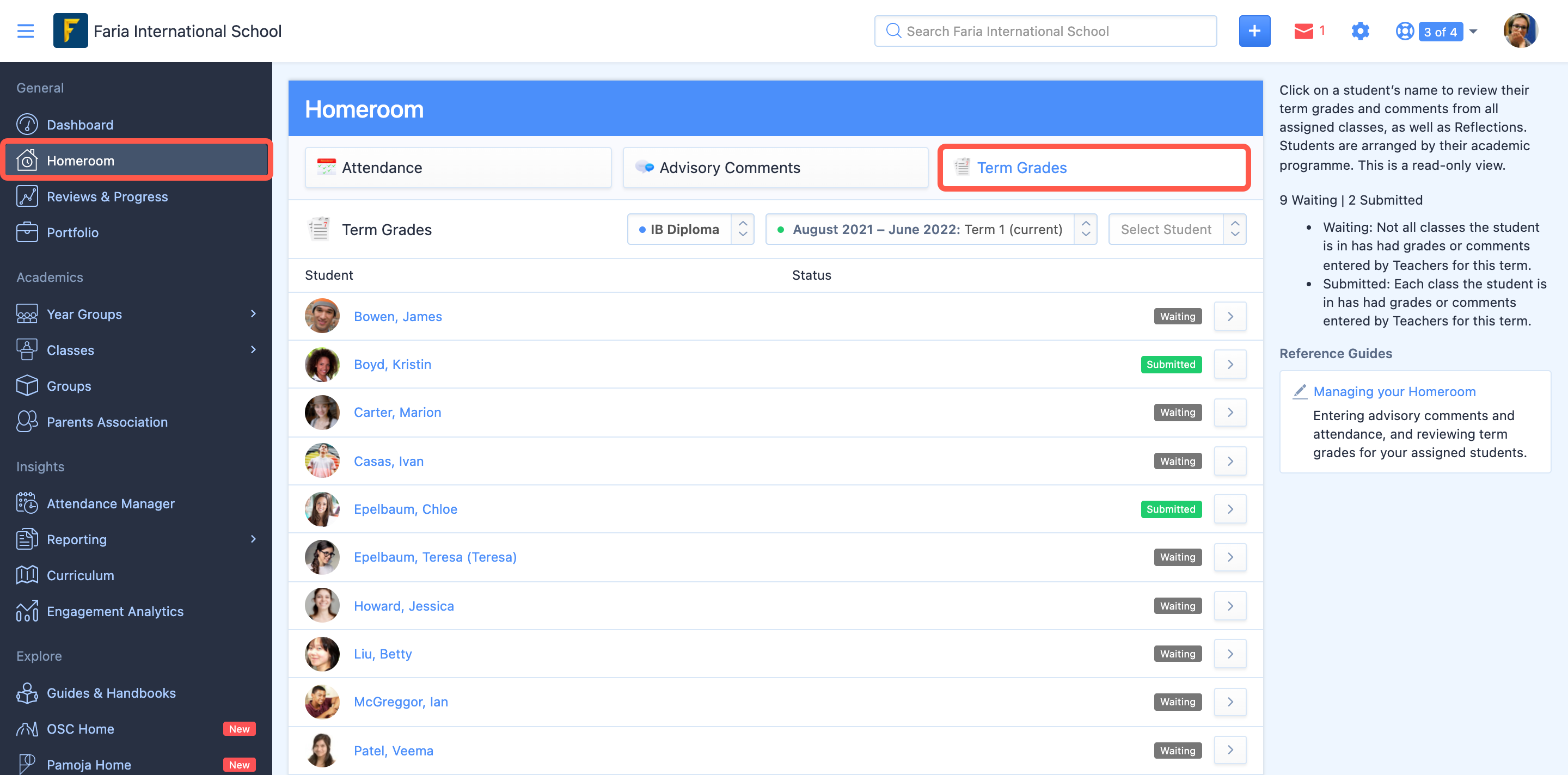 Filter by Programme and Academic Term and select the student from the roster or Search by Student Name.
If parents prefer to view their child's grades offline, we recommend exporting the Task Grades via Classes > Select Class > Gradebook > Tasks > Export Task Grades.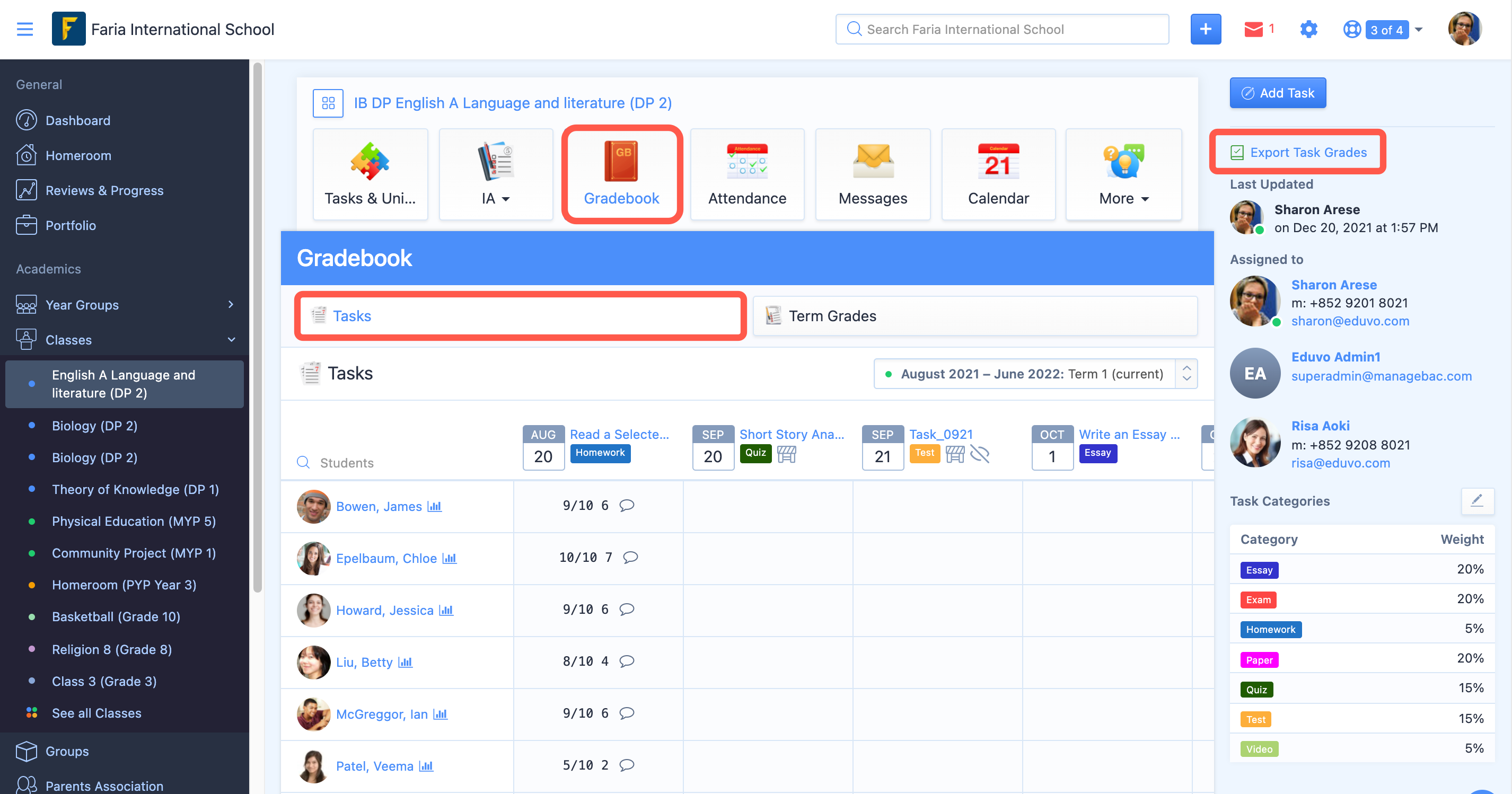 As well as the Term Grades via Classes > Select Class > Gradebook > Term Grades > Export Term Grades.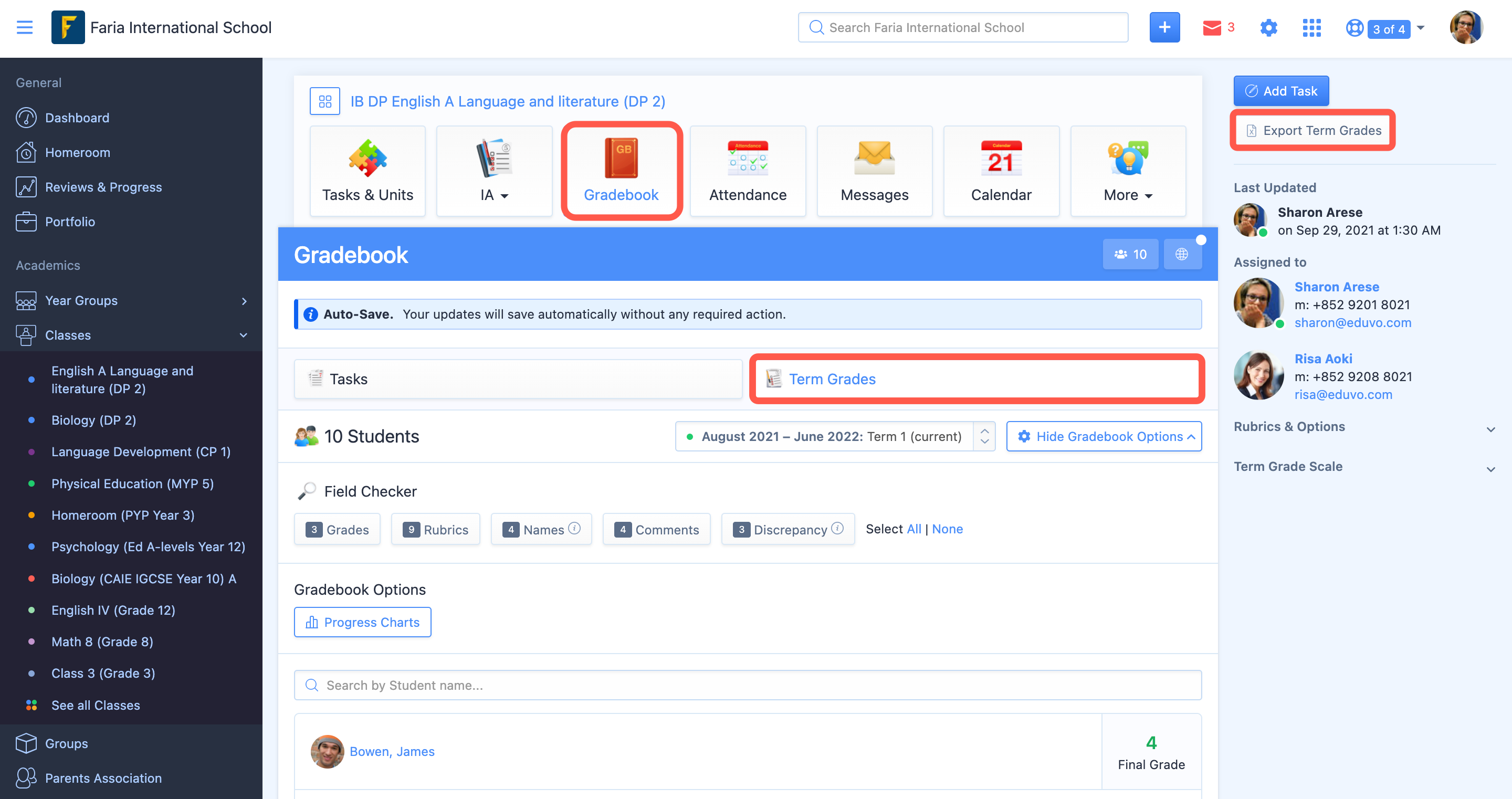 Students' Portfolios can be exported by navigating to Portfolio > Select Programme > Select Grade Level > Select Student > Generate Portfolio Timeline.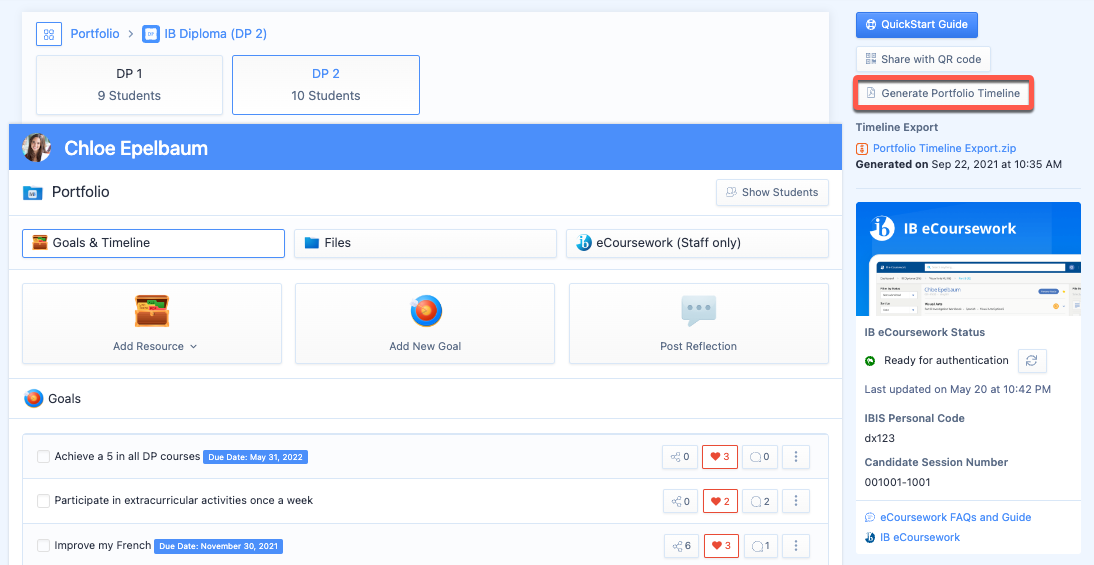 The Portfolio can be generated into a PDF and shared with parents. Portfolio PDFs can be saved to your desktop and printed out.
The Portfolio can also be accessed via Settings > School Directory > Students > Search Student > Profile > Portfolio.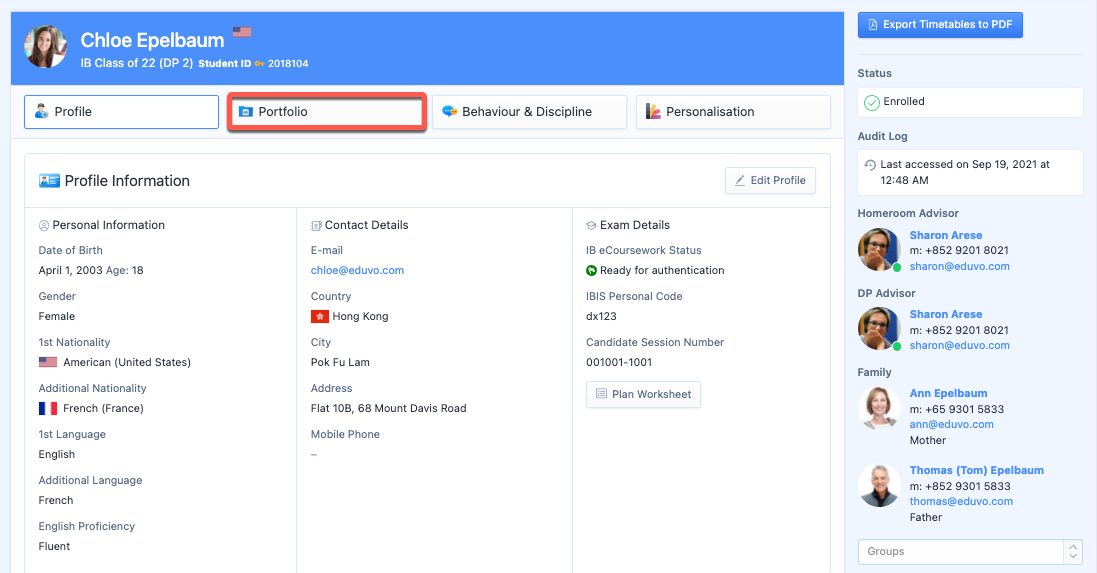 It will take you to the student's Portfolio page: