Administrator
Navigating ManageBac as an Administrator video


Teacher/Advisor
Navigating ManageBac as a Teacher/Advisor video


Home Menu Video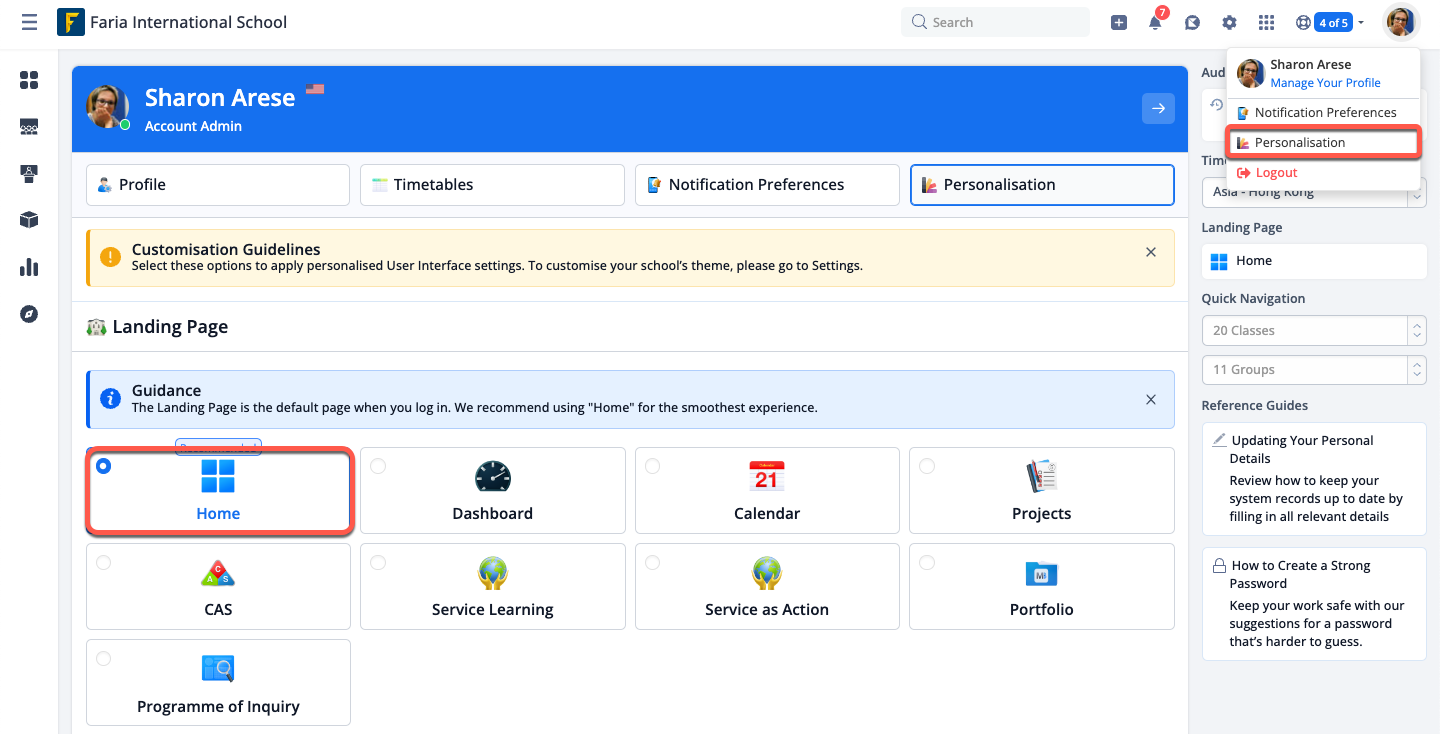 Users are able to select a default landing page so that they are automatically directed to a specific page in ManageBac upon logging in. This can be set by clicking on your  Profile > Personalisation > Landing > selecting desired landing page. 
Home Menu Customisation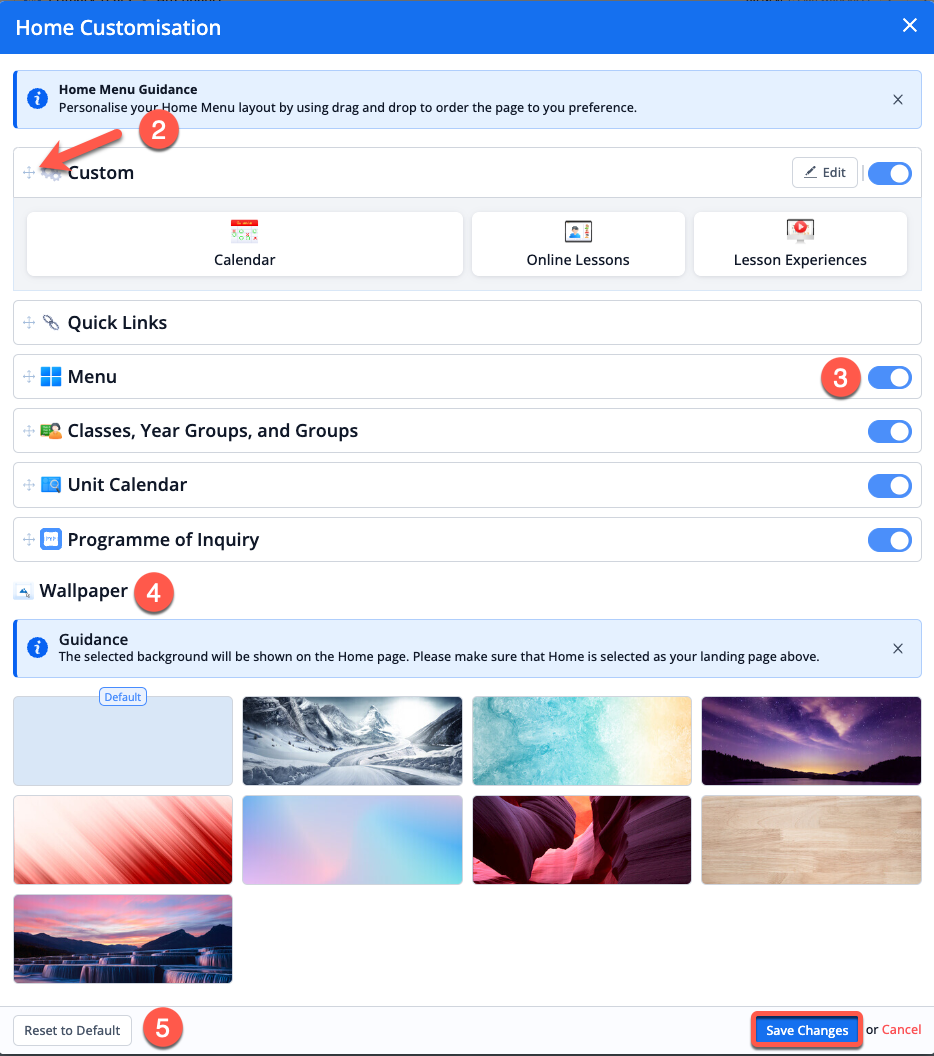 Using the recommended Home Menu as your landing page allows you to personalise your view, while preserving fast, one-click access to key pages. To customise your Home Menu:
On the right-hand side click the Home Customization
Use the arrows to drag and drop to reorder the sections
Toggle sections on or off
Select a wallpaper background to be shown on the Home Page
Optionally, reset to the school's default set by admin
Home Menu Sections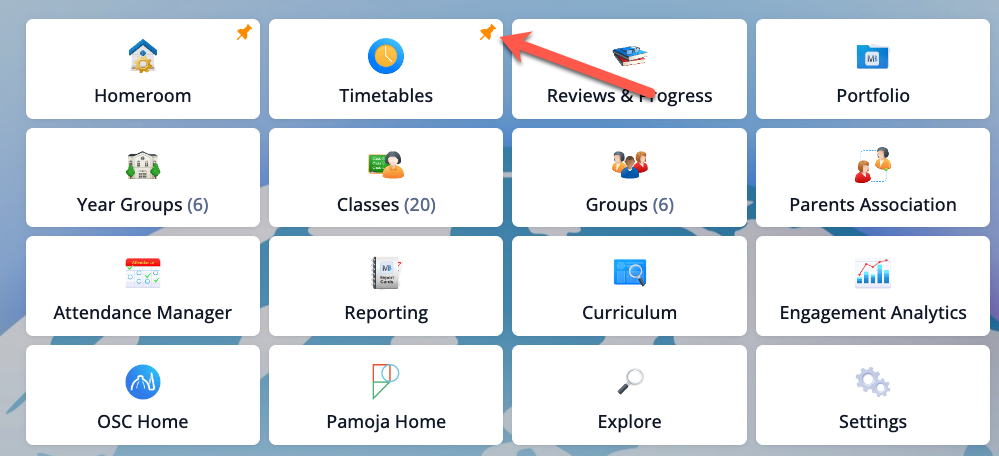 Menu: The menu section will display navigational items that were previously listed on the left-hand menu in a tile format. You will have the ability to pin each tile to give you quick access to your most commonly accessed sections within ManageBac.

Calendar: Today's events, tasks & deadlines are shown front and center alongside Online Lessons. For schools using our Attendance module, we have also added in Rotation Days below the calendar date. Join Zoom online lessons in one-click or launch Study Mode as a Student. As a Teacher, your current Lesson is shown for quick & easy reference.

Classes, Year Groups and Groups:  This section will display a list of classes, year groups, and groups that you are assigned to for quick access. You will also have the ability to pin classes, year groups or groups to bring them to the top of the list. Please note, if you had classes or groups previously pinned on the left-hand menu, these will carry over to the new Home Menu.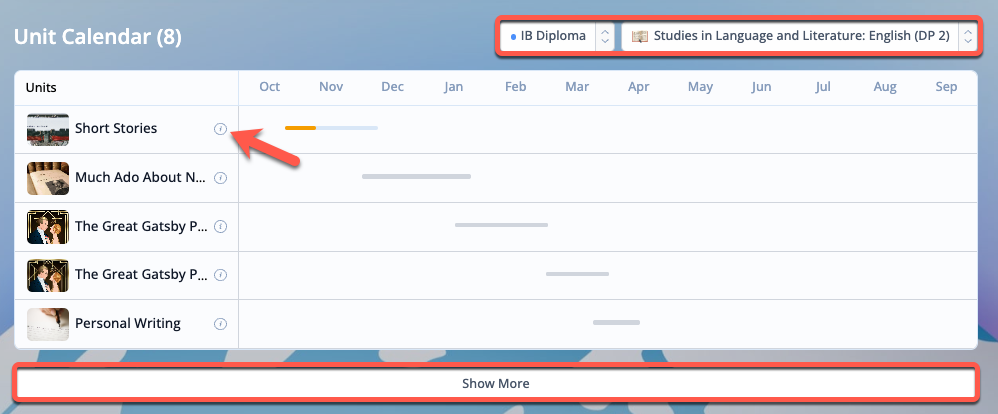 Unit Calendar: The Unit Calendar widget can be enabled via Home Customisation. The widget allows you to view the Unit Calendar for any of your classes on the Home page. You can select the different programmes and classes. Hovering over the info icon will reveal further Unit details. The Unit Calendar shows the first five units and you can click Show More to see the rest. 
Top Menu
The top navigation menu allows you to access the Dashboard, search for users and content, view your inbox, access helpful resources, and edit your profile. This menu is accessible from all ManageBac pages.
Lite or Expanded Menu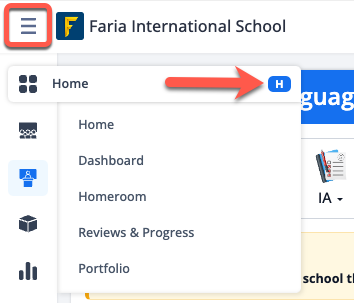 Click 3 lines menu icon to expand or collapse your left menu. Collapsing it will give more screen space for the page you are viewing. You can also use the key strokes from wherever you are in ManageBac to bring you back to that page. For example tapping "H" will bring you back to the Home Menu. 
Your School's Name

Clicking on your School Name on the top left will take you back to your dashboard. You can click here from any page within ManageBac to quickly return to your dashboard.
Global Search

The Search bar is displayed at the top of every page on ManageBac. You can search for Users, Classes, Groups and Units, and navigate directly by clicking the result from the available list.
Mailbox

Click the Bell icon to quickly expand your recent messages and notifications. You can navigate directly to your full inbox and customize your message and notification preferences.
Important
Note: Messages and notifications that are older than 2 weeks will be cleared. The actual messages are still accessible via the respective Class, Year group or Group.
Settings

Important
User Type: Admins only. Teachers with access to certain sections of Settings will find this in their left-hand menu for the specific page that have been granted permission to access. 
Configure your School & programme preferences via Settings, upload academic handbooks, configure attendance and academic terms, behaviour and permission preferences. 
Help & Support

Click the lifesaver icon to access Help & Support links. For Admins & Teachers, this list includes
Help Tutorials - Bringing you to the ManageBac Help Centre 
QuickStart Guides - Assisting you to get started
QuickStart Checklist - Assisting you to configure relevant areas of your account.
Other Faria Resources - like ManageBac mobile App or Events pages
Your Name & Profile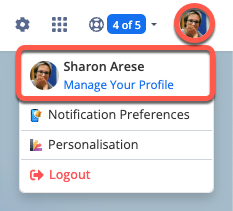 Click your name and view the dropdown of options to manage your profile.
Manage your Profile - Edit your personal and professional information, email address, password and profile photo or set your colour theme for your account
Logout - Logout of your ManageBac account.
Quick Add

+ Quick Add icon at top of the page - This allows teachers and admins to add content directly from your dashboard:
For Admins and Teachers, the Quick Add function allows you to
Start Online Lessons
Schedule Online Lessons
Create new Units
Create new Tasks
Create Lesson Experiences
Create Discussions
Add Goals or Reflections to a student Portfolio.
Left Menu
The left-hand menu allows you to access your homeroom, browse your schools curriculum, view and add to student portfolios, access your classes and year groups. This menu can be expanded or collapsed.
Home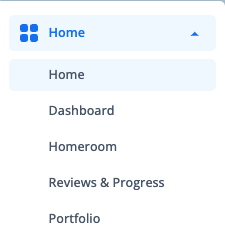 Dashboard - View Unit calendars of your classes as well as upcoming events and deadlines.
Homeroom - Take daily homeroom attendance, add advisory comments, and review homeroom term grades. Note: This view is unique to each user and will only show those students assigned to you as a Homeroom Advisor.
Reviews & Progress - Approve CAS, SA or SL experiences for your advisory group, view experience updates, and manage your TOK, EE and Personal Project groups.
Portfolio - Access student ePortfolio's which contain all the files they've submitted to their classes, projects or directly to the Portfolio. Teachers can also add Learning Goals and other resources for an individual student.
Academics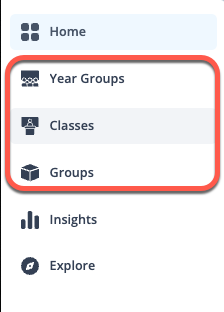 Year Groups - Create and access year groups, oversee experiences and projects, review plans worksheets and add messages and files to students in particular grade levels. Note: The name of this tab is customizable and therefore may not be as shown.
Classes - Create and join classes. Classes allow you to post assignments, record grades in an online gradebook, and complete Internal Assessment requirements for your subject. Note: A maximum of 10 classes will show for a user, with further classes found via See all classes.  
Groups - Create and join activity or extra-curricular groups linked to CAS Projects, Homeroom, Sports Team, Club, Society or other as configured by your school. 
Parents Association - Message parents and add parent-specific calendar events and deadlines. Note: This will only appear if the Parents Association is enabled, with the group name customizable by your school. 
Insights
At the bottom left of your menu, Administrators for schools who use ManageBac for Reports and or Attendance, will find additional tabs here to generate report grades, review term grades and track attendance for all students and classes.
Important
Note: Teachers can be granted access to the Reports and Attendance tabs, as well as other limited administrator rights such as the School Directory, Importing Users or configuring programme Curriculum Settings. Read more about configuring teacher permissions.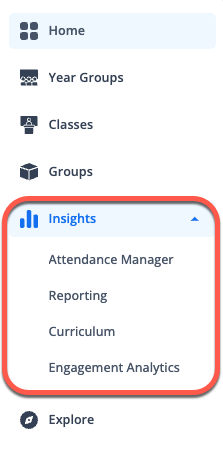 Attendance Manager - Track attendance for the whole school and issue attendance reminders.
Reporting - Generate Report Cards and Transcripts as well as review Term Grades data 
Curriculum - Access your school's whole school curriculum, unit calendars, POI, subject group overview, curriculum digest and unit analytics.
Engagement Analytics - Review student engagement with Online Lessons and Tasks in their classes.
Explore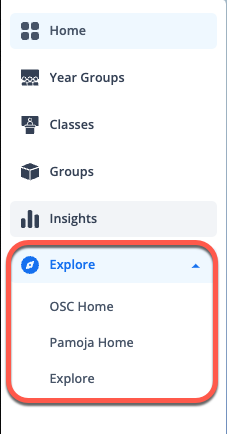 Guides & Handbooks - View online quick start or programme guides and Handbooks for the enabled academic programmes for your school. 
OSC Home - Only available for schools with IB Diploma Programme and the integration with Oxford Study Courses enabled. 
Teacher and Advisor
Teachers with Permissions

In this example, we are a teacher who has been granted access to the Attendance Manager, Reports, Student Directory, the ability to Import Users, and customize IB Primary Years Programme Settings. 
Important
Note: If you are an admin user, you will find these features and full setting options via the top-right Settings icon.