What is Pamoja? What are Pamoja Online Courses?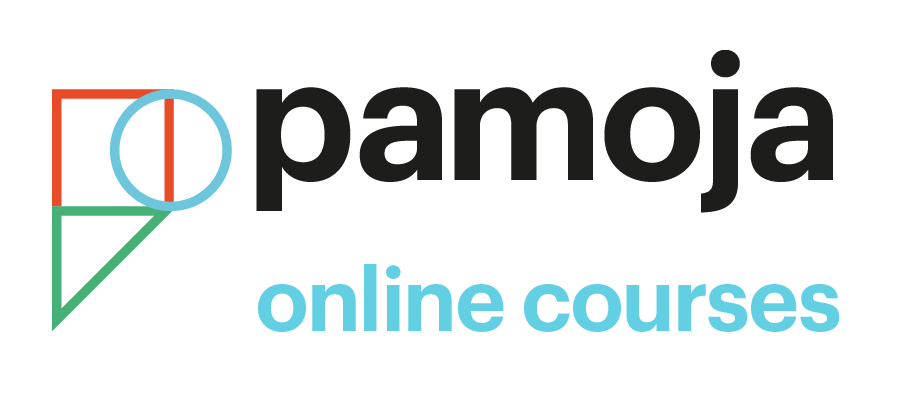 Read more about Pamoja and the different integrations available within ManageBac here.
Pamoja Online Courses are taught online by our experienced teachers trained in digital learning methodologies. A solution to support schools' digital strategies and ease teacher recruitment challenges.
How-To Video
Music credit: https://www.bensound.com/
For access to this video from China, click here
How does ManageBac integrate with Pamoja for Online Courses?
ManageBac's integration makes registering students for Pamoja Online Courses easier than ever before. A streamlined one-click Registration & Exams Management process for Pamoja Online Courses.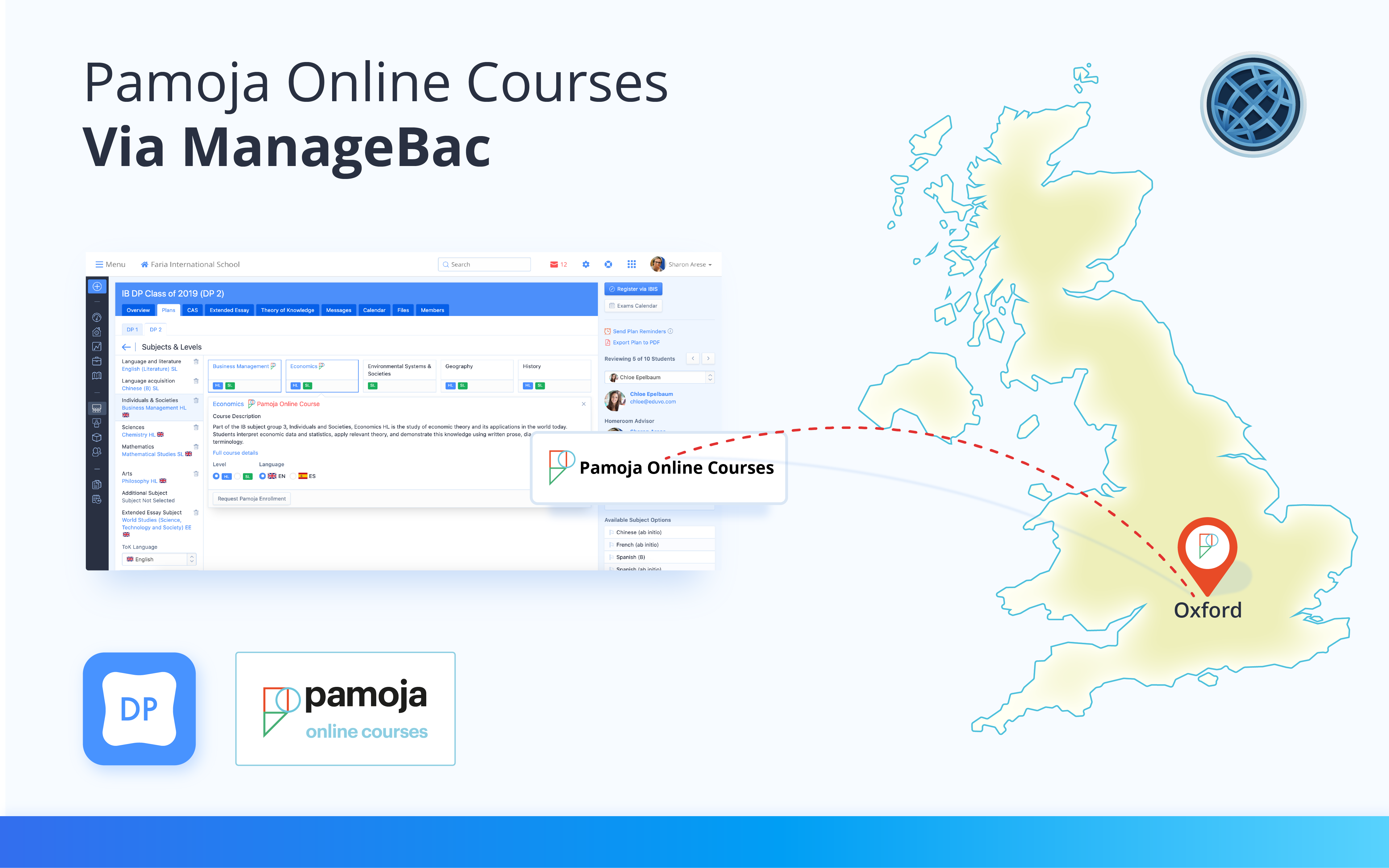 Our partnership aims to reduce administrative burdens for schools and streamline the enrolment process. Our next phase of integration will sync term grades and reporting from Pamoja classes back into ManageBac.
How to set up the Integration for Pamoja Online Courses
Before you begin, please ensure your Pamoja subscription is configured by navigating to Settings > Services Manager > Pamoja Online Courses - IB Diploma. If you are already a customer or on a trial, the status will appear on the Pamoja tile.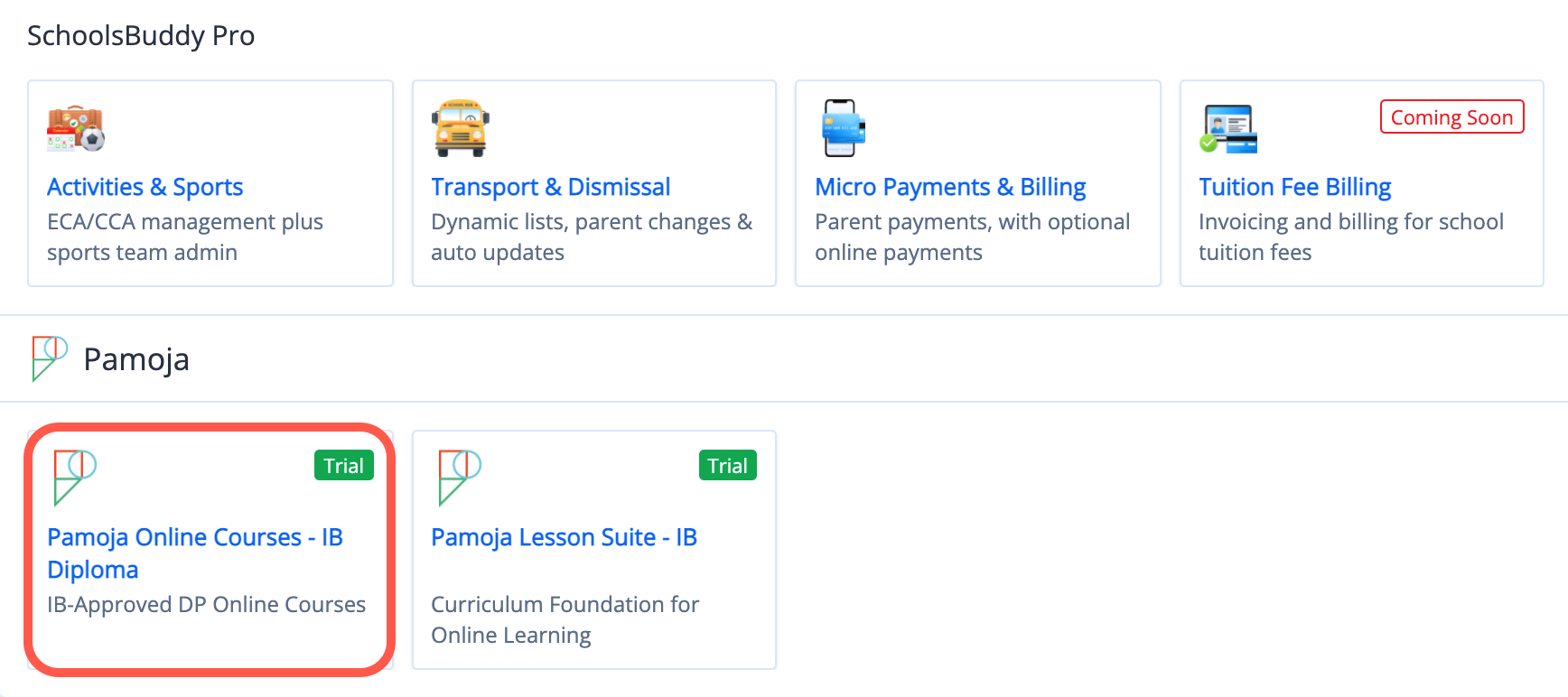 Any administrator on your ManageBac account will have access to this page. On Pamoja Online Courses, click Add Service. You can read more details about Pamoja Online Courses and view a range of resources and course guides.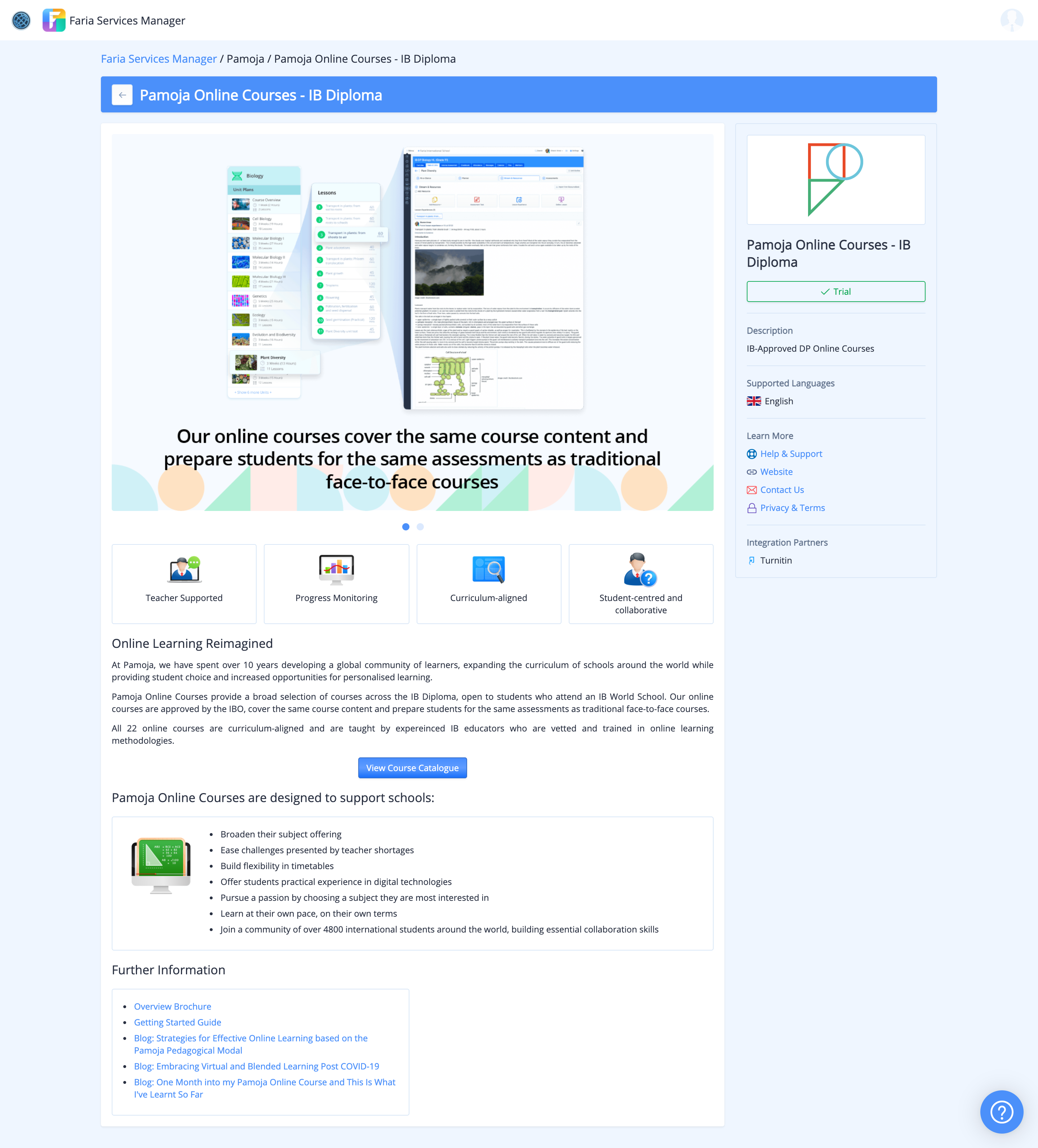 Via Settings > School Settings > Global Resourcebank & Pamoja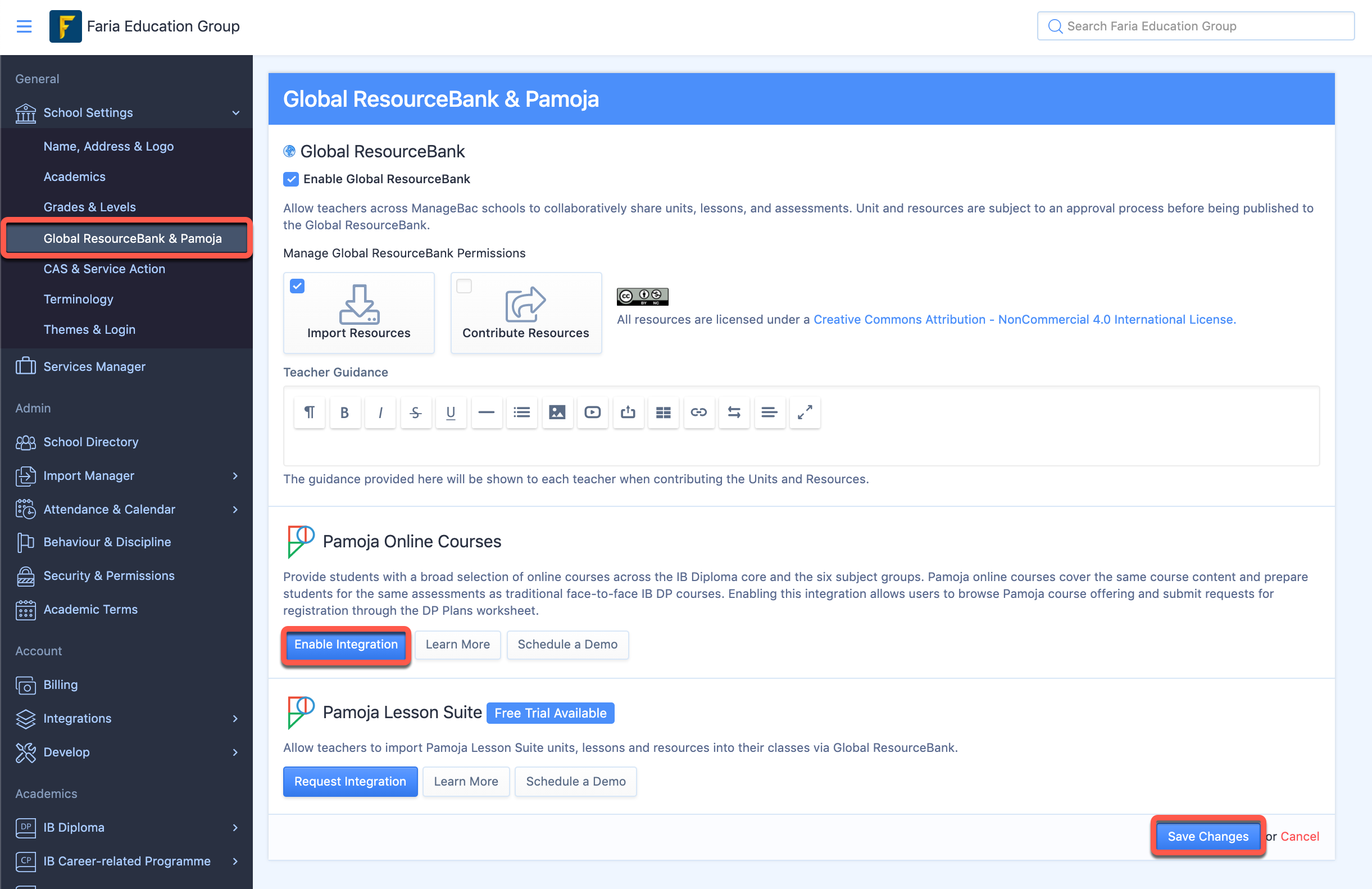 Once the Service has been added, please ensure the Pamoja integration is enabled by navigating to Settings > School Settings > Global ResourceBank & Pamoja.
Under Pamoja Online Learning click Enable Integration and click Save Changes.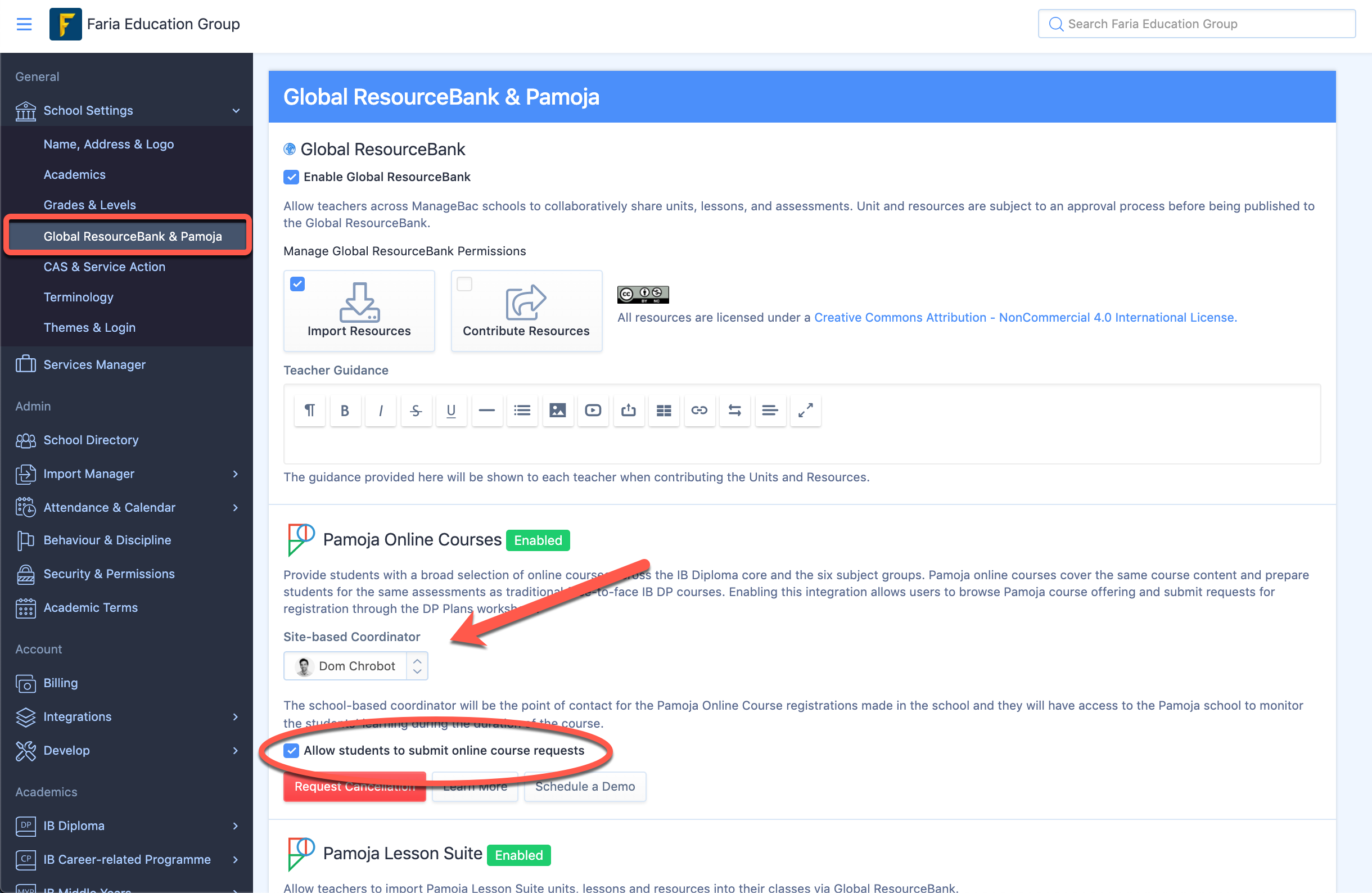 Once the integration is enabled, you can also choose if you wish to allow students to register for courses on their end, or keep this an administrator/teacher only function on ManageBac. You can also assign a site-based coordinator to serve as the main point of contact for your school.
Adding Users to ManageBac
If you are exclusively using ManageBac to register for Pamoja Online Courses, you may need to first add students and teachers or advisors to the system prior to registration. Follow our tutorial on importing users to get started!
How to enable the Plans worksheets for Online Course selections
Availability Update
The Plans Worksheet is now also available for MYP Year 5 Year groups in schools with both IB DP and MYP ManageBac subscriptions. This makes it possible for students to select their IB DP subjects during their final year in the MYP. This also allows students to register for Pamoja Online Courses at the end of the last MYP year before the next school year starts.
via Year Groups > Select IB DP or MYP 5 Year Group > Overview > Edit Year Group Settings: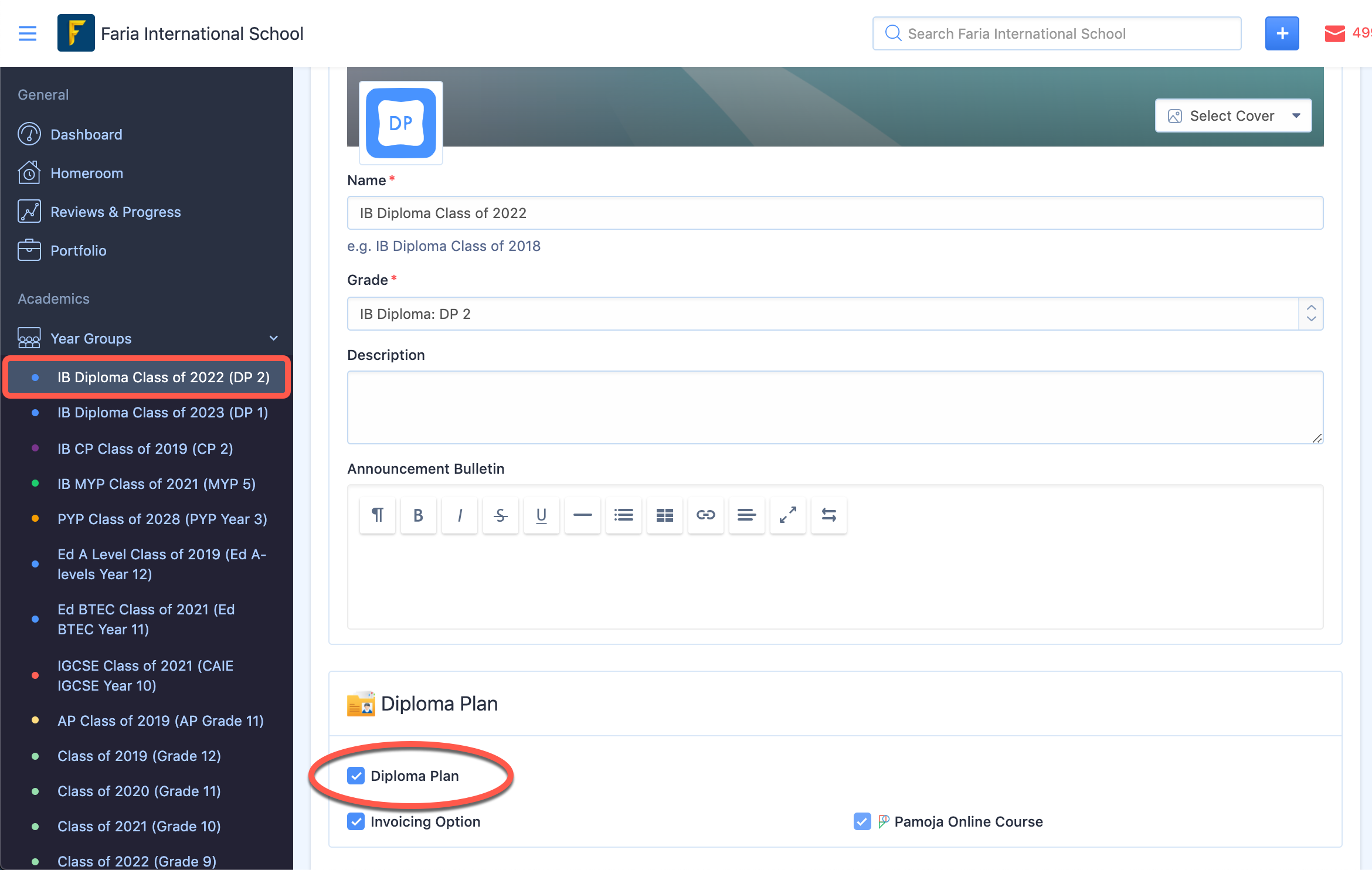 Enable the Diploma Plan worksheets for the Year Group in the Key Worksheets section of the Edit Year Group Settings page. Remember to save the changes at the bottom of the page.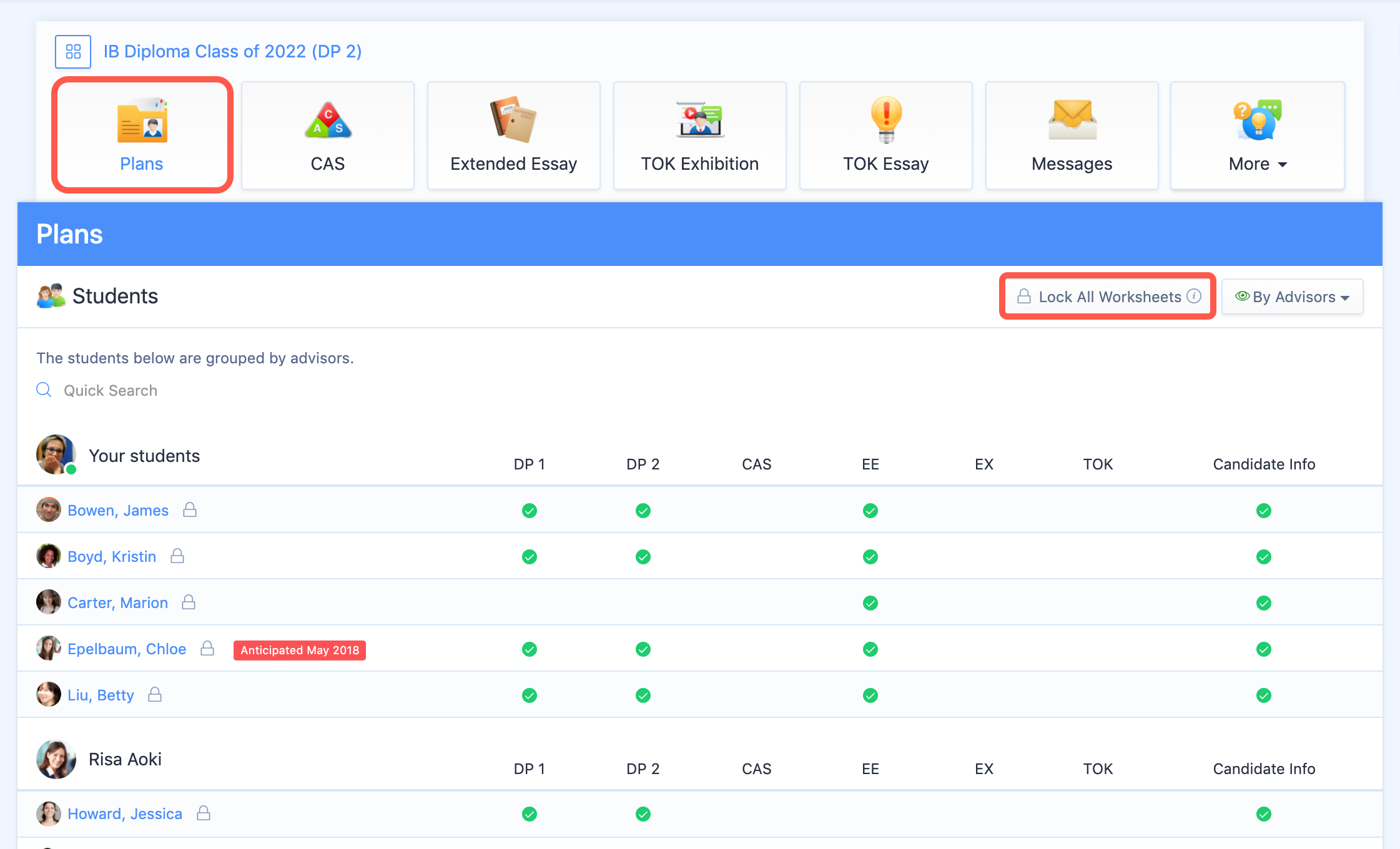 Once enabled, use the Plans roster in the Year Group to allow students to submit Online Course requests (see below for specific details). You can Lock or Unlock all worksheets at the top of the Plans roster to close or open the ability for students to request Online Course registrations and select their Diploma subjects. 
What subjects are available for Online Course registration?
Via the Plans roster > click Browse Pamoja Courses to view full Pamoja Course Intro Guides.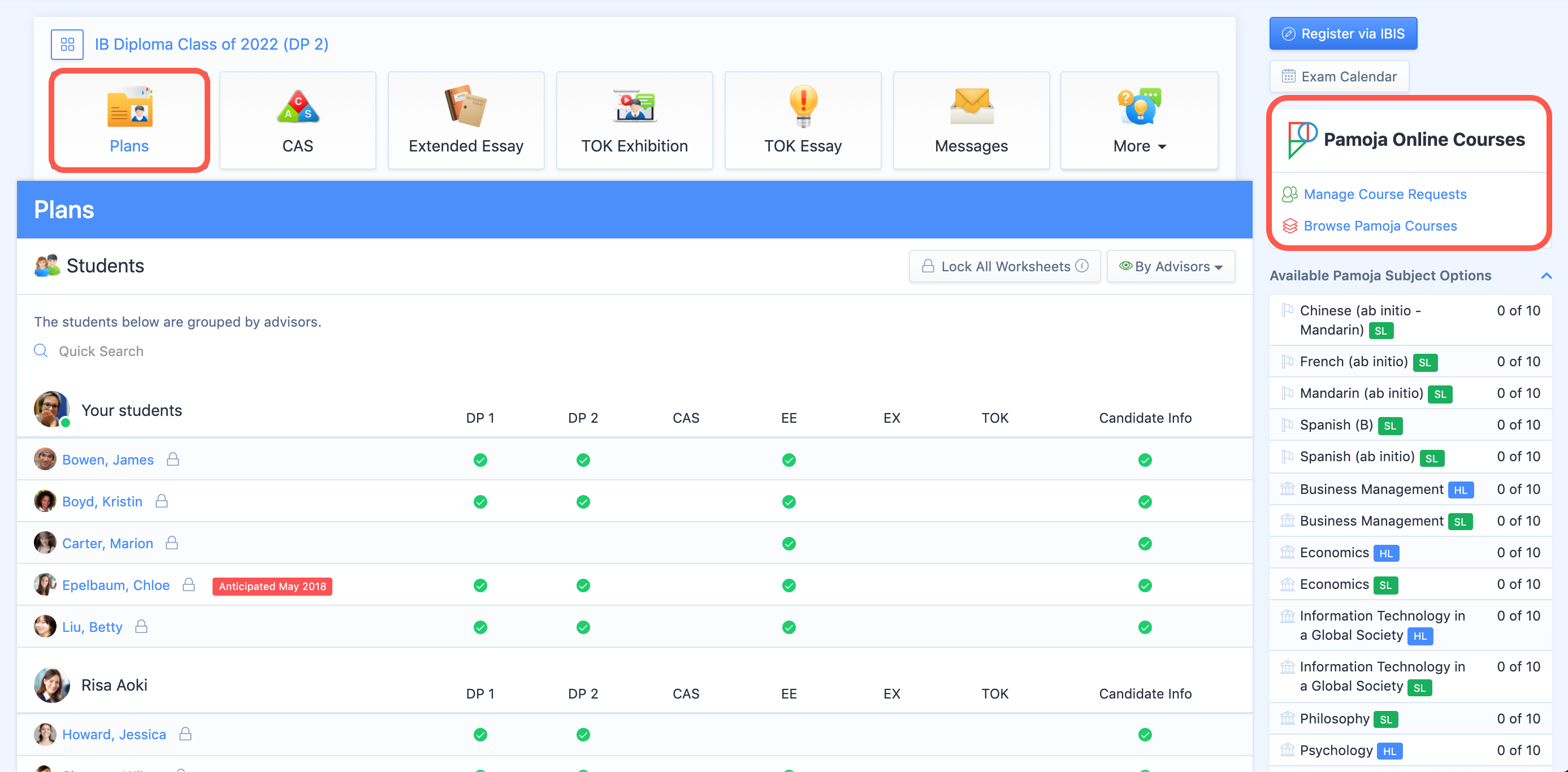 Each intro guide outlines the content, duration and topics covered in the course. Additional resources and activities are listed.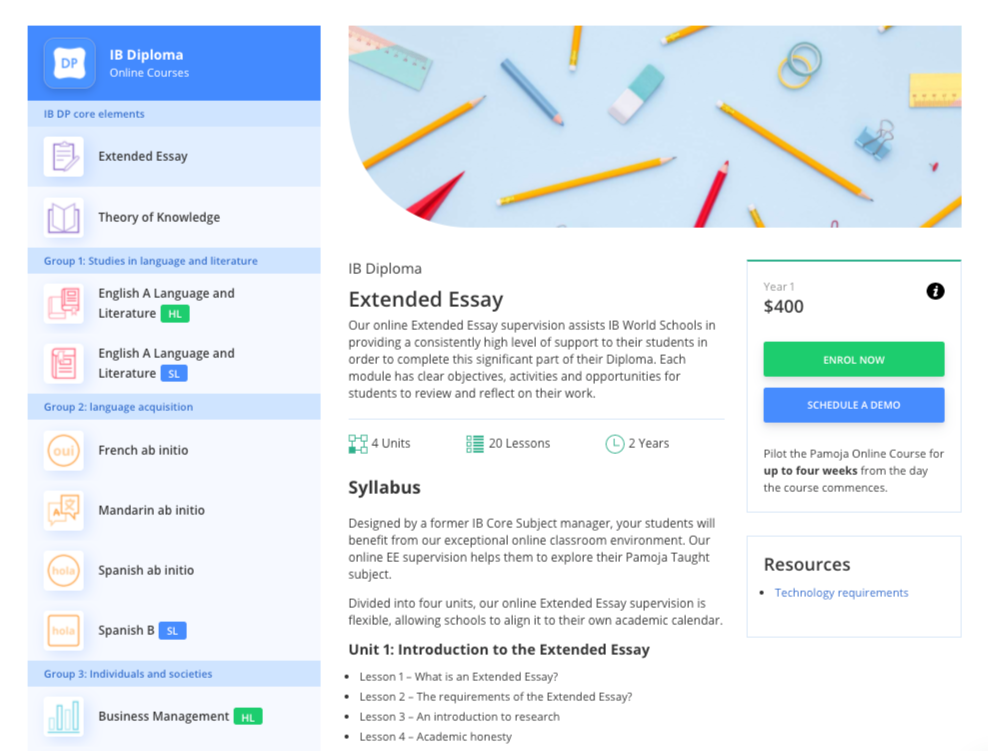 With 20+ IB Diploma subjects to choose from, IB Global Online students can pick the subjects that they are most passionate about, and browse our Online Course Catalogue to discover subjects of interest.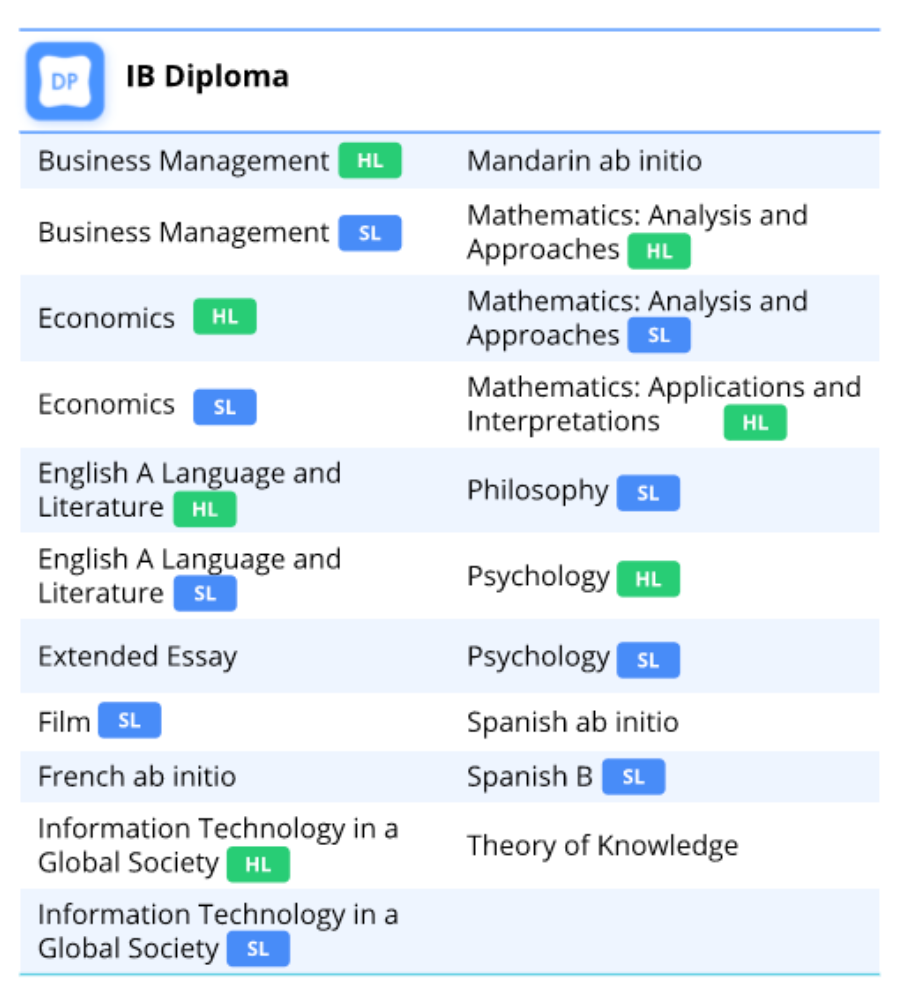 Please note you must first enable the relevant subjects on ManageBac before they are available to be registered via the Plans tab.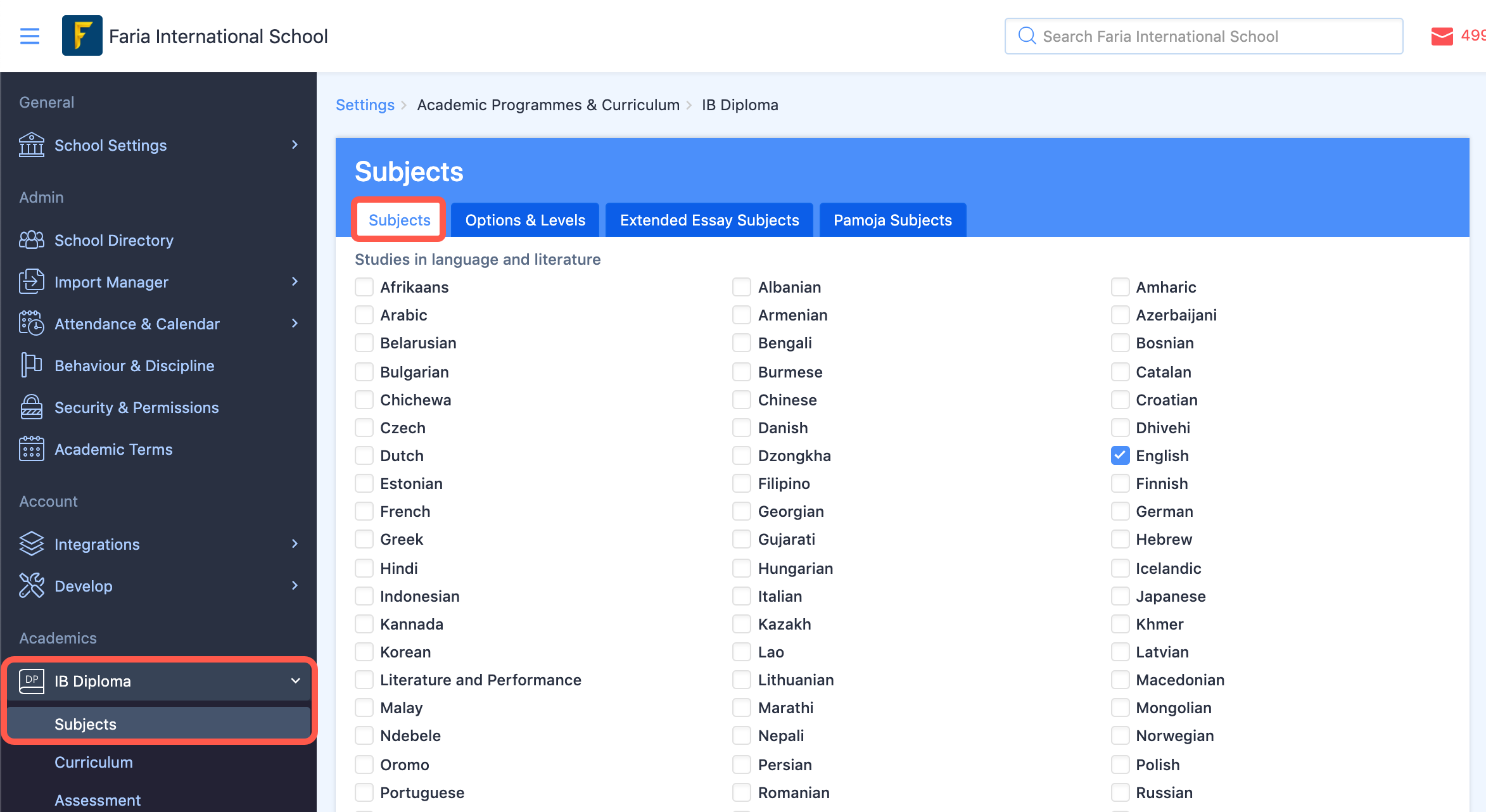 Via Settings > IB Diploma > Subjects, select the Subjects, Options & Levels, and Extended Essay Subjects your students will be taking either in your school or via Pamoja. Click Save Changes at the bottom of each page once done.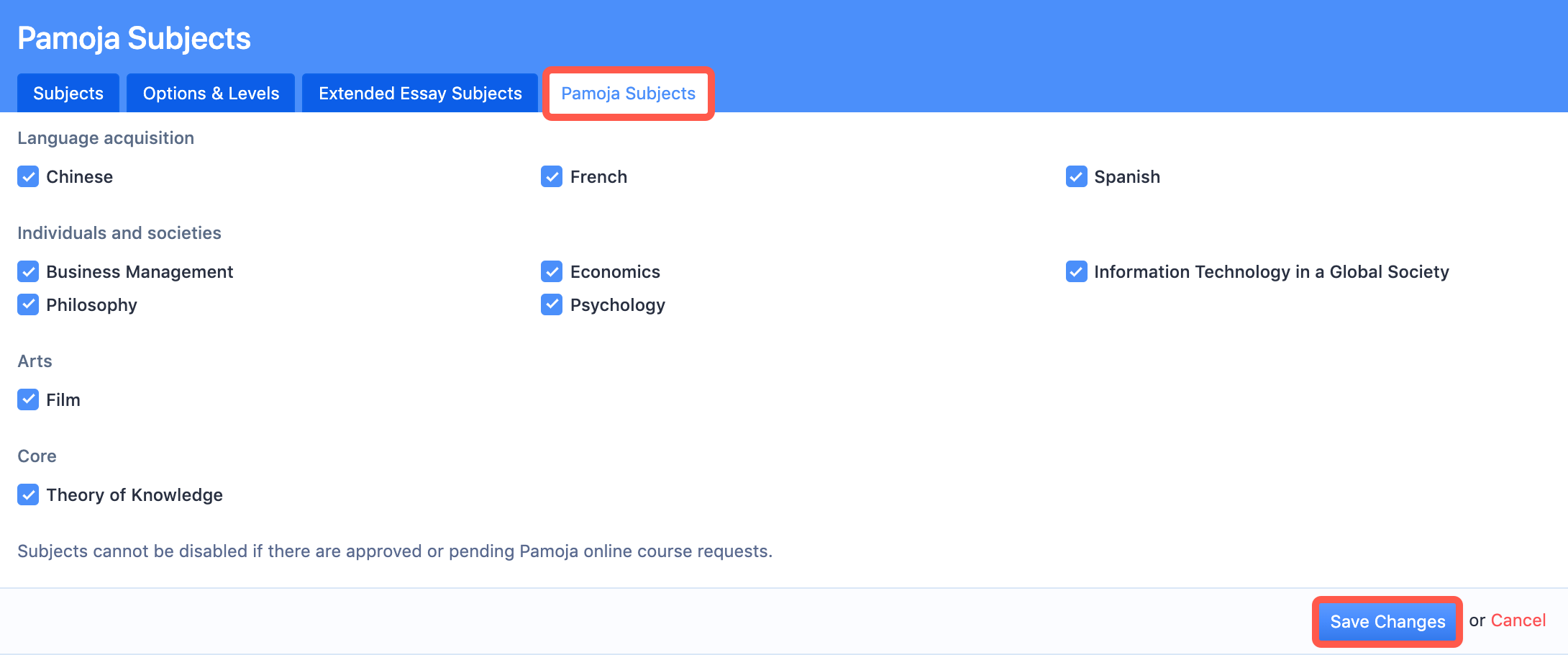 To enable Pamoja Online Course registration for a select group of subjects within the Plans tab, enable/disable the subjects in question via Settings > IB Diploma > Subjects > Pamoja Subjects. 
Note: Subjects must first be enabled via the Subjects tab before they can be enabled/disabled via Pamoja Subjects. Subjects also cannot be disabled if there are any approved or pending Pamoja Online Course requests at your school. 
Registering for Pamoja Courses
via Plans tab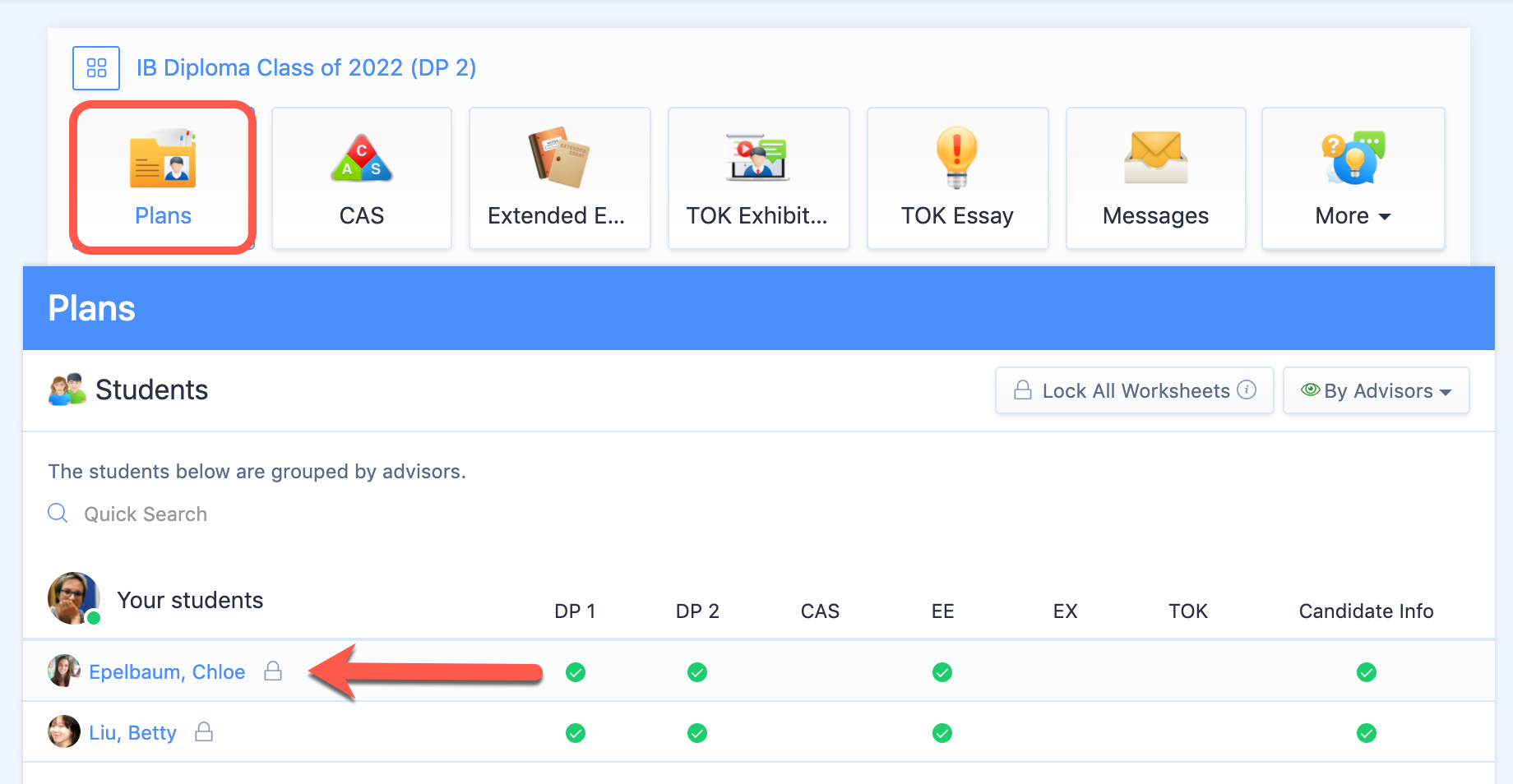 To register a student, navigate to Year Groups > Select Year Group > Plans. Select the student to access their Plans Worksheet. 
Click the Edit button in the Subjects and Levels section to begin.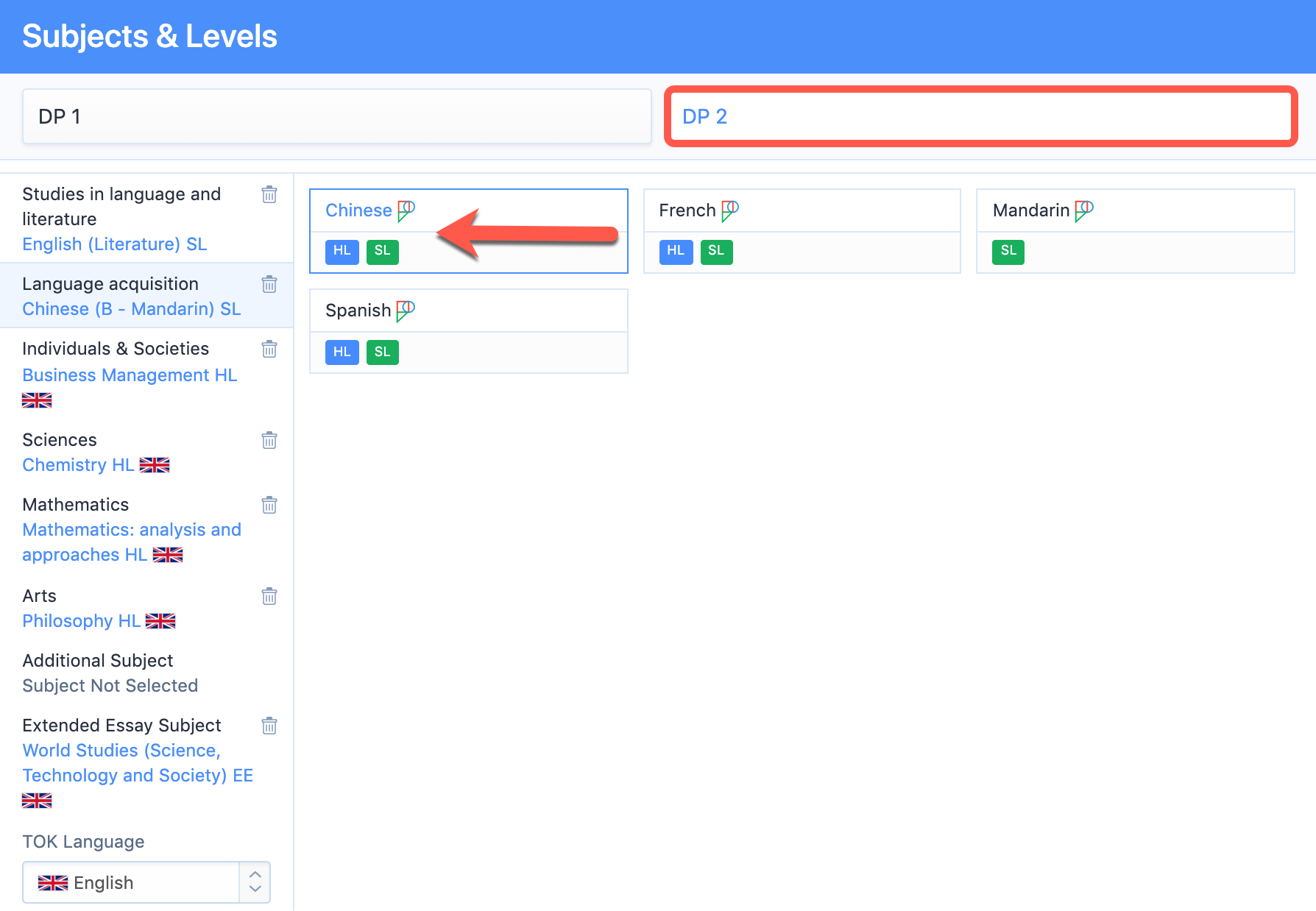 Select which grade level the course will be in, followed by the subject group. Subjects offered by Pamoja will be marked with the Pamoja icon next to the subject name.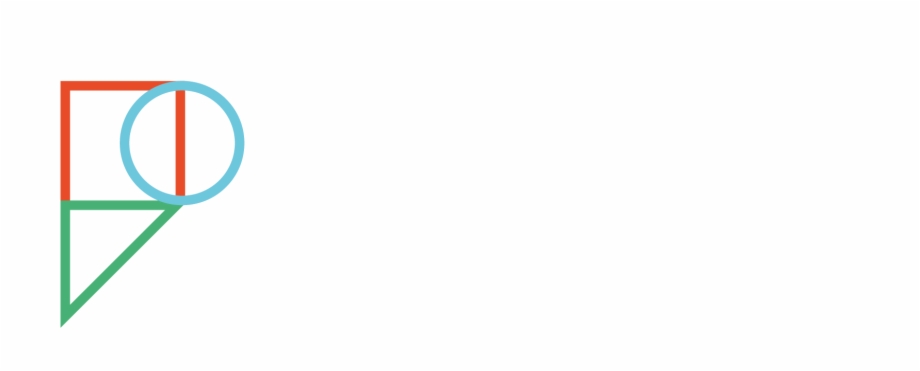 <-- Look for this icon


Click on the subject to view the course description. Depending on the subject, you may also be able to select the level (HL or SL) and the Language Level. If Pamoja offers a course that matches your subject, level and language selections, a Submit Pamoja Course Request button will appear as an option. 

Click Submit Pamoja Course Request and answer the listed questions to register your interest in the course. This may include:
Enrollment Type 
Language Levels
Special Needs
Technology Requirements
DP 1 Registration: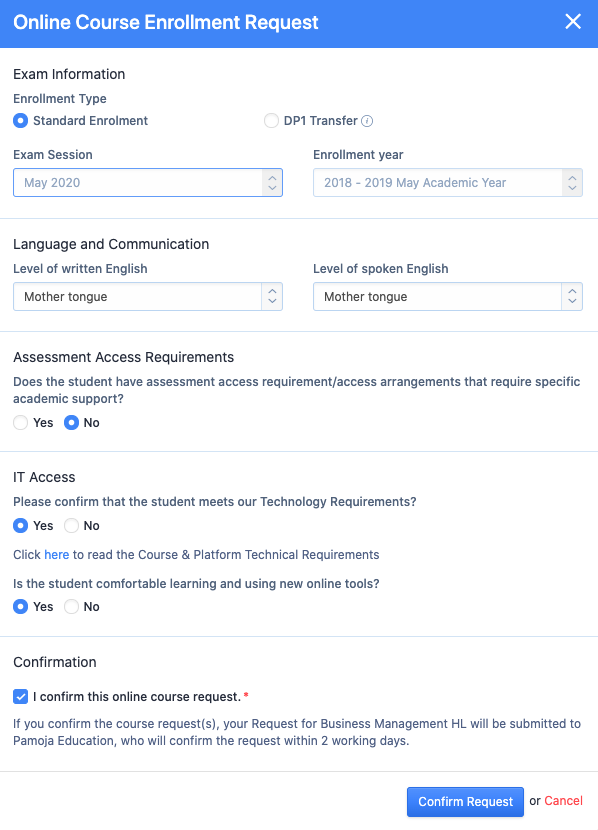 Note: "Standard Enrollment" refers to those students that are registering for POC for the first time at their school. "DP1 Transfer" refers to those students that already started their POC/subject but may have moved mid-year and their new school may not have offered the subject prior.
DP 2 Registration:
Note: "DP2 Transfer" refers to those students that already started their POC/subject but may have moved mid year and their new school may not have offered the subject prior. 
Click Confirm Request to complete the request. The Pamoja team will be in touch within three working days to confirm your course registration.
via Pamoja Home
Site-based Coordinators can register students for Pamoja Online Courses in bulk via Pamoja Home > Pamoja Course Requests > Register Students.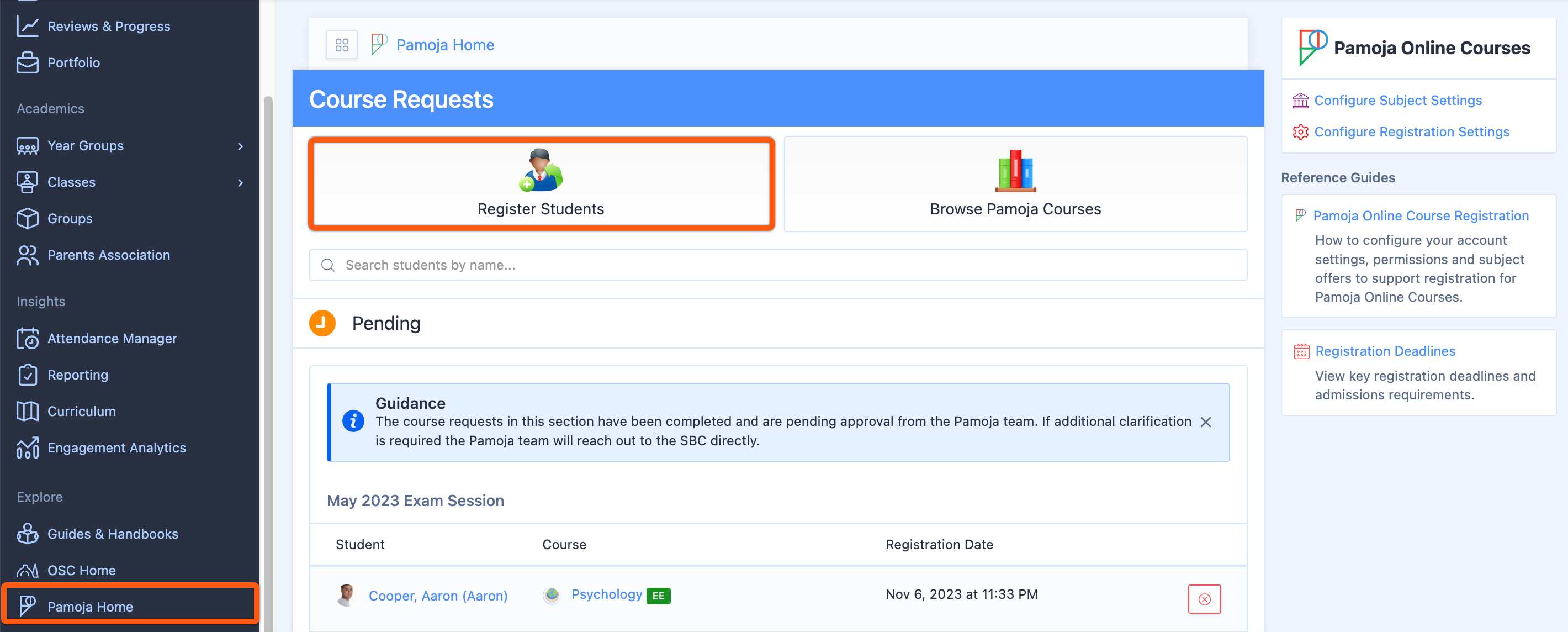 You can register students by following the steps below:
Exam Information
Select the Exam Session, Enrollment Year, and whether they are transfer students or not.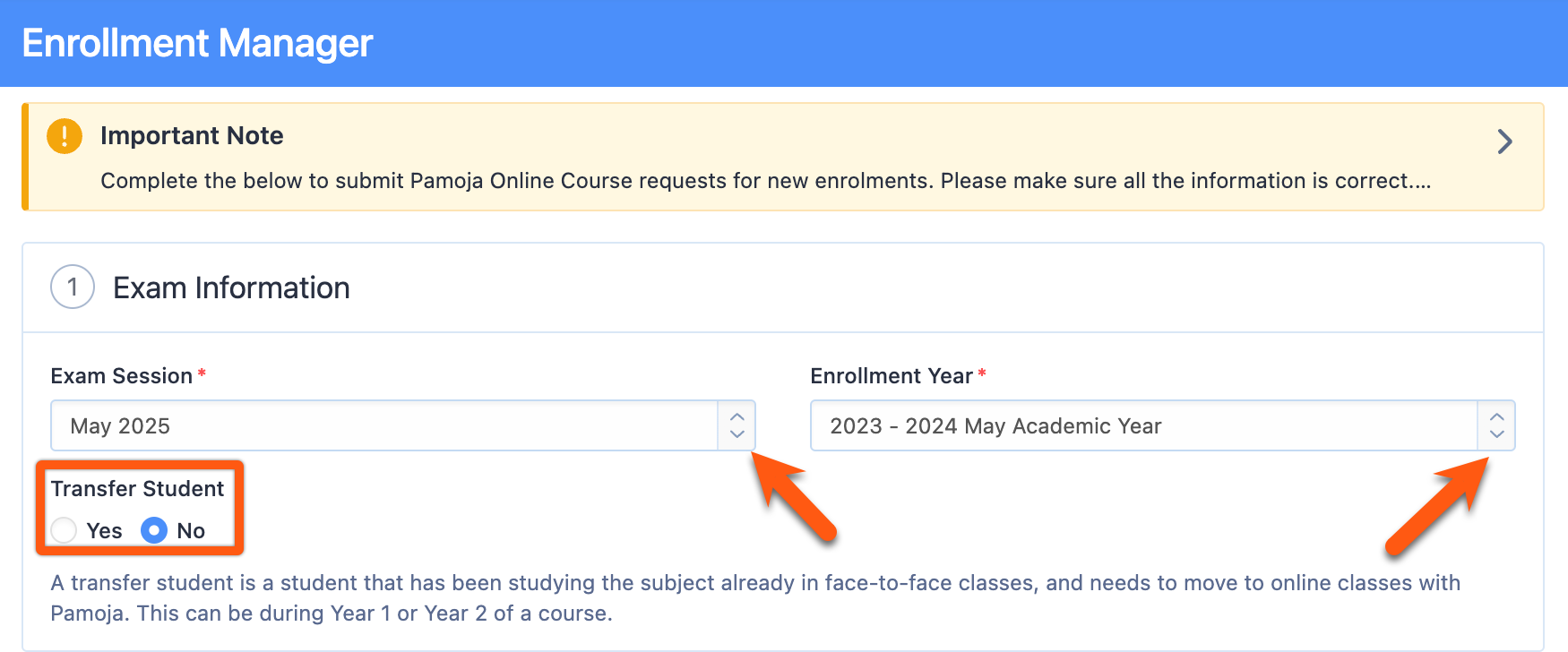 Select Students
Select the students you want to enroll. You can filter by Grade and search by name.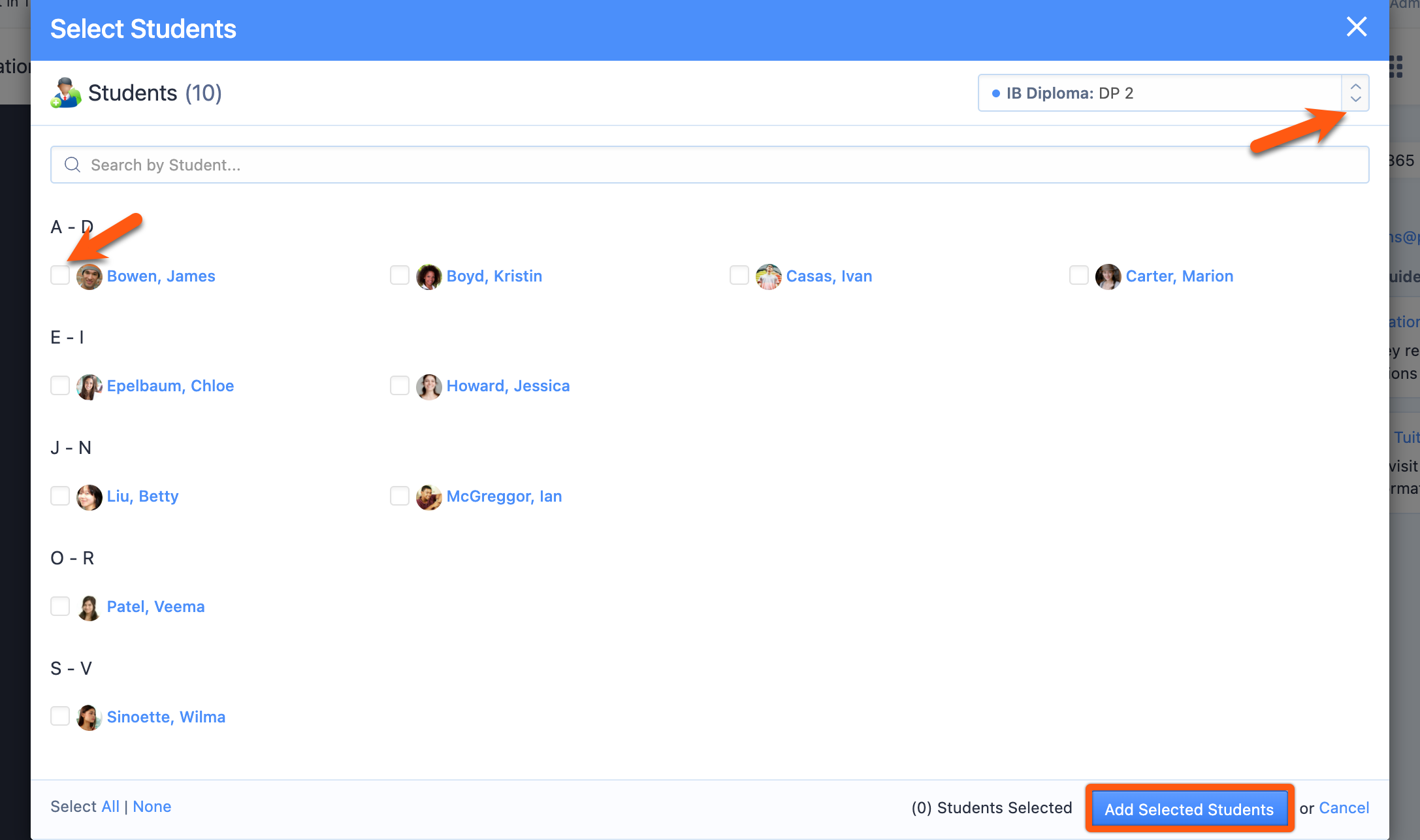 Once the students are selected, you can then click Add Selected Students. 
Select Courses
Using the Courses dropdown select which courses you want to register the students for. This is a multi-select so it allows for several courses to be selected at once.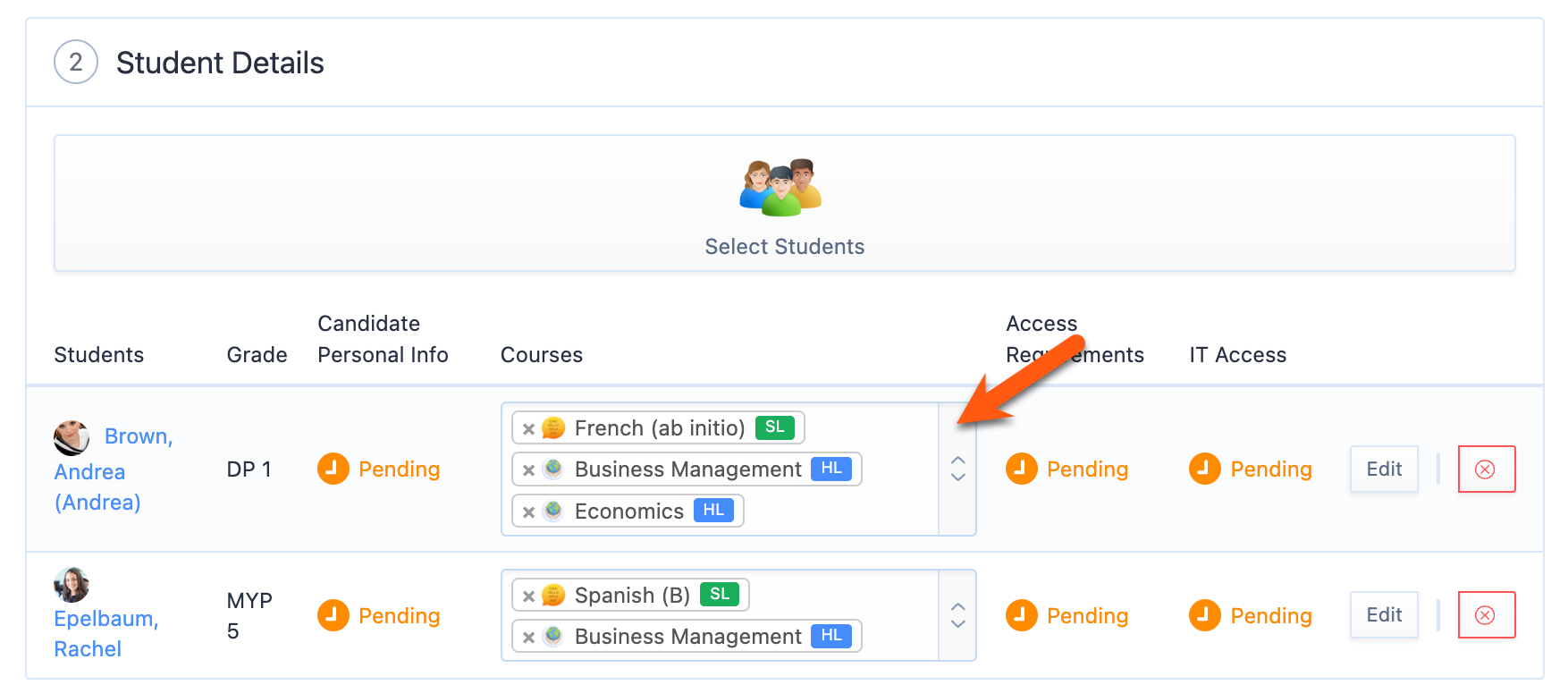 Complete Additional Information
To complete the Candidate Personal Info, Access Requirements, and IT Access, you can click the Edit button.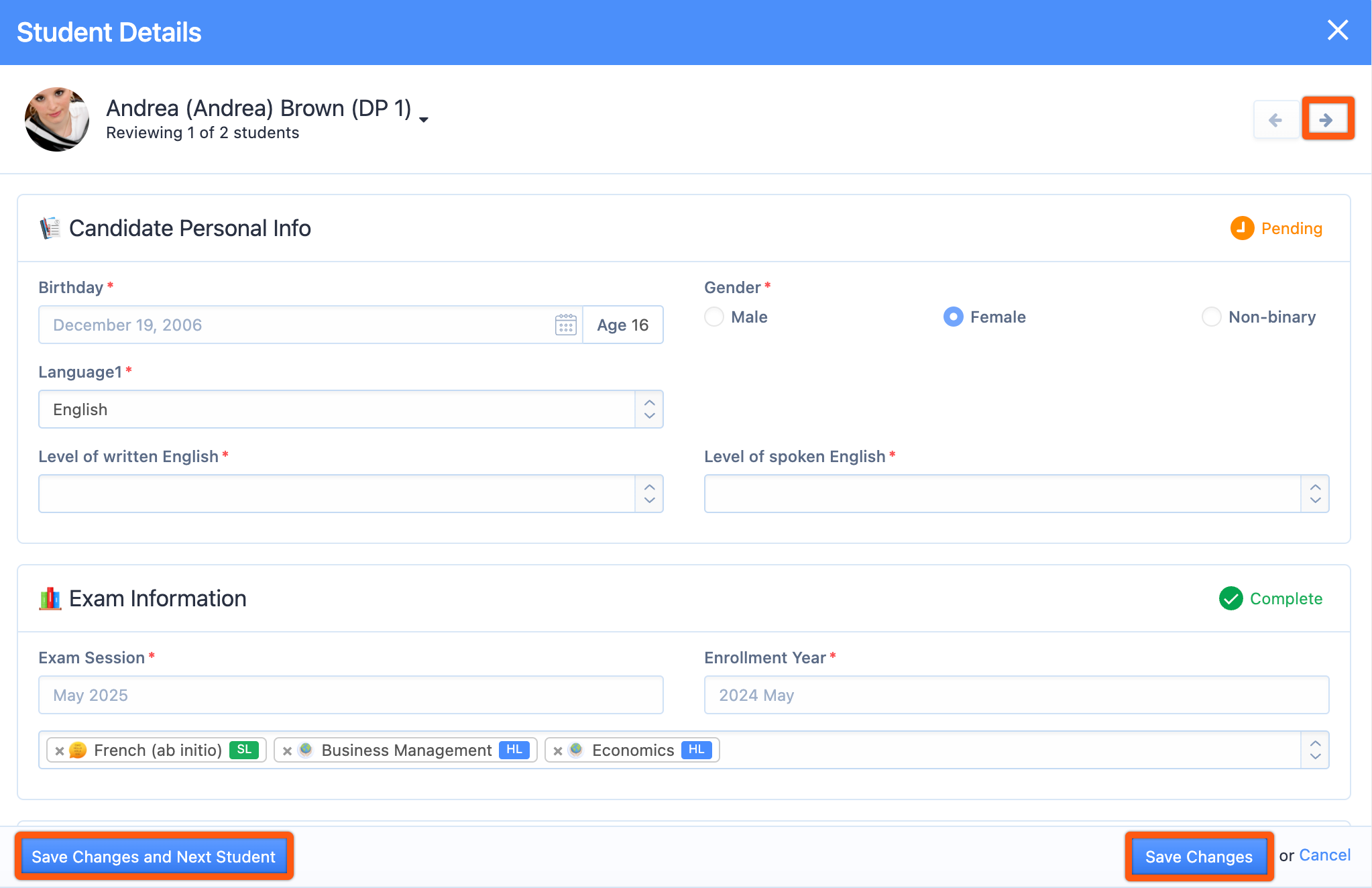 When you're done with the current student you can navigate to a different student by clicking the left/right arrow buttons, clicking the Save Changes and Next Student button, or clicking on the student's name.
Confirmation
Finally, you can accept the terms and then Submit Course Request.

Tracking Registrations
Tracking Registrations for a Student
On a student's Plans worksheet, you can view the registration status for Pamoja courses on the right-hand side. Subject options will display either as Needs Approval, Approved or Declined. 

Navigating to Edit, any subjects needing approval will display Your Pamoja Course Enrolment is under review notice. Click Cancel Request if the registration is no longer needed.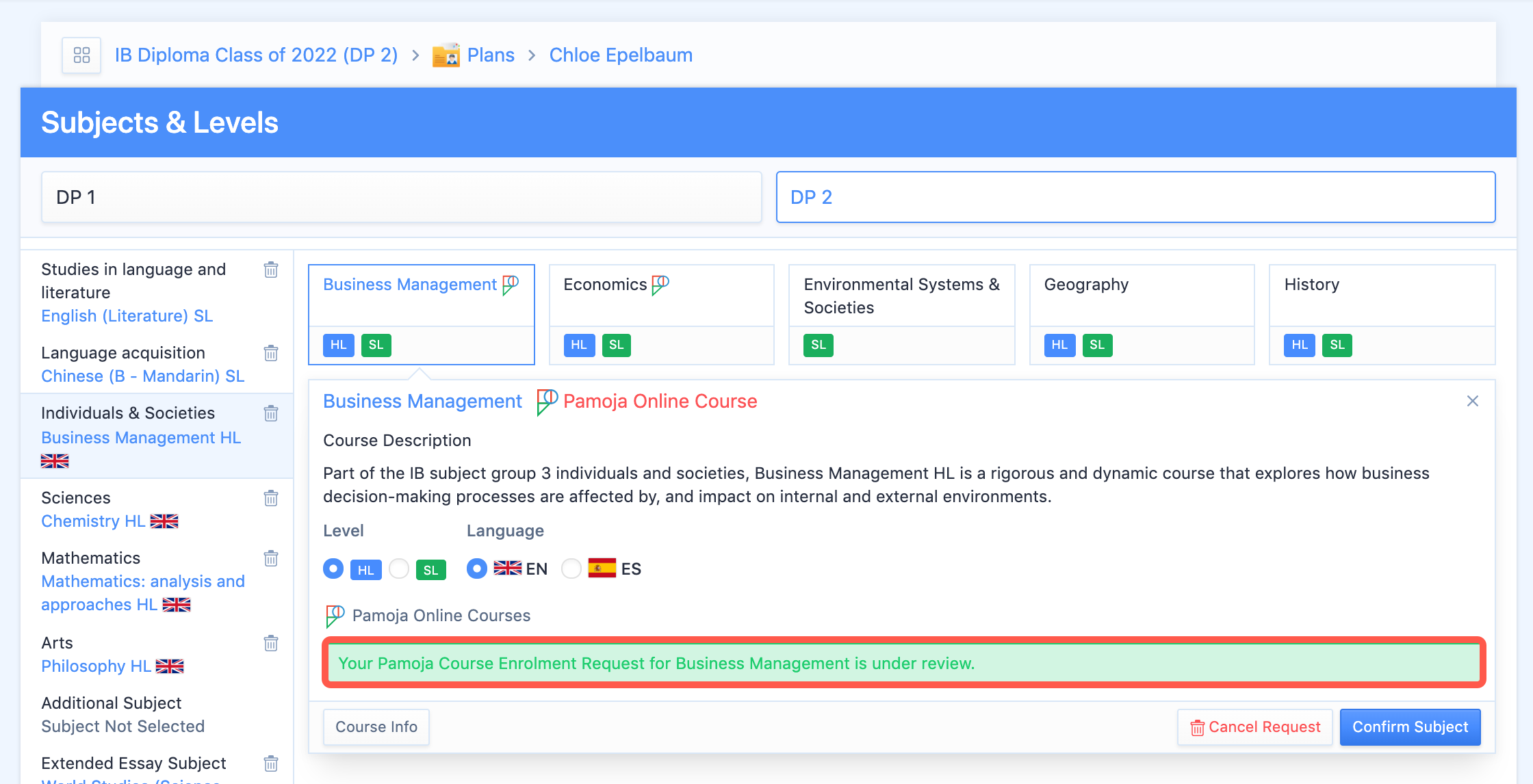 The student will be updated on both the right-nav and on the subject selection panel. 

Tracking Registration Seats for your Year Group
Via the Plans roster, coordinators are able to review the number of seats allocated by subject. This will update once registration requests have been made via each individual student's worksheet. 
The total number of seats and number allocated will display next to the subject (ie 3 seats out of 14 allocated).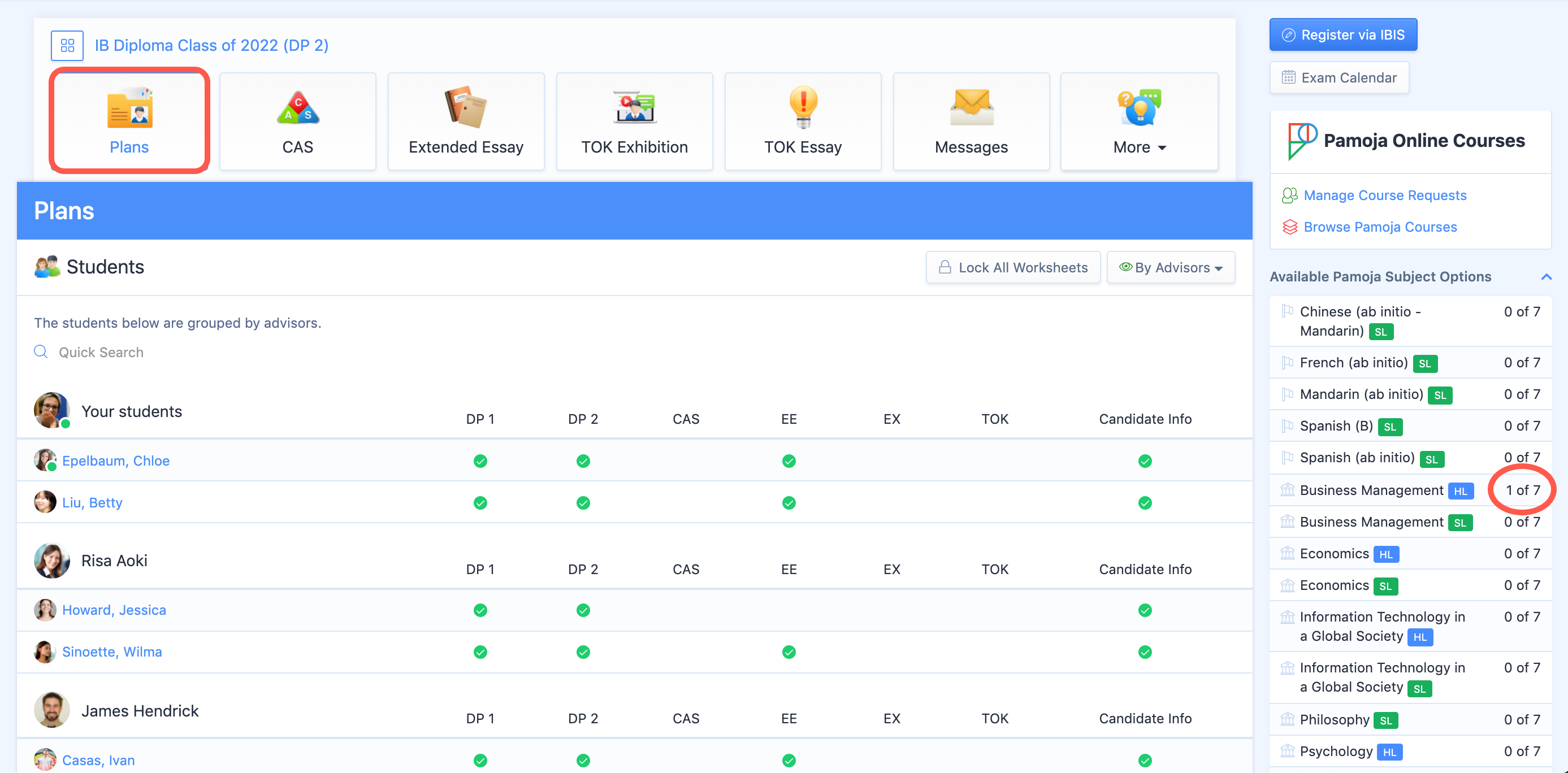 Via Year Group > Plans > Manage Course Requests, coordinators are able to review a complete list of requests for all students in the Year group. This updates as students or the SBC submit requests.

The roster highlights the Subject the request was made in along with the Level, the date of registration and the status (Pending, Approved, Enrolled)

Next Steps: IBIS Registration
Marking Students as DP Online Courses
Since all submissions on IBIS for May 2021 Pamoja students will be done by Pamoja Education, Pamoja will submit your students' IA marks, predicted grades and will generate and upload moderation samples and any externally assessed components, where applicable on IBIS.

It is, therefore, required that upon registering your student(s) via ManageBac for their IB Exams you indicate the student(s) have taken their course(s) online.

This must be indicated using the

DP online courses

option. After completing the registration of candidates for a session, navigate into IBIS and to the 'DP Online courses' option.

Search for the candidate using the search options provided or select

List all candidates

to view all candidate registrations for subjects available via a DP online provider. Click on the "Search candidates" button. The search results will be displayed in the table.
Tick/check the Indicate online course box, select the course provider and then click on the "Save change(s)" button.
See the attached guides to this article for guidance from the IB and Pamoja. 
Notifications & Approval
Approval Process
When a course request is submitted by a student, the site based coordinator is notified of the course request.
The site-based coordinator then reviews the request and approves or declines the request.
Changes to the status of a request are reflected immediately within ManageBac via the right navigation of the Student's Plan Worksheet and on the subject selection screen.
Notifications Digest
We will be implementing a notification that summarizes approved course requests, new course requests and declined course requests in forthcoming updates. 
What do notifications look like?
Please see an example below