What is Pamoja?

Online Learning Reimagined: Expand Your Curriculum
Pamoja offers a broader choice of subjects across the IB Diploma, Cambridge IGCSE and Cambridge International A Level programmes, supporting personalised learning through our global classroom.
Pamoja Online Courses are taught online by our experienced teachers trained in digital learning methodologies. A solution to support schools' digital strategies and ease teacher recruitment challenges. 
Pamoja Lesson Suite provides teachers with a range of tailor-made resources to use in their classroom, including course content broken down into lessons, student assessment and monitoring tools. A solution to save teachers time on course preparation whilst developing skills in online learning methodologies.
Pamoja Tutor: Receive 1:1 assistance throughout an area of your course from a dedicated subject expert. Tutorials may be requested as occasional or regular sessions, and we are available to any student taking A Level, GCSE, IGCSE, IB Diploma Programme or International A Level courses.
Pamoja, like ManageBac, is a service in the Faria Suite. Learn more about Pamoja for Online Learning or read about Pamoja joining Faria Education Group.
How does ManageBac integrate with Pamoja?
There are 2 integration points and services between ManageBac and Pamoja. 
Pamoja Online Courses, which students can register for via ManageBac
Pamoja Lesson Suite, pre-built resources for teachers to use within their classroom. 
How to Setup your Pamoja integration?
Pamoja Online Courses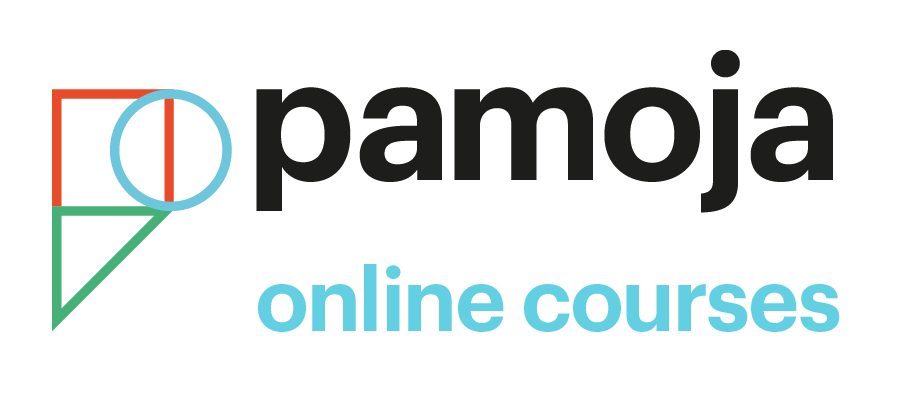 Schools are also able to manually turn on the Pamoja Online Courses integration via the Settings > School Settings > Global ResourceBank & Pamoja page. Click Enable Integration under "Pamoja Online Learning". (To disable, please contact support@managebac.com).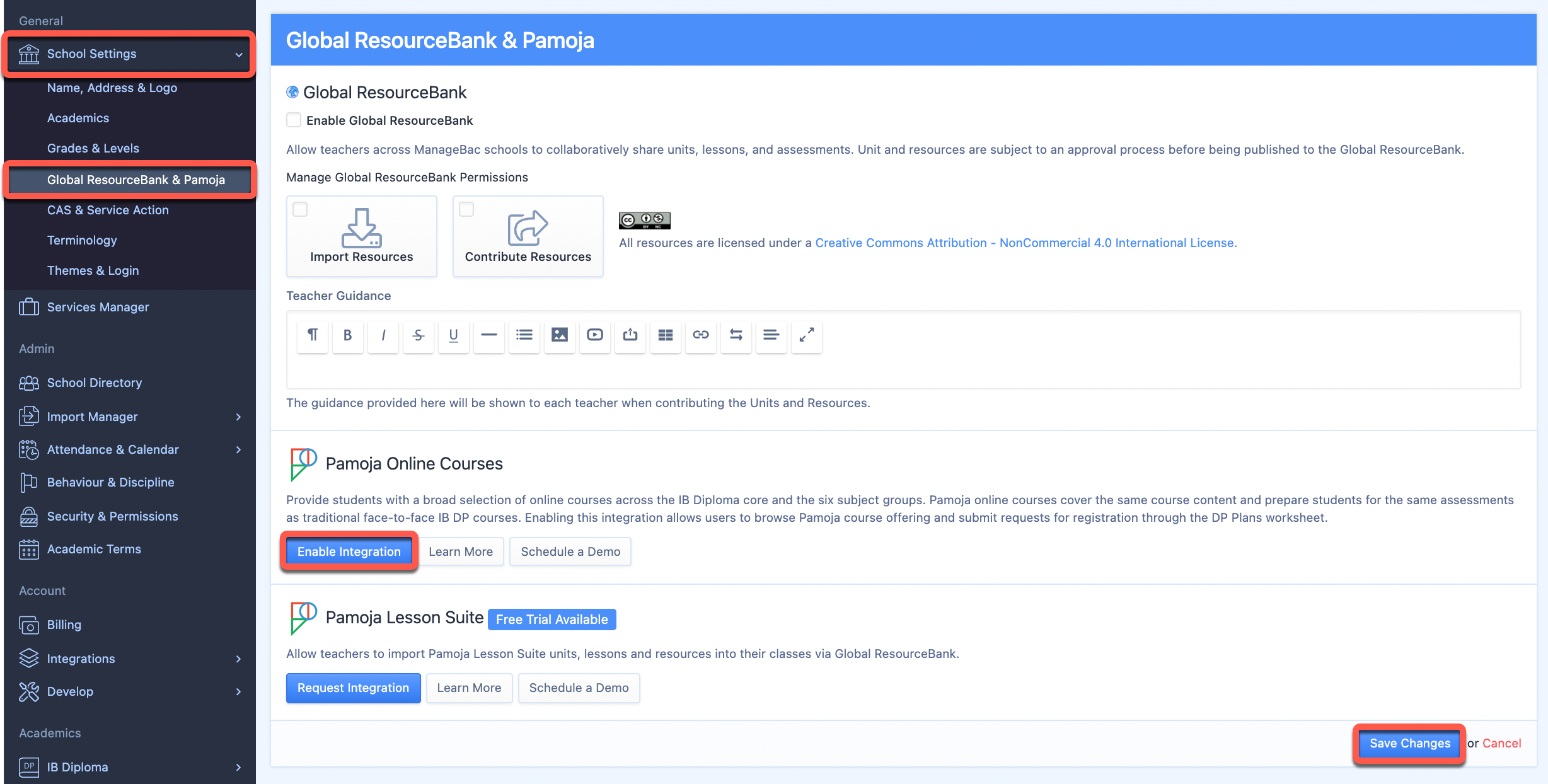 After this integration has been enabled, DP coordinators can choose a Pamoja coordinator from the dropdown menu under Site-based Coordinator.
DP coordinators can also allow students to register for Pamoja Online Courses on their end, or keep this a teacher/admin only function via ManageBac.

Teachers and students (if enabled) will be able to enrol in Pamoja Online Courses via the student's Plan worksheet.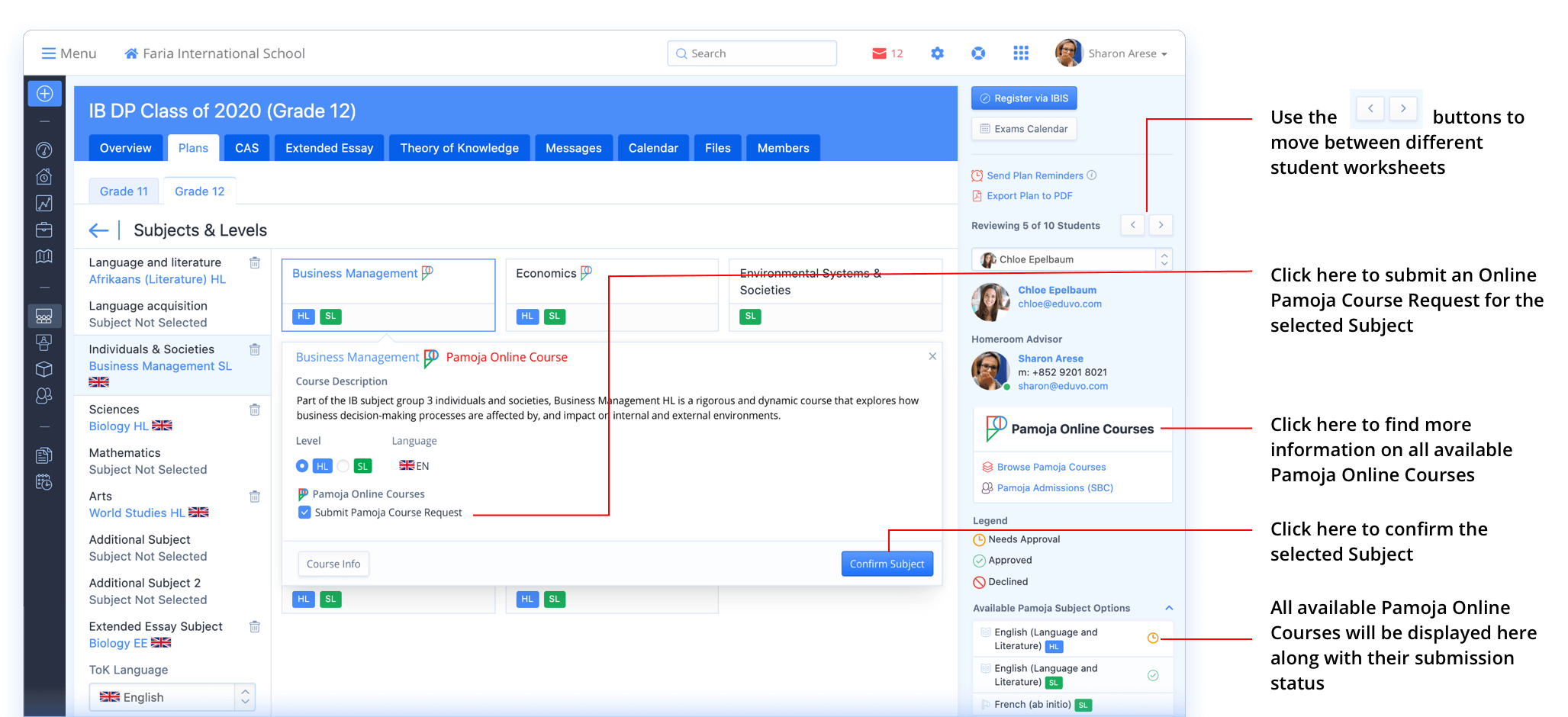 Students and teachers can identify which courses are available via Pamoja by the Pamoja symbol next to the subject title. Click Submit Pamoja Course Request to send an enquiry to Pamoja for registration to the course.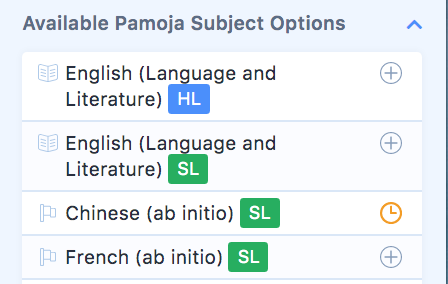 Pamoja Lesson Suite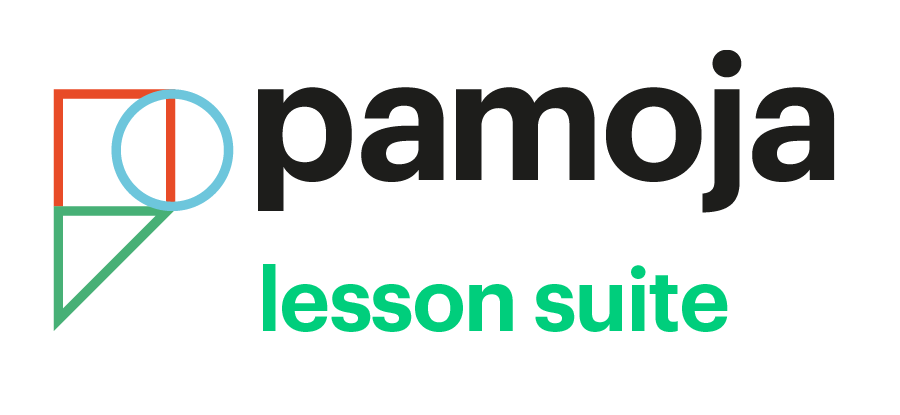 Schools are also able to request to turn on the Pamoja Lesson Suite via Settings > School Settings > Global ResourceBank & Pamoja page. Click Request Integration under "Pamoja Lesson Suite."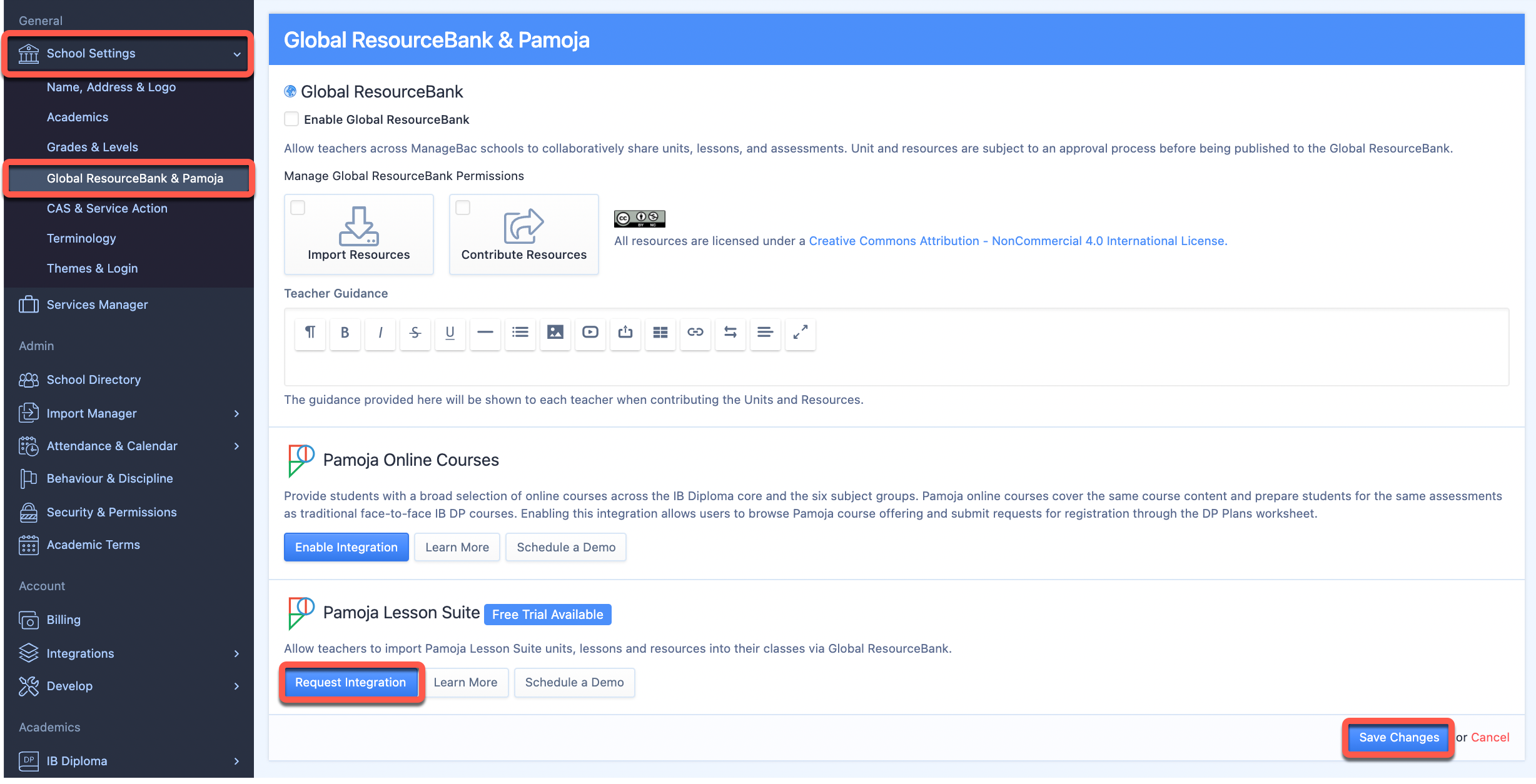 After this integration has been enabled by our team, DP teachers will be able to import Lesson Suite content into their class.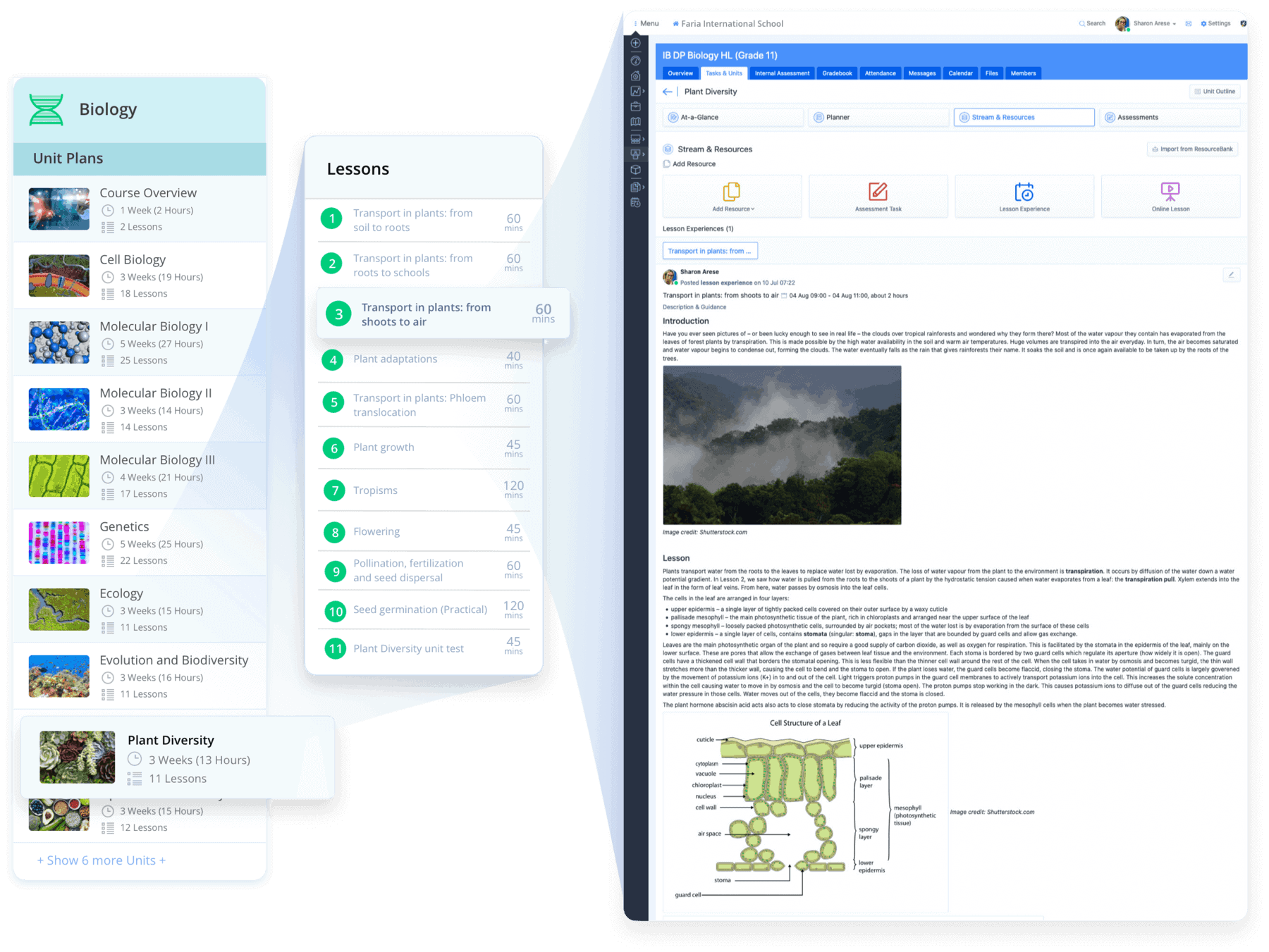 This can be done in 2 different ways: Either via a classes Task & Unit roster, which will import complete units and their accompanying Lessons, Assessments, Stream & Resources, OR teachers can import individual resources adding to their existing units via a Unit > Stream & Resources page. Please see our tutorial on Pamoja Lesson Suite for further details.
Integration Subscription Details
How to do I subscribe?
The Pamoja Online Course integration is enabled in ManageBac and course registrations are then completed in the Plans worksheets for students.  
You can subscribe to the Pamoja Lesson Suites via the link here or contacting us at sales@managebac.com. 
What are the costs?
The pricing information for Pamoja Online Courses can be found here. Select a subject to see specific pricing information.
Pamoja Lesson Suite subscription costs are shown below.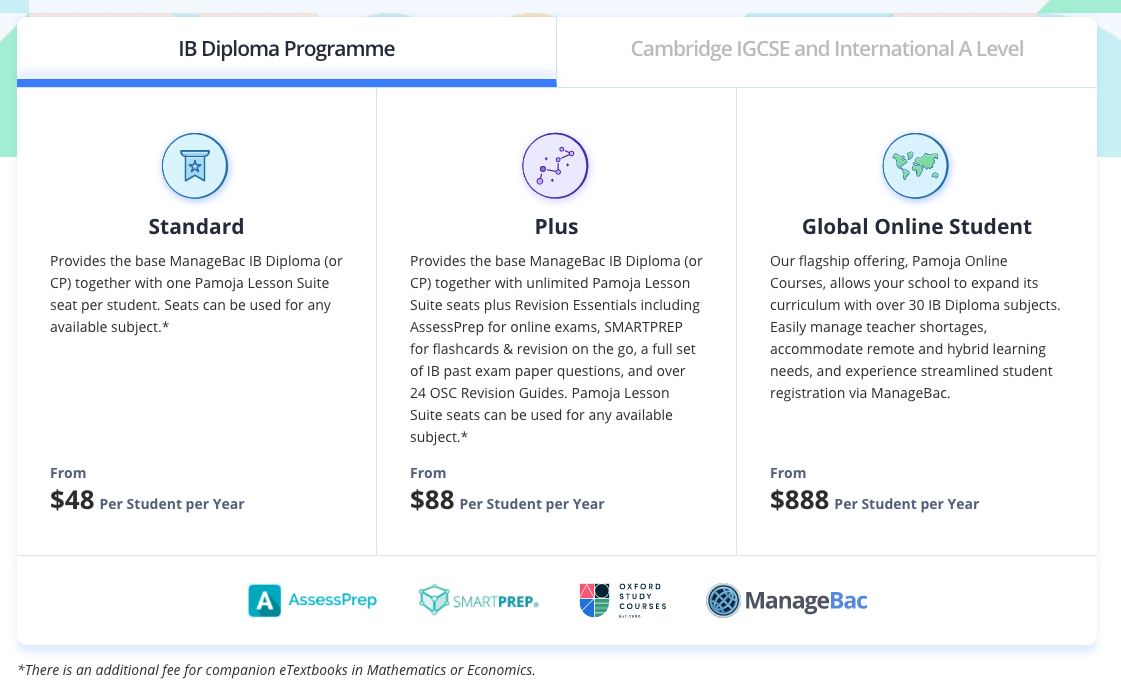 Managing the Pamoja Integrations
For further details on either integration, please see the relevant guides:
Integration Questions & Support
Pamoja Online Courses FAQs
How will the integration between Pamoja Online Courses for IB and ManageBac work? 
Rising CP or DP1 (Grade 11 or Year 12) students will be directed to the IB DP Plan Worksheet to choose their DP Classes. Within the Plan worksheet, they will be able to select Pamoja Online Courses for subjects, where the school does not offer the subject they are looking for. The school, through the Site-based Coordinator, will need to approve any of the Pamoja Online Courses that the student selects, which they will be able to do from a newly created dashboard.
When a student expresses interest in Pamoja Online Courses via the DP Plan Worksheet, how will it be clear whether the school or parent would be paying for the course?
The School will need to indicate its preferences under the Invoicing Options section of the Plans tab and roster. This is currently under development and will be released by September 2020. 
When will the integration between Pamoja Online Courses and ManageBac be available?
We are expecting to be able to offer Pamoja Online Courses via ManageBac by the end of September 2020.  
Pamoja Lesson Suite FAQs
What content is used for Pamoja Lesson Suites?
For the IB Diploma: Content across all subjects has been developed by the Pamoja Academic team. It does not require the use of any specific textbooks, other than via Haese for Mathematics and via Hodder for Economics. This means that there are no licensing fees for textbooks other than Haese and Hodder, and means that Lesson Suite content replaces the need for schools to use textbooks for the subject currently available within Lesson Suites.

For Cambridge: Hodder e-textbooks are used and therefore a licensing fee is paid by us. For this reason, the pricing for Cambridge Lesson Suites is slightly higher than the pricing for IB.
What IB Pamoja Lesson Suite content is available on ManageBac?
In 2020, Pamoja Lesson Suite content for the below listed subjects was made available on ManageBac for schools subscribing to Pamoja Lesson Suite.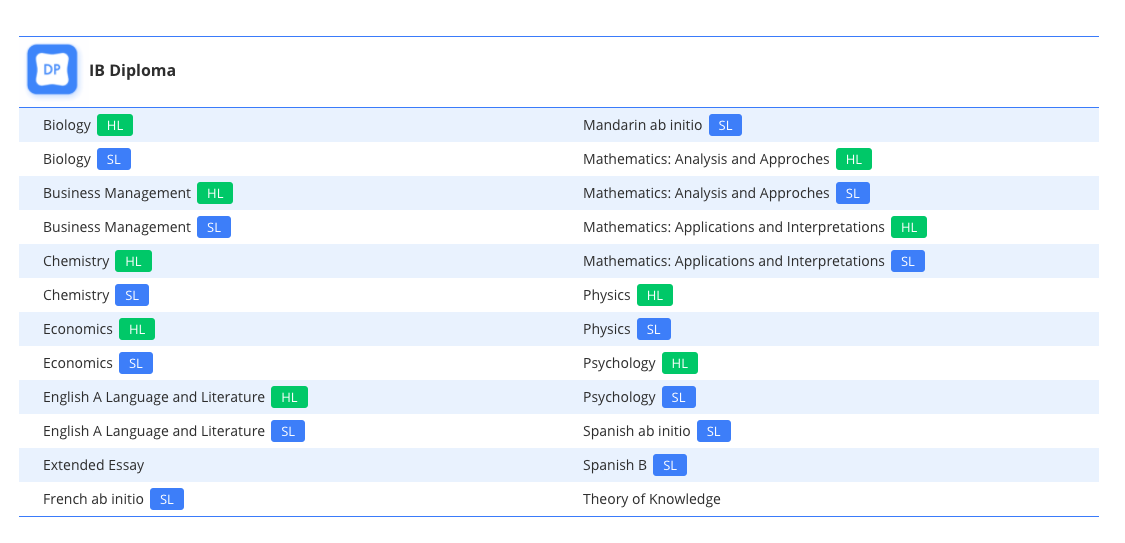 What happens if a school wants to purchase Lesson Suite for Cambridge before the content has been ported to ManageBac? What if a school wants both Cambridge and IB?
Lesson Suite for Cambridge will still remain available for use via the existing School Taught platform. If schools want both, in the short term they will need to use ManageBac for the IB, and Canvas for Cambridge. We will provide an update on when the Cambridge Content will be available. 
Will teachers be able to include their own content, tasks, assignments, etc. within a Pamoja Lesson Suite class?
Yes, teachers will be able to add custom unit plans, tasks, resources, etc. via the ManageBac class. This is standard functionality within ManageBac, however previously this had not been possible within the existing School Taught LMS.