Published February 27, 2020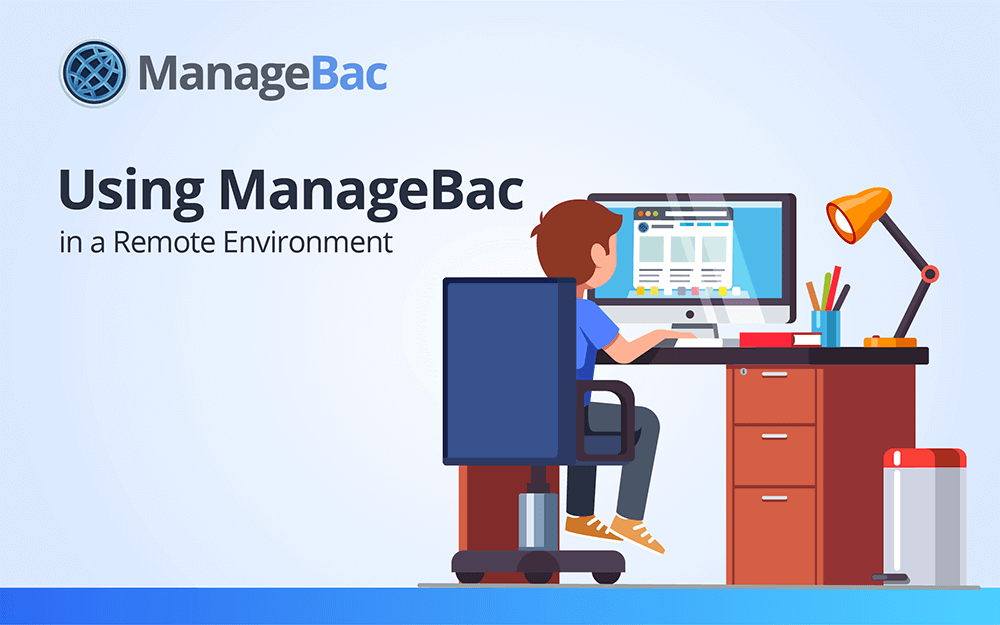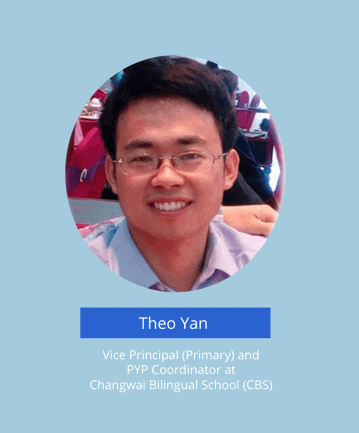 As schools in many countries around the world prepare for possible closures because of the Coronavirus outbreak, there are many questions that parents, school leaders and teachers ask:
How do we keep communication channels open between families and schools?
How do we share class-specific resources with our students so their learning continues despite the school closure?
Is there a hub where all the communication, classroom discussions and sharing of resources can happen?
In this blogpost, Theo Yan, PYP Coordinator and the Vice-Principal for Primary at Changwai Bilingual School (CBS) in Changzhou, China, has shared his experiences of how CBS utilizes ManageBac as the hub for all the communication and learning activities during the COVID-19 epidemic.
Remote Learning at Changwai Bilingual School
Theo Yan of Changwai Bilingual School (CBS) in Changzhou, China, shared experiences of how CBS are managing sessions during the current COVID-19 epidemic. "CBS is an international and bilingual K-12 IB school who serve students from all over the world. Due to the ongoing situation, our students are currently spread out across different time zones". The local China Firewall has added further complications of managing learning online, and seen the school take on new tools and workflows to meet their teaching needs.
Being Flexible and Adaptable to Ongoing Requirements
Prior to this period, CBS had not opened ManageBac to their youngest students, however they decided it was necessary to grant access at this point in time. "We had designed a parent handbook to assist parent onboarding, which included some frequently asked questions for using ManageBac. We understand some parents may be too busy to read this, so we also prepared a journey for parents during a Parents Evening, so they would be familiar with ManageBac as a platform".
Setting up a foundation of parent knowledge of the systems used at school made the transition to online learning easier once the campus closed. "We didn't plan to let students use their own accounts, however as we were forced to do so, Parents were able to support these young learners in their home as they were already familiar with Managebac."
From a technical standpoint, CBS used fake email addresses and assigned passwords to assist with sharing access to ManageBac to their PYP students, and mentioned to give users time and be prepared to answer questions during this onboarding phase. ManageBac Support can assist with setting up PYP student accounts if your school is also in this similar situation.
A clear linear learning path that students can easily follow at home.
At CBS, rules were outlined from the beginning of semester which assisted being able to handle the ongoing situation more proactively. "We built an online learning agreement from the beginning of the semester. The Homeroom teachers discuss this with students in their first week to ensure everyone benefits from the online learning experience. Some rules include requiring everyone to turn on their cameras, ensuring that students have certain instruments prepared for the class, and that they should join the class 5 minutes prior to it starting".
Some other requirements match their in-class rules, such as being quiet and respectful while others are talking, and to sit with certain posture. "We also encourage them to relax their eyes after the online session to keep them healthy".
Selecting the Right Tools to Meet Your School Needs
It's clear from our discussions with ManageBac schools globally that remote learning looks slightly different at each school, and even within each grade level. This can see a combination of tools used simultaneously to address certain needs. For CBS, their identification of tools to assist their remote learning came down to a number of key factors:
Support for bilingual interfaces of English & Chinese
Live and recorded sessions were important for those unable to join all sessions, and thus saw extensive usage of Zoom, a video conferencing tool, for meetings between Teachers & Students
Being able to assign tasks for learners to give clear deadlines
Platforms that are user friendly to assist with users becoming comfortable
User Privacy was also a consideration, given the differentiated nature of modern education, handling students on various learning paths and speeds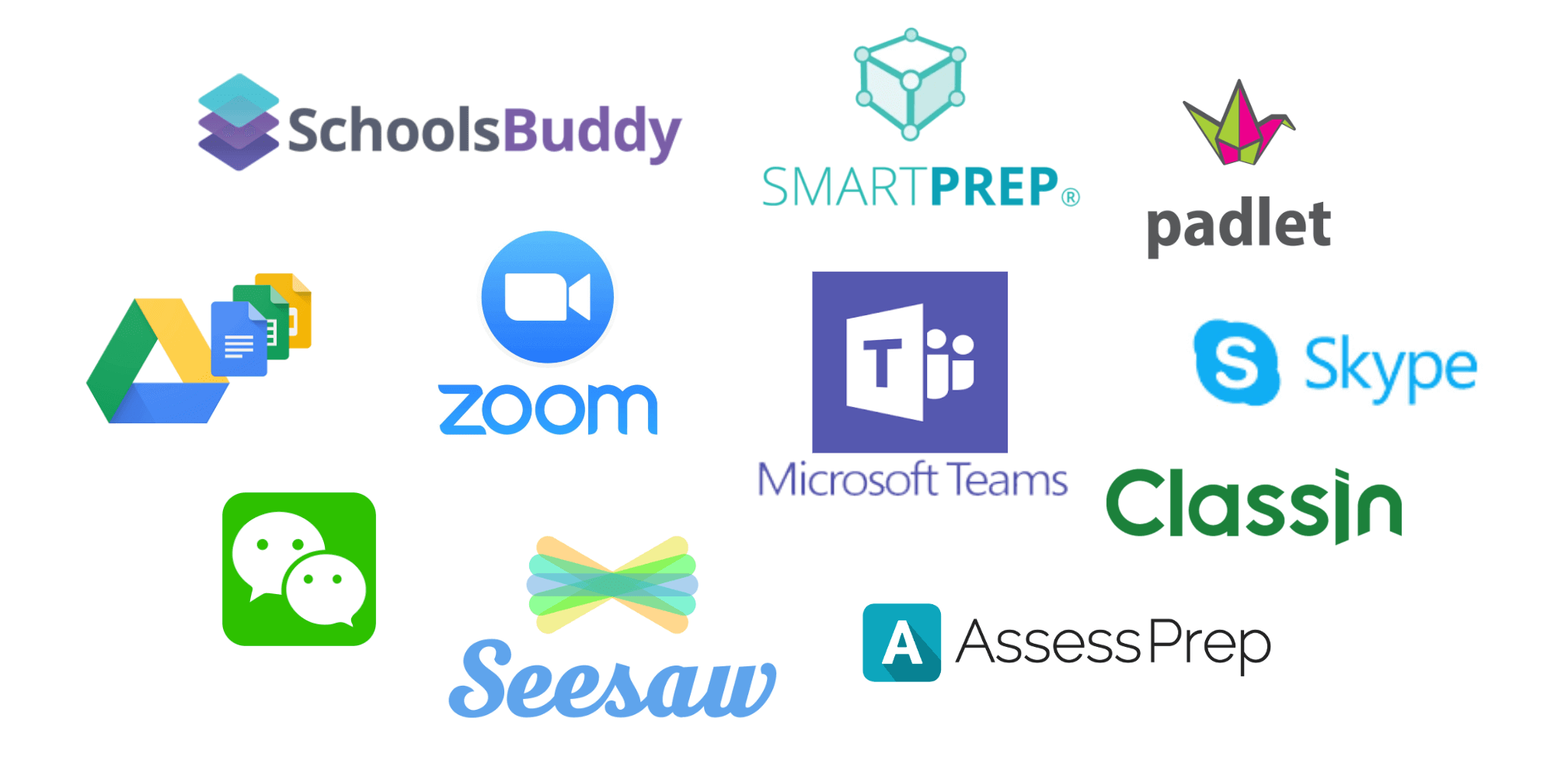 "For Zoom, we built a timetable that suits the majority of our learners, however we then record sessions and share within ManageBac so that users can refer to it when they are available." Zoom currently has lifted the 40 minute time limit on sessions to assist schools in China and other regions impacted by COVID-19.
It is often the combination of using the relevant tools that can see remote learning be successful. For schools using ManageBac for attendance and timetables, we've seen creative solutions such as schools including the Zoom link within student timetables in the location field, making it easily accessible for all users.
At CBS, the In-Line and Real-time unit planner, available for the IB PYP and coming soon to other programmes, has assisted teachers in their collaborative planning sessions. "Unit planning for teachers who are not together has been helped by this collaborative tool".
Active Communication Between Teachers and Students
During extended school breaks efficient communication between home and school is particularly important for schools to track students' academic progress at home, their health status, and to check on their independent learning performance.
CBS utilizes WeChat to build communication with parents in an environment they are comfortable with. Our support team has seen a rise in interest on trainings to learn more about the Parent's Association, a default group provided on all school accounts designed for School-to-Home parent communication. Online trainings are available to book with 24hrs notice with this registration link.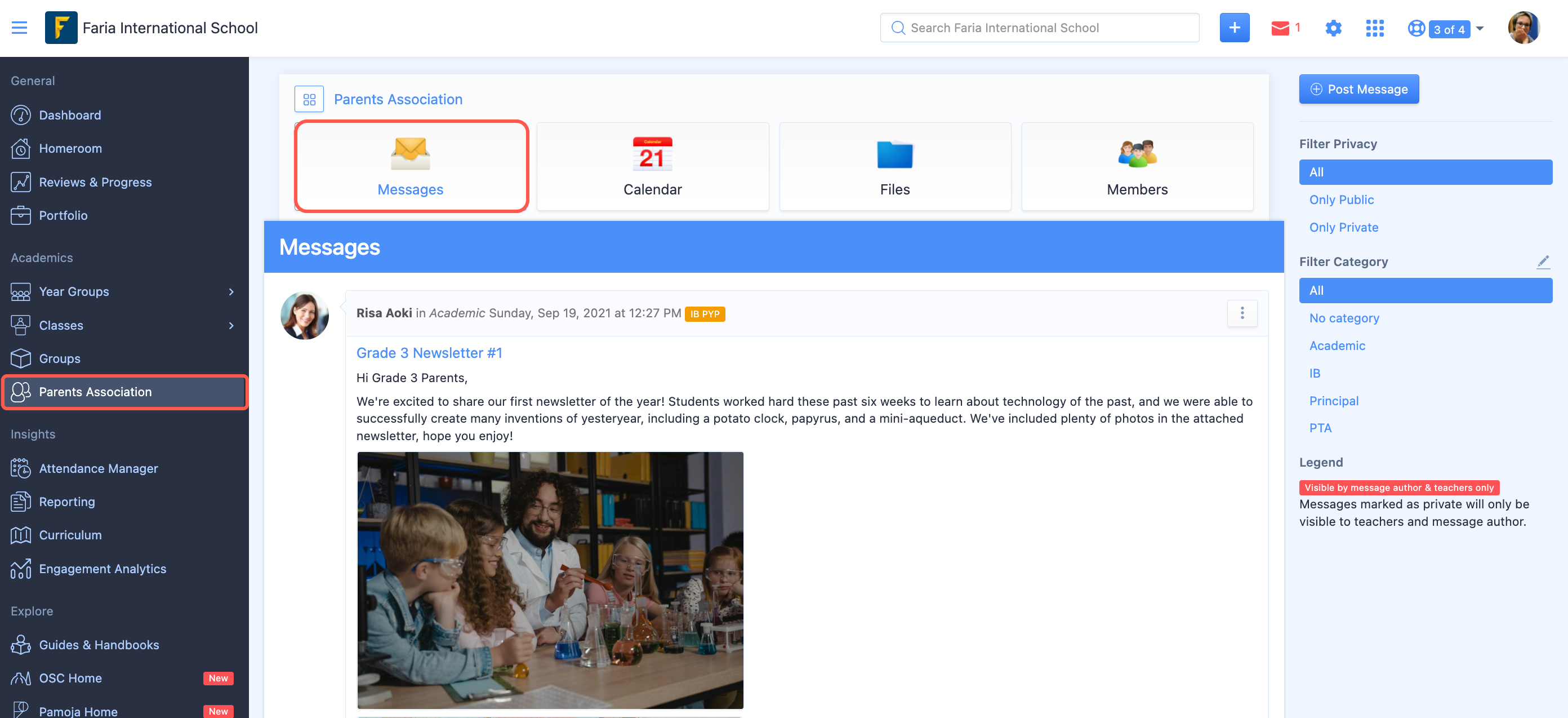 Recent feature updates to messaging on ManageBac may assist with school communication:
Enhanced Message options:

Class Messages now feature the ability to either issue emails to Students and / or Parents, providing flexibility for the relevant age group or topic. While Parents can still login and view all messages, it may be useful to push through emails on more important items such as equipment required for certain tasks within the home.
Flexible Parent Association:

Schools can send messages to parents through the Parent Association. A best-practice tip sees the ability to lock the group, which restricts parents from replying to notifications. This gives flexibility, to either use an open group for two-way communication, or a restricted place for key announcements and newsletters.
Easily understood tasks for students and parents to do at home
Schools can add and assign tasks through ManageBac. This can guide students to review what they have learned or learn new content independently. When adding a new task the school can choose the task category & set deadlines. After the task is added it will be automatically displayed on the student and parent portal. The school can also choose to notify the students by email when creating the task.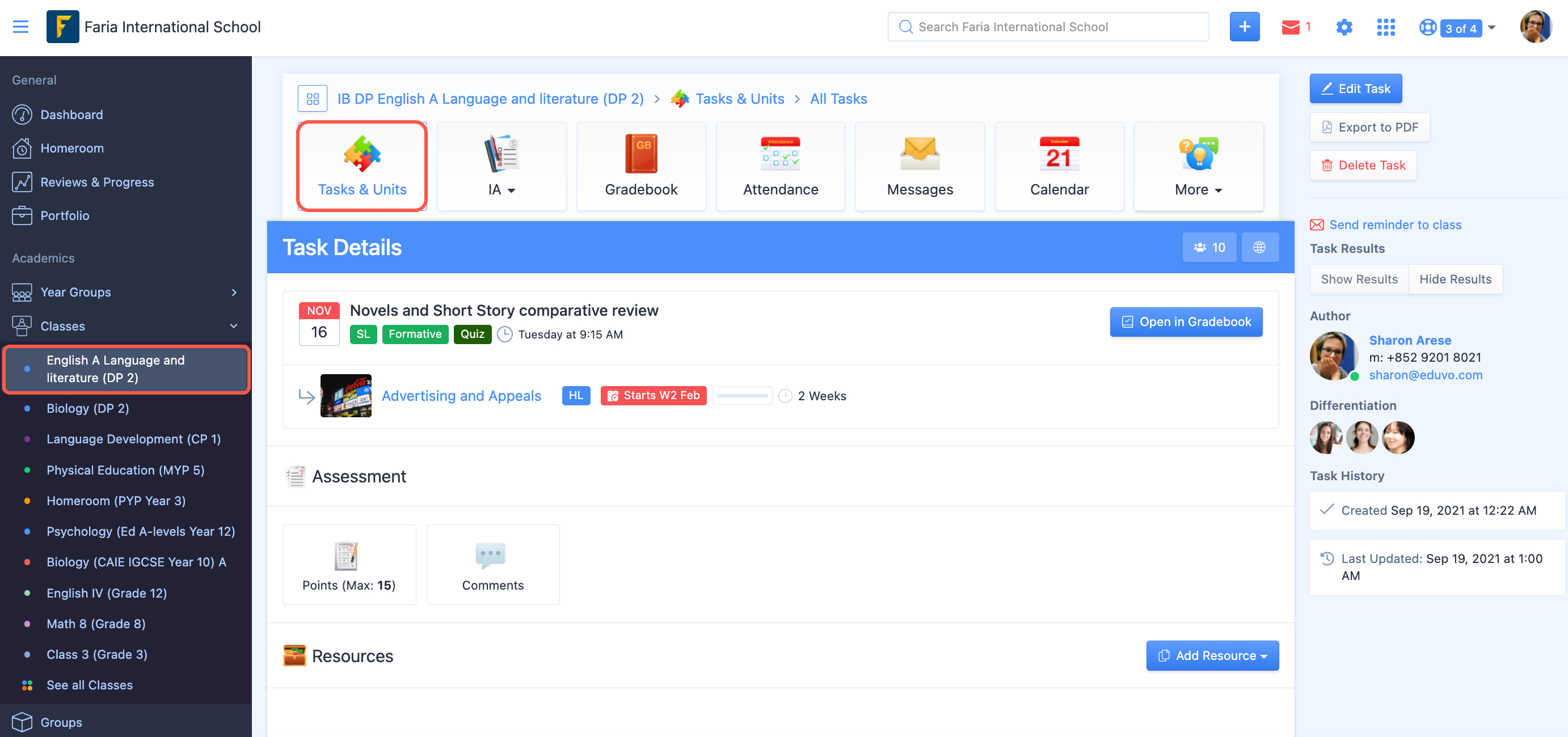 Developing a naming convention greatly assisted CBS with achieving understandable goals and tasks required for the students to complete. Theo mentioned "We name the task with a clear naming style, including the teacher names & subject, such as 'Math with Elvin'. Adding a brief and clear description of the task in the title and description box also helped our young learners in understanding what's expected on the task". Once a task is graded within ManageBac, notifications can be issued to students and parents.
Two recent feature releases to ManageBac have assisted in this process:
The ability to see which students have or have not viewed the task, assisting teachers to then follow up with those who have not engaged with the task or understand what is expected of them
The fact that task submissions auto-populate to student ePortfolios. Theo mentioned "We thought we would need to delay using the Portfolio, however, ManageBac is convenient because student's work/submissions are saved to their automatically, visible to Students & Parents".
Our partner AssessPrep, an online e-assessment and test platform, can also be useful by providing test or exam-like conditions for students, allowing teachers to test student understanding of the concepts provided remotely. AssessPrep can be accessed using ManageBac credentials, and our integration allows AssessPrep accounts to be automatically populated with the subjects, teachers and classes needed, so teachers can get started on test creation right away.
Easily accessible resources to supplement learning
If a school break or holiday is ever extended for external circumstances, teachers will need to seek out various types of learning resources to enrich the lives of their students from home. ManageBac Stream & Resources can effectively help teachers build and manage an online learning resources bank. New Lesson Plan functionality, available now in C1, MYP and PYP unit planners, further allows teachers to create daily plans and organised streams to help students find the resources used on any given day.
The resources will be displayed on the student and the parent portal simultaneously so that teachers will not need to distribute those resources by mail or other methods of communication.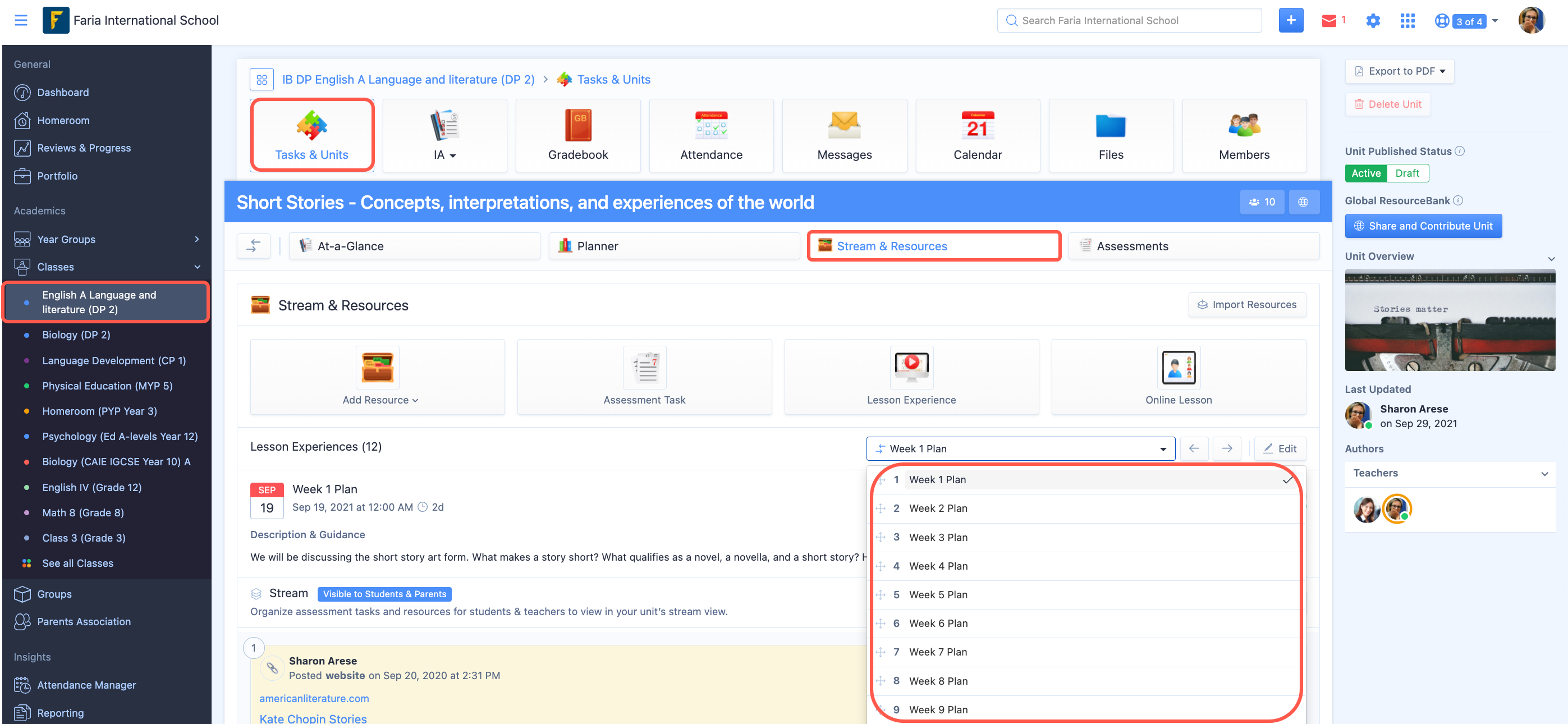 Our partner OSC Study, which integrates with ManageBac, can also help by providing pre-populated flashcards and learning tools for IB Diploma students, which can also be included in the Stream within the classroom.
Community Resources
It's been wonderful to see the creative ideas and sharing of knowledge across message boards and community groups in this time of need. We will be collating some of the best tips from our schools and sharing within our help centre, including any FAQs from our recent webinar series.
A helpful resource to bookmark is the International Baccalaureate's Online Guide covering how deadlines and requirements may have been impacted by the Coronavirus, broken down by region and programme.
Ongoing feedback on student generated work for both parents and students
Feedback and support are essential during this time. ManageBac offers an annotation tool to add comments and notes directly on submitted student work, and can also integrate with Google Docs Templates to provide another avenue for students to submit tasks.
However, feedback extends beyond just student submitted work. Our Messages board in classrooms also encourages an on-going dialogue between teachers and students, with the ability to send messages back and forth to create a classroom forum. Many schools are also offering virtual office hours where teachers will be available for 1-1 consultation via online meeting rooms like Zoom or Skype, instructions for which can be posted within the Messages page.
Share how you are supporting students and staff.
We want to hear from you on what you are doing during the COVID-19 epidemic to keep student learning on track and supporting parents and teachers during this shift to virtual learning. Email us with your tips, ideas and stories to pd@fariaedu.com!