Coordinators can use ManageBac to track TOK progress in real-time across the entire year group and eliminate paperwork. Review Prescribed Titles, set To-dos, record journal entries, organize the TOK presentation, and complete TOK assessment.
TOK QuickStart Guide
Creating TOK Exhibition and Essay Worksheets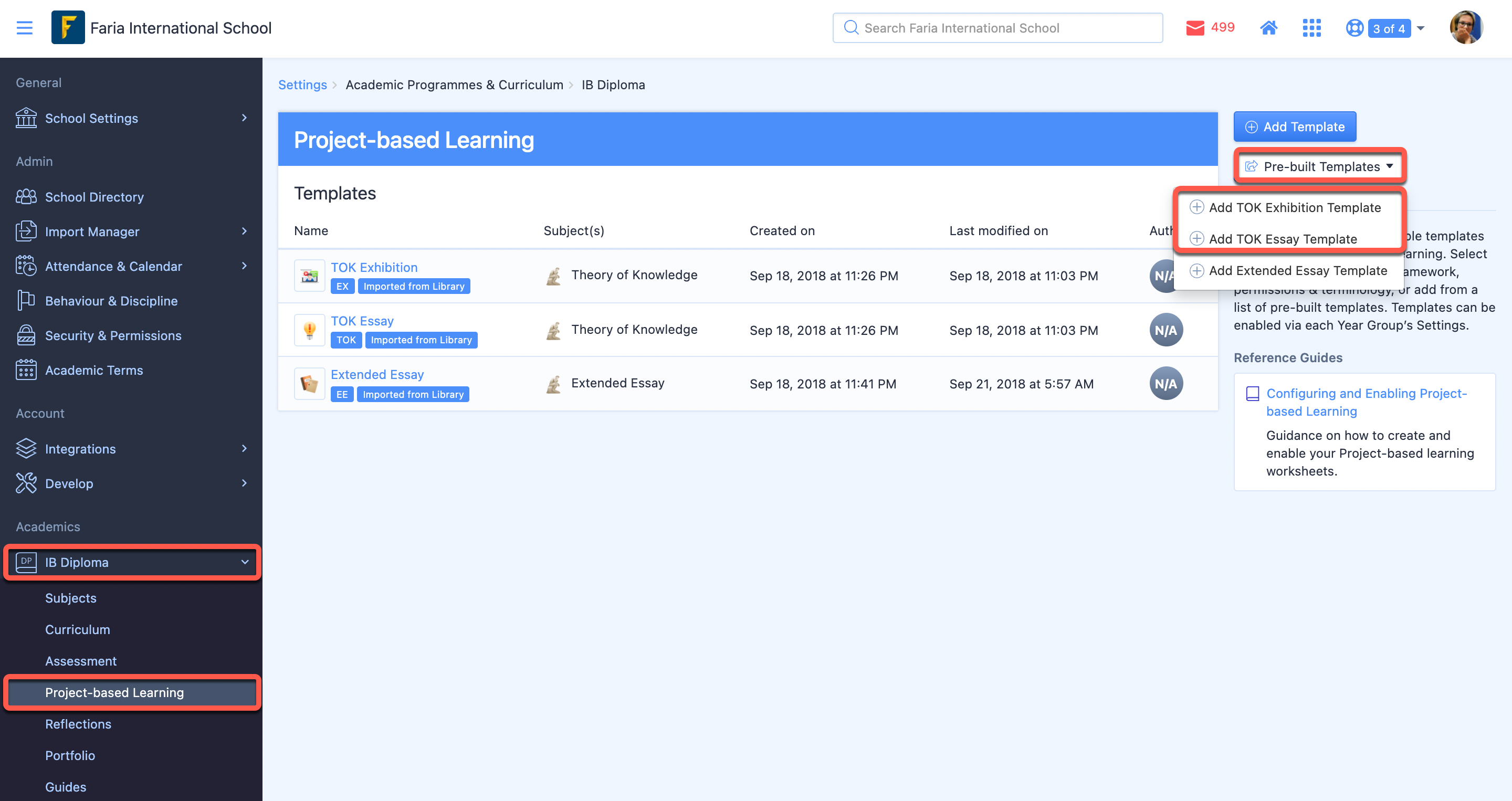 Via Settings > IB Diploma > Project-based Learning, administrators can click on Pre-built Templates to add the TOK Exhibition and TOK Essay worksheets that will come pre-populated. Multiple versions of the worksheets can be added.
The pre-built worksheets will come pre-populated with all the requirements to support TOK 2022. However, schools can customise them further by clicking on them.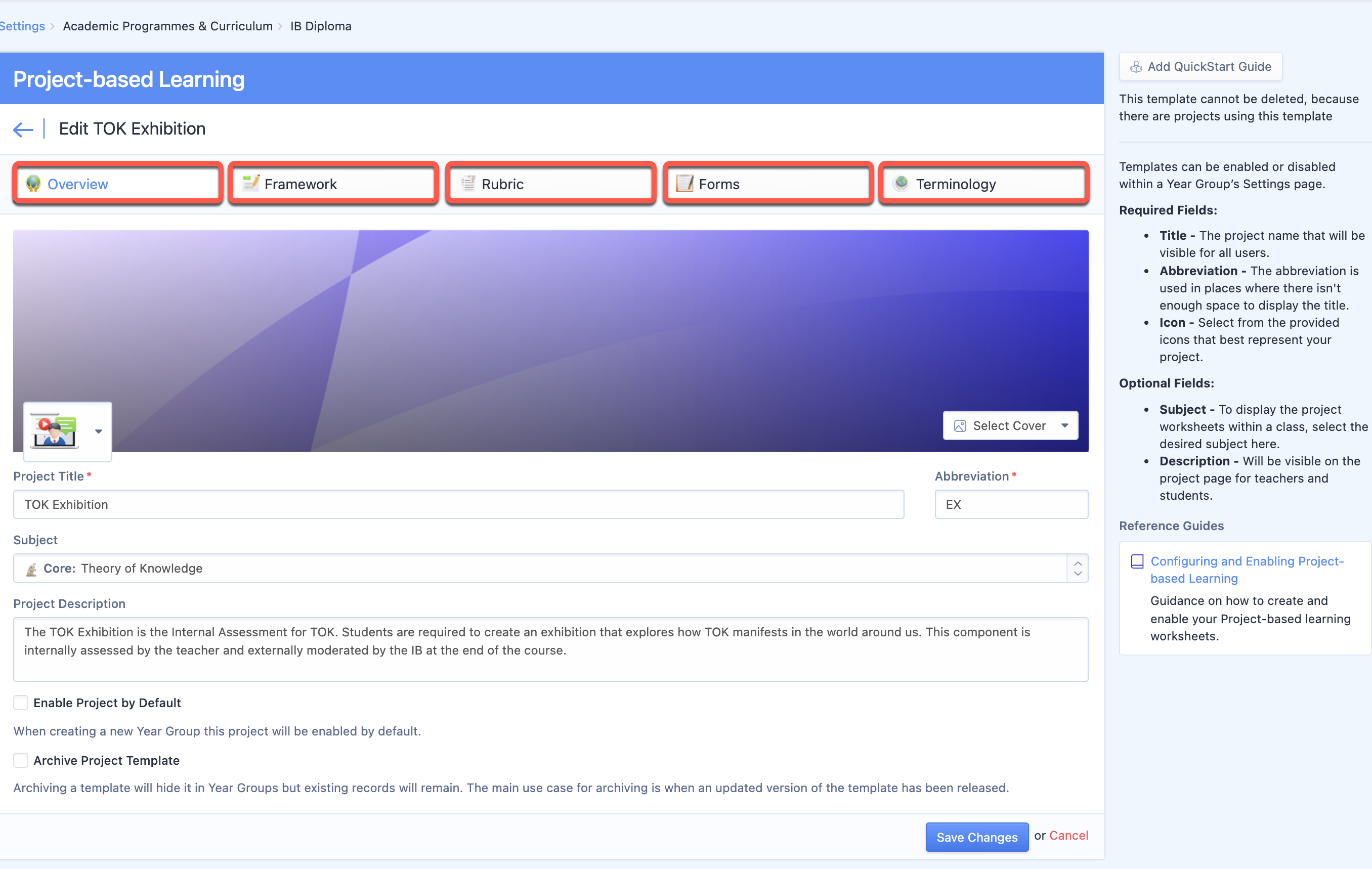 Via the Overview, Framework, Rubric, Forms and Terminology tabs, you can adjust the labels within each worksheet, as well as add additional sections or assessment options. We recommend not deleting anything already present, however, to ensure your worksheet supports all requirements for the IB Diploma. To learn more, review our short video below:
To view in China, click here.
Enabling TOK worksheets via Year Groups
Via Edit Year Group Settings

Admins can enable the TOK Worksheets for the year group via Year Groups > select your Year Group > Edit Year Group settings. Under the Theory of Knowledge section, select the TOK Exhibition and TOK Essay worksheets.
If your school is still running the Legacy TOK 2020/2021 course, tick Theory of Knowledge under the Theory of Knowledge (Legacy) section, and Save Changes. If your school does not track TOK or wish to do so from a class setting only, disable all these options.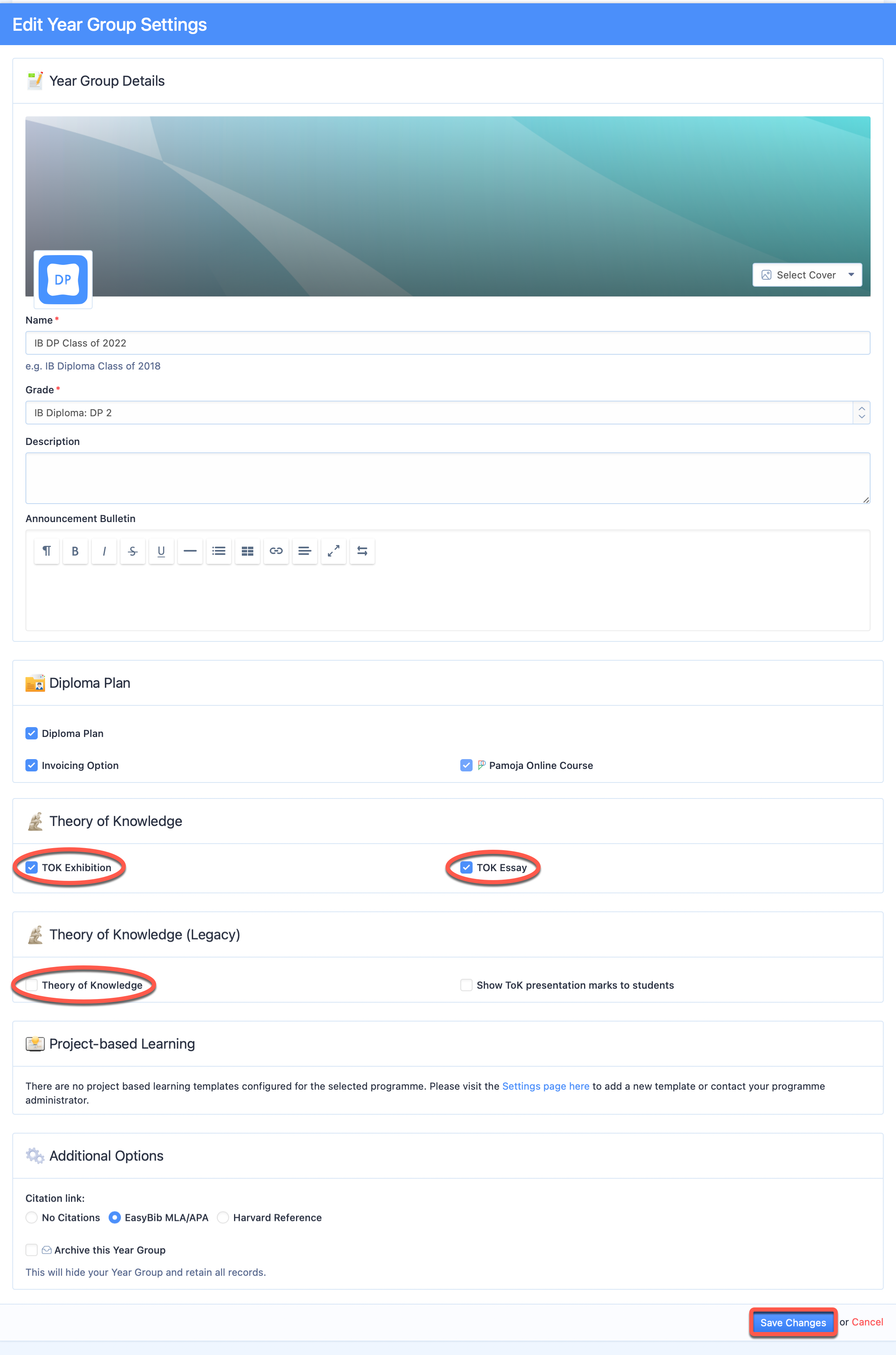 Transferring data from Legacy TOK to TOK 2022
If you have already started tracking work via the Legacy TOK worksheet, and wish to switch to the TOK 2022 worksheet, you can either have students make this change manually by re-adding their work, or you can get in touch via support@managebac.com and our Support Team will further assist with this process.
Enabling TOK as a Subject & Class
Via Settings > Diploma Programme
Theory of Knowledge can be managed via the Year Group Theory of Knowledge tab, and/or via a classroom setting on Managebac. If you wish to add TOK tasks, units, standards, or divide your year group up into certain sections, it's advised to enable and create TOK classes alongside your year group.
Navigate to Settings > IB Diploma > Subjects > tick Theory of Knowledge, Save Changes.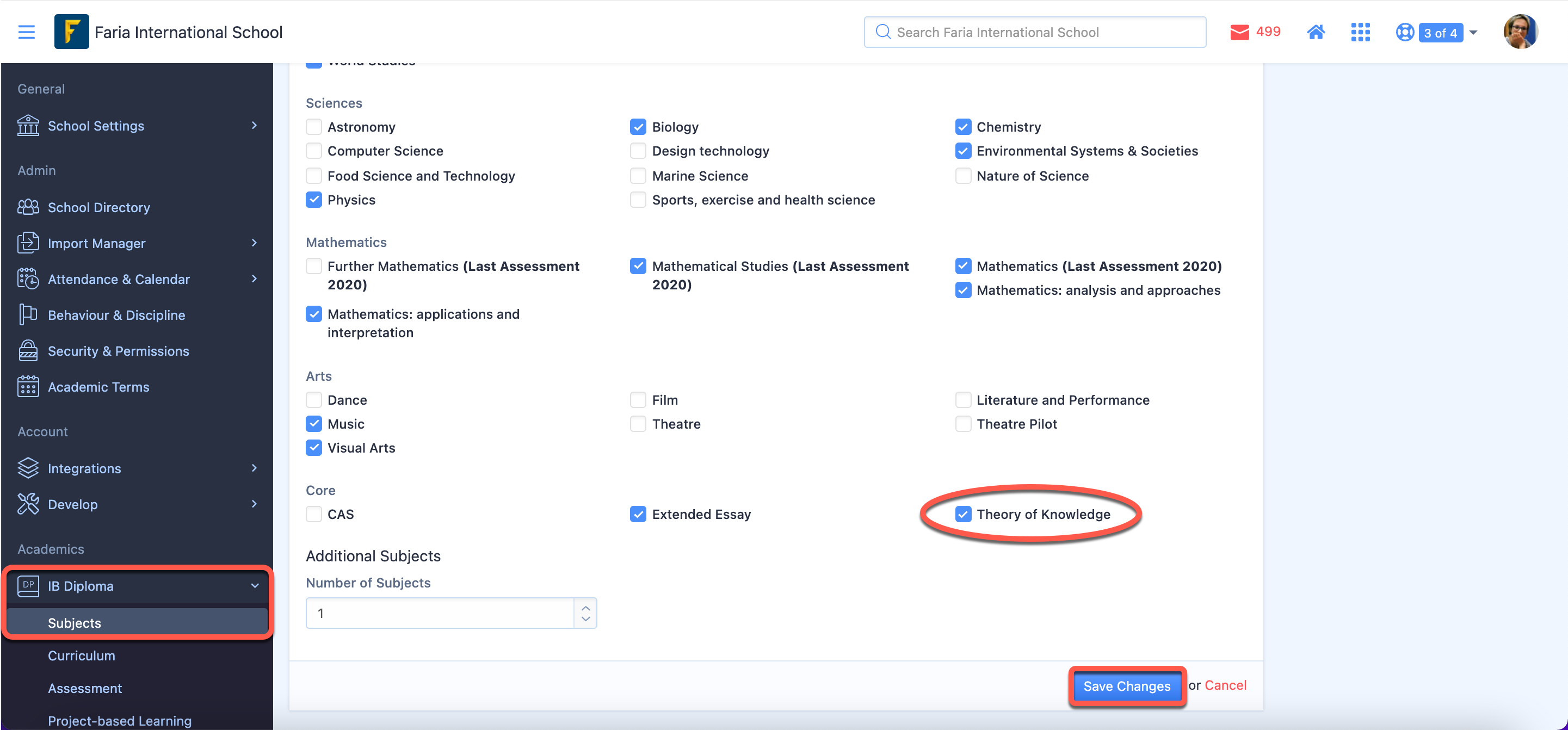 Navigate to Classes > See all classes > Add Class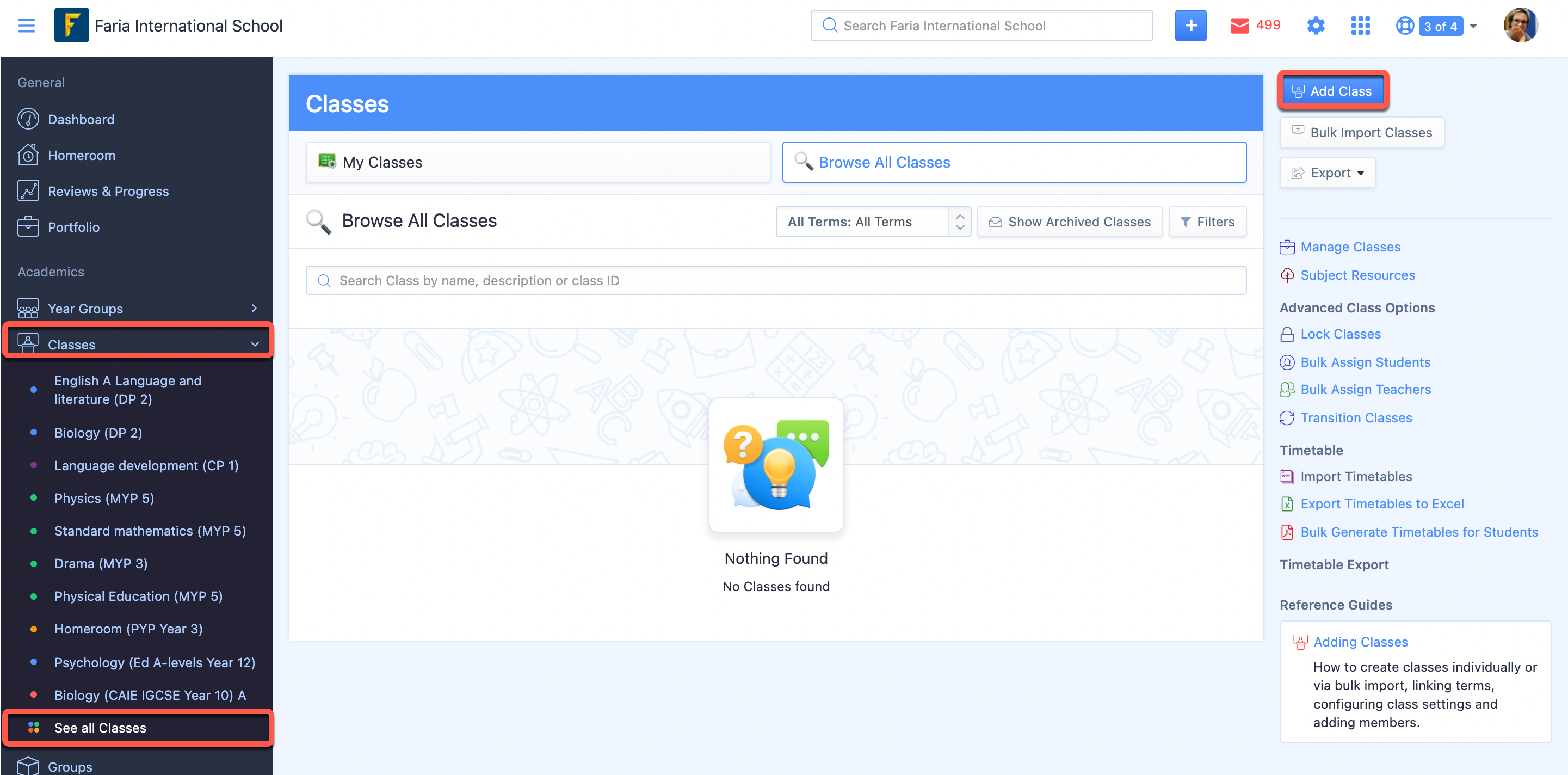 Select the IB Diploma as the Programme, the Grade, Theory of Knowledge in the subject dropdown, link the class to the correct Academic Terms and click on Add Class. Within the Class, you will find a quick-access tab to the Theory of Knowledge roster found in the corresponding year group.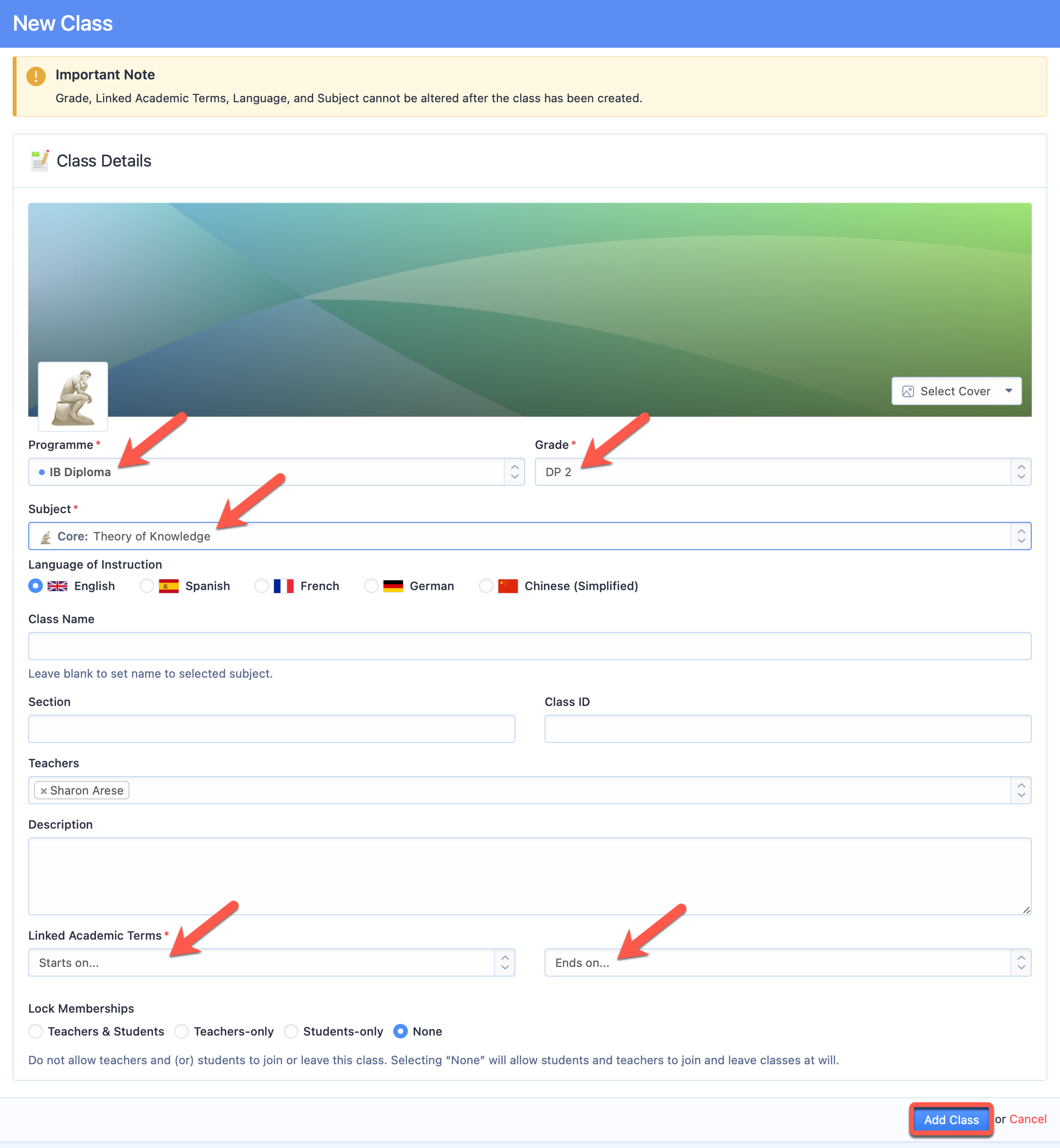 You can now add students to the class via the Members tab. Any work from their TOK Essay and TOK Exhibition Worksheets in the Year Group will be accessible within the class directly under the Projects tab.
Editing Theory of Knowledge Guides & Handbook
via Settings > IB Diploma > Guides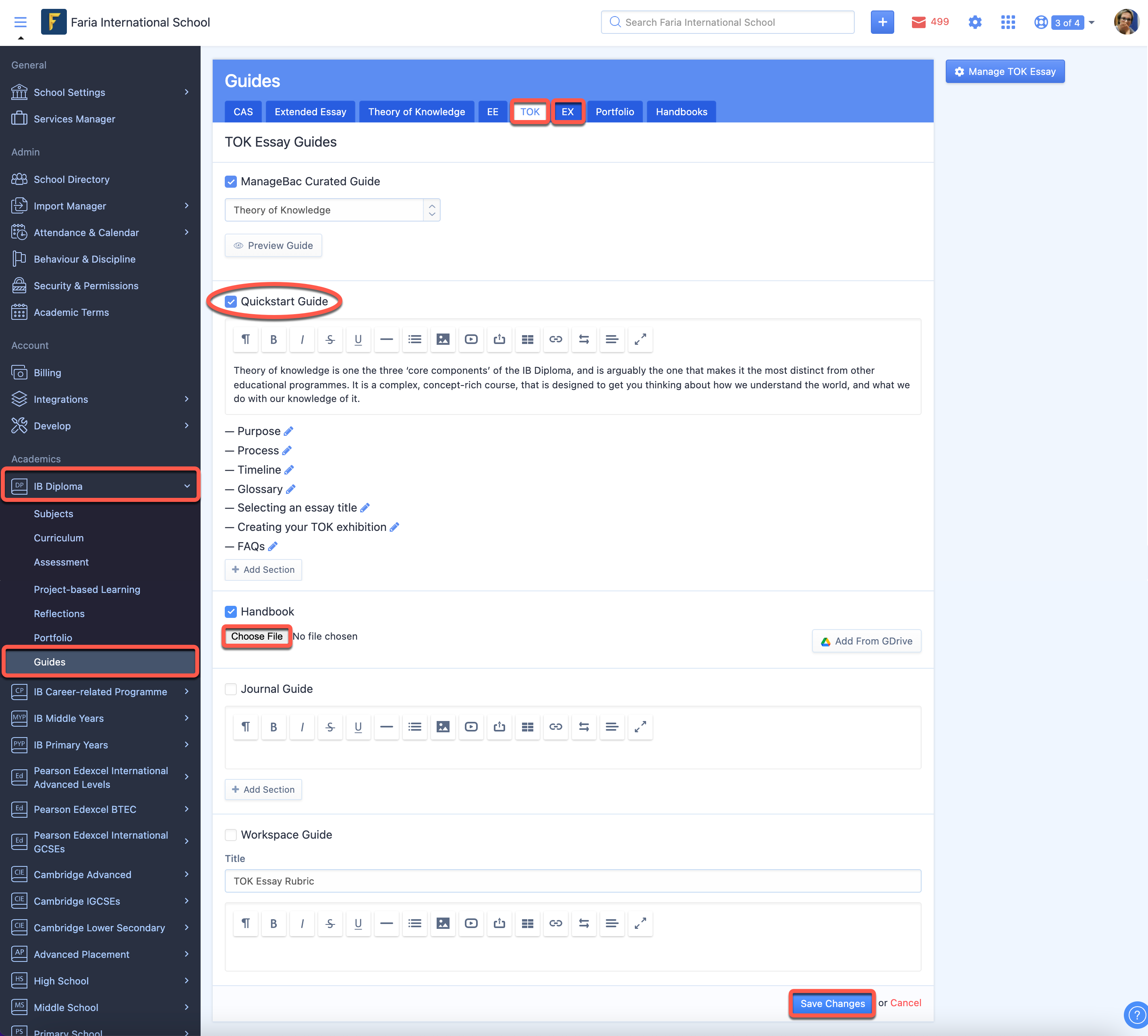 Select the TOK (Essay) or EX (Exhibition) tab. Customize the "Quickstart Guide" text box to edit the Section Guides, or add your school's TOK Handbook via Choose File. Be sure to Save Changes after updating.
Handbooks can be found on the Student TOK Essay/Exhibition worksheet via Quick Start Guide.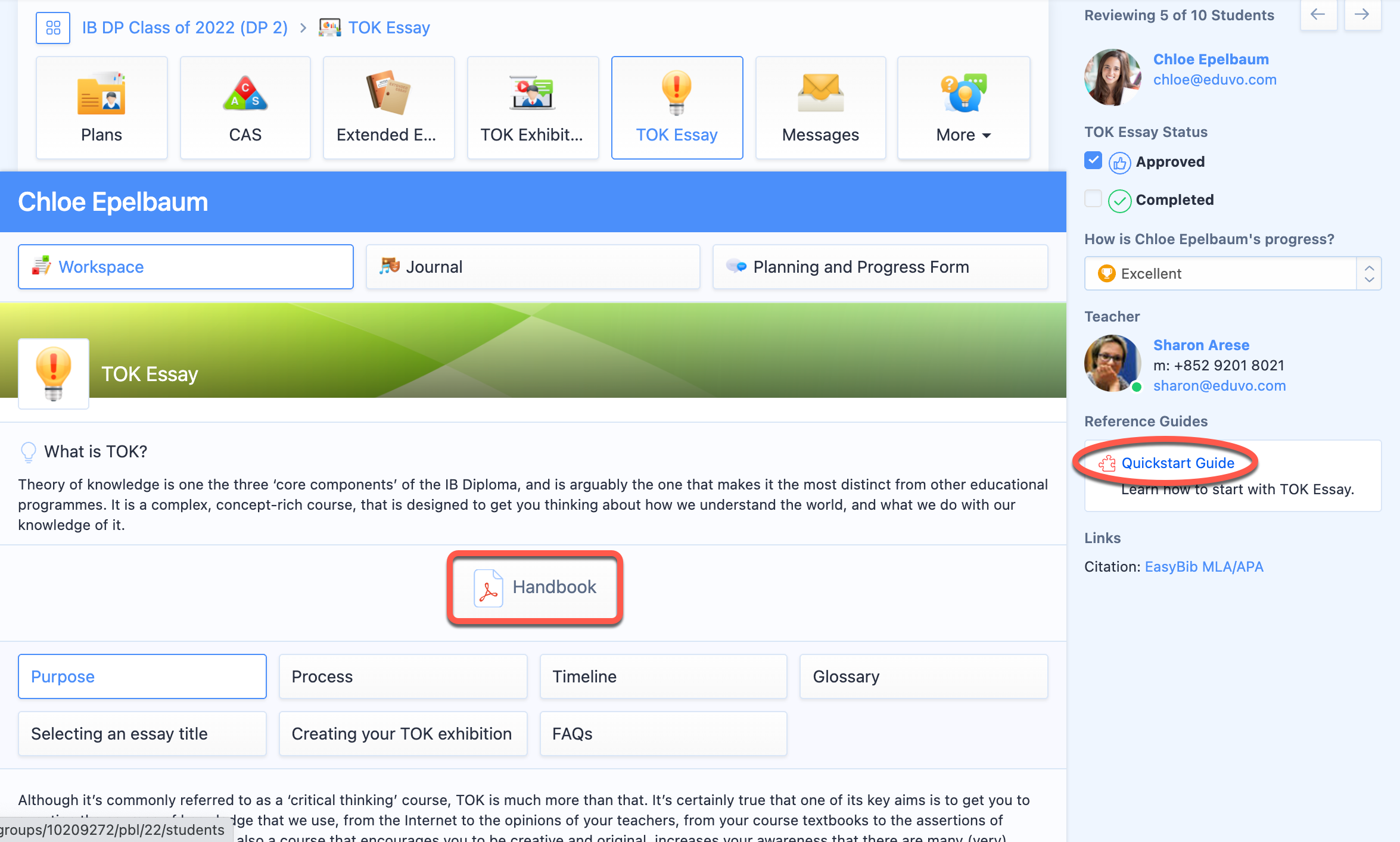 Handbooks can also be found by students on the Files tab via Year Group Manager.

Navigating the TOK Essay and Exhibition Worksheets
See an overview video of TOK and EE, along with step-by-step guidance below:
Sharing TOK Presentation Marks with Students
By default, presentation marks are hidden from students.
Marks can be shared with students by year group via Year Group > Edit Year Group Settings, tick "Show TOK Presentation marks to students" and Save Changes.
Please note this setting only applies to the Legacy TOK worksheet.