Index
Frequently asked Questions
How to Get Started with PYP Reports
▶️ Feature Video Overview
Review the overview video, along with step by step guidance on how report cards are generated on ManageBac:
Introduction to PYP Reports
Highly customisable, fully integrated with teacher gradebooks, and tailored for IB PYP assessment, ManageBac report cards are generated in PDF and are instantly available for students and parents to view.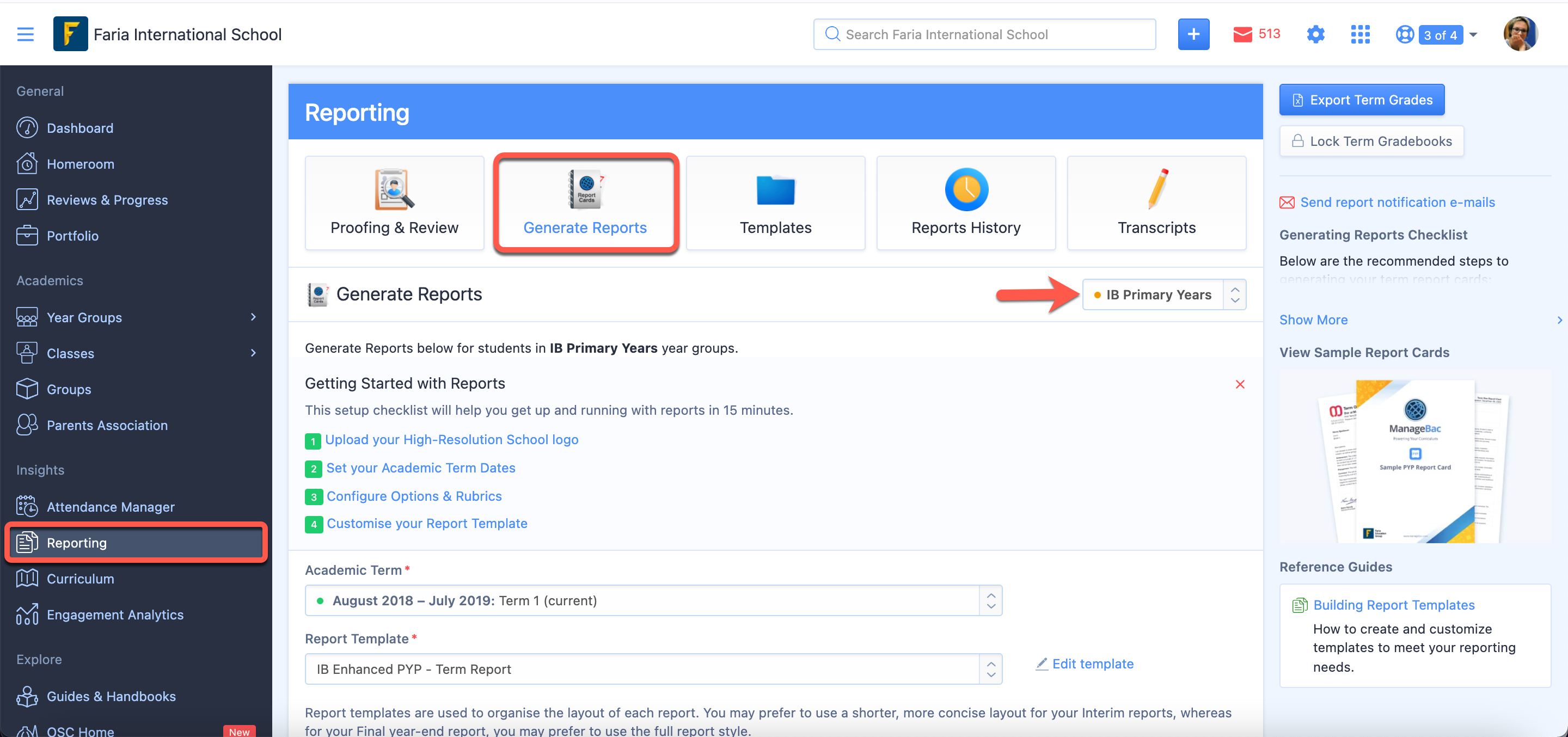 To begin, navigate to Reporting > Generate Reports and select IB Primary Years from the drop-down menu.
How Teachers Enter Grades & Comments into Gradebooks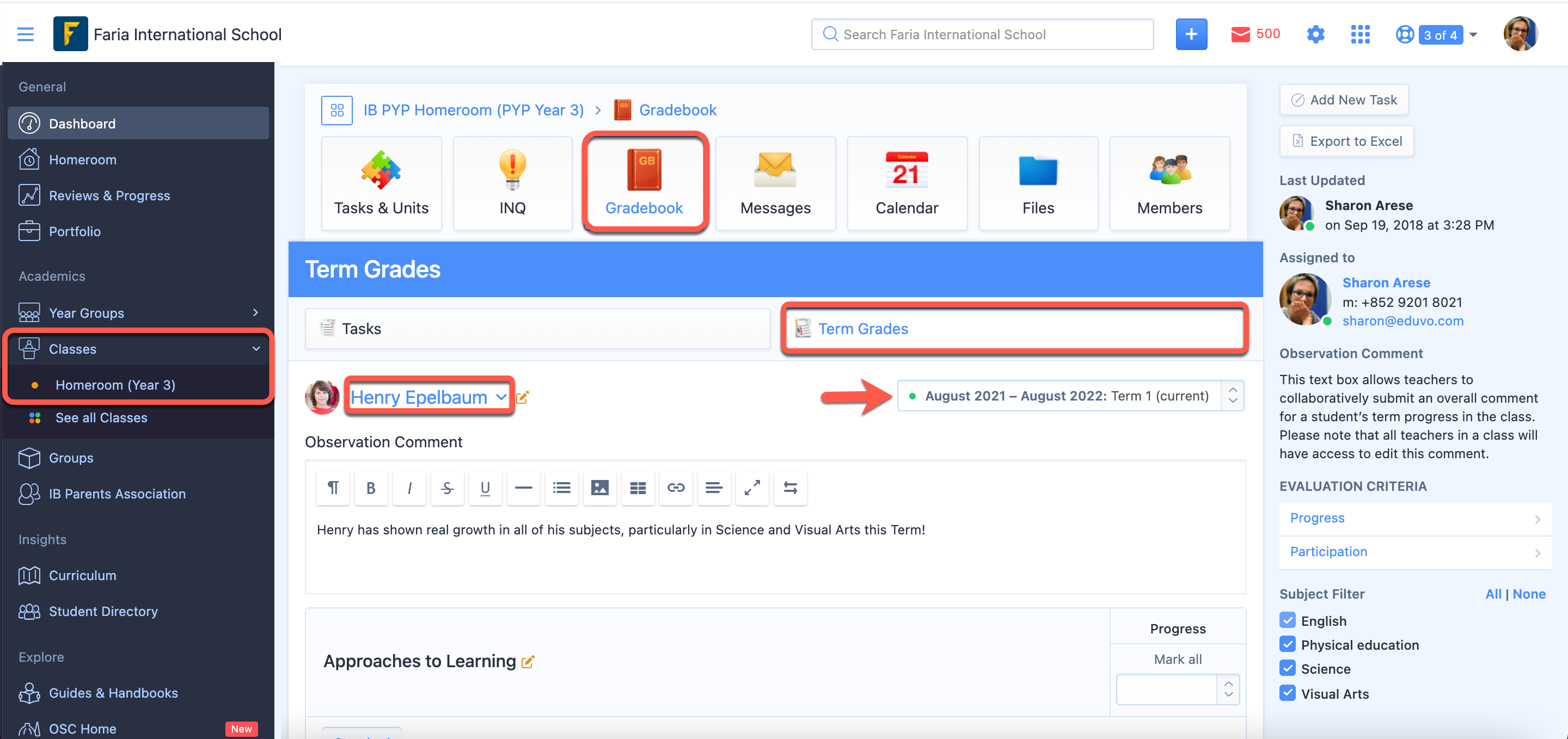 Under Class > Gradebook > Term Grades, teachers can Submit Term Grades. Here the teacher can assess units, subjects, scope & sequence, Approaches to Learning, Learner Profiles, Comments and Rubrics.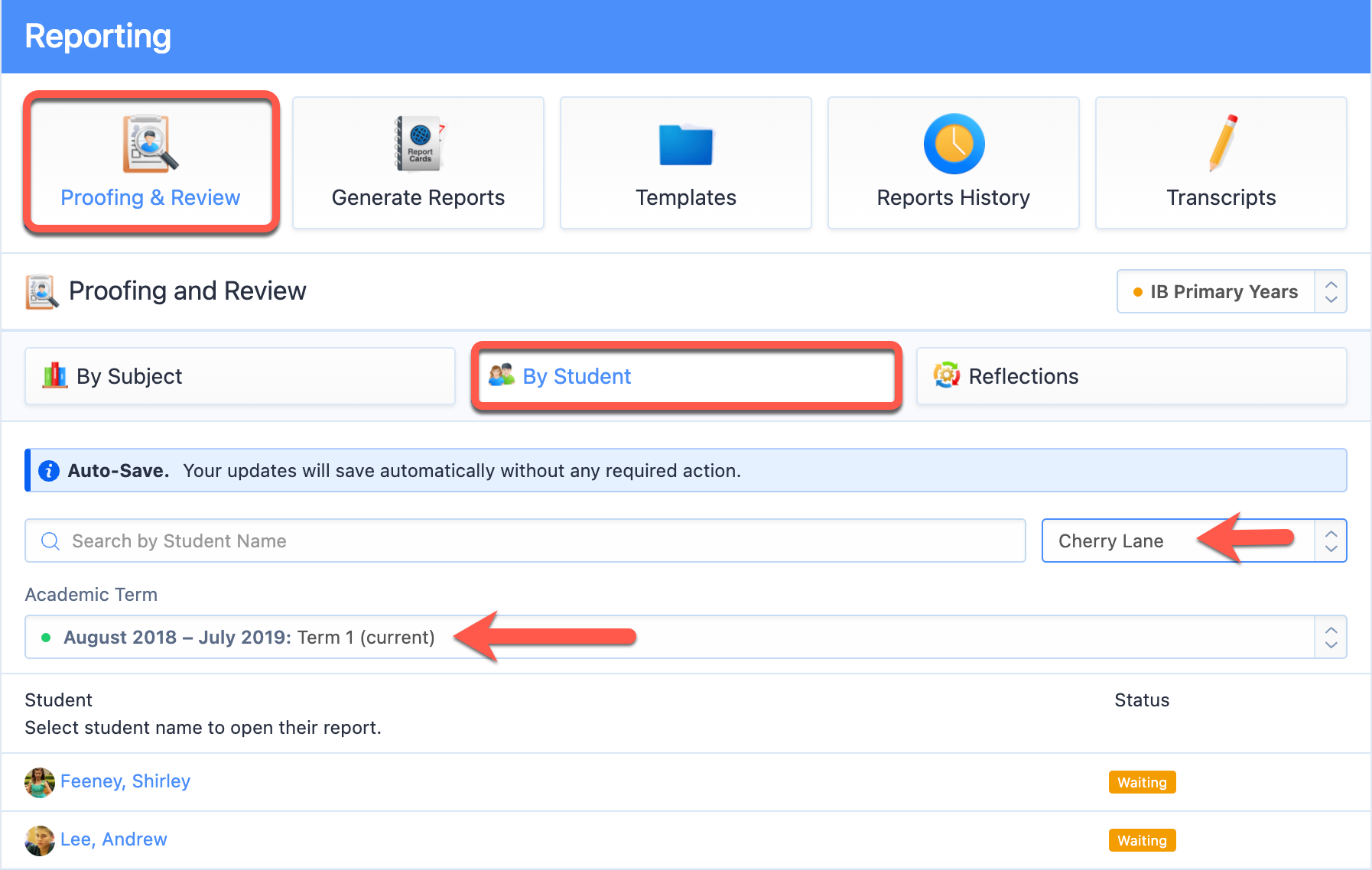 Under Reporting > Proofing & Review, you can view programmes and subjects to see which teachers have submitted their term grades. As an admin user, you can directly edit these grades here.
Creating Report Templates
Customise Report Templates
Via Reporting > Templates > IB Primary Years

To edit an existing template, select the template from the list of available templates. 
To add a new template, select Add Template on the right-hand side of the page. Depending on the width of your browser, this may also appear at the bottom of the page. 
Via Overview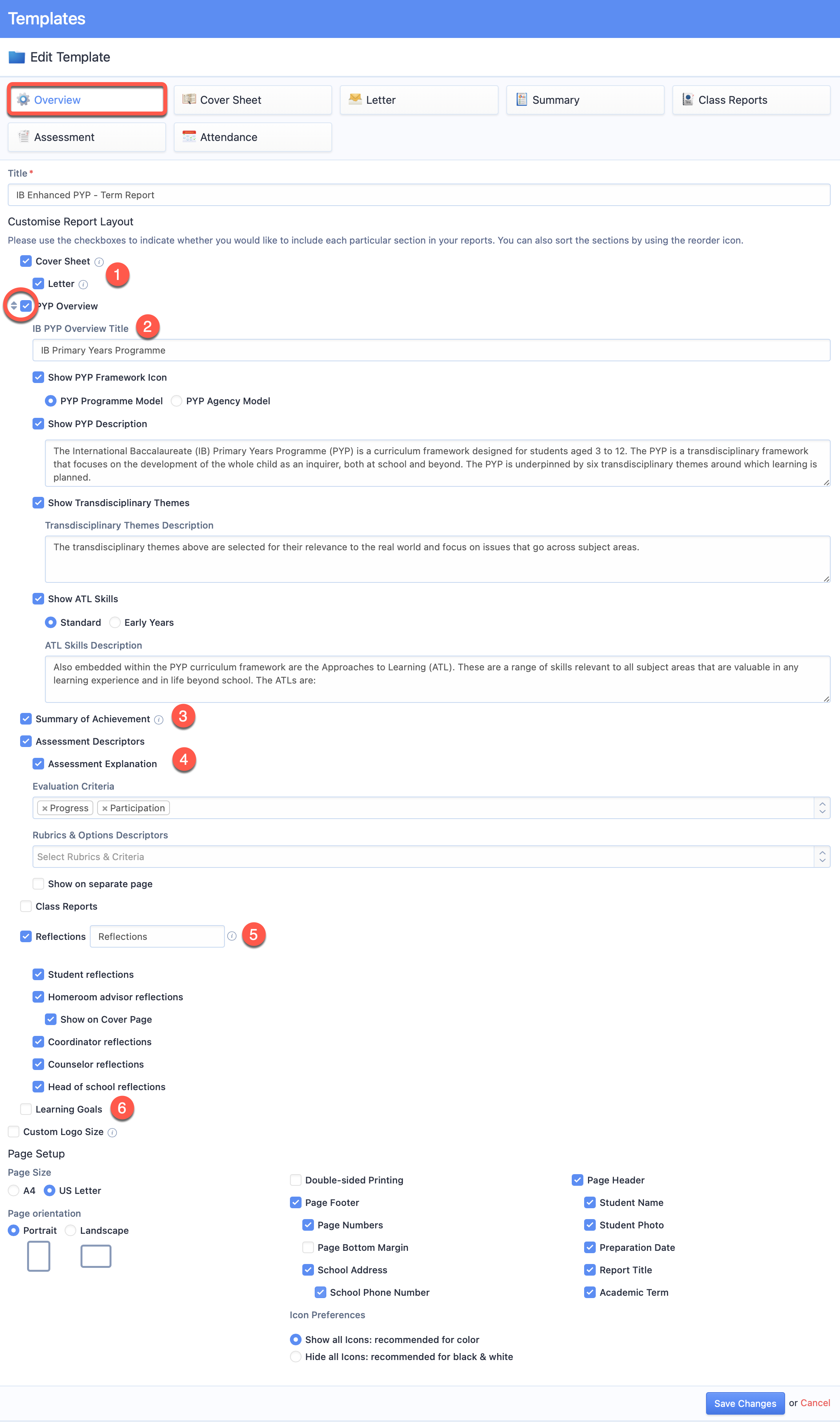 Via the Overview page of the report template, customise the report layout. You can drag and drop sections of the report template to re-order them here. Tick or untick the boxes to enable or disable sections of the template. The template may include:
Cover Sheet: The front page, includes student personal details, report title and term, and letter from the school. 
PYP Overview: Includes IB PYP Overview Title, PYP Framework Icon and Description, Transdisciplinary Themes, and ATL Skills.
Summary of Achievement: Includes all sections of the gradebook set up via Settings > Primary Years Next > Assessment. 
Assessment Descriptors: Enable to include the assessment models used to grade the students, and well as any assessment explanations you wish to write. 
Reflections: Students, homeroom advisors, IB coordinators, counsellors and Head of Schools may all write general reflections on the student's progress. 


Students: Reflections can be found within their profile
Homeroom Advisor: Reflections may be written within their Homeroom tab
IB coordinators, counsellors, and Head of Schools: Reflections may be written within Reporting > Proofing and Review > Reflections. 

Learning Goals: Pulled directly from the Student Portfolio, a list of goals the student is working towards.
At the bottom of the Overview page, choose the page size, orientation, printing preference and footers. Click Save Changes once done. 
Via Cover Sheet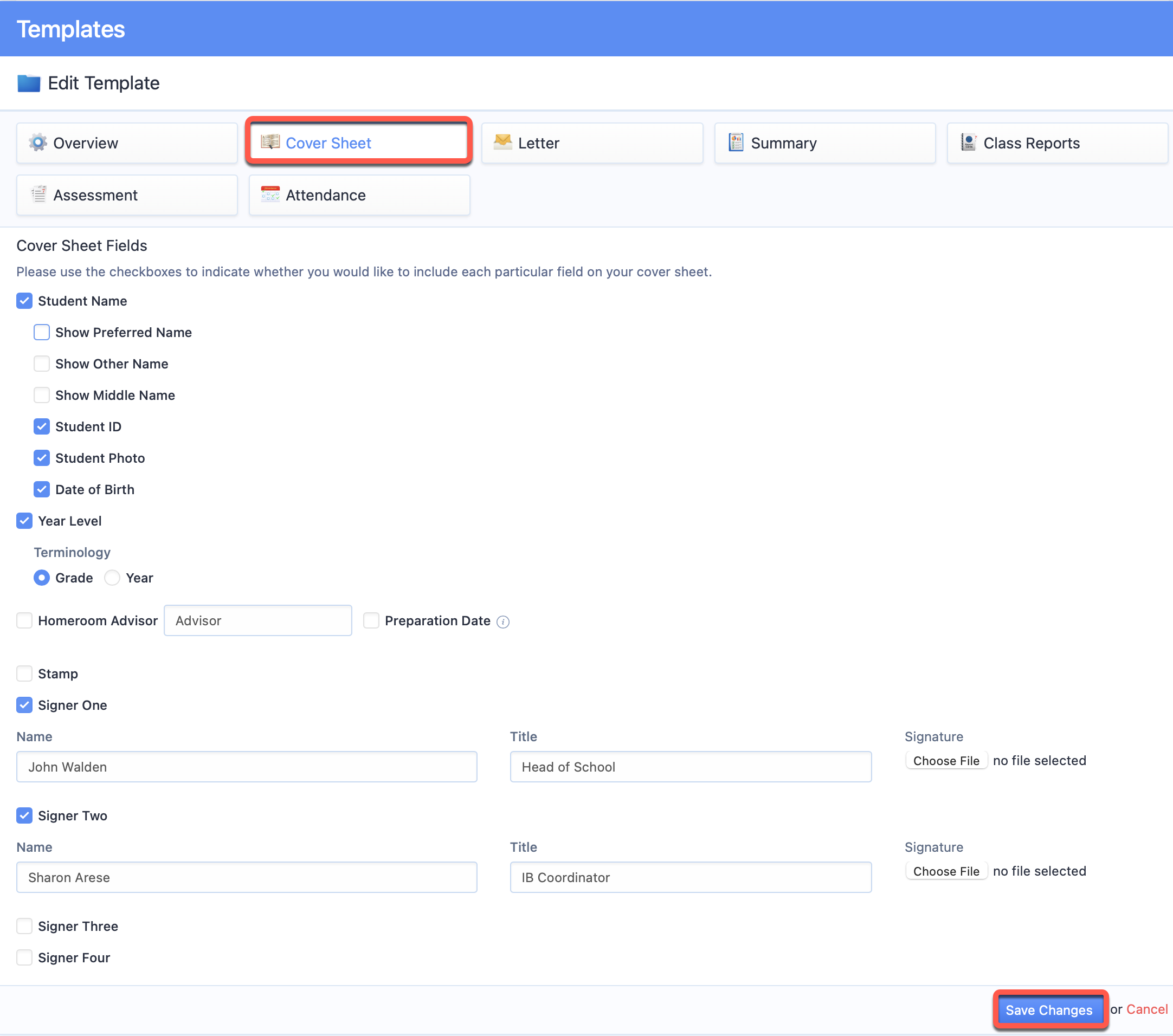 Select the student's personal details that will appear on the front page of the report card, including their year level and assigned Homeroom Advisor. You can also include names, titles, and photographed or scanned signatures for up to four people on this front page. It's recommended to upload a signature with a white background, to best blend in with the report. 
Via Letter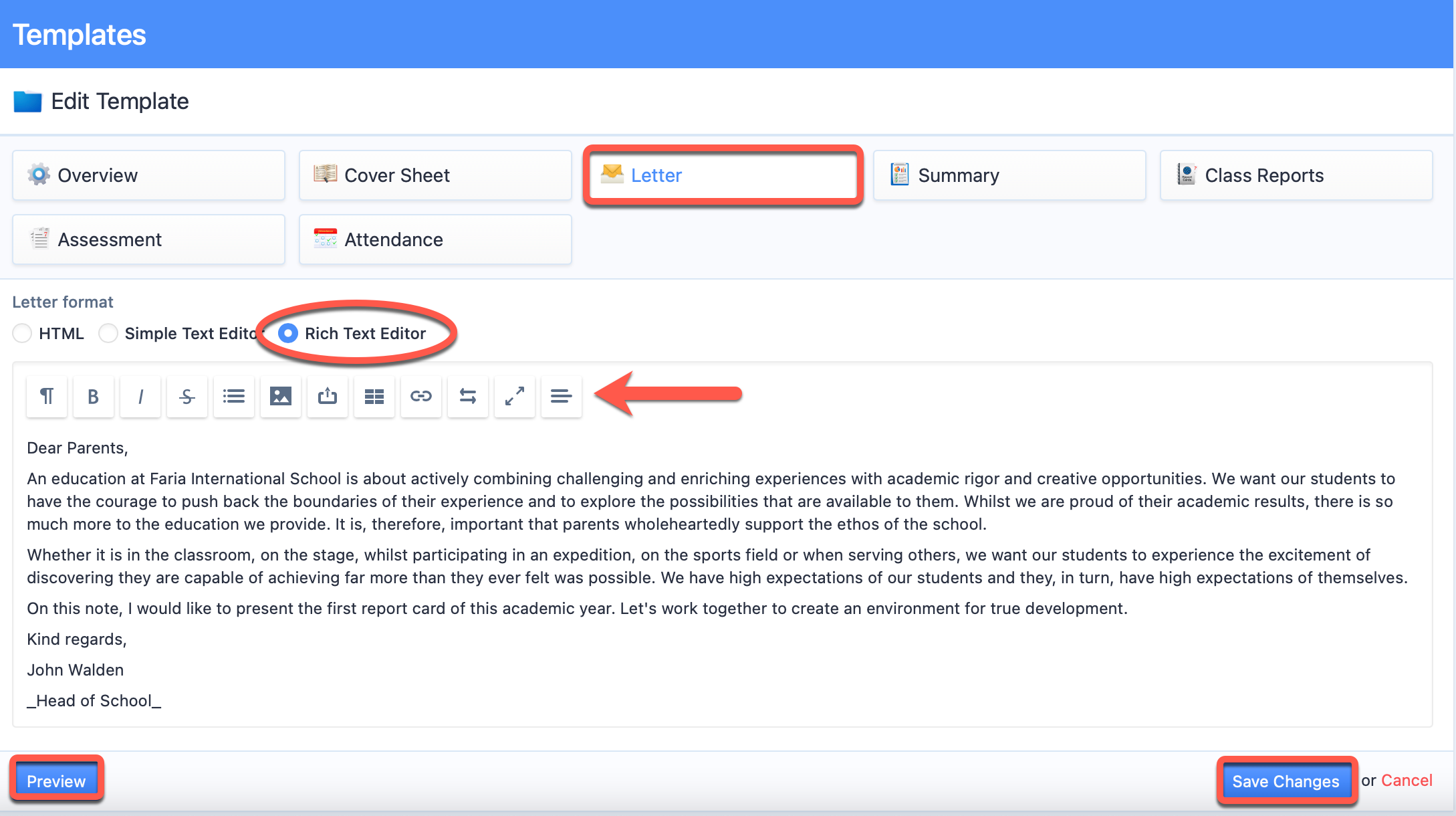 Via the Letter page, write a letter to your school community. This will show up on the Cover Sheet. There is no word limit, but be aware that significantly longer letters may span two pages if they do not fit on the first page.
The letter can be plain text (without formatting). For more text formatting you can use our Rich Text Editor or HTML if you wish to code in additional formatting options or include hyperlinks. 
Via Summary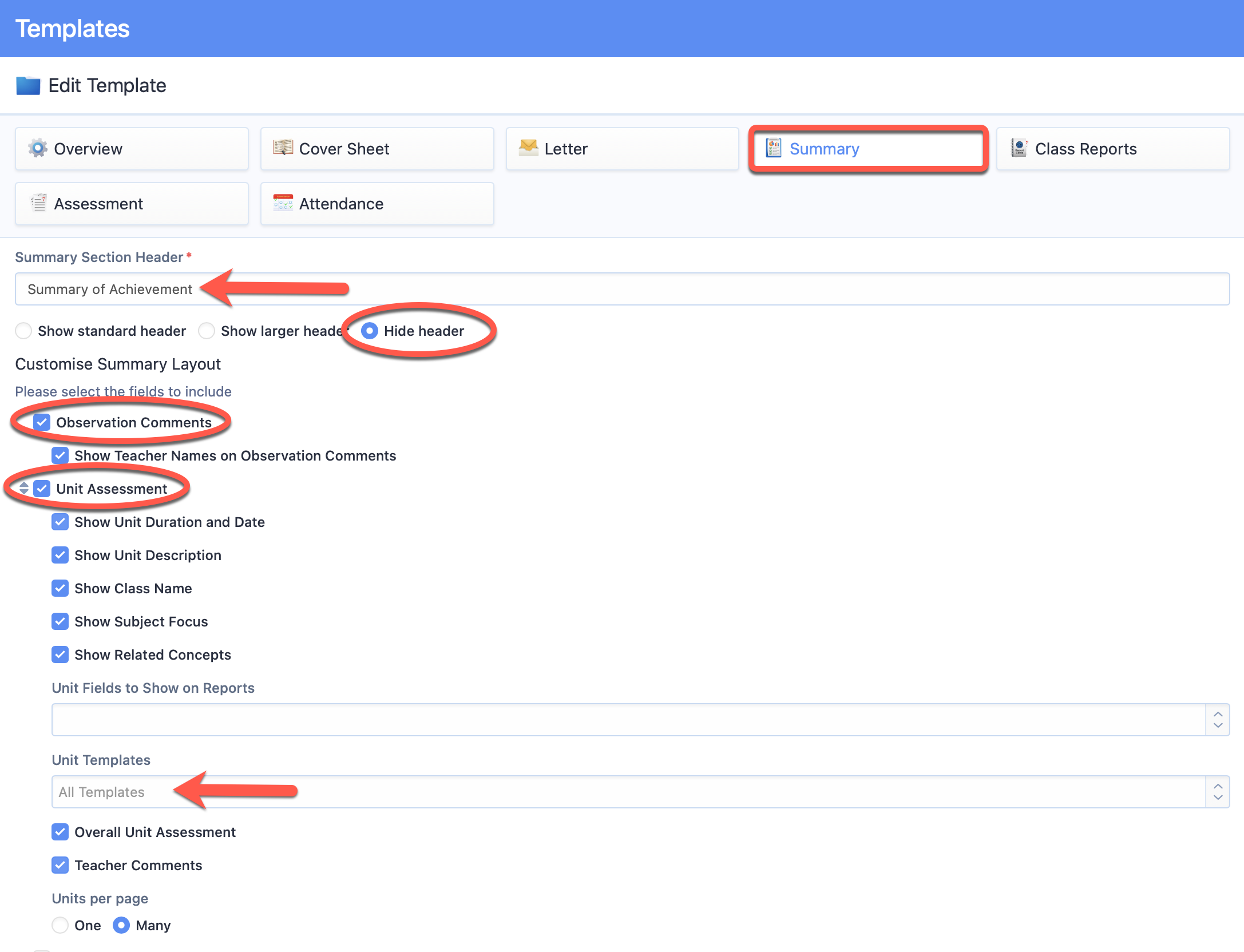 The Summary tab includes all the Gradebook information filled in by your teachers. This includes:
Summary Header Section: You can customize the Summary of Achievement section title. You can also select whether you would like to show the standard header size, use a larger header or hide the section header on the Report Card.  
Observation Comments: Select whether or not you would like to allow Observation Comments on the reports as well as whether or not you want to Show Teacher Names on Observation Comments.
Unit Assessment: Select the unit fields you wish to appear on the reports, including Unit Duration and Date, Unit Description, Class Name, Subject Focus, and Related Concepts.

Choose the Unit Fields to Show on Reports as well as the Unit Templates you wish to be shown on your reports.
You can also turn on/off the Overall Unit Assessment Score
Turn on/off the Teacher Comments for each unit
You can choose to show One Unit per page or Many. If One per page is selected, Units will move automatically to the next page if the previous unit was displayed on the page. If the Many option is selected, space is saved and the Unit will be displayed after the previous Unit ends. 

You can show or hide the Subject Assessment on your report cards.

Turn on/off the Teacher Comments for each Subject
You can show the Unassessed Learning Outcomes for each Subject or hide them.
You are also able to customise whether or not you want One or Many Subjects per page on your reports. If One subject is selected per page, subjects will automatically move to the next page of the report if the subject does not fully fit on the first page This ensures that each subject's grades and comments are entirely on One page. If Many subjects are selected per page, space is saved by allowing subject grades/comments to be split over two pages if there isn't enough space on the first page.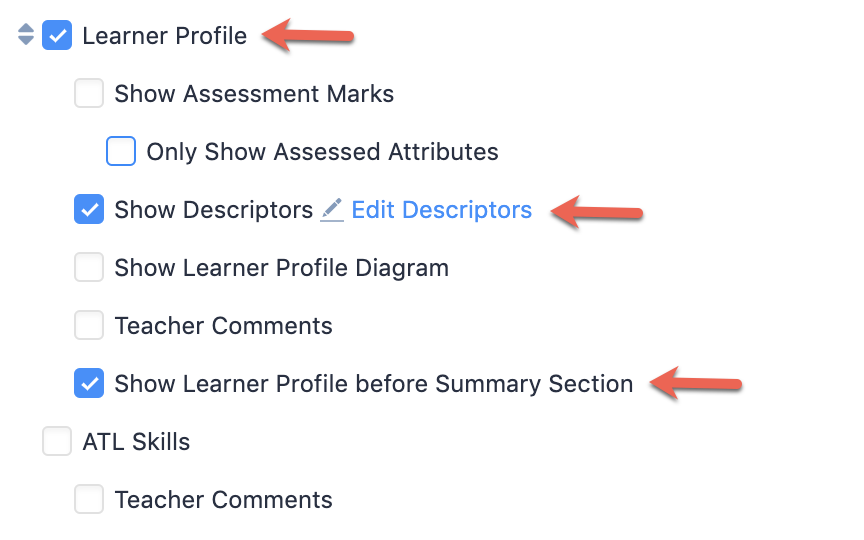 Learner Profile: Choose if you wish to display assessment marks, hide any un-assessed attributes of the Learner Profile, include or exclude Learner Profile descriptors, and include or exclude the Learner Profile diagram taken from the IB. 

If you would like to show the Learner Profile Diagram and description on a separate page with no grades or comments, please follow the choices above.  

ATL Skills: Turn on/off the graded ATL skills and/or teacher comments beneath the ATLs.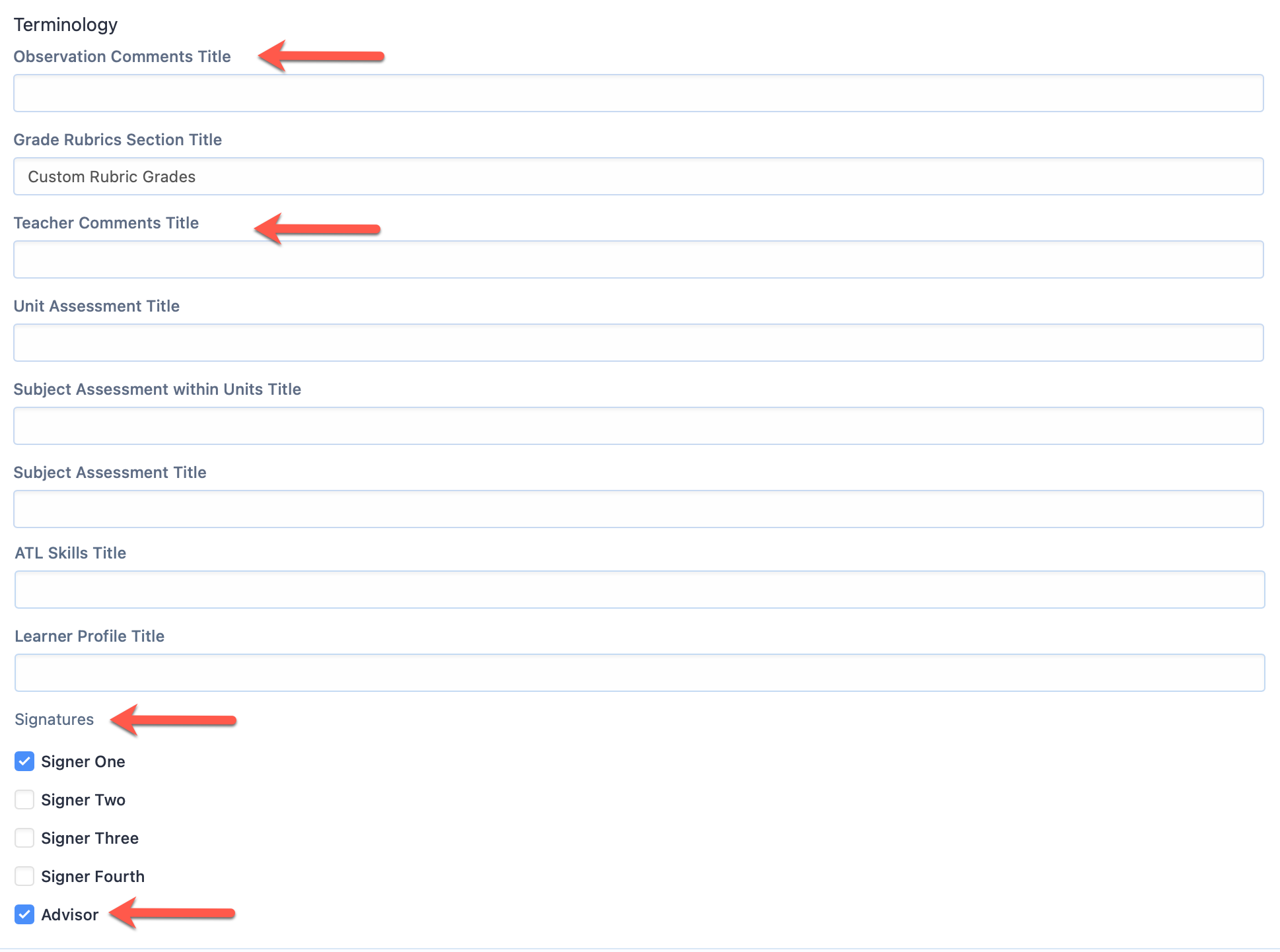 At the bottom of the page, you can customise your terminology for each section to better match your school community's understanding of what is being graded. For example, the sections for Observation Comments Title and Teacher Comments Title, highlighted in the screenshot above, can be renamed. Enter the preferred titles in the boxes below these options, and click Save Changes once done. 
Lastly, you are able to add in up to four Signers via the Signatures section with an optional Advisor that you would like to show up on the Summary page of your reports. 
Via Assessment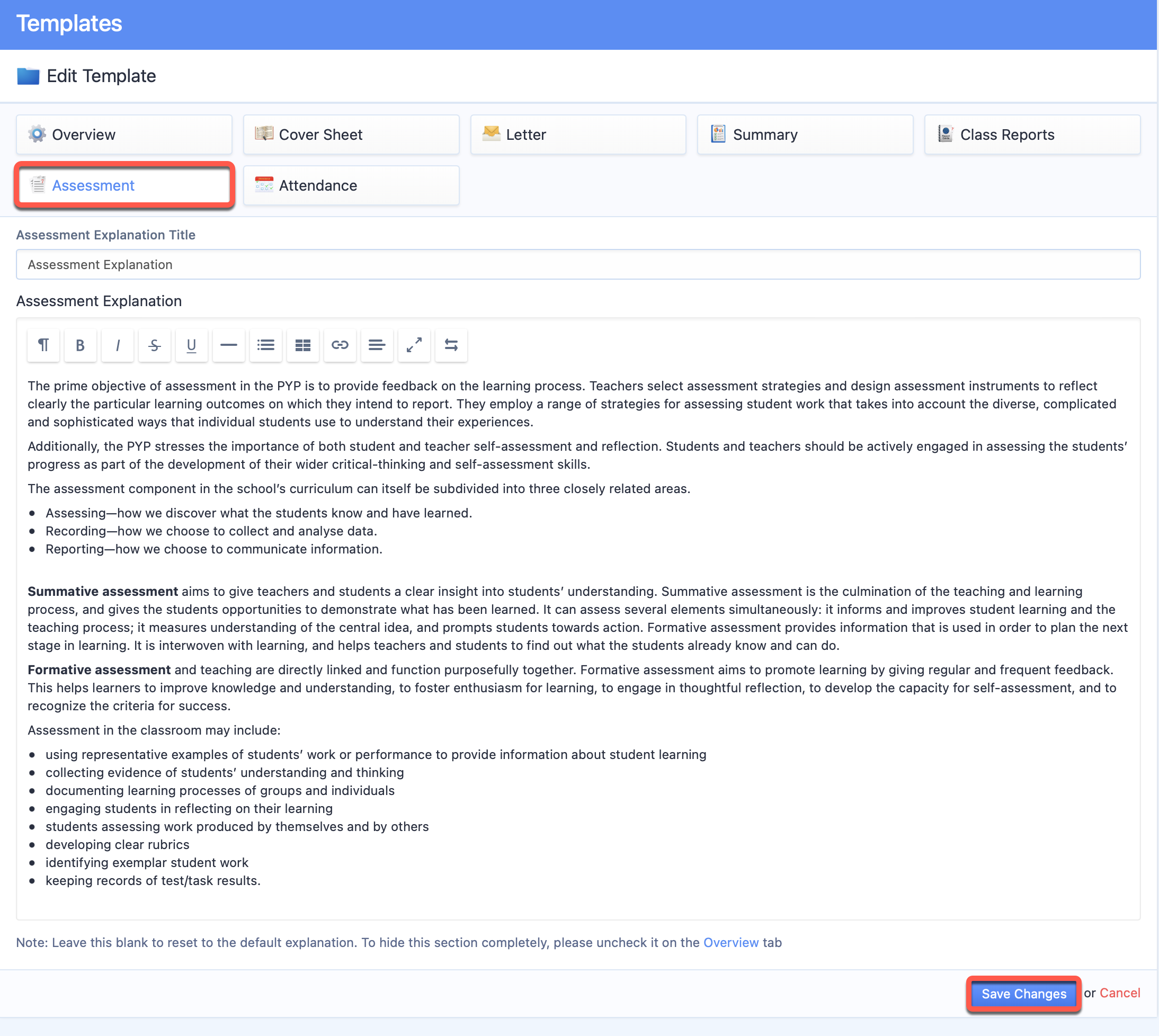 Write your own custom assessment explanation, or use our default written by our IB PYP Curriculum expert team. 
Via Attendance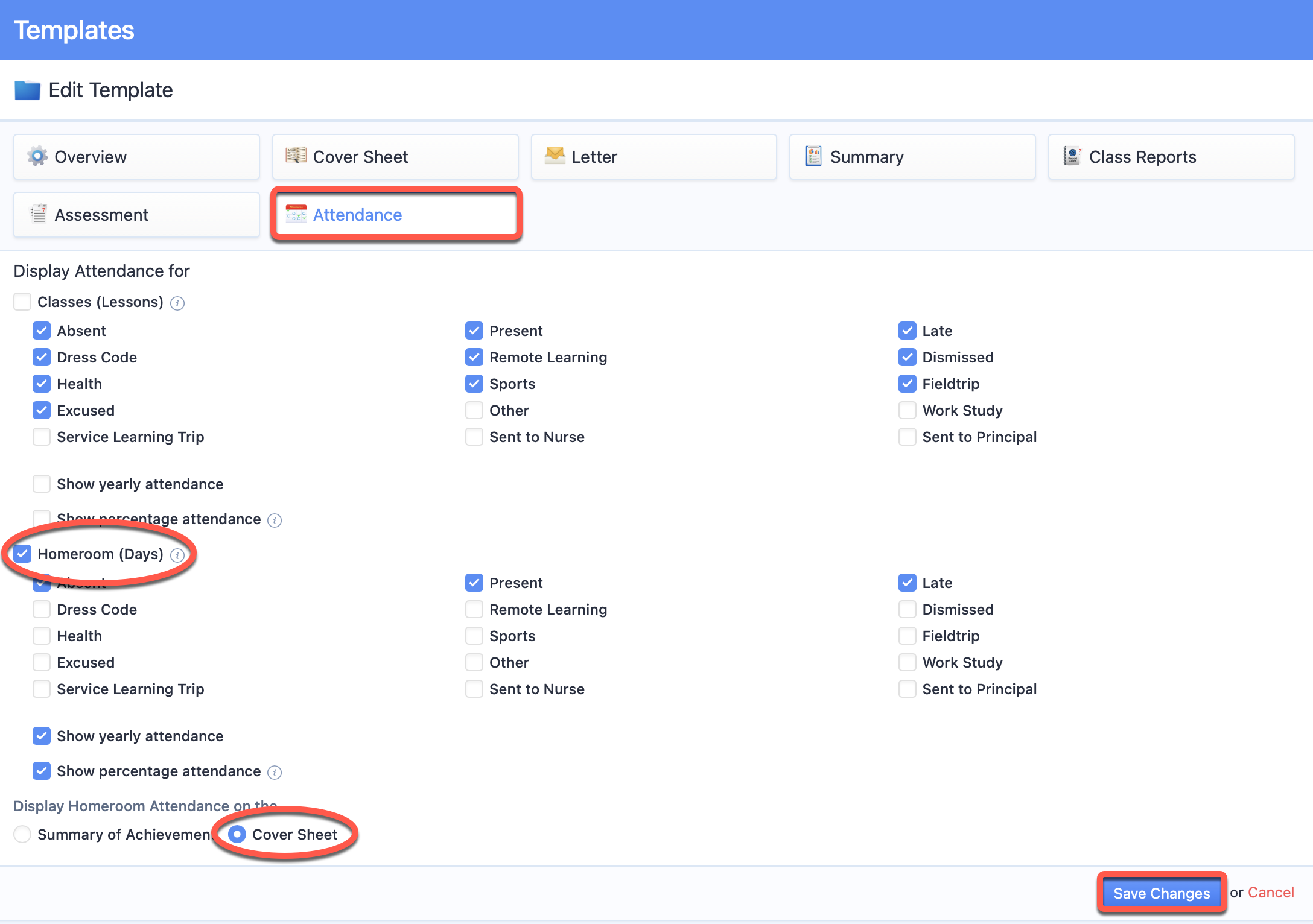 if your school subscribes to the ManageBac Attendance Module, attendance data can also be added to Reports Templates via the Attendance tab.
You can choose which Attendance Categories to display on the report cards based on the Academic Term dates or for the whole academic year.
Homeroom attendance can be displayed on the Cover Sheet or Summary of Achievement.
If you're not currently using ManageBac for Attendance, but are interested in learning more about the module and how it automatically links to the report card, email us at sales@managebac.com. 
Generate a preview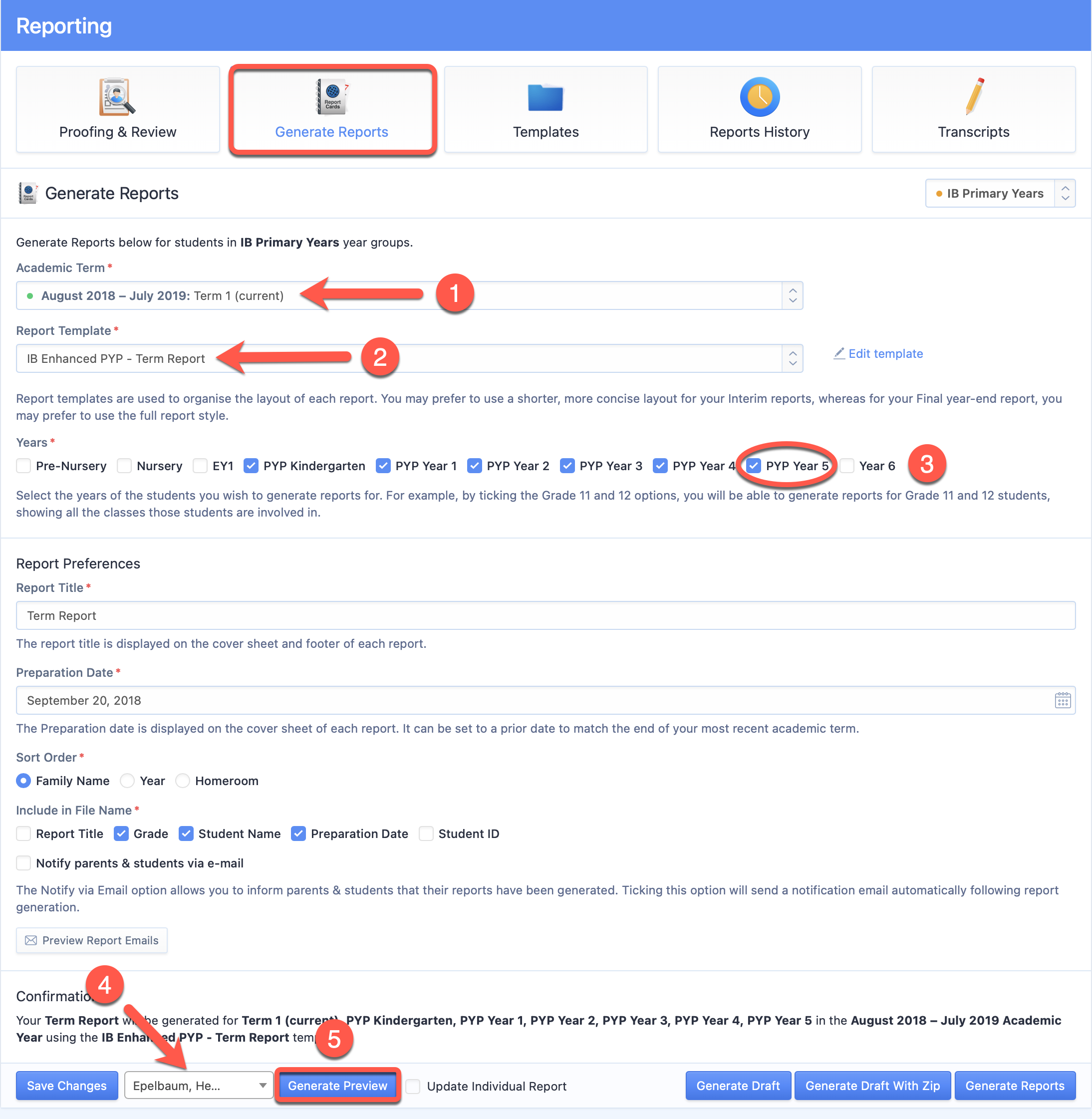 To generate a preview for an individual student, you can navigate to Reporting > Generate Reports > IB Primary Years and follow the below steps: 
Select an Academic Term. 
Select your Report Template. 
Select a Year or Grade Level. 
Select a student.
Click on Generate Preview.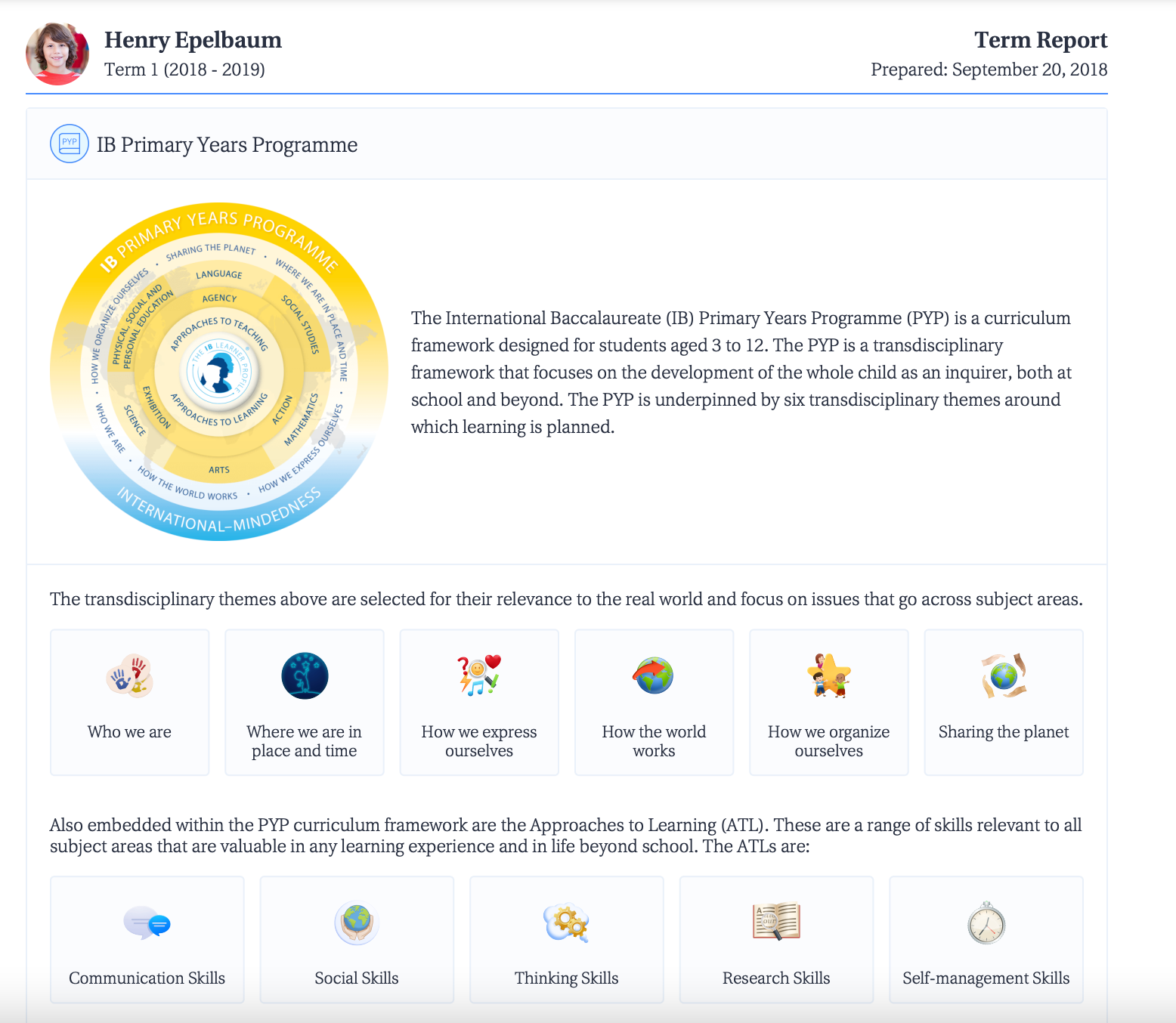 Once generated, a PDF of a Preview Report will export with an example of the individual student's Report.
Proofing & Review
Proofing & Review is a feature available for any school with the reports module and allows administrators to view and edit grades and comments from each class before generating reports.
Via Reporting > Proofing & Review > IB Primary Years
From here you can view and edit grades from all classes by Subject
 or by Student. Search
By Student
and filter by
Advisor
to see the completion status of student grades: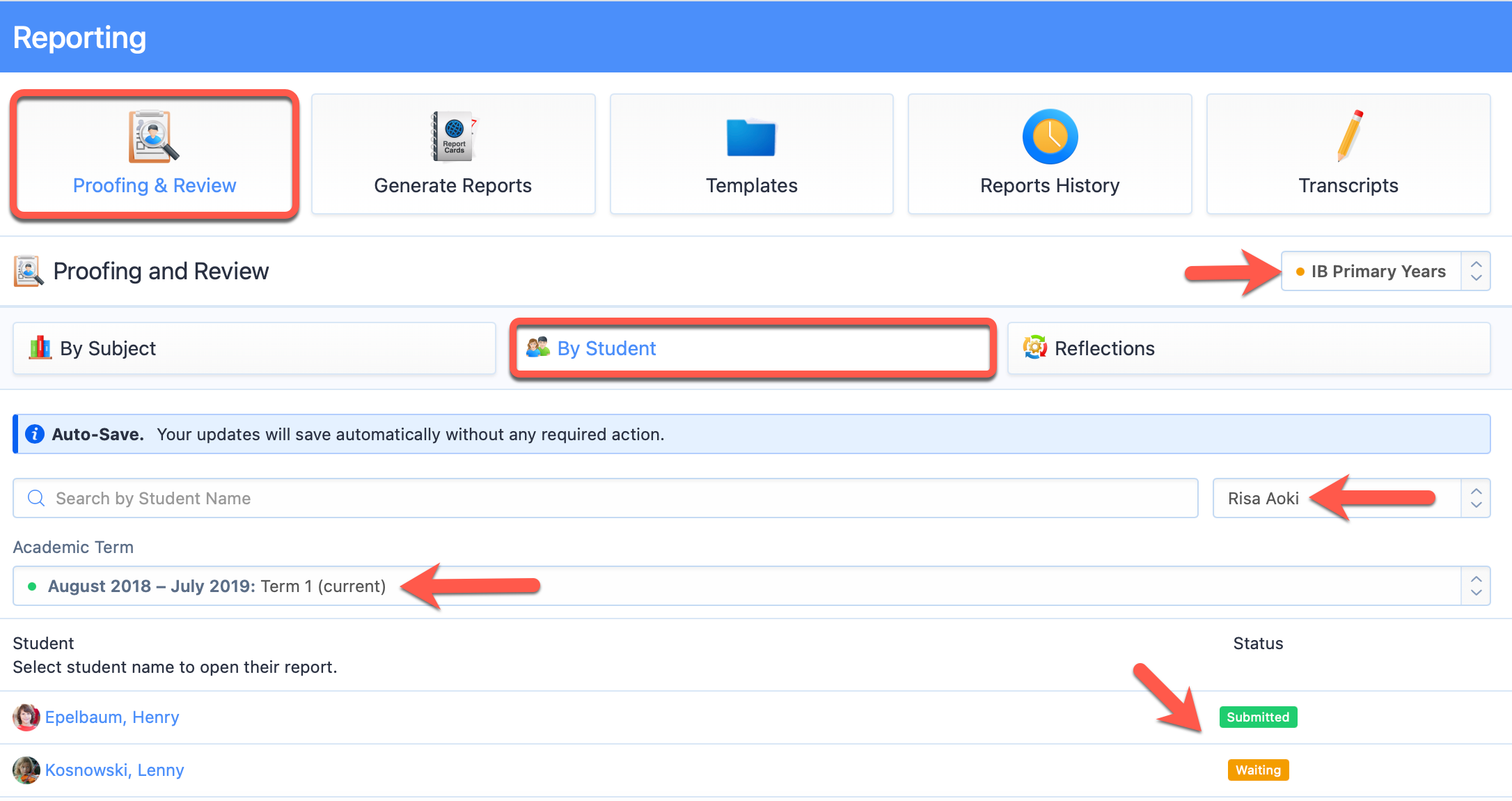 Waiting = Some gradebook fields have been completed, but not all
Submitted = All gradebook fields have been completed
Prior to proofing, we recommend locking term gradebooks.
Admins can lock and unlock gradebooks by programme & academic term, this ensures grades are not changed after a certain date before reports are generated.

Logged in as an admin, navigate to Settings > Academic Terms.
Select your programme
Tick

 

Restrict teachers from making any changes to term grades
Save Changes
Please note that administrators will still have full access and editing permissions when gradebooks are locked, to ensure a seamless proofing and review process. 

You can also access the Lock Term Gradebooks page via Reporting > Proofing & Review, on the right navigation panel. 
Reflections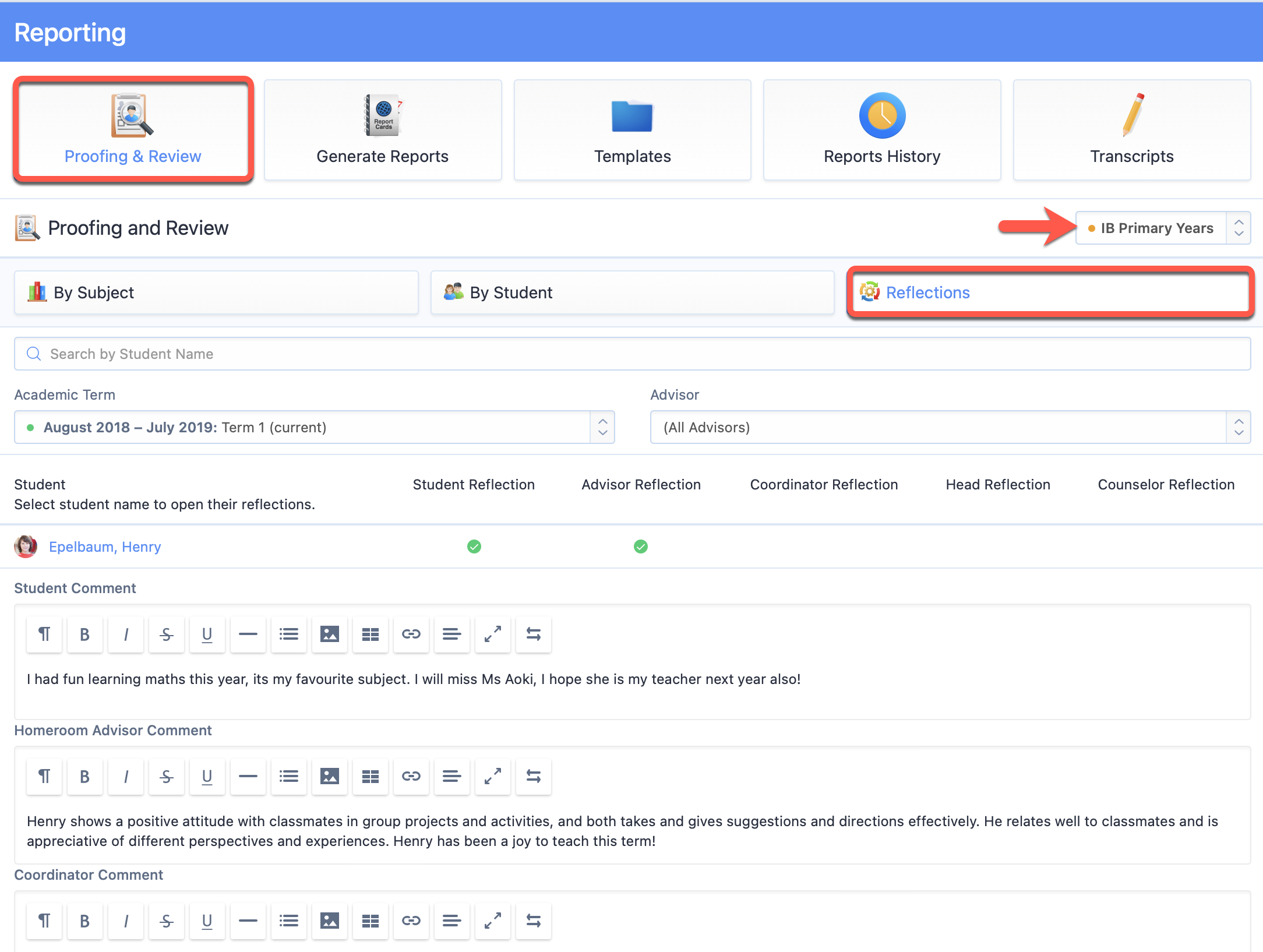 Click the Reflections tab to read and edit the reflections of the Student, Homeroom Advisor, Coordinator, Head of School or Counselor. These reflections can then be enabled on the report card via the Report Template Overview tab (see below).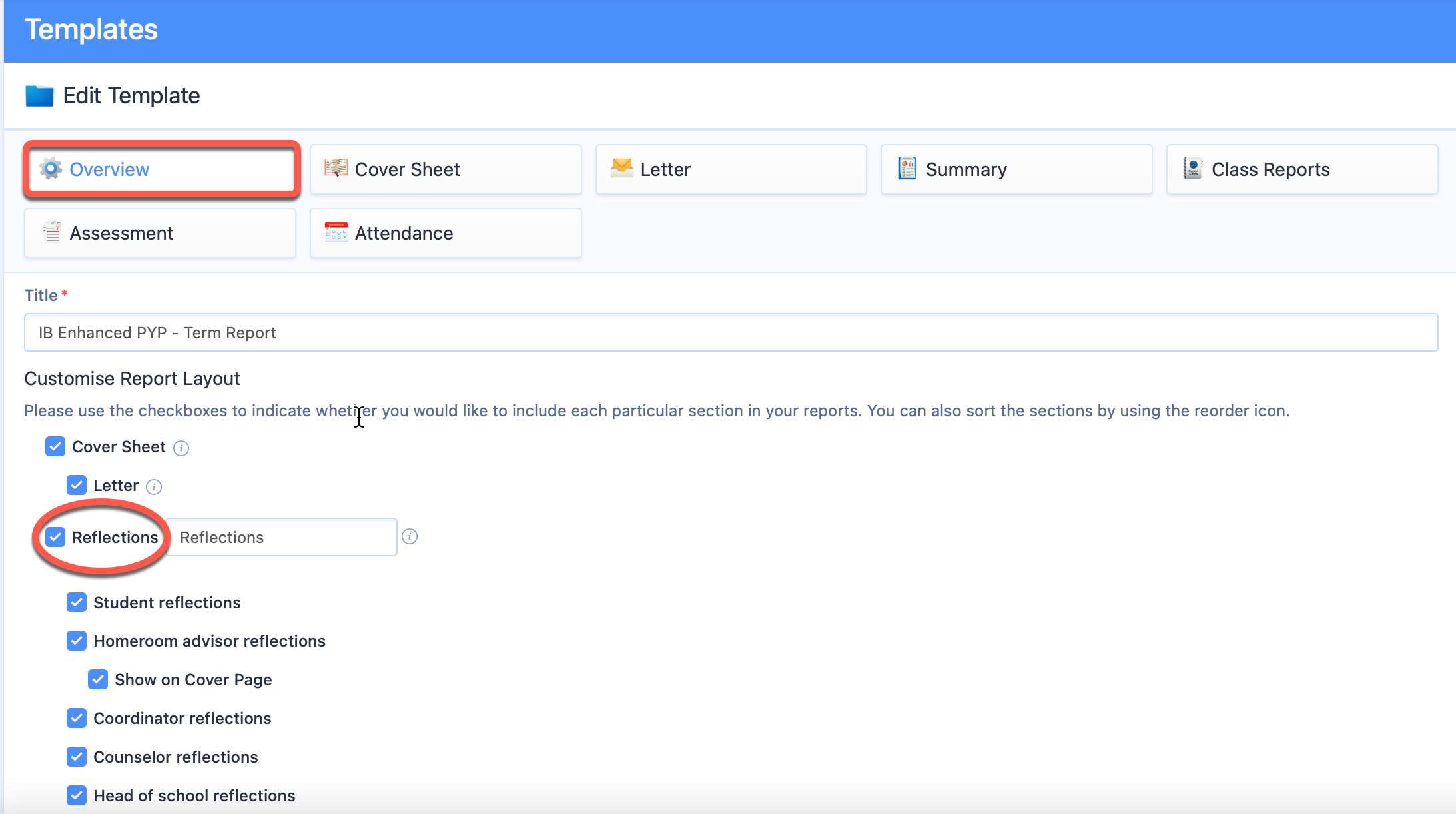 Generating Reports
Via Reporting > Generate Reports > IB Primary Years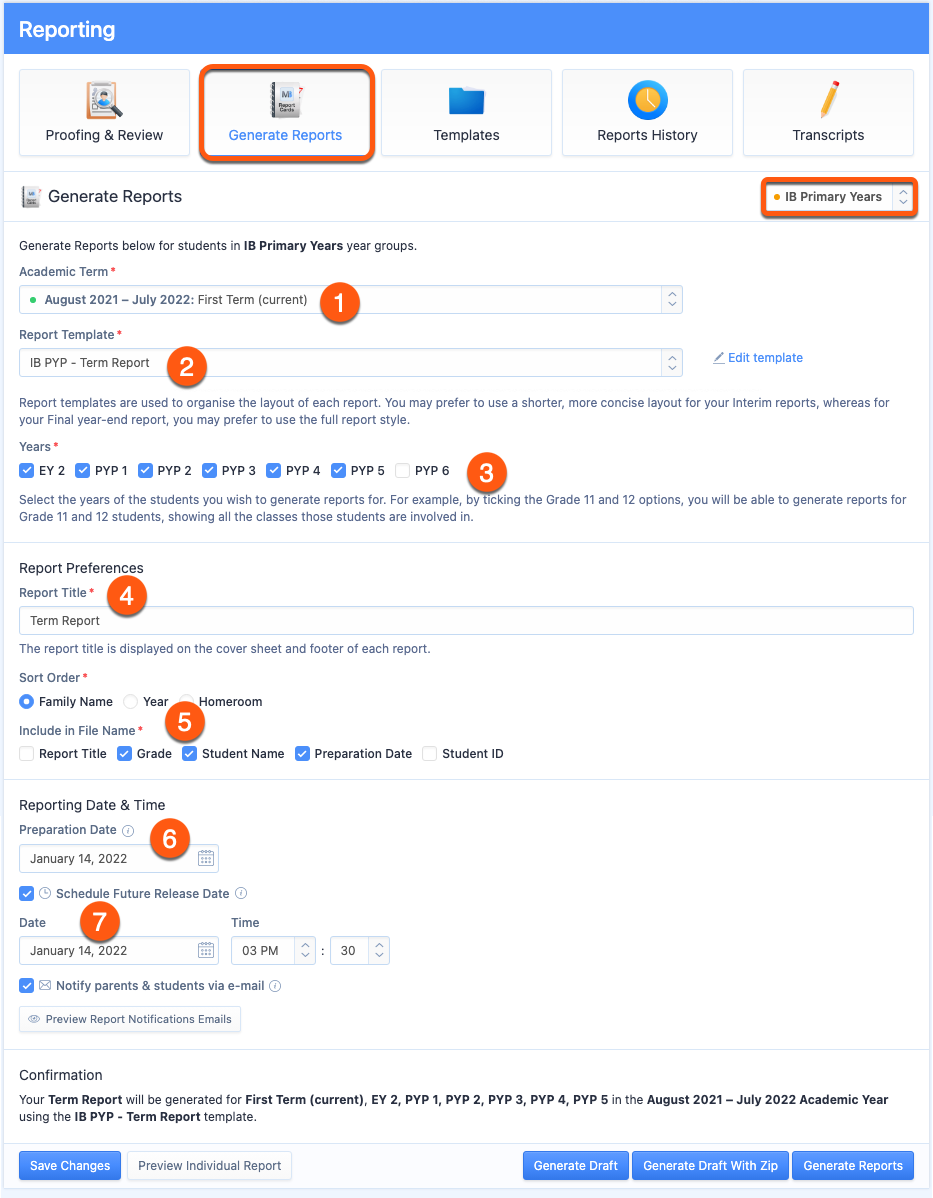 To generate your reports, please first confirm the following data:

1. Term: Select a term with the correct grade data.

2. Template: Ensure that your selected template includes your desired information and excludes other information. You can easily adjust your template by clicking Edit Template. You can have an unlimited number of templates.
3. Years: Choose to generate reports for all year levels at once, or specify which years will have reports generated. (This setup allows you, for instance, to generate reports for Grade 9 using one report template, and then generate for Grade 10 using another template.) If you would like to include non-IB grades, tick the checkbox and specify the term.
4. Next, give your report a Title (e.g. First Semester Report).
5. Choose your Sort Order, and indicate what information you want to show in the Report Card file name.
6. Indicate the Preparation Date.
7.  Select a future release date and time if you want to generate the report cards ahead of time and have a scheduled release at a different time. Enabling the Notify parents & students option will also delay the notification emails to be sent until that point in time.
Previewing Report Cards
Preview Individual Reports: Click this option to view an individual student report. This is a quick & easy way to see what report cards will actually look like.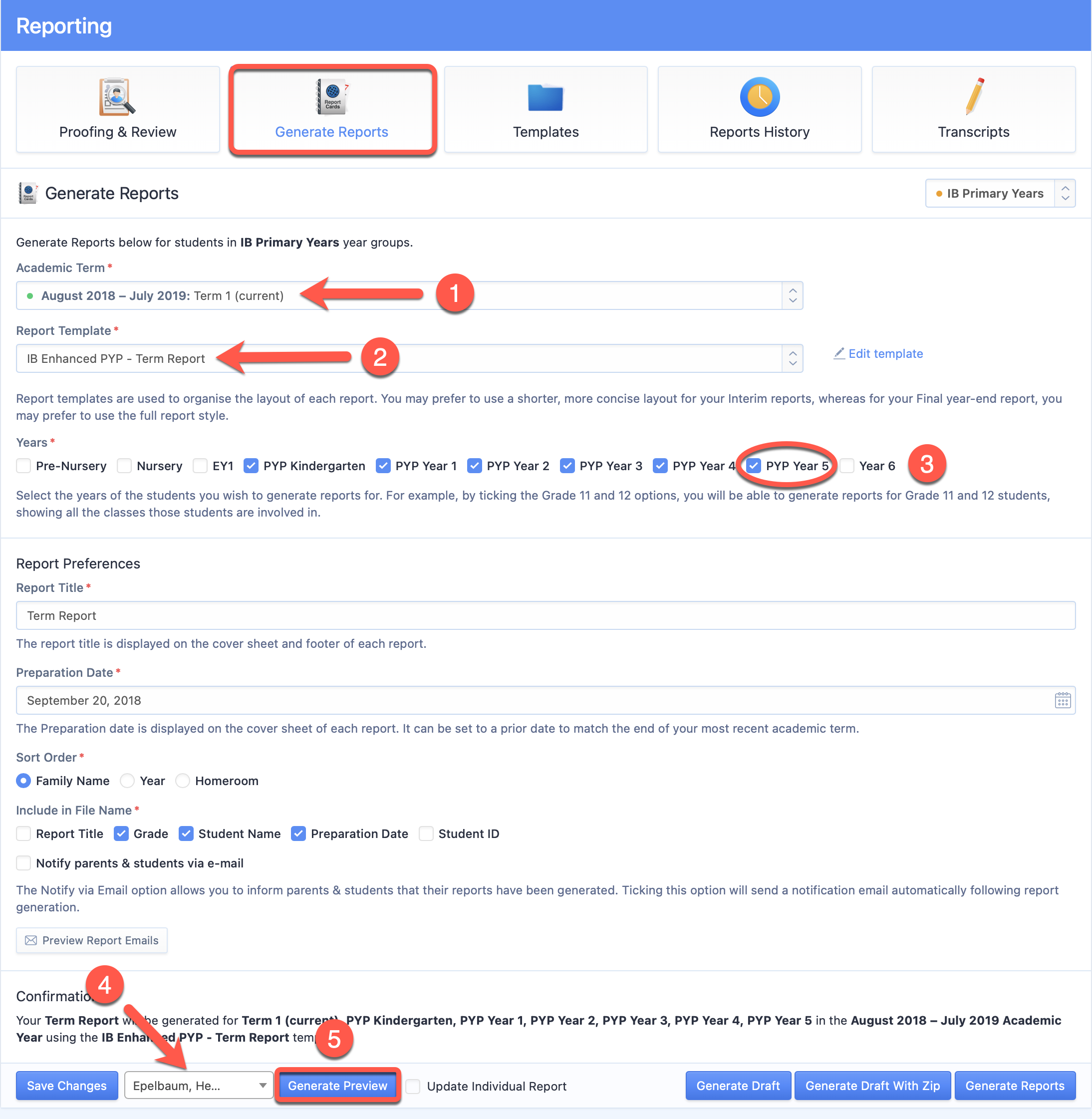 Generate Draft:
Click this option to bulk generate Draft reports for all students & classes in the year levels selected.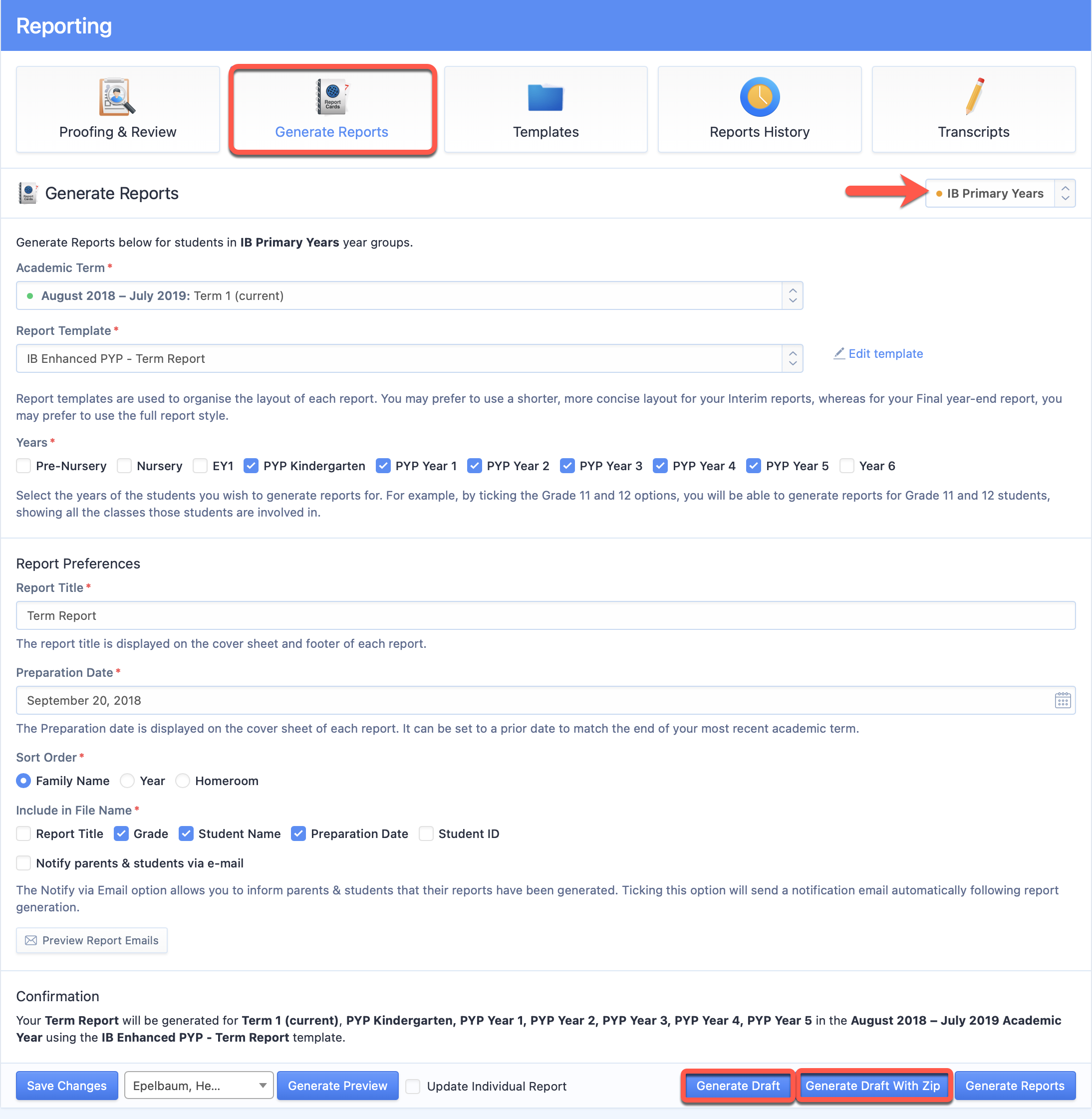 Drafts can be found via the
Reports History
page.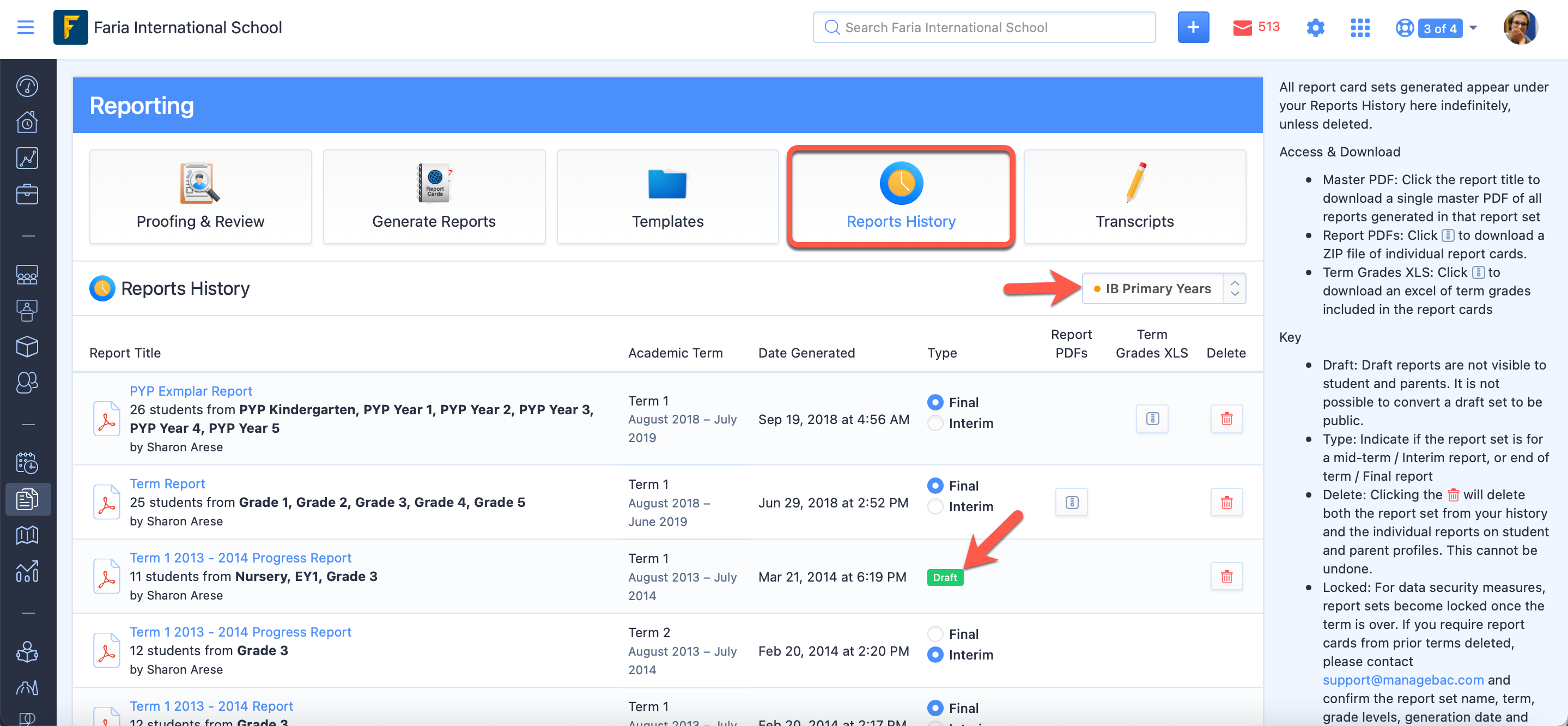 Generating Report Cards
Once confident that reports are ready, click the Generate Reports button. A full PDF will also be generated and stored as a master copy in the list in the Reports History tab.
Note that reports are generated one at a time. Each report job may take up to 60 minutes, depending on the number of students you are generating for and the time of year (Dec and May are busy reports seasons!).
Viewing Individual Student Reports

To view an individual report, navigate to the Reports section in the student's profile. The report card is available via PDF for parents, students, and teachers to view, and stays with the student profile for as long as the student has a ManageBac account.

Reports History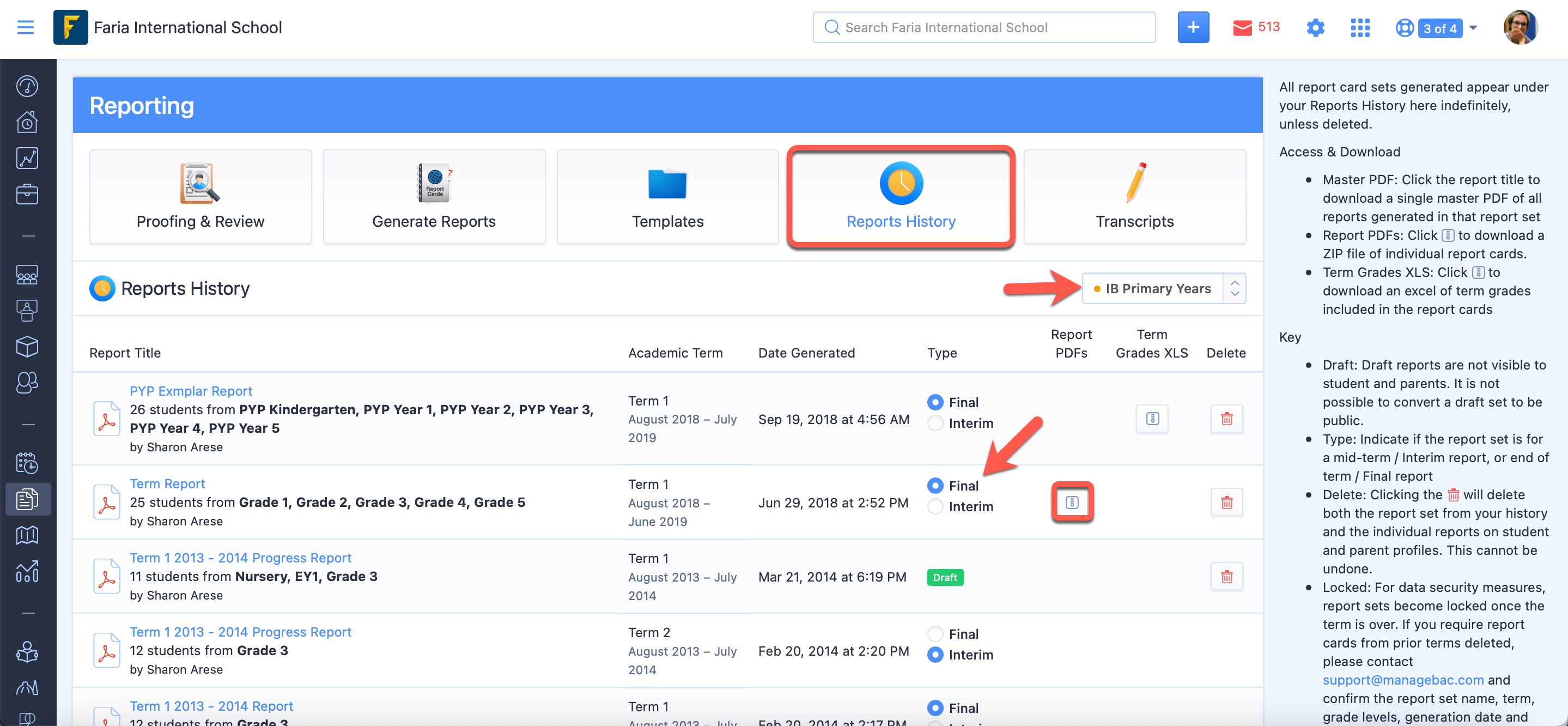 Navigate to Reports History to download a zip file of all reports jobs (actual & draft). We provide each student's report as an individual file.
Hiding Reports from Students & Parents
Hiding Reports via Student Profile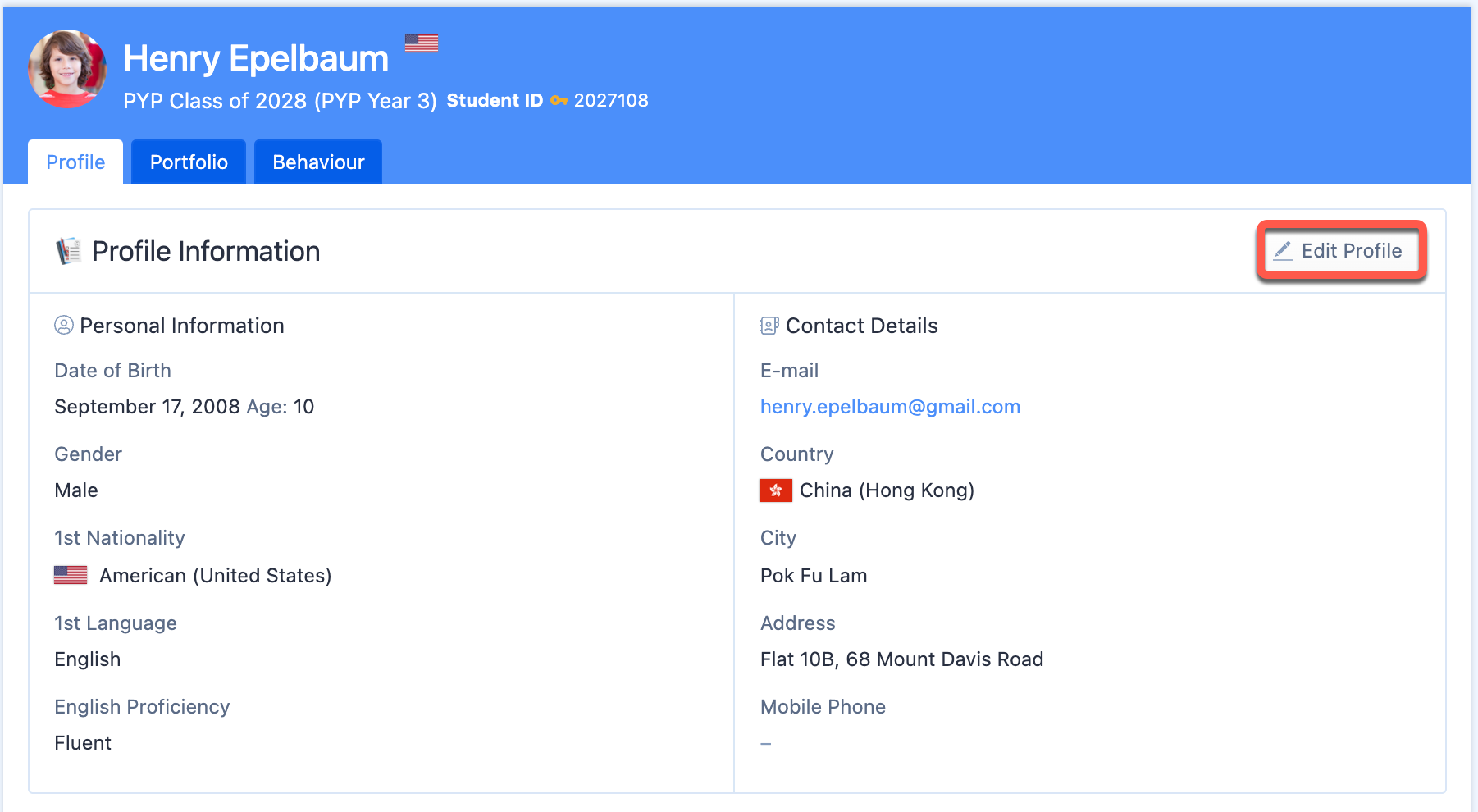 Hide reports from student and parent view via the student's profile, click
Edit Profile
to access the Reports Access section, select the Hide Report checkbox and Save Changes.

Admins and teachers will still able to view the reports when they are hidden. Only admins can hide or unhide the reports, while teachers will be able to see that the reports have been hidden.
Students and parents will not be able to access the Reports. Note that reports e-mail notifications will also not be sent to students & parents if their reports have been hidden. 
Unhiding Reports
To unhide reports, untick Hide Reports Tab from Student and Parents, click Save Changes.
Students and parents will now be able to access and download any reports as per usual.
Export List of students with Hide Reports enabled
Via Settings > School Directory 
Admins are able to export a student list that shows which students have had their reports hidden.

Select Export Student & Parent information download a record of user information in your School Directory.

The Student and Parent information spreadsheet shows if the "Hide Report Cards" option is enabled per student. 
Updating Individual Reports

It is possible to update an individual student's report card. After making changes to a student's grades, navigate to Reporting > Generate Reports > Update Individual Reports.

From the Update Reports page, select the following:
Academic Programme the report card to be updated was generated in
Academic Term the report card to be updated was generated in
The student the Report Card was generated for
The specific Report Card to be updated
Download the selected Report to confirm this is the one you intend to update
Select the Report Card Template and Report Title to use for the update
Select Preparation Date and File Name items for the updated report card.
Preview the updated report card. 
Click Update Individual Report to generate the updated report card and replace it on the student profile automatically. 
- the report card will not be updated in the consolidated PDF nor on transcripts. To print the new report card, please download the PDF directly from the student's profile.
- Classes do not have to be unarchived to update previous report cards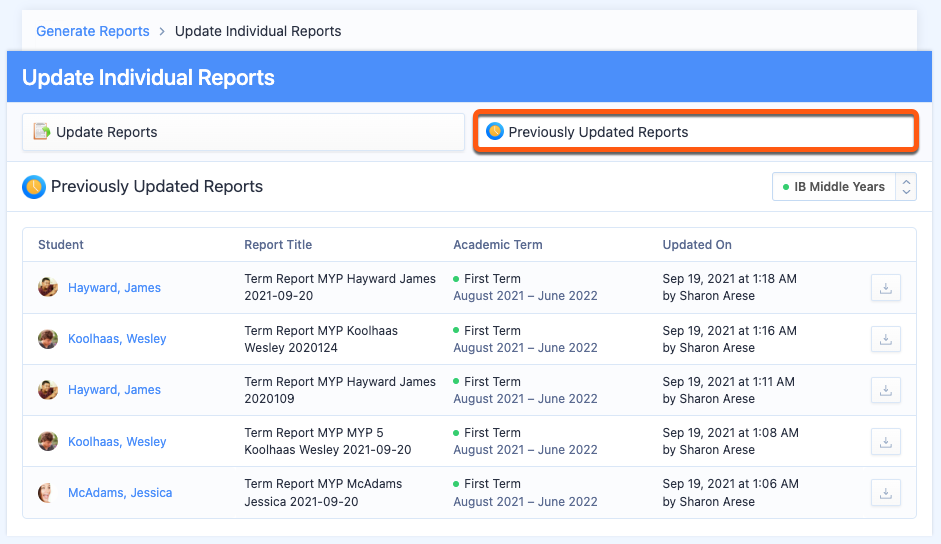 Use the Previous Updated Reports page to review and download updated versions of report cards by academic programme.
Adding Term Goals & Reflections
via Settings > IB Primary Years > Reflections
You can enable Term Goals and Reflections Questions for response in Student Profiles via Settings > IB Primary Years > Reflections. The Reflection Question responses can be added to Reports, however, the Term Goals will be viewed only in Student Profiles.
via Student Profiles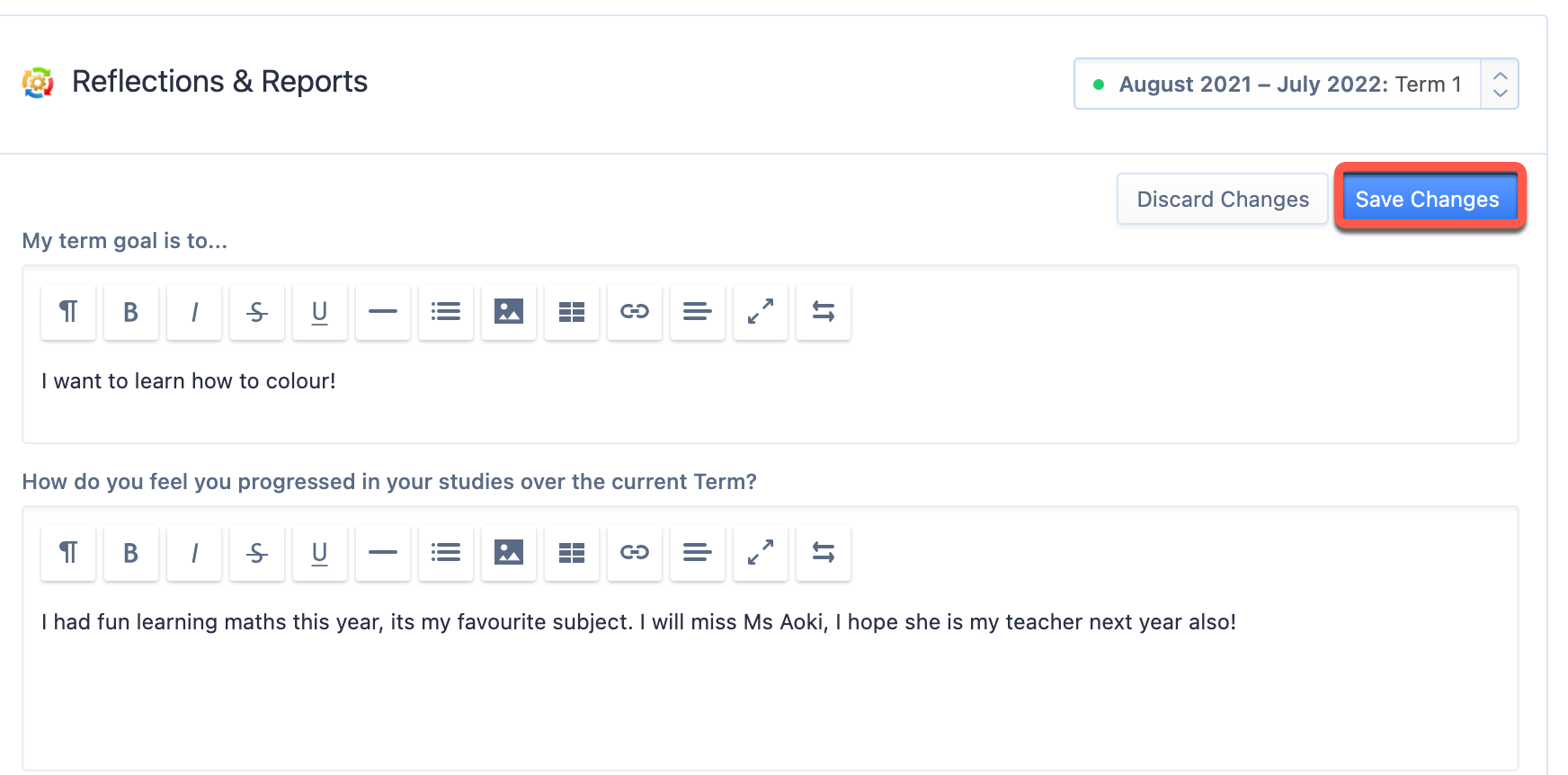 Students can respond to the term goal and Reflection Questions you added in your account settings via Profile > Reports & Reflections. Be sure to Save Changes after responding.
Add the student reflections via the Reporting > Templates > IB Primary Years > Select a Template > Overview > Reflections. This will show the Student Responses to Reflection Questions on the Report. It's not possible to include the term goal.
Displaying Student Photos on Reports
To show student photos on your report cards, you must first bulk upload student profile photos on the system. Click on Settings > Import Manager > Students > Import Student Photos to begin. Upload a zip file of your student photos, with each photo name matching a student ID.

Photos should be in PNG, JPEG, or JIF format. For best results, we recommend portrait photos with the dimensions 300px by 300px. Please ensure that each photo is less than 1 Mb.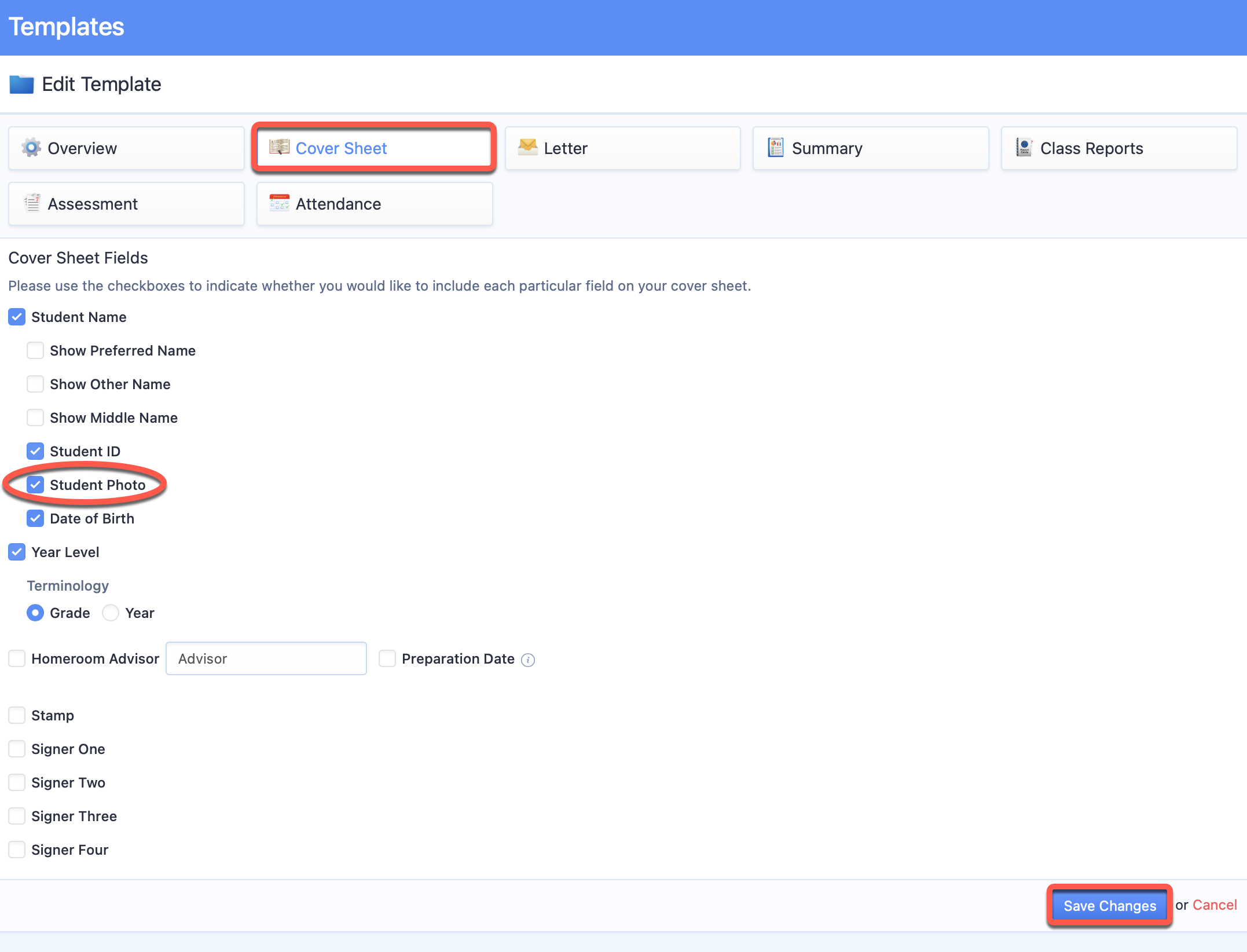 Once the photos have been uploaded, you can then navigate to Reporting > Templates select IB Primary Years and your Report Template. Via the Cover Sheet page, select the Student Photo checkbox. Your student reports will generate with the student photo on the cover.