Important
Looking for a parent-teacher scheduling tool? We recommend SchoolsBuddy, fully integrated with ManageBac in our aim to provide a Unified Family Experience. To read more about how SchoolsBuddy can help you manage activities and payments, parent communication and evenings, transport and sports days, please read here.
What is Parents Evening System / Meet the Teacher?
Note: Parents evening system is also known as Meet the Teacher in different territories.
Parents Evening System provides schools with effortless scheduling tools for parents evenings, reducing the administrative workload for administrators and school leaders. With Parents Evening System, parents no longer need to rely on their child to make appointments, phone the school or wait to see the teacher. Monitor attendance, increase parent engagement, and export schedules in easy formats with Parents Evening System. To learn more about Parents Evening System, please click here.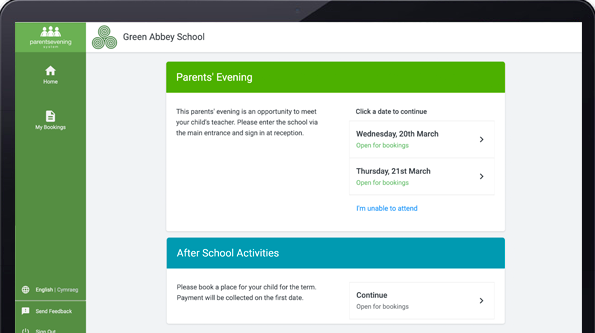 How does Parents Evening System integrate with ManageBac?
Parents Evening System allows parents to book appointment times any time, across any device, ensuring a smooth scheduling process. Our integration utilizes the ManageBac API for a seamless setup.
Features
Smooth onboarding: information about teachers, parents, students, and classes are transferred instantly, so schools can begin using the Parents Evening System immediately!
Data sync: 1-way sync of information from ManageBac to Parents Evening System
Once a schedule is set, and parents notified, they can login to Parents Evening System directly to see their children's classes and teacher information, and book times.
How to Setup your Parents Evening System integration
Via ManageBac
To begin the setup of your ManageBac integration with Parents Evening System, you'll first need to create and generate an API Token.
Step 1.
Logged in as an administrator, navigate to Settings > Develop > API Manager > Select Add New Token

Step 2.
You will then be prompted to select your token's permissions. Parents Evening System requires the following read-only permissions to be enabled: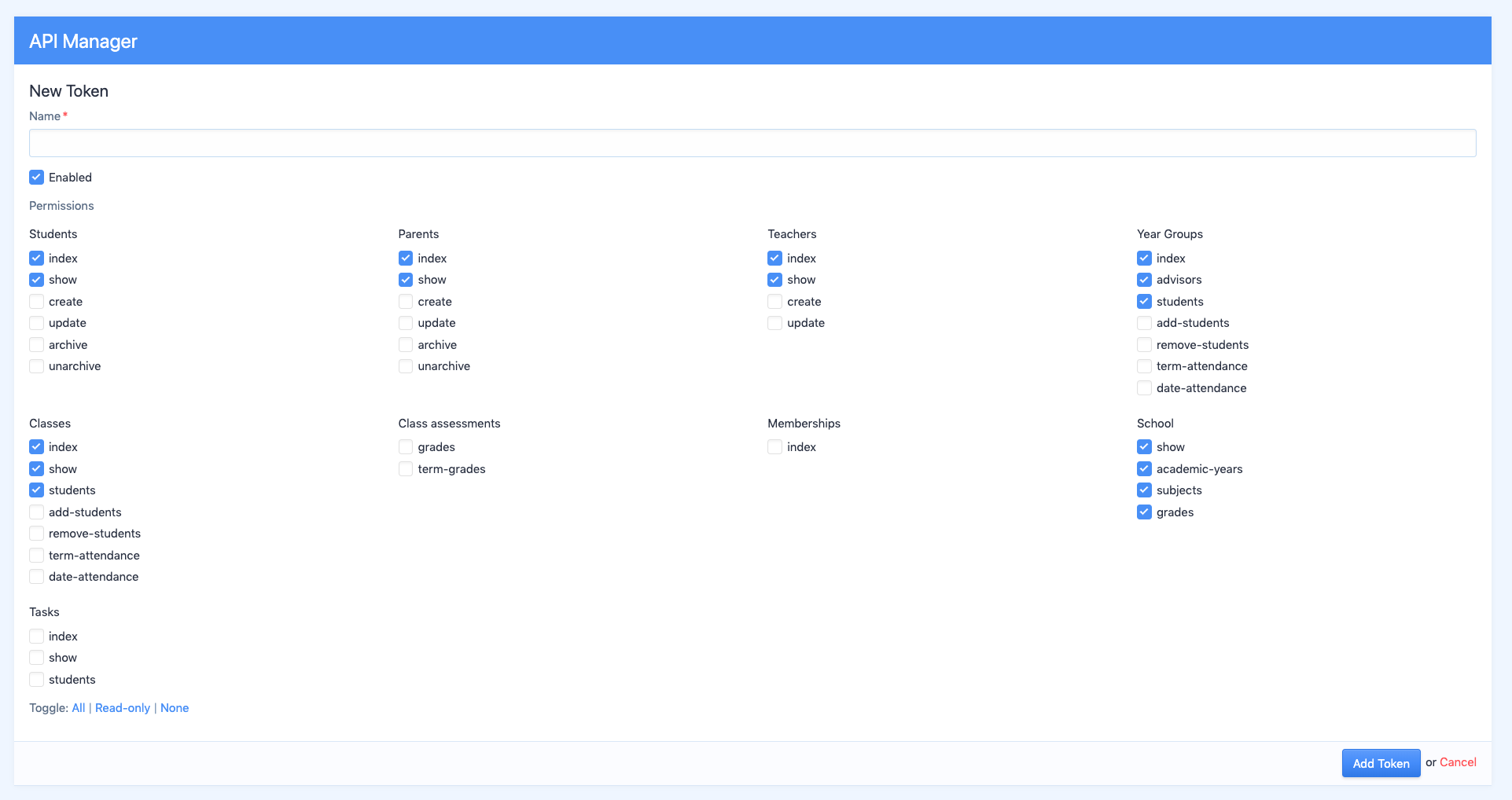 Once the key is created, go back to the API Manager page and click the clipboard icon next to the new token. This copies that key and allows you to paste it into your Parents Evening System when required in the steps below.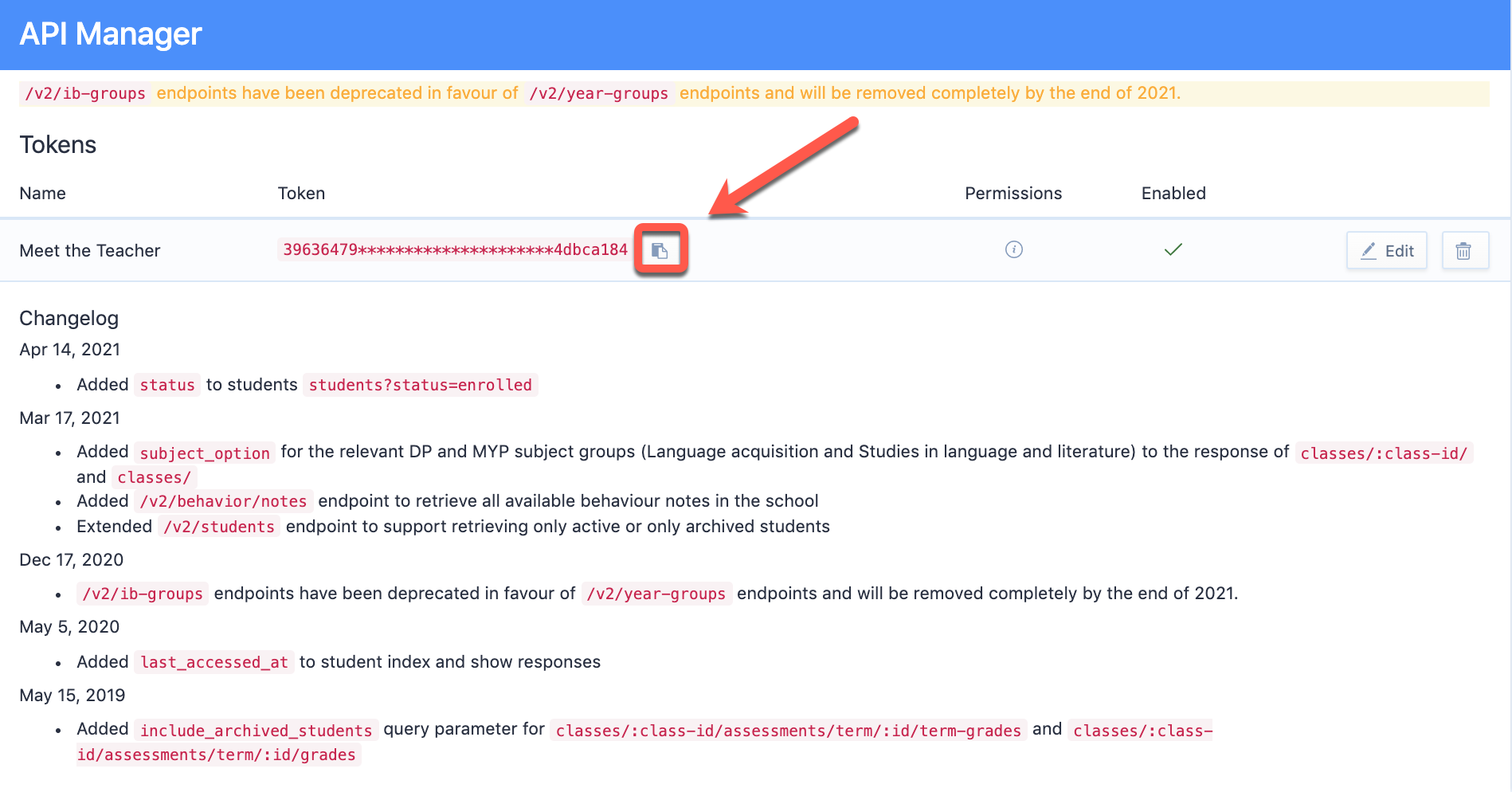 Via Parents Evening System
Please be aware the Parents Evening System side should be as follows:
Step 1.
Log in to Parents Evening System as an administrator.
Step 2.
If this is the first time you have used the system you will likely be presented with the Getting Started wizard which will guide you through the process. Alternatively, you can select Settings on the left navigation bar, then Data Import Source and select ManageBac from the available School Information Systems:

Step 3.
The system will then display a box where you can enter the details you obtained earlier: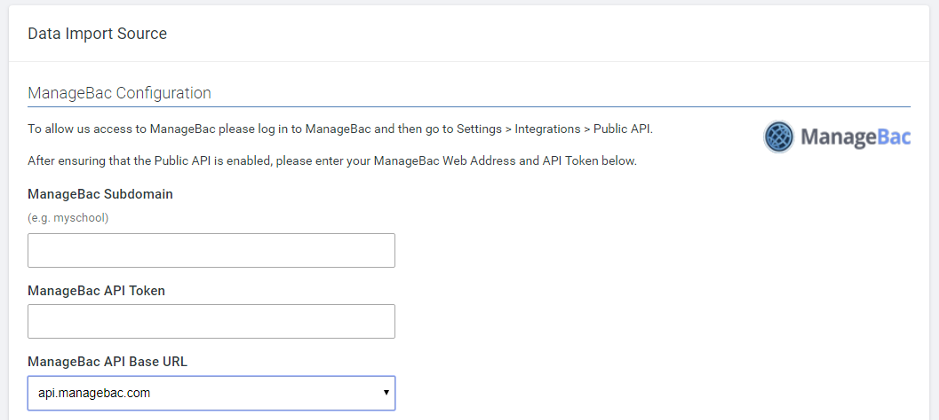 Step 4.
The ManageBac API Base URL should be api.managebac.com unless your school is located in China, in which case set this to api.managebac.cn.
Managing the Integration with Parents Evening System
Sync of User Data
You can run a sync to load the current data from ManageBac into your system whenever you need to by going to the navigation bar, clicking on Data then the sync button:

You can now use the integration to sync your student, parent, teacher and class data.
Integration Questions & Support
Feel free to reach out to support@managebac.com for guidance on the ManageBac steps.
You can reach out to support@schoolcloud.co.uk for assistance with the Parents Evening System / Meet The Teacher steps.