What is SchoolsBuddy?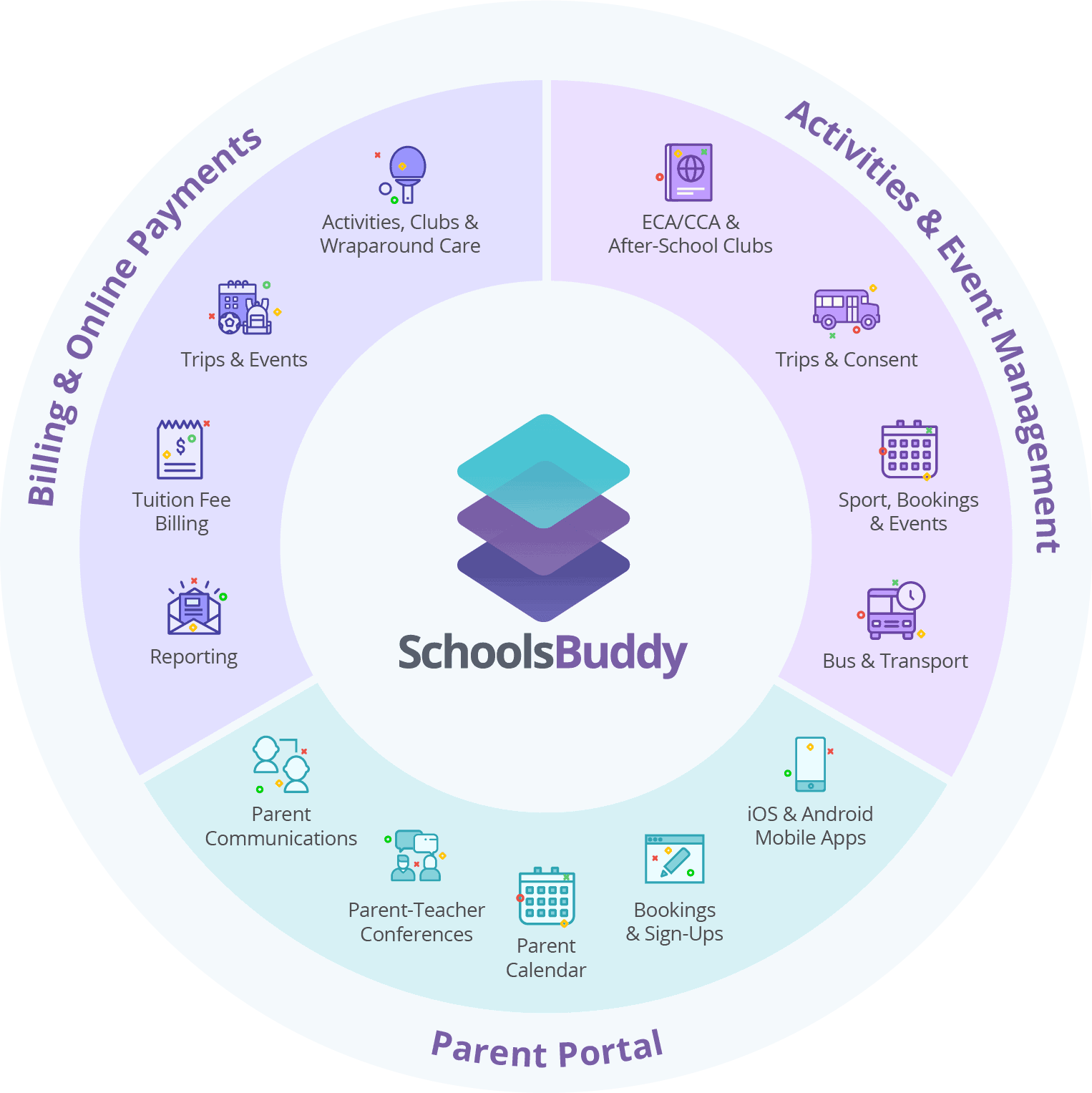 SchoolsBuddy aims to provide schools with the most efficient and cost-effective solution for a number of common difficulties. It is a comprehensive system for managing After School Activities, Parent Teacher Conferences, Payments, Parent Communications and much, much more.
SchoolsBuddy offers flexible options for activity booking or allocation using a super fast automatic allocation system. Manage After School Activities, Enrichment, School Trips etc. with an easy-to-use Parent Portal where parents can can sign up, pay and view events in their diaries.
Staff can: Take attendance and keep track of students using Transport and Dismissal management options; Quickly arrange online Parent Teacher Conference booking for parent or student-led conferences to your own appointment lengths with easy scheduling and diarised management; Record parent consent and manage events with instant communications by email, SMS and push notifications. SchoolsBuddy includes dedicated reporting in all modules for end of term/year review.
The SchoolsBuddy Payments module​ allows parents in over 100 countries to pay for activities, wraparound care, trips, tickets, sports kit, music lessons, lunches and anything else. With simple views, clear payment history and the ability to pay for multiple children at once, parents love the SchoolsBuddy fees module.
Find out more on the SchoolsBuddy website.
How does ManageBac integrate with SchoolsBuddy?
SchoolsBuddy, like ManageBac, is a service offered by the Faria Education Group. Read more about SchoolsBuddy and our Unified Family Experience offering.
Our partnership focuses on delivering a comprehensive technical integration, including:
Single Sign-On
Streamlined account provisioning
Information sync
SchoolsBuddy integration utilises the ManageBac API for a seamless setup: information about staff, parents, students, registration groups and subject classes are transferred instantly, so schools can begin using the SchoolsBuddy modules without fuss. The data syncs one way from ManageBac to SchoolsBuddy and is updated nightly between 1:00am and 3:00am in the default timezone for the server region (UTC in EMEA, UTC -5 in US, UTC +8 in Asia).
With the integration, you have access to the following.
Activities Management: Organise your activities programmes from sign up to allocation and communication.
Event, Sport and Trip Management: Organise trips and sporting events from invitation to online consent, payments and attendance.
Transportation: Create bus lists for school, after school, and post activities with in-app mobile attendance registers.
Parent Teacher Conferences: Schedule and manage appointment booking for parent conferences.
Parent Communications: SchoolsBuddy features built-in parent communications and mobile push notifications.
Online Payments: Working alongside other features, SchoolsBuddy facilitates payments for events, trips, lessons, etc.
Tuition Fee Billing: Invoicing & payment management integrated with ManageBac and OpenApply.
How to set up the Integration with SchoolsBuddy
SchoolsBuddy is a modular system so a member of our Sales team will help you to decide which modules are right for your school. After you subscribe, a dedicated Onboarding Manager will guide you through the implementation stage, and support with any questions you have. If you would like more information please get in touch with the team at: sales@schoolsbuddy.com or book a demo here.
Managing the SchoolsBuddy Integration
Data in ManageBac is synced to SchoolsBuddy on a nightly basis so there is little account management involved in SchoolsBuddy. If your school has given external service providers access to SchoolsBuddy their accounts would need to be managed manually. Otherwise, all student, staff and parent accounts and contact details are automatically updated and deleted when removed from ManageBac. Deleted records are stored for the purposes of historical reporting. Year and Class information is updated directly from ManageBac as part of your normal rollover process.
What is the Faria Unified Family Experience?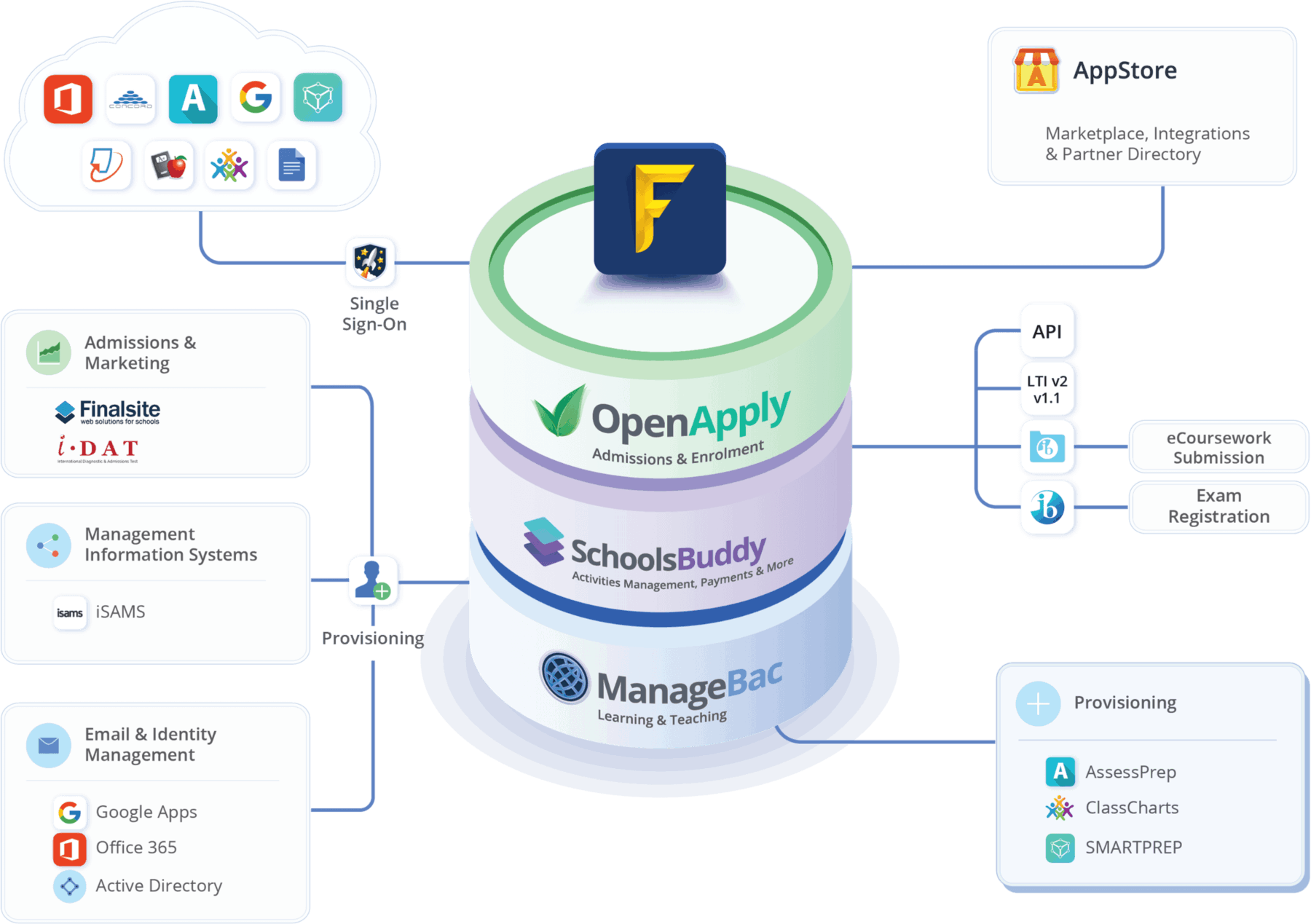 Faria Education Group provides an integrated technology suite spanning Admissions Management (OpenApply), Learning & Teaching (ManageBac), and Activities Management & Online Payments (SchoolsBuddy for over 3000 schools in 120 countries).
We provide students & families with a consistent, modern and intuitive user experience from initial inquiry to enrolment and school life & beyond. Read more about the Unified Family Experience and how it can help your school today.
Integration Questions & Support
How can I see an example of the integration in action?

Review this webinar, SchoolsBuddy Integration with ManageBac, which showcases the link between the two systems. It includes a real school case study.
Visit the SchoolsBuddy website to find out more or to schedule a demo!