What is Vantage Reader
For any school, providing feedback and annotations directly onto submitted student work is a vital part of day-to-day operations. With more work being submitted virtually, ManageBac offers an easy solution.
How to annotate on ManageBac
Navigate to Annotation Tool
Once students upload work for tasks on ManageBac, teachers will be able to view their files and annotate directly on ManageBac. If the ManageBac Dropbox is enabled for the task, students can submit their work here and a "View File" icon will appear as soon as the student submits work: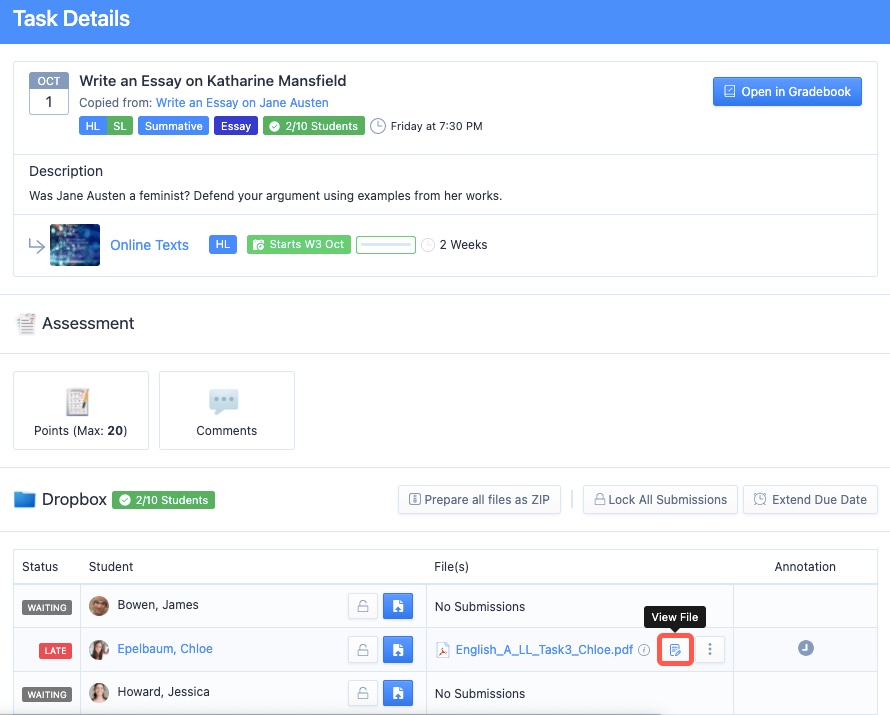 Clicking on that icon will take you to the uploaded file in the annotation tool where the file can be directly annotated.
Customise Thumbnail View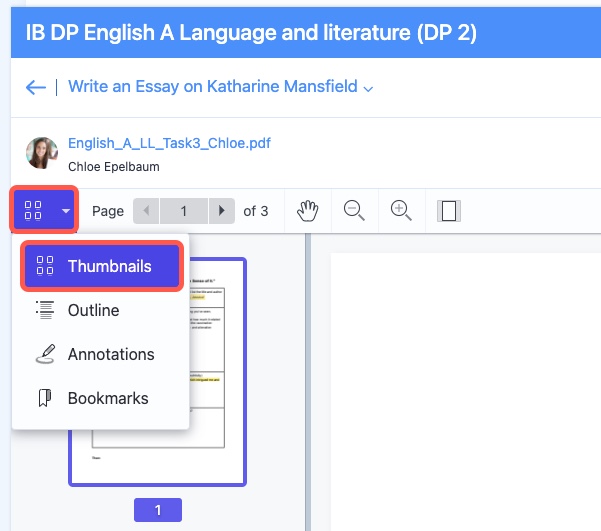 Toggle the Thumbnail button to view or hide multi-page document thumbnails to easily navigate between pages. View Bookmarks to skip to any bookmarks added to the documents, or organize by Annotations.
Click on the back or forward arrows to navigate between pages, or click on the - or + magnifying glass to zoom in or out of the document.
Freehand Draw or Highlight
Draw anywhere on a document. Move, resize and change appearance — including color, thickness, and opacity. Select the Highlighter tool to highlight either text, or freehand highlight on the page.
If you make an error, click on the Eraser button to remove the drawing or highlights.
Insert Digital Signatures

Select the Signature button to draw your signature anywhere on your document. You can also store the signature for future use.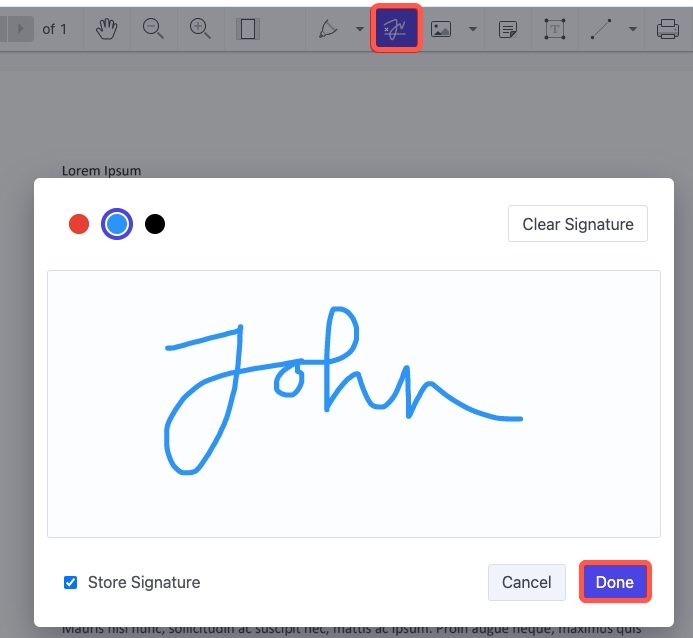 Insert Images or Stamps
Insert images, or place stamps on a PDF with our predefined stamp templates. You can also let your users create their own using the stamp annotation builder.

Add Notes, Text Boxes, or Shapes

Use the Notes icon, the Text box icon, or the Shapes icon to insert any of the above into your document.
Use Document Editor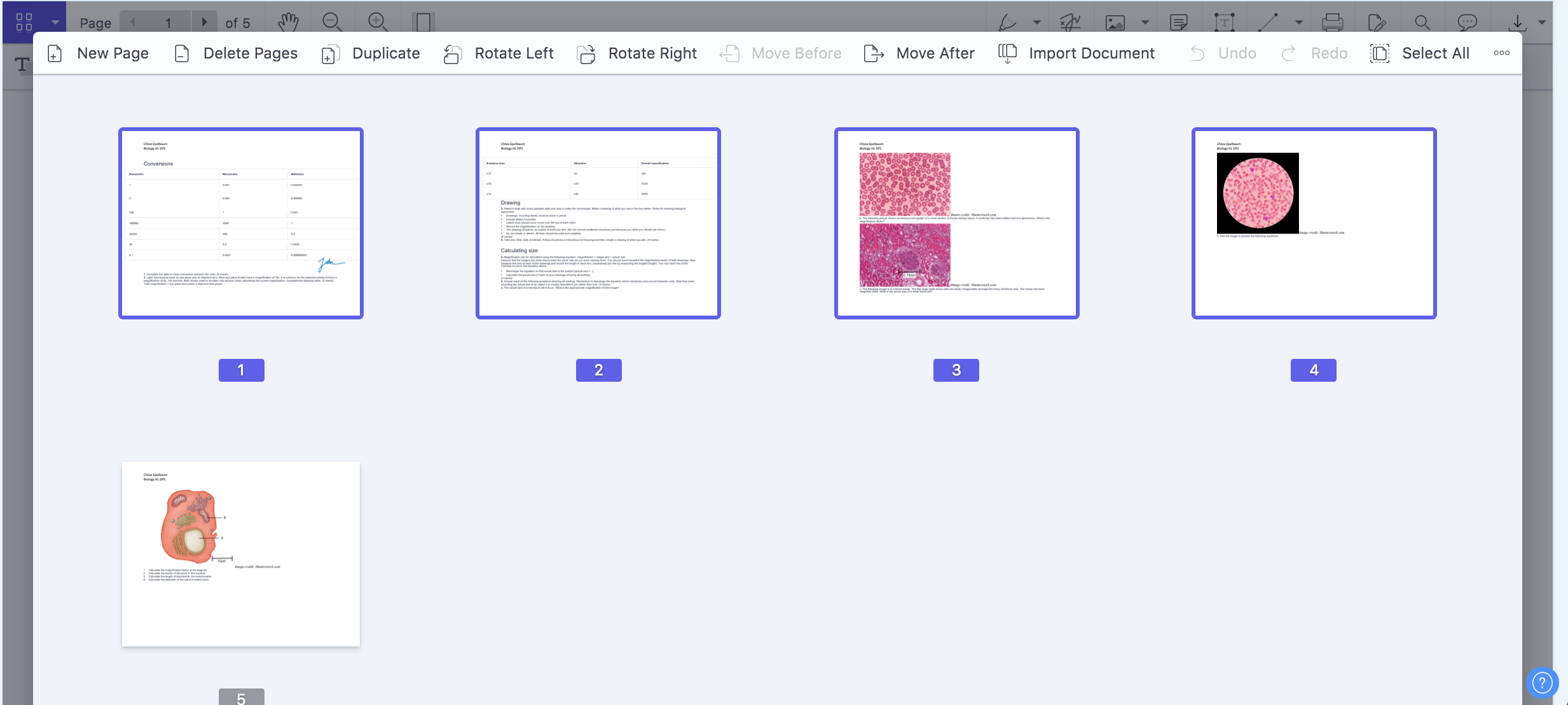 Add new or delete existing pages, duplicate pages, or rotate pages as needed. You can also move documents to rearrange the order. Import additional documents to insert more pages.
Document Search

Search the entire document by keyword to skip to any section. Adapts to both mobile and desktop, with intuitive keyboard shortcuts.
Export Document to PDF

Export the (annotated) document directly from ManageBac with the newly added Export feature.
Comment and Create Comment Threads

Build collaborative workflows where multiple users can discuss specific sections in a document and receive responses in real time. Comment anywhere on the document - the comments will appear on the side of the page.
Download Annotations

Download the original document, the document with full annotations, or the document where the annotations are anonymized.
Additional Resources
Note: If annotations are disabled, teachers will see the notice "Document preview isn't enabled" in their split-screen gradebook view.