Name, Address & Logo
Via Settings > School Settings > Name, Address & Logo, you can configure the general settings of your ManageBac account:
School Name - The name of the account on the login page, header and in report cards.
Default Language - Sets the User Interface language for all users (from English, Spanish or Chinese). Users can individually set this via their personal Profile settings.
Additional Languages of Instruction - Enabled languages will permit classes to be set as taught in this language, as well as selected on Plans worksheets.
Grammar Checker Language - Choose from US or British English, or to disable
Country, City and Address details, which appear on generated Report Cards
Time Zone - Used as a default for Attendance notifications
Phone Number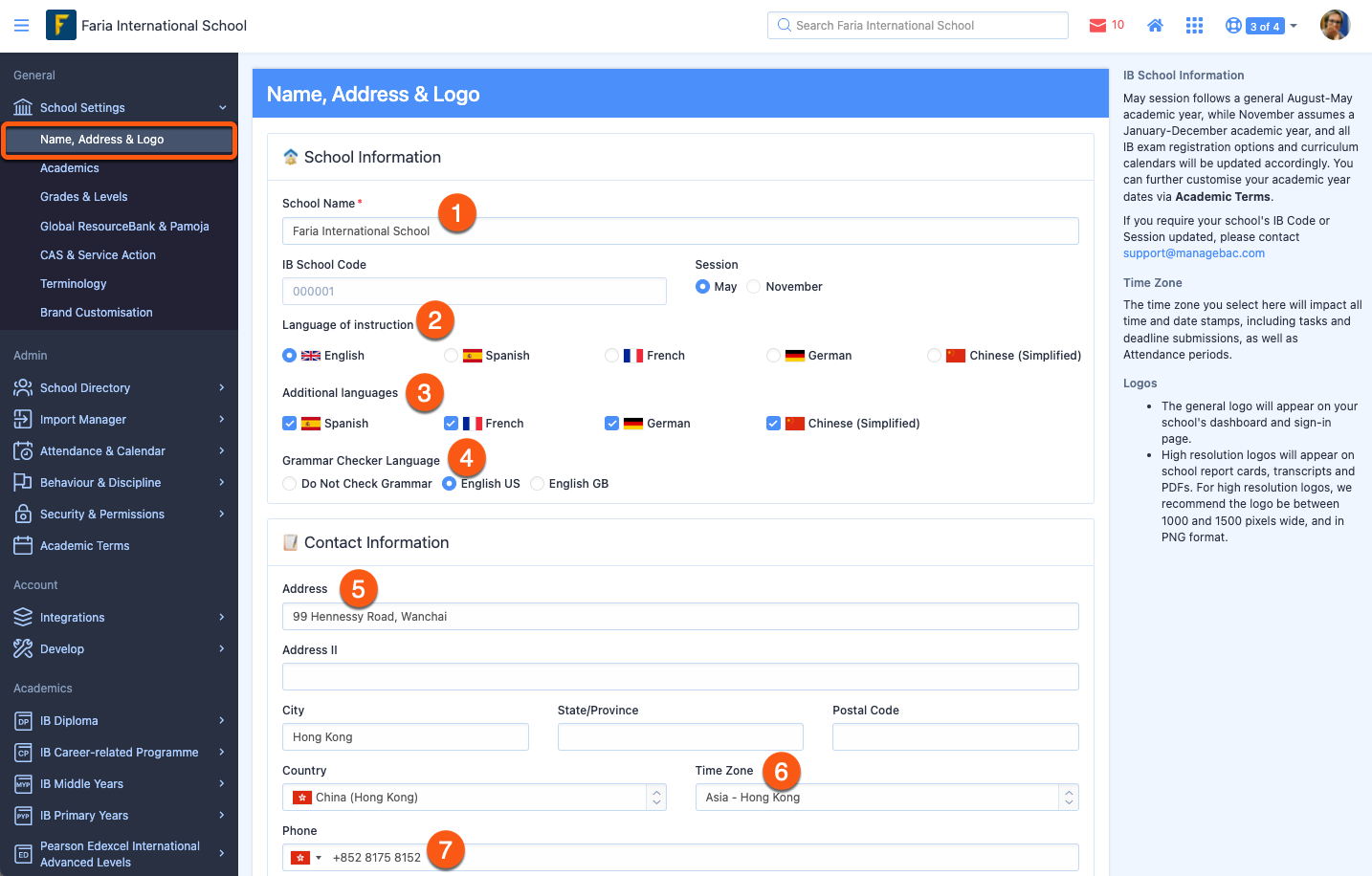 Note: IB School Code and Session (May or November) cannot be changed. If these need to be updated, please submit a support request.
Upload School Logos
School Logo - Displays on your school's Login page.
Top Navigation - Displays to the left of your School Name on all pages
Print Logo - High resolution logo that displays in generated PDF Report Cards

Choose from a Normal 30% width or Full Size 100% width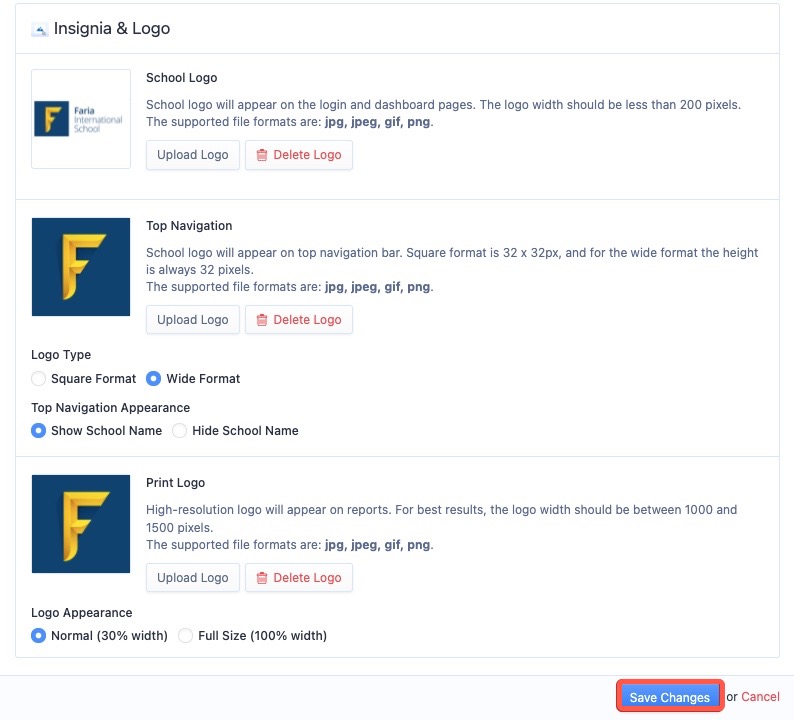 Note: Image formats supported include JPEG & PNG, and the max file size is 20mb.
Academics
Curriculum Programmes
Via Settings > School Settings > Academics, you can view your enabled programmes, and customise your National Curriculum programme names and labels.

Note: If you wish to enable an additional programme, please submit a support request.
Key Academic Functions
Enable Classes to take advantage of unit planning & gradebook features
Enable the Parents Association, a default parents group that all parent users are added to automatically. Here you can send messages and notices to the Parent community exclusively. Read more about Managing the Parents Association.
Enable Annotations to use the Vantage Reader on task and deadline submissions. Read more about Annotating Student Work.
Select your Term Grades calculation option. Read more about Configuring Gradebook Calculations.

Use Percentage Weights

When using percentage weights the task categories are given a weight that totals 100%.

Use Percentage Wights with Points-based averaging

Points-based averaging will take the total number of points achieved within a category and divide it by the maximum number of points available to find the average for that category.

Use Absolute Weights

When using absolute weights the task categories are given a weight from 1-100 whose total can exceed 100 and is not based on percentages but on the absolute values.

Set your Grade Behaviour for when students move across year groups.

Match Group Grade - The student will take the grade level of the year group.
Eg Grade 8 student added as a member into a Grade 9 year group, they will take on the Grade 9 grade level status.
Match Group Grade if Blank - The student will only take the grade level of the year group if they do not have a grade level. This could be used if you have students in accelerated year groups, but need to keep their defined grade level.
Eg Grade 8 student moves into a Grade 9 year group, they will remain with a Grade 8 grade level status. However if a student without any grade level is added, they would take on a Grade 9 grade level status.
Preserve Grade - The student will keep their defined grade level always.
Eg Grade 8 student moves into a Grade 9 year group, they will keep the Grade 8 grade level status.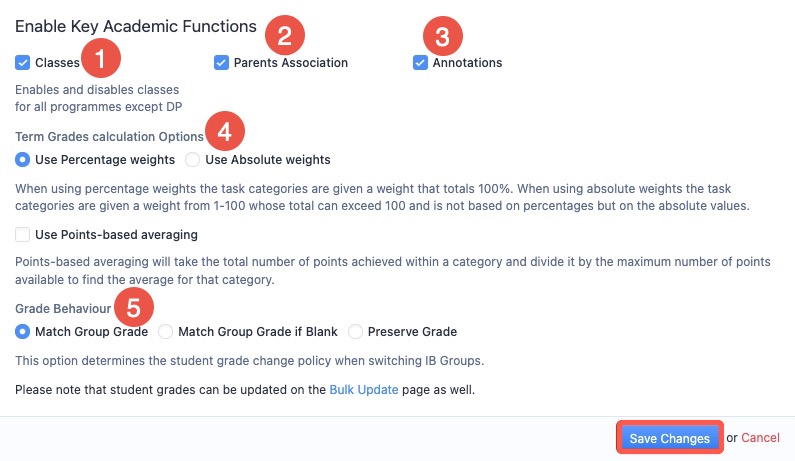 Note: Students defined grade levels can be updated via Settings > School Directory > Bulk Update. Students year group memberships can be updated via Settings > School Directory > Memberships.
Global ResourceBank & Pamoja
Via Settings > School Settings > Global ResourceBank & Pamoja, enable imports or contributions to the Global ResourceBank and request or cancel integrations with Pamoja Online Learning solutions.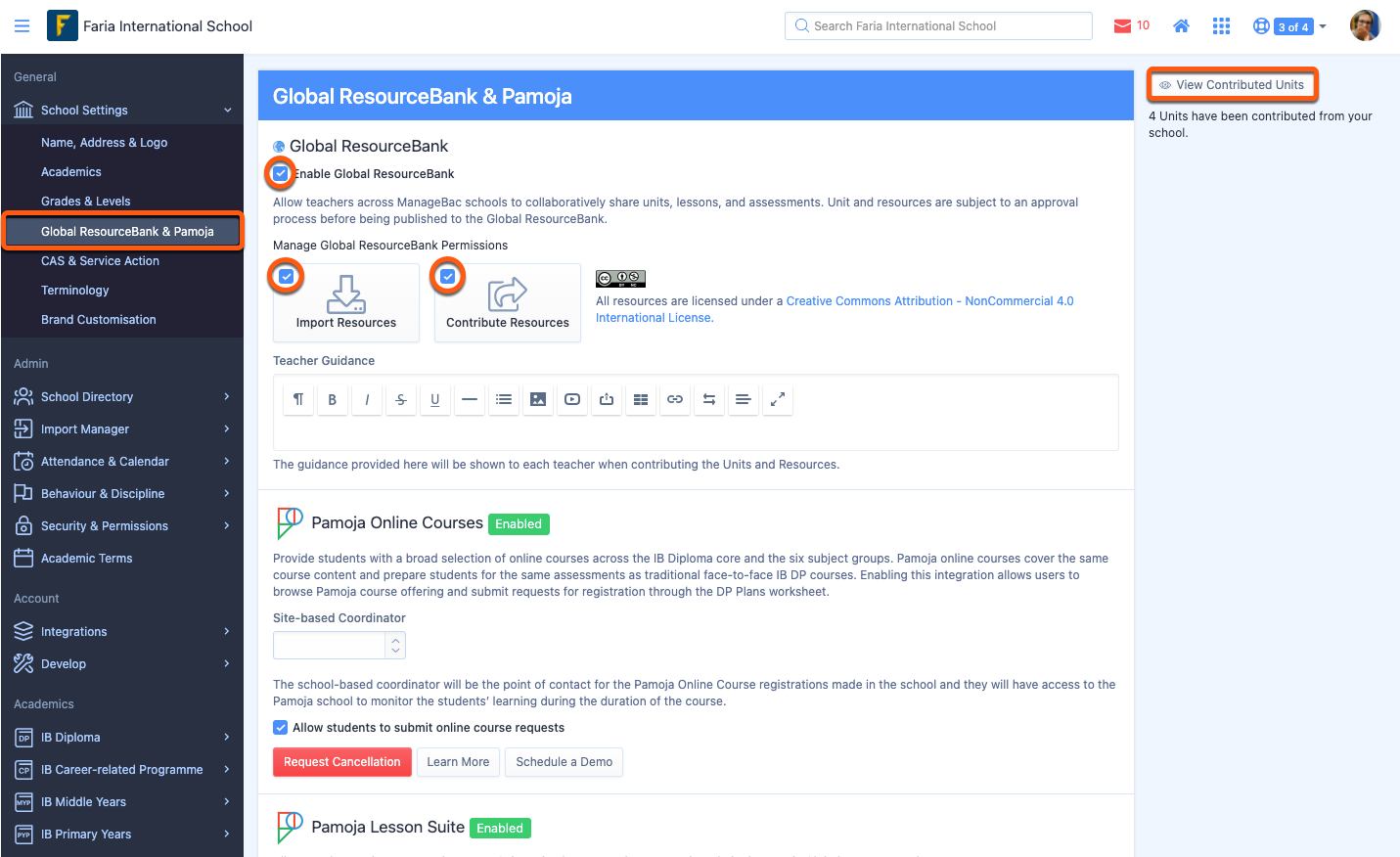 CAS and Service Action
Via Settings > School Settings > CAS & Service Action, edit the guidance for students and supervisors. You can also allow activities to be marked as Complete and locked if a supervisor has submitted a review that the activity was completed successfully.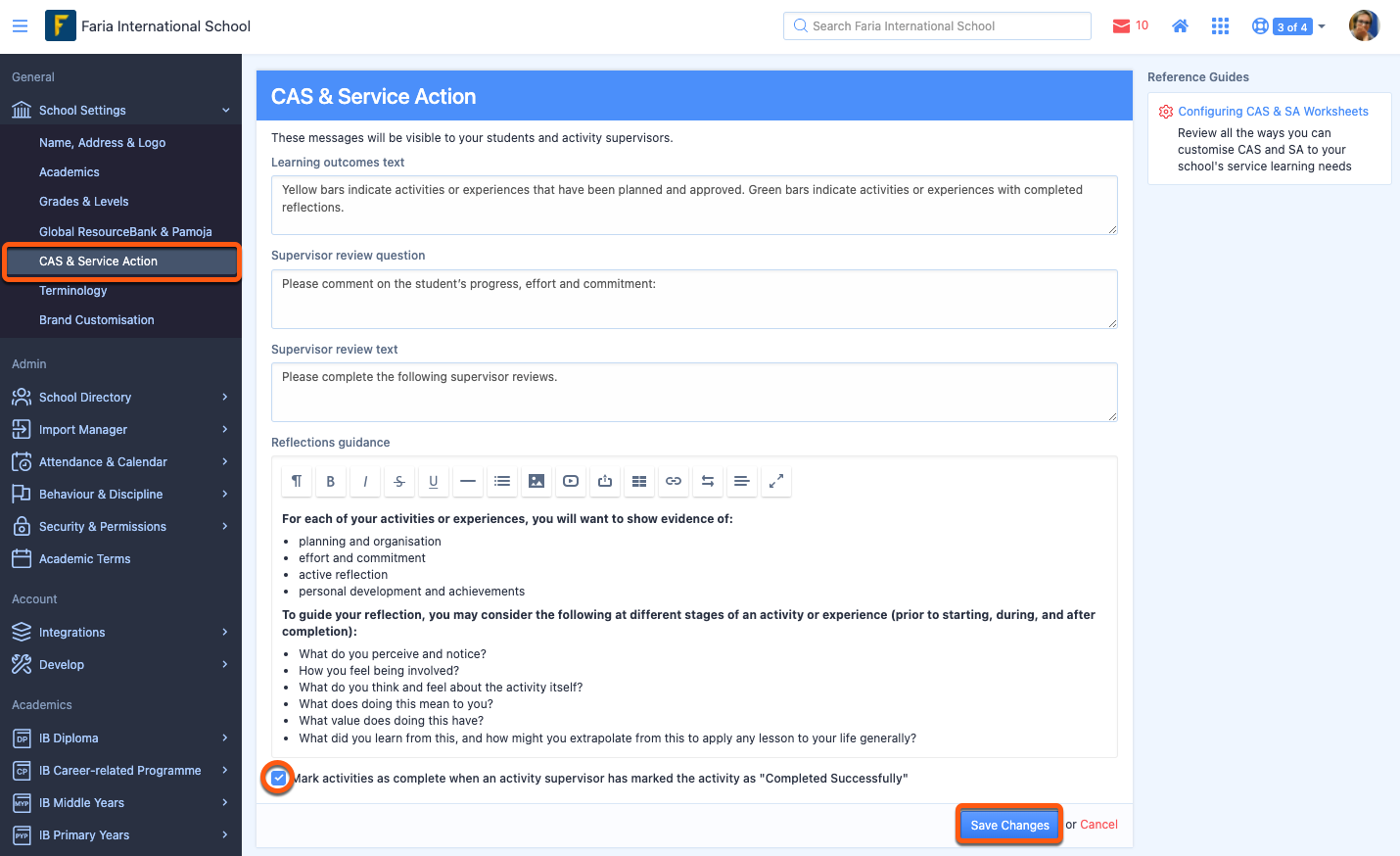 Terminology
Via Settings > School Settings > Terminology, customise specific titles besides the generic default titles we have provided.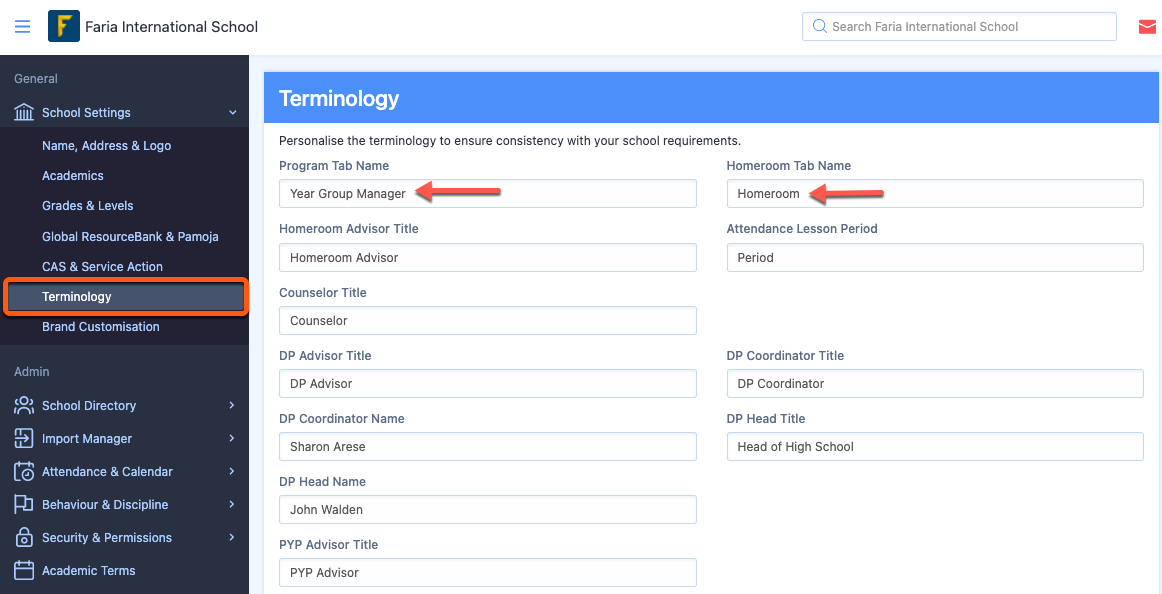 Note: Our tutorials use the default terminology, your ManageBac account may appear differently from the ones shown in the tutorials.
Customize your School Themes & Login Page
Set Default Landing Page (1) and Theme (2) for all users via Settings > School Settings > Brand Customisation.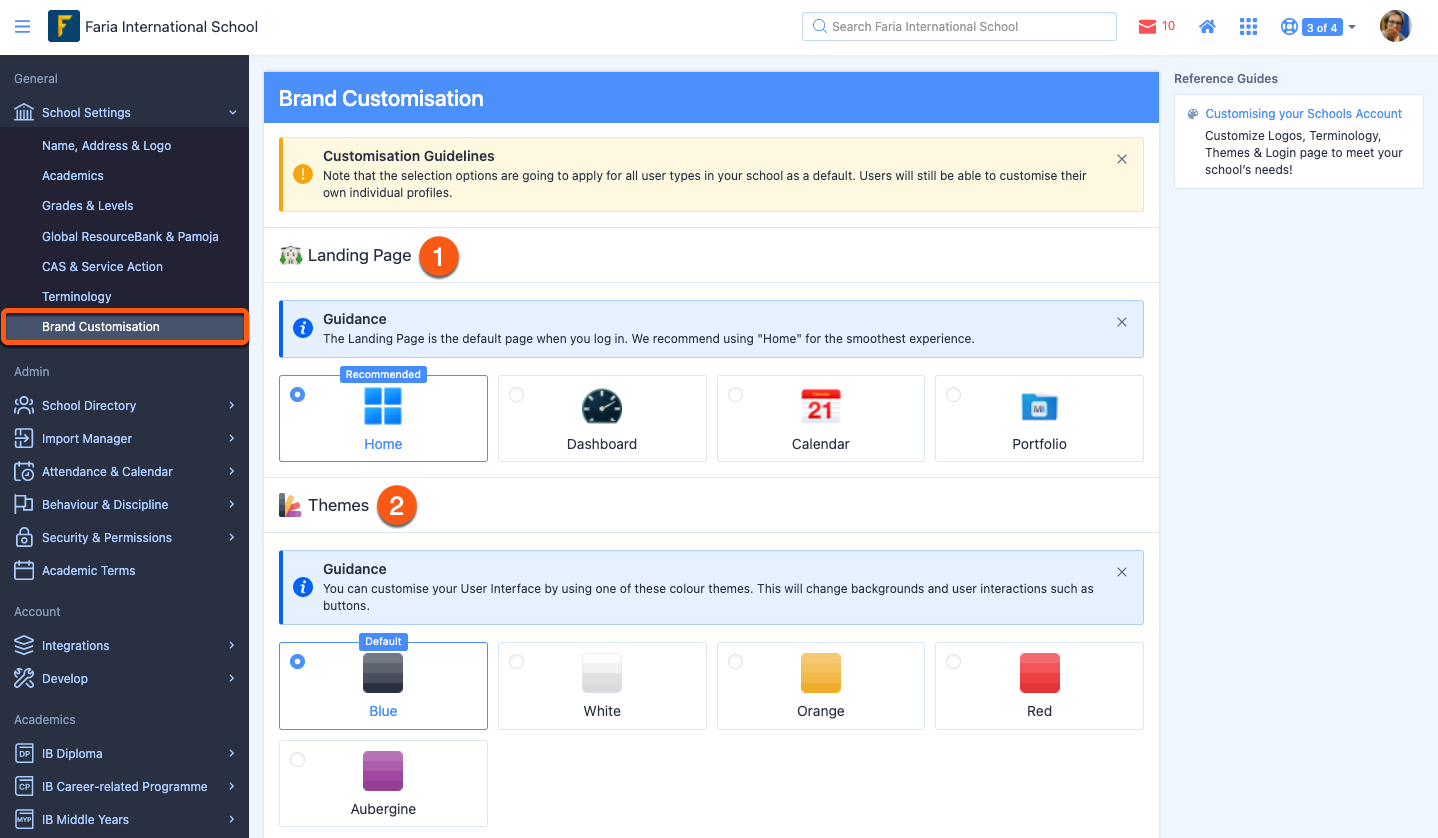 Administrative level users can change the default theme colours for all users via Settings > School Settings > Brand Customisation. This will then show the selected default theme for all users who have not selected a different than the default theme. Changing the selected Theme will change all user themes to the now selected Theme.
Via Settings > School Settings > Brand Customisation, you can set a default Home Menu Wallpaper (3) or configure the background of your school login page (4).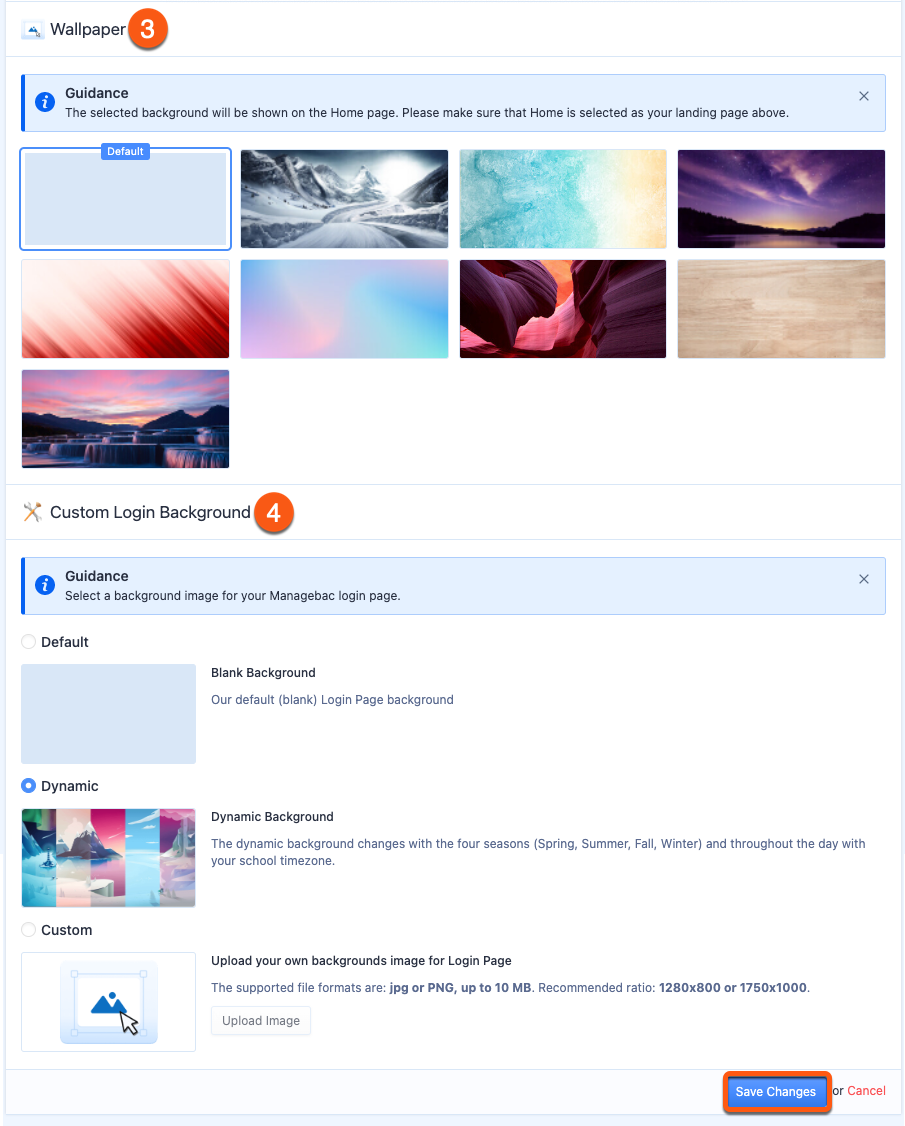 You can enable the Default Login background, choose Dynamic Backgrounds we provided, or upload a Custom file. Click
Save Changes
when complete.
Note:
The background and login box are independent of each other, and will appear differently depending on the size of the browser window. As the background adjusts depending on the browser and device the user is viewing from, we do not specify an exact recommended size.
The ratio you might like to stick to, would be the general settings offered by your browser or computer, such as 1280x800 (the templates we provide are in this ratio), or alternatively 1750x1000.
Personalise User Interface
Via Profile > Personalisation
Users can change their Landing Page, Theme, Left Navigation Menu, and Wallpaper of their ManageBac accounts via the Profile Personalisation page.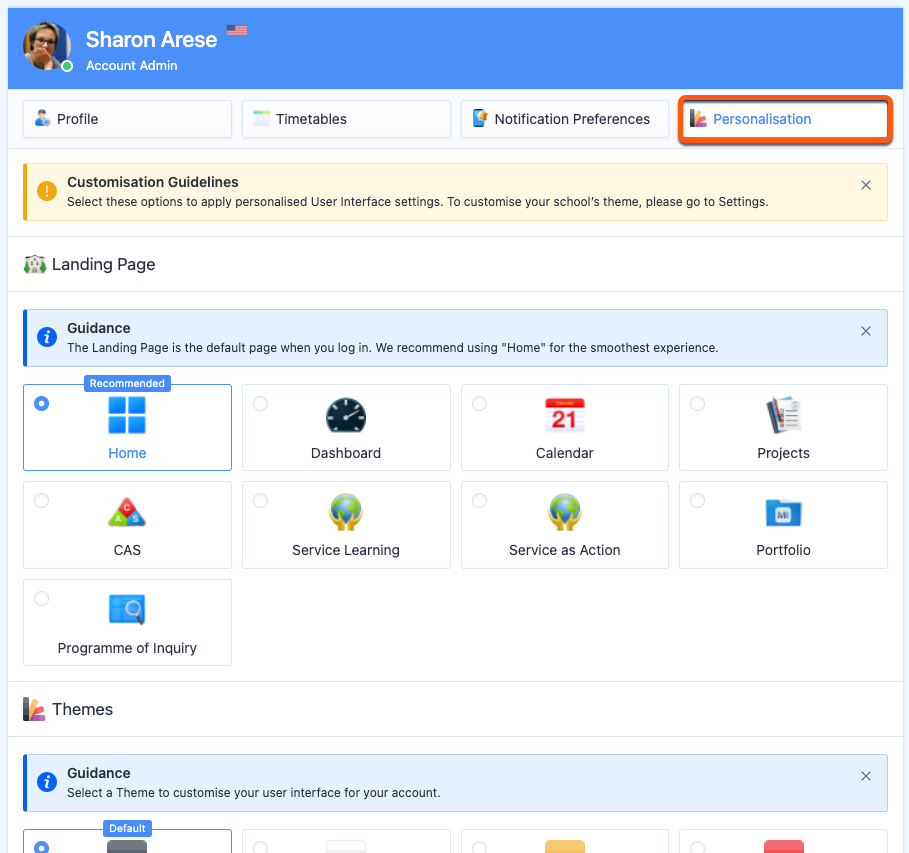 By default, all user themes will default to dark blue or a school selected theme. The Landing Page will default to Home Menu or a school selected default Landing Page.
via Personalisation > Left Navigation
Users can choose between the existing Classic Left Nav or the a new Minimalist Left Nav.

The Minimalist Left Nav:

The Minimalist Left Navigation menu has a few changes:
Home has its own dedicated button

Shortcut keys to certain pages (e.g. 'H' for Home, 'C' for Classes Roster, 'Y' for Year Groups Roster)
To access the Class, Groups or Year Groups roster you no longer need to click on the "See all …" button. Instead, you can click on the header row itself (highlighted below)
The Classic Left Nav:
Configuring Quick Links and Custom Folders for Home Menu
Via School Settings > Quick Links

Use the Quick Links page to create custom Links folders or configure which Quick Links will be available in the Home Menu for Students, Teachers and Parents.
Configuring Quick Links for Students also allows schools to determine for which grade levels they want to make these links available.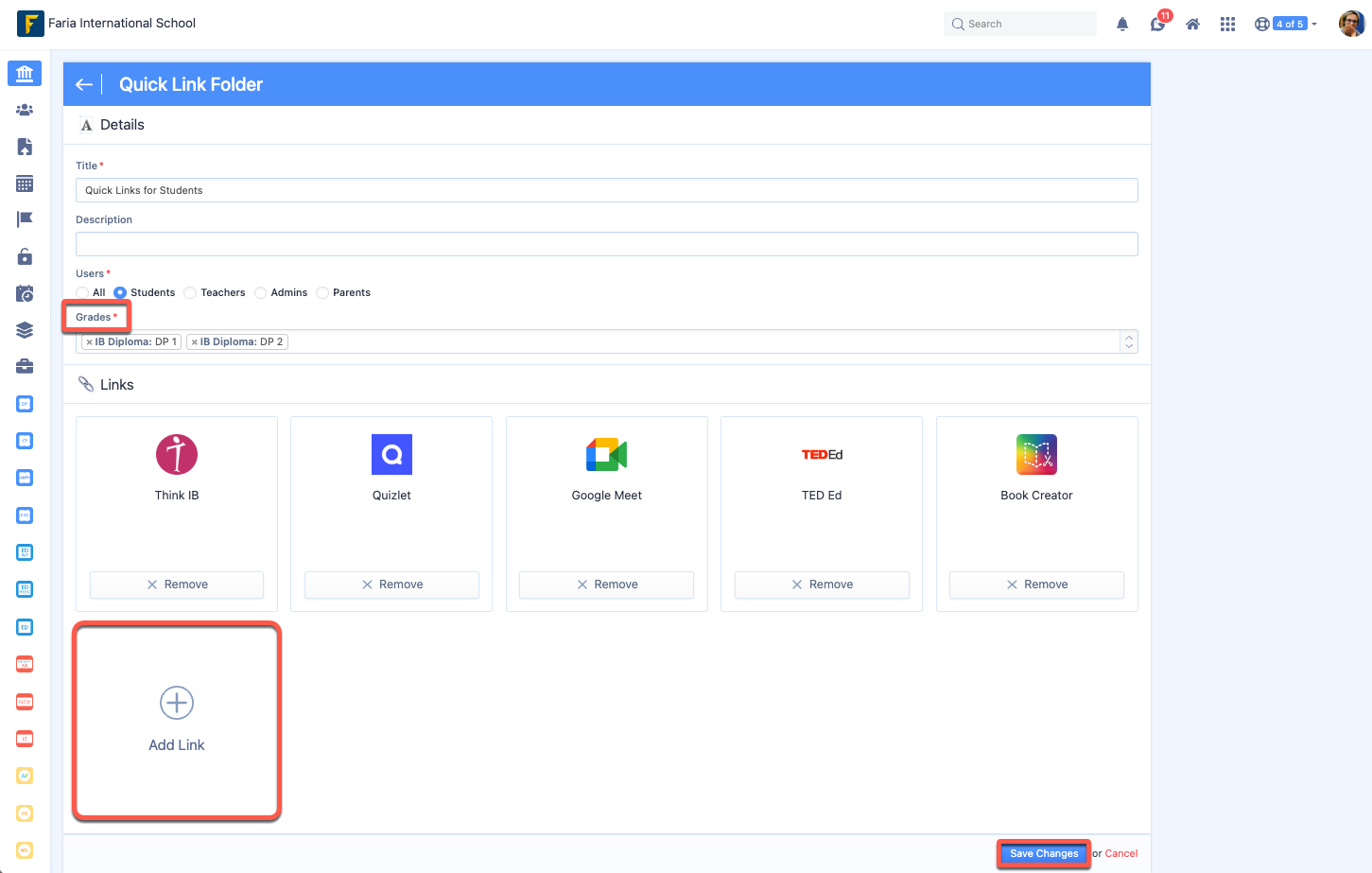 Use the Add Link tile to create additional links or remove already existing ones with the Remove button. Click Save Changes to store the updated links for the selected user group.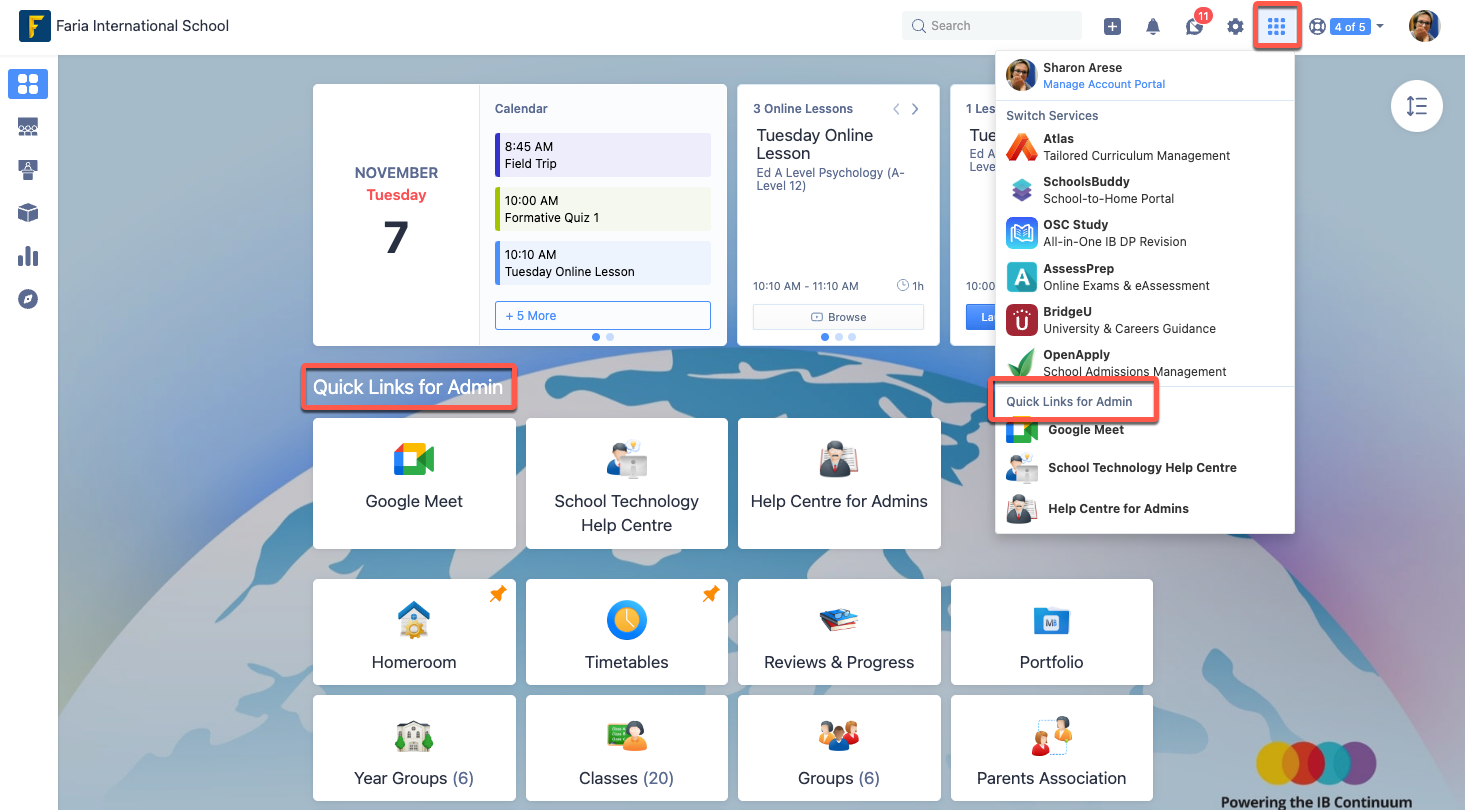 Configured Quick Links will appear on the Home Menu page and via the 9-tile Launchpad menu.
Configuring Grade Levels for each Programme
Click Grades & Levels to customise the labels of your grade levels, as these may be called something different at your school (e.g. Grade 11 & 12). You can also disable or enable to suit the number of grade levels you wish to support on ManageBac.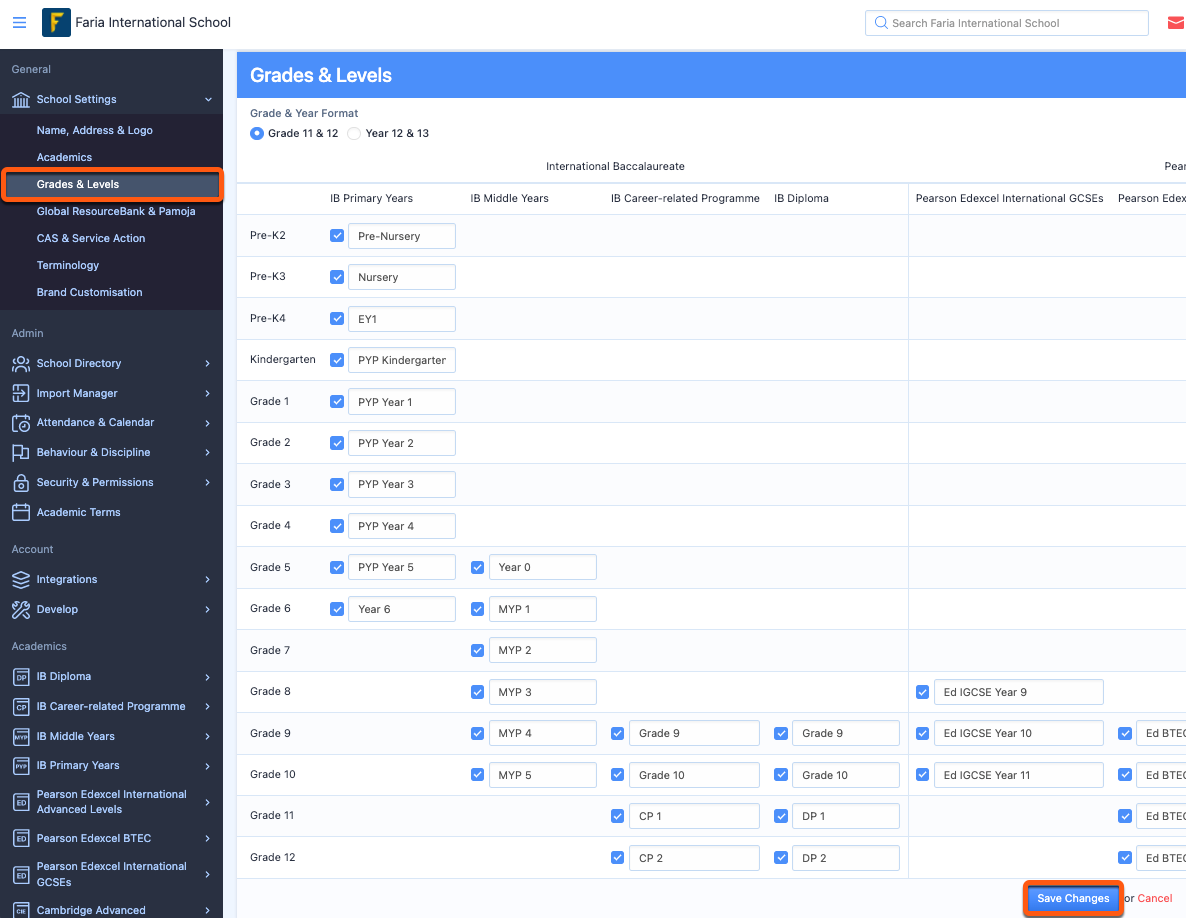 Configuring Academic Years and Terms
Via Settings > Academic Terms
Navigate to Settings > Academic Terms > select Programme > click + Add New Academic Year.

When adding an Academic Year, configure each Term Name, Start and End date. You can also click Add New Term or Remove to add or remove terms.
Click Add Term set when complete.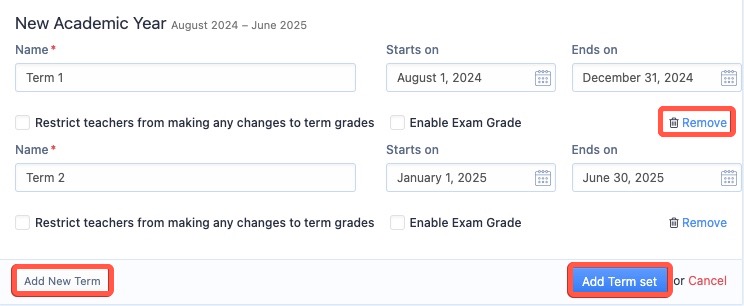 Tip: As academic term dates are not visible to students or parents, but are used to group tasks within the gradebook, we recommend they are set to be continuous (i.e. they should be inclusive of your school holidays in order to avoid gaps between terms).
Note: An academic year will not update to "Current" until the start of the first academic term in that academic year. When the new academic year becomes "Current", your tasks that fall within those dates will display in the unit planners, and your attendance settings for the academic year will come into effect.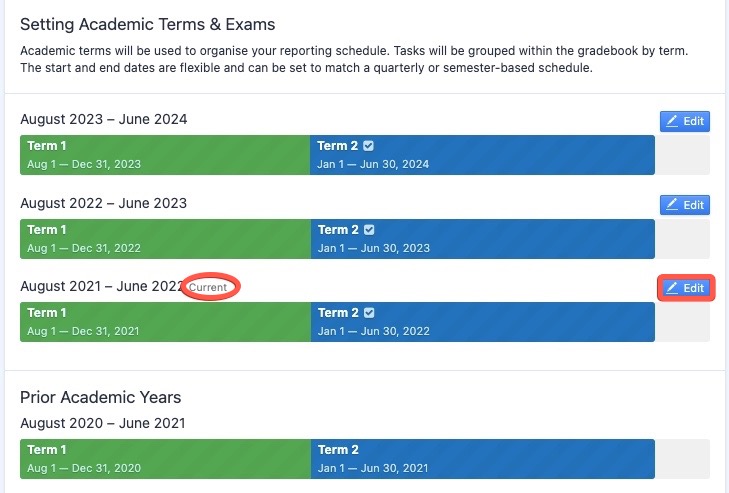 Editing Terms
Future Academic Terms can always be edited by clicking the Edit button.
Past Academic Terms are locked by default and restricted from deletion, in order to preserve historical records. If you need to edit/delete or lock/unlock prior years terms, please submit a support request.
Term Gradebooks
Term gradebooks can be locked or unlocked via clicking Edit on the respective academic year > check/uncheck "Restrict teachers from making any changes to term grades".
Optionally enable a default "Exam Grade" field in your class gradebooks.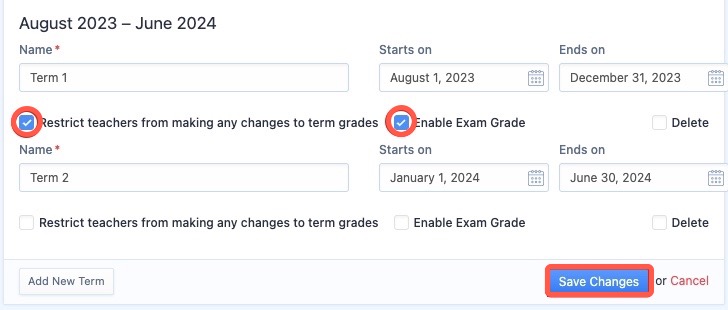 Uploading Academic Guides and Handbooks
Academic Guides provide relevant information that the school wishes to share with its students. Admins can add guides via Settings > Select Programme > Guides.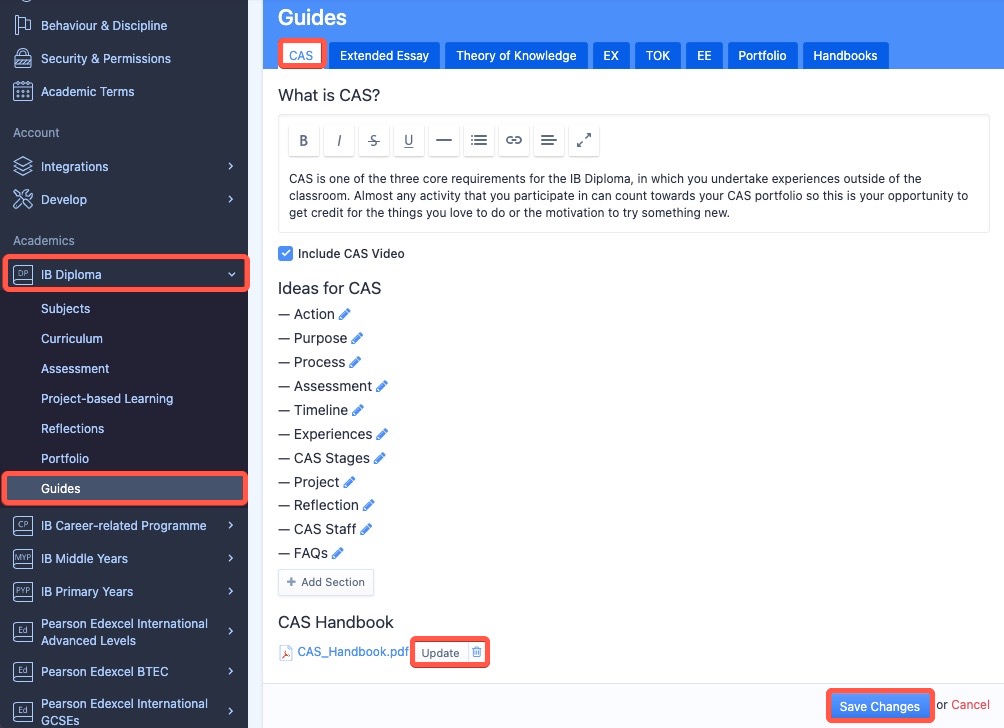 Via the service learning (CAS/SA/SL), core (EE, TOK) or project-based learning tabs (PP/CP/PBL), you can upload relevant guides, as well as customize guidance for your students.
Via the Handbooks tab, you can additionally upload programme generic handbooks (Diploma, Middle Years etc) as well as for Parents.
To upload your handbook, click Choose File under the relevant heading. Select the handbook from your computer and upload it. To replace a pre-existing handbook, click Update, or click the rubbish bin icon to Delete it. Once you have finished choosing your handbooks, click Save Changes at the bottom of the page.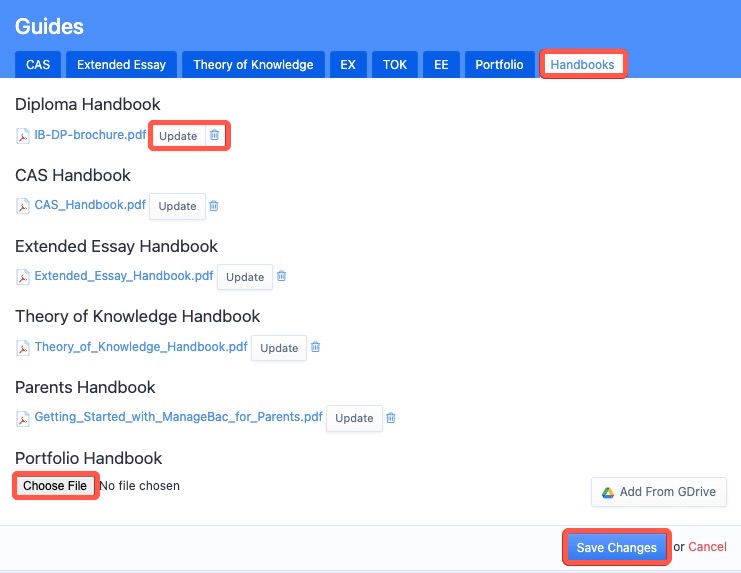 Note: Supported file types include Word or PDF documents.
Student Access to Handbooks
Students can navigate to Year Group Manager > Files, and any academic handbooks that have been uploaded for their respectively programme, will appear as links under the right-hand side Handbooks. Download a handbook by clicking on it.

Parents Access to Handbooks
When Parents log in to ManageBac, they can see if a parent handbook has been uploaded for their child's programme from their Dashboard right away. It will appear as a link under the Guides section on the right-hand side. Download a handbook by clicking on it.