Reviewing Project Progress
Via Projects Worksheets > Project Roster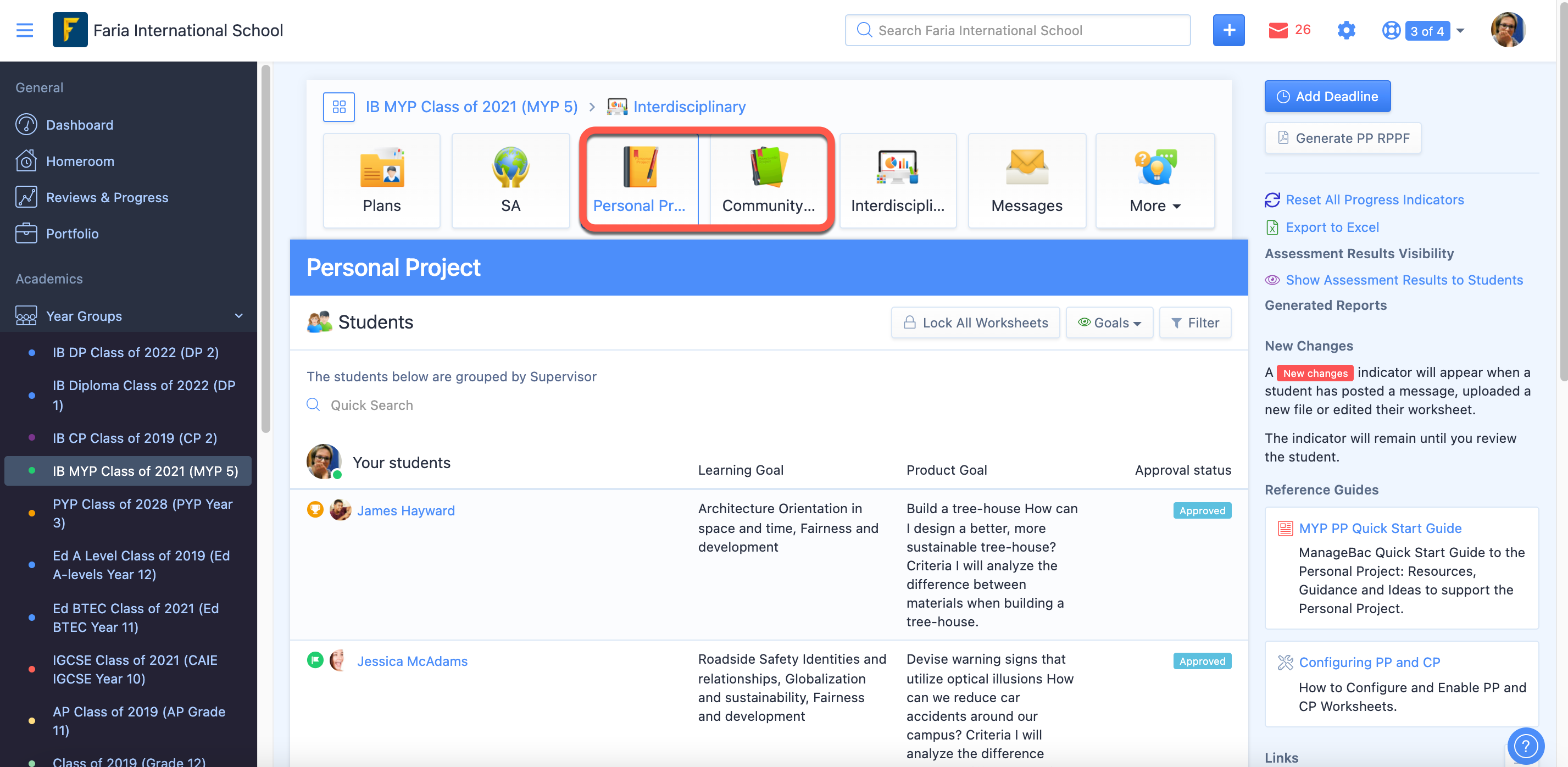 As a Personal Project Coordinator or Supervisor, you can review the status of your students via Year Groups > select your MYP year group > Personal Project or Community Project.
The default roster view displays a list of the students Proposals assigned by supervisor with their status (Excellent, On-Track, Concern, TBD), learning goal, product goal and approval status (Needs Approval, Approved, and Complete).
The New Changes tag appears here if the student has edited their worksheet, posted a message or uploaded a new document. The indicator will remain until you review the student.

Filtering your Roster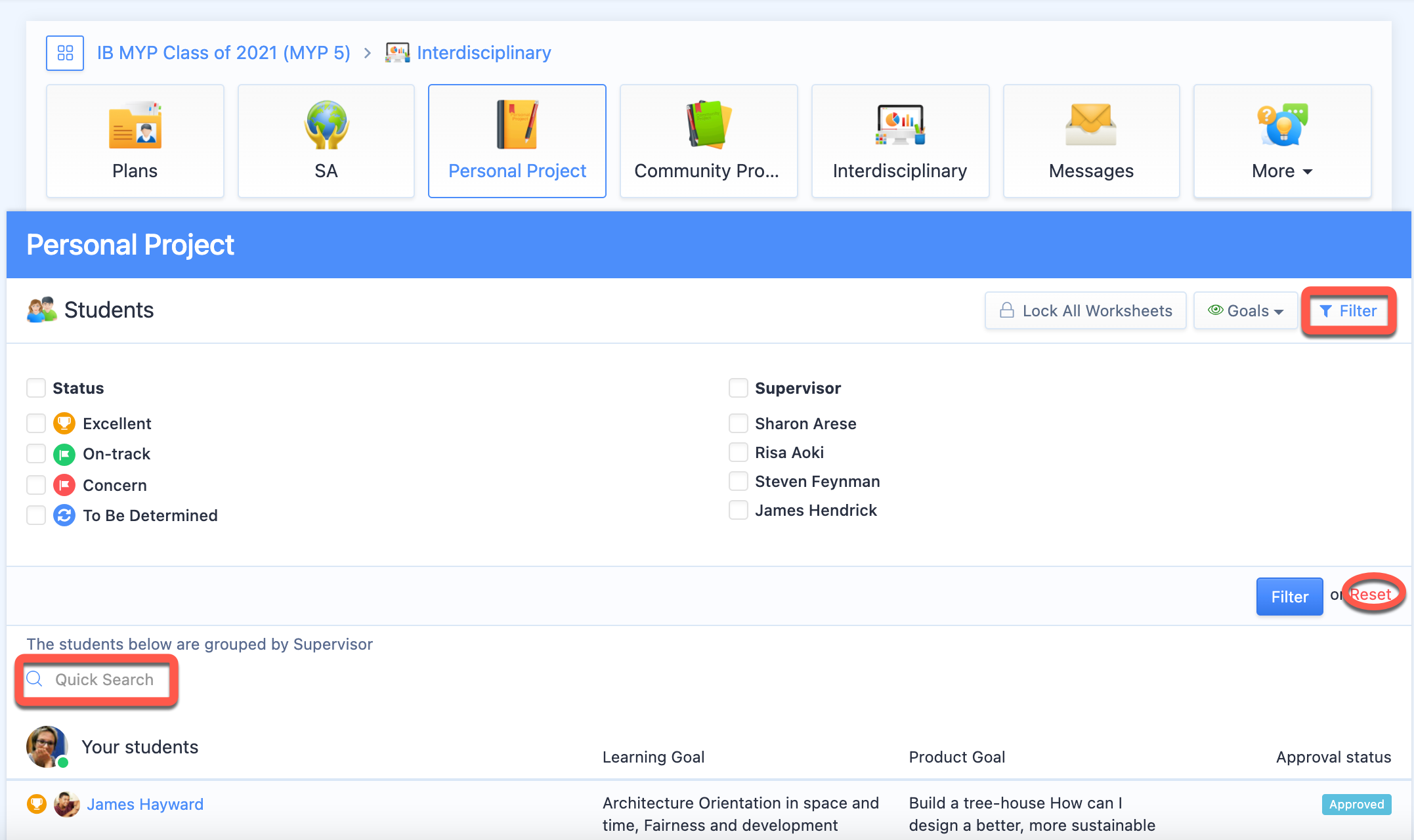 Click Filter to open the filter options. Here you can filter by status or supervisor, click the blue Filter button to Save Changes. To remove the filter, click Reset.
Use the Quick Search field to find particular students by typing their name.
View by Assessment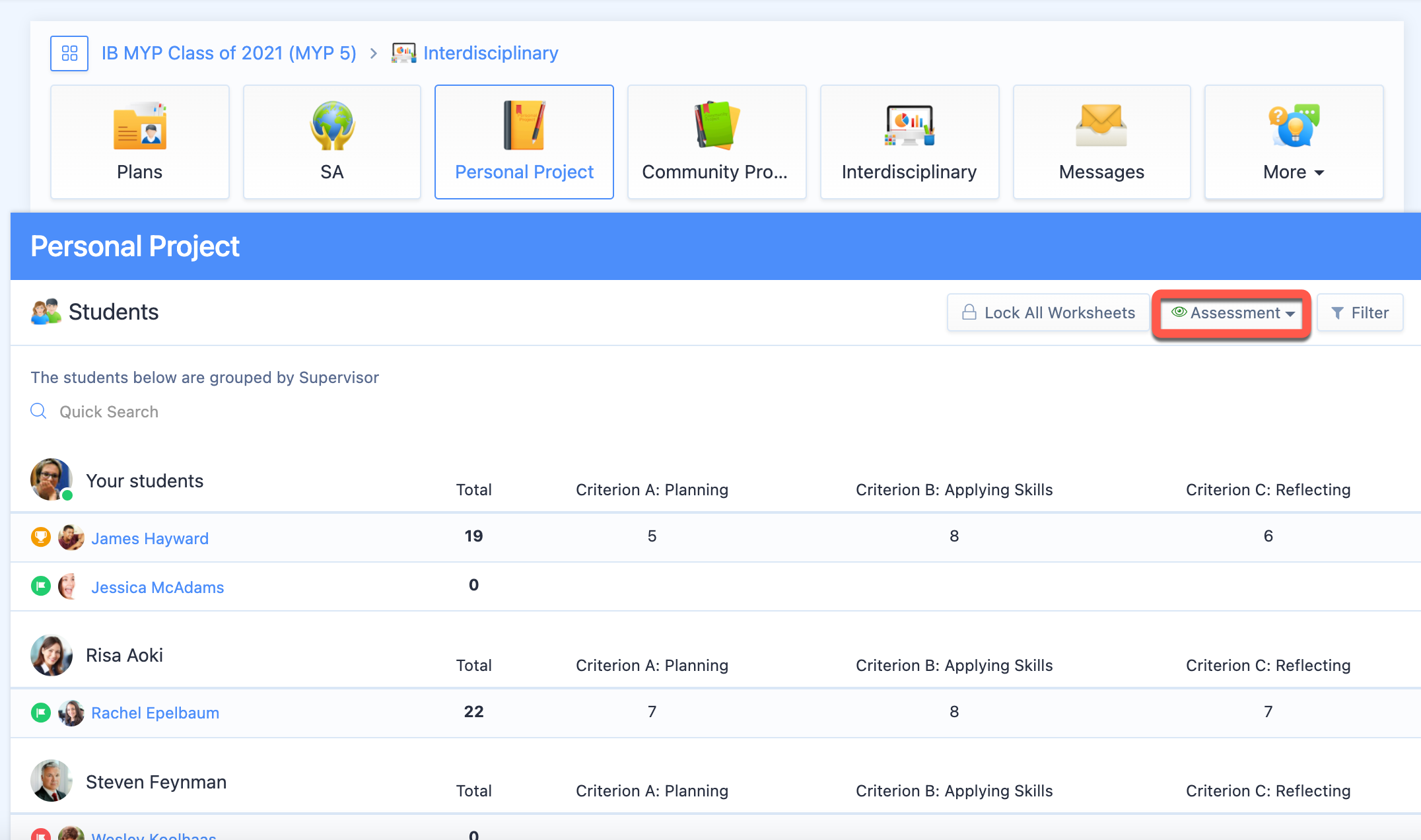 To view progress based on their Assessment, you can filter by Assessment. Students are sorted by their supervisor, with those unassigned at the bottom of the page.
View by Deadline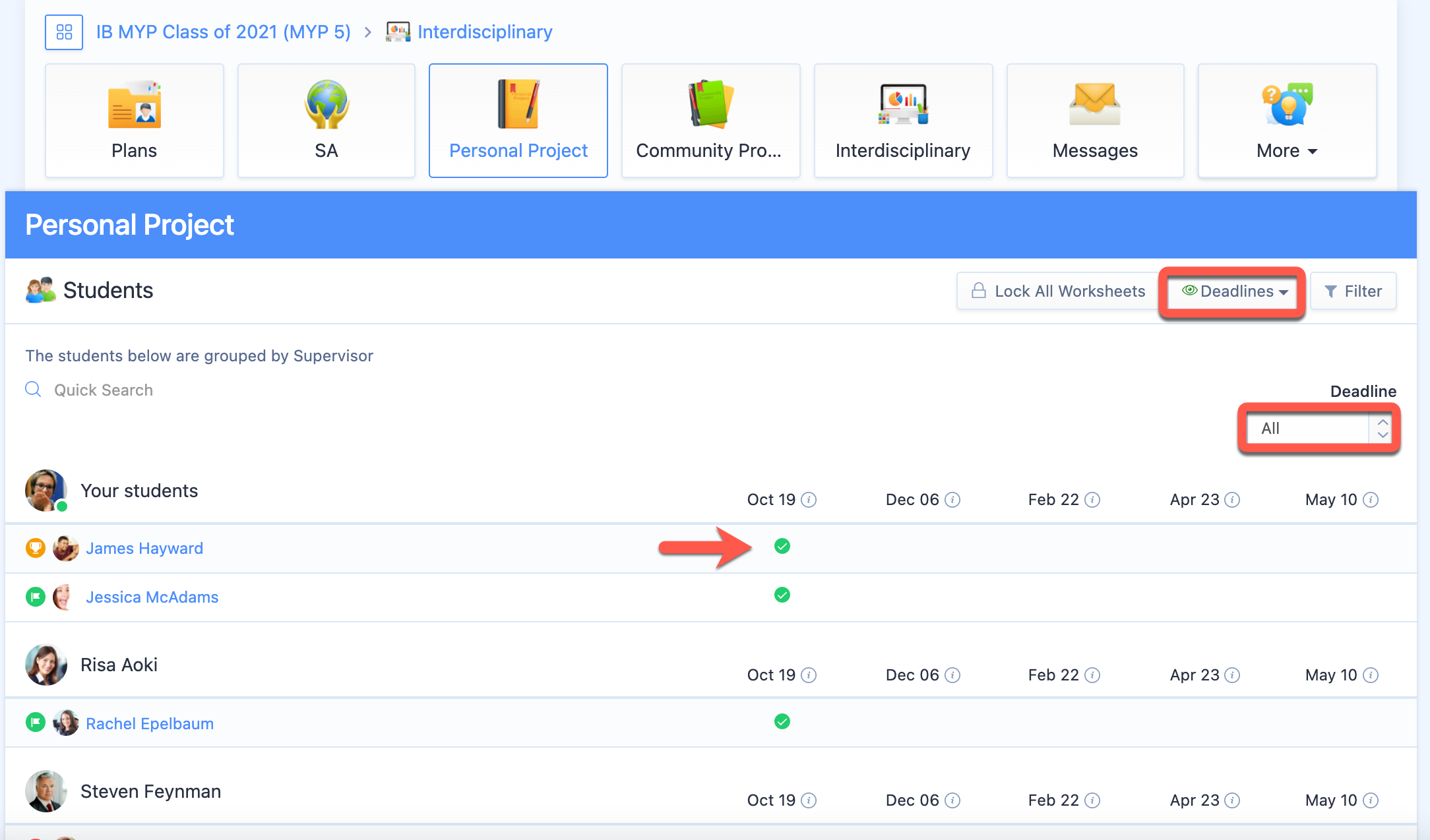 To view progress against a specific deadline, filter by Deadlines.
The Deadlines view allows you to see where each of your students stand relative to the global deadlines that have been set (e.g. submitting an outline, meeting with supervisors, etc.).
You can filter for All deadlines or specific deadlines via the top-right Deadline dropdown. Hover over the i symbol for further details of the deadline. A tick symbol will indicate the deadline To-Do has been checked off.
Via the Personal Project Workspace
By clicking on a particular student, you can view their full Personal Project Workspace. This is where you'll be able to review the proposal, check off completed to-dos, and record comments.
On the right-hand panel, you can mark the student's proposal as Approved and Completed. You can indicate the student's progress via the status dropdown (Excellent, On-Track, Concern, To Be Determined) and see an overview of their assessment grades.
Notes & Interviews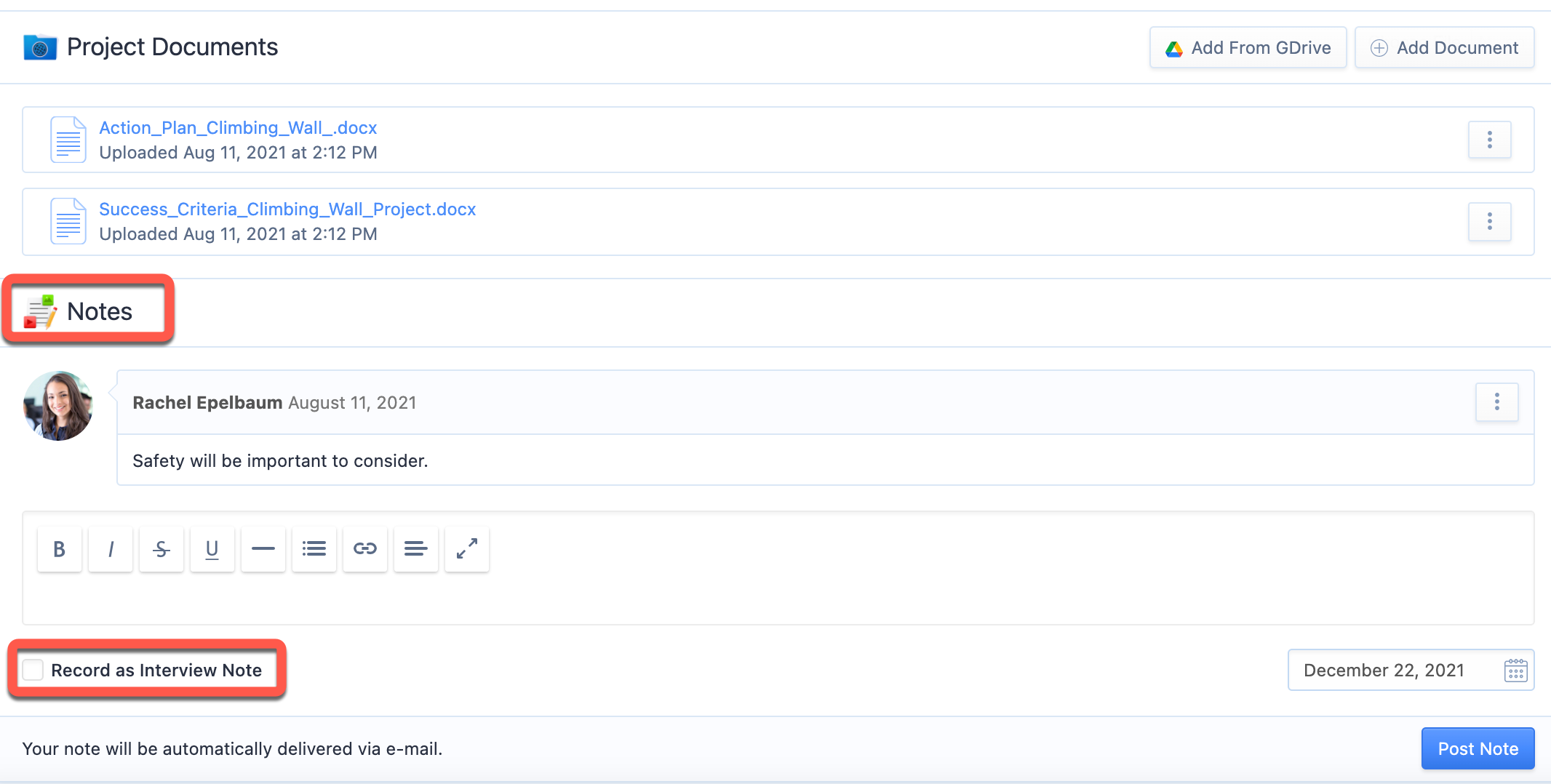 In Notes, you can leave notes for your student by entering text and clicking Post Note.
The note is automatically e-mailed to the student and is also available in their ManageBac notifications inbox. The student can respond to provide a nice back-and-forth on their project. Click the 3 dots next to a note to edit or delete it.
If you tick Record as interview Note, the comment will be marked with an Interview label. By default students, will not be able to view Interview Notes.
Exporting Project Checklist to Excel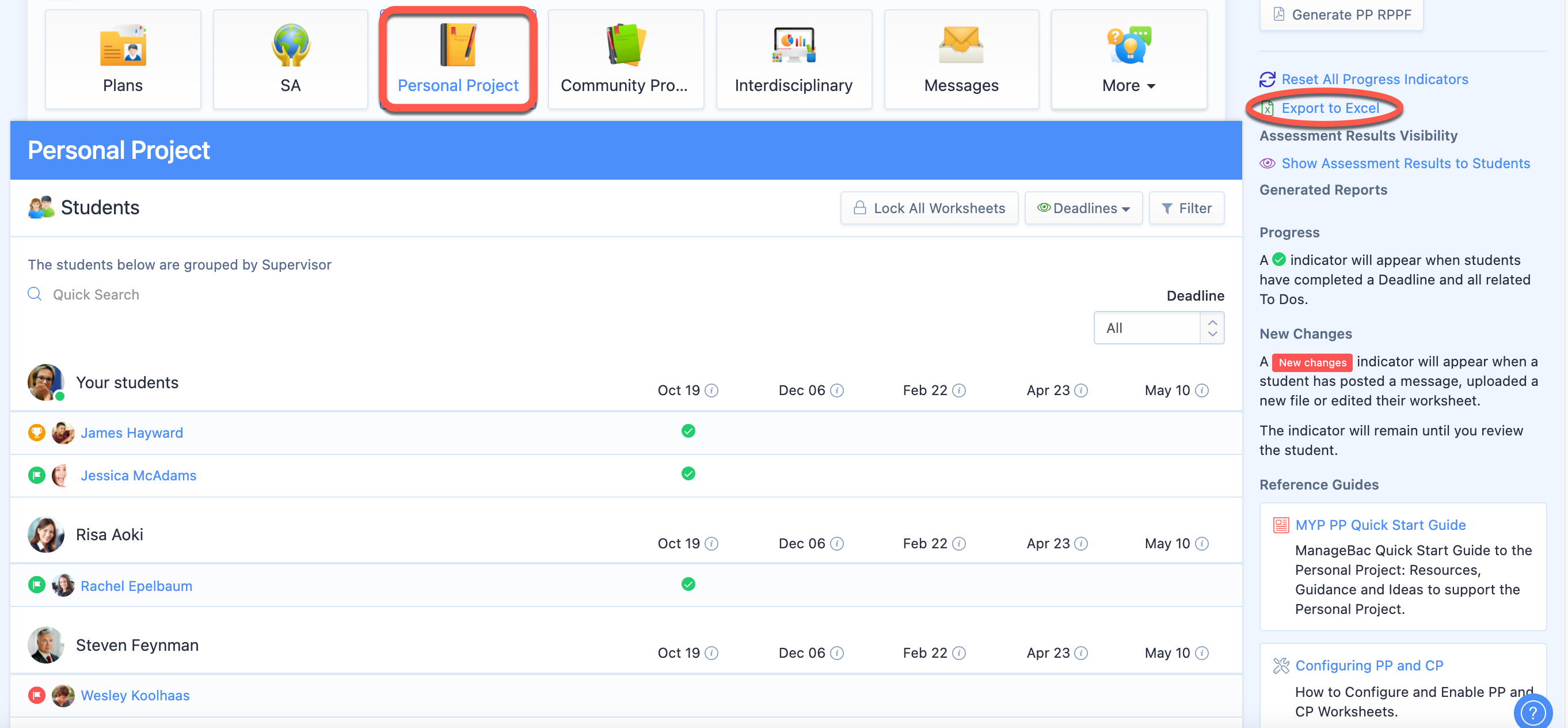 By clicking Export to Excel, you can obtain Personal Project related information in an Excel worksheet, including:
Student Name

Personal Project Supervisor

Learning Goal

Product Goal

Project Status

Assessment
Managing Project Assessment
Via Year Groups > Personal Project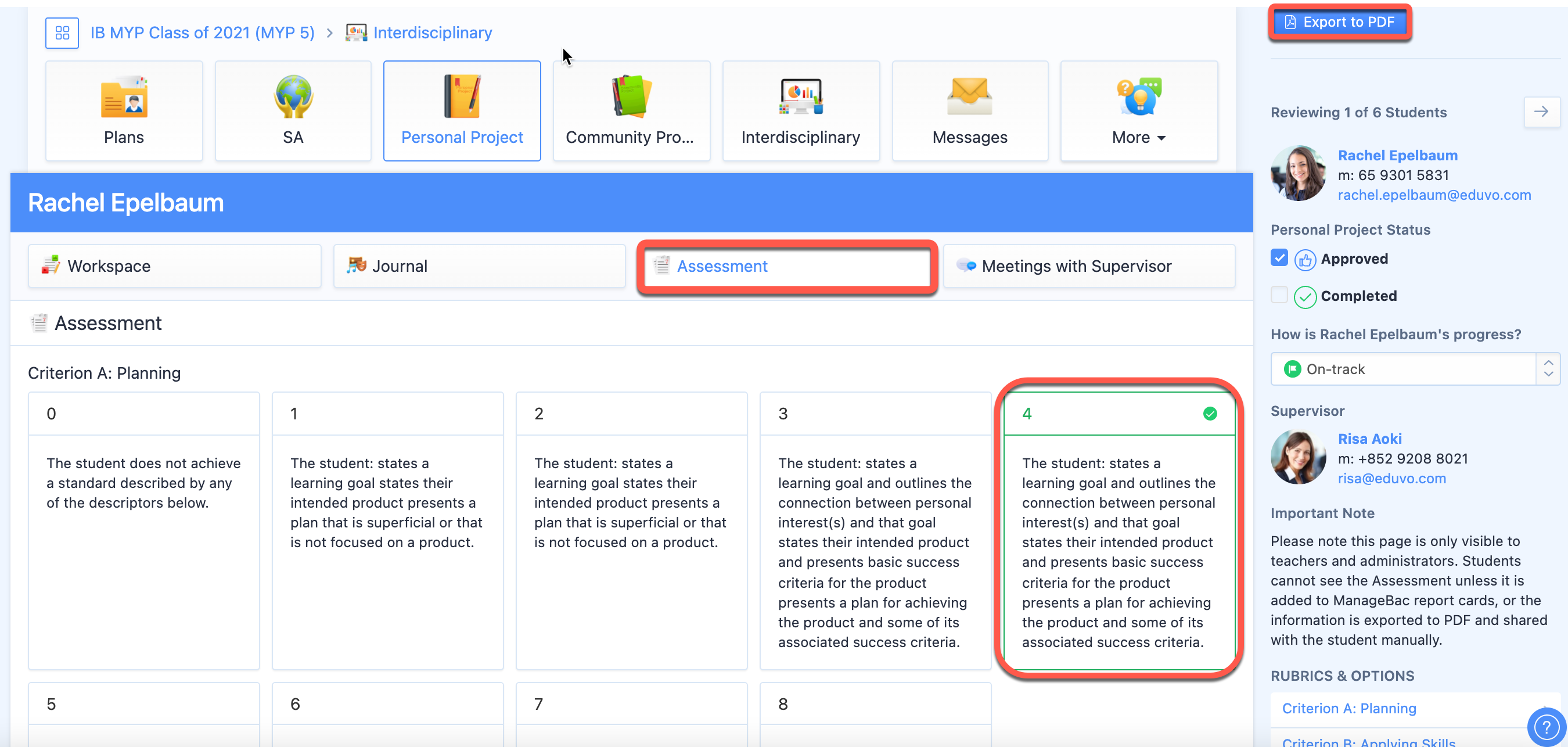 Under the Personal Project tab in your year group, you can access Personal Project worksheets. Click on a student to be taken to their worksheet, then click Assessment.
The Assessment tab builds in the IB project criteria to allow teachers to complete the Personal Project assessment. A Personal Project Report can be produced by selecting Export to PDF.
Click the tile with a number, to give the student that mark.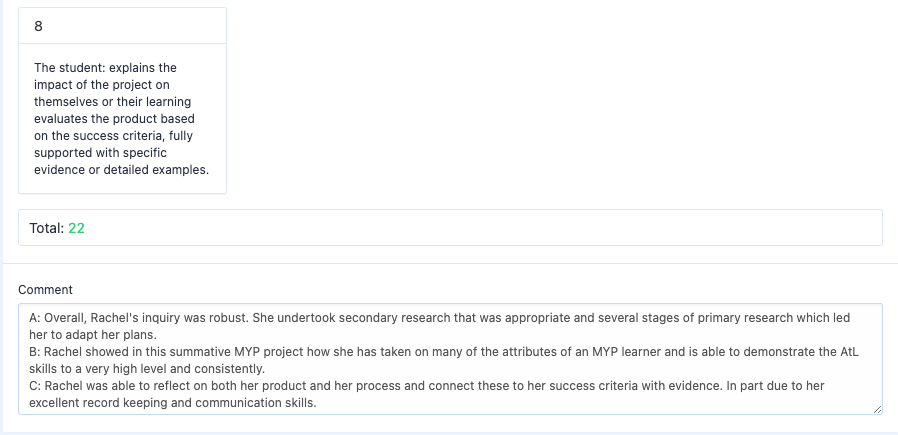 At the bottom of the page, there is a
Comment
textbox to include any commentary in addition to the IB guidelines.
Note: To comment individually on each assessment criterion, we recommend using subheadings within the single textbox. Refer to above screenshot.
Report Configuration Options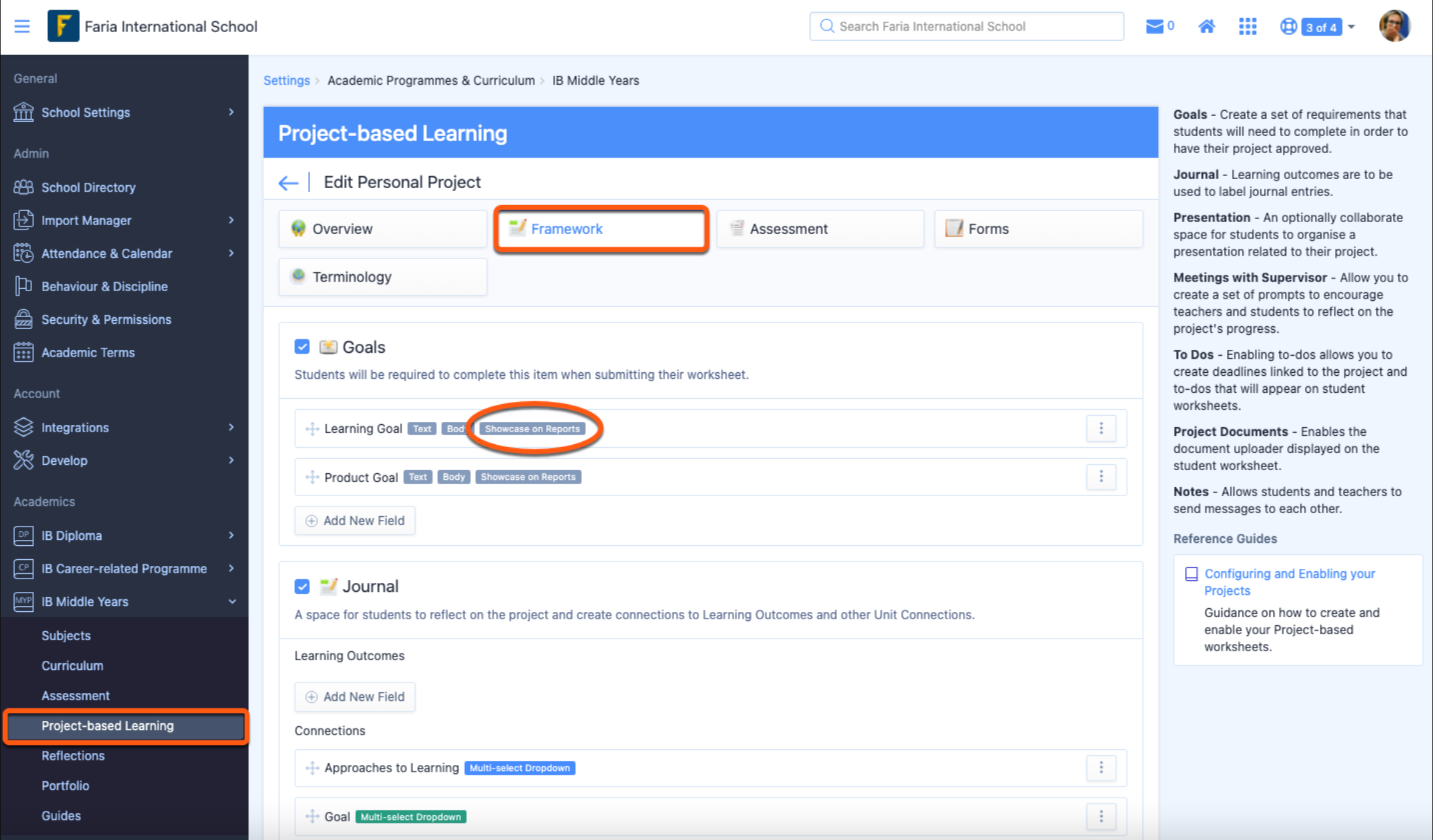 Via Settings > Programme > Project-based Learning > Select Template > Framework
While adding a new field, or editing under the 3 dot icon, select the tick box that indicates which items should be displayed on Reports Cards from the Project Template: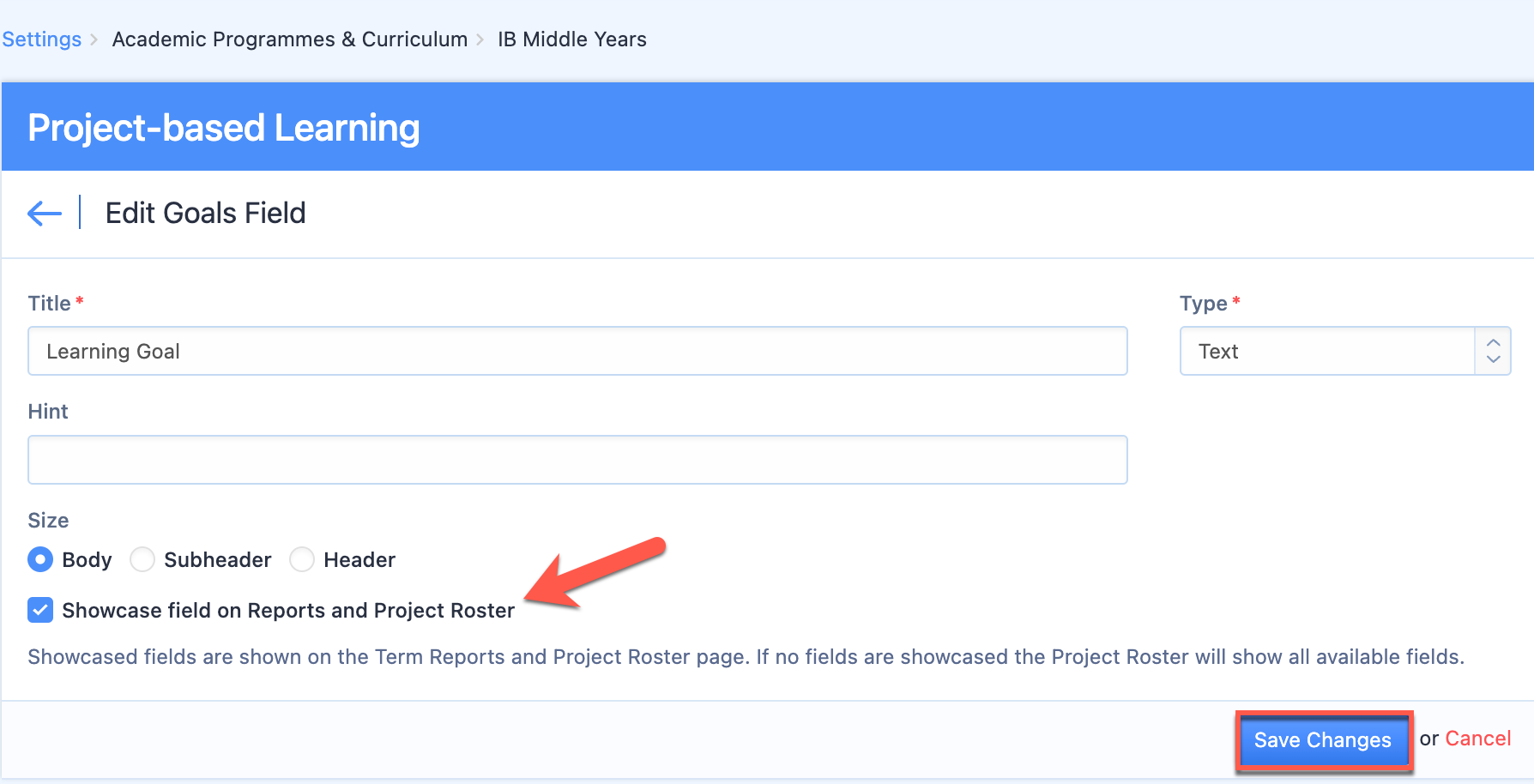 Save Changes and the item will be included in your Report Cards. The same selection also adds this field to the roster page of the Project Template when enabled in Year Groups.
Add to Term-Report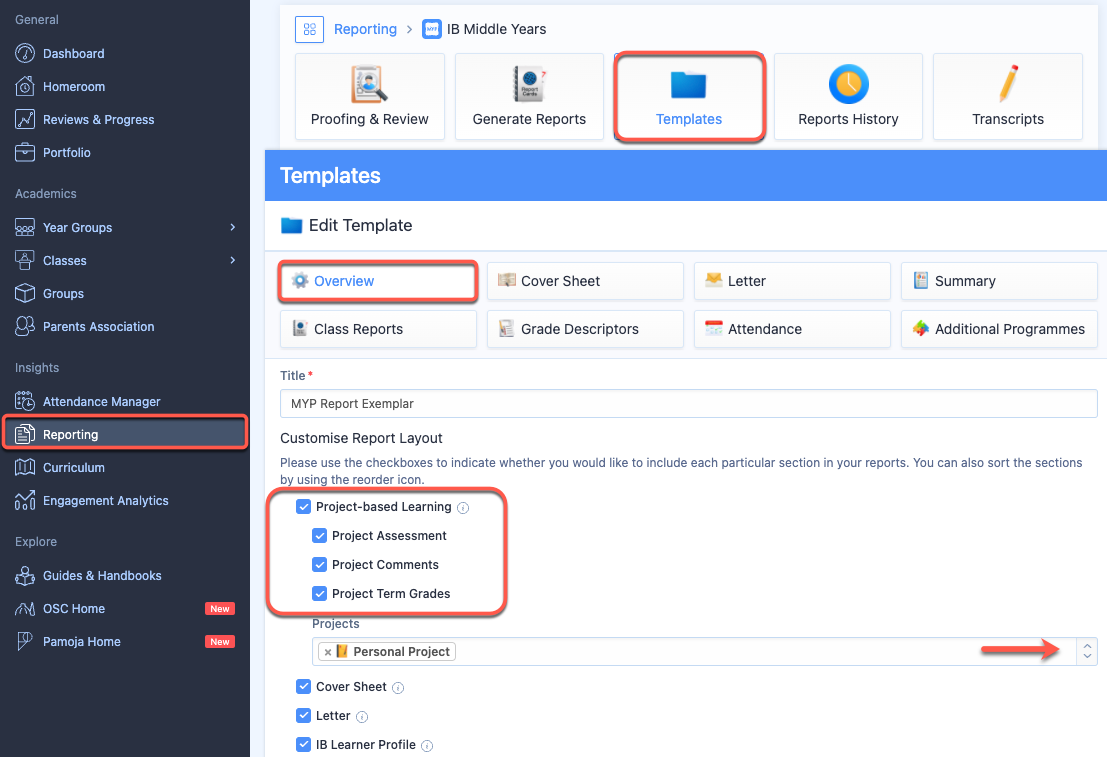 To display Projects in the term report, tick the checkbox for Project-based Learning in the Overview tab and select Personal Project from the drop down menu of projects and Save Changes at the bottom of the page.
The Personal Project section will display the project details together with achievement levels and their corresponding descriptors. Please note: the final 1-7 grade and grade boundaries will not be shown as these are determined by the IB retrospectively after each session.
Collecting Project Final Copies
Via the Projects tab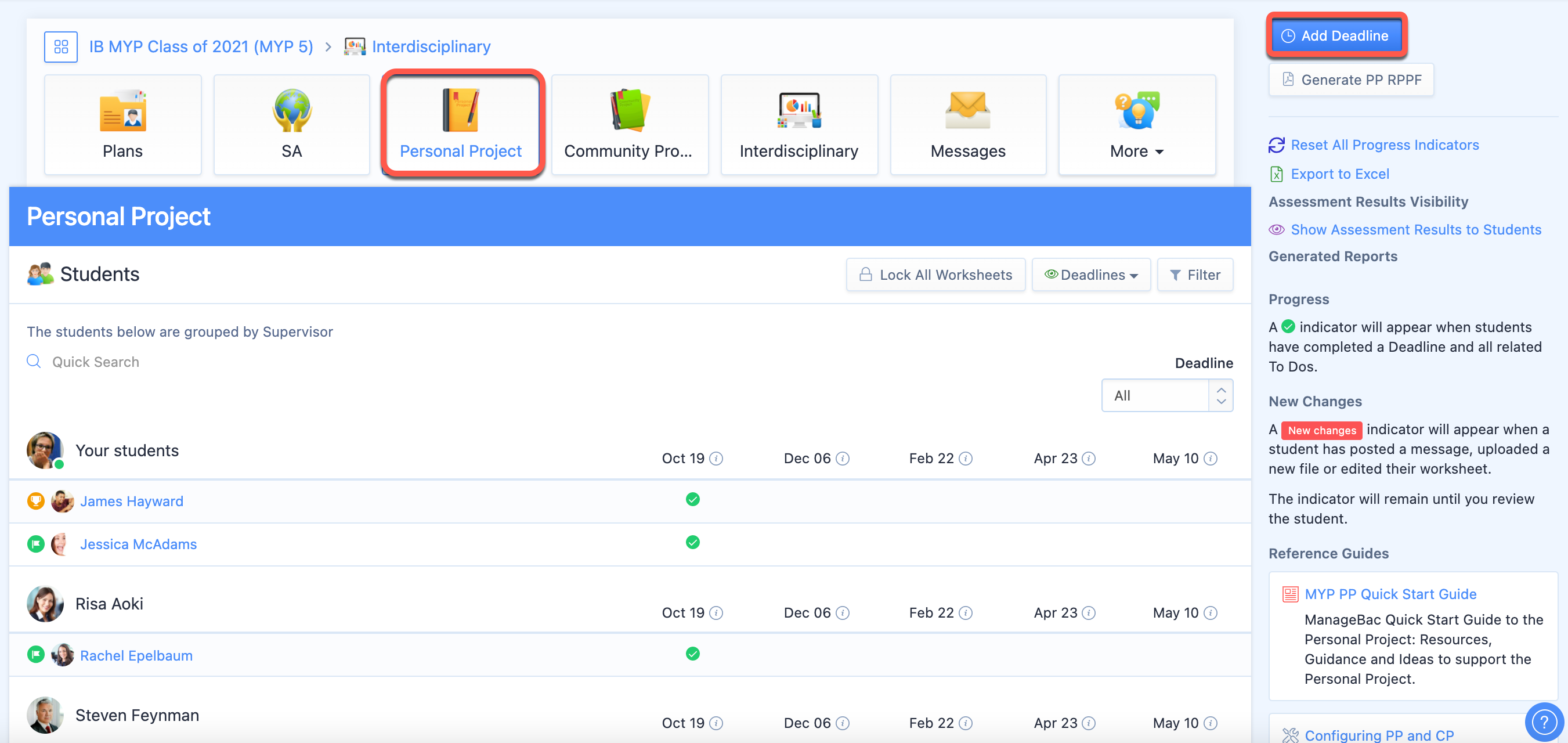 Under the Personal Project tab, click Add Deadline.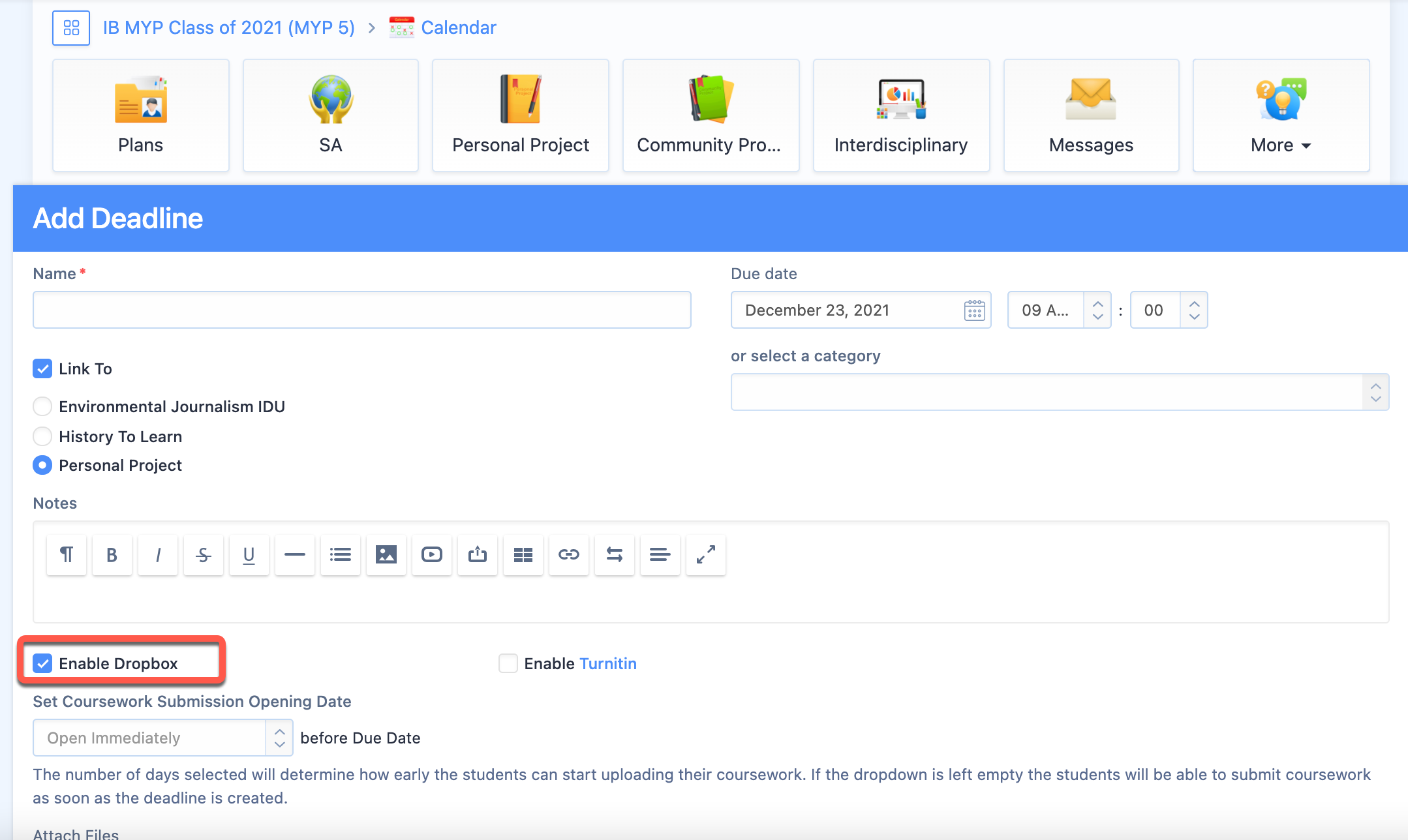 When creating or editing your final Personal Project deadline, make sure to tick Enable Dropbox. This will allow your students to submit final copies through ManageBac.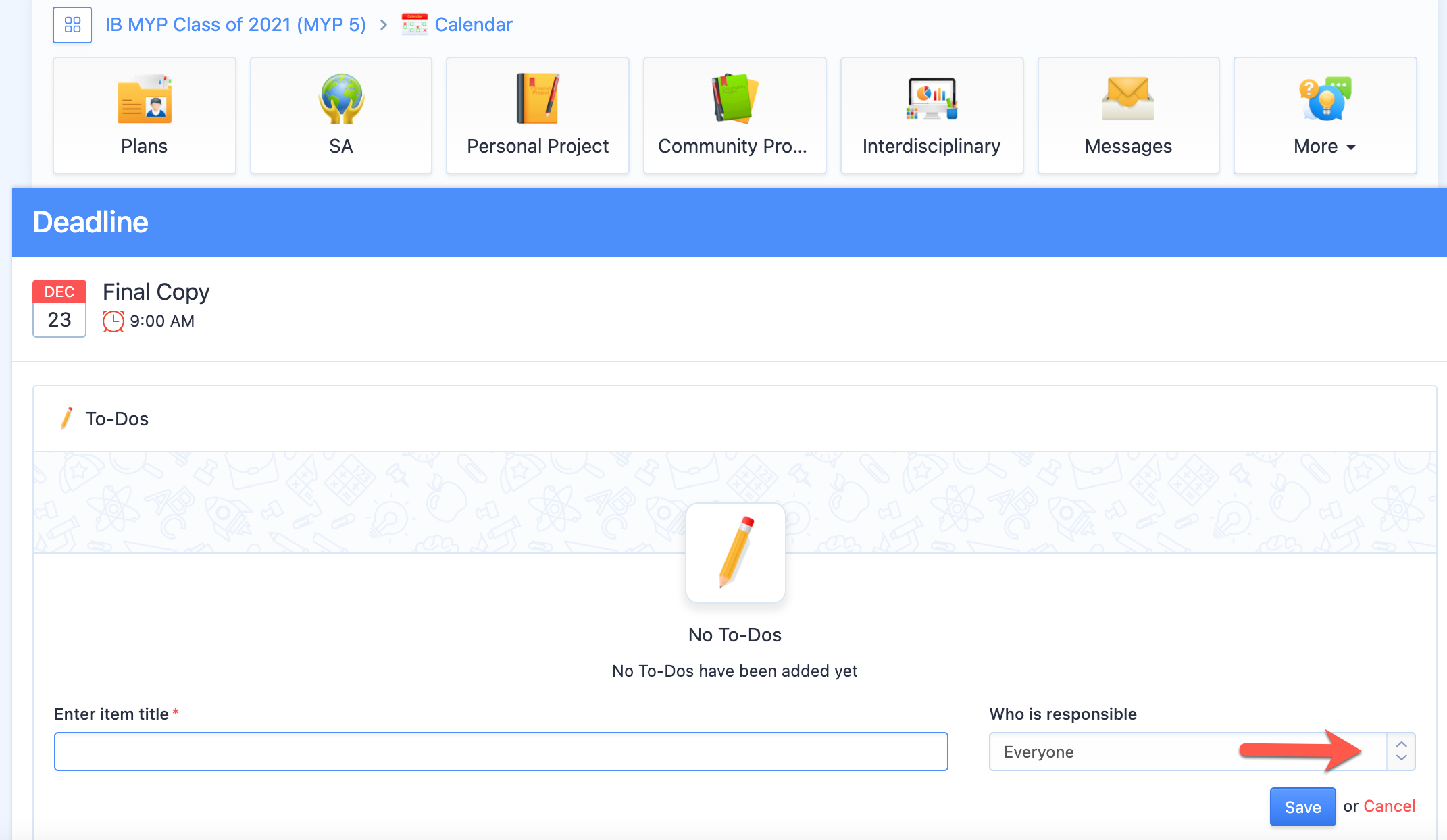 Once the deadline has been created, you can add additional to-dos for students, teachers, or both.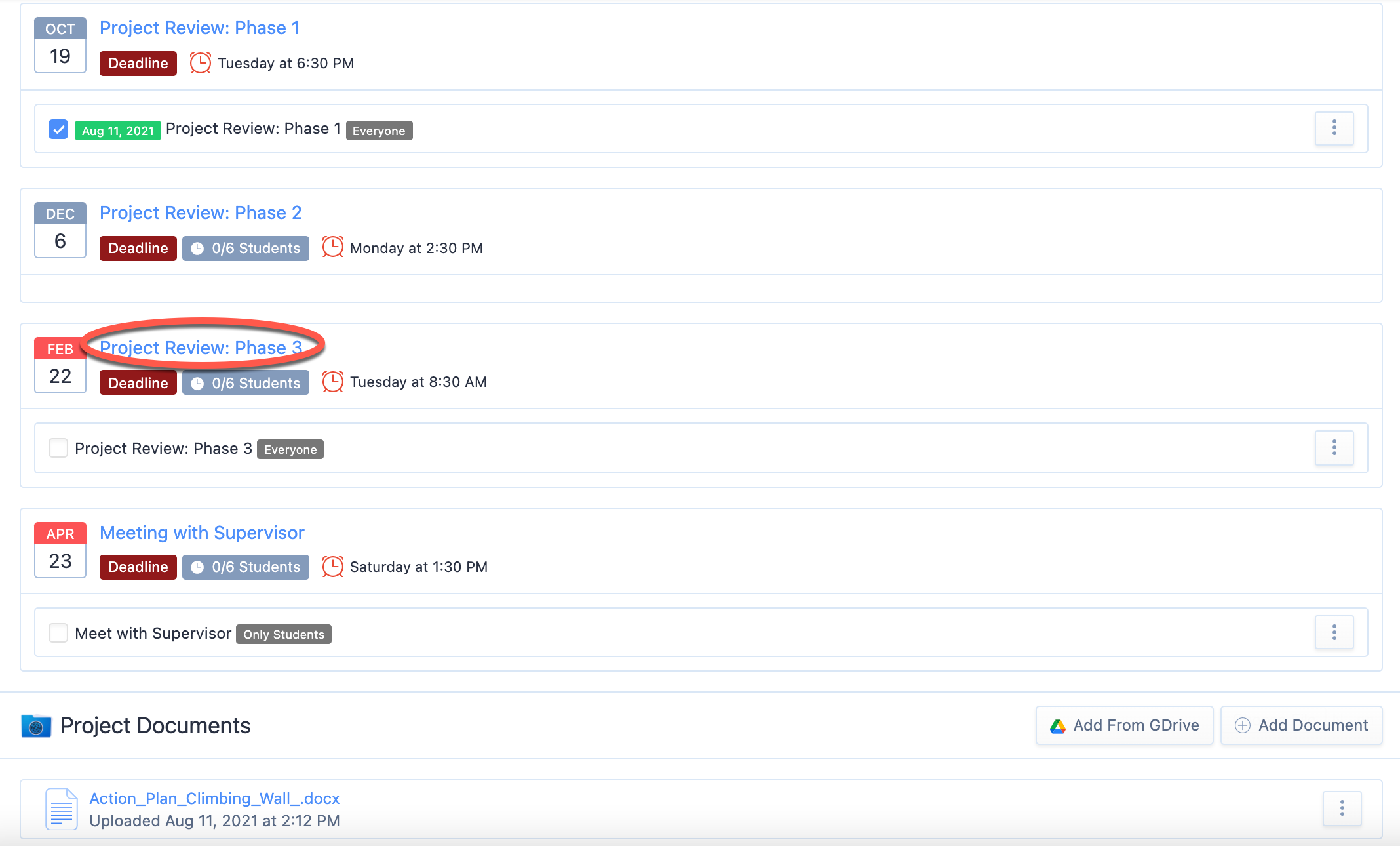 Students will be able to click the Deadline to submit their file(s). Once students have uploaded their personal projects, they will see their submitted file(s) below. Students will be able to update their submissions at any point up until the final deadline, and students who submit their projects after the deadline date has passed will have their records marked as Late.