How does ManageBac handle transfers between schools?
If a student is transferring to another IB school that uses ManageBac, we can move the student's core records over with them. No other academic or specific-school records such as Report Cards transfer.
Important Notes:
The student is archived on the original school account upon transfer
The data that moves with the student to the new (receiving) school will no longer be present on the original (sending) school account (ie it does not get duplicated, it gets transferred).
Transfers are only processed upon confirmation by a coordinator on both the sending and receiving school account. Transfer requests from students and parents will not be processed.
What data transfers with the student?
Please note: the following areas transfer with the student and WILL NOT remain in your school's account. It is recommended to export or download copies prior to confirming a student transferring from your school to another school.
IB Diploma and IB Middle Years:
CAS/SA Experiences, Reflections & Evidence

CAS/SA Documents

Personal events added to student calendar

No other school specific academic records (such as Project-based Learning EE/TOK template data or class academic data) transfer
Curriculum First and IB Career-related Programme:
SL Experiences, reflections, evidence and documents
Personal events added to student calendar
IB Primary Years:
Portfolios (historical or present-day)
What data doesn't transfer with the student?
Please note: the following is not transferred, and instead is archived with the student's original school upon transfer:
For all programmes:
Reports
Behaviour notes
Personal profile details (name, address, nationalities)
Notes & Interviews in any Service Learning, SA, CAS, PBL, EE, TOK context
IB Diploma:
CAS Progress indicators

ticked CAS Outcomes

EE/CP/PP Proposal, Research Question, Topic

EE/CP/PP Documents

EE/CP/PP Journal entry

EE/CP/PP Assessment & comment

EE PPF Reflections & Supervisor comment & hours spent

EE/CP/PP Progress

EE/CP/PP Approved & Completed status

TOK Documents

TOK Journal entry

TOK PPF & teacher comment

TOK Assessment & comment

Student portfolio work
IB Middle Years:
SA Progress indicator
Ticked SA Outcomes
Student portfolio work
Curriculum First and IB Career-related Programme:
Project-based learning worksheets
If you require any of the above information, please note that you will need to request a manual transfer from the school directly.
Requesting a Student Transfer to or from another ManageBac school
Via Settings > School Directory > Request Student Transfer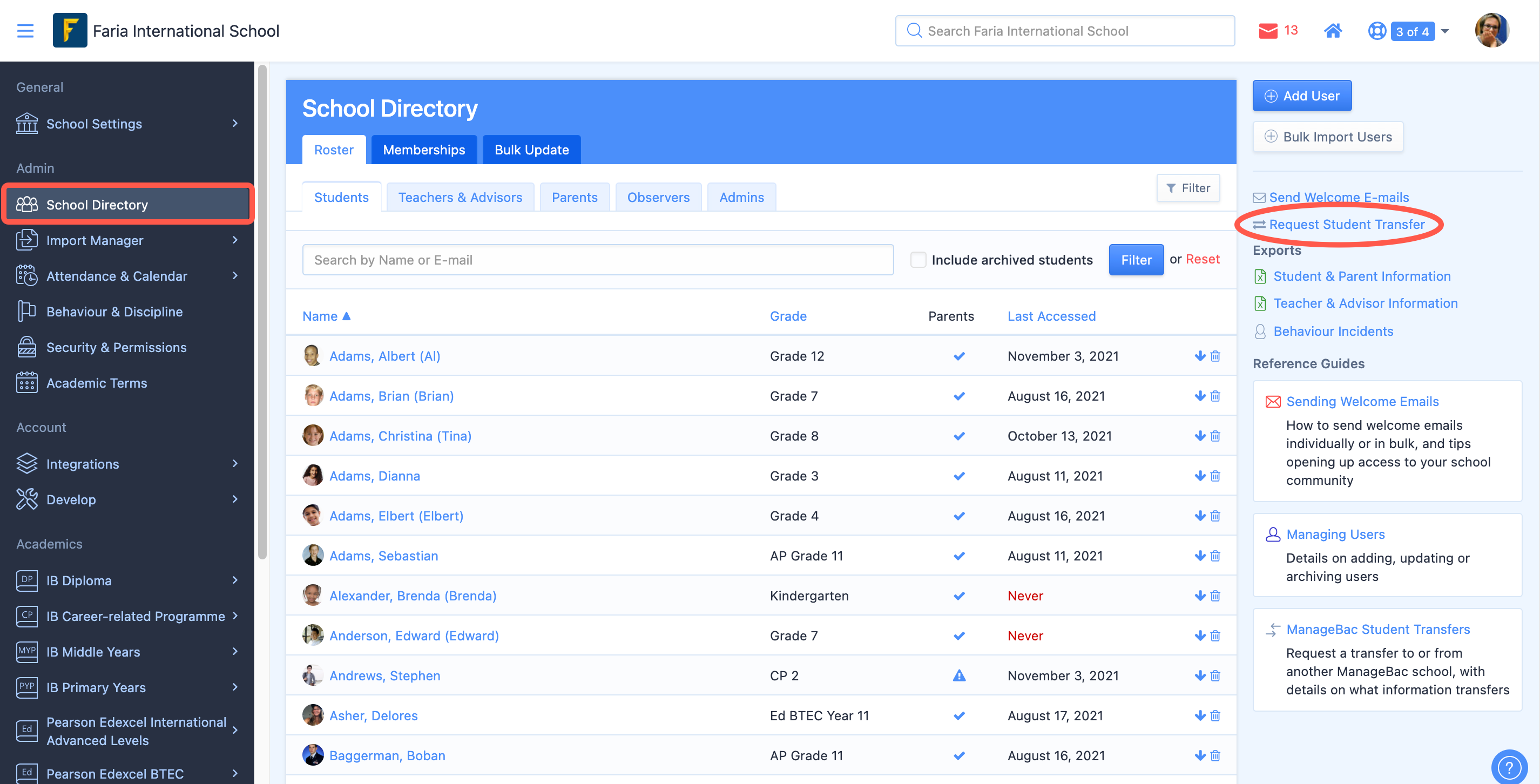 On the right-hand side, click Request Student Transfer. Here is also a direct link to the request form.
Fill out the form, and we will respond to the transfer request within 24 hours.
Name of the student
School being transferred from
School being transferred to
Your contact details for confirmation
Transfers involving China schools
Since we have migrated China schools to a localised China server on September 12, 2018, it is no longer possible to transfer records between schools where one school is in China and the other is outside of China. This is due to both being on different servers.
As an alternative, the Sending School can manually pass over student records, such as CAS, by:
Exporting CAS reports via the student's CAS worksheet > click Generate Reports on the right-hand side to begin generating CAS reports
In the student worksheet, click Browse Reflections & Evidence (on the right-hand side) > click Export to PDF for a copy of their reflections.
These can then be sent to the receiving school. If you wish to receive CAS records, please contact the sending school directly to request the above information.