Important
Year Groups separate students by Curriculum programme and grade level. Year Groups can be created automatically when importing students, or manually when needed. 
Create a Year Group upon Student Import
Via Settings > Import Manager > Students

Via Import Manager > Students, automatically create IB Year Groups when you bulk import students. 

Download the CSV template available and complete the required fields. Once imported, the Year Group will be created and named as per the IB Group/Group column. Refer to the following tutorial for further guidance: Adding Students, Parents & Teachers to ManageBac

Create a Year Group Manually
Via Year Groups, click Add Year Group and complete the fields displayed.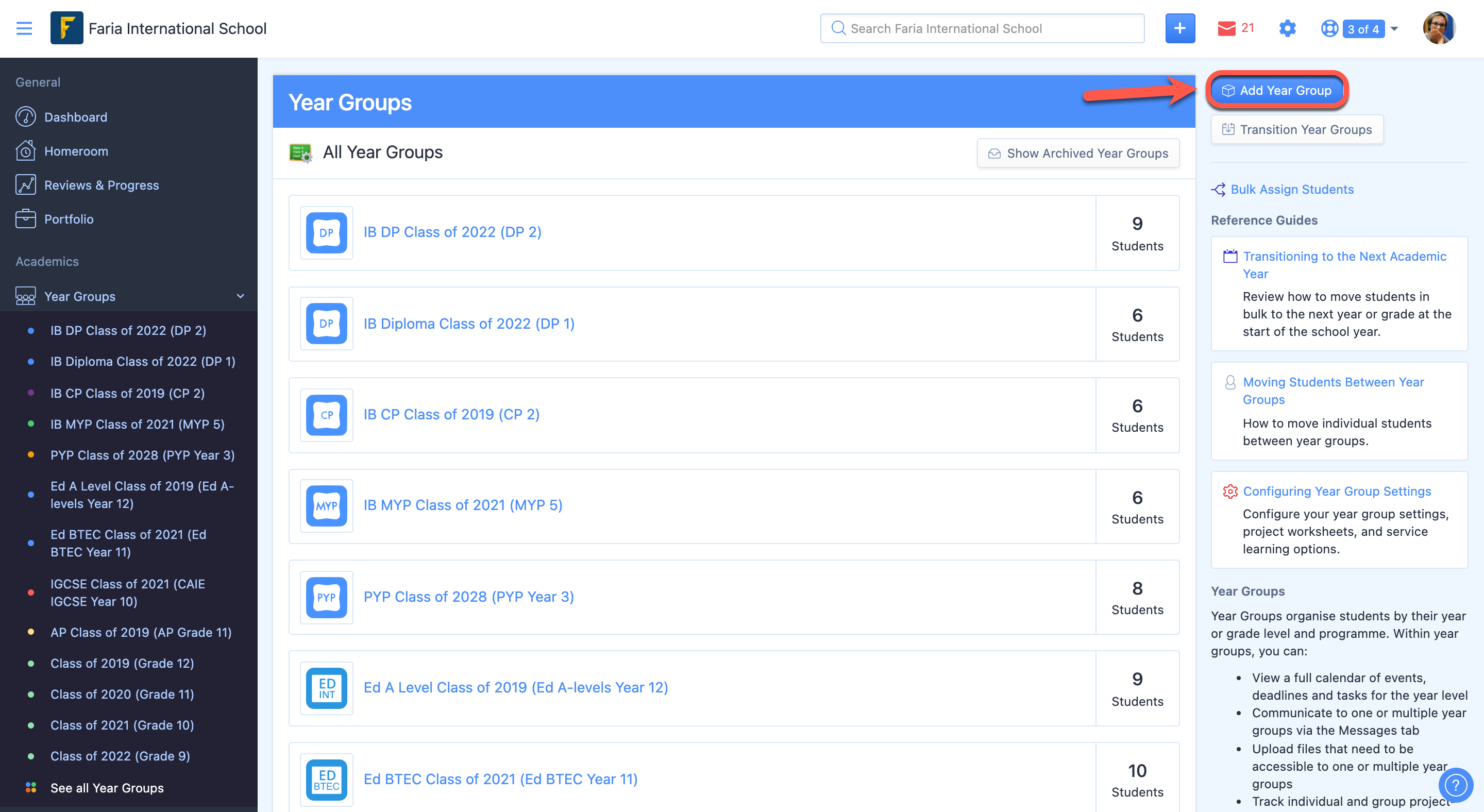 Programme - Select Diploma, Middle Years etc. 
Grade - Choose the correct grade of the students in the group. This will automatically be appended to the group name, i.e. IB Diploma Class of 2023 (Grade 12).
Name - Name the year group. We suggest following a graduating year format, such as "IB Diploma Class of 2023" or "IGCSE Year 1".
Description - Describe the group.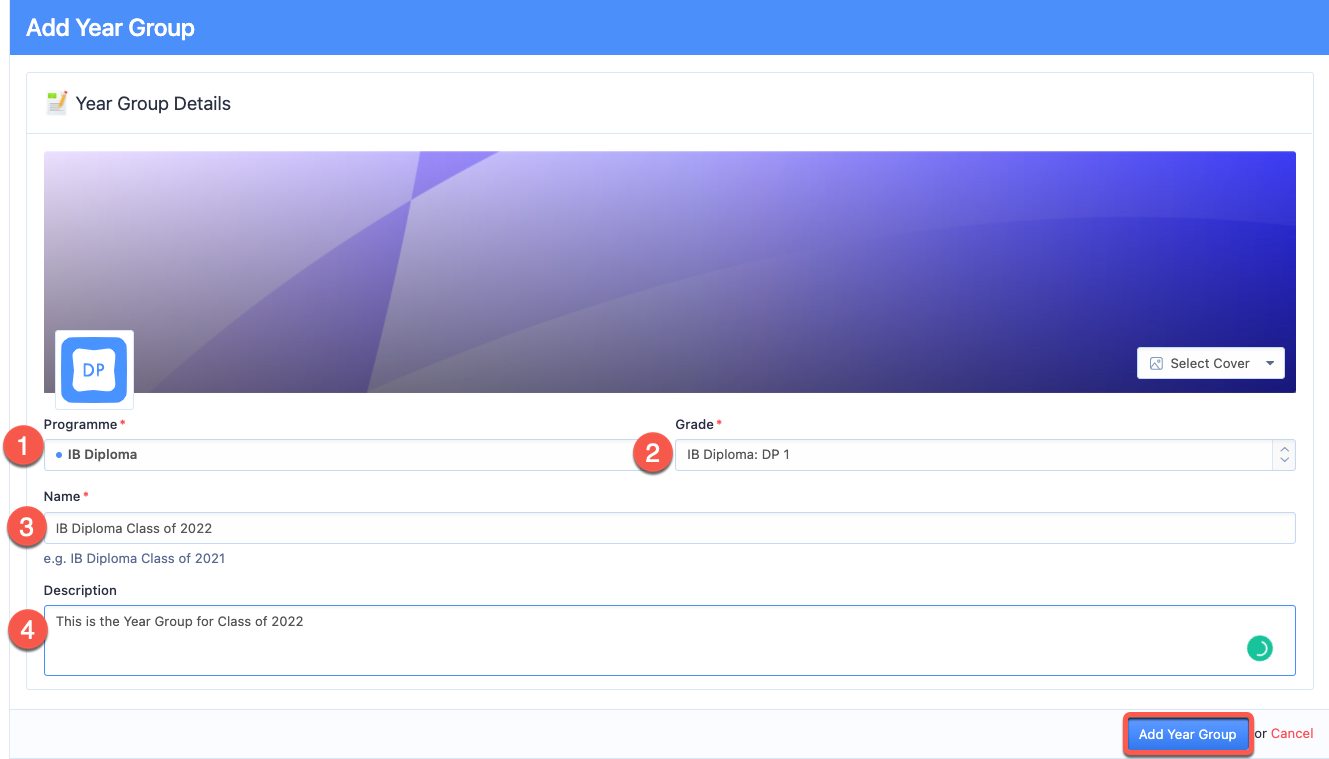 Click Add Year Group. Note that you will not be able to create the group unless all starred (required) items are completed.
Note: "Year Group" may be named differently on your own school account (edited via Settings > School Settings > Terminology).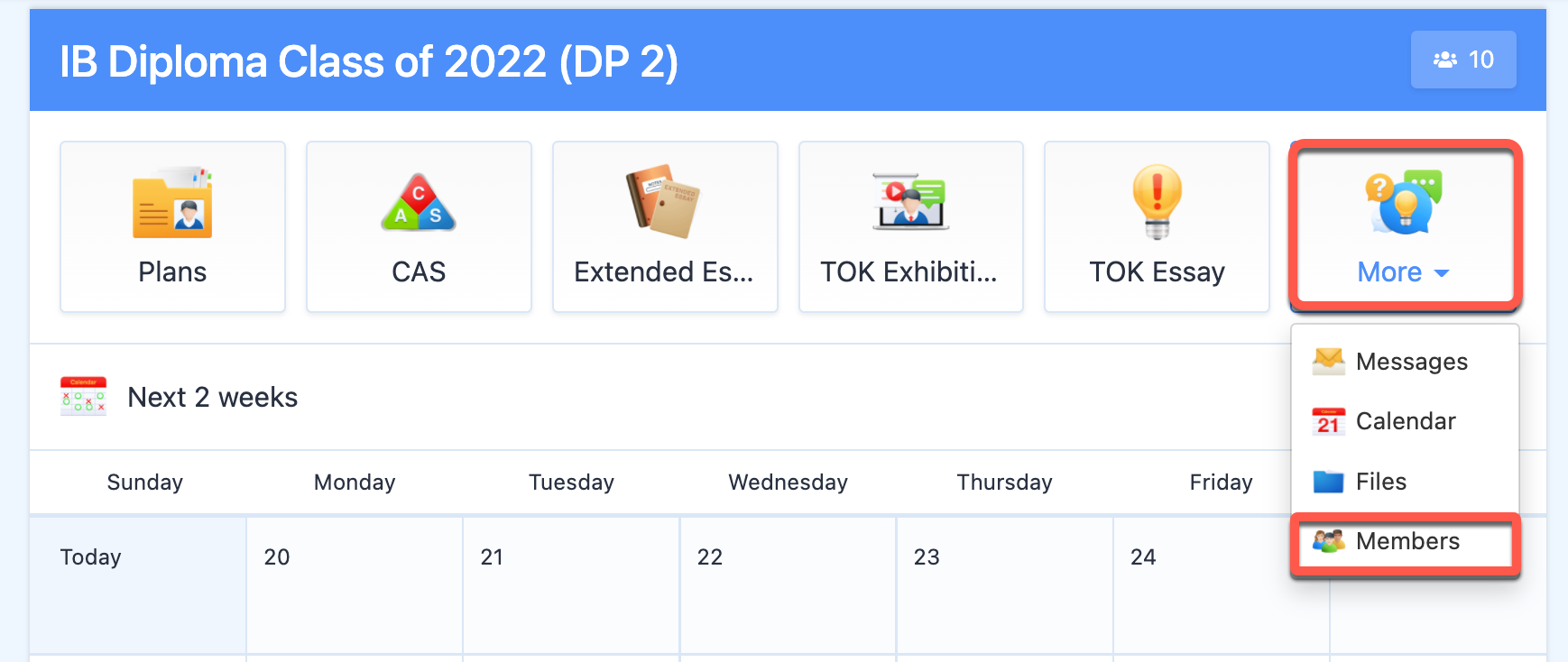 If your students have already been imported to the system, you can add them via the Members tab > Add Members. Here you can select the year group members and click Add Selected Students.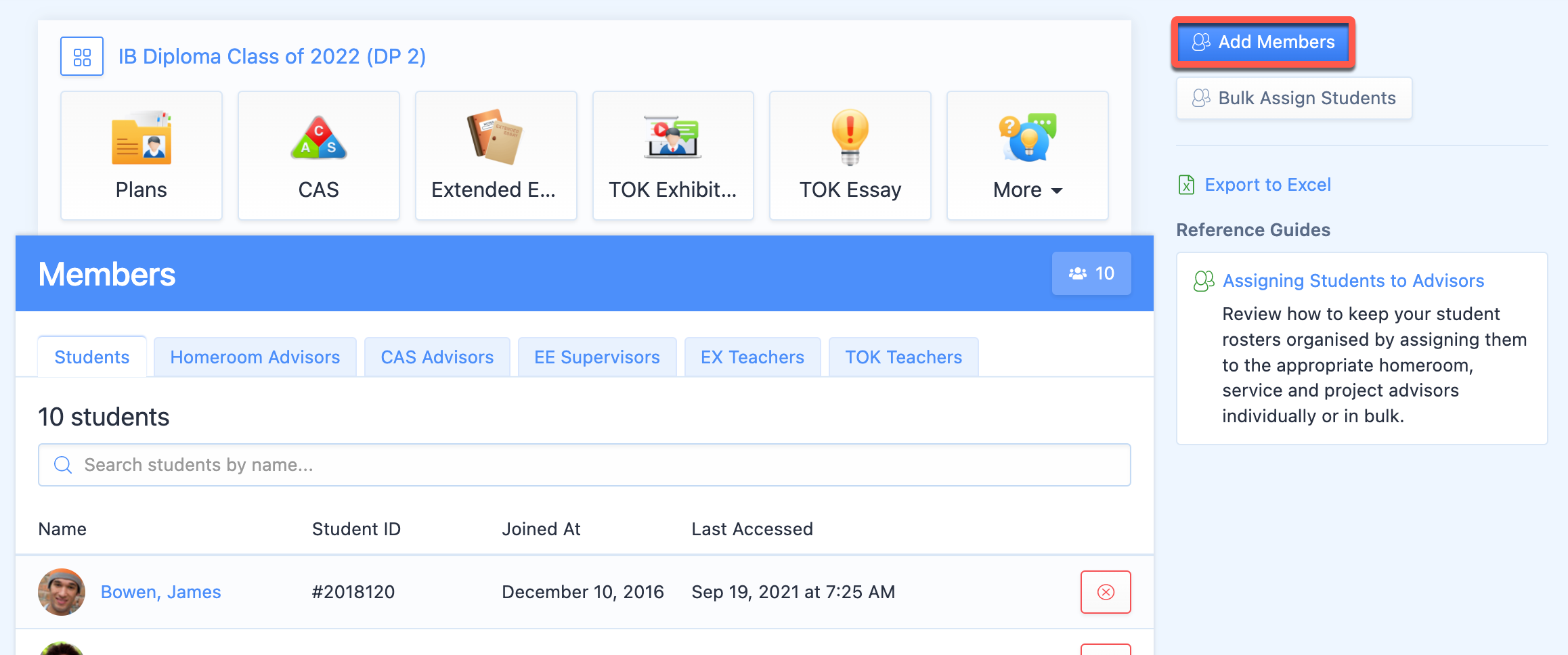 Follow Creating a Year Group upon Student Import if your students have not been added into the system. Ensure that the Group column matches the name of the existing Year Group.
Configure Year Group & Worksheet Settings
Via the Year Group > Overview> Edit Year Group Settings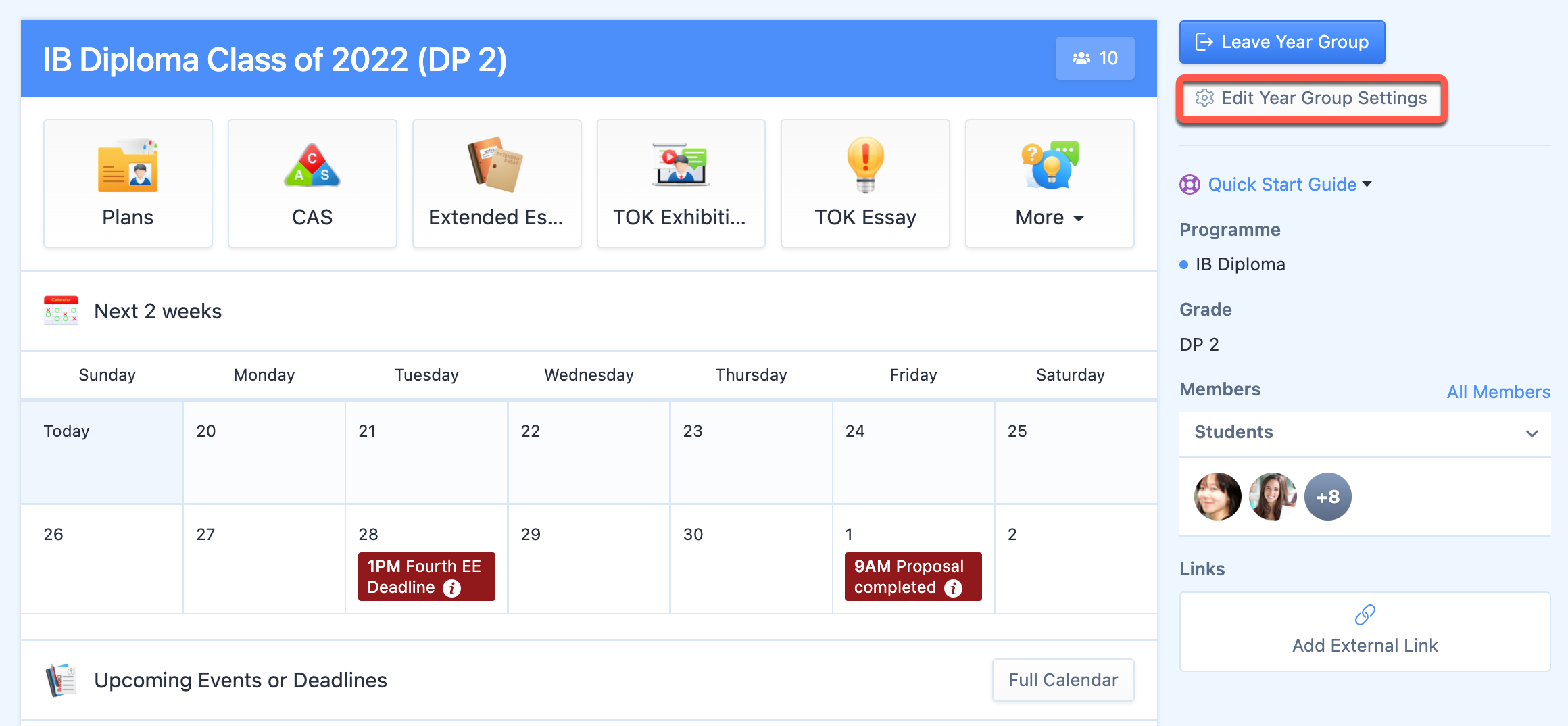 Configuring your Year Group settings is essential to properly enable your Service Learning (SL, CAS, SA) and/or Project-based Learning (PBL, EE, TOK, Personal Project, Community Project) functions. 
By clicking on the Year Group Name, you can access Edit Year Group settings on the right navigation panel.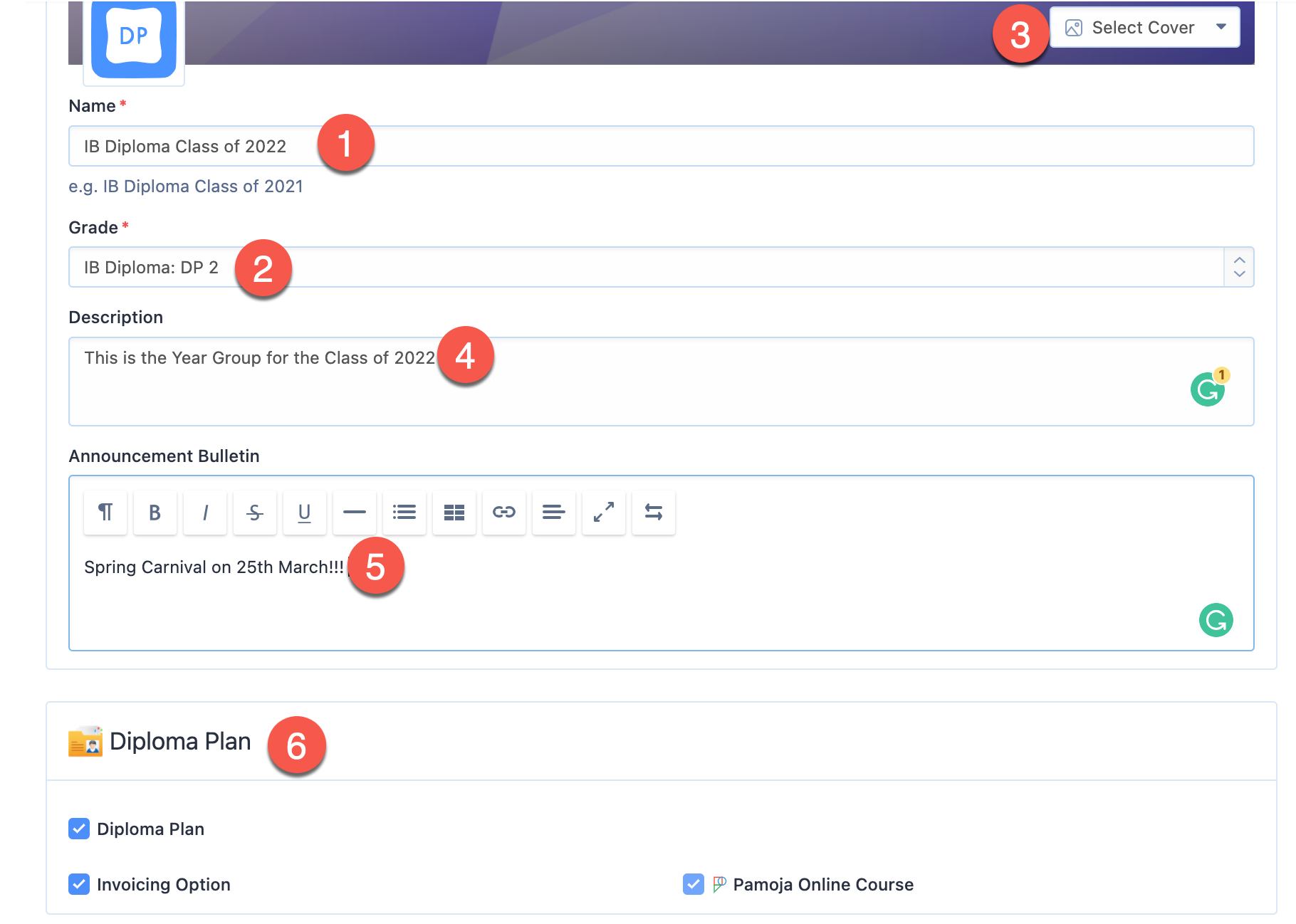 On this page, you will be able to:
1. Edit your year group name (e.g. IB DP Class of 2023)
2. Set your programme and grade.
3. Customise the year group cover.
4. Change group description.
5. Add information to the Year Group's announcement bulletin.
6. Enable or Disable Diploma Plan options for the Year Group ( Only applicable for DP Year Groups)
If you track hours for Service Learning, you can enable here, with the types of hours that can be added at the bottom of the page, and choose whether or not to show hours charts.
Add CAS / Service as Action/ Service Learning questions by clicking the Add Question button. Questions can be added for all outcomes or set to only appear when certain learning outcomes are selected. To delete, tick the Delete? the box next to the question.
Moving Students Between Year Groups
Note: It's only possible for a Student to be a member of 1 Year Group at a time. Their connection to a year group is a key data point that ties them to their records on ManageBac.
Moving Students between Year Group Sections
If you need to move a student between year group sections (ie Grade 12 A to Grade 12 B), you will need to
Navigate to Year Group A > Members tab > Remove the student, and then
Navigate to Year Group B > Members tab > Add the student
Moving Students between Year Groups of different Grade Levels or Programmes
In some instances, you may need to move a student to a different year group. These cases could include:
A student who is repeating a year
A student who was added to a year group incorrectly
A student who has switched academic programmes
Note: If you wish to move an entire group of students as they graduate or advance to a new grade, please refer to Step 8 of our tutorial on Transitioning to a New Academic Year here.
Admin users can move students from one year group to another via Settings > School Directory > Memberships.
Via Settings > School Directory > Memberships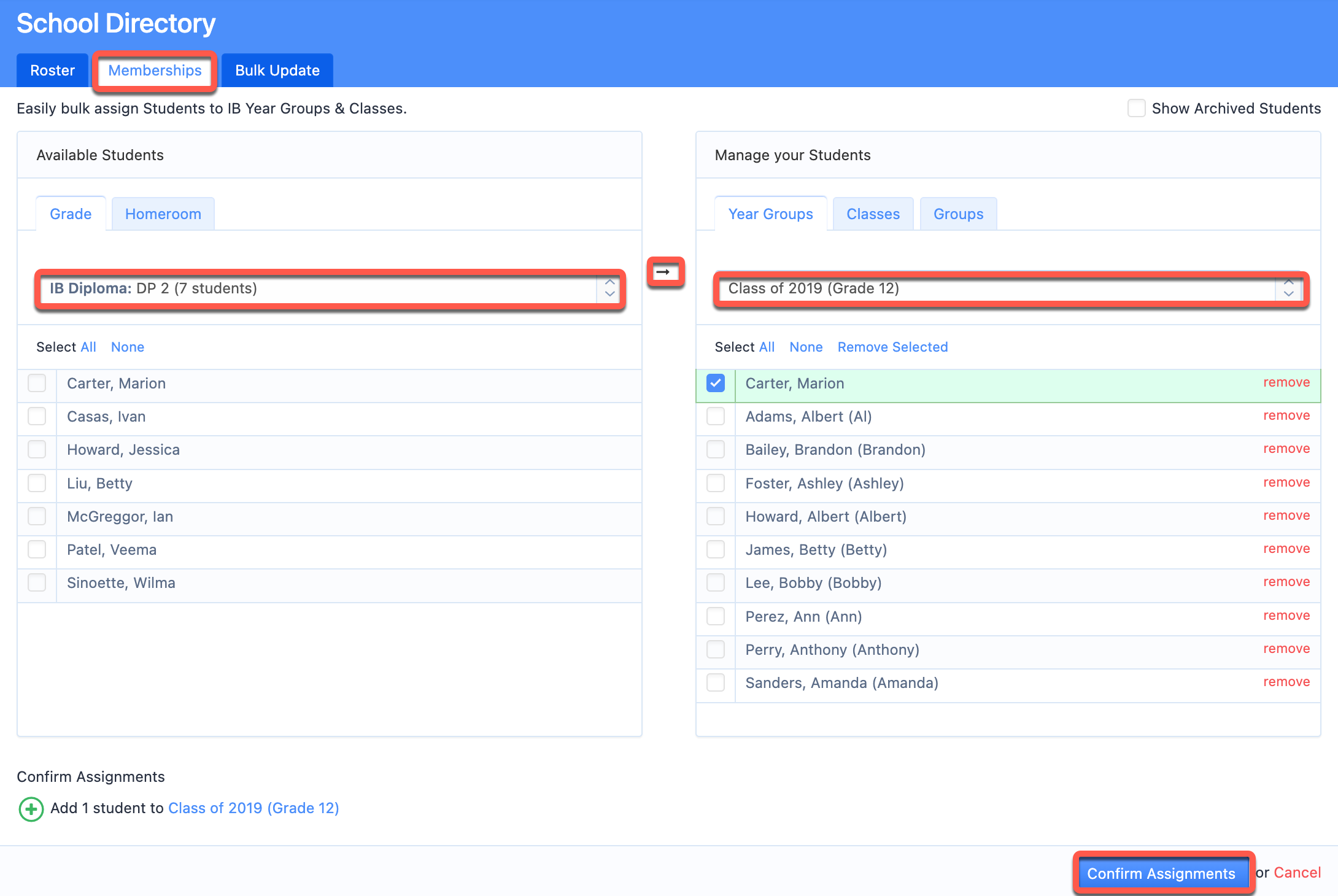 Alternatively, you can reassign the student via Settings > School Directory > Memberships.
To remove a student, use the dropdown under Year Groups to locate the student's original year group. Check the box next to the left or "remove" on the right of their name. Click Confirm Assignments.
To add a student, select the student's new year group under the Year Groups dropdown. Under Available Students, select Not in any group. Check the box next to the left of their name. Click the arrow on the centre of the page, Confirm Assignments.
Note: This method can also be used to add or remove students from classes and activity groups
Archive a Year Group
Via the Overview Page
Under the Overview page of a Year group, click Edit Year Group Settings in the sidebar. Scroll down and check Archive this group and click Save Changes to finish the process.
Note: Archiving a Year Group archives its Student members along with it. Archived groups will remain accessible in the sidebar under the Year Groups tab > See all year groups.
Accessing Archived Year Groups
Via the Year Groups Tab > See all Year Groups > Show Archived Year Groups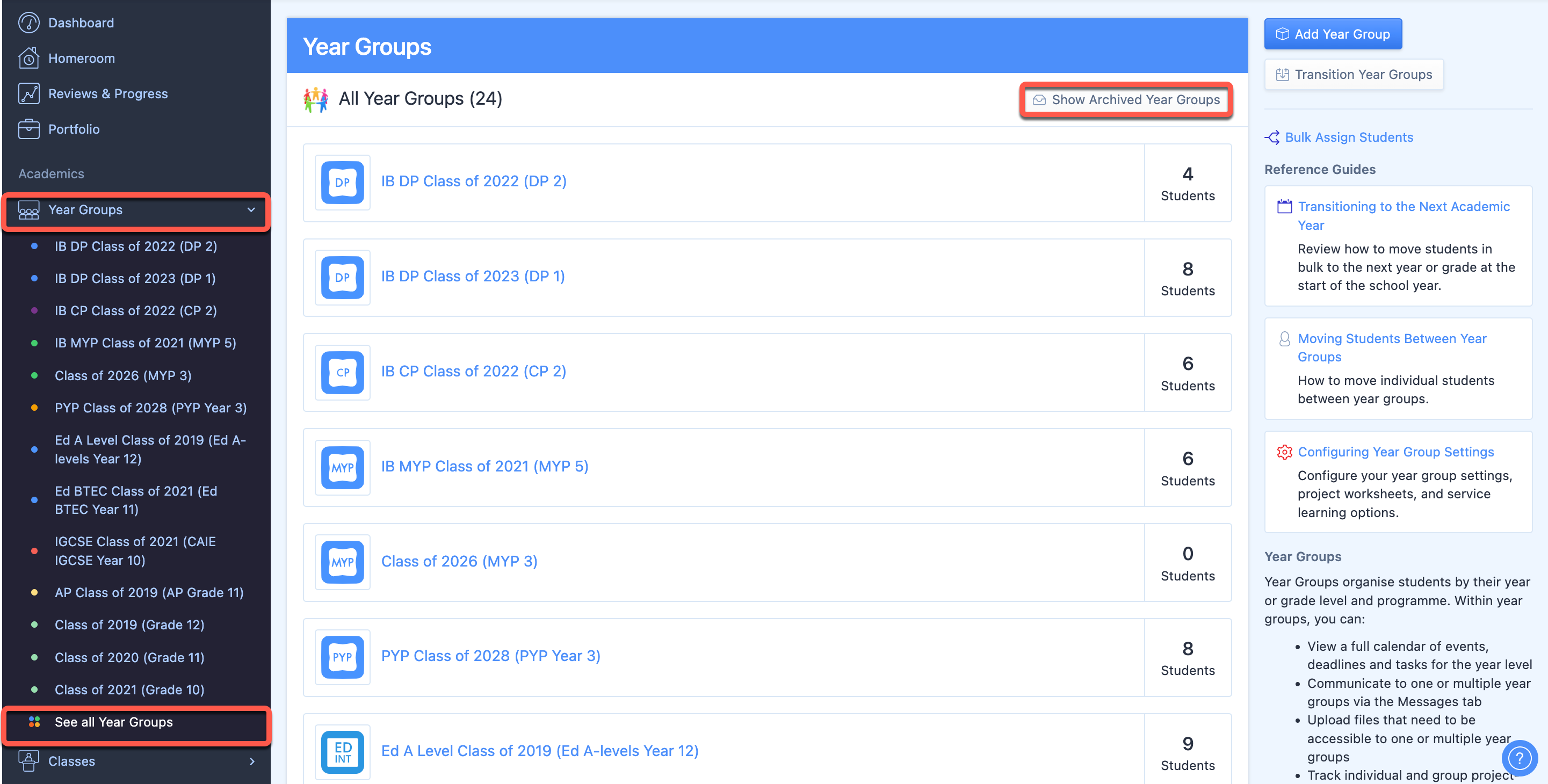 As long as your groups are archived rather than deleted, group records will always be easily accessible.
Click on Year Groups. The name of this tab is customisable and therefore may appear different from what is shown; it can be found under the Academics section of the menu bar.
Click Archived Year Groups on the right. (Depending on the width of your screen, these details may appear at the bottom of the page.) You will see a list of archived groups and can click on them to access them.
Accessing SL, PBL, CAS, EE, ToK, SA, PP & CP Records in Archived Year Groups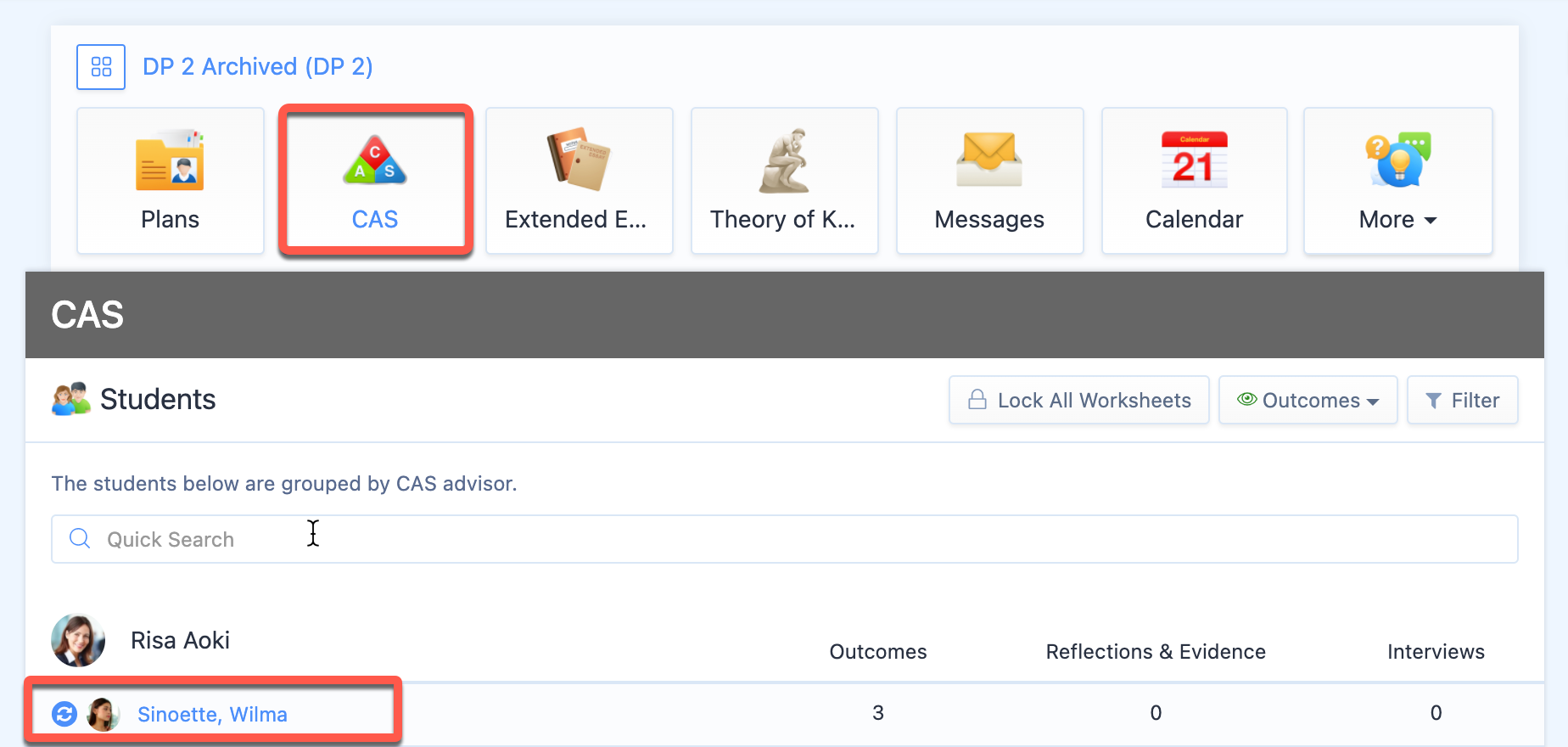 You can obtain the Service Learning & Project-based Learning records of students in previously archived year groups by navigating to the archived year group and clicking on the tab you're looking for (e.g. CAS, EE, etc.). Next click on the student's name to be taken to their worksheet.