Important
Plans worksheets, including the Candidate Personal Info and Subjects & Levels, must first be completed before registering students for IBIS exams.
Completing Plans Worksheets
Via Year Group > Plans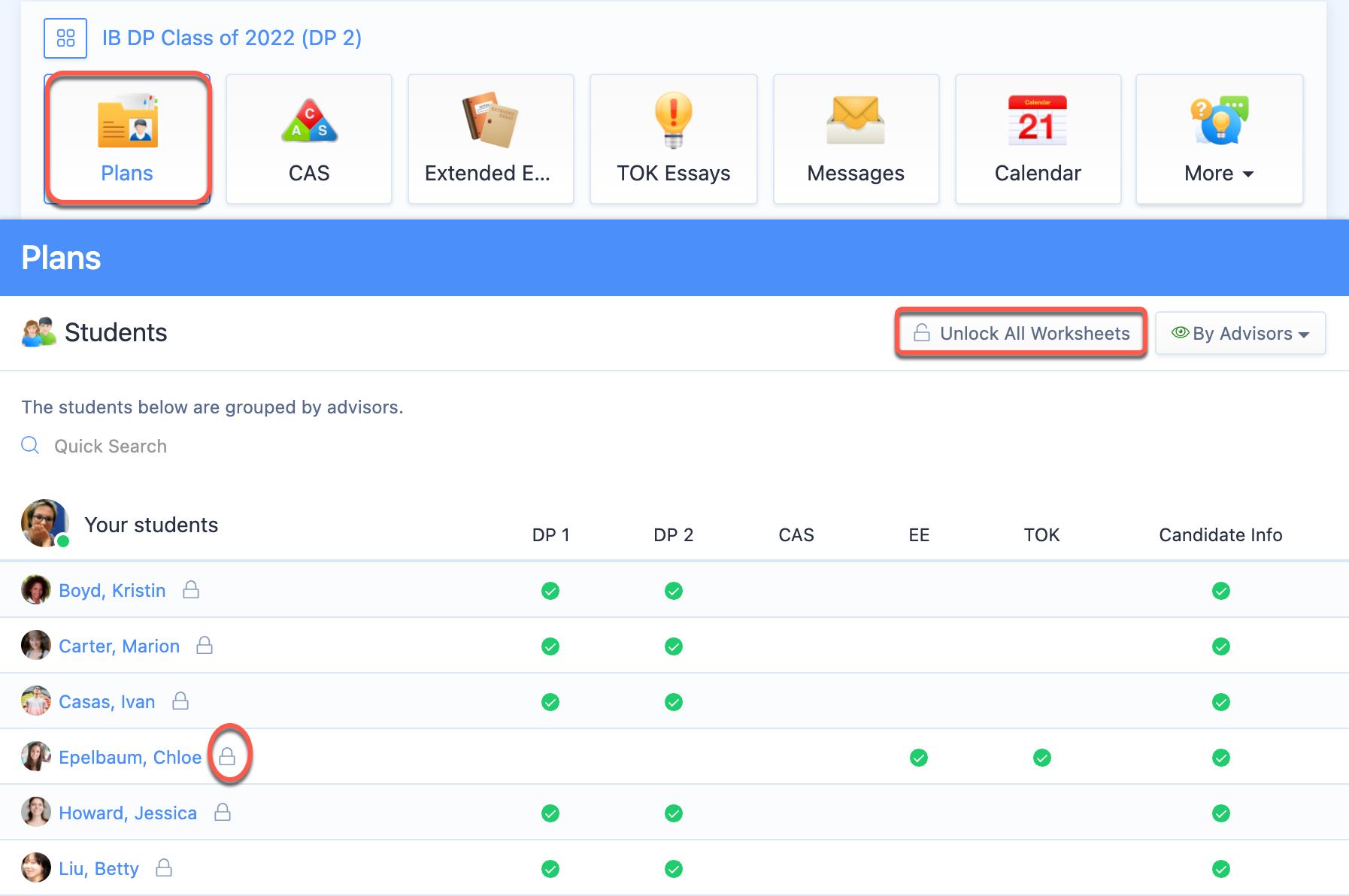 Access students' Plans worksheets via the Year Groups > select your year group > Plans. Here you can see a list of students in a group and which requirements have been met.
Click Unlock All Worksheets to allow students to complete their own Plans worksheets, or Lock All Worksheets to allow students to view but not edit their worksheets. You can see if worksheets are locked or unlocked using the lock icon next to each student's name. If you click on a name, you will be shown that student's Diploma plan.
Adding Candidate Personal Information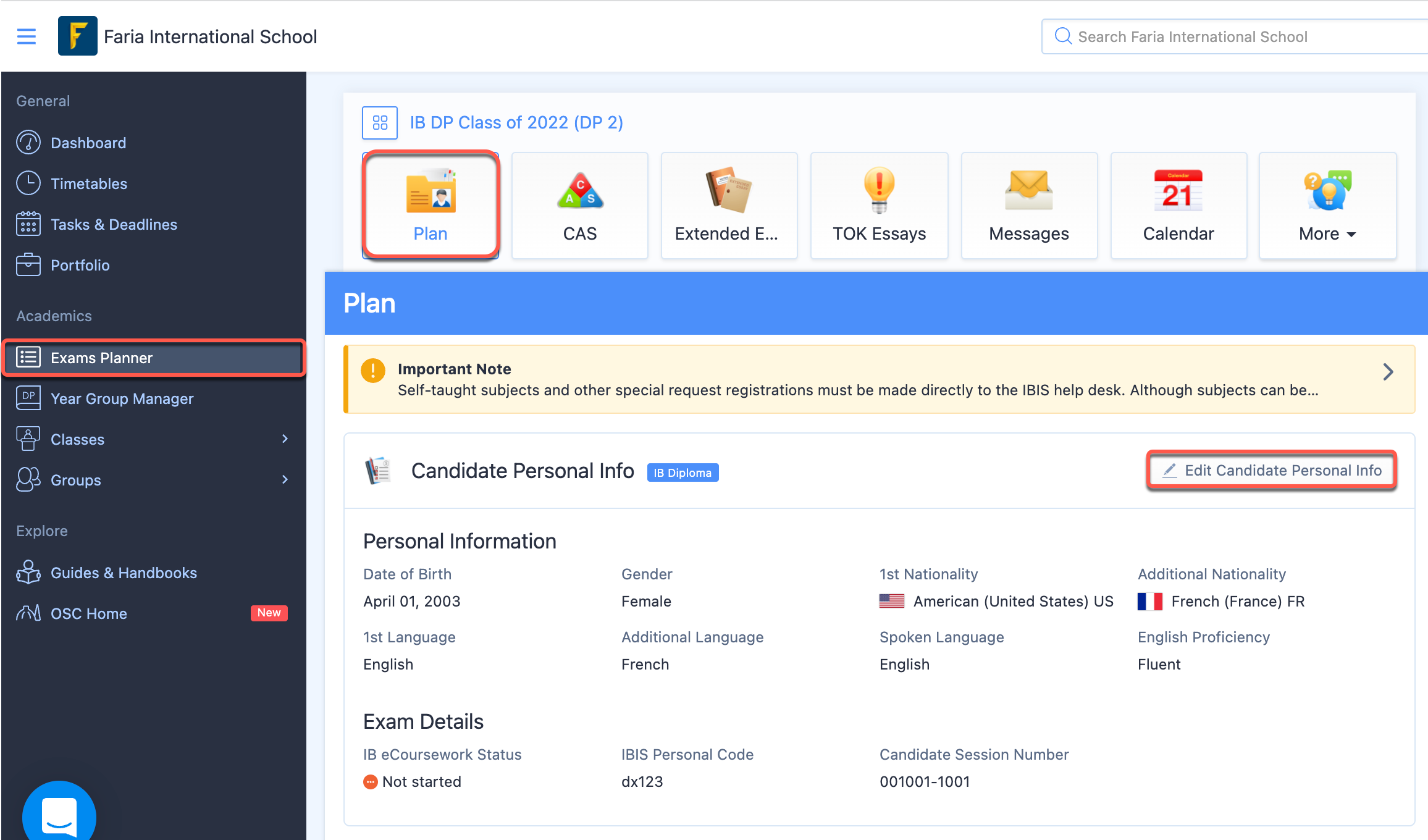 Students can complete their plan worksheets via Exam Planners > Plan > Edit Candidate Personal Info on their own accounts, completing their personal details and subjects & levels. Administrators can make additional changes not available to the students, such as changes to session codes or PIN numbers.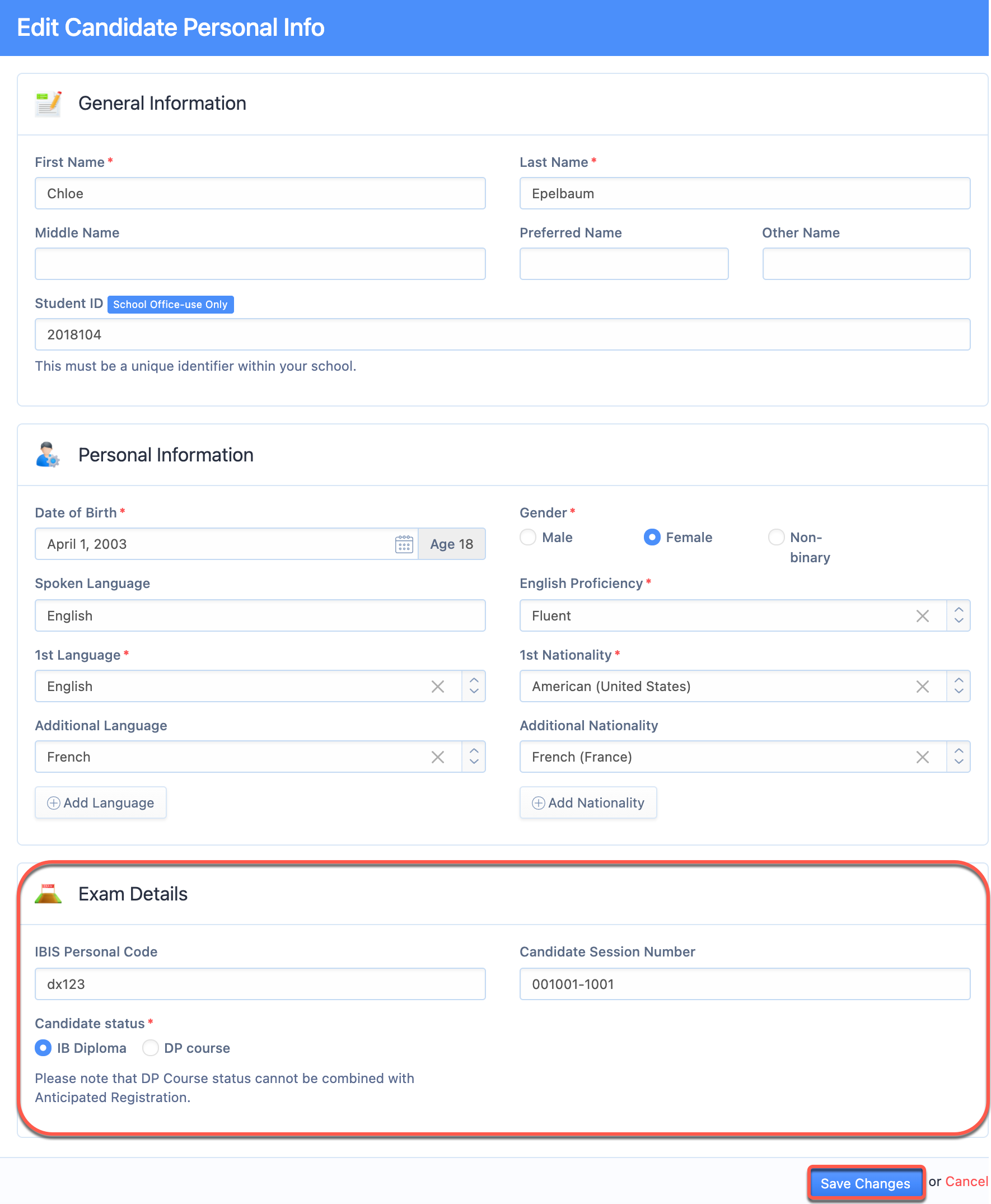 As an administrator, you can enter a student's IBIS Personal Code. This code is used to identify any students previously registered as anticipated candidates or in the MYP. You can also enter the student's Candidate Session Number. Students are not able to edit these fields.
Select the Candidate Status as Diploma or DP Course. Note that DP Course students cannot register for EE, TOK or CAS via ManageBac - if your Course students are opting for these components, they will need to be registered directly via IBIS.
Selecting Subjects & Levels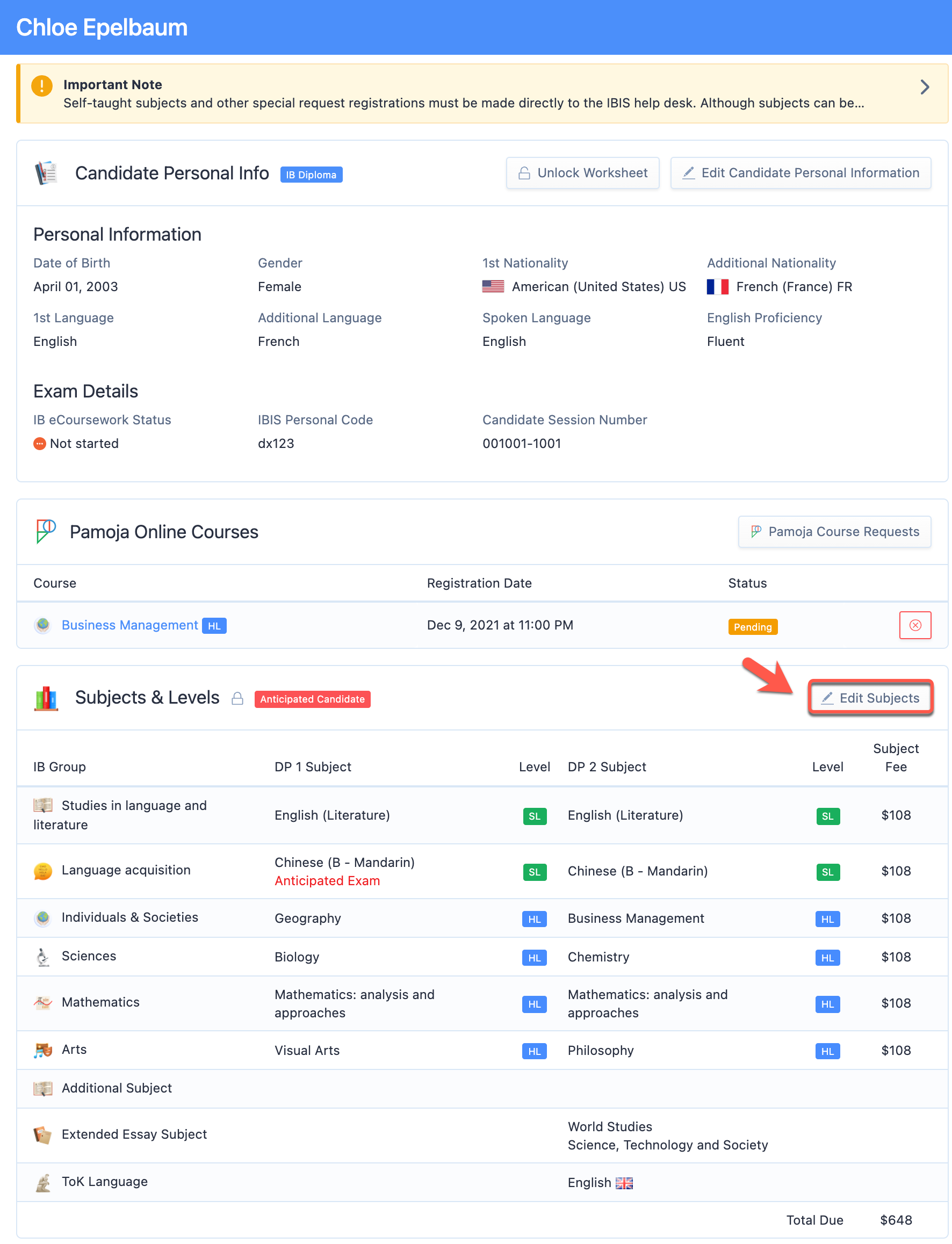 Under Subjects & Levels, click Edit Subjects to select the student's subjects & levels. Again, students are able to edit these fields themselves through the Plans.
For students who are sitting exams in their DP 1 year, please tick the Anticipated Candidate checkbox via DP 1. Select the subject & levels for the exam which will be anticipated, tick the Exam Subject checkbox and Confirm Subject.
Note: The IBO has updated its policy with regard to late payments. In the Exam registration process, you may see the following message:
The ability to register candidates for this session has been withdrawn as your school has outstanding debts over 90 days old. Please contact Finance via myaccount@ibo.org for further discussion.
If this message appears, please reach out to the IBO directly. 
Registering for Pamoja Online Courses
Students can be registered for Pamoja Online Courses via the Plans tab, as long as this option has been enabled by an administrator in your school's Settings. Please click on the tutorial above to learn more about enabling this on your school's account. 
If enabled, this will appear once you select the year group you wish to make requests for from Year Group Manager. Then select a student from the Plans roster and click the Edit button.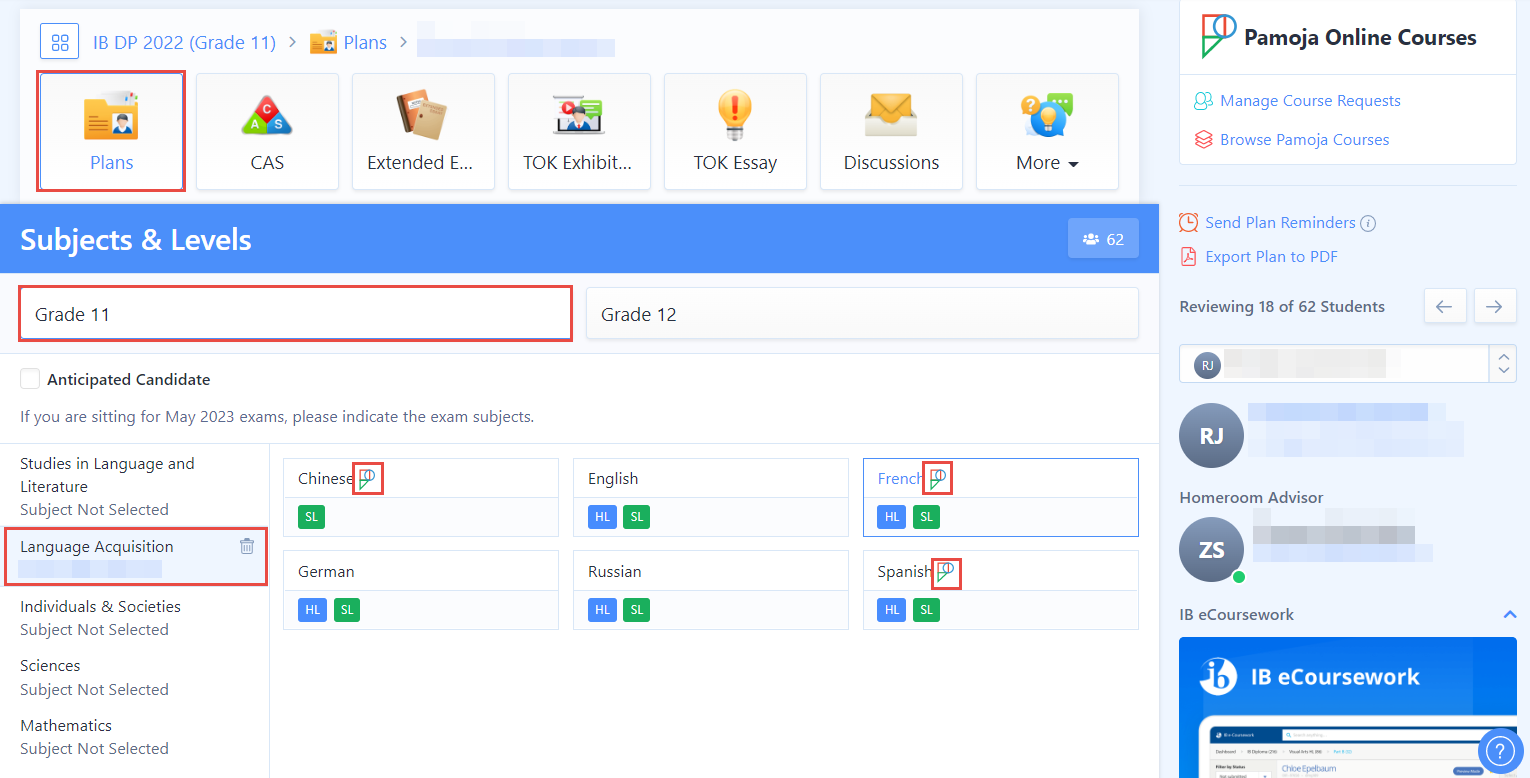 Select the Grade level the course request is for, followed by the Subject Group. The Pamoja icon will appear next to any course with a Pamoja option.  
Teachers (Pamoja Site-Based Coordinators) may click on the course and tick Submit Pamoja Course Request to indicate this course will be taught to the student through Pamoja, followed by Level and the 'Submit Pamoja Course Request. Then, click Confirm Subject.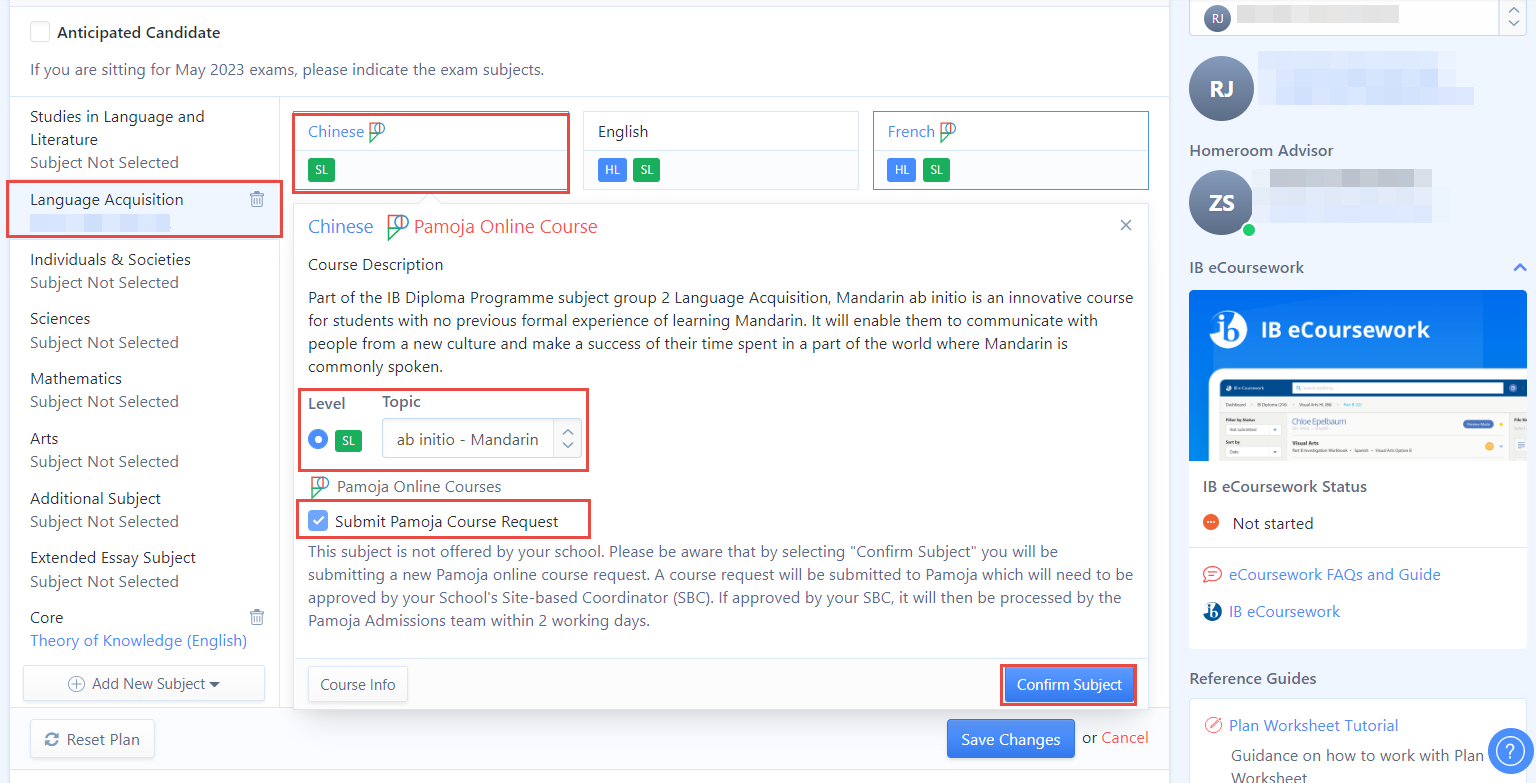 There are two types of Pamoja courses. The first is a course taught exclusively by Pamoja, which will indicate to the students that if they select this course, they can only take it through Pamoja:
If the course can be taught either by the school or by Pamoja, Site Based Coordinators are given the option to tick the Pamoja Course Request box. If they do not tick it, they can still click Confirm Subject to confirm they'll be taking this course exclusively through the school.
Site-based Coordinators can also register students for Pamoja Online Courses in bulk via Pamoja Home > Pamoja Course Requests > Register Students.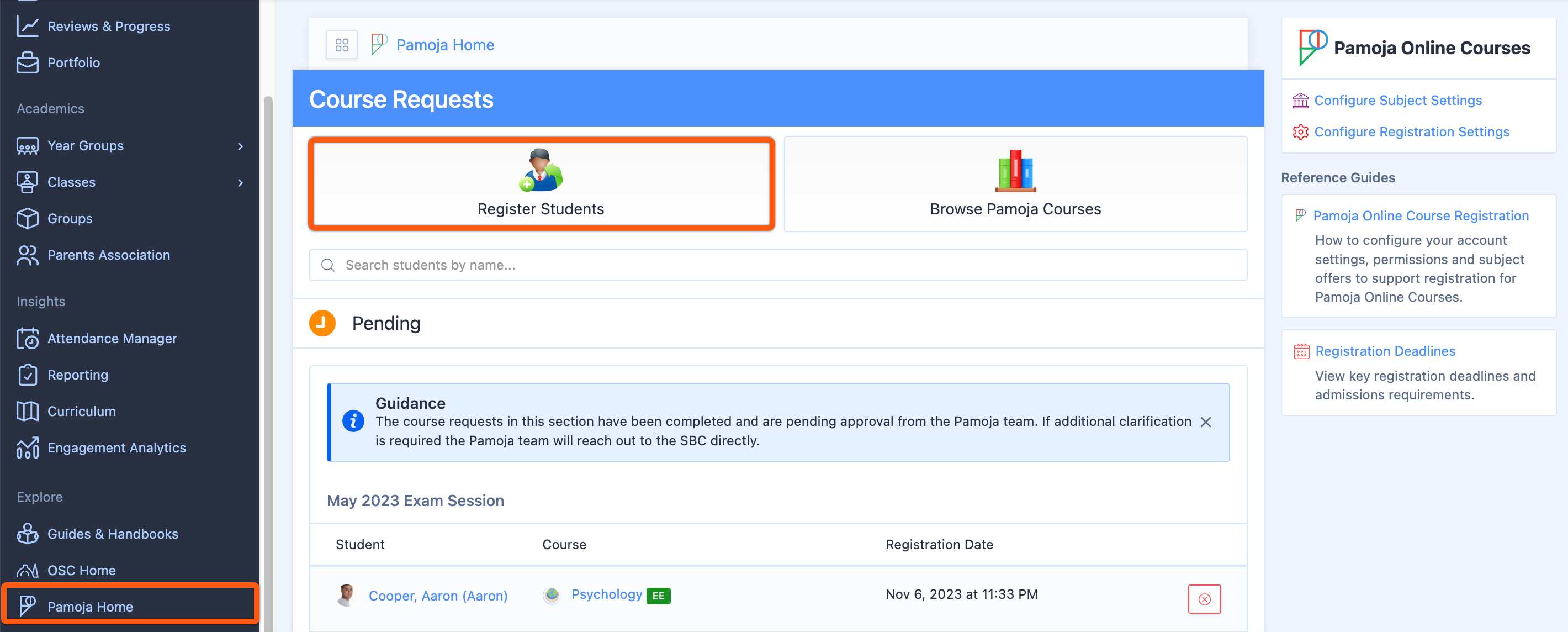 You can register students by following the steps below:
Exam Information
Select the Exam Session, Enrollment Year, and whether they are transfer students or not.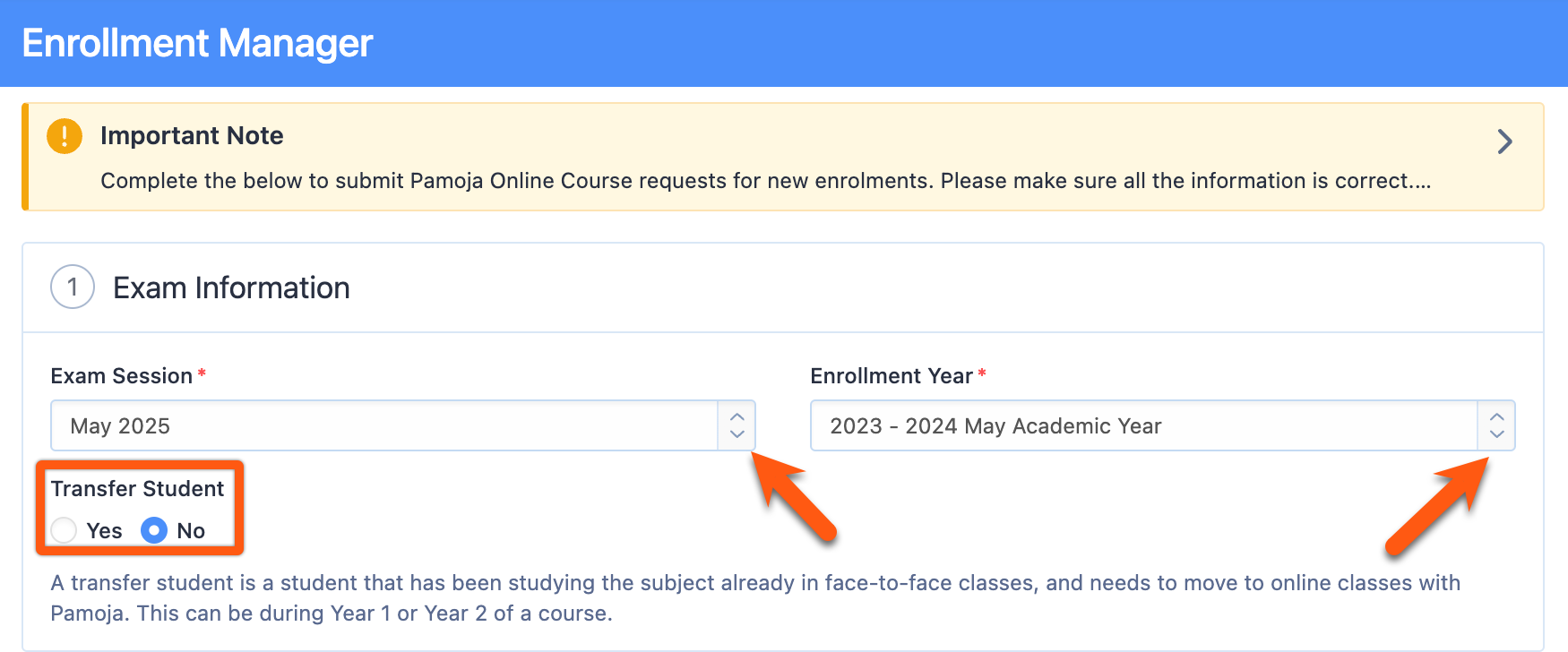 Select Students
Select the students you want to enroll. You can filter by Grade and search by name.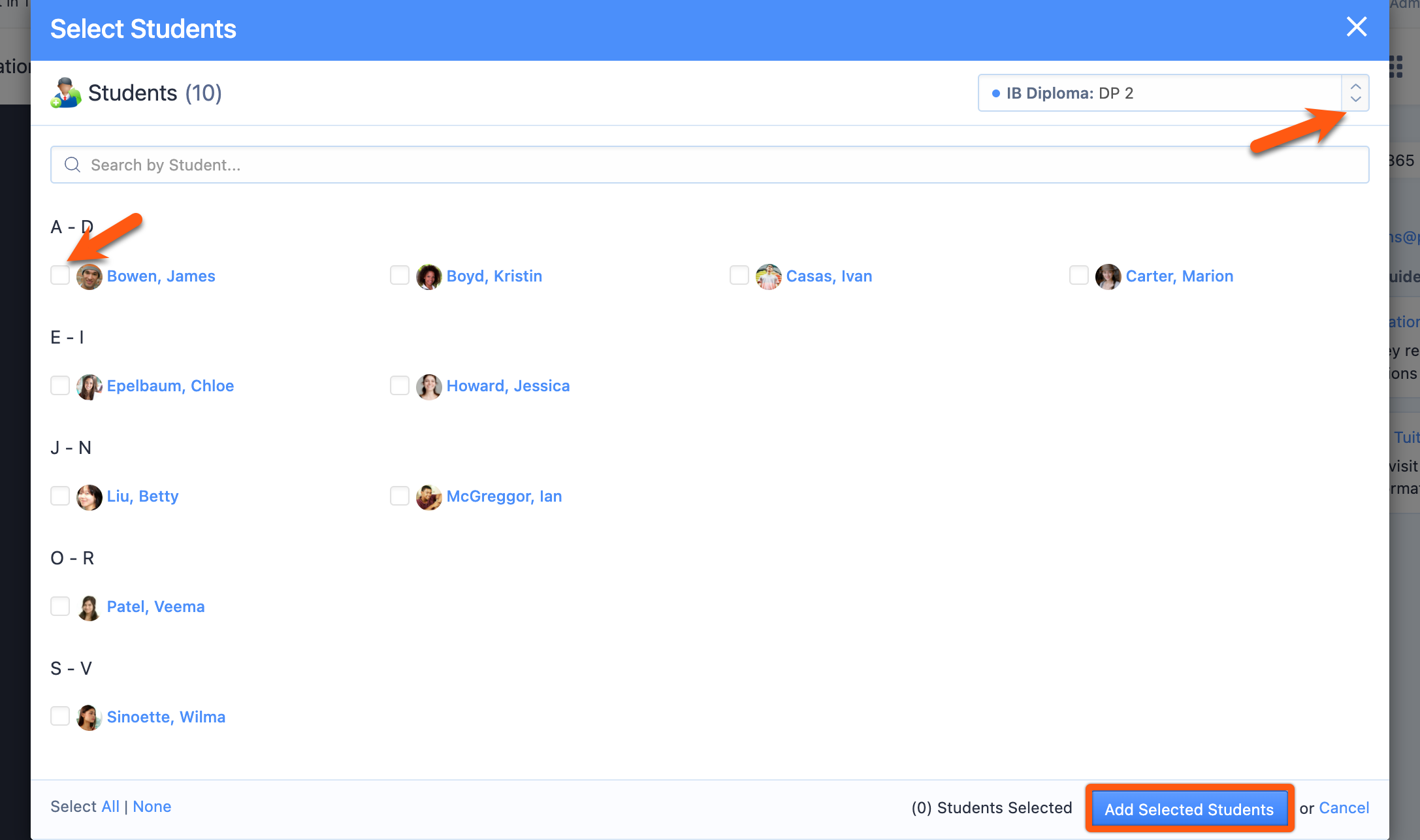 Once the students are selected, you can then click Add Selected Students. 
Select Courses
Using the Courses dropdown select which courses you want to register the students for. This is a multi-select so it allows for several courses to be selected at once.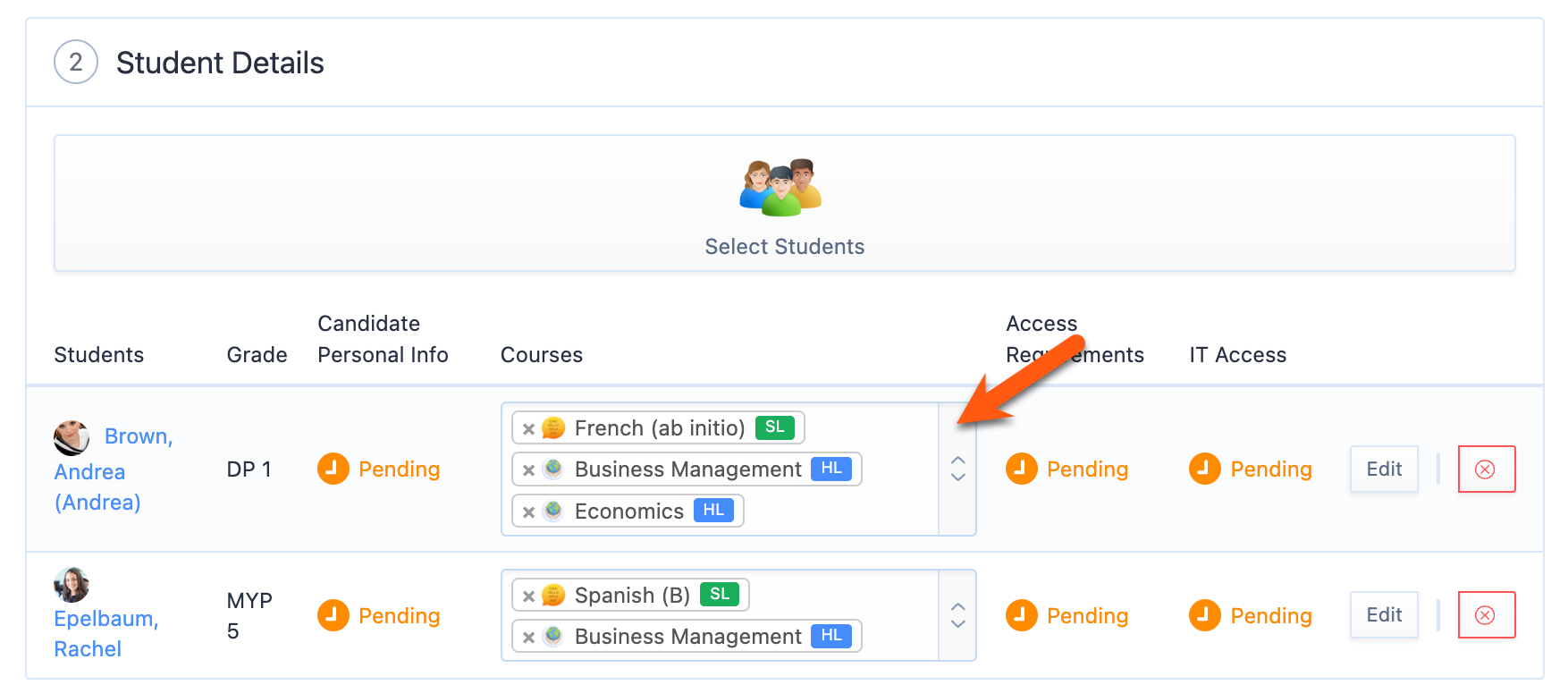 Complete Additional Information

To complete the Candidate Personal Info, Access Requirements, and IT Access, you can click the Edit button.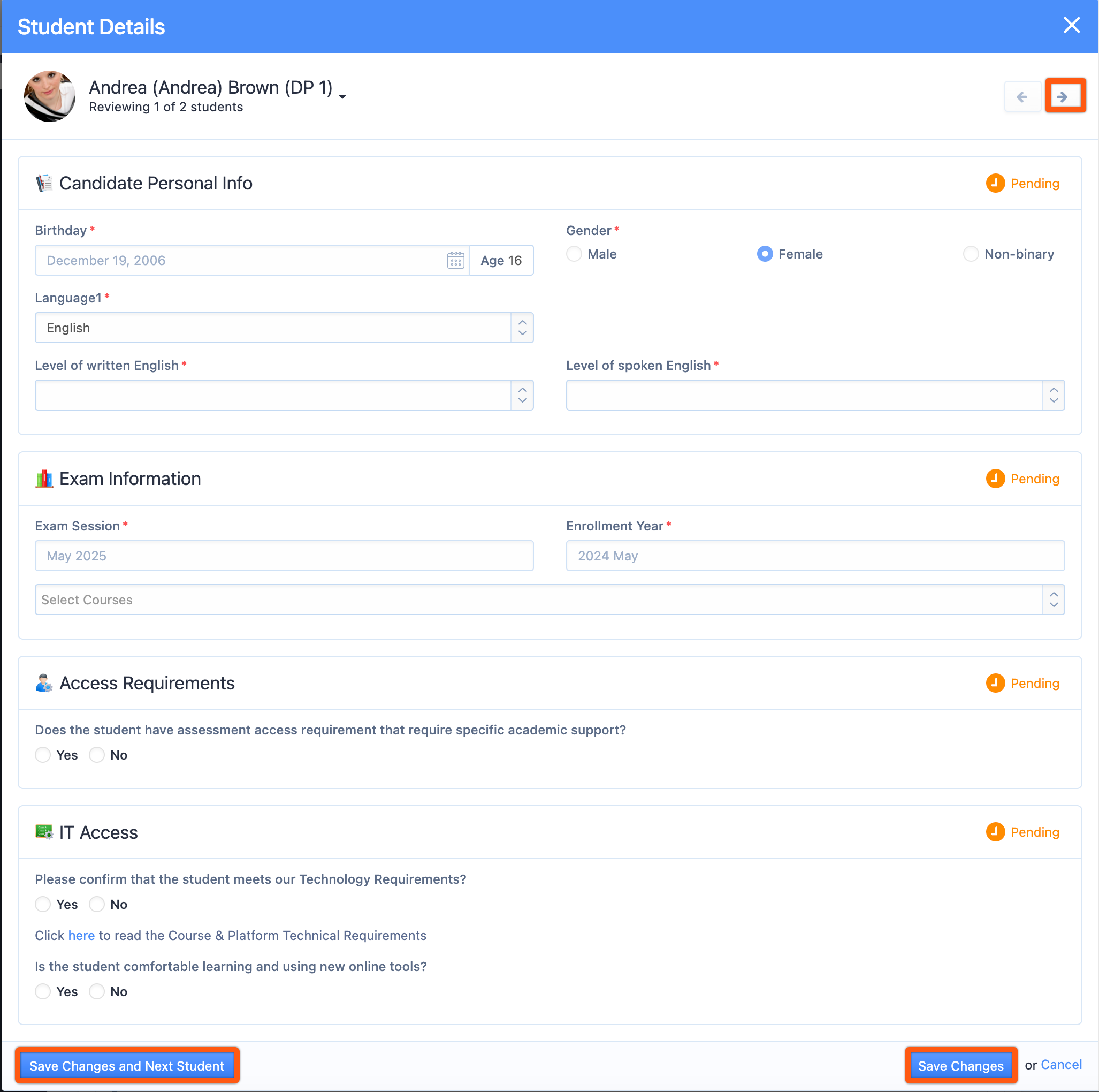 When you're done with the current student you can navigate to a different student by clicking the left/right arrow buttons, clicking the Save Changes and Next Student button, or clicking on the student's name.
Confirmation
Finally, you can tick the box to accept the terms and then Submit Course Request.

Important
After registration via ManageBac, schools must go directly to IBIS and amend the registrations for Pamoja Online Courses by ticking the Online Provider box and saving the changes for each candidate and Pamoja Online Course registered.
Please see attached to this article Pamoja IBIS registration guidelines document to for reference.
Bilingual Programme Students

For bilingual programme students, the Language & Literature subject should be configured as SL and self-taught.
For DP 2 students, ManageBac will automatically check to ensure that the correct number of subjects have been entered (i.e. minimum of 3 HLs for full Diploma candidates).
Note:
Diploma students registering for more than one subject of the same subject group need to add the subject as an Arts subject or by clicking Add New Subject. 
If the student is taking two Language A exams, the second language A subject can be selected by clicking Add New Subject and selecting "Second Language & Literature".
Diploma students registering for additional subjects outside of, or in addition to their 6 exam subjects, or Course students taking multiple subjects from the same group, should add these by clicking Additional Subject.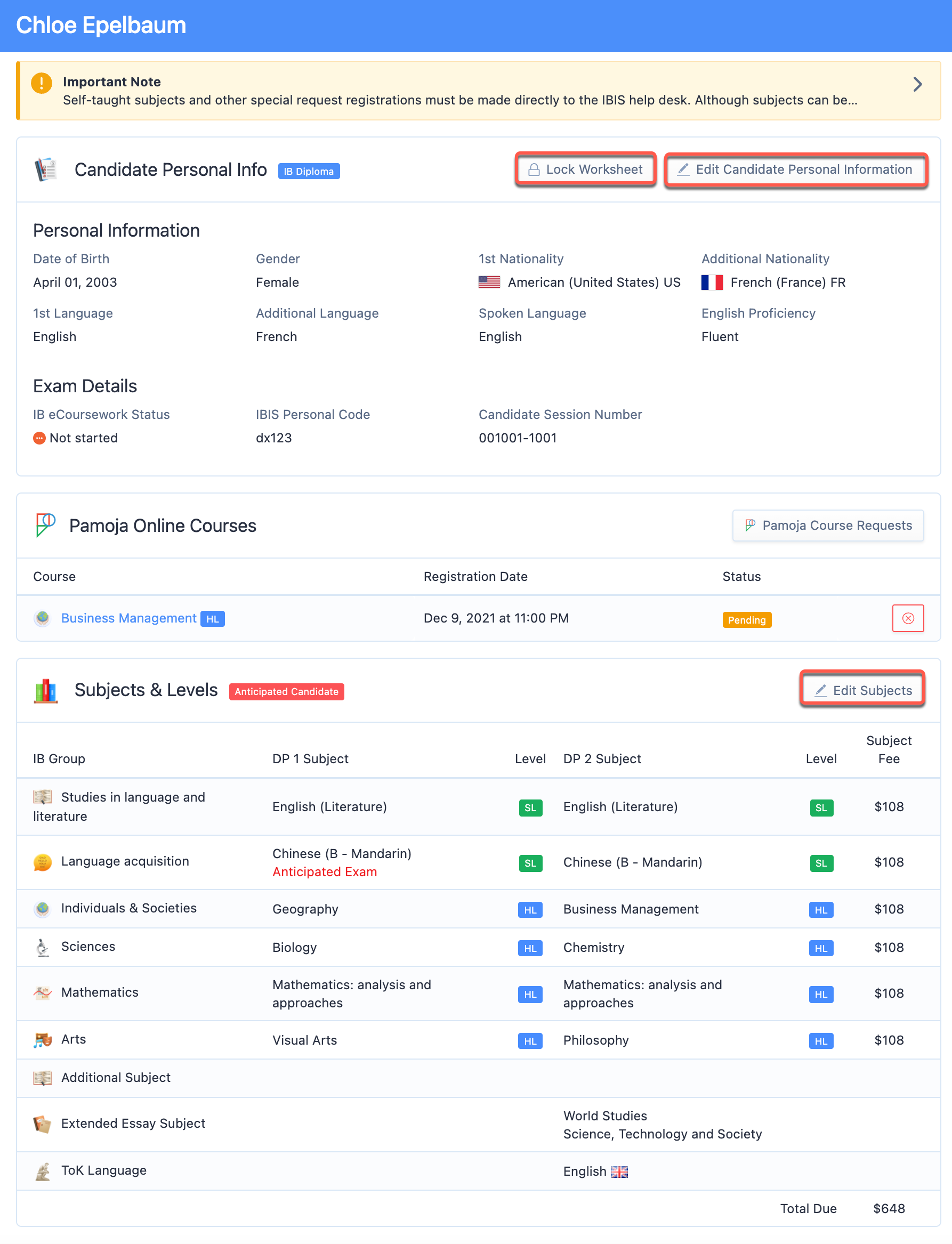 After reviewing a student's plan worksheet, you can click Lock Worksheet, which will restrict the student's ability to make further edits. You can still make edits by clicking the Edit Candidate Personal Information or Edit Subjects. 
Note: Avoid locking worksheets with missing or outdated personal information. The Candidate Personal Info will be used for exam registration, and must be accurate.
Click here for a student tutorial on completing plans worksheets.
Once the plans worksheets have been completed for each student in the year group, bulk register students by clicking Register via IBIS. Click here for further guidance on next steps.
Sending E-mail Reminders to Students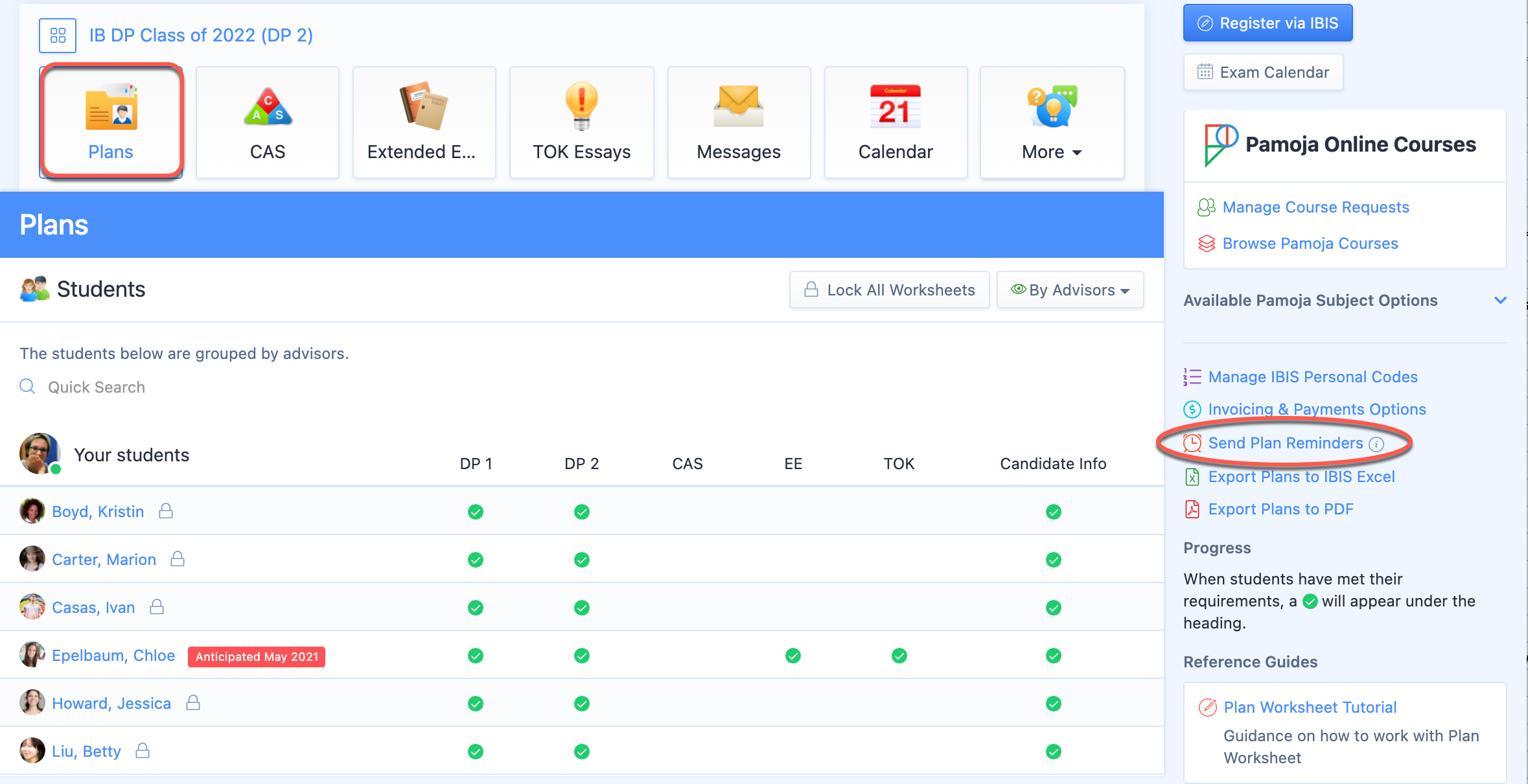 Via the Plans tab, click Send Plan Reminders to send reminders to students with incomplete plans worksheets. Students will receive the following email notification: (Please see this example)

Reviewing Worksheets
Via Year Groups > Select Year Group > Plans
You can register students for their classes by clicking Edit under Subjects & Levels. Students may also do this from their own Plans. It is important to click Save Changes after any changes have been made.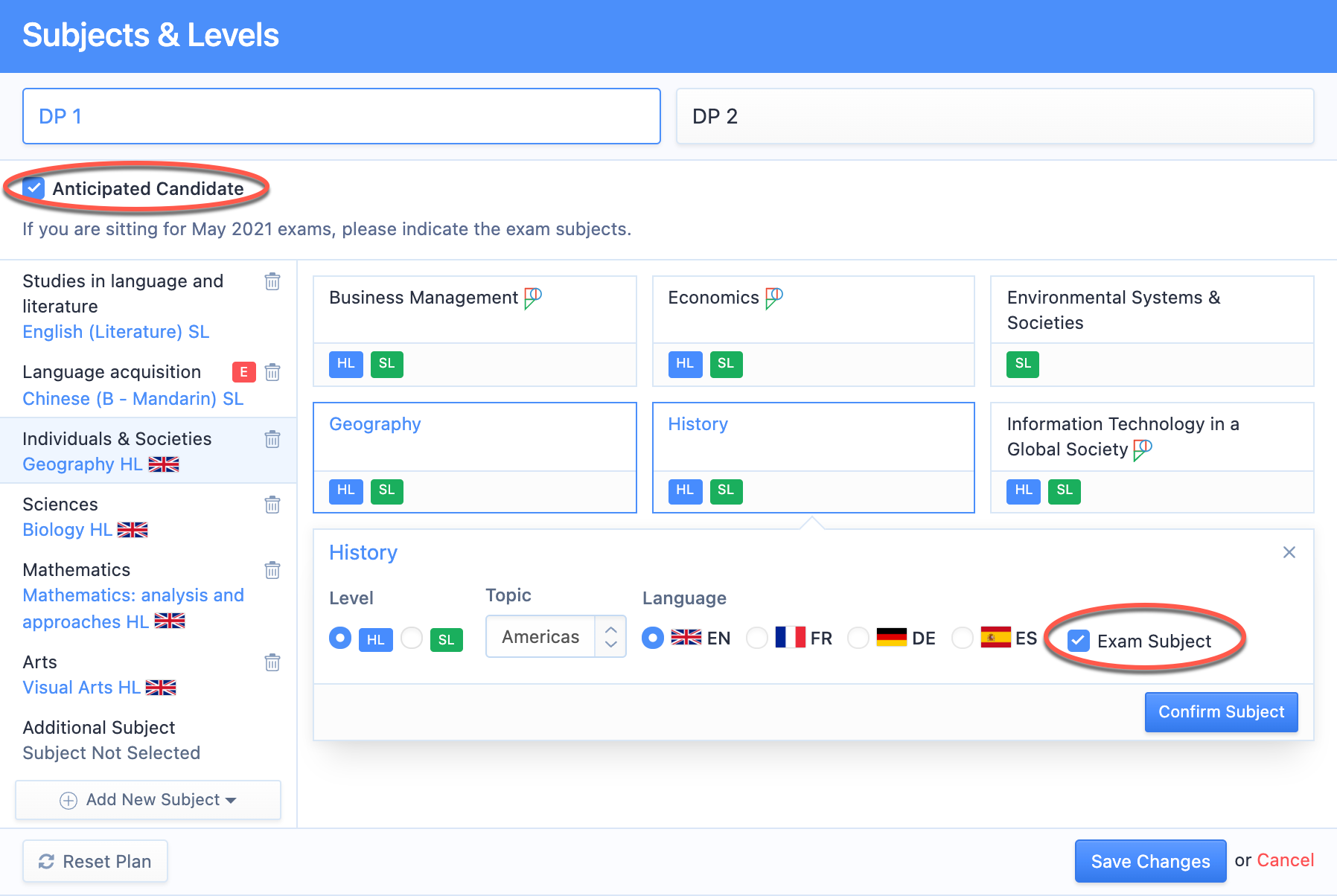 Anticipated exam candidates should also have their exam subjects selected. Click the checkbox next to Anticipated Candidate and then select the exam subjects, ensuring you select Exam Subject next to each course where an exam will be taken in Grade 11 or DP 1. After you click on Confirm Subject and then Save Changes, these will be indicated in the student's Subjects & Levels.
Note: If students are taking two Language and Literature exams, the second Language and Literature subject can be selected by clicking the Add New Subject.