What is iSAMS?

iSAMS is a web-based, single interface MIS designed by teachers specifically for schools. A single core database capable of informing, aiding and auditing every area of school life. iSAMS provides a fully managed service from installation to training, system updates and ongoing support. More than 750 schools around the world have chosen iSAMS as their trusted MIS.
How does ManageBac integrate with iSAMS?
Important
Our integration provides one-way synchronization of data for students, parents, and staff, from iSAMS into ManageBac, allowing you to create new users and withdraw old ones in iSAMS, which will then push to ManageBac automatically:
For Students Records are matched between systems using School Code in iSAMS and Student ID in ManageBac, with data in iSAMS directly overriding data in ManageBac.
For Parents: Select which Contact Types in iSAMS you'd like to see sync to ManageBac.
For Staff: Select which staff you'd like to sync from iSAMS to ManageBac. Staff are auto-matched based on e-mail address.
The following iSAMS fields are supported to sync to ManageBac.
Students

First Name

E-mail Address


Middle Name

Enrollment Date (upon creation)

Last Name

School Code (iSAMS) = Student ID (MB)

Preferred Name

iSAMS Student ID

Date of Birth

Address Line 1

Gender

Address Line 2

Year Grade Number

City

Status

State

Mobile Telephone

Post Code

Nationality (ISO values)

Language (ISO values)

Parents

Title/Profession

Home Phone Number

Salutation/Title

Address Line 1

First Name

Address Line 2

Last Name

City

E-mail Address

State

Mobile Telephone

Post Code

Country

Teachers

First Name

Home Phone Number

Last name

Mobile Telephone

Preferred Name

Address Line 1

Gender

Address Line 2

Email Address

City

Date of Birth

State

Language

Postcode

Nationality

Country
Important
Bold fields are required to create a user in ManageBac via iSAMS data integration.
How to setup your iSAMS integration
You must have an active ManageBac account, and an active iSAMS account to integrate the two systems. To request integration with iSAMS, please review the attached Integration Setup Guide in this article.
Once your prerequisites are in place, contact us via support@managebac.com.
We will review the information you have sent via Excel, ensure that the data matches between iSAMS and ManageBac, and then proceed with syncing the two systems. If there is any data discrepancy, we will contact you via email to ensure it is fixed before we enable sync.
Please note that during the sync process, your iSAMS account will temporarily be placed in Maintenance Mode. This will stop all members of staff from logging into iSAMS until the Integration setup process is completed. We estimate the downtime will be 1-4 hours and is dependent on the number of students.
Integration Questions and Support
iSAMS created new students with fake emails in ManageBac. Why did this happen?
If you do not add an email address to your student in iSAMS, the system will create an automatic fake email in ManageBac. This is because email addresses are an optional field in iSAMS, but a mandatory field in ManageBac. You can change the email to a real one within iSAMS.
None of the newly added users in iSAMS is appearing in ManageBac.
Please check the following:
Is the integration showing as enabled in iSAMS > Control Panel > 3rd Party Integrations?

Does the API Key entered for the ManageBac integration in iSAMS match the API Key in ManageBac?

Do students have matching iSAMS School Codes and MB Student IDs? Are they set to Current in iSAMS?
Are iSAMS parent types mapped correctly to ManageBac contact types in the Contact Type Mapping tab?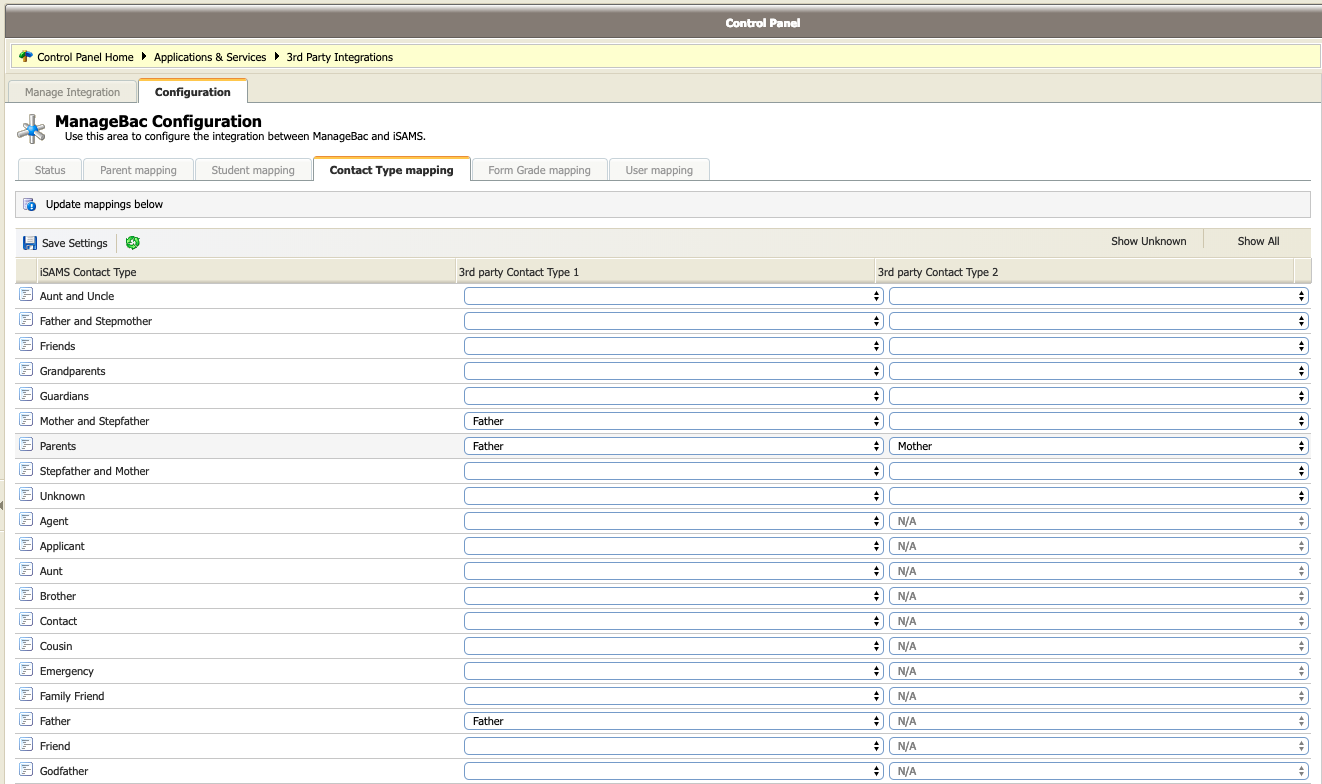 Are teachers and admins granted 3rd party access in iSAMS? If all of the above is correct, please get in touch with the iSAMS Helpdesk.
Students are arriving in ManageBac with the incorrect nationality, language or country.
Are countries, nationalities and languages mapped to the correct ISO names and codes in iSAMS > Control Panel > Mappings Manager?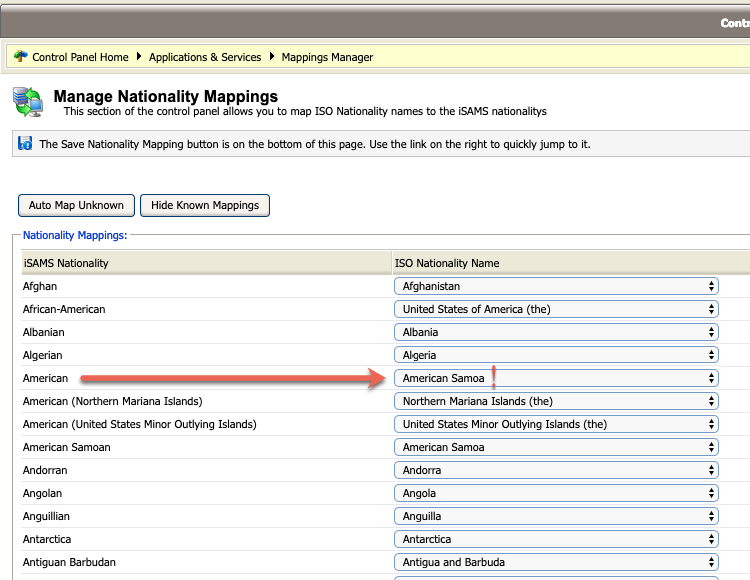 Students are arriving in ManageBac with the wrong grade level
Are the grade levels mapped in iSAMS > Control Panel > 3rd Party integration > ManageBac > Configuration Page > Form Grade Mapping matching to your ManageBac > Settings > School Settings > Grades & Levels?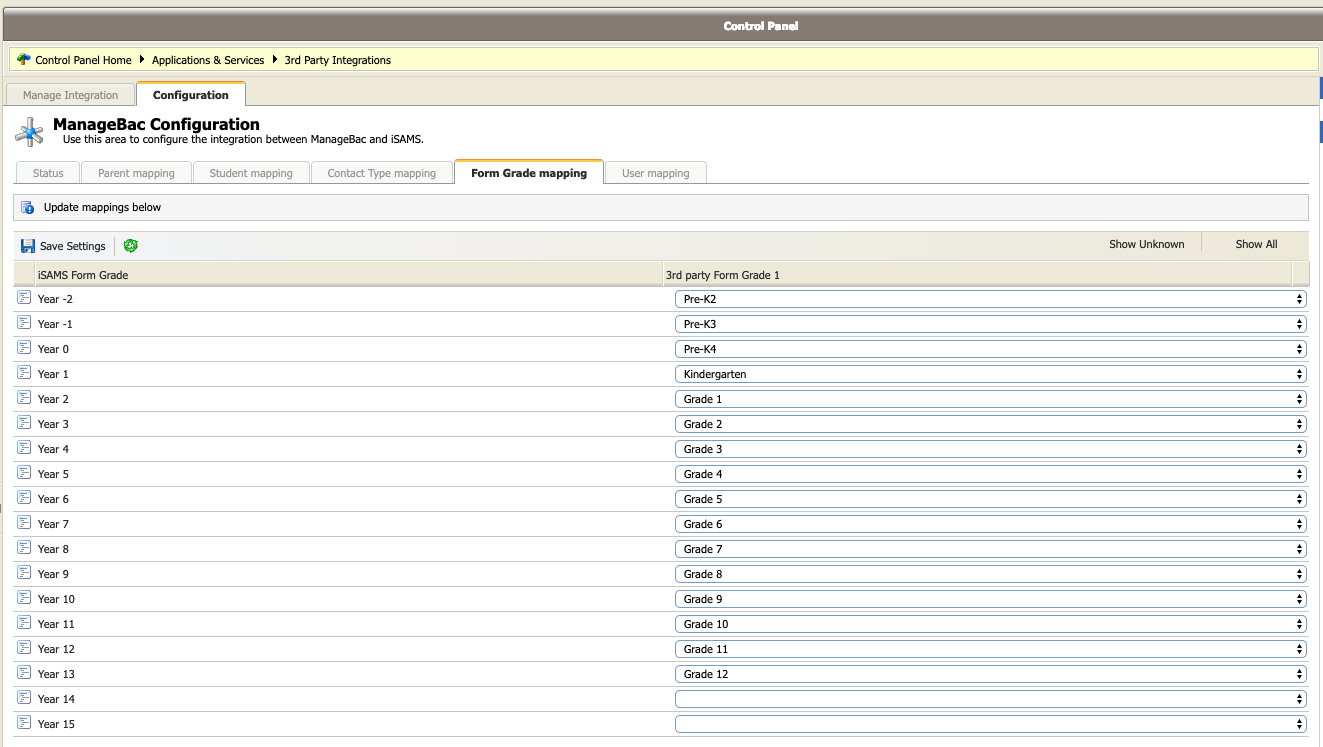 When do I contact iSAMS versus ManageBac?
| | | |
| --- | --- | --- |
| I am having trouble with... | Contact iSAMS | Contact ManageBac |
| A student is appearing as active in iSAMS, but doesn't appear in ManageBac, and I've checked all the steps listed above | X | |
| I am having trouble finding the iSAMS control panel, or another page from the iSAMS screenshots above | X | |
| I am seeing duplicates of students or parents in ManageBac | | X |
| I am missing a student that was previously in iSAMS from ManageBac | | X |
| I can't find a student or parent in iSAMS | X | |
| How do I transition iSAMS to the next academic year? | X | |
| How do I transition ManageBac to the next academic year? | | X |
For further questions about iSAMS, you can also access their help site directly.