Video
View a demo on configuring attendance settings, assigning advisors for Homeroom Attendance and importing timetables for Class Attendance.
Homeroom vs Class Attendance
Note:

There are 2 forms of attendance on ManageBac. Homeroom Attendance and Class Attendance.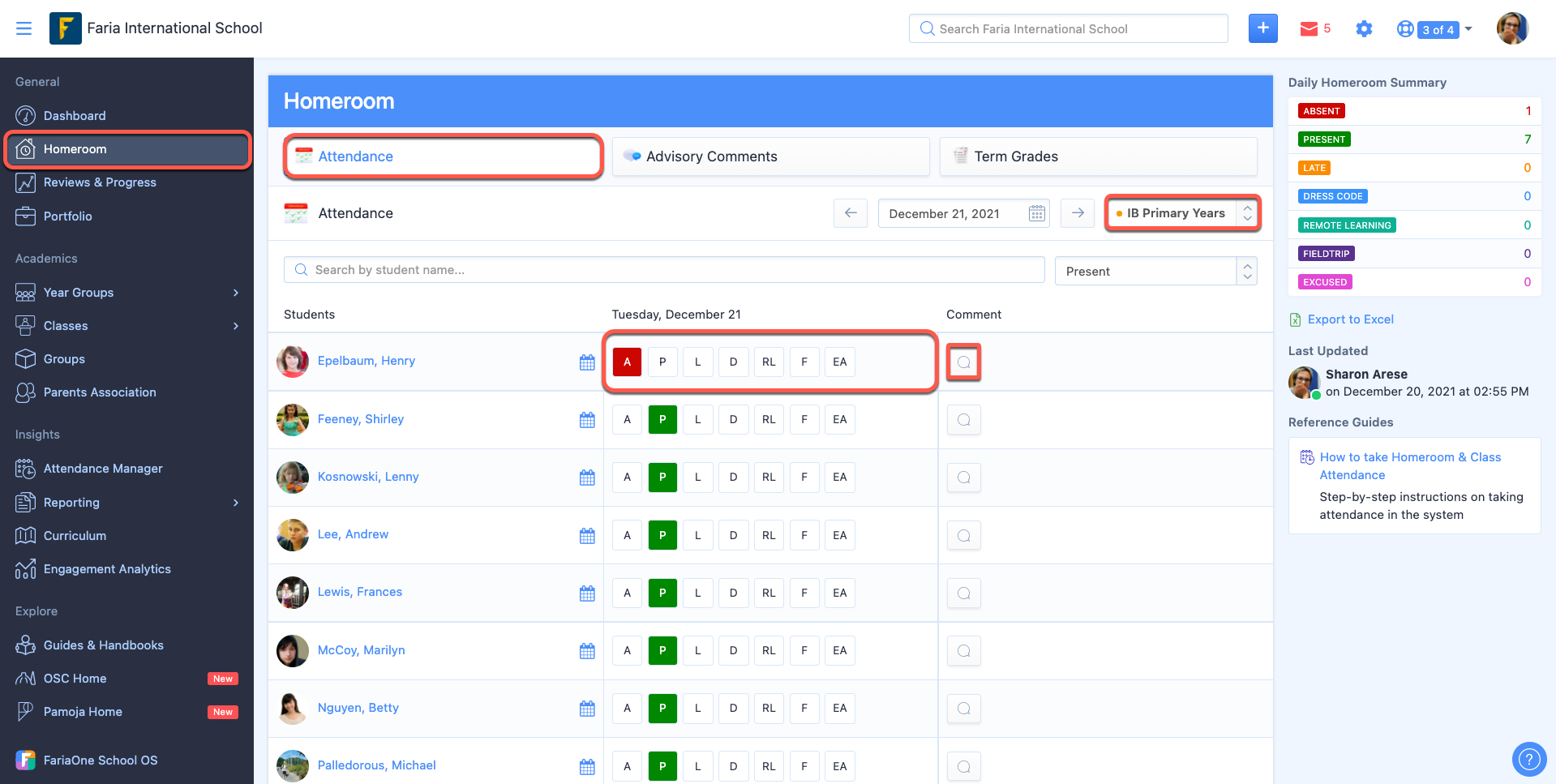 If you only take attendance once per day in the Primary Years, it is
recommended to select Homeroom Only
in your PYP Attendance Settings
and record all entries under
Dashboard > Homeroom
.


Homeroom Attendance
Assigning students to Homeroom Advisors permits the advisor to:
Homeroom Attendance
Homeroom Attendance is recorded via Dashboard > Homeroom.
Does not require the configuration of timetables or periods.
Can be updated by the student's assigned Homeroom Advisor.
Enable Substitute Recording for all teachers in the class to record Homeroom Attendance.
Grant certain users permission to the Attendance Manager to update across all year levels.
Advisors can be assigned via:

An individual Student Profile (To update 1 user)
Via the Year Group (To update all students at a year level)
Importing in bulk (To update all students across multiple year levels)
Class Attendance
Class Attendance is recorded via Classes > selecting your class > Attendance. (Note: Your class might be called "Homeroom", but recording here will save Class Attendance.).
Generally only used if you record attendance more than once per day, or wish to record attendance in specialist classes.
Requires configuring attendance Rotation (weekday or rotation cycle), Periods and class Timetables.
Click here to see how to record Homeroom or Class Attendance.
Assign Homeroom Advisor to a Student
Navigate to a students profile, such as by searching for their name on the Dashboard.

On the right-hand side, you will be able to see their currently assigned Homeroom Advisor, if any. You can update this if needed by clicking Edit Profile.

From the Homeroom Info dropdown, select a user or search for their name. All Admins and Teacher/Advisor level users will display as an option. The advisor will be updated upon selection.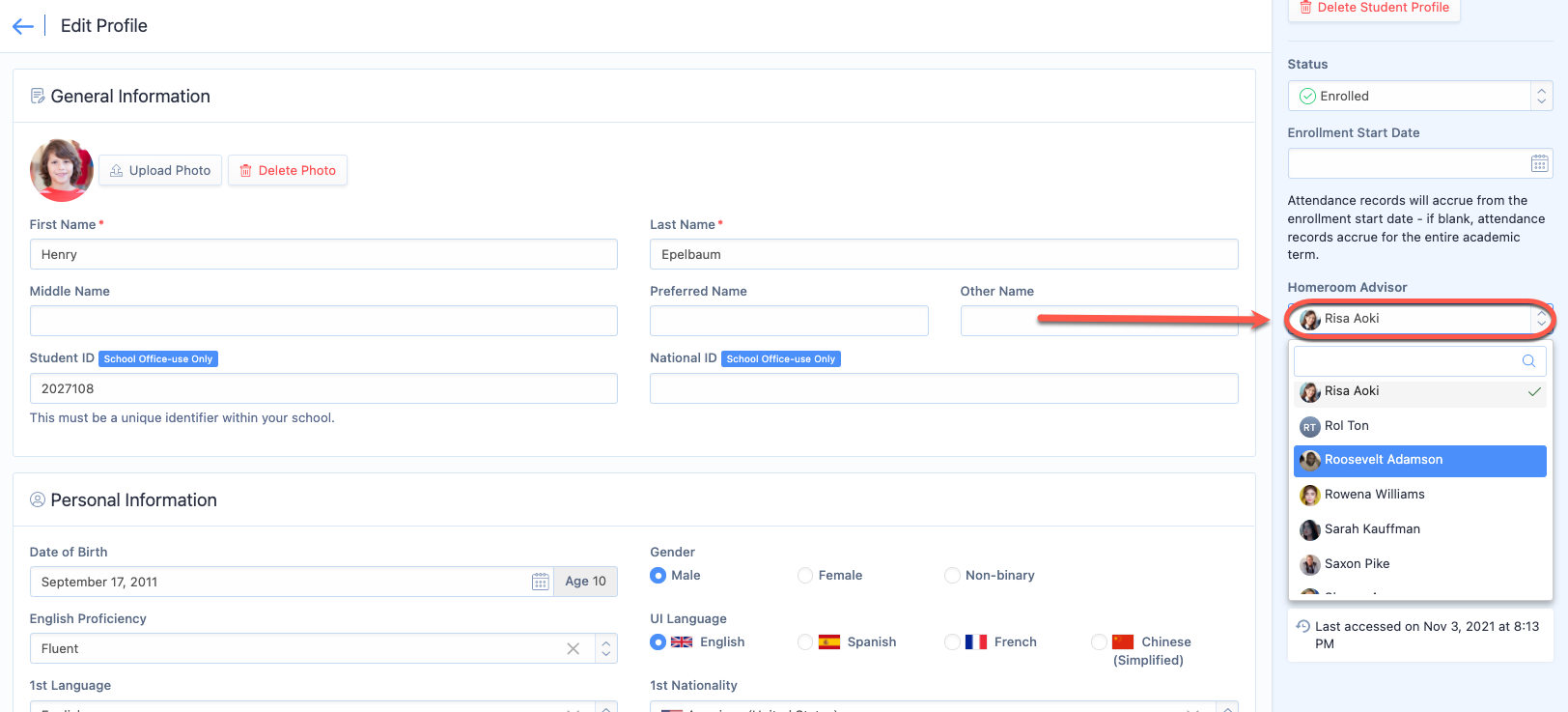 Assign Homeroom Advisor via a Year Group
via the Members tab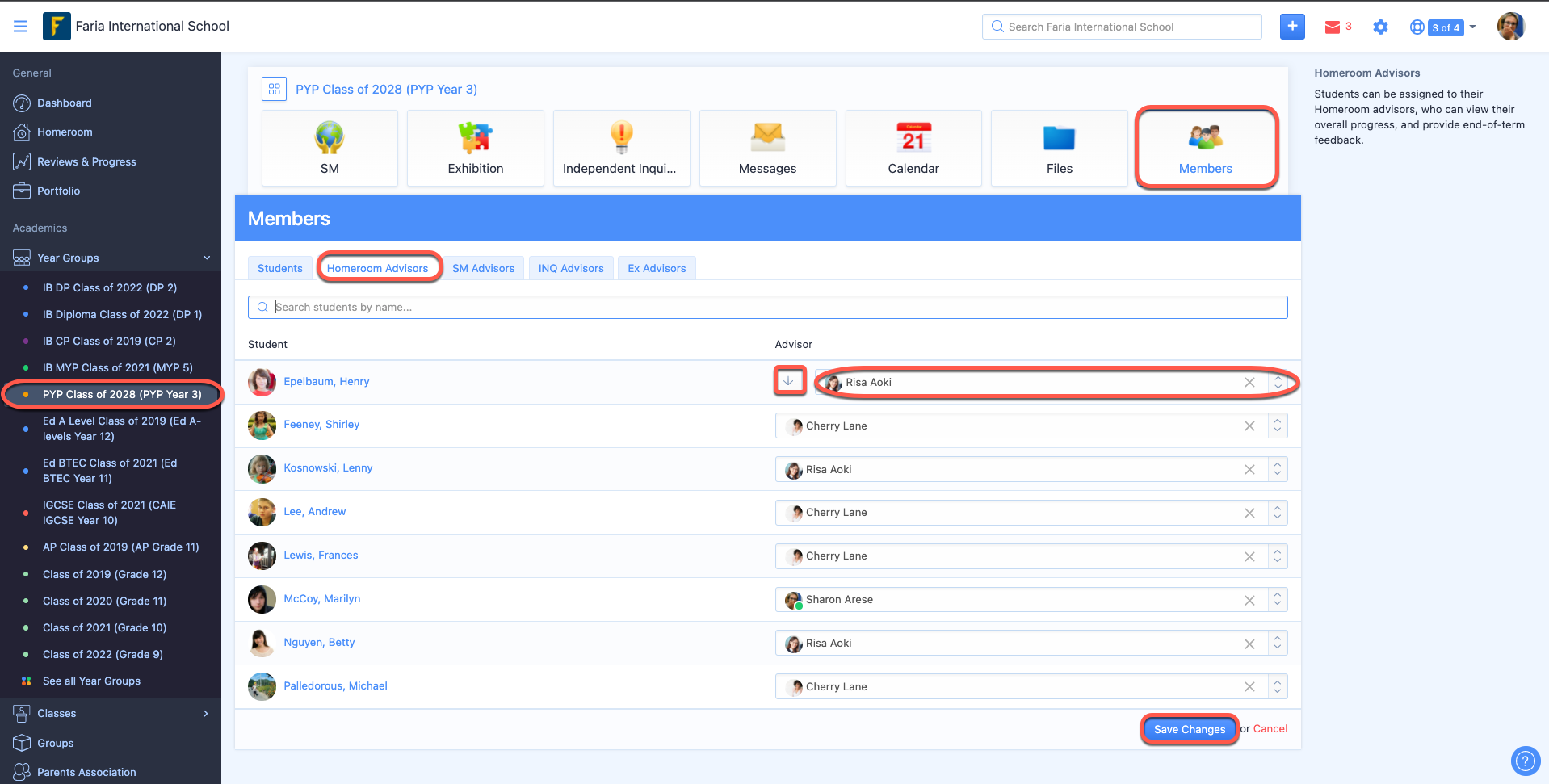 Navigate to the Year Group tab on the left-hand menu > select a year group > Members > Homeroom Advisors. From here you can manually assign advisors to students.
Select the homeroom advisors name in the dropdown, or click the down arrow to quickly assign the advisor in the top row to all students below. Click Save Changes.
Bulk Assign Homeroom Advisors
For larger schools, advisors can also be assigned via Year Groups > see all Year Groups > Bulk Assign Students.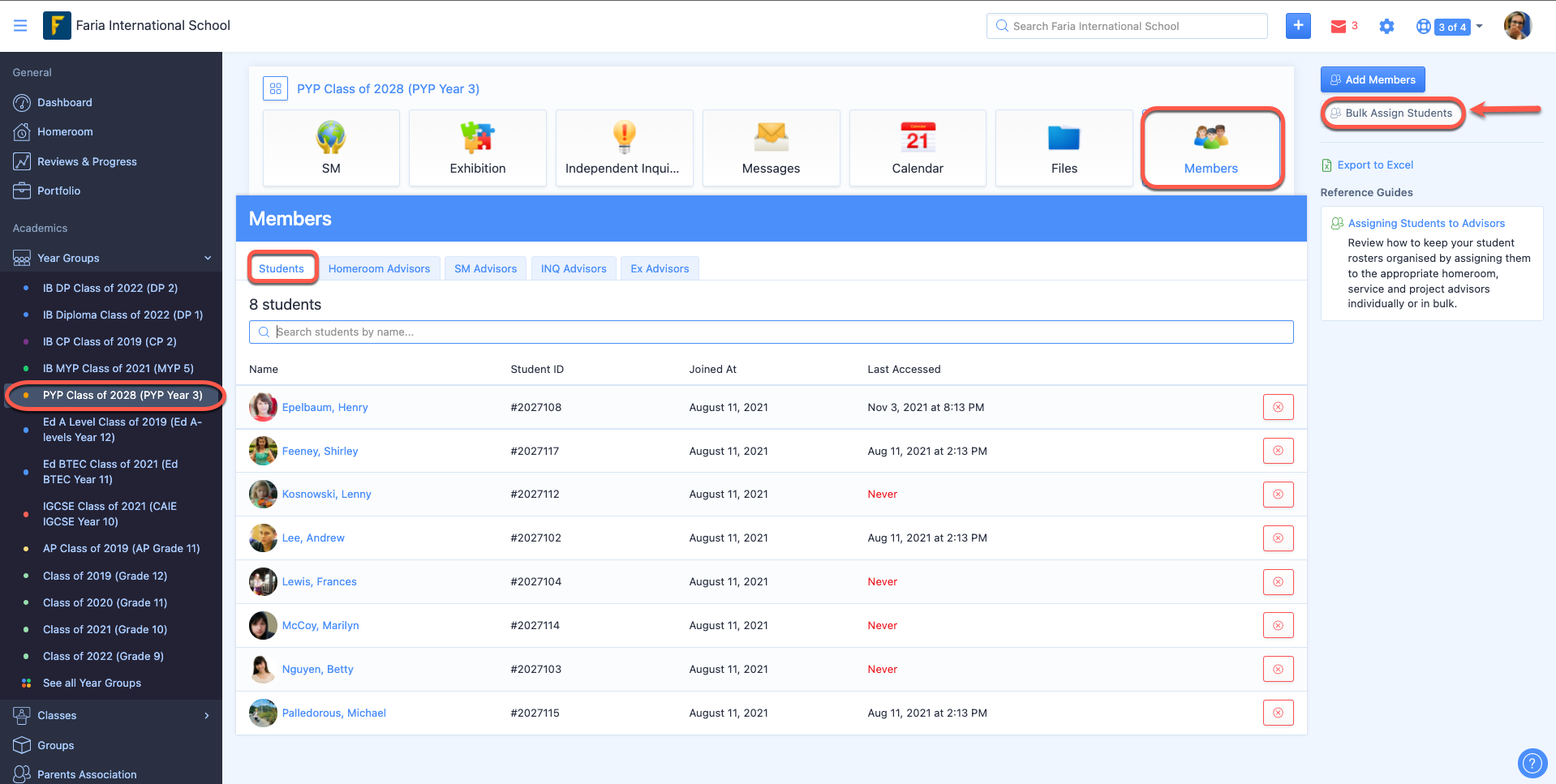 1. Download our CSV template.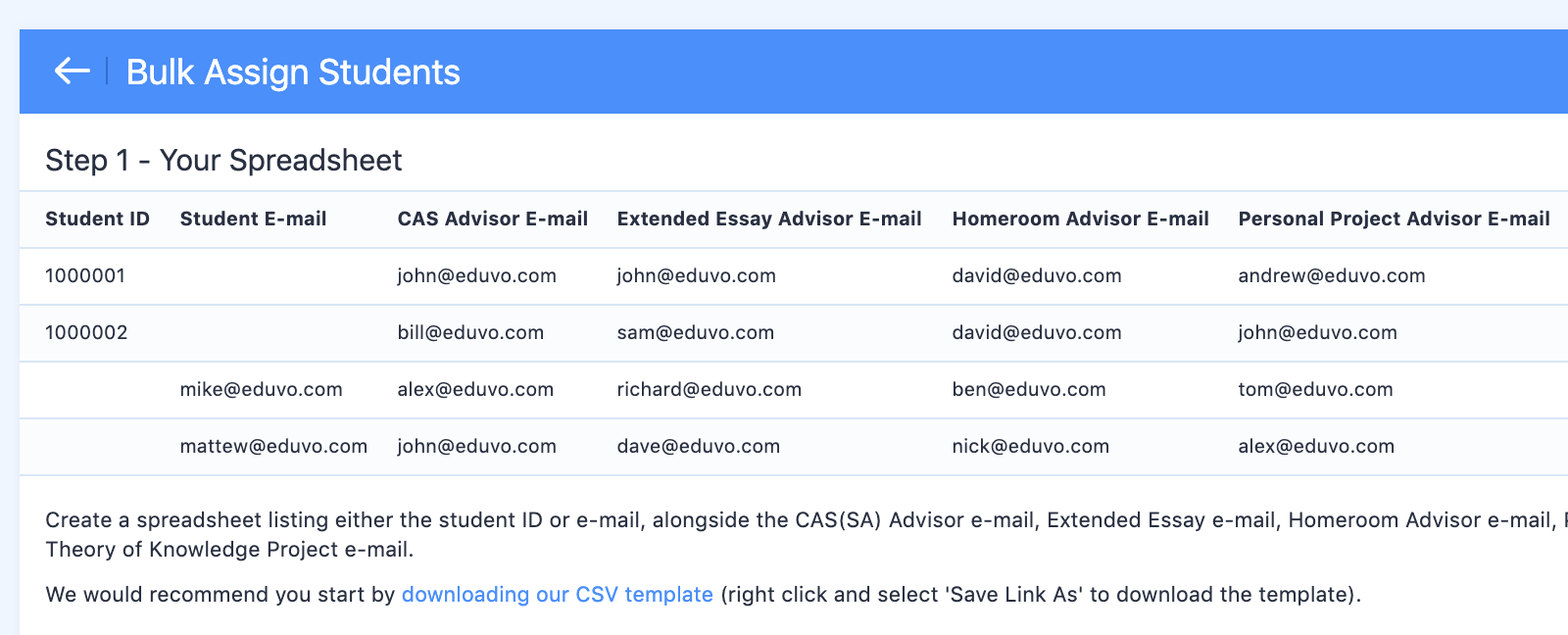 2. Add either student ID OR student email, and Advisor email. Do not edit the field names or columns along the top row and leave any columns that you don't need (e.g. Extended Essay Advisor) blank.
3. Upload the file and click Bulk Assign
Homeroom Attendance
Via the Dashboard > Homeroom > Attendance, Homeroom Advisors will see their list of assigned students to mark attendance for. Students are filtered by year group programme and sorted alphabetically by Last Name.
Note: Homeroom is a customizable term within your school's Terminology settings, so this may appear as Homeroom, Advisory, Section etc.

Click from the enabled attendance categories, such as P: Present, A: Absent, L: Late etc to record attendance. Mark individual students, or select via the dropdown to Mark All As. Click the bubble icon to leave a comment.
View attendance across days in the week, or select a particular day from the calendar.
Click the Calendar icon to view Homeroom Attendance records across terms and as a percentage.
View a Homeroom Summary of today's Homeroom Attendance
View the time attendance was Last Updated
Export to Excel daily, weekly, and monthly attendance logs.
Homeroom Attendance Tips:
Homeroom Attendance marked as Absent will be reflected in the student's classes for the day, to give context to class teachers.
If Substitute Recording

has been enabled within your Attendance Settings, Homeroom Advisors will not only see those students they are assigned to, but also

any student that is in a class that they are a teacher in.
Attendance not recorded is automatically marked as Present at midnight on your school's account. This means you can just focus on those who were not Present, and update accordingly.
If you do not find a student in your roster that you need to record attendance for, check if you are assigned as their Homeroom Advisor, either via the students profile, or via the Year Group members tab. Click to read more about Assigning Homeroom Advisors.
Enabling Substitute Recording
It's only possible to assign 1 Homeroom Advisor to each student on Managebac. Thus, if you wish for more than 1 teacher in a PYP Homeroom class to be able to record homeroom attendance for the students in the class, you may wish to enable substitute recording.

Navigate to Settings > Attendance & Calendar > Programme-level > IB Primary Years. Tick Enable Substitute Recording. With this enabled, the students that will show for PYP advisors will include:
Students who the advisor is assigned to as their Homeroom Advisor AND

All other students in the IB Primary Years class(es) they are a teacher in.
Note: This setting will automatically be enabled for all teachers in IB Primary Years if enabled.
Granting Attendance Manager Permission
The Attendance Manager allows administrators, and teachers with permission to access the tab, to record daily attendance without going into the classes or homerooms themselves.
Enable for an Individual
You can grant this permission by navigating to a teacher/advisors profile by searching for their name on the Dashboard > click on their name.

Via their profile, click Edit Profile on the right-hand side > Permissions.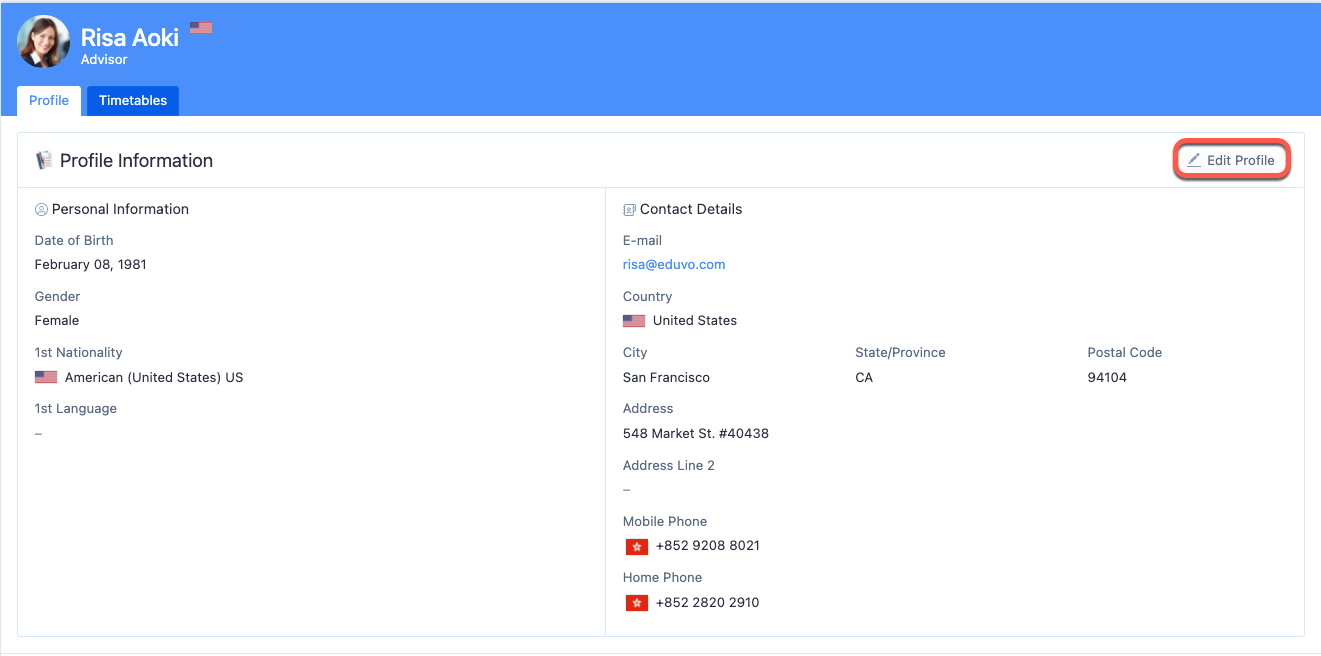 Tick Attendance, Save Changes to grant them access to the Attendance Manager.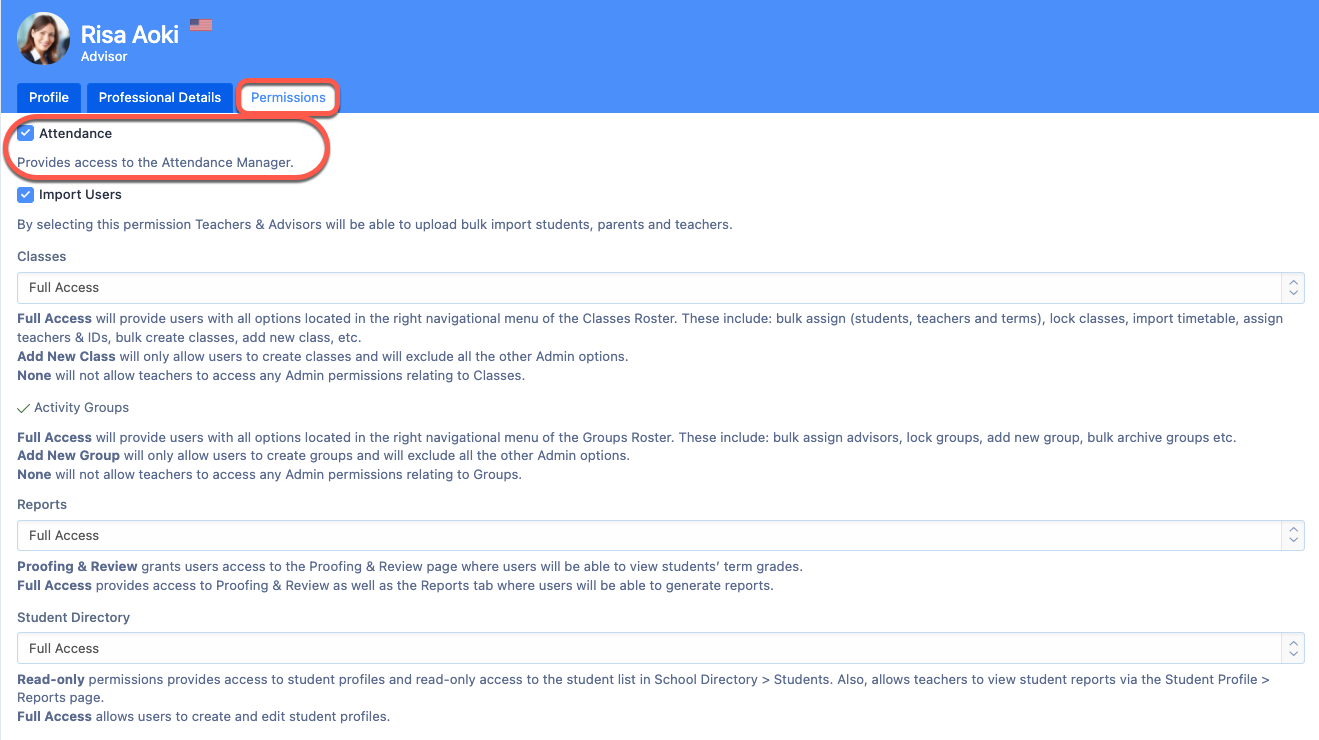 Enable for multiple Teachers/Advisors
You can configure attendance permissions by navigating to Settings > Security & Permissions > Teachers & Advisors > Individual Permissions.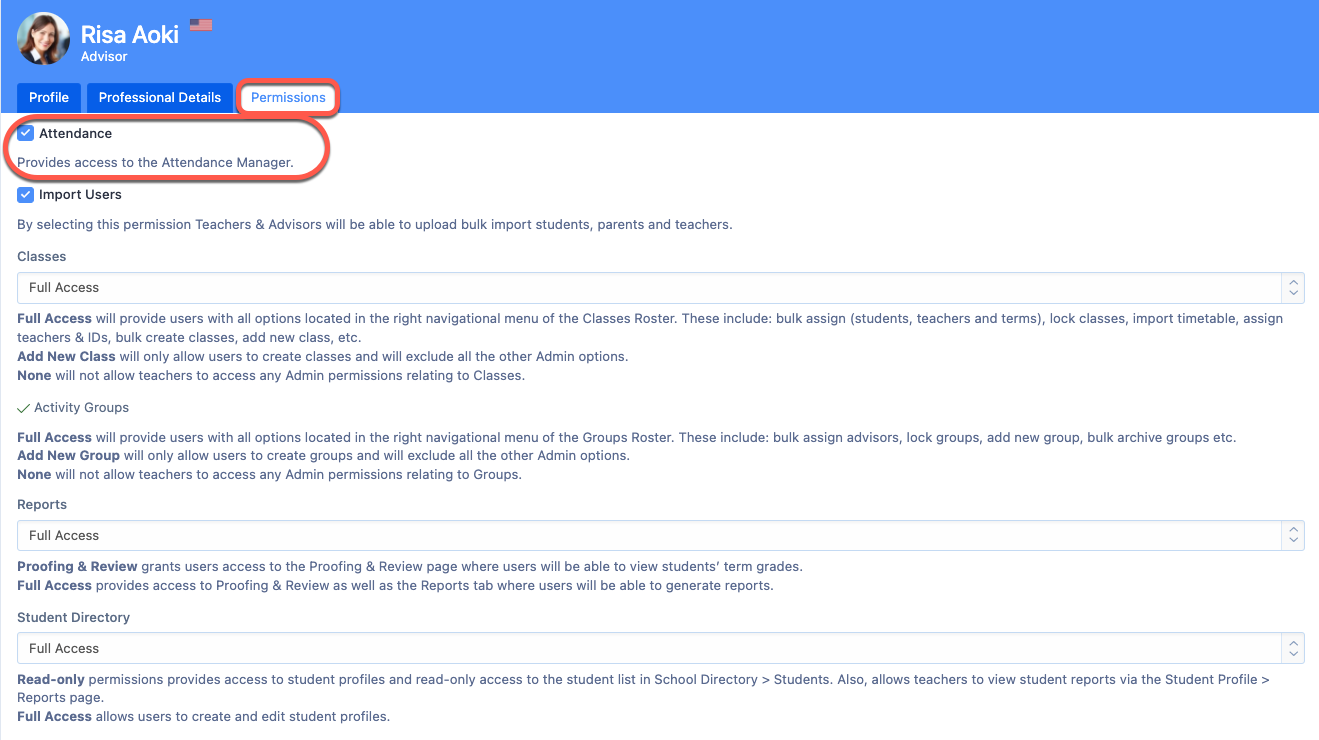 Check the box under Attendance, Save Changes.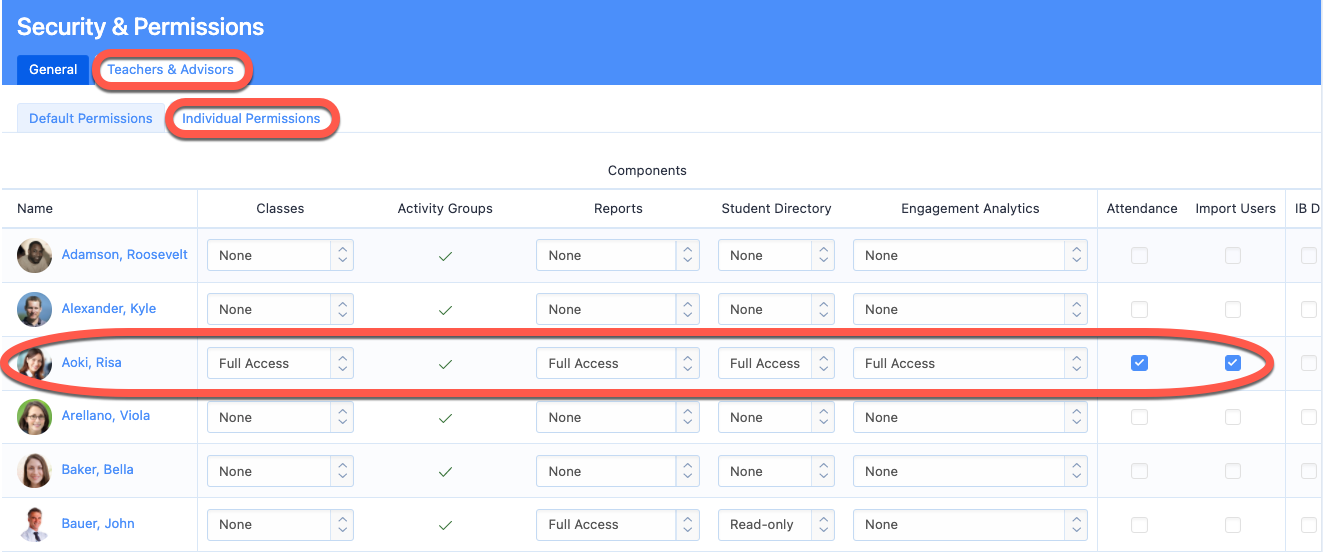 Note: This grants the user full access to view and update attendance records for all students across all programmes and grade levels, past and present.
Click here to learn more about Recording Attendance via the Attendance Manager.
Reports
If "Advisor" is enabled in the report template, the Homeroom Advisor will also be displayed on your term reports.
Note: Only available if Reports add-on has been enabled on your account.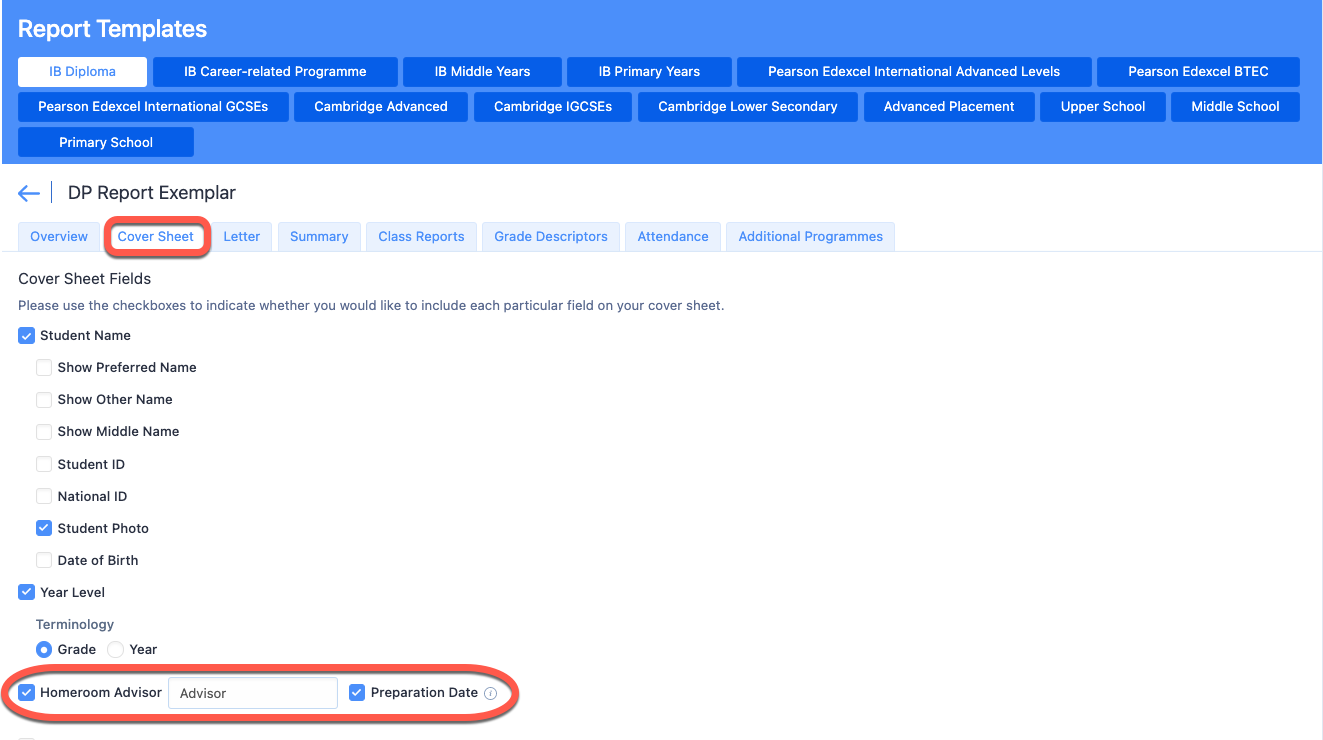 Class Attendance
Click here to read more on configuring class timetables.