The Behaviour & Discipline features can be used to track any kind of student behaviour notes (positive or negative).
Access Behaviour & Discipline
via Settings > Behaviour & Discipline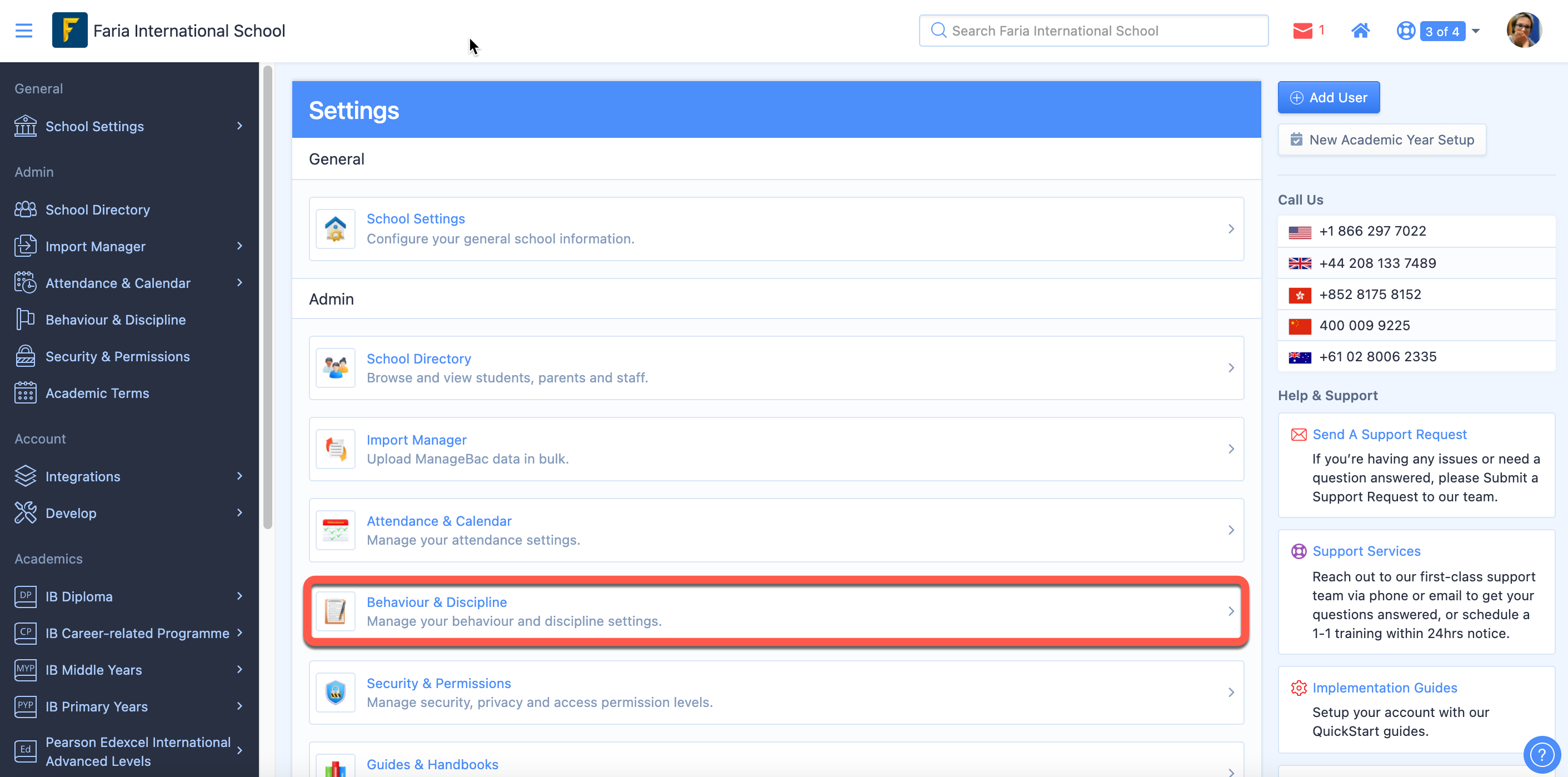 The Behaviour & Discipline tab via the Settings Menu will allow Admins, Homeroom Advisors, and Classroom Teachers to add Behaviour Incidents on Student Profiles and share with Parents.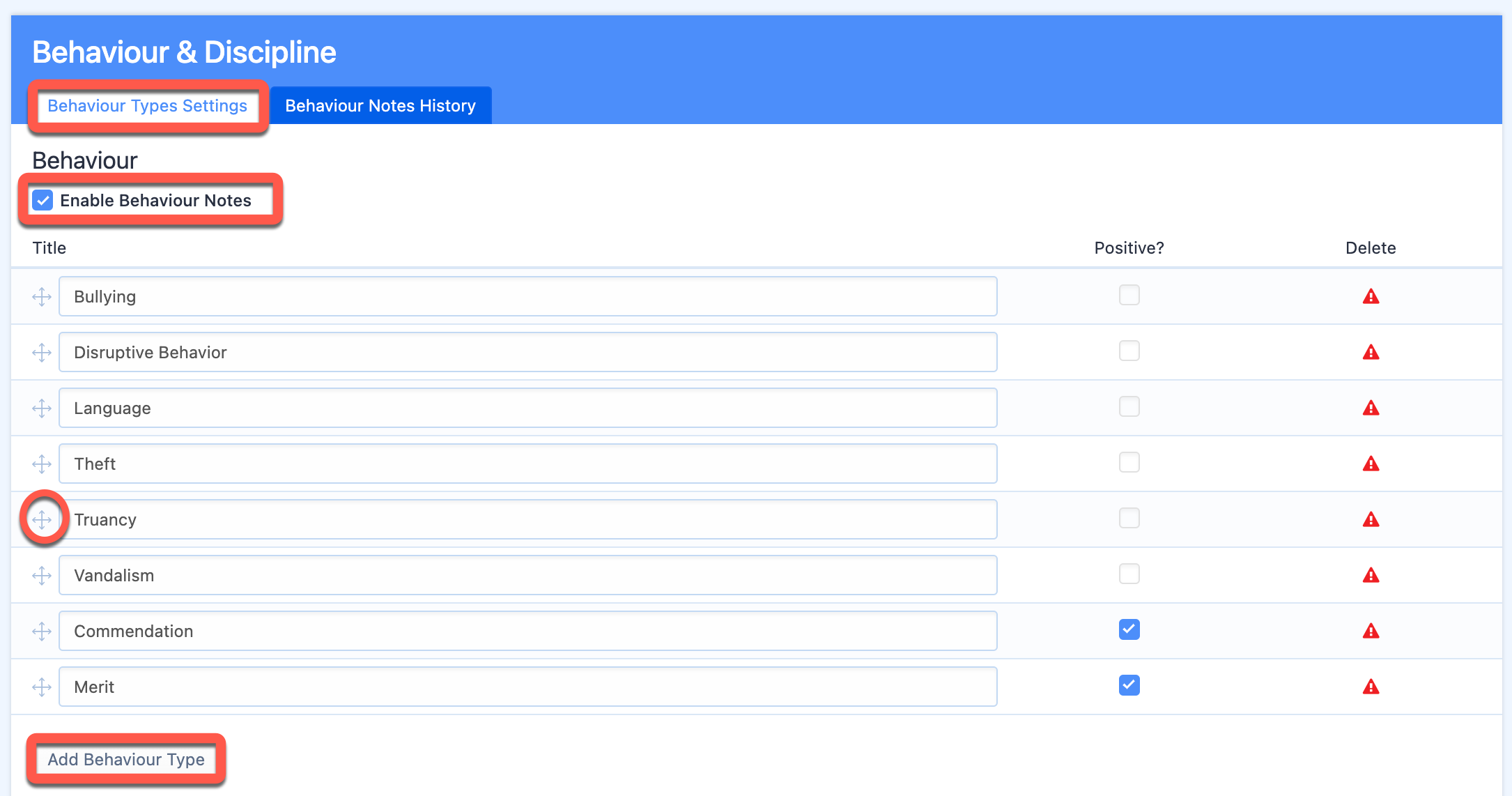 To enable the Behaviour tab on Student Profiles, navigate Settings > Behaviour & Discipline > Enable Behavior Notes. Behaviour Types are added by default but can be added to and Edited. Behaviour Types can also be marked as Positive Behaviour types and reordered.


Configuring Next Steps
With Next Step, Behaviour Notes will include the action to be taken regarding the incident added on a Student Profile. The next Steps can also be edited, added, and reordered to meet your needs.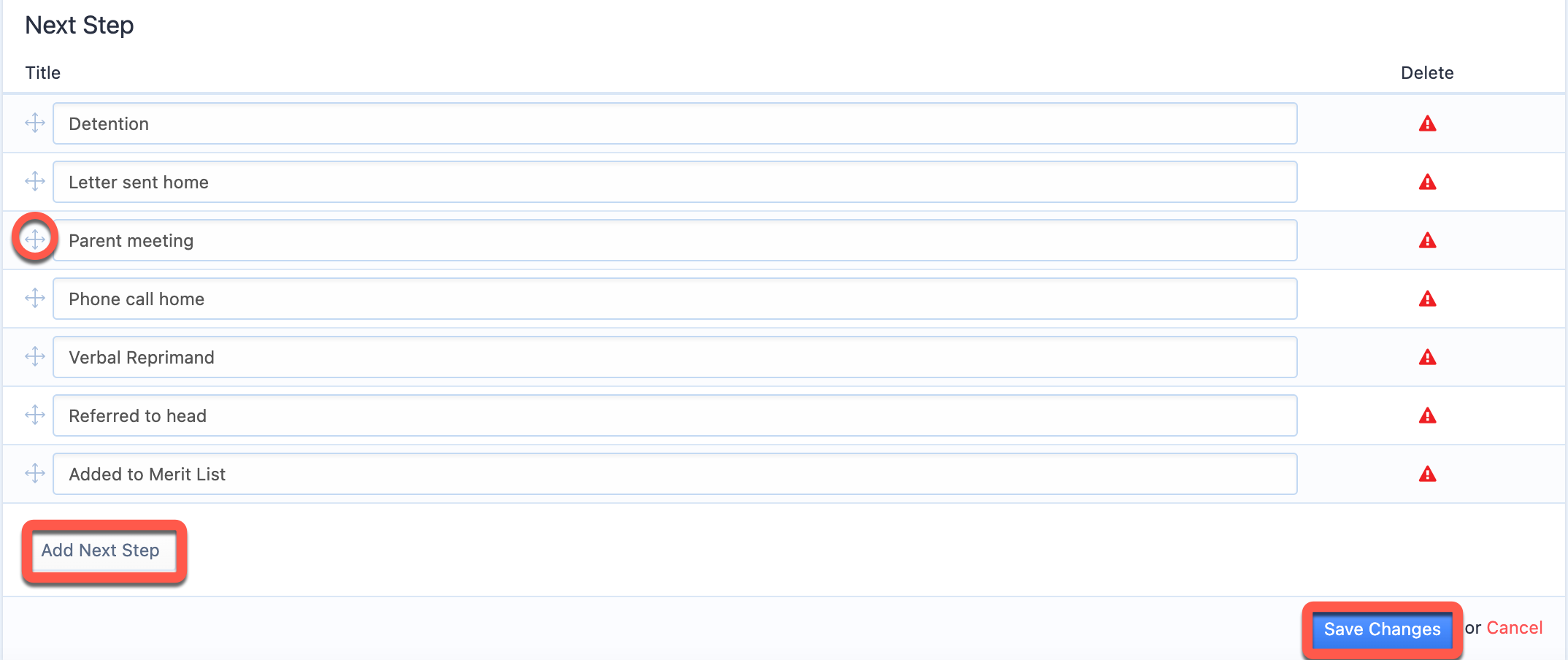 Behaviour Notes History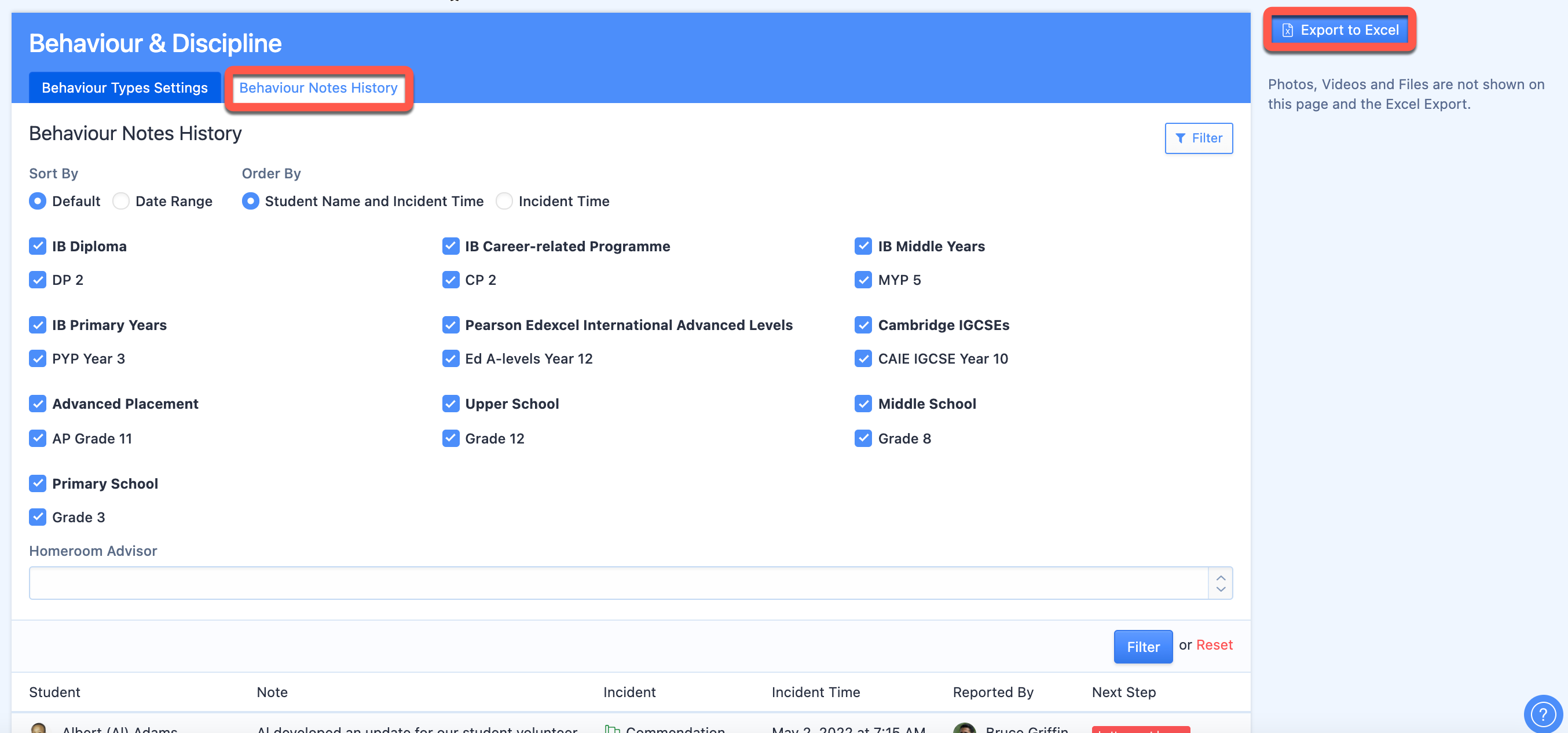 Browse and filter all Behaviour Notes via the
Behaviour Notes History
tab in
Settings > Behaviour & Discipline > Behaviour Notes History.
You can also extract Behaviour Notes data via the
Export to Excel
button for record-keeping outside of ManageBac.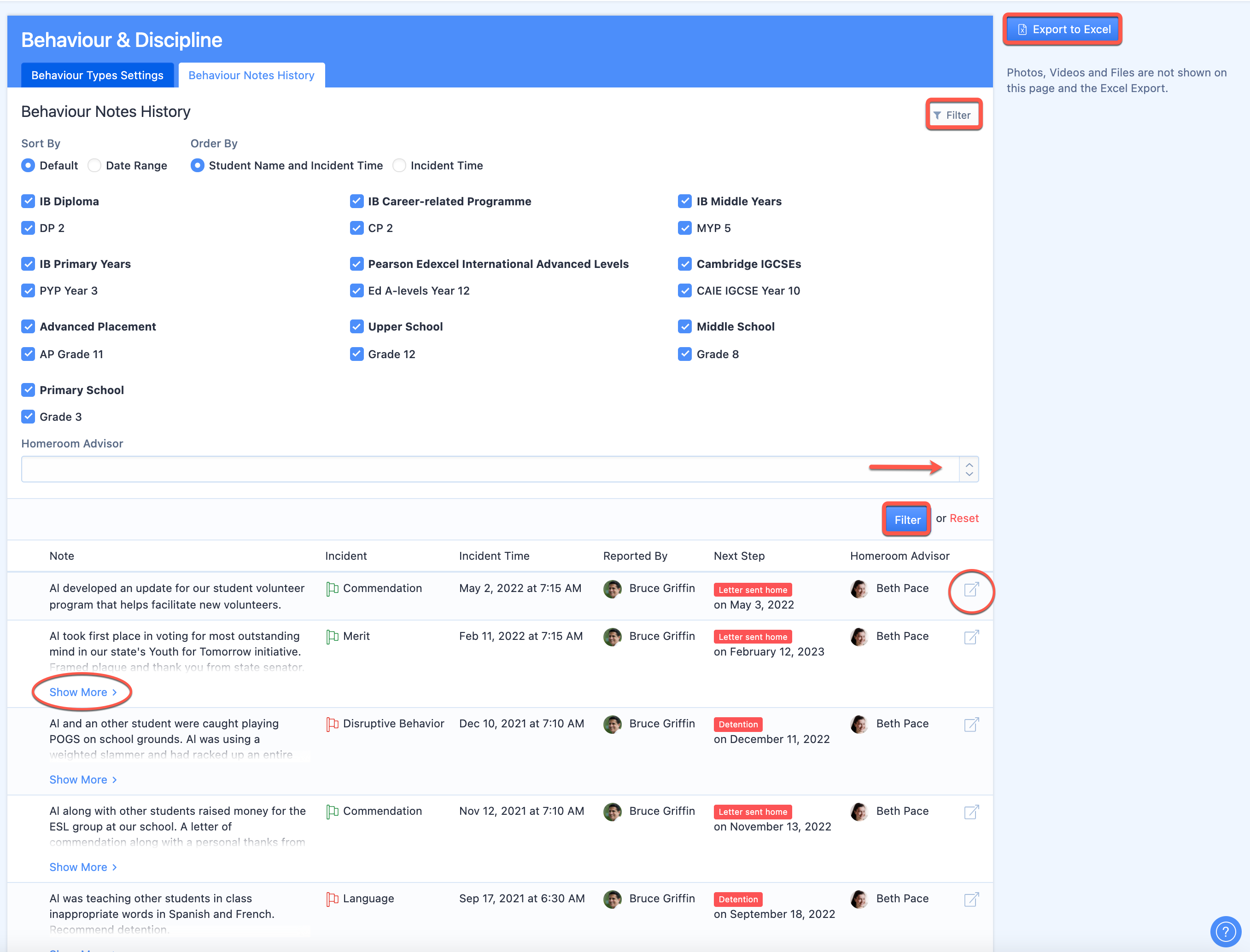 Use the Filter button to filter Behaviour Notes, either by Date Range, Homeroom Advisor, or Programme and Grade level.
You can review longer Notes using the Show more link or access the specific Behaviour Note in the student's Behaviour tab via the open in new tab icon at the right side of the note line.
If results are filtered, using the Export to Excel button will also only export the filtered results.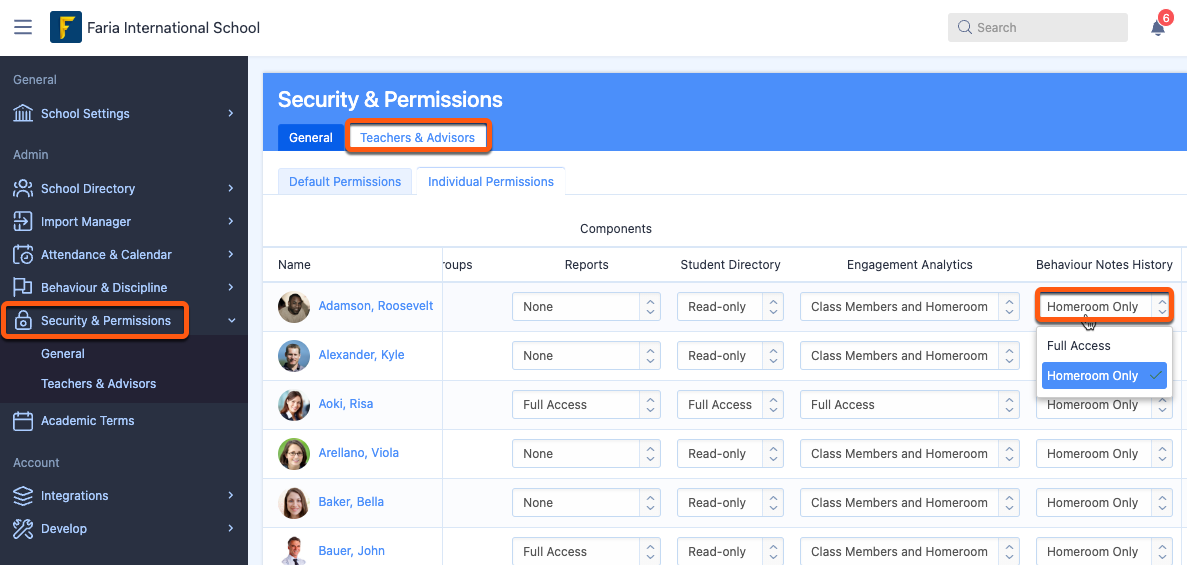 Teachers can be granted access to the Behaviour Notes History page via the Settings > Security & Permissions > Teachers & Advisors pages. Teachers can have Homeroom Only access, i.e. only see Behaviour Notes History for students they are assigned to as the Homeroom Advisor, or Full Access to see all Behaviour Notes information in the history page.
Customise Behaviour & Discipline Name
You can change the terminology for Behavior & Discipline via Settings > School Settings > Terminology.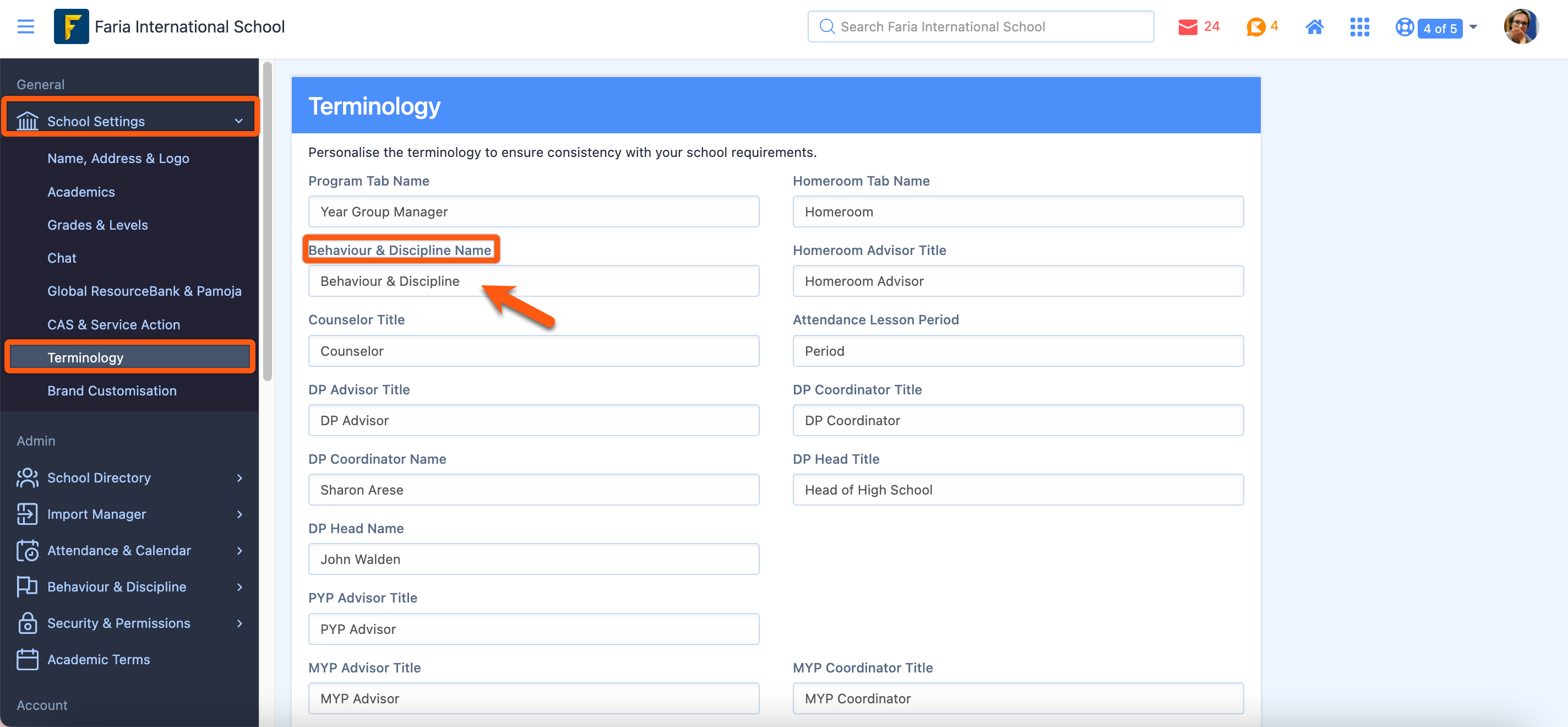 From here, you can change the Behaviour & Discipline name, and then scroll to the bottom to Save Changes. Please note: Only admin level users can customise the school terminology.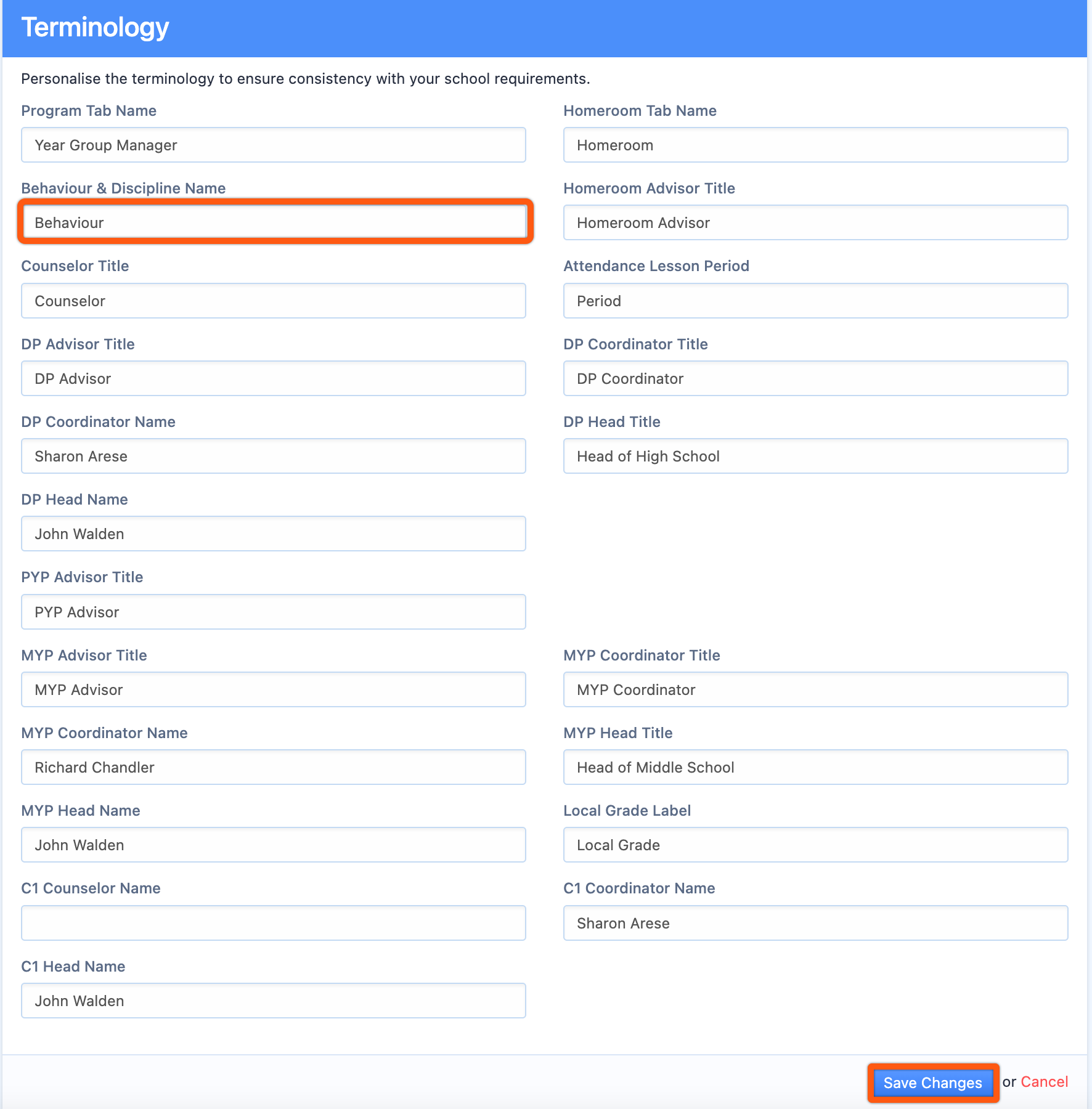 The customised name will be reflected across a number of pages including as a tab and a header in the settings.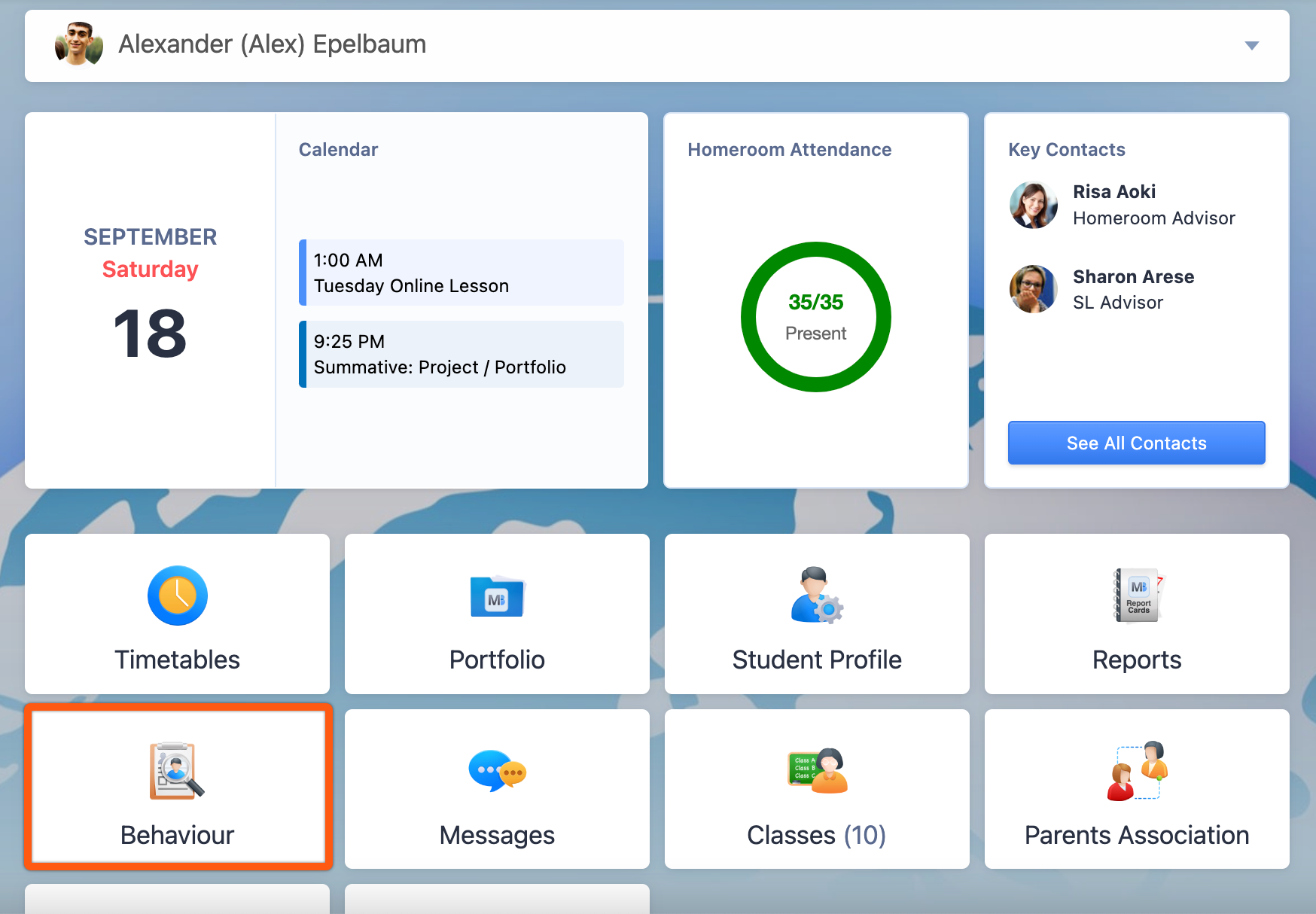 Additional Resources
The Behaviour module is currently released on ManageBac free of charge due to the development of the module having been put on hold temporarily. If your school is looking for a behaviour platform with enhanced functionality, we recommend checking out one of our partners, Class Charts.
Class Charts supports instant seating plans and easy behaviour management for schools. It helps organise students into appropriate learning groups and minimizes school behaviour issues with AI-driven instant seating plans.
For more information, please visit www.classcharts.com
Administrators can generate a public API token from your ManageBac account to sync data from ManageBac to Class Charts via Settings > Develop > API Manager.
Find out more about Enabling ManageBac Public API