What is Turnitin?
Turnitin is revolutionizing the experience of writing to learn. Turnitin's formative feedback and originality checking services promote critical thinking, ensure academic integrity and help students improve their writing. Turnitin provides instructors with the tools to engage students in the writing process, provide personalized feedback, and assess student progress over time. Turnitin applications are used by more than 30 million students at 15,000 institutions in 140 countries.
How does ManageBac Integrate with Turnitin?
Student access to originality reports
Allowing upload for multiple drafts of the same assignment
Accessing the Turnitin user interface and accessing all features, including PeerMark & Grademark
Direct single-sign-on without the need to separately login
How to setup Integration with Turnitin
In order to link your ManageBac account with Turnitin, you must first sign in to Turnitin.com as an Administrator. Once the linking is complete, you will be able to collect coursework and view originality scores for assignment deadlines directly in ManageBac.
Note: In order to properly link the accounts, you must sign in under the Administrator permission level. Signing in as an Instructor will not allow you to configure the necessary settings.

On your Turnitin administrator homepage, you will see an option for Integrations. If you select that, you will be given a menu of possible integrations.

Click LTI API as your preferred integration. If you do not see LTI API as an option, make sure that All is selected at the top right of the menu.

Configuring Integration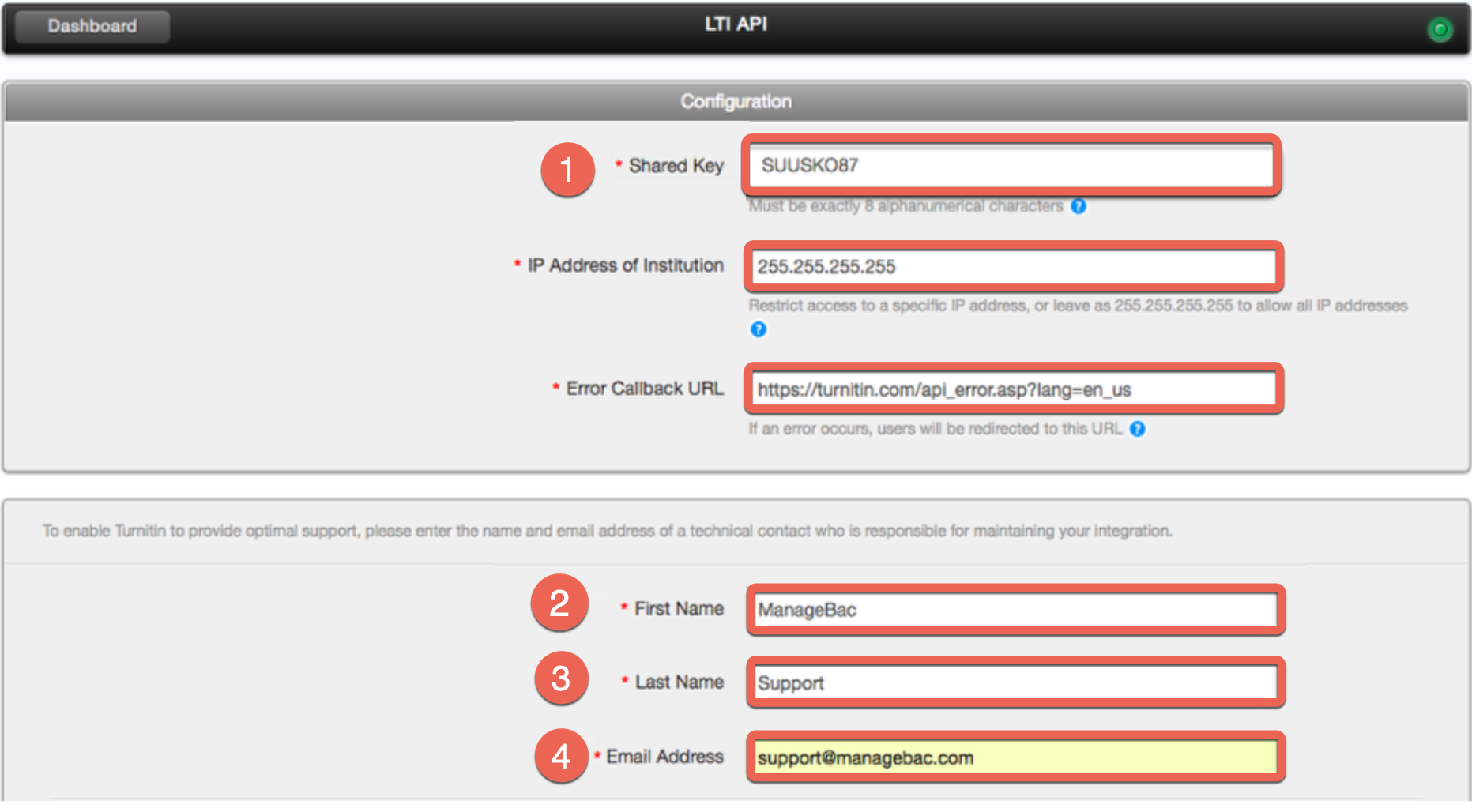 After choosing LTI API in the previous menu, you will be asked to create your own Shared Key, which must be 8 alphanumeric characters (e.g. eight123).
You can leave both of the other fields with the defaults in place (e.g. 255.255.255.255 for the IP address and http://www.turnitin.com/api_error.asp for the Error Callback URL).
Note: Changing the IP address from 255.255.255.255 will restrict access and prevent ManageBac from passing on your files to Turnitin, so these fields must be kept as the defaults.
Via the ManageBac Settings
Once you have configured your
Integration
settings on Turnitin, sign back into ManageBac and go to Settings > Integrations > Partners > Turnitin and click Edit to link your Turnitin account.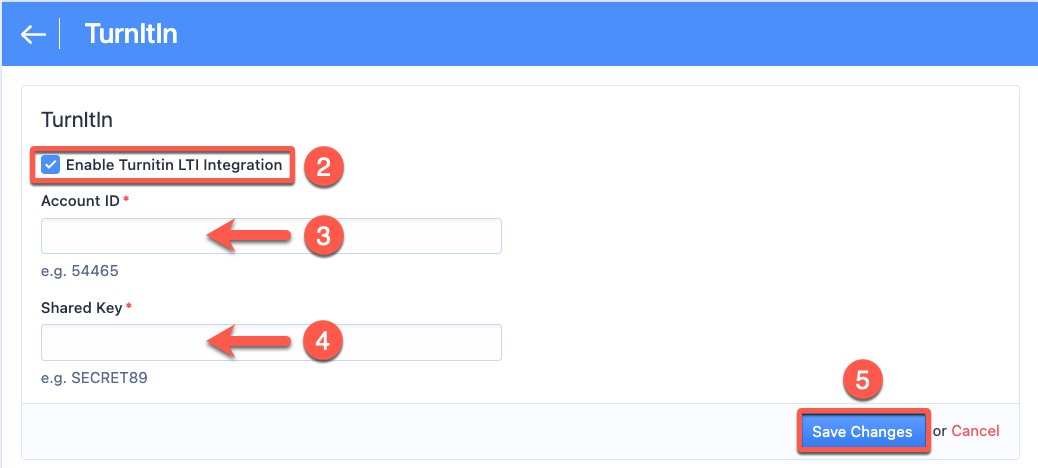 First, you will need to select the Enable Turnitin LTI Integration checkbox. This will allow you to enter the required fields, which include your Turnitin Account ID (e.g. 54439) and shared key (e.g. eight123). Please note both fields are required in order to effectively link your accounts. They are case-sensitive, so they must match identically.
How to manage the Integration with Turnitin
All 'Classes' (including ManageBac year groups) in Turnitin are set to a one-year expiration by default, but you can reactivate this to two years in Turnitin here.

This will ensure you do not see a 'Class expired' error message after transitioning your classes and year groups each year in ManageBac.
Common Errors
For how to resolve errors or edit Turnitin permissions, see here.
Reviewing Turnitin Originality Reports on Deadlines and Tasks
For a guide on how to use Turnitin on a particular deadline or task, see here.
Integration Questions & Support
1. Does my school need a separate Turnitin account to use this integration?
Yes, all schools need both a Turnitin and a ManageBac account in order to use the integration between the two.
2. Is there a cost to enabling Turnitin on ManageBac?
Turnitin is free to enable on ManageBac, however, you will need to purchase this product directly from Turnitin. Once purchased you can enable Turnitin integration via Settings > Integrations > Partners > Turnitin.
3. Does the Turnitin integration with ManageBac require a set number of accounts?
The Turnitin integration in ManageBac does not require a set number of accounts to exist. ManageBac enables schools to see their Turnitin accounts within ManageBac Tasks or Dropboxes.
Feel free to reach out to support@managebac.com for guidance on the ManageBac steps.