What is BridgeU?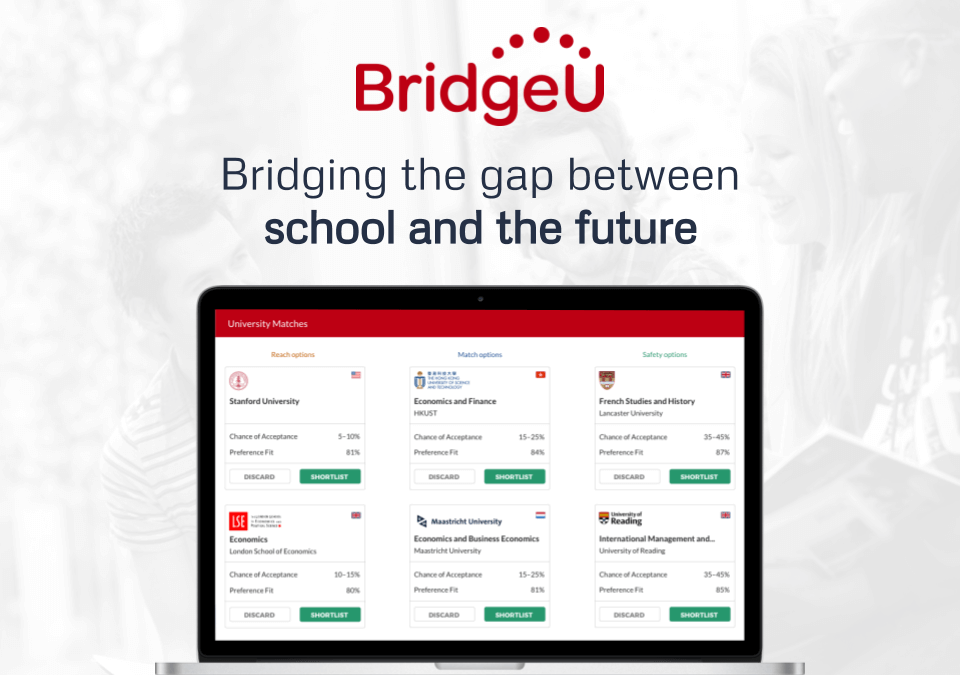 BridgeU's platform empowers schools to manage the complex challenge of preparing and carrying out global university applications. By leveraging the power of big data and a suite of streamlined management tools, BridgeU helps reduce administrative costs, improve results, and increase student engagement. BridgeU supports student applications to the six most popular destinations for higher education: US, UK, Australia, Canada, Hong Kong, and the Netherlands.
To learn more about BridgeU, please click here.
How does ManageBac integrate with BridgeU?

Once the API integration is configured between your school's ManageBac and BridgeU accounts, the integration functions as follows:
Integration Features:
Single Sign-On (SSO) for Students: ManageBac Students will be able to log-in to BridgeU with their ManageBac credentials (E-mail Address, Password), eliminating the need for duplicate logins
Smooth on-boarding: Student and teacher accounts will be setup in BridgeU, making it easier and faster for ManageBac students to start exploring their university options!
Data sync: 1-way sync of information from ManageBac to BridgeU
This integration partnership reflects our on-going commitment to supporting IB Diploma students throughout their educational journeys, from applying to IB schools via OpenApply, to managing academics & extracurricular activities on ManageBac, and now with university & careers planning on BridgeU.
How to Setup your BridgeU Integration
Via Settings > Integrations > Partners > BridgeU
To begin setup of your ManageBac integration with BridgeU, you'll first need to create and add your ManageBac API.
Step 1. Logged in as an administrator, navigate to Settings > Integrations > Partners > BridgeU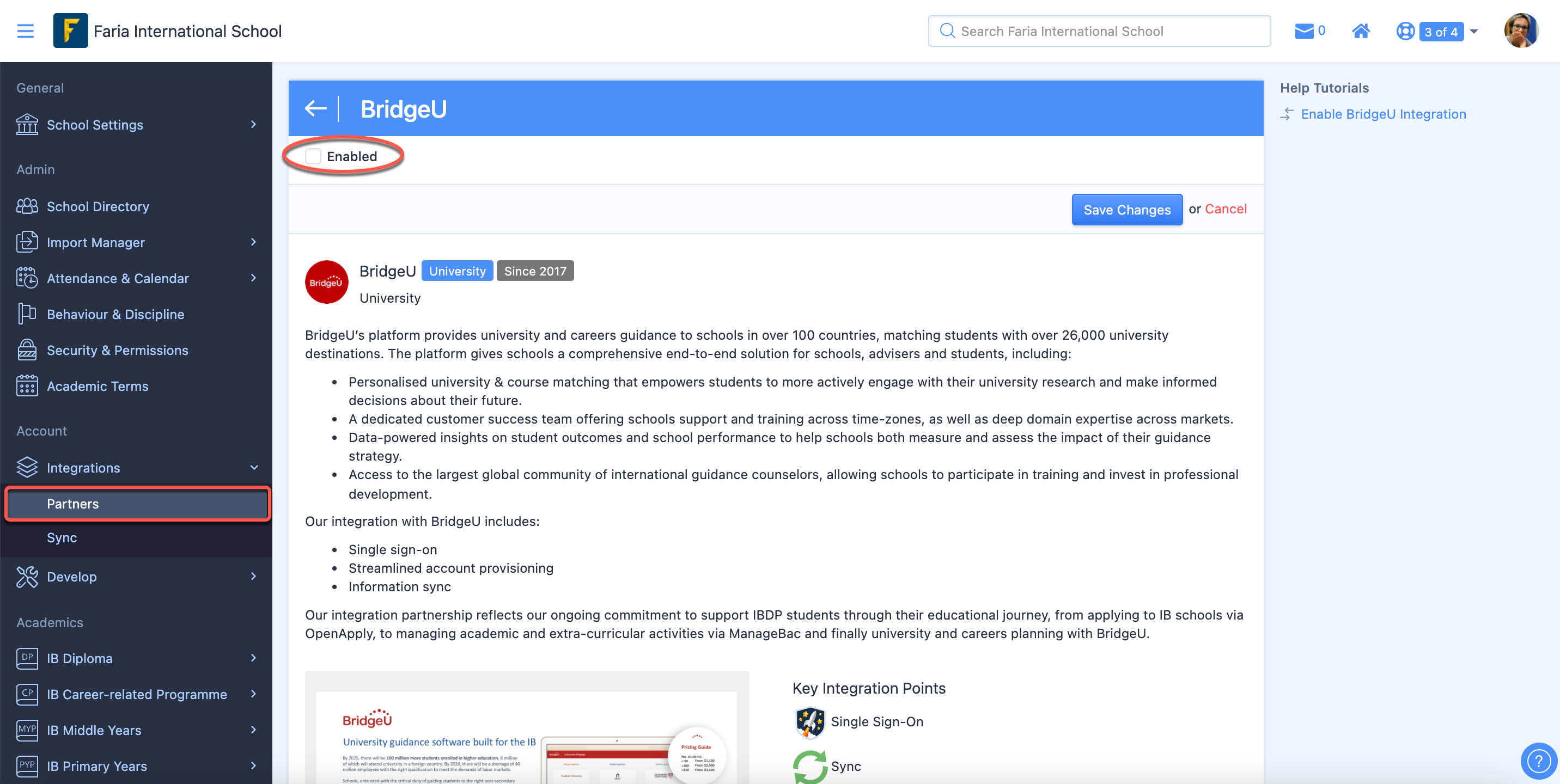 Step 2. Tick Enabled to generate the API key and then click Save Changes.

After clicking Save Changes, the key can be copied to other systems.
Step 3: To add the API to BridgeU, login and navigate to School Settings in the left-side menu, then click ManageBac and paste the API into the textbox provided. Finally click Save to activate the connection.

Step 4: Now you're ready to import advisors and/or students from ManageBac into your BridgeU account. Click here for further guidance.
Managing the BridgeU Integration
Import Students seamlessly from ManageBac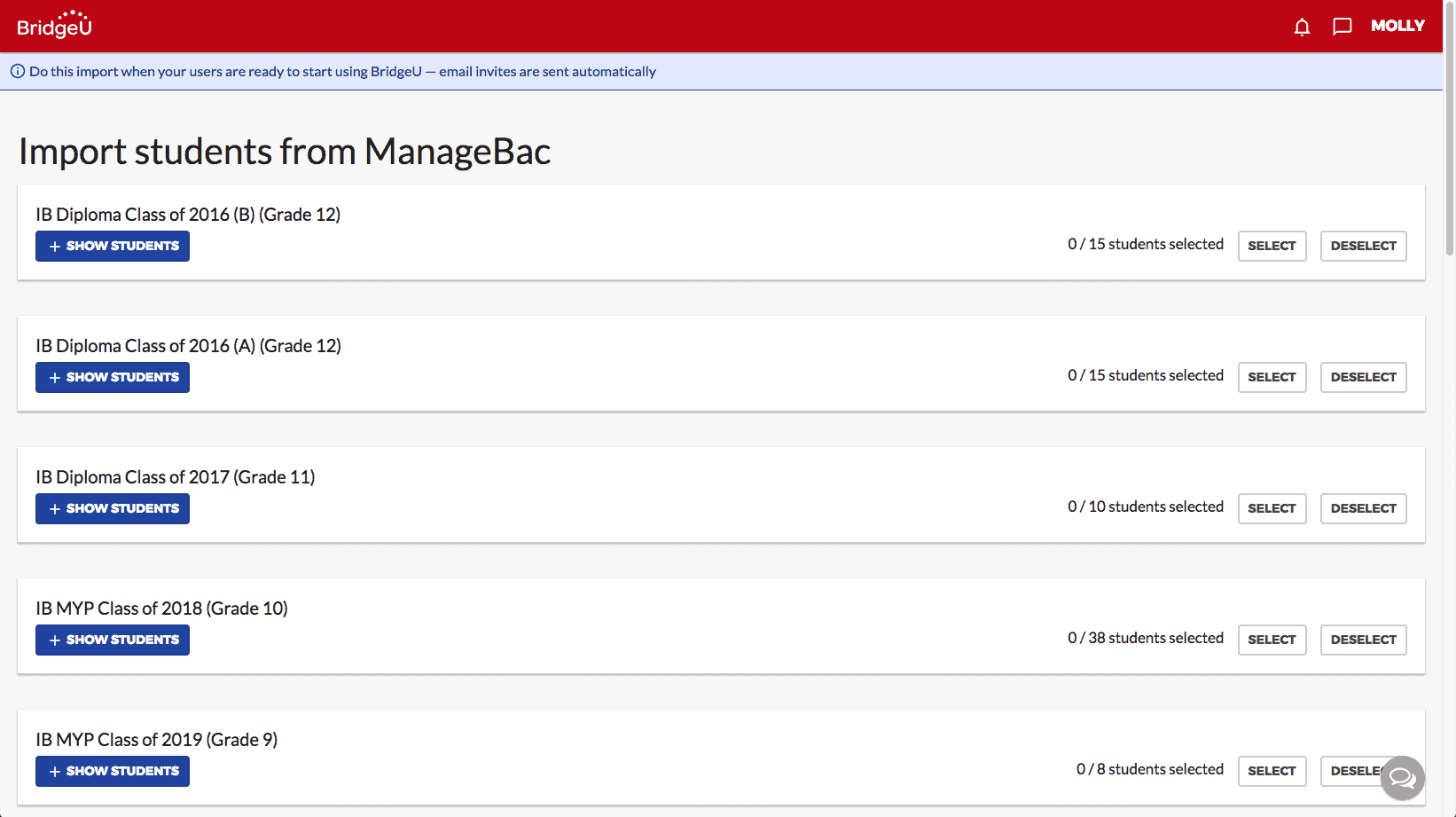 Assign Advisors in BridgeU. Click here for further guidance.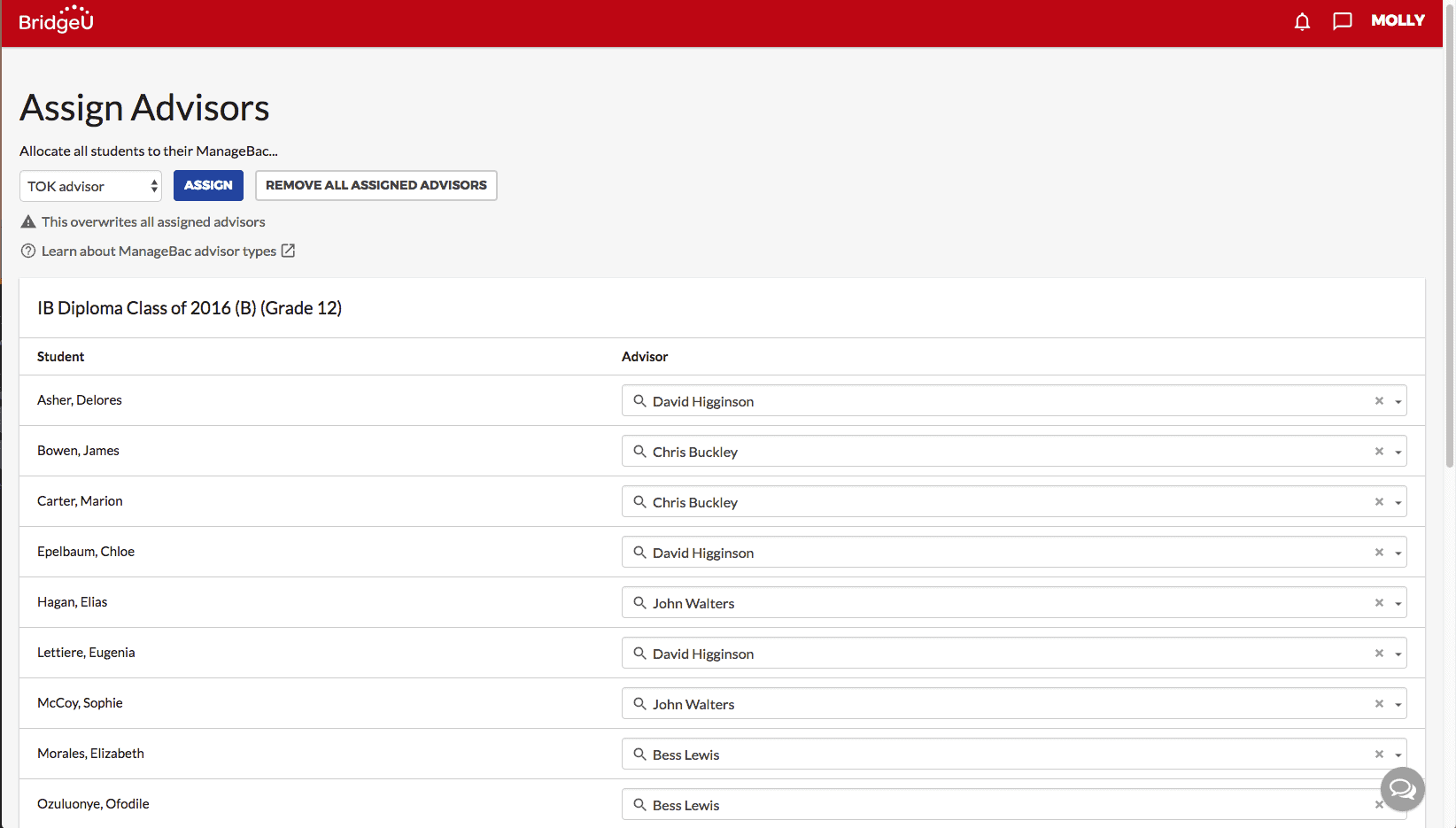 Students can login to BridgeU with their ManageBac credentials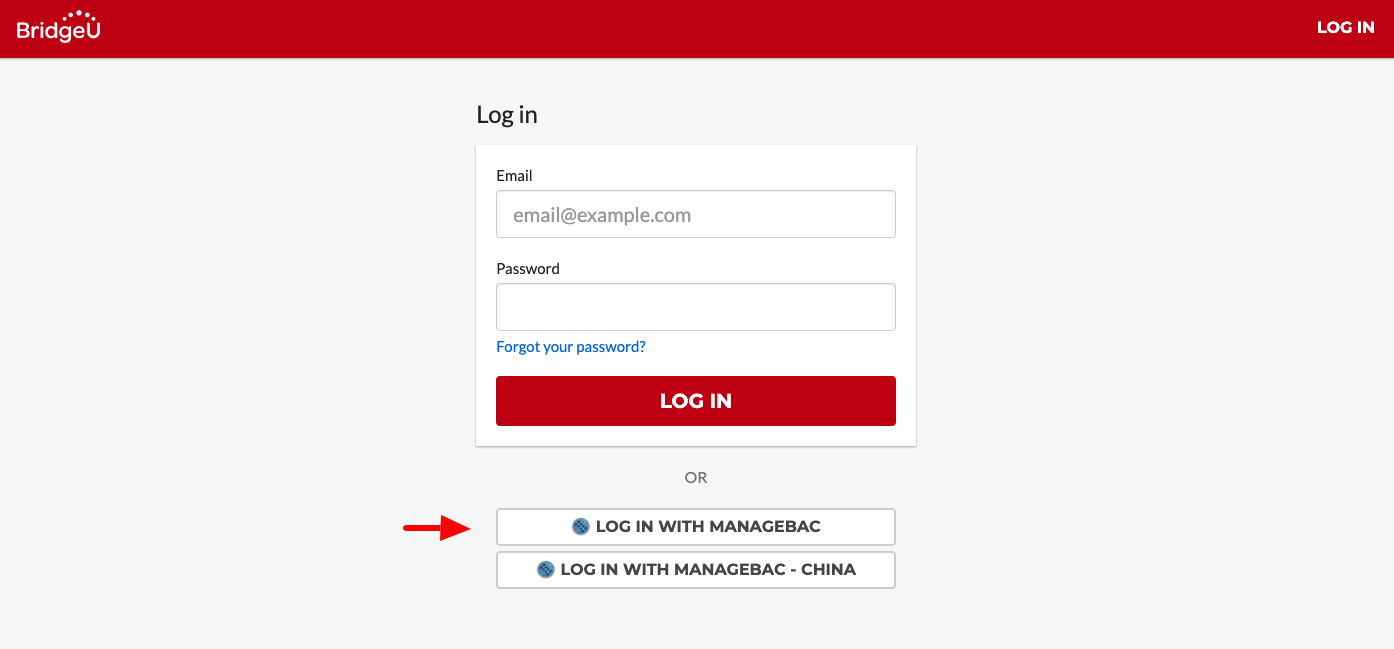 Students can directly jump from BridgeU to their ManageBac dashboard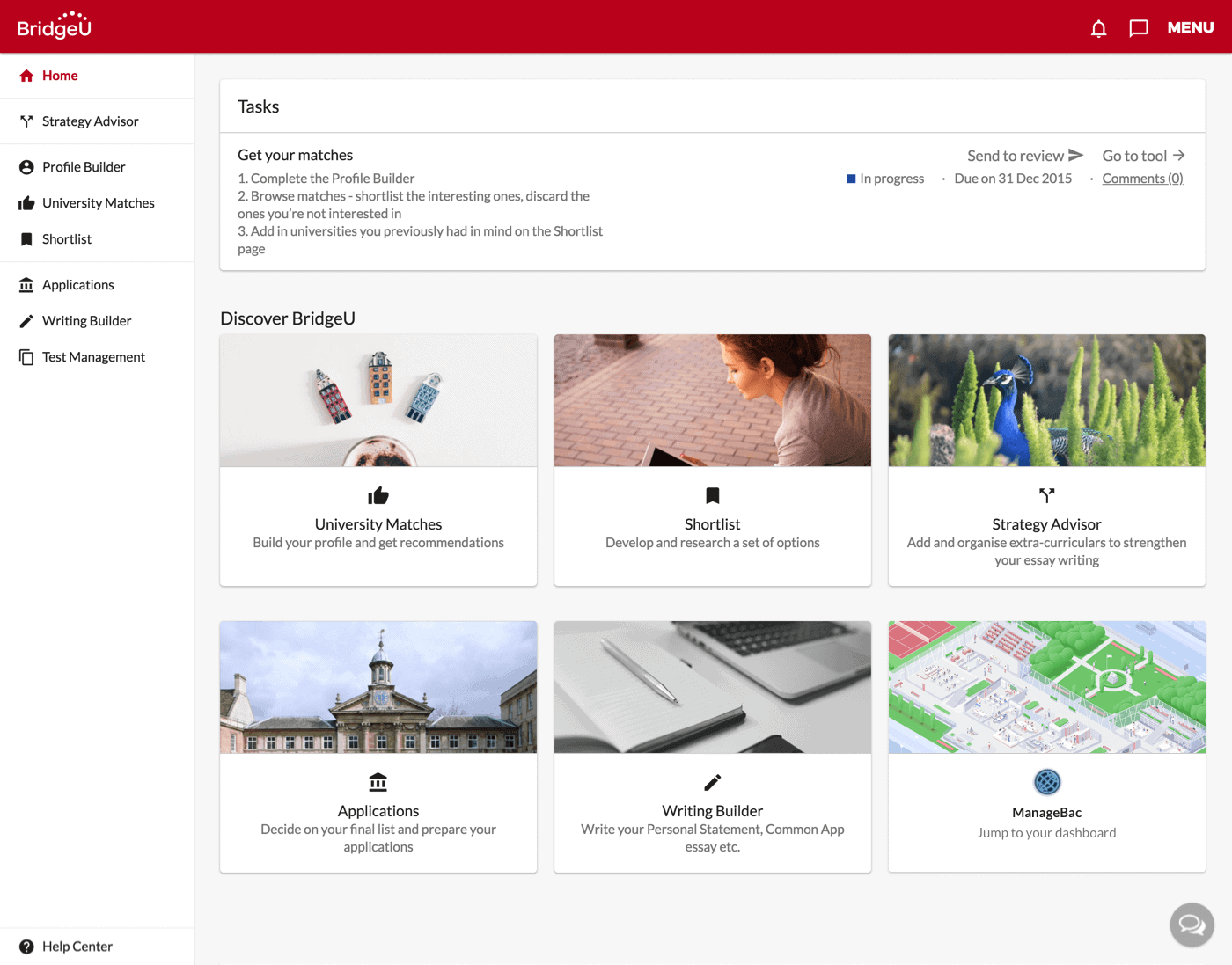 Integration Questions & Support
Future integration plans include:
Making the most of CAS: Academic and grade data will push from ManageBac to BridgeU, and the BridgeU CV builder will contain ManageBac student entries for CAS Experiences, Goals & Reflections, making it simpler to build compelling student
applications.
Student recommendations & applications: With subject teachers imported into BridgeU's reference tool, advisors can assign recommendation writers with ease; teachers will be able to push transcripts and reports into BridgeU, where they can compile application packages to submit directly to universities.
Annual University Destinations Survey: Partner schools will enjoy access to our Annual University Destinations Survey, based on data from both our platforms. The resulting report will share analysis and insight into higher education placement, trends and performance of IB and international students globally.
Feel free to reach out to support@managebac.com for guidance on the ManageBac steps.
You can reach out to BridgeU Support Team for BridgeU steps or ongoing integration inquiries.