Enabling non-IB Classes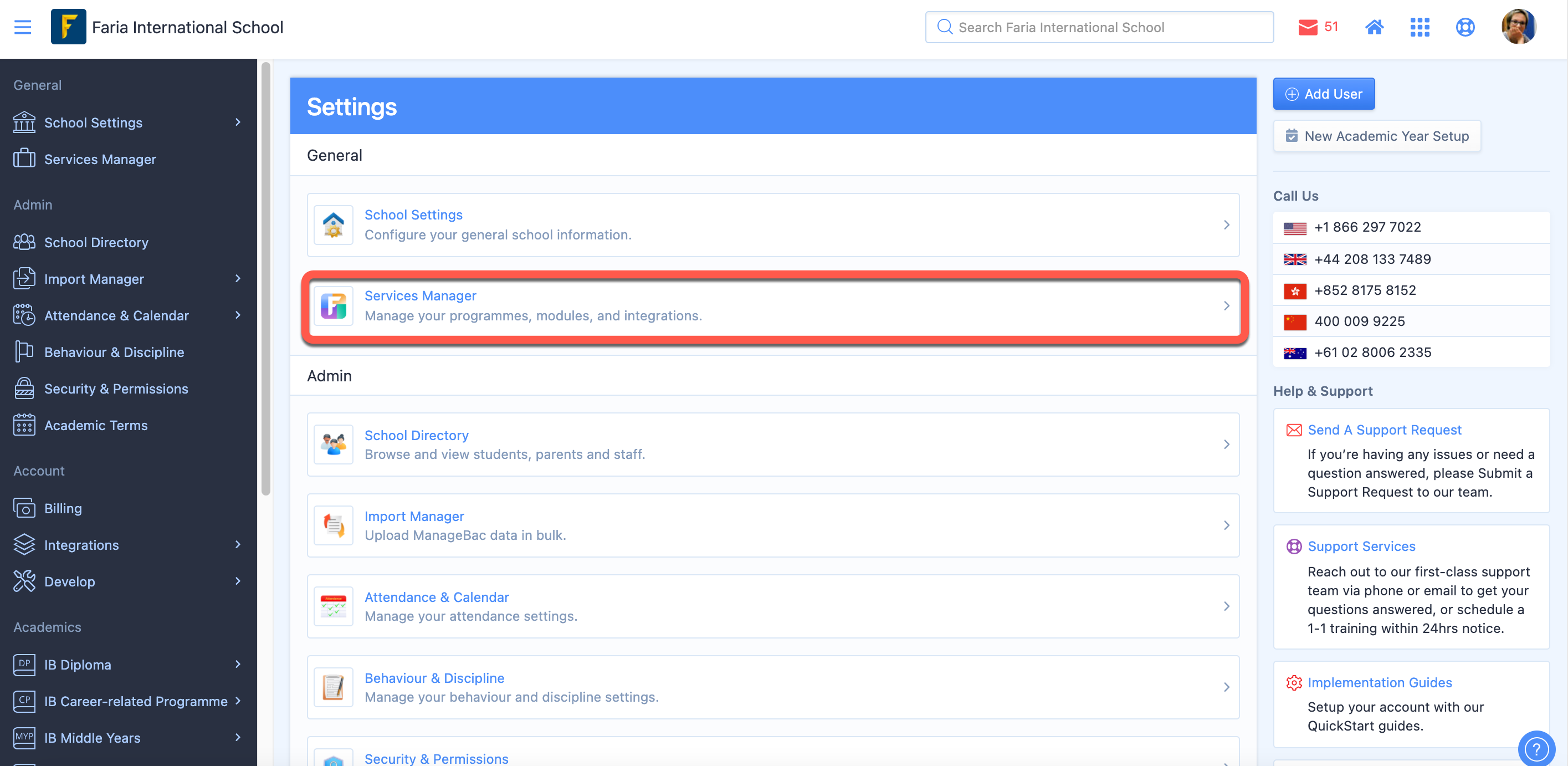 Navigate to Settings > Service Manager to review the enabled academic programmes for your school and request additional programmes to be added to your account.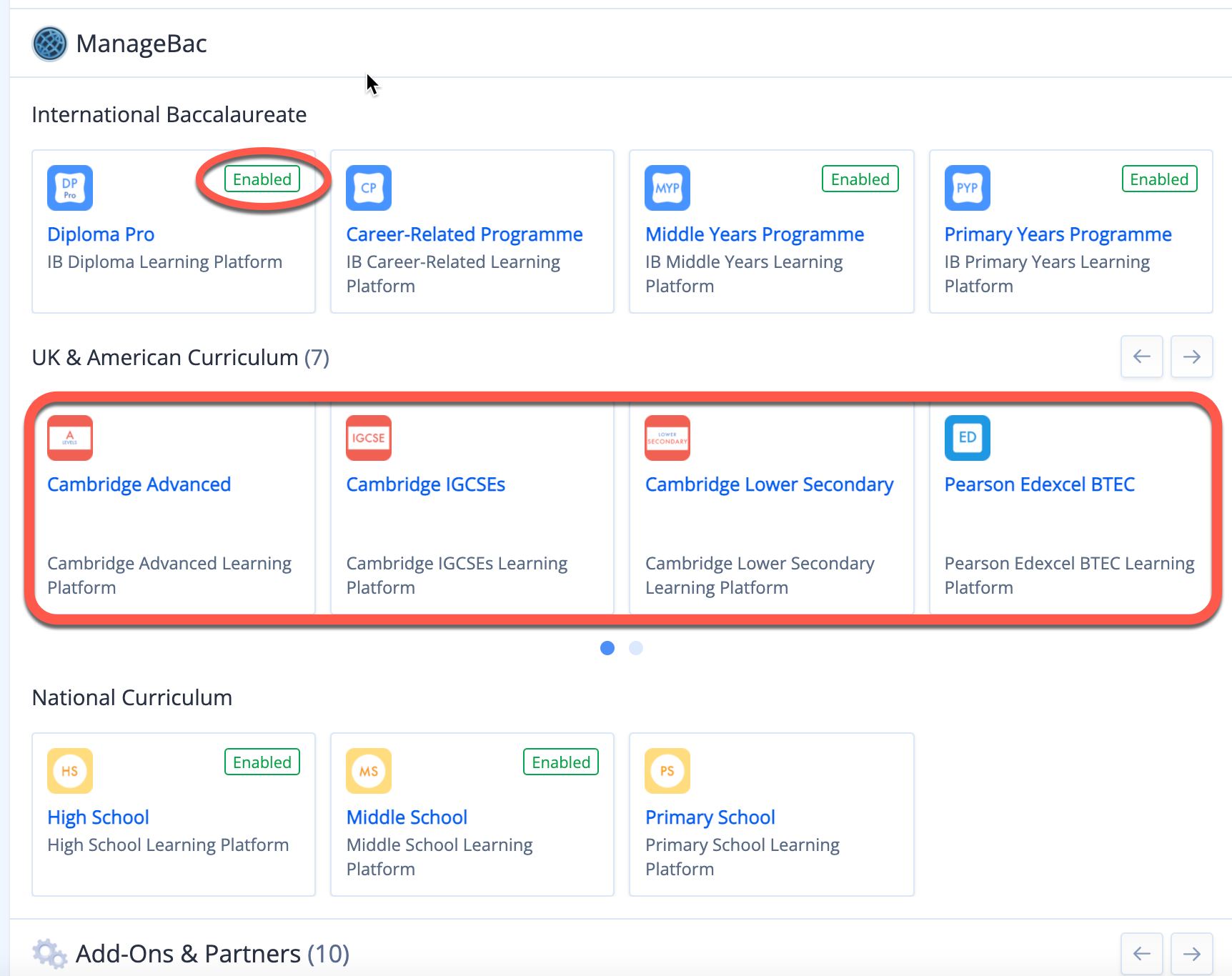 If non-IB classes are not enabled please use the Service Manager to request this feature or contact us at support@managebac.com to enable this feature for you.
Configure your non-IB Academic Terms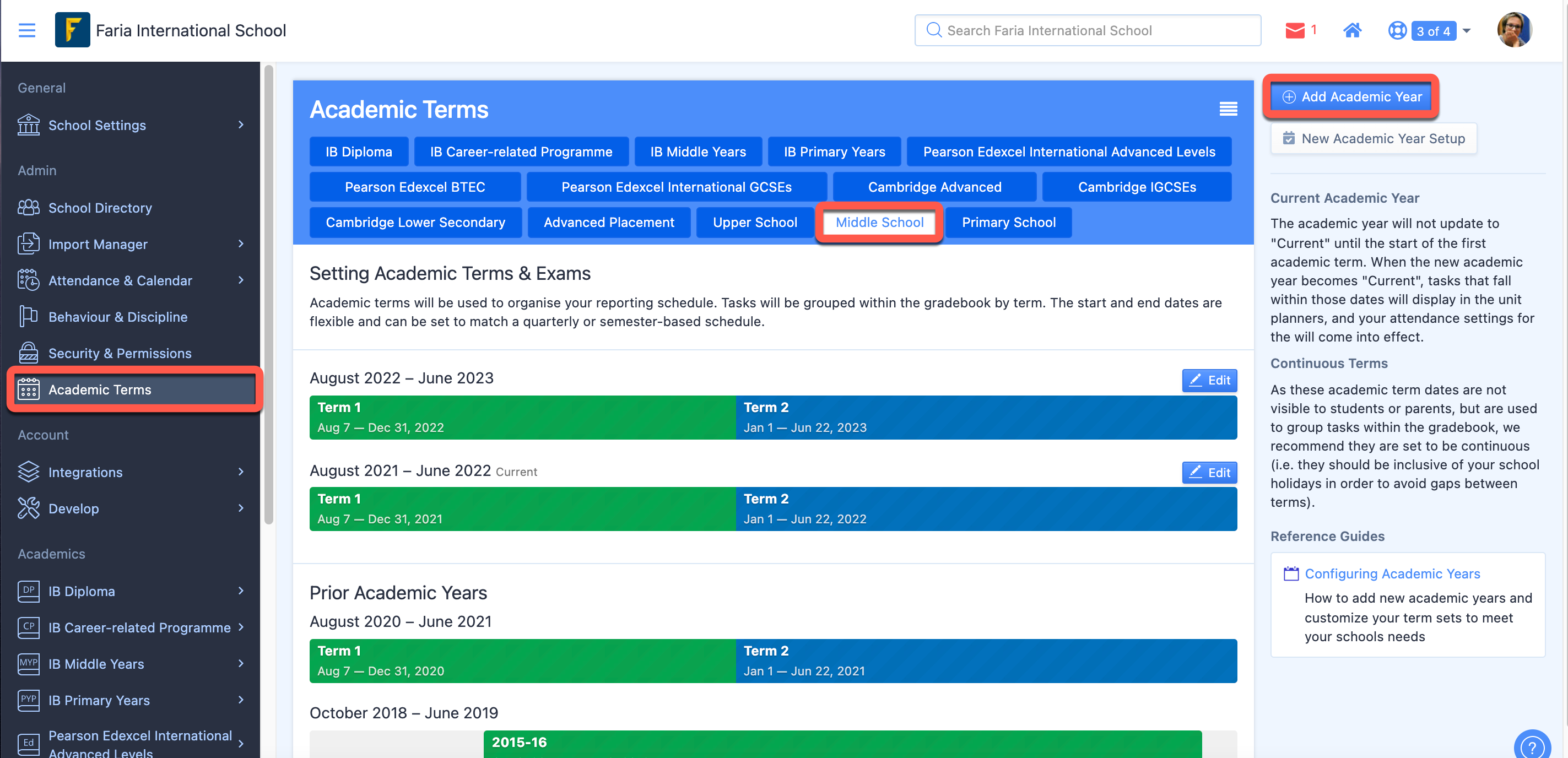 First, navigate to Settings > Academic Terms > select a non-IB programme (e.g. Middle School) > click Add Academic Year. Once you have set up each academic term for the year, click Add Term set.
Create Subject Groups & Subjects for non-IB classes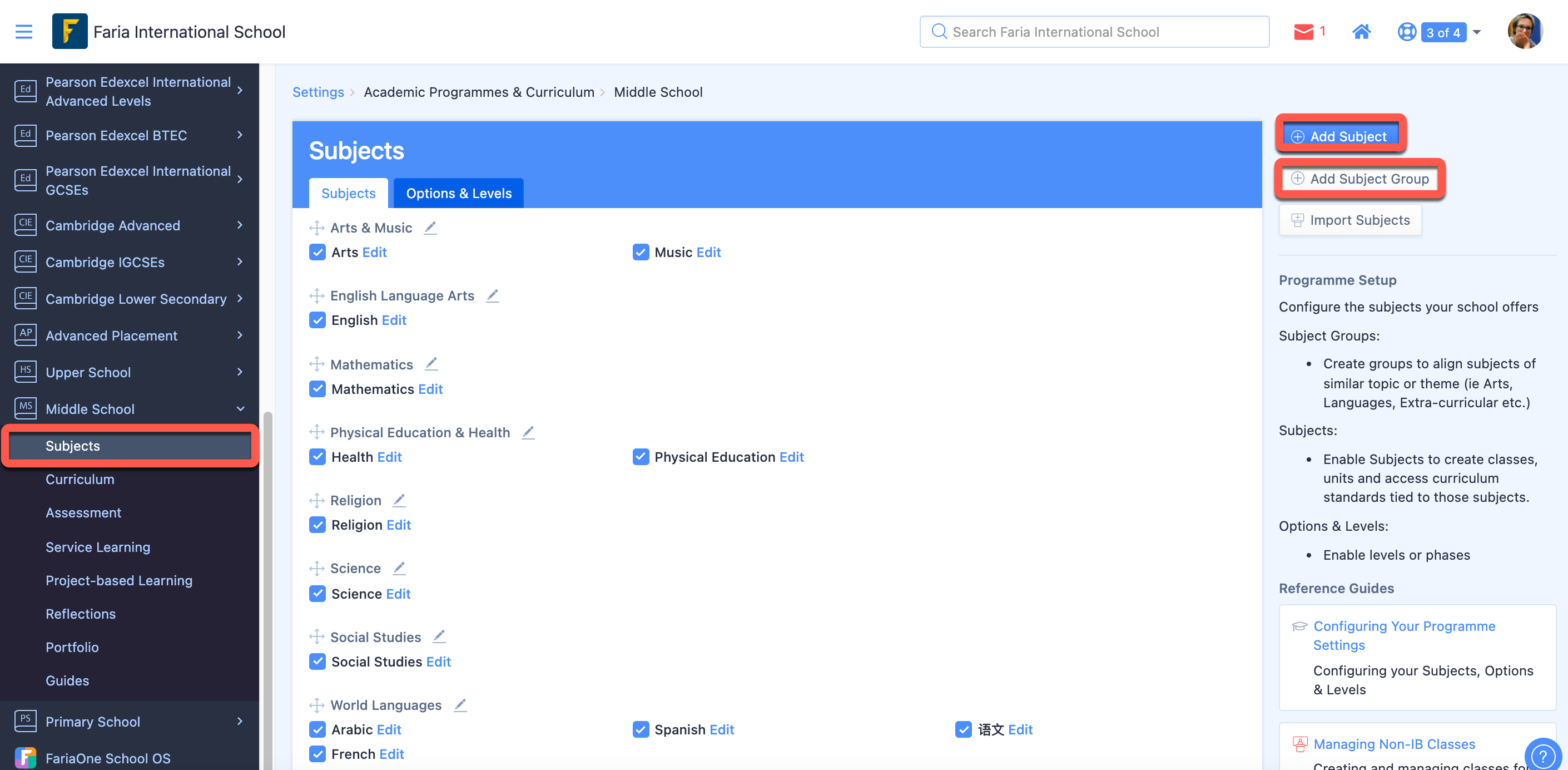 Navigate to Settings > Select non-IB programme > Subjects (e.g. Middle School). On the right navigation panel, click Add New Subject Group or Add New Subject (only available with at least one Subject Group created).
Adding subjects and subjects groups will allow you to link classes to subjects in the class creation process and provide access to unit planners in these classes (see 5. below).
Configuring Assessment options for non-IB classes
Navigate to Settings > Select desired programme > Assessment to configure assessment options for all classes of the programme.
This will also allow you to enable students and parents to see calculated task category averages and term averages calculated in their classes.
Creating non-IB classes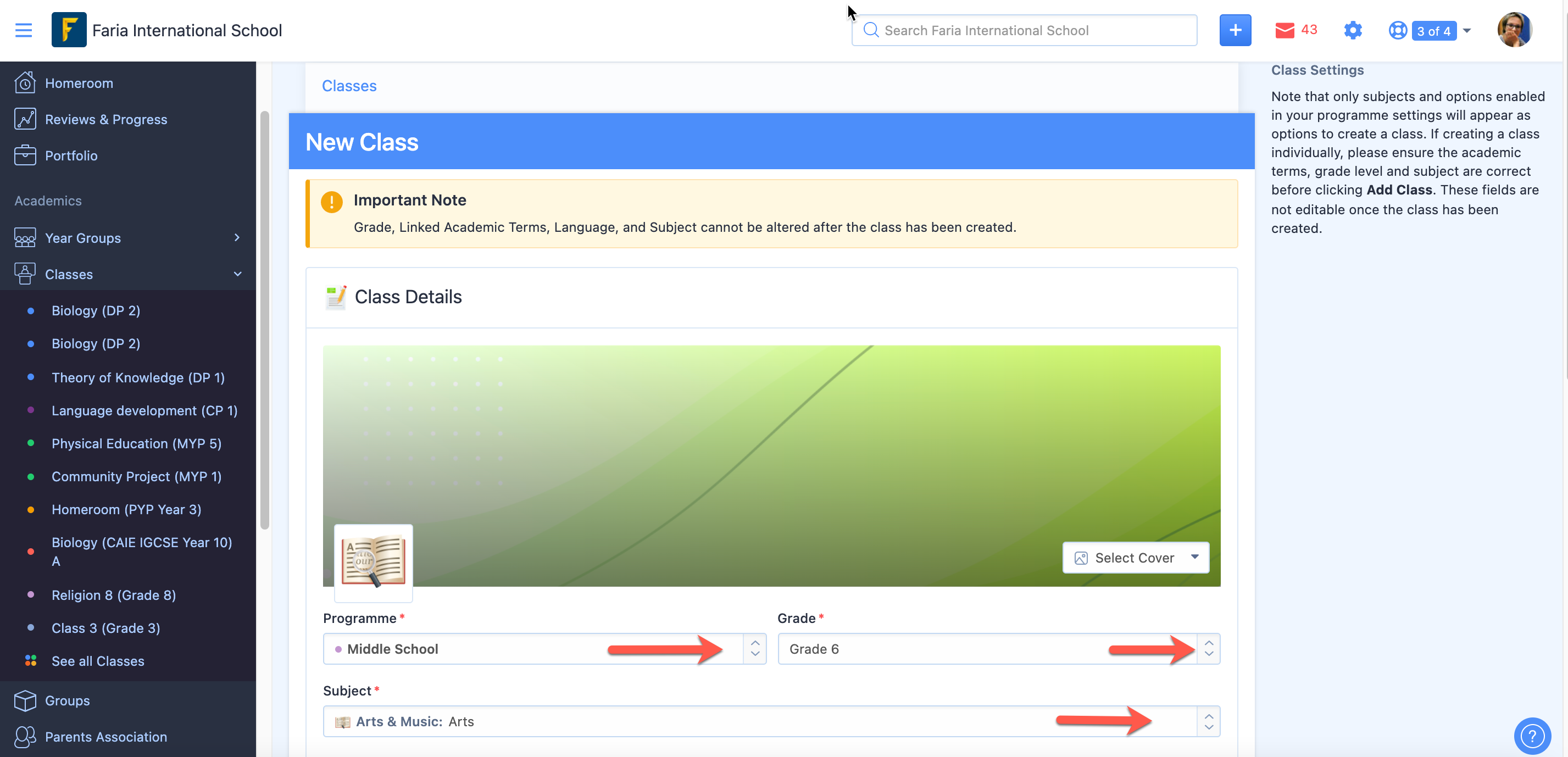 To add an individual class, click Classes > See all classes > Add Class. From here you can select which non-IB programme the class should be and click Add Class at the bottom of the page.
Click here for more information on how to Bulk Create Classes.
Use Non-IB classes to manage extra-curricular Attendance & Messaging
Simple Groups can be used to manage your extra-curricular activities and CAS projects. However, if you are looking to track attendance for such activities or irregular classes or periods that don't fit into regular student rosters, you may consider a Non-IB class.
Scenario
Scenario: You have an after-school Basketball programme that you wish to track attendance for. It has students of all ages join and is managed by a few teachers who don't regularly use ManageBac.
Steps:
1. Subject Group & Subject: Via Settings > selecting the curriculum programme such as High-school > Subjects, create a Subject Group and Subject accordingly. Example:
Subject Group: Extra-curricular
Subject: Basketball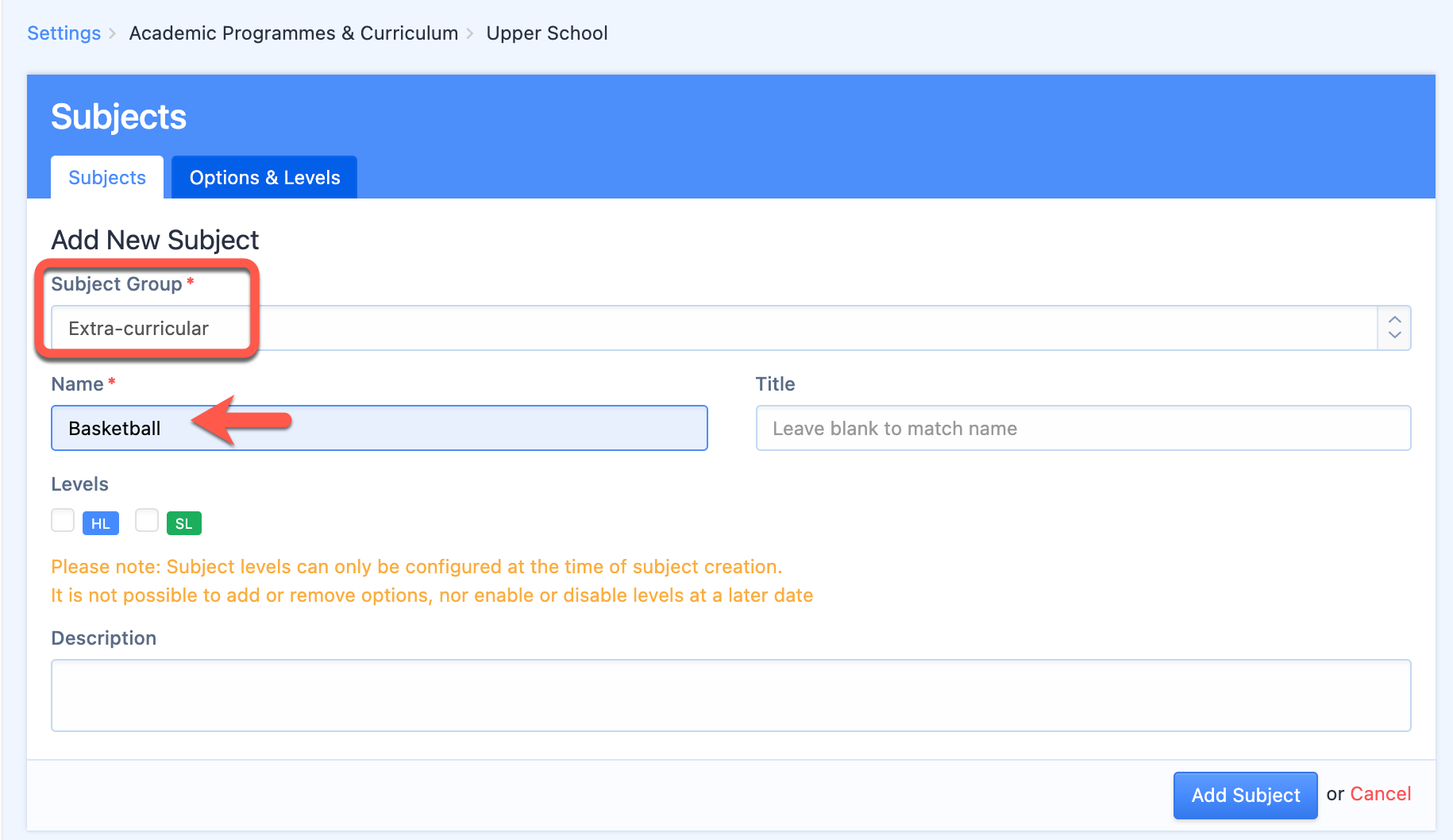 2. Class: Create a class via Classes > See all classes > Add Class, selecting the relevant non-IB programme. Select the Subject Group and Subject you configured in Step 1. Example:
Programme: High School
Grade: Grade 10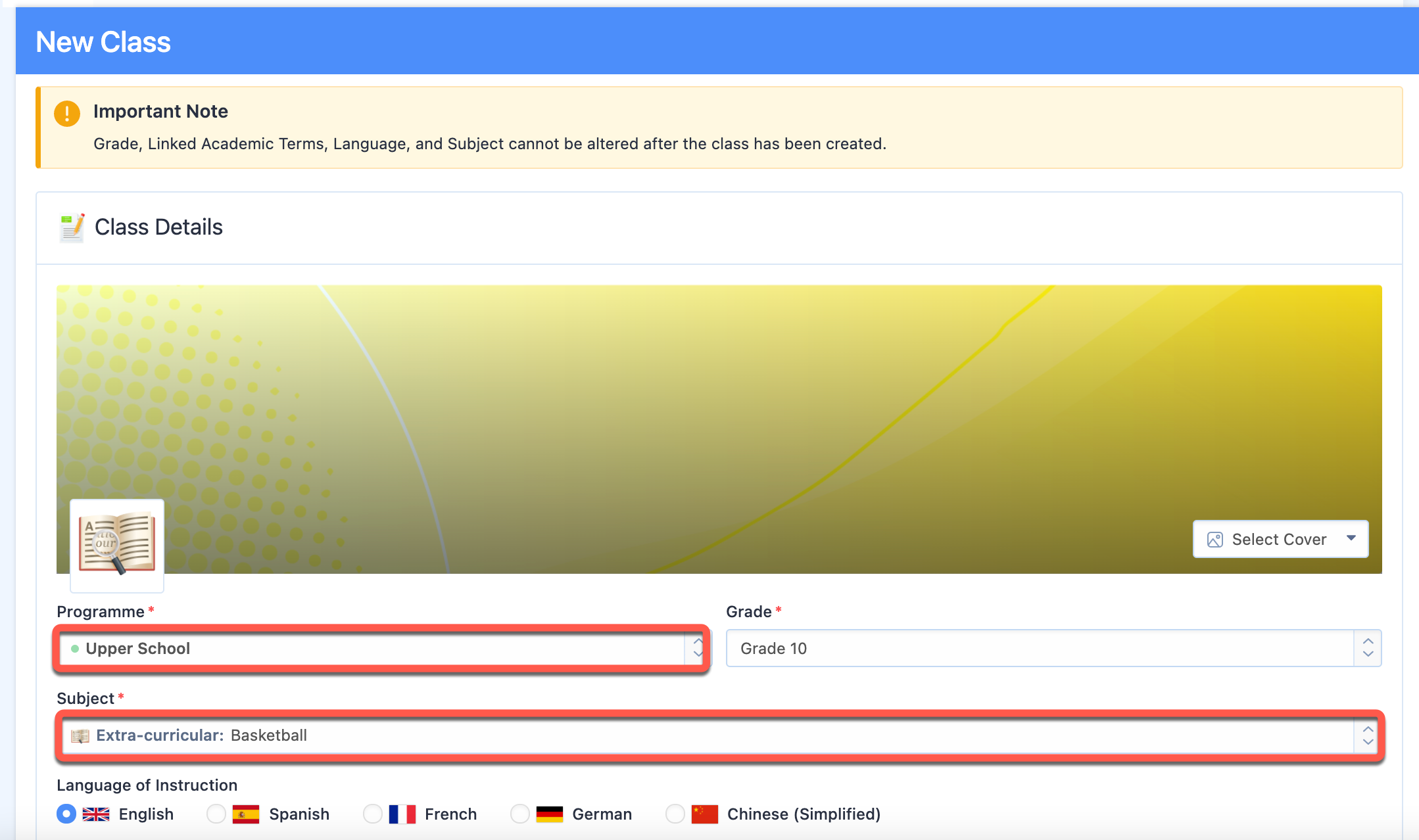 3. Members: While you have to define the class as a particular grade level, you can navigate to the classes > Members tab > Add Students, and then select the programme and grade level from the dropdown. Select the students and Add Students.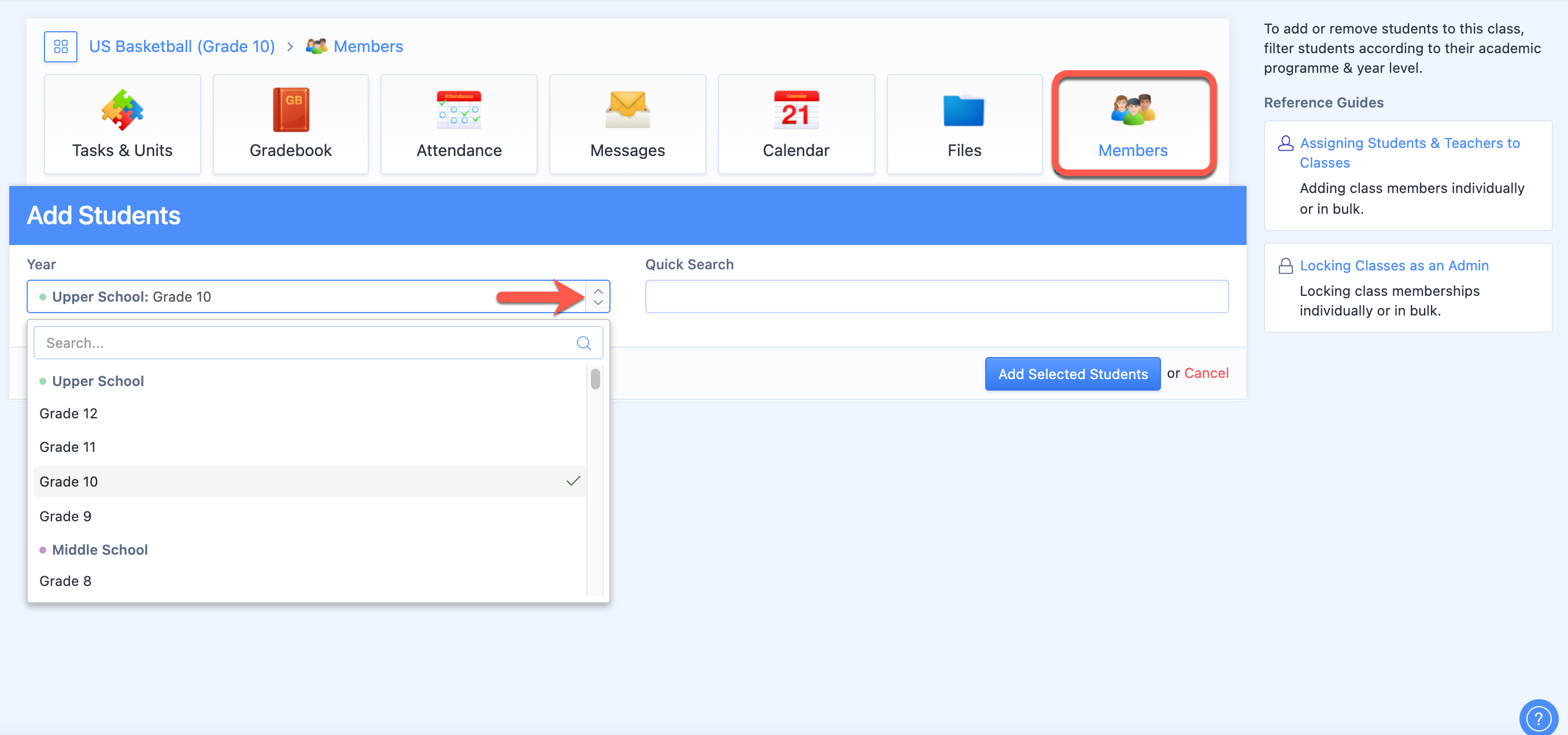 While under the Members tab, click on Teachers > Add Teachers and select those coaches or advises who need to monitor the class. Please note, they will need to have a ManageBac account created to find them in the list.
4. Attendance: Configure the activity session roster via the Class > Attendance tab > Configure Attendance (if your school is using our Attendance module).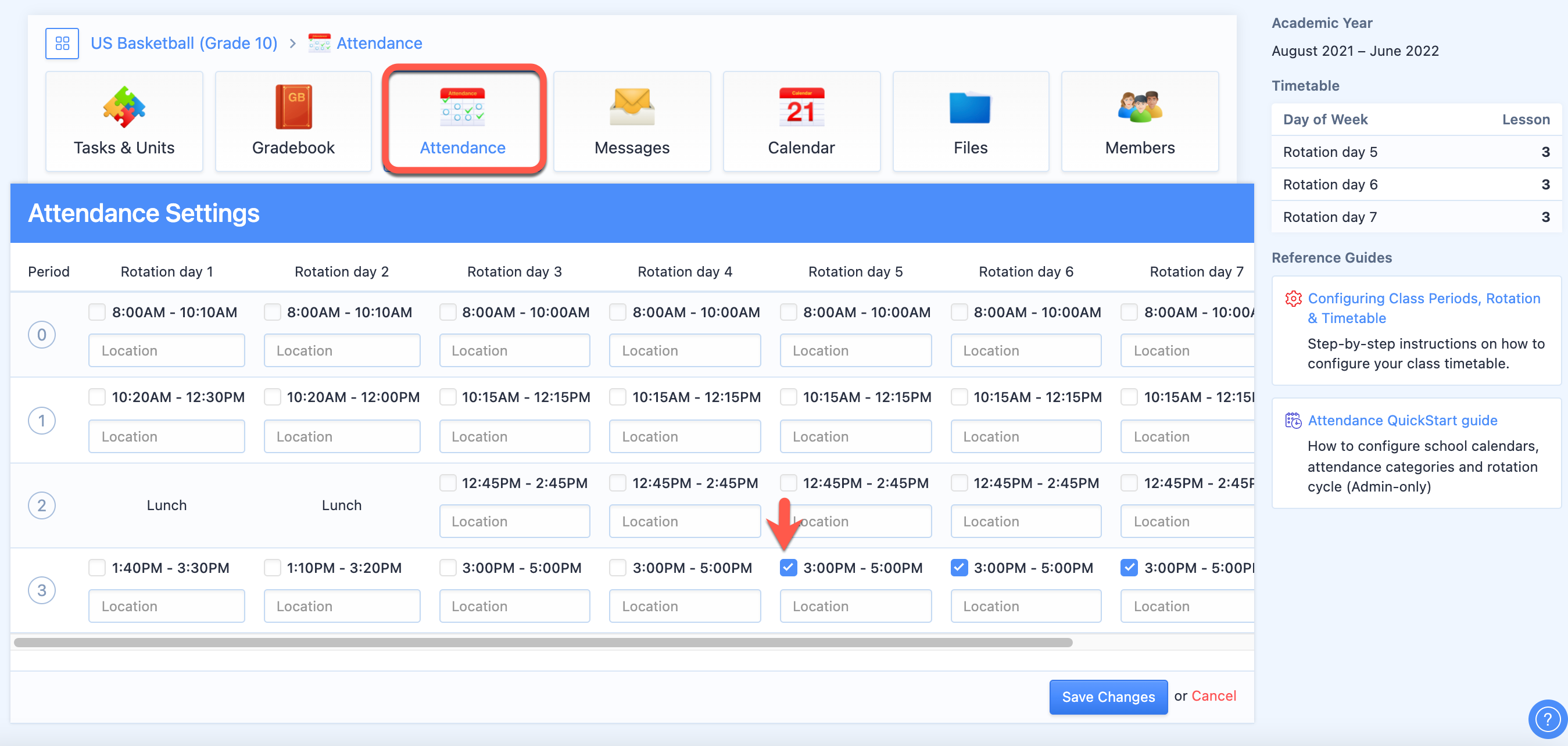 Record ongoing attendance per Recording Homeroom or Class Attendance.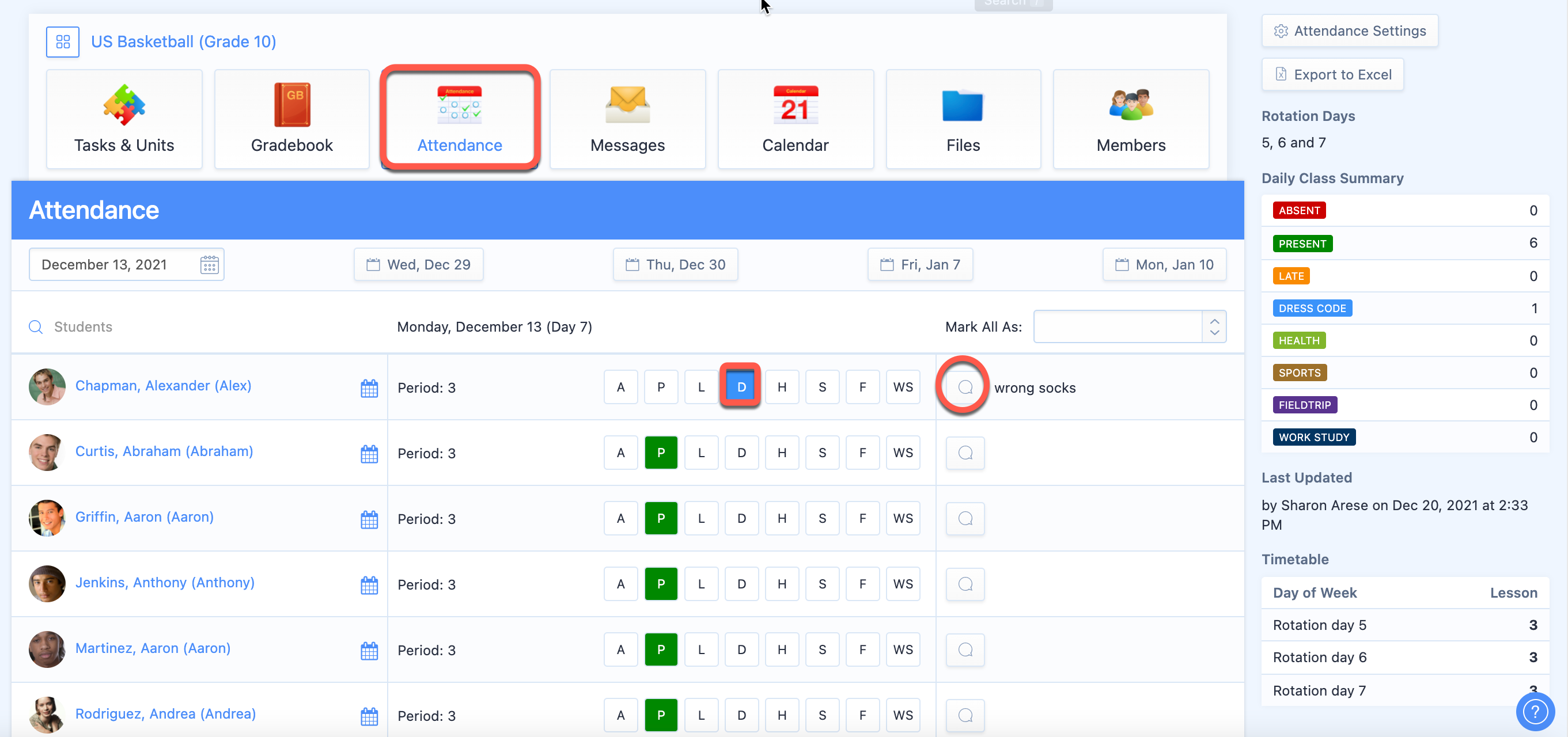 5. Ongoing use: Use the Messages tab to communicate schedule changes or uniform requirements, and use the Files tab to share game schedules or registration details.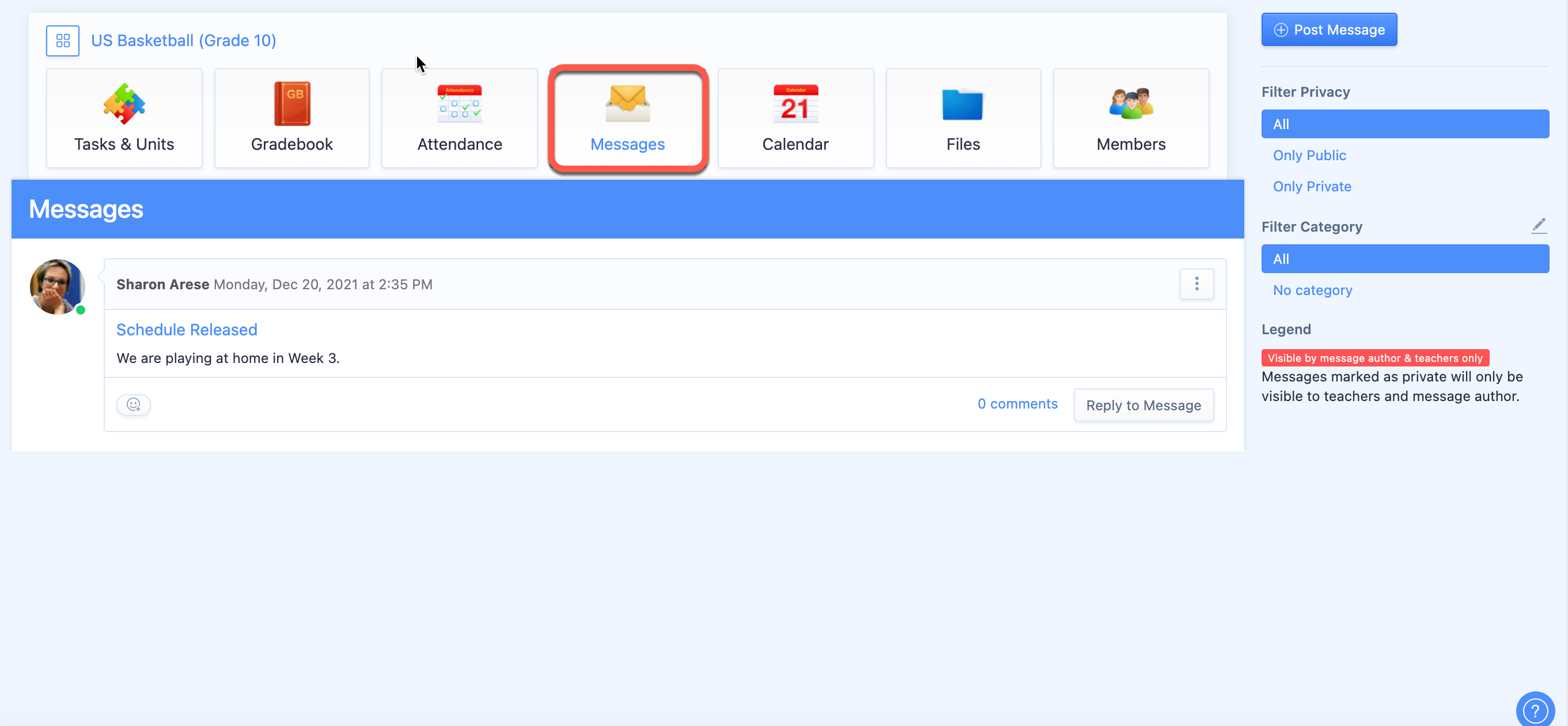 6. Archive the class: At reporting time, you can archive the class if it's not intended to be included in formal documentation via the Class Overview > Edit Class Settings > Archive this Class.