Warning
Beginning with the registration for May 2022, the IBO will no longer permit exam registrations for schools with certain outstanding payments. The registrations via ManageBac in these cases will fail and the message shown below will be listed for all students.
The ability to register candidates for this session has been withdrawn as your school has outstanding debts over 90 days old. Please contact Finance via myaccount@ibo.org for further discussion.
Enabling Plans tab (if not already present)
When navigating to your DP Year Group, if you do not see the Plans tab in your menu, please firstly enable it via the Year Group Overview > Edit Year Group Settings > Diploma Plan > Select Diploma Plan and Invoicing Option ( if required) > Save Changes.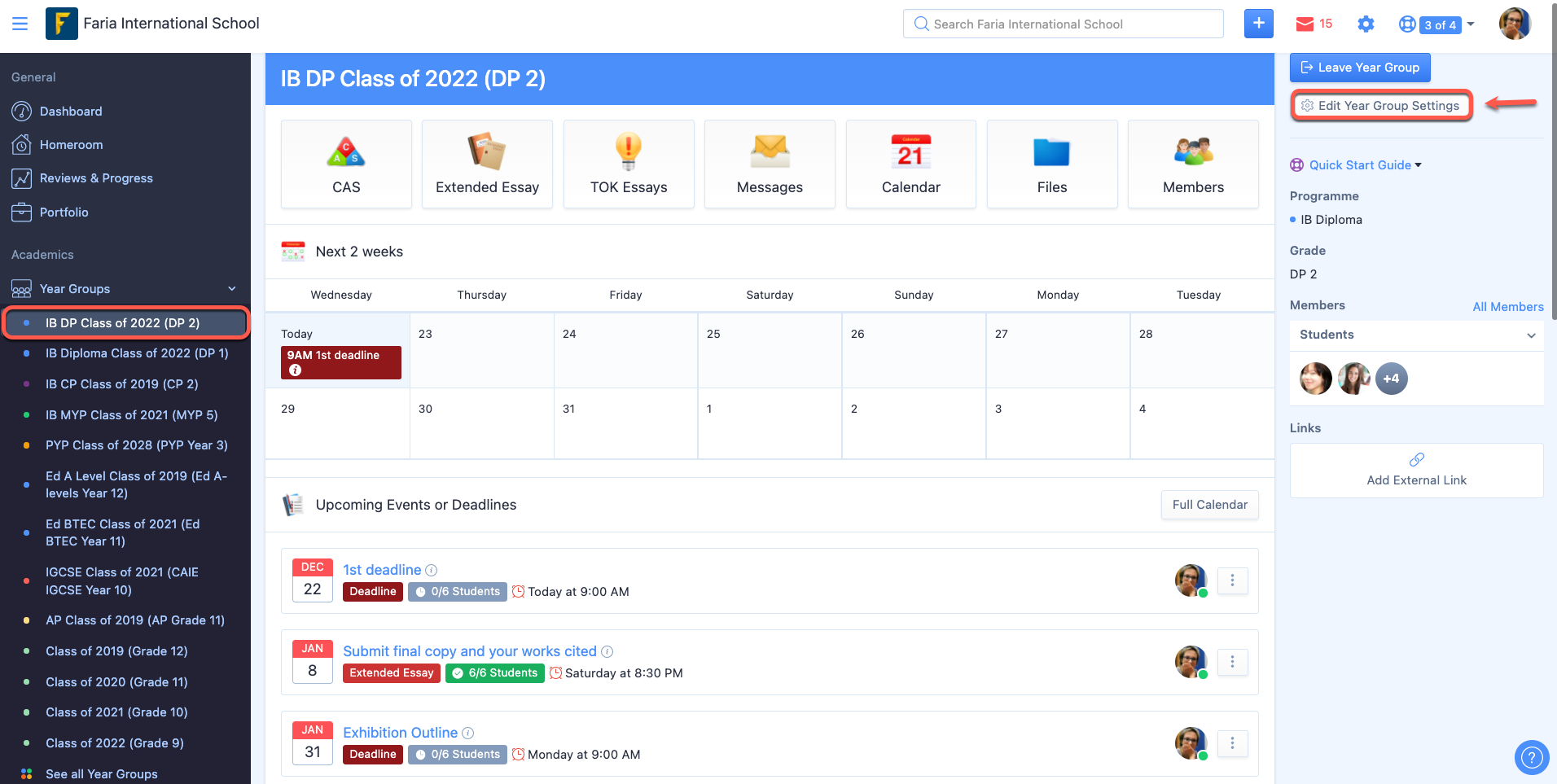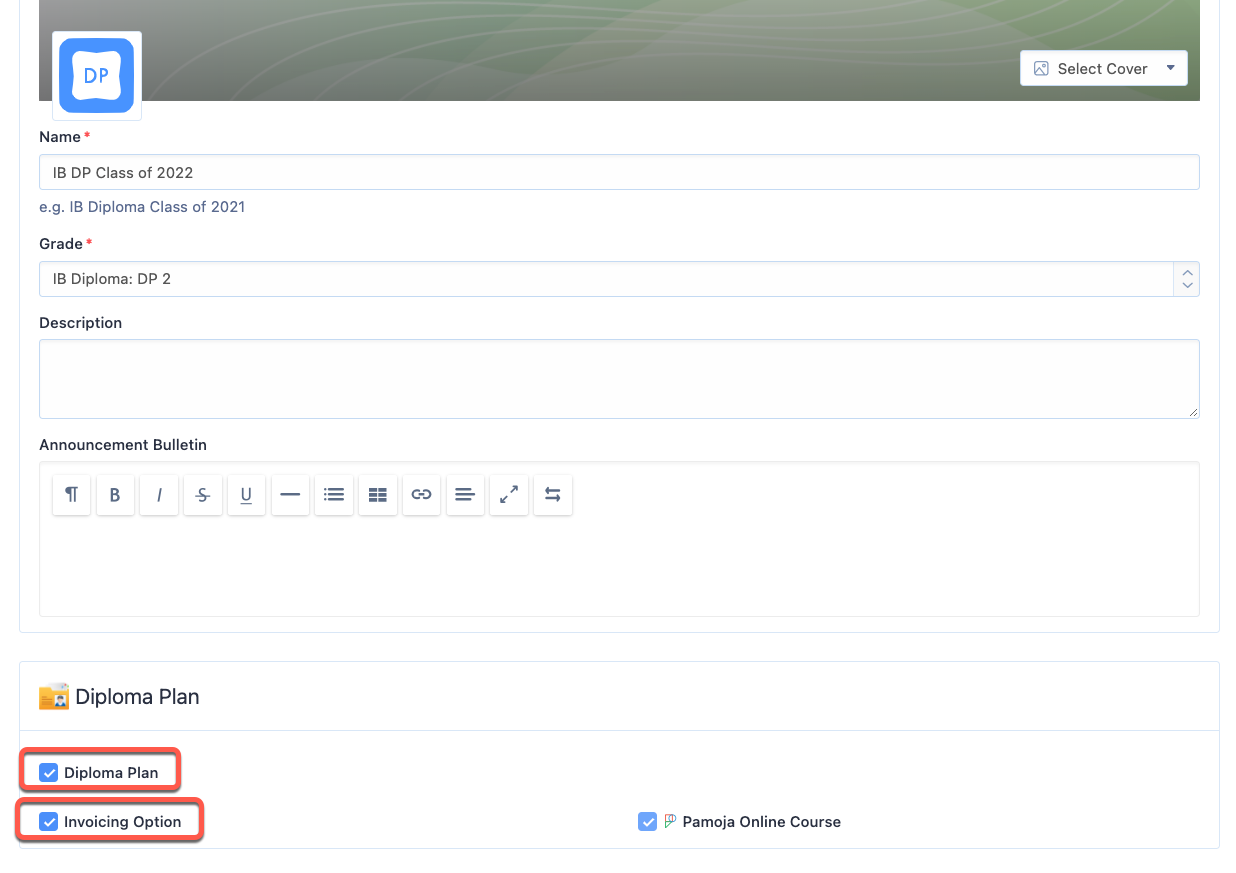 For schools who registered students to IBIS via ManageBac
For schools who have successfully registered students via ManageBac: IBIS Personal Codes will be updated immediately at the point of successful registration and Candidate session numbers will automatically be updated on ManageBac on the following dates:
By January 30 each year for May session registrations
By July 31 each year for November session registrations
Note that for security reasons, pins are not automatically updated on ManageBac, but schools can update these manually for individual students or in bulk (see instructions below).
Updating for an Individual Student
Update an individual student's personal code by navigating to the Plans tab > click on their name > Edit Candidate Personal Information.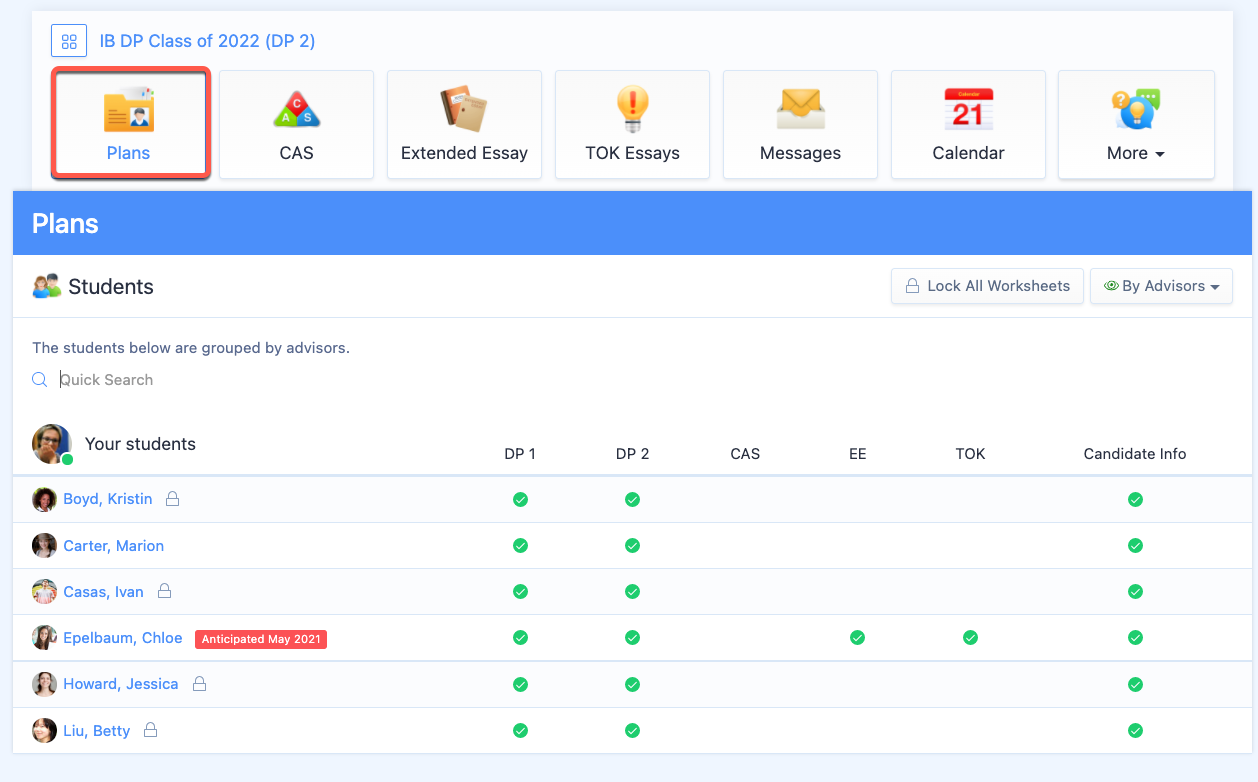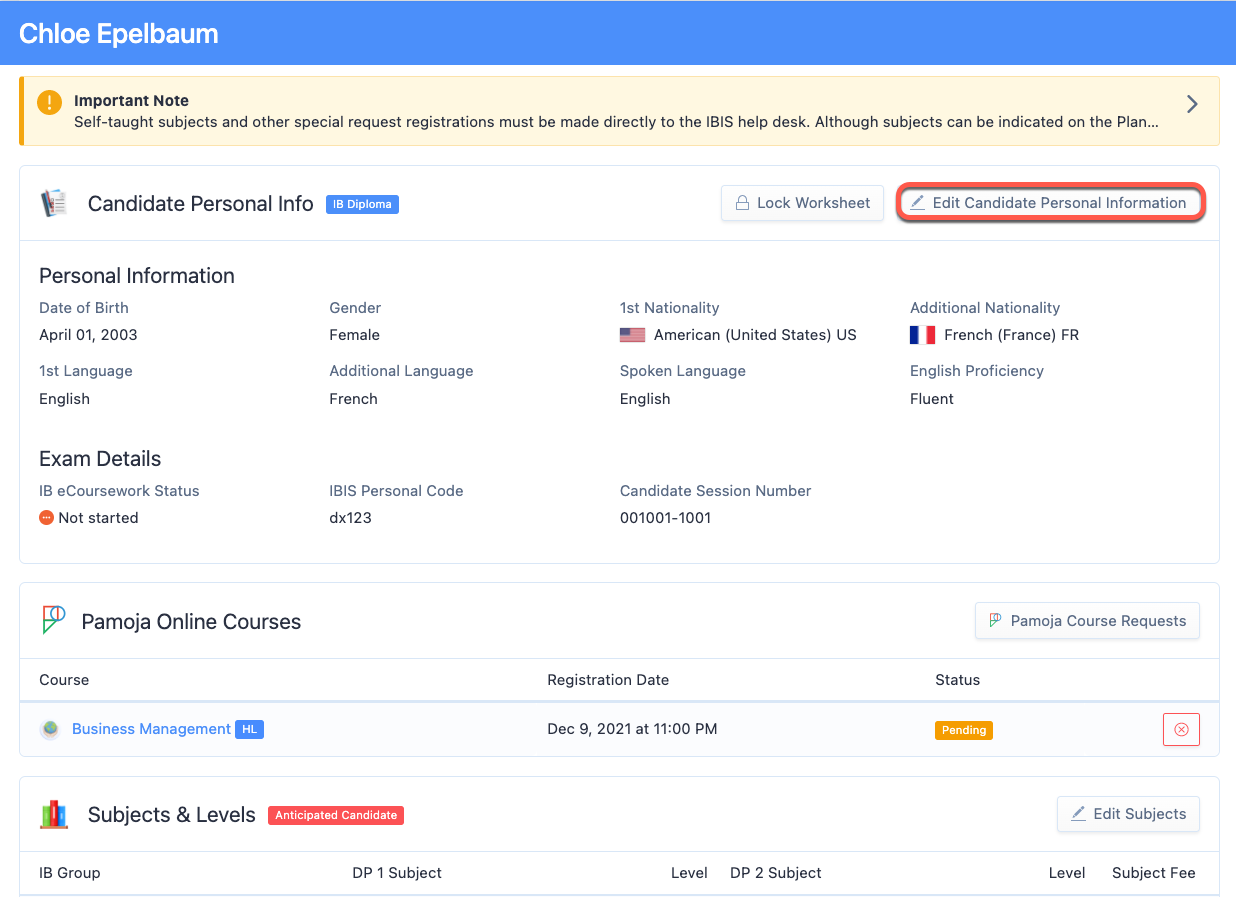 Here coordinators can enter the student IBIS Personal Code and Candidate Session Number, then click Save Changes.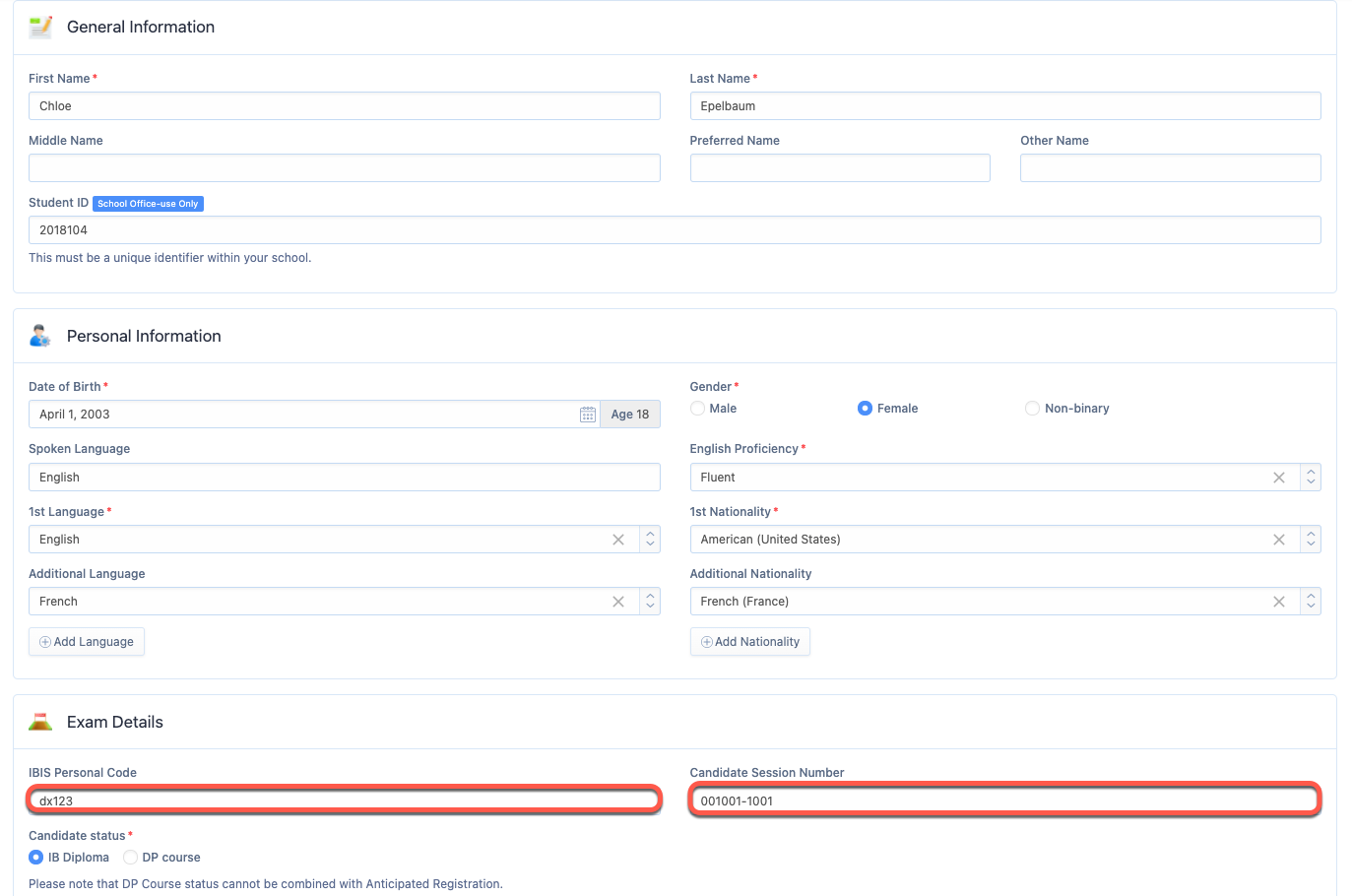 Bulk updating IBIS Information via Import
Navigate to your IB Year Group's Plans roster > Manage IBIS Personal Codes > Bulk Import.
Download our CSV template
Fill in student Candidate Session Numbers, IBIS Personal Codes and PINs. Be sure to include the required fields, Student ID or Student Email
 Upload CSV File for import


Important Notes Regarding CSV Imports
You will need to have access to a programme like Microsoft Excel or OpenOffice Calc to complete CSV imports.
Here are some important things to keep in mind when completing CSV templates:
The file must be saved as Comma Separated Values (.csv) or

 

CSV UTF+8

 

to support special character encoding.
The first row of the CSV file is the header row and must be included in the file.
The header row should not be altered from the template as downloaded from the import pages, keep all required columns, even if you are only importing the required fields.
If updating existing student information, empty columns of data in the file will not overwrite existing data for that user.
The content in your CSV file is case-sensitive and space-sensitive.
Required fields must be filled in. Any missing required fields will cause an error in the system. 
Updating IBIS Information in bulk manually
Student IBIS personal codes can be updated via your IB Year Group's Plans roster > Manage IBIS Personal Codes.

Here coordinators can enter the student Candidate Session Numbers, IBIS Personal Codes and PINs, Save Changes.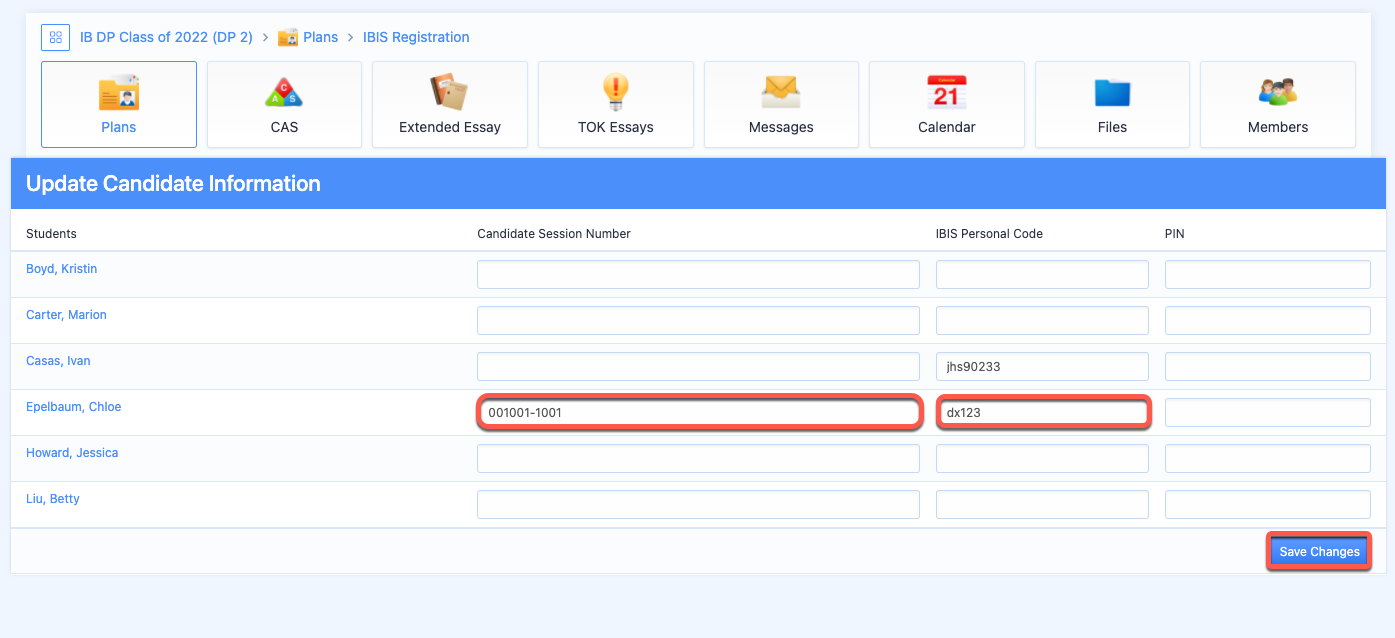 Student access to Candidate Session Credentials
Student's can view their Candidate Session credentials via Year Group Manager > Plan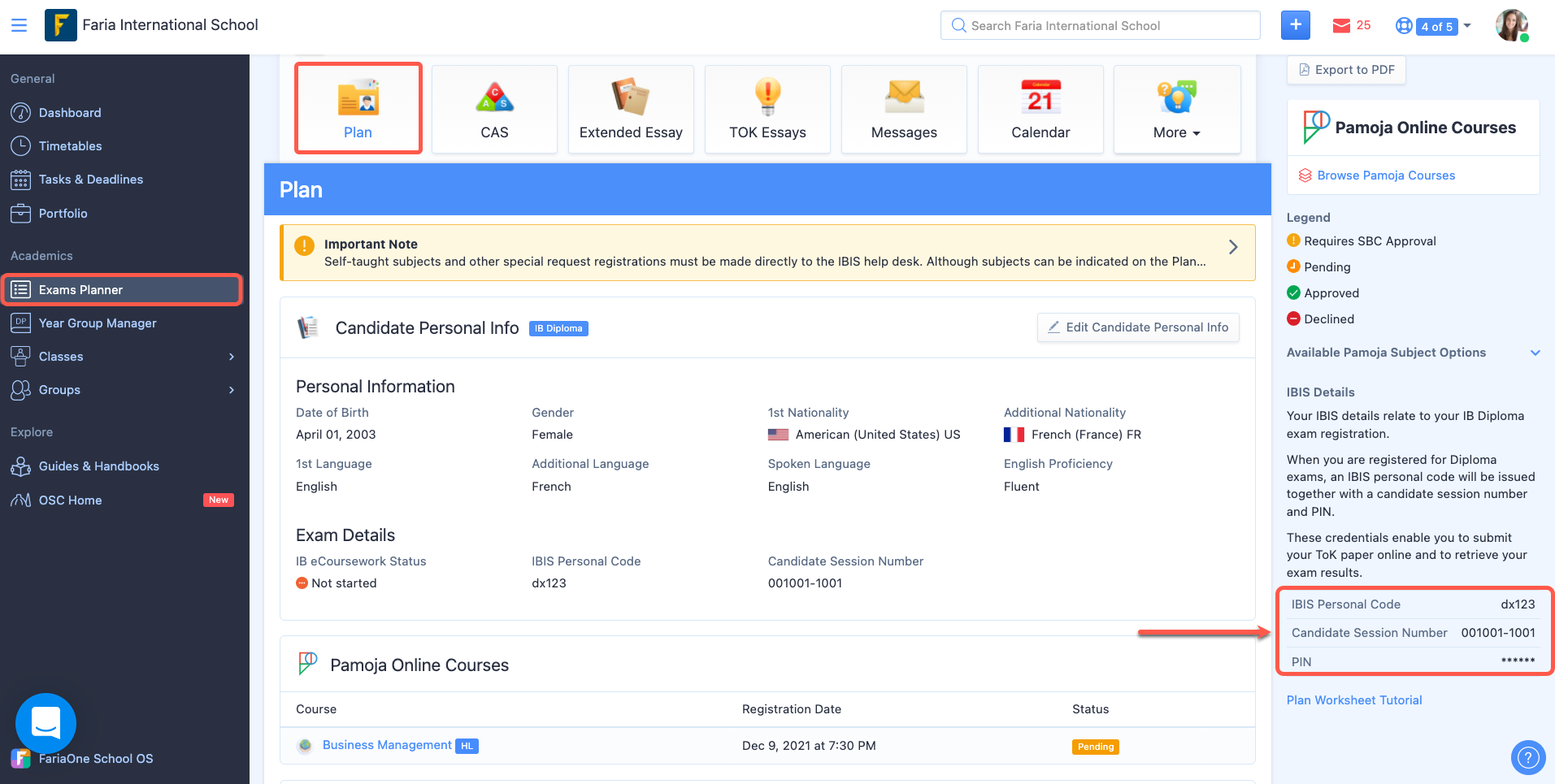 IBIS Session Number allocation logic
Initially, candidates will be assigned numbers in the order they are registered. If registration fails via ManageBac, no candidate numbers will be assigned. 
Under the below scenario:
Student A - Registered successfully
Student B - Fails
Student C - Registered successfully
The following should happen when session numbers are assigned:
Student A - 0001
Student B - 0002
Student  C- receives 0003 upon resolution of the error
However, once the student's records are on IBIS, schools can re-order their session number based on the following conditions:
Original order they were registered
Candidate name
Category (alphabetic) / candidate name
Category (D, A,R,C) / candidate name
This can be done up until the registration deadline.