Adding Standards from Standards Repository in ManageBac
Schools can add standards from the Faria Standards Repository to their school accounts with one click, as well as request custom and copy-written standards be added. 
Please note that while the initial setup requires administrators to go to a specific programme/school to add the standards, they are available for all schools/programmes in the system once they are added.
Navigate to the Standards Page via Settings
Administrators can go into any programme within their school settings to add a set of specific standards by navigating to Settings > Select a Programme > Curriculum > Standards. This feature is available for all enabled programmes.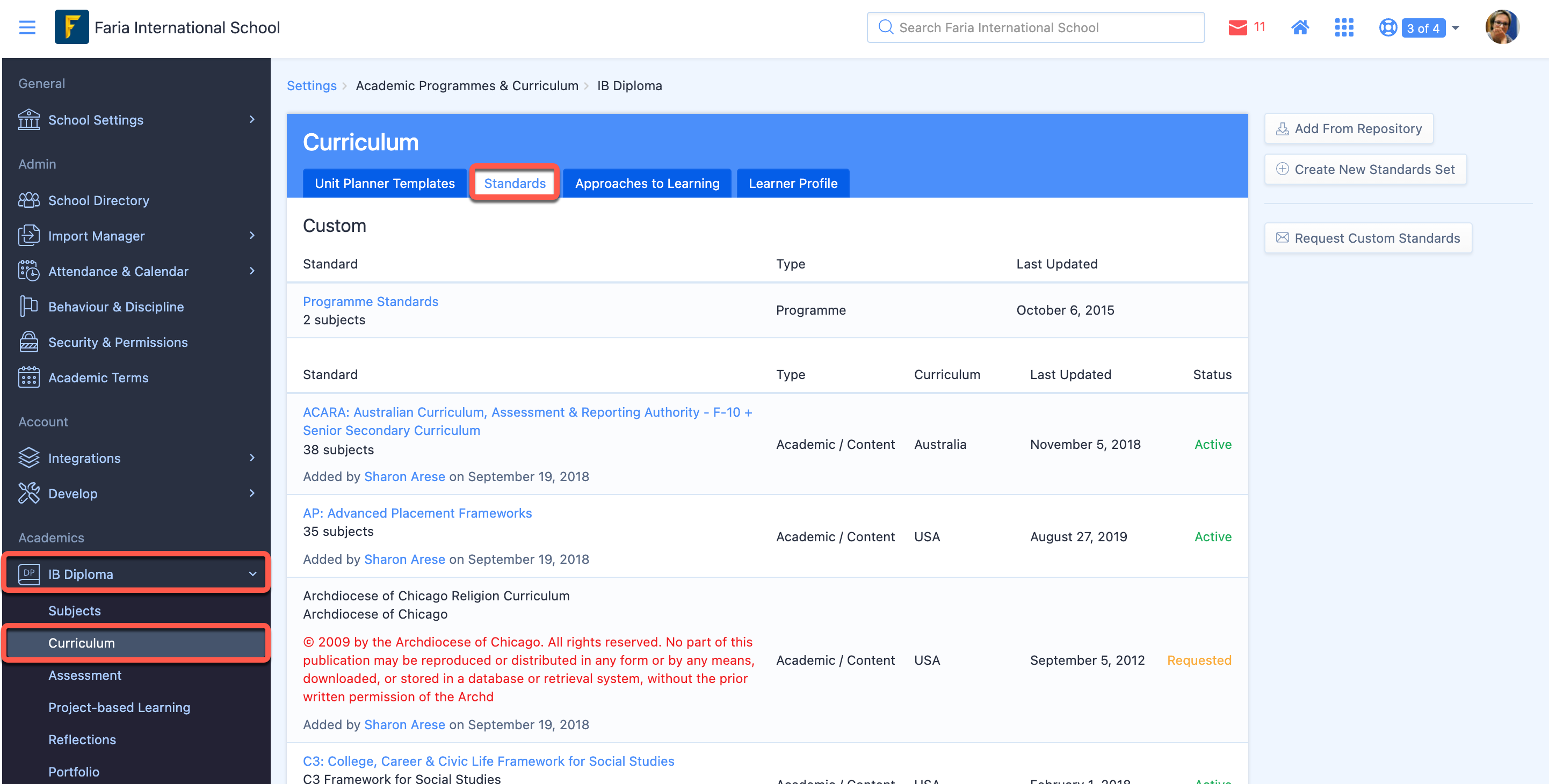 Searching for Standards
Standards can be found by selecting "Add From Repository" on the right navigation panel.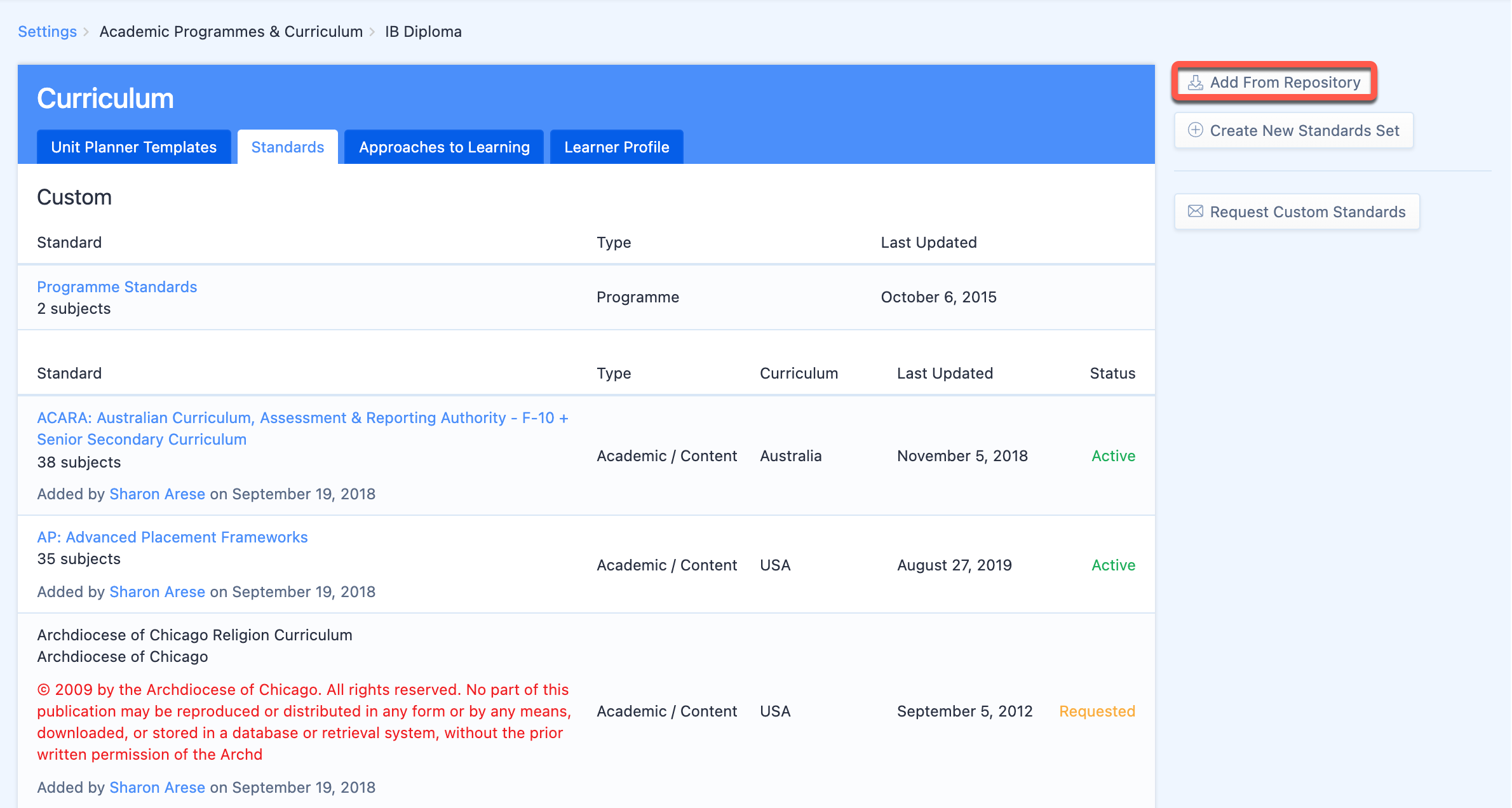 The standards repository is set by keyword, so key terminology will need to be typed in the search bar for any standards to be displayed. 
Once you input the standards you are looking for, available options will display showing the number of subjects that are associated with that specific set of standards. Please note, standards cannot be previewed until they are imported into the system.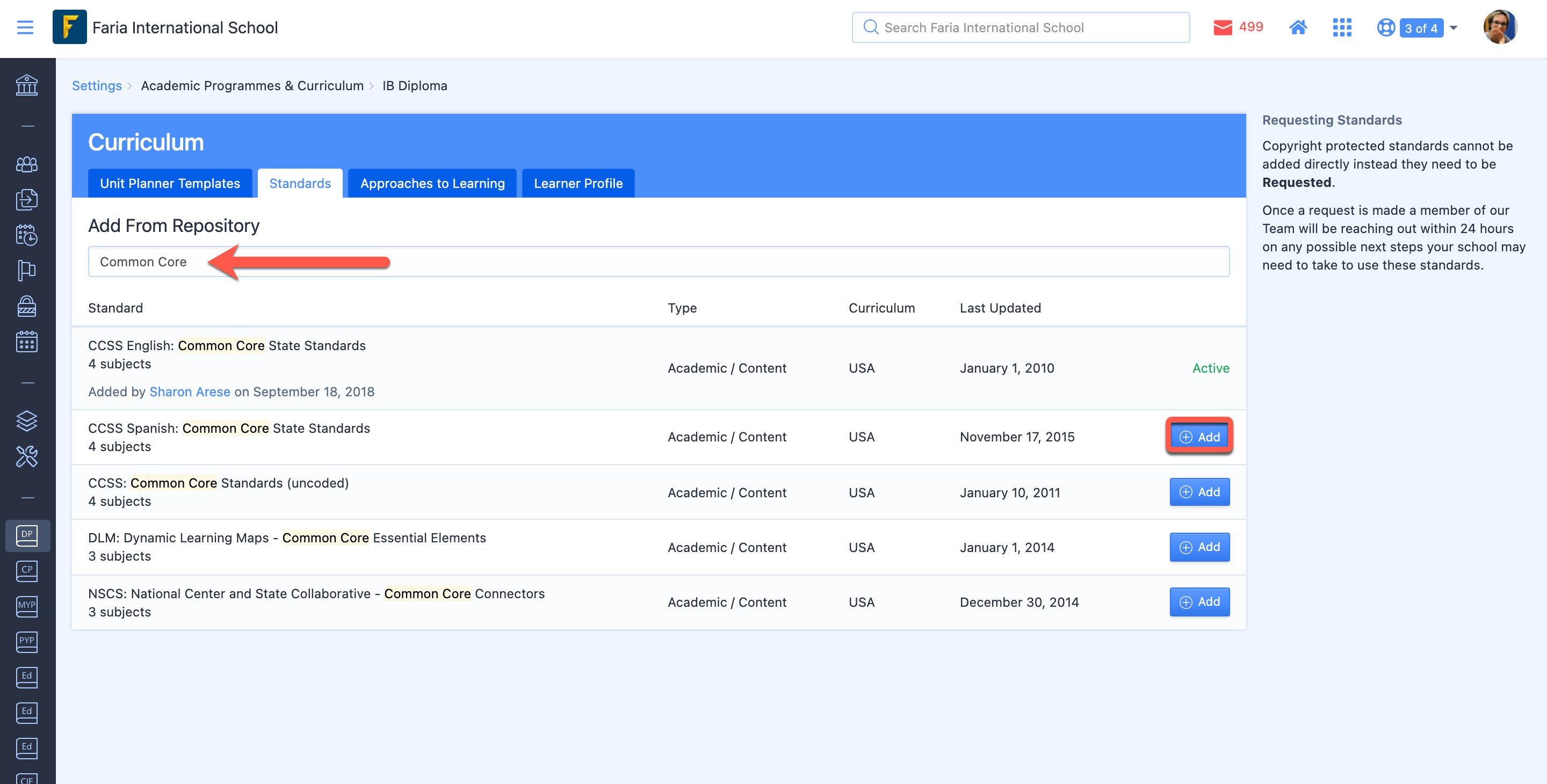 Requesting, Adding, Active, and Archived Standards
After finding what you are looking for, you will have four available options for the standards:
Requested - These standards are not available to be added directly by your school, as the authorizing organization for the standards must provide approval to your school prior to use. When clicking on the request, an email will be sent to our Standards Team to begin the process of reaching out to the organization and communicate to your school specific information. Once your school receives permission, our Standards Team will make the standards available within your system.

Active - This option states that these standards are currently being used by the system and do not need to be re-added.

Archived - These standards were previously in use, but have been marked as archived by an administrator at your school. Teachers will no longer be able to use these standards once they've been archived. An administrator can mark them as active again at any time.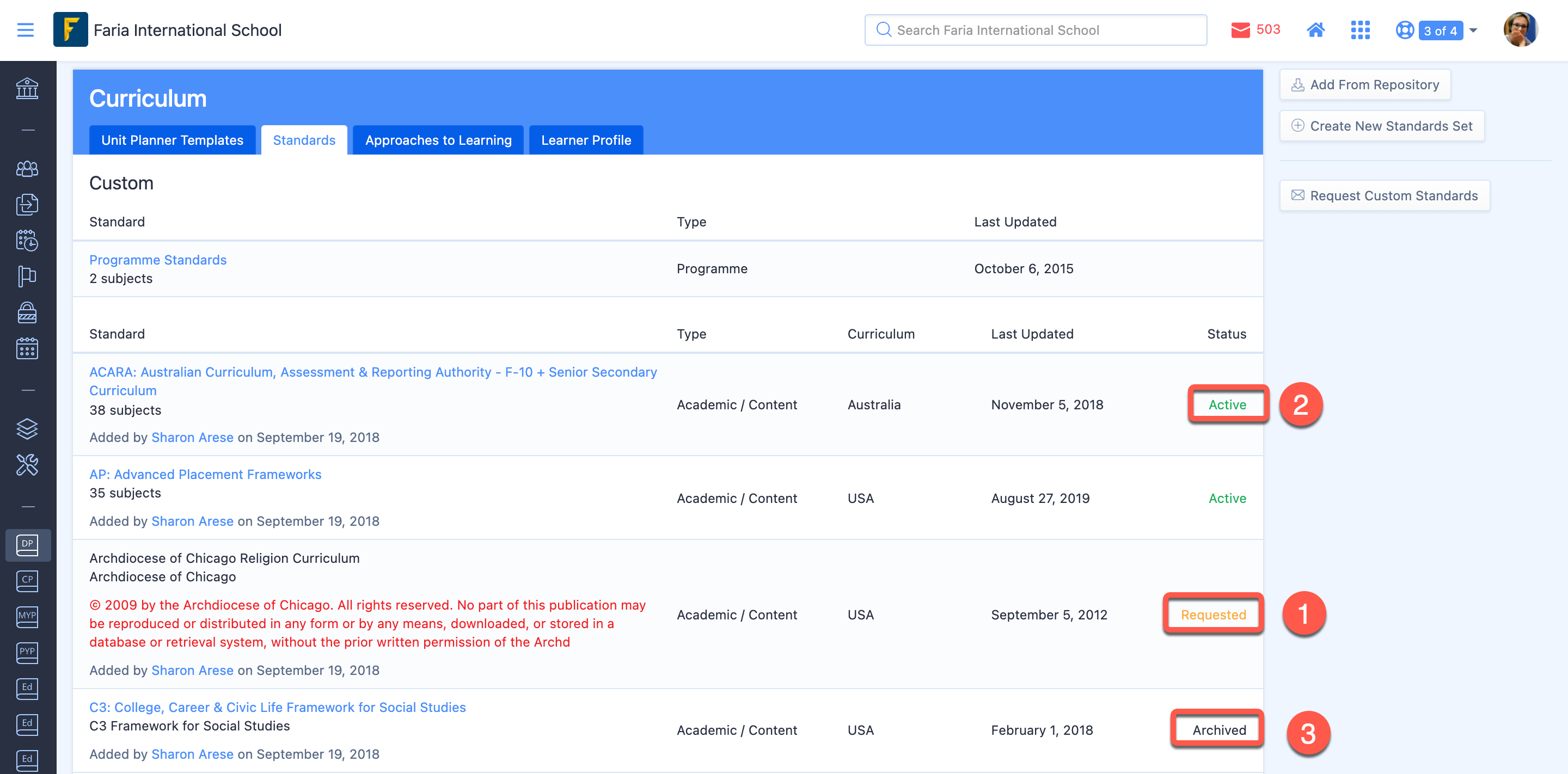 Once standards have been selected, you will have a list of all standards that have been added to the system. The overview list will include the name of the standards, the type of standard, the "curriculum location" it is from, when it was last updated by our team (not by the organization), and the current status (active/archived).
Selecting Standards
By clicking on the name of the standard, you will be able to view the specific standards that were added by using three dropdown menus for: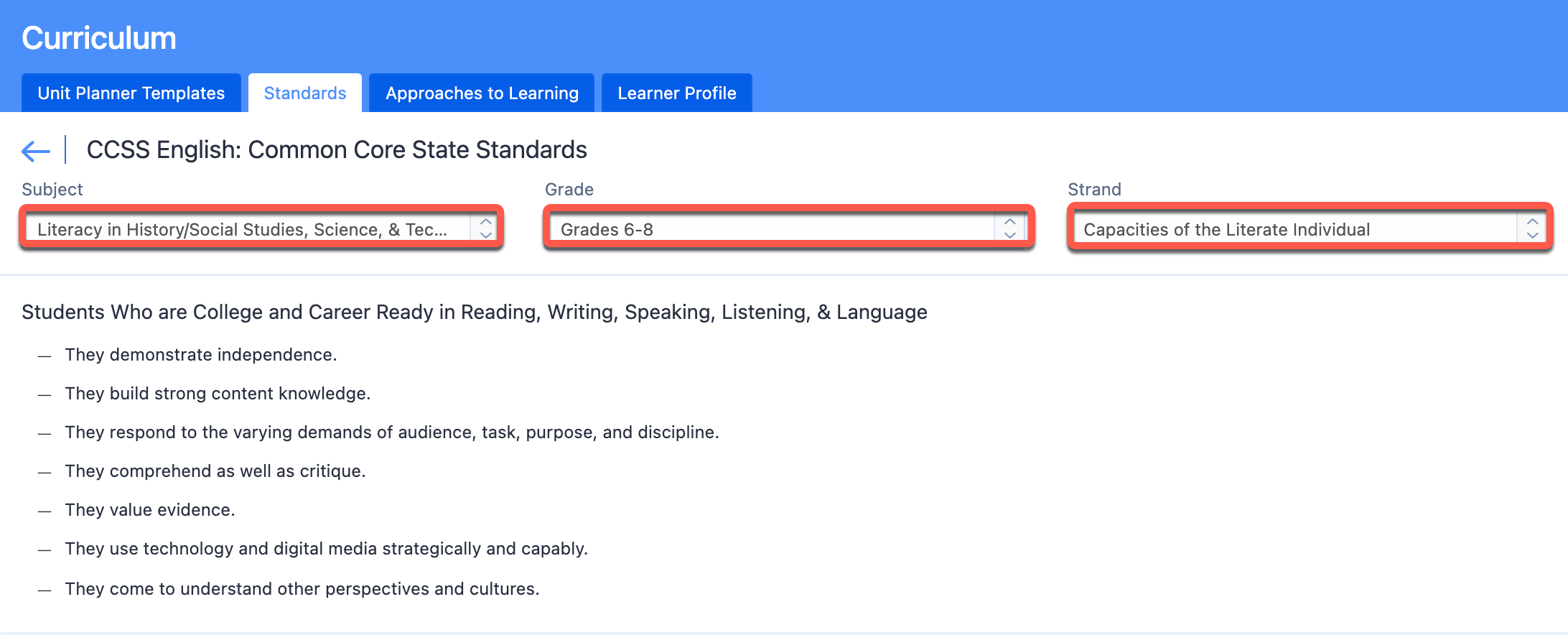 Requesting Custom Standards
Custom standards imports have to be requested from ManageBac Support Team via
support@managebac.com
using the 
Request Custom Standards
button on the right navigation panel.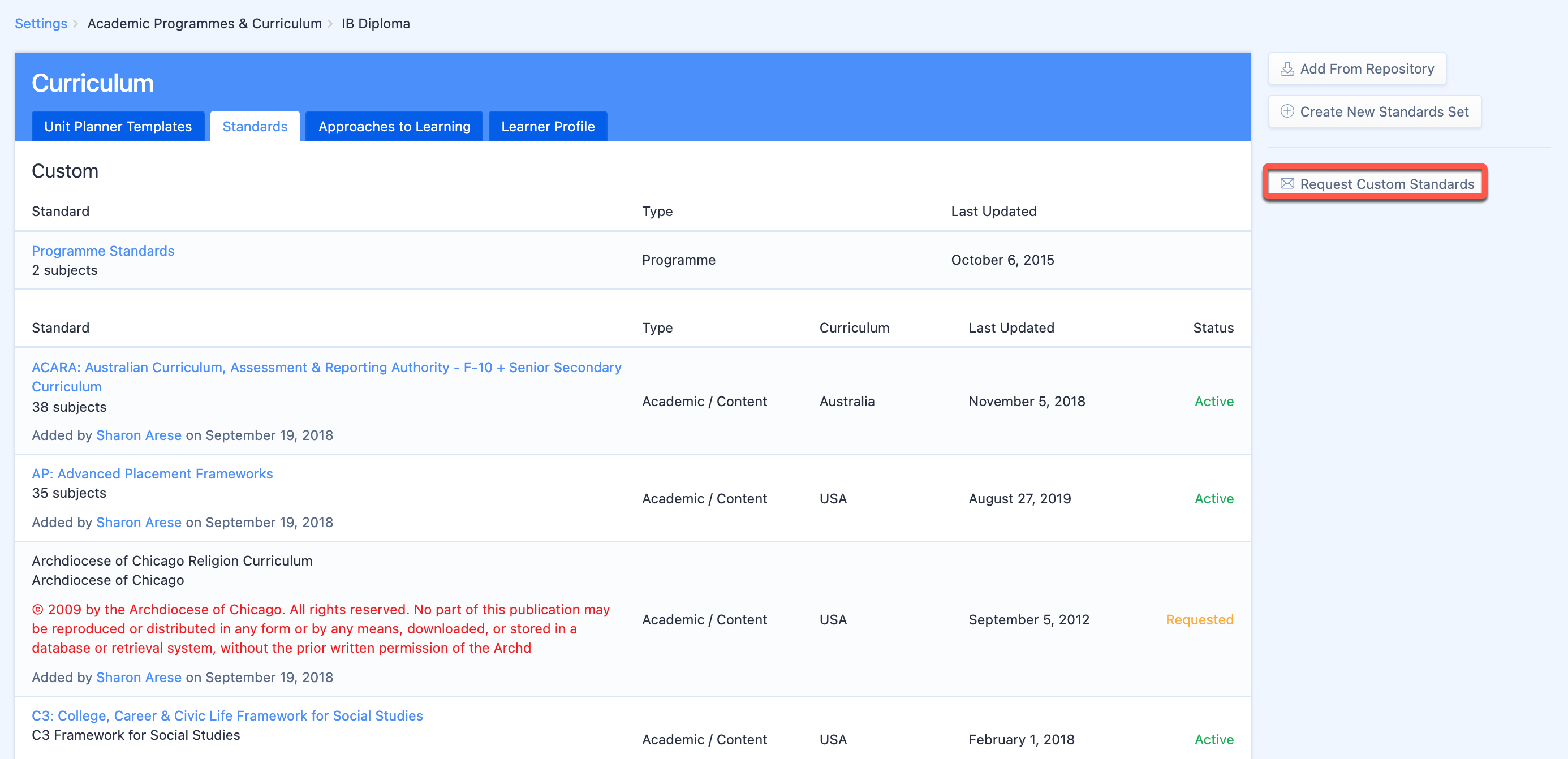 If you have custom standards you wish to have imported, please send us the file with your standards or the link to where we can find those for review. We will then contact our Standards team to review and provide an estimate for how long the import will take. Next, we will respond to you with a quotation for the standards import and request for you to approve the quotation to be added to your ManageBac invoice. Once we have you approval, our data team will import the standards in the format you requested. 
Manually Creating Standard Sets
Schools can create school specific sets of standards per programme using the Create New Standards Set button in the Standards page. 
Adding New Set of Standards

Step 1: Enter a Title and click Create Set to start building the school specific standards set.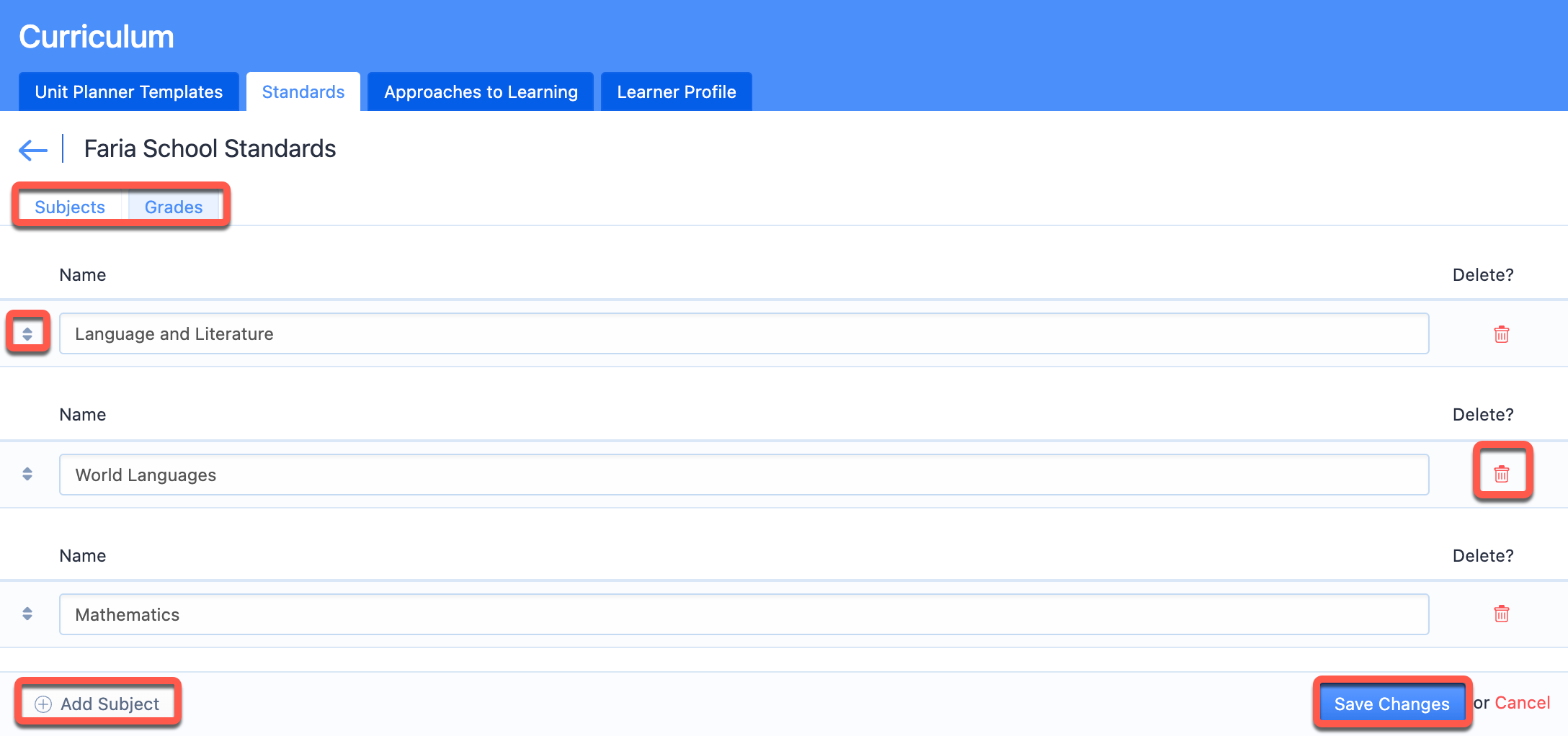 Step 2: Configure applicable Subjects and which Grades labels to use for the standards set. Click Save Changes to apply the selection. You can rearrange or delete subjects as needed.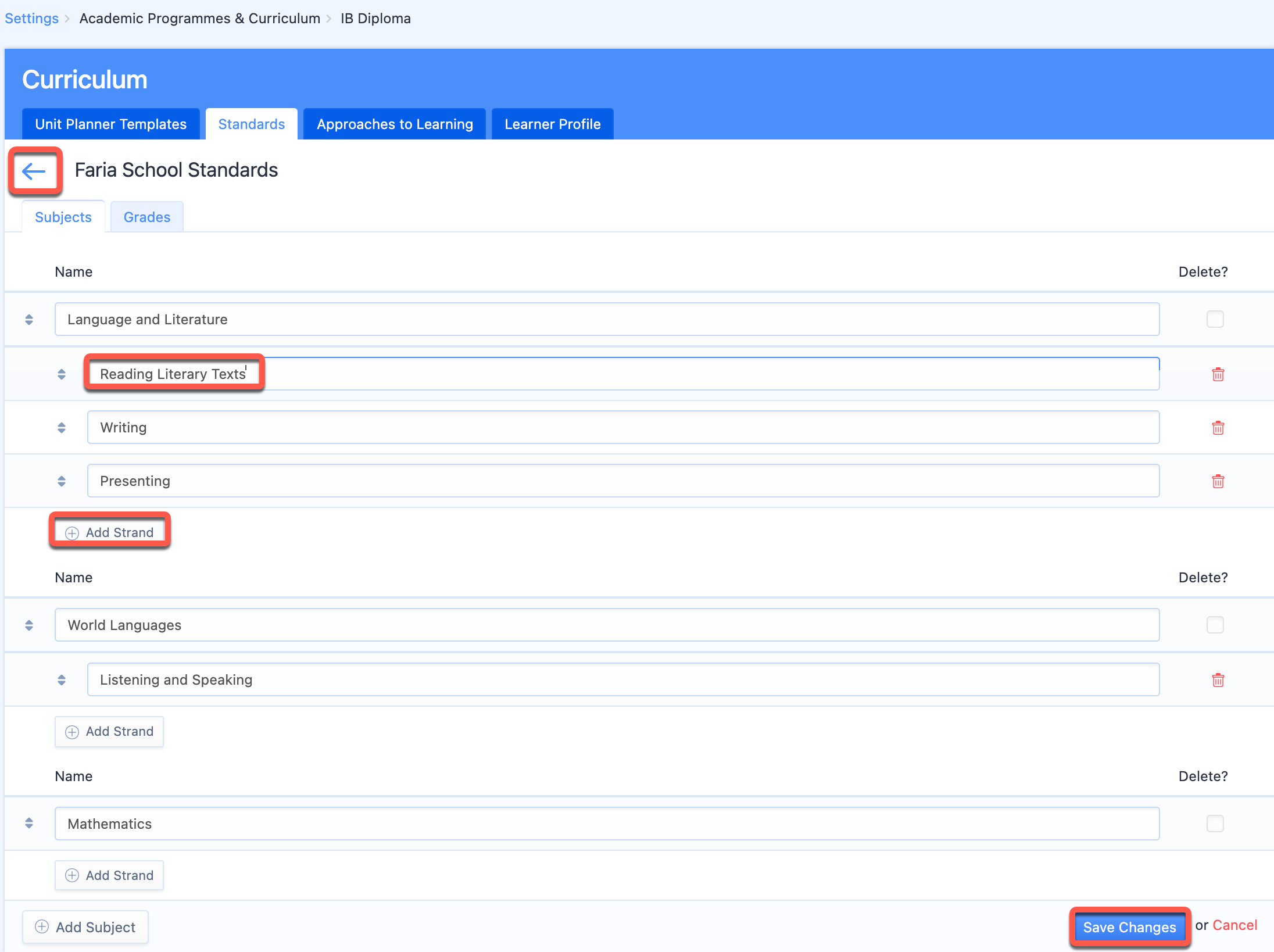 Step 3: Create strands per subject using the Add Strand button for each subject and remember to click Save Changes at the bottom of the page. 
After strands have been added, use the blue back arrow to open the page where Standards can be entered. 

Step 4: Select the Subject, Grade level and Strand from the top dropdown menu. Then click the Plus icon to add individual strand sub-headers. We would recommend one sub-header per line item, because these will become selectable lines in the Unit Planners. 
Click Save Changes to add the sub-headers to the strand. 

Use the plus icon to add individual standards to sub-headers or the pencil icon to edit sub-headers or standards. You can also re-arrange the sub-headers and standards as needed.

Step 5: Once all sub-headers and standards have been added to each subject, grade level and strand as needed, click Publish Standards Set on the right navigation panel. Until a standards set is published, it appears as under construction. 
Accessing and Editing a custom standards set

Once the Standards Set has been published, you can access and edit it via the Standards page of the Curriculum settings for the programme. The set will appear with a school specific label to indicate this set was not added from the Repository and is not part of any custom Programme Standards.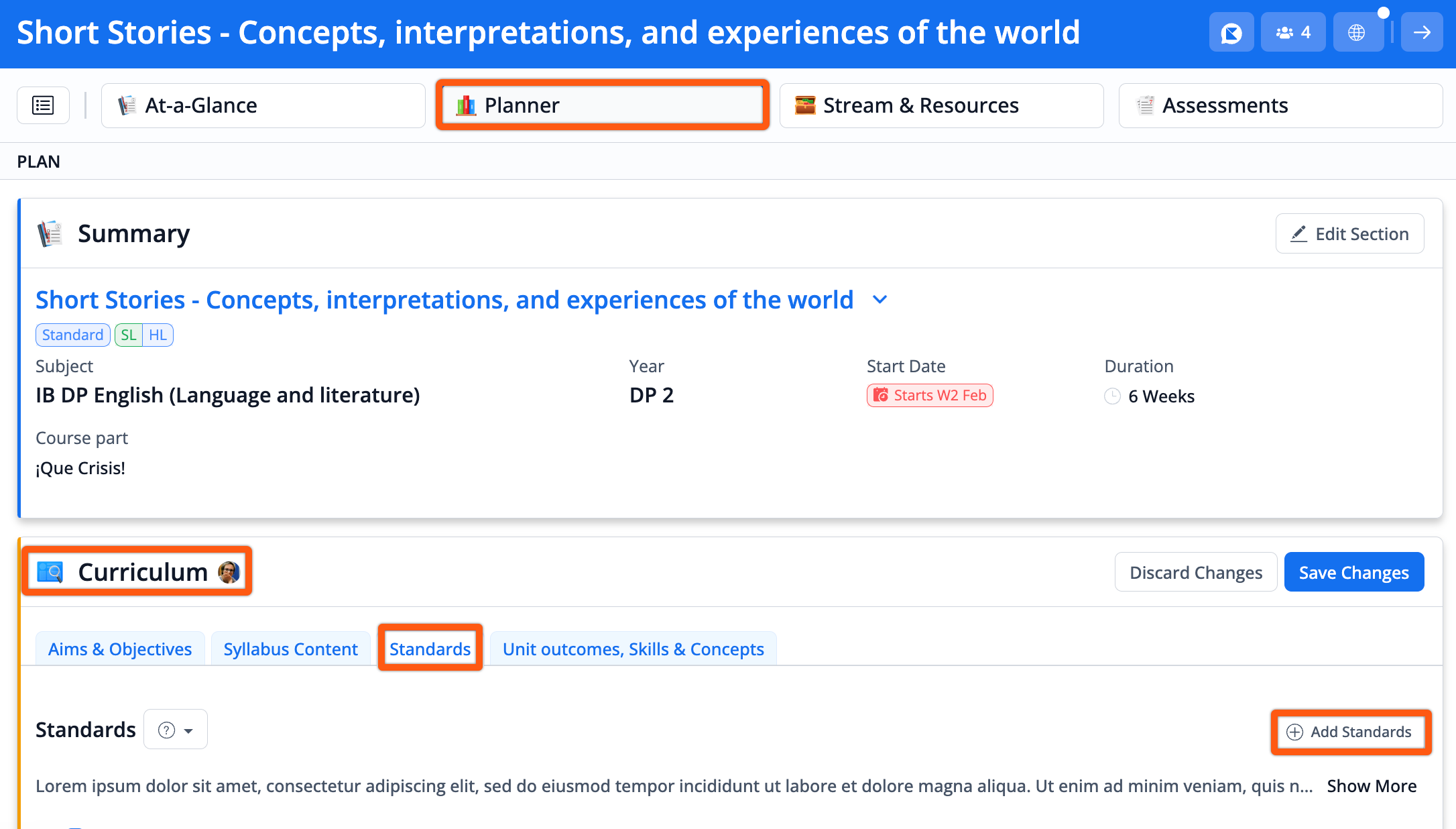 Teachers will be able to select the custom standards set in any class belonging to the programme when they click the Add Standards button by navigating to the Unit > Tasks & Units > Planner > Curriculum > Standards. 
Adding Custom Programme Standards
(only available for schools with legacy Programme Standards already added)

Administrators can also manually add Programme specific standards per subject and grade level using the Programme Standards link on the Standards page.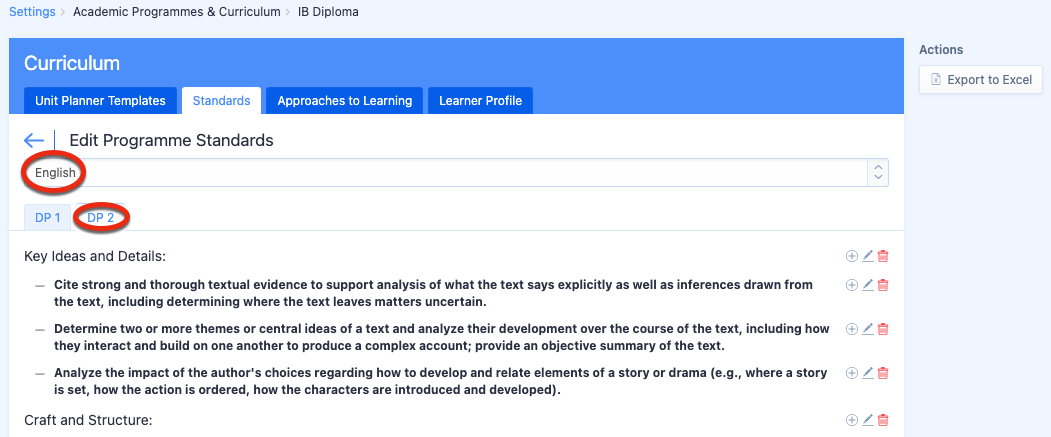 This allows administrators to create standards per subject and grade level that will directly appear within the Unit Planner > Standards tab.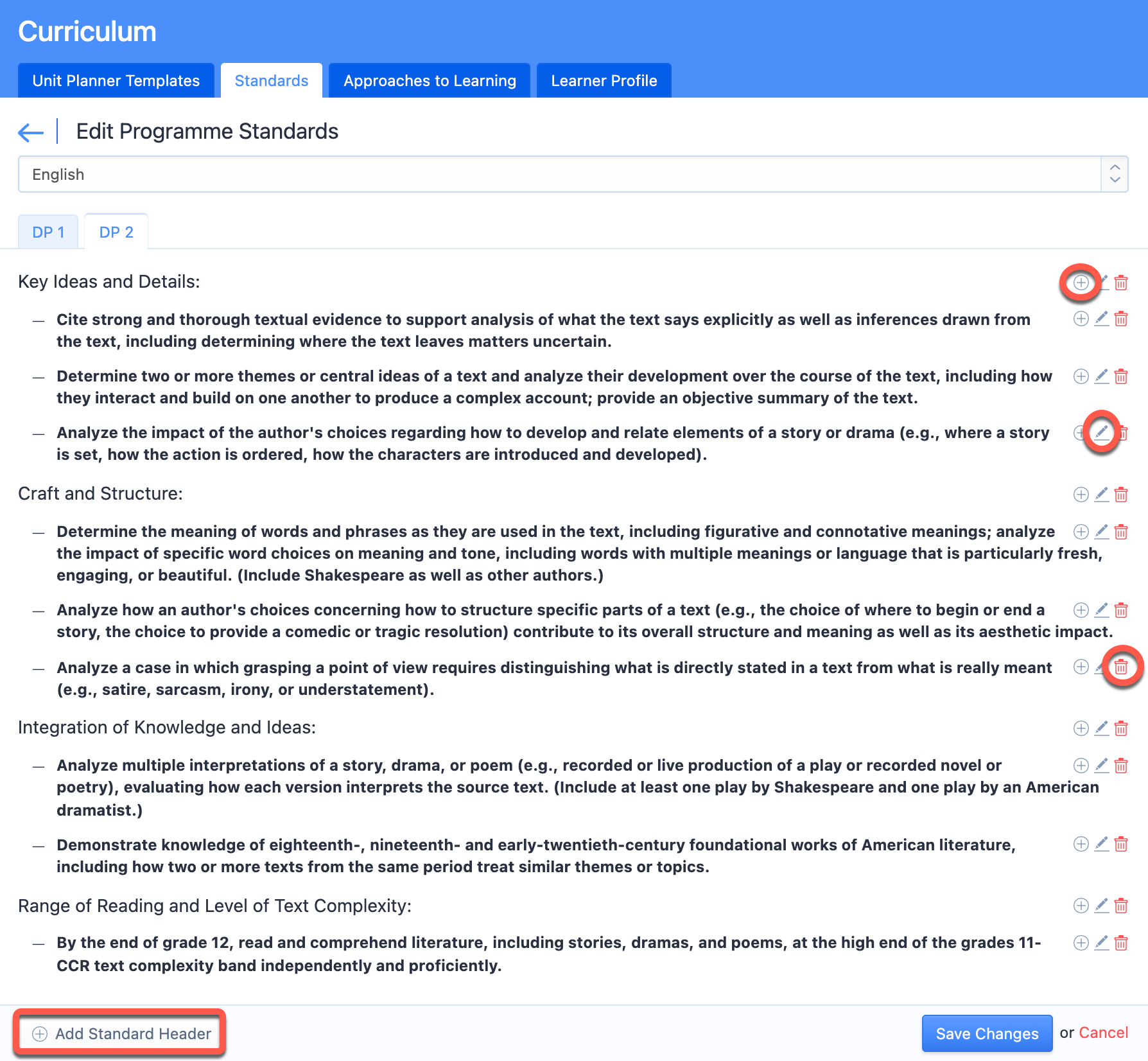 In contrast to Custom Standards Sets, these Programme Standards can only be selected in Units that are linked to the same subject and grade level as the standards entered. Standards from Custom Standard Sets can be selected across grade levels and subjects in any units of the programme.