What is ManageBac <> OpenApply Sync?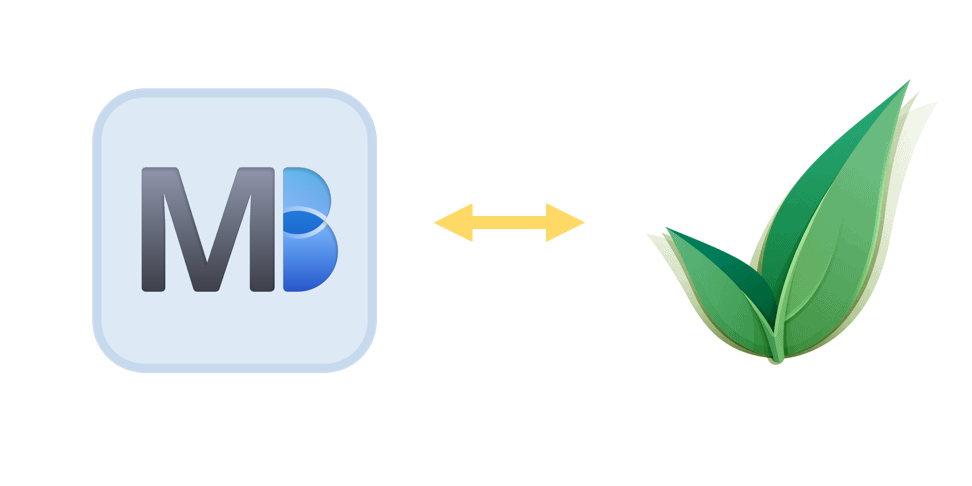 The integration between ManageBac and OpenApply provides a two-way sync of core demographic data of students and parents. Once enabled, data will sync every two hours.
OpenApply sync is enabled via EduTone. This requires requesting our support team to enable for your school.
The integration between ManageBac and OpenApply allows schools to:
Automatically create new ManageBac accounts for newly enrolled students and their parents
Automatically create new OpenApply accounts for existing ManageBac students and parents
Withdraw or graduate students in either system
Monitor enrolment numbers in real-time
Access consistent demographic data for students and parents
Monitor and resolve duplicate or conflicting account information
Login via Single Sign-On for administrators and parents in both systems
OpenApply, like ManageBac, is a service in the Faria Suite. Read more about OpenApply and our Unified Family Experience offering.
How does ManageBac integrate with OpenApply?
The sync includes the following types of students, together with their parents:
Students with status Enrolled for the present academic year, or earlier. (e.g. a student marked as Enrolled for 2023-2024 will not sync.)
Students with status Withdrawn* or Graduated.
The integration allows for three actions:
User Update: A user's demographic details (e.g. Address) may have been updated in one system. During the sync, this will transfer to the other system.
User Creation: If a student is marked as Enrolled in OpenApply for the present academic year or earlier, an account will be created on ManageBac, together with their parents. If a new student is created on ManageBac, the account will be synced to OpenApply, together with their parents, as an Enrolled student. Students have to have a matching Student ID and Student Email addresses in both systems.

New students created in ManageBac via sync will appear in the correct year level but are not assigned to year groups or classes.
Welcome e-mails are not sent when users are created. Administrators must generate these separately after account creation

User Archive: If a student is marked as Withdrawn* or Graduated in either system, they are automatically archived, together with the ManageBac parent accounts (if those parents do not have any other enrolled children at the school).
We additionally provide complimentary Single Sign-On via our Launchpad service. Launchpad allows users with verified e-mail addresses in our systems and/or our partner systems to easily move between systems without needing to separately login. Administrators and parents with verified e-mail addresses in both systems will be able to use this feature.

* Please note that Withdrawn is interpreted as an enrolled student who departed the school. If your Admissions office is using the status for students who dropped out of the application process (e.g. a student who goes from Pending > Applied > Withdrawn), we advise that they use the Declined status instead, so the records do not sync to ManageBac.
How to set up sync with OpenApply
The ManageBac - OpenApply integration is currently complimentary. Please contact the ManageBac Support Team to request integration via support@managebac.com.
In this request phase, our support team will require information from your school, and run data checks on your ManageBac and OpenApply accounts prior to enabling the sync between them.
How to manage the OpenApply sync
Where is the integration managed?
In ManageBac, navigate to Settings > Integrations > Sync
In OpenApply, navigate to Settings > Integrations > ManageBac
Reviewing Grade Priority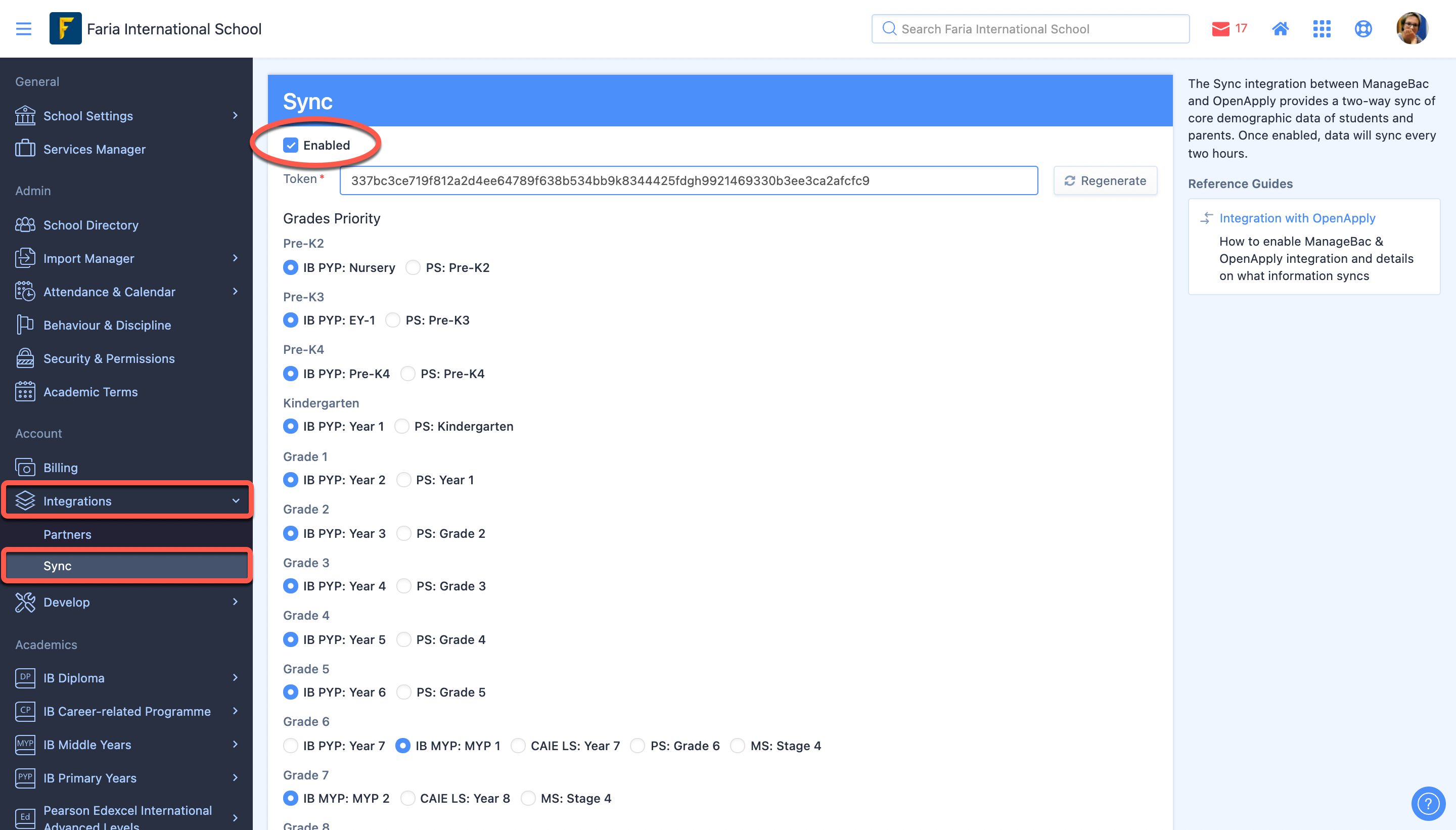 Here you can review if the integration between ManageBac and OpenApply is enabled for your account, as well as configure your grades priority where appropriate.
Which Fields Sync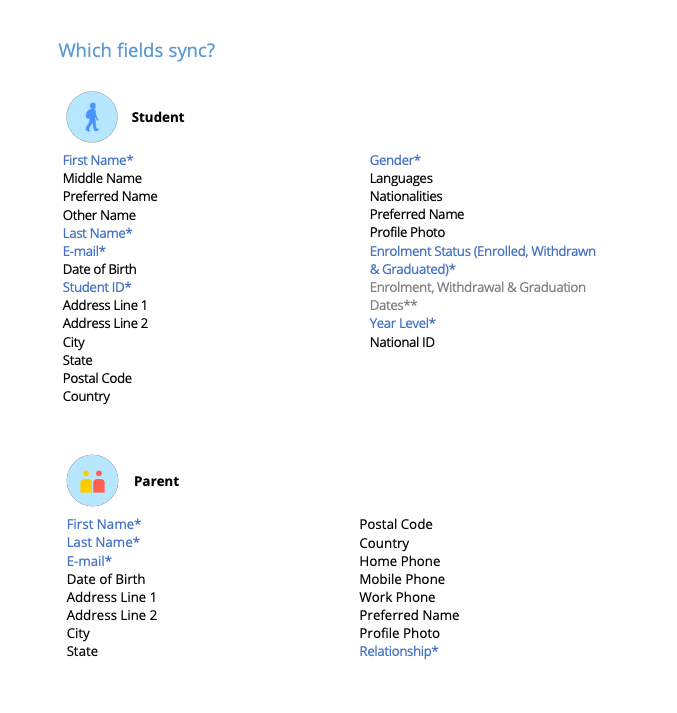 *Required fields for sync
**Schools with sync enabled before Jan 1st, 2019 must request to have these fields enabled. Schools with sync enabled after Jan 1, 2019, will have these fields included automatically.
Where can you see the Data?
Navigate to an individual user profile via Settings > School Directory.
Student Profile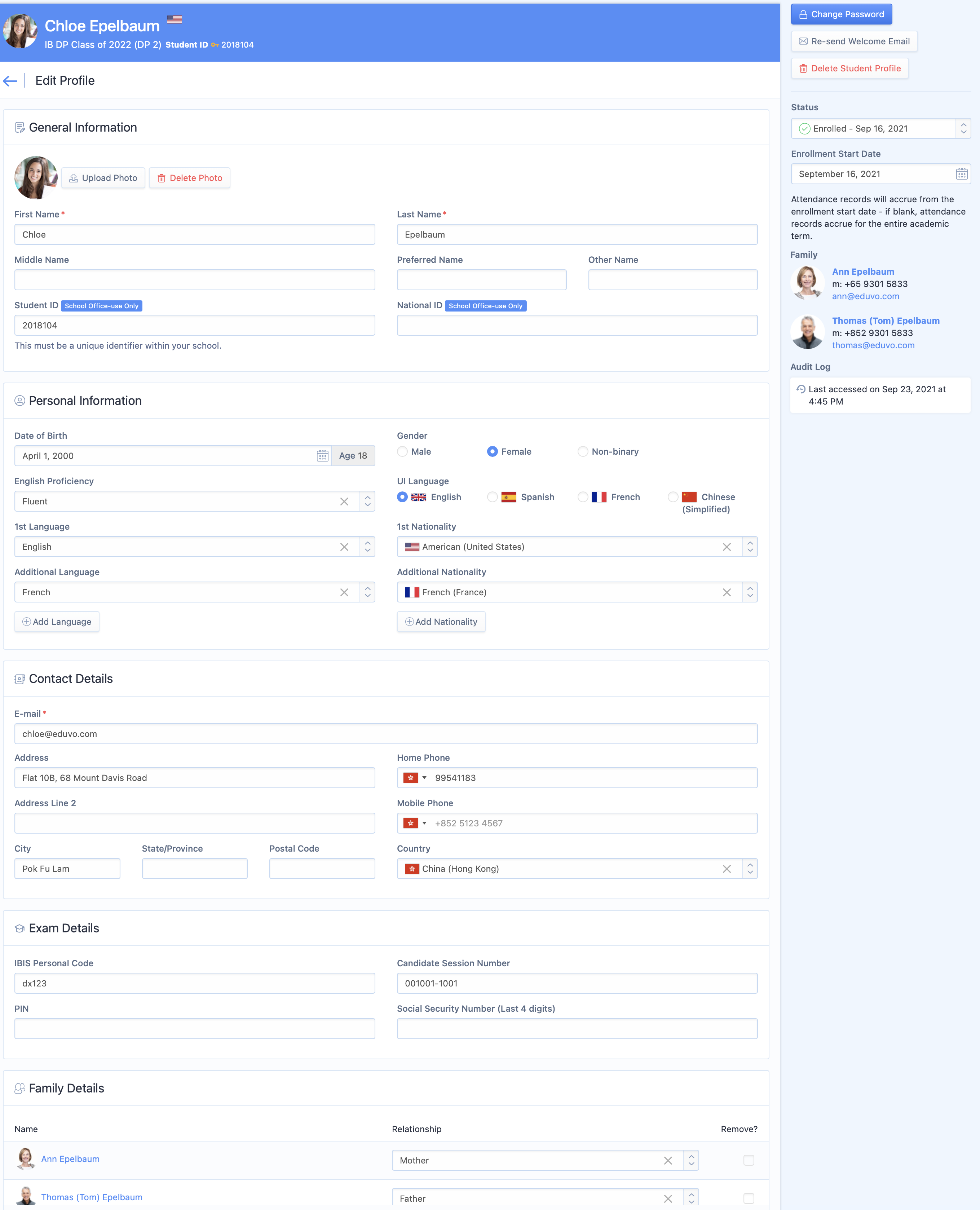 The fields shown in this screenshot sync with OpenApply, with the exception of:
Other Name
UI Language
English Proficiency
SSN
Mobile Phone
Home Phone
Parent Profile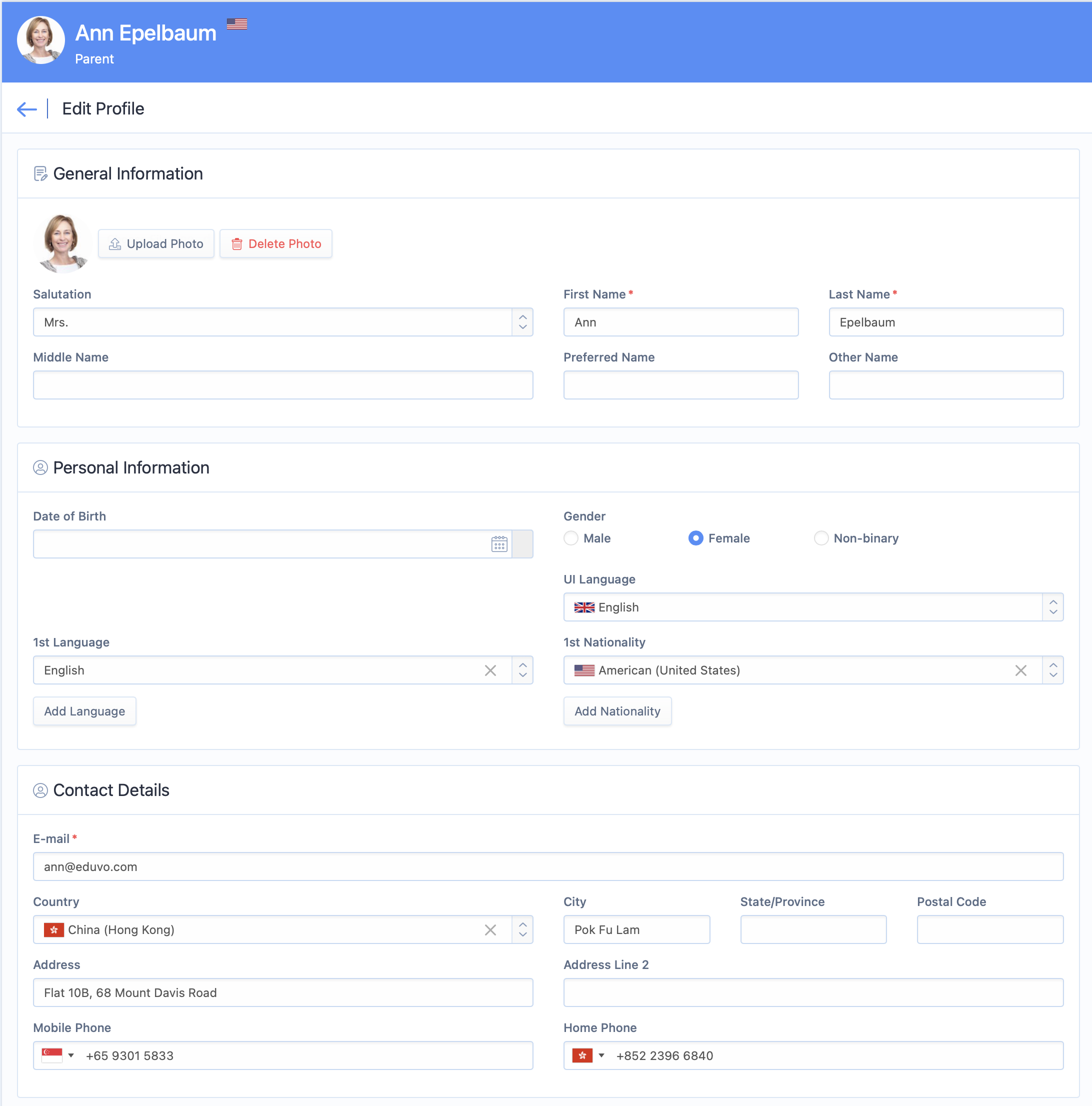 The fields shown in this screenshot above sync with OpenApply, with the exception of:
Middle Name
Other Name
Gender
UI Language
Please note in the Parent Work section, only the Work Phone field syncs with OpenApply.
Important Note: By default, parents and students may edit their own profile information. To lock this and restrict editing to administrators only, please navigate to Settings > Security & Permissions > General.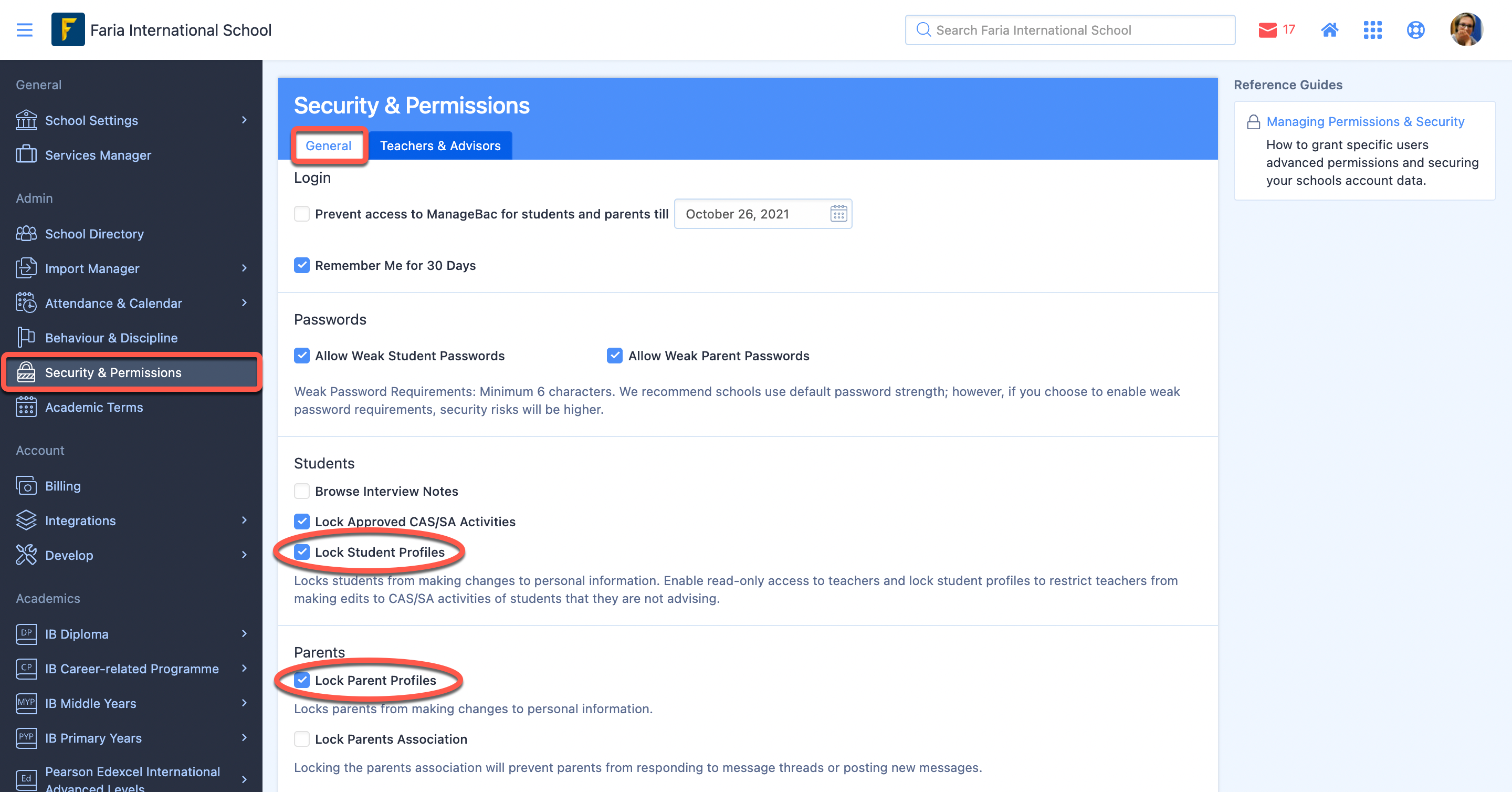 Teachers might also have editing access to Student Profiles. We recommend restricting teacher access to Read-only for the Student Directory via Settings > Security & Permissions > Teachers & Advisors and Save Changes.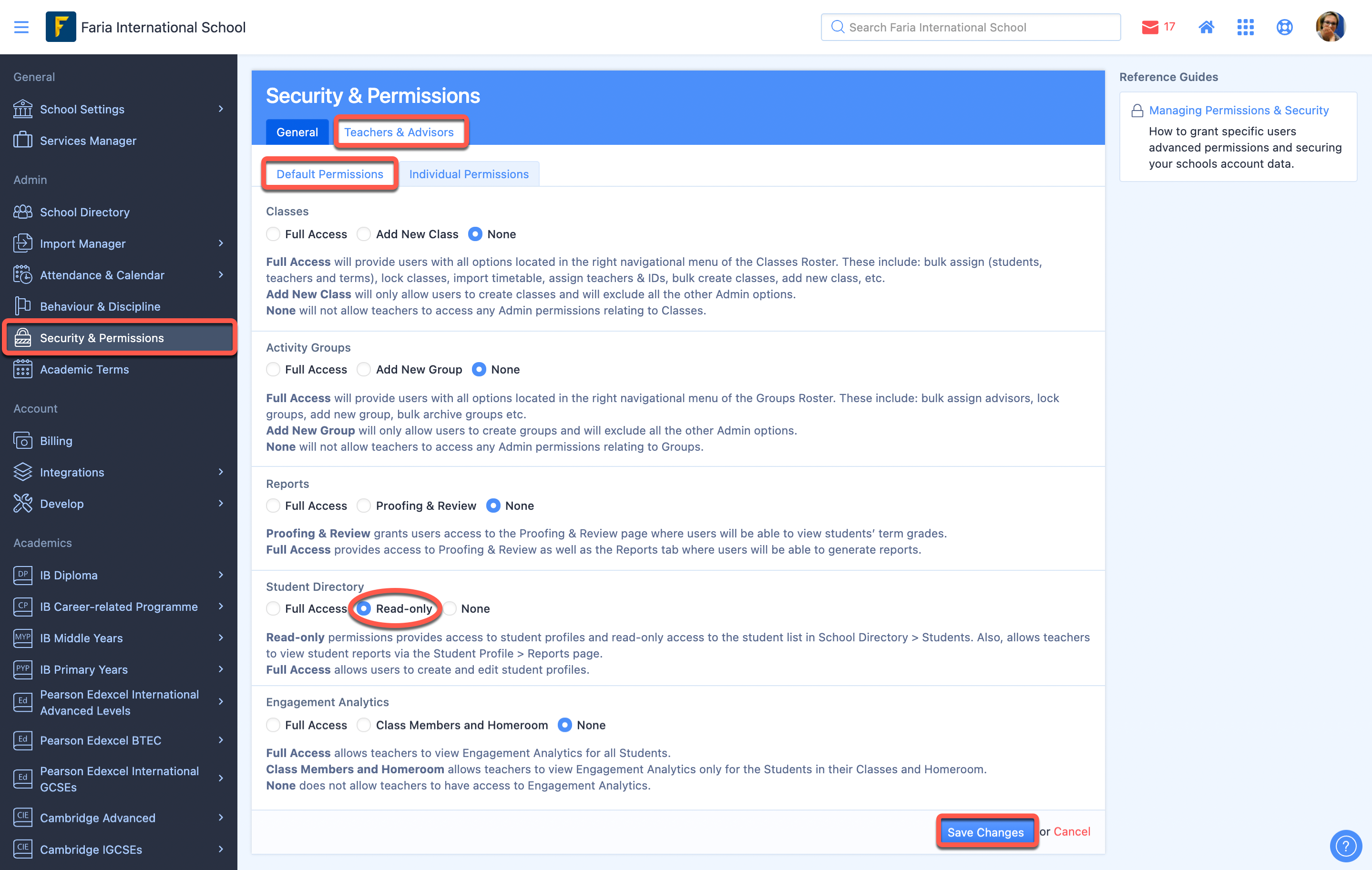 All information on OpenApply is stored in fields, which are included on forms. The fields on each form can be customized within the Forms Editor, which an administrator can access via Settings > Forms.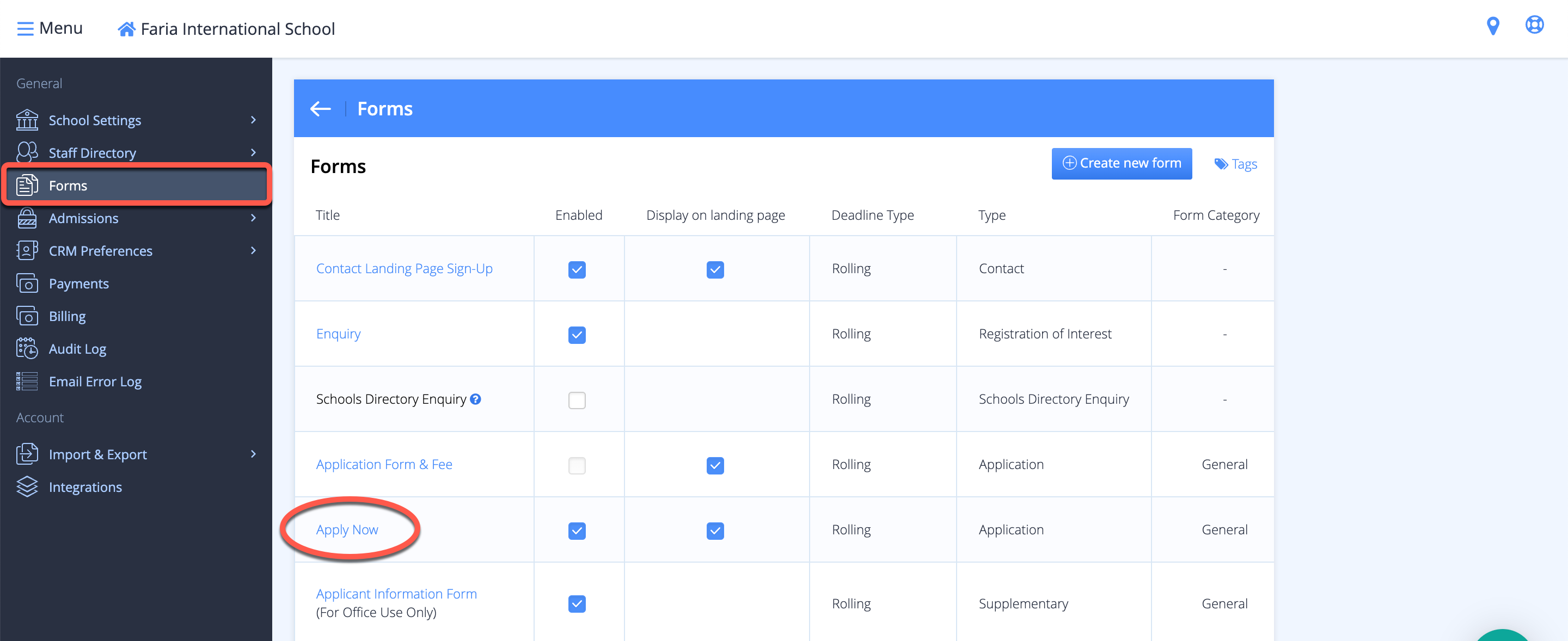 All fields that sync between ManageBac and OpenApply are global fields, meaning that they are standardized across our systems. Within the form editor, you can double-click on a field to edit it. If the field is a global field, you will see a screen like this: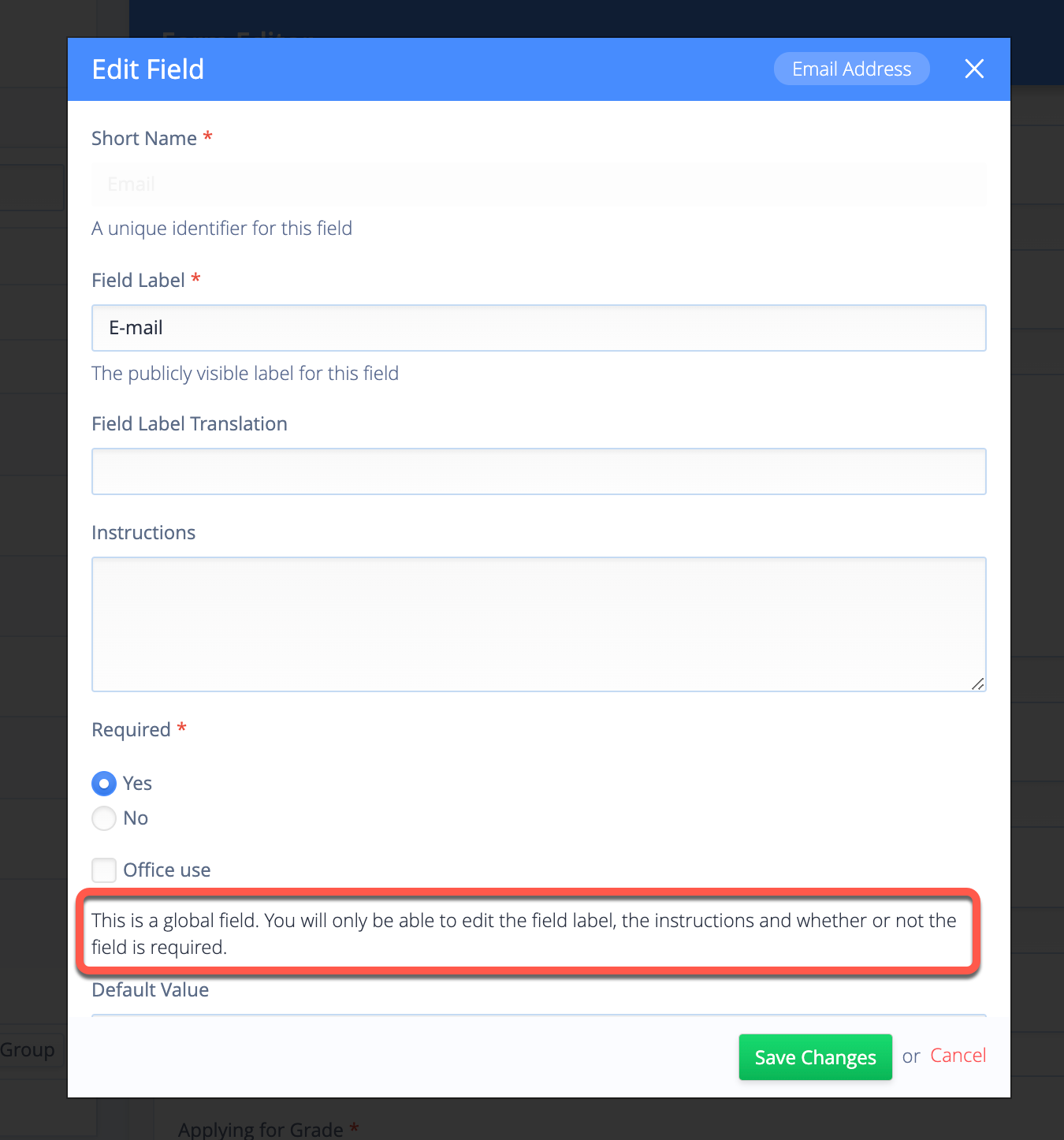 Note that certain fields are both global and mandatory – for example, First Name and Last Name are always required fields for all applicants.
Important Note: Because OpenApply allows for custom fields, it's important to double-check your forms to ensure that you are using global fields to store your data. Our Support Team can assist with this verification. Note that you can rename the labels for global fields, e.g. if you prefer to ask for Surname instead of Last Name. If you wish to collect information like Parent Work Phone via OpenApply and do not want it to sync over to ManageBac, we recommend using a custom field on OpenApply instead of the global field. When editing a field, you also have the option of making certain global fields Office-Use Only, for example, if you do not want parents to provide a Student E-mail, and prefer instead for an administrator to enter this data. For more information, please see the FAQs.
Transitioning to the New Academic Year with Sync Enabled
Schools with Sync enabled are encouraged to follow these steps for the Transitioning to the new Academic Year process.
Generate End of Term Reports in ManageBac (if Reports are enabled).
Transition OpenApply as described in Transitioning Years tutorial for OpenApply.
Follow with the rest of Transitioning steps as described in ManageBac Transitioning to the Next Academic Year tutorial
What is the Faria Unified Family Experience?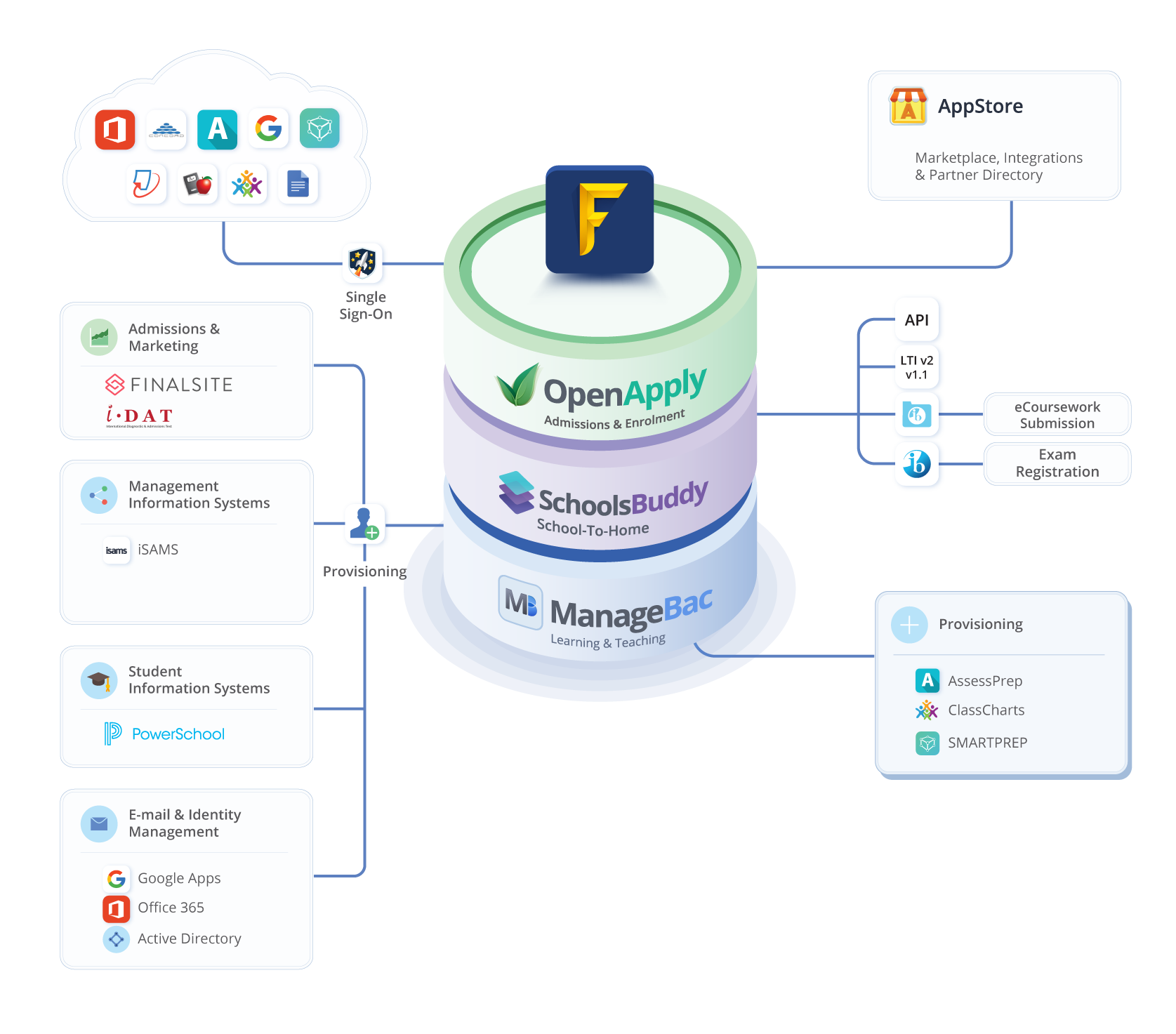 Faria Education Group provides an integrated technology suite spanning Admissions Management (OpenApply), Learning & Teaching (ManageBac), and Activities Management & Online Payments (SchoolsBuddy for over 3000 schools in 120 countries.
We provide students & families with a consistent, modern and intuitive user experience from initial inquiry to enrolment and school life & beyond. Read more about the Unified Family Experience and how it can help your school today.
Integrations Questions & Support
Can I update account information in bulk?
Yes, absolutely. There are a few places in both systems where you can update core information in bulk, either through a bulk edit screen or through a CSV import. We recommend working together with our support team to fix this.
I'm working on setup and I need to add or remove a year level. Can I adjust this?
We will help you create or remove this new year level. Please do not do this independently.
I marked a student as Enrolled in OpenApply, then I marked him as Waitlisted.
However, I still see the record in ManageBac. Unfortunately, our systems will sync only students with the following statuses: Enrolled, Graduated, Withdrawn.
Since Waitlisted in OpenApply does not have a corresponding status in ManageBac, it cannot sync. In this case, we recommend either deleting or archiving the ManageBac record until the student is (maybe) Enrolled in the future.
Reach out to support@managebac.com for additional guidance on Sync related inquiries.