Viewing Key Contacts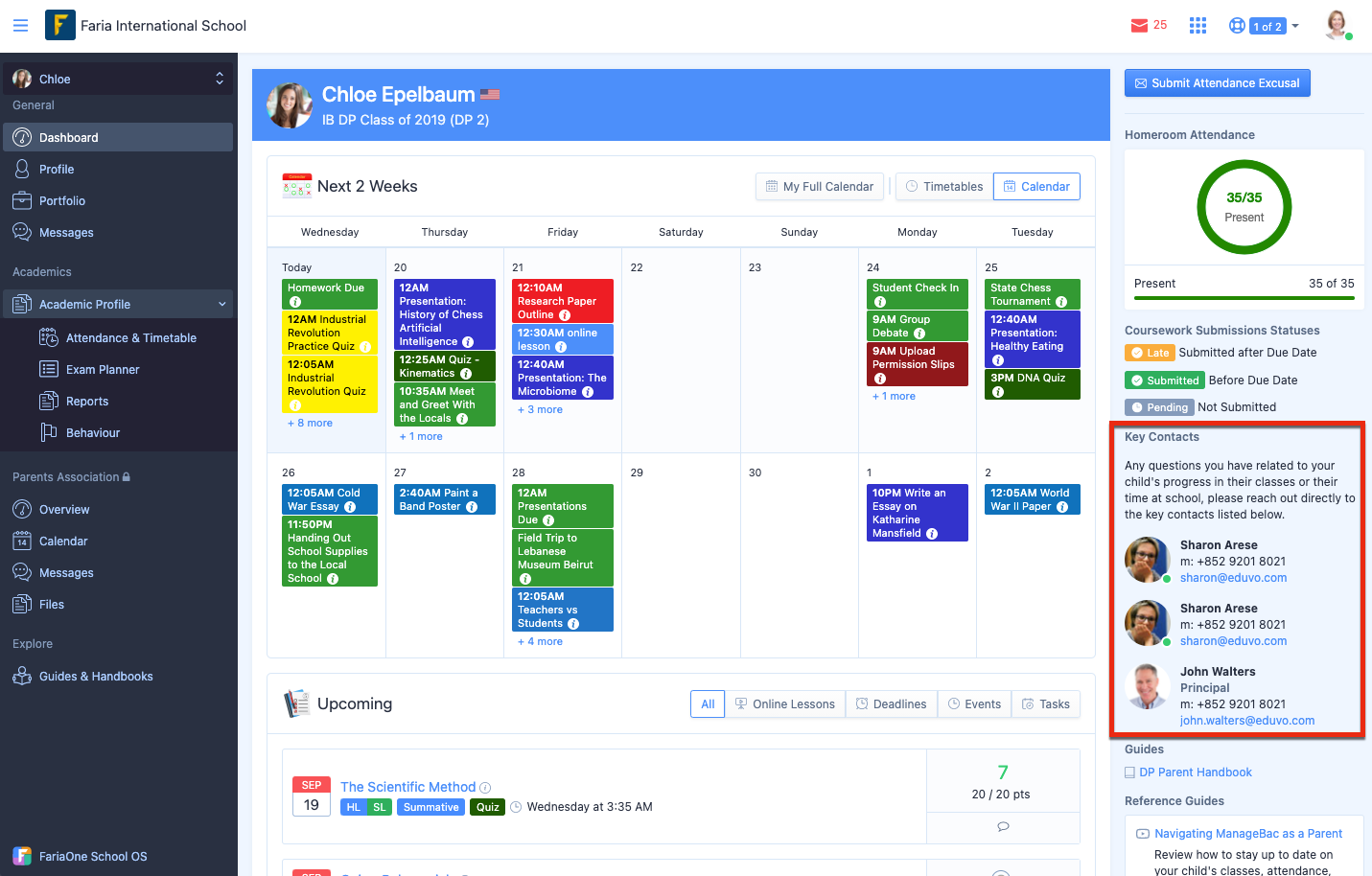 You will be able to find a list of Key Contacts configured by your school on the right-hand side of the Dashboard. This will include your child's specific Advisor (such as Homeroom Advisor), Supervisors for various projects (such as CAS/SA advisor), as well as Principals & Heads of School.
If you require any core changes made to your account, please reach out to a key contact. Examples:
Changing your E-mail Address
Updating Personal Details
Access to additional children
Academics
The Dashboard tab details your child's academic progress in all classes, and lets you view upcoming Online Lessons, Deadlines, Events and Tasks from the student's current Classes in the Upcoming section below the Calendar view.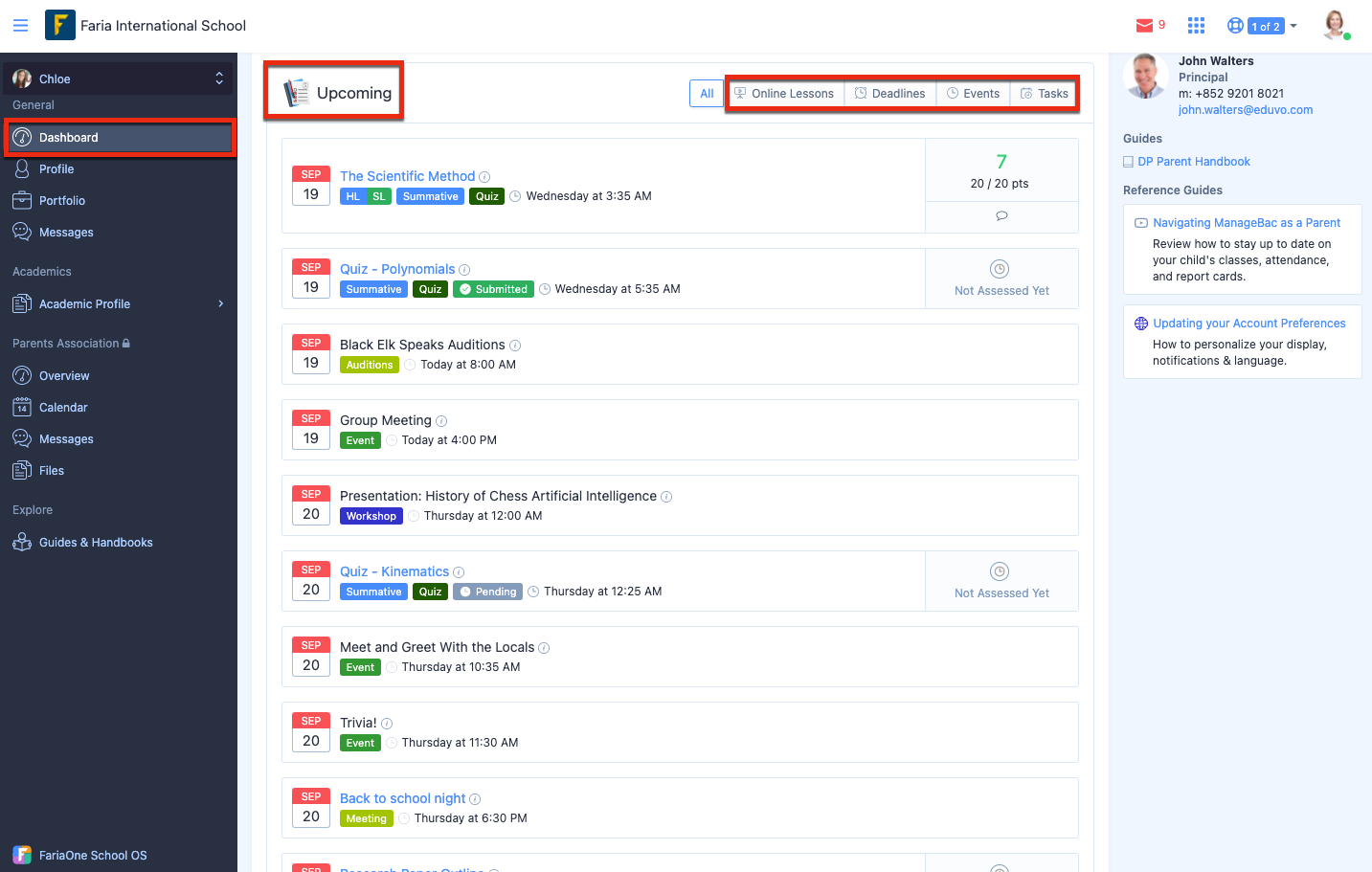 Click on an item in the list to view the item as well as any related information to it, such as Unit information, Class information, etc.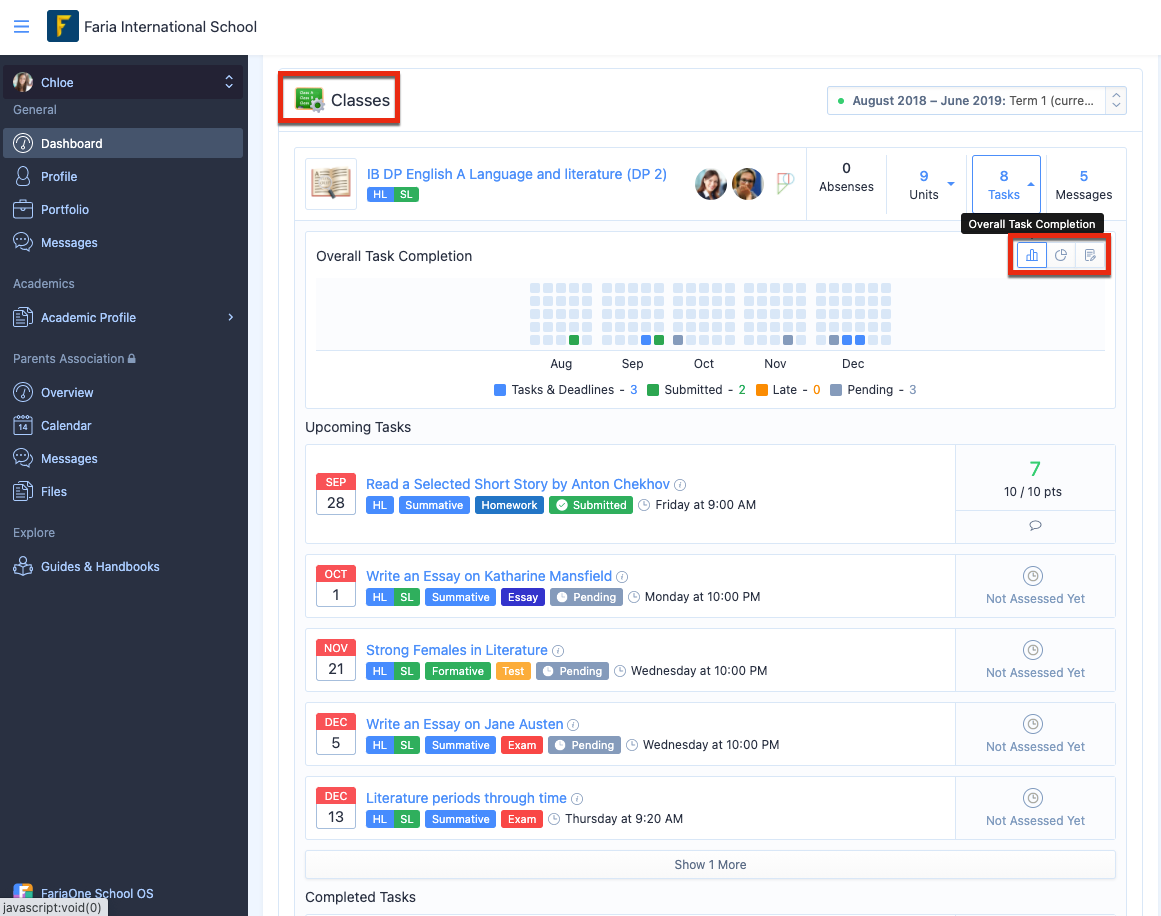 The Classes section of the Dashboard page will show class relevant information organised by academic term and academic programme of the classes.
1. Attendance: Shows the number of absences per class in the current term.
2. Units: Explore the various dimensions of the curricula and view which units are being taught in the selected class. Click into the Unit to see how each unit of work incorporates Key Concepts, Learner Profile, and ATL Skills and key components of any year group, e.g. Service Learning or TOK.
3. Tasks: View tasks / assignments and grades for the Class. This includes Task completion, Grade distribution and progress bars for Tasks per academic term.
4. Messages: View class messages posted by members of each class.
Portfolio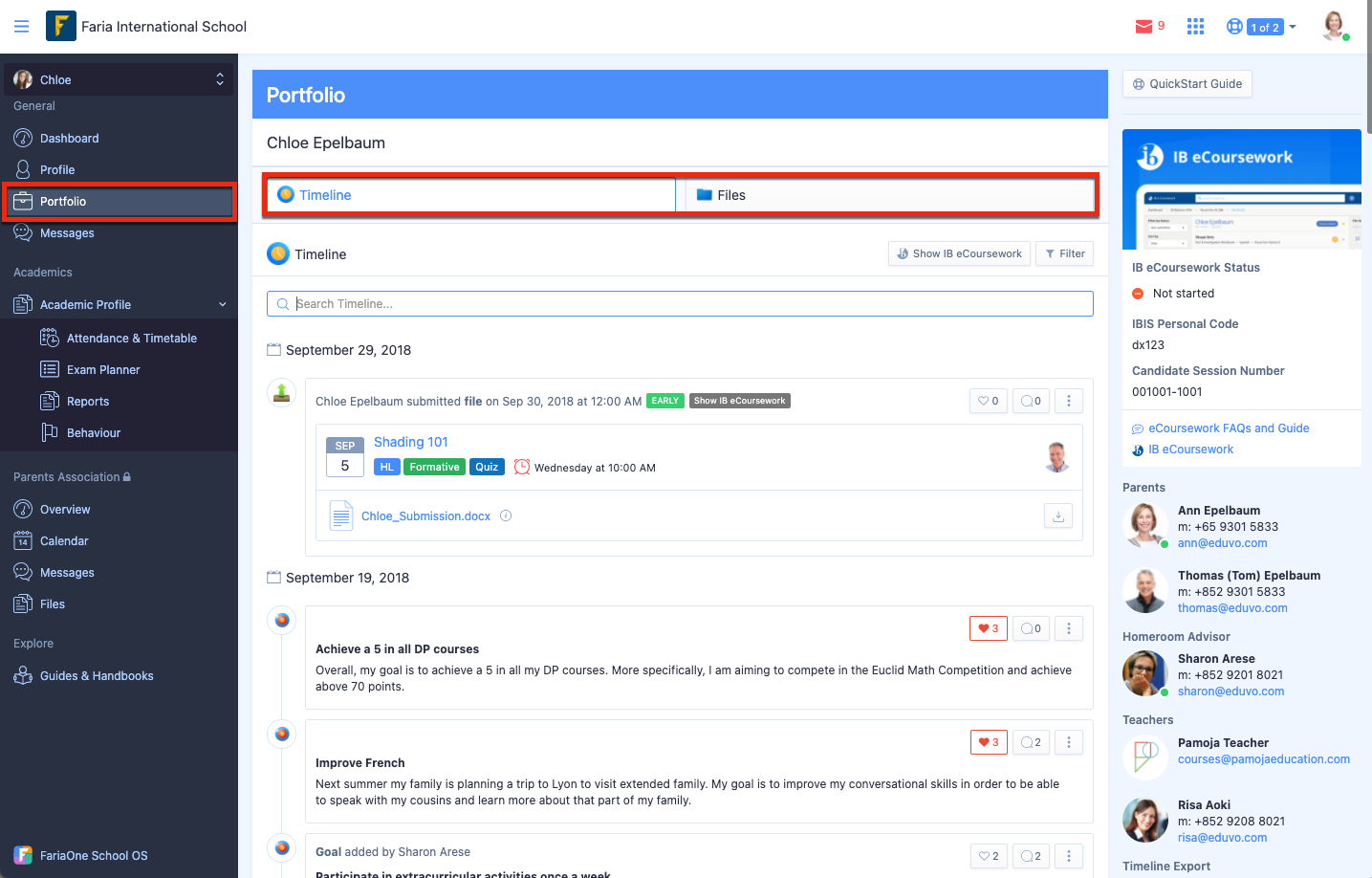 Click on the Portfolio tab to view work that your child has uploaded to their classes or programme components, as well as any Goals or Reflections posted to their Portfolio in chronological order. The Files tab is a collection of all Files relevant to your student's current academic programme.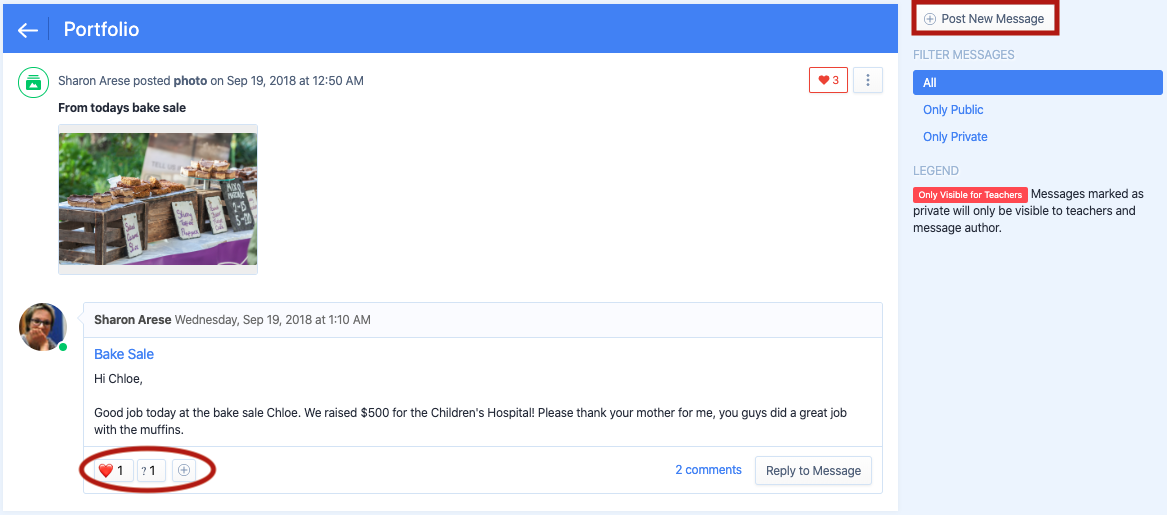 You can also react to messages and items on your student's Portfolio > Timeline or post Messages to items if the school has granted parents that permission.
Important
Note: Portfolio permissions of what you can view or add are customisable by your school.
Calendar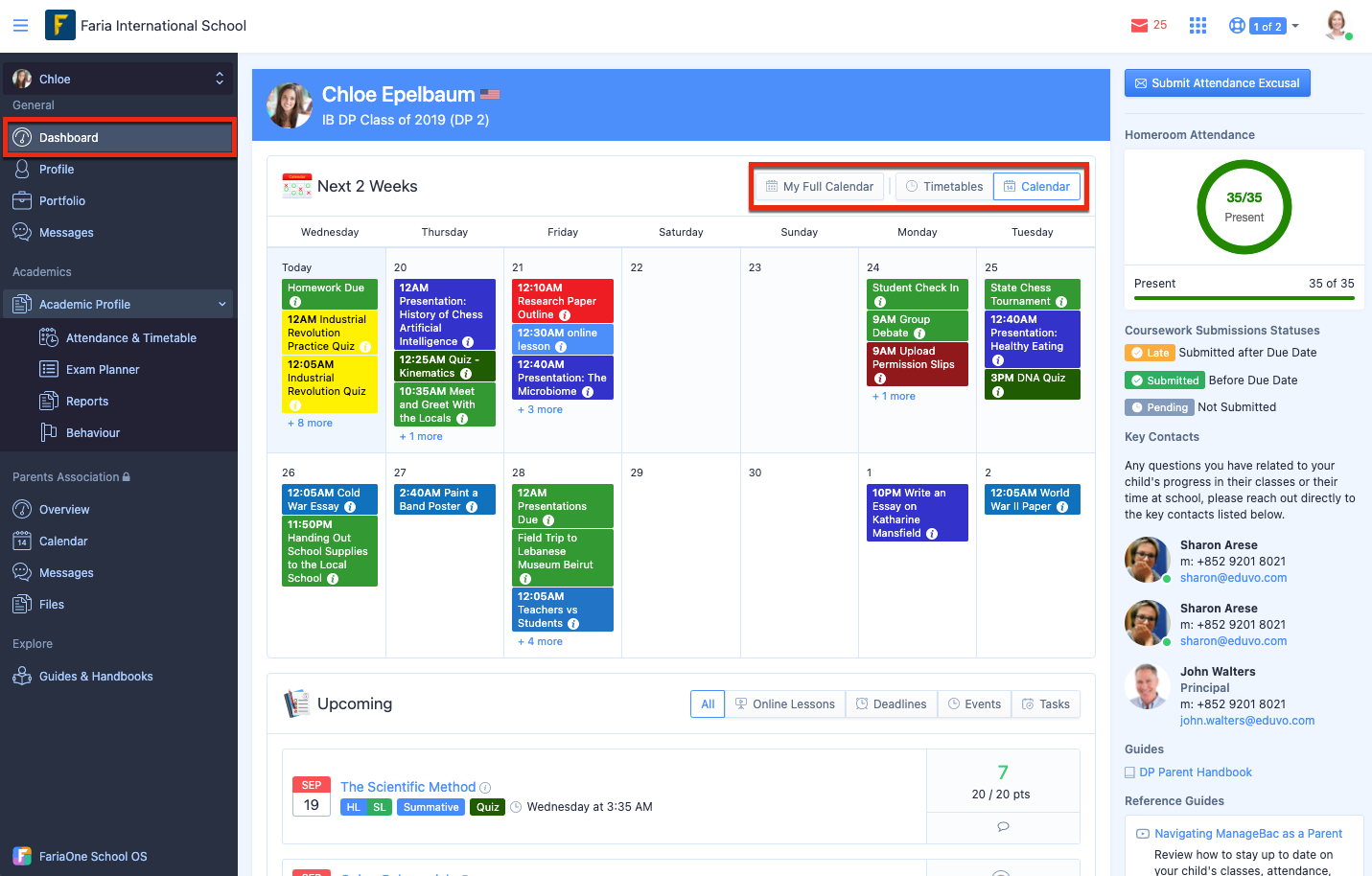 Open the Full Calendar from the Dashboard tab at the top of the page.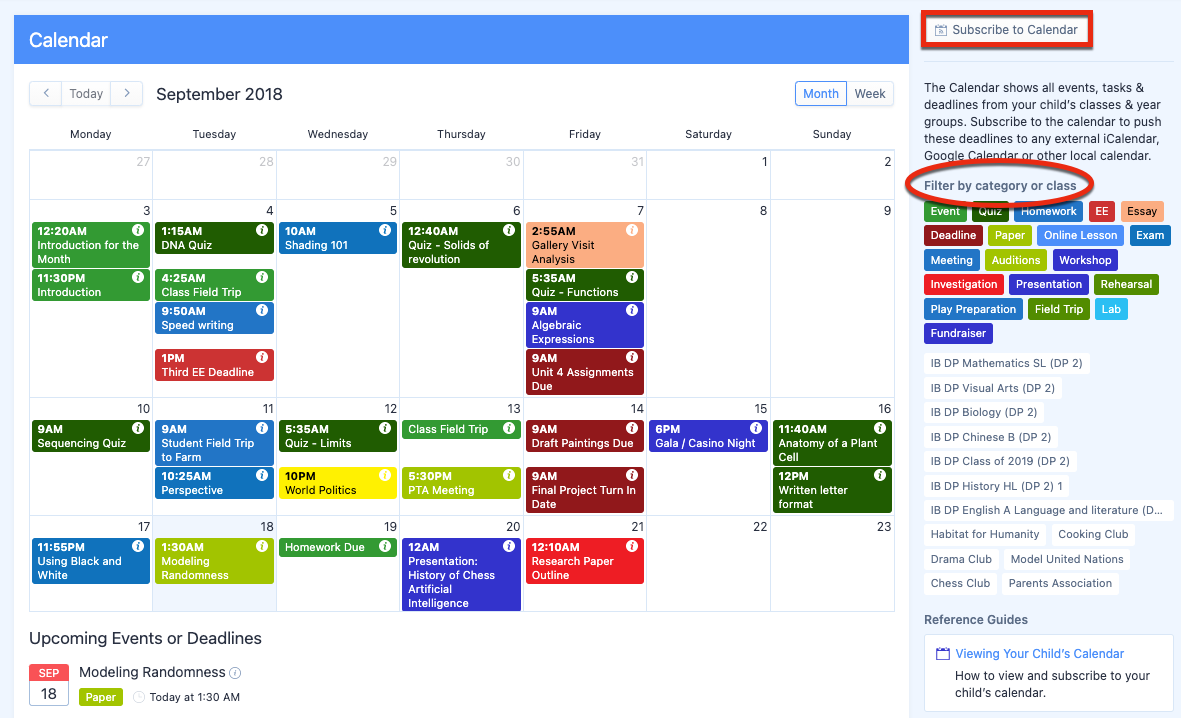 The Calendar tab lets you see your child's academic and activity dates in calendar form. You can click Subscribe to Calendar to sync calendar details to external calendars such as G-Cal or i-Cal on the top of the right navigation panel.
Filter the calendar events by using the right navigation panel Category and Classes filter tags.
Profile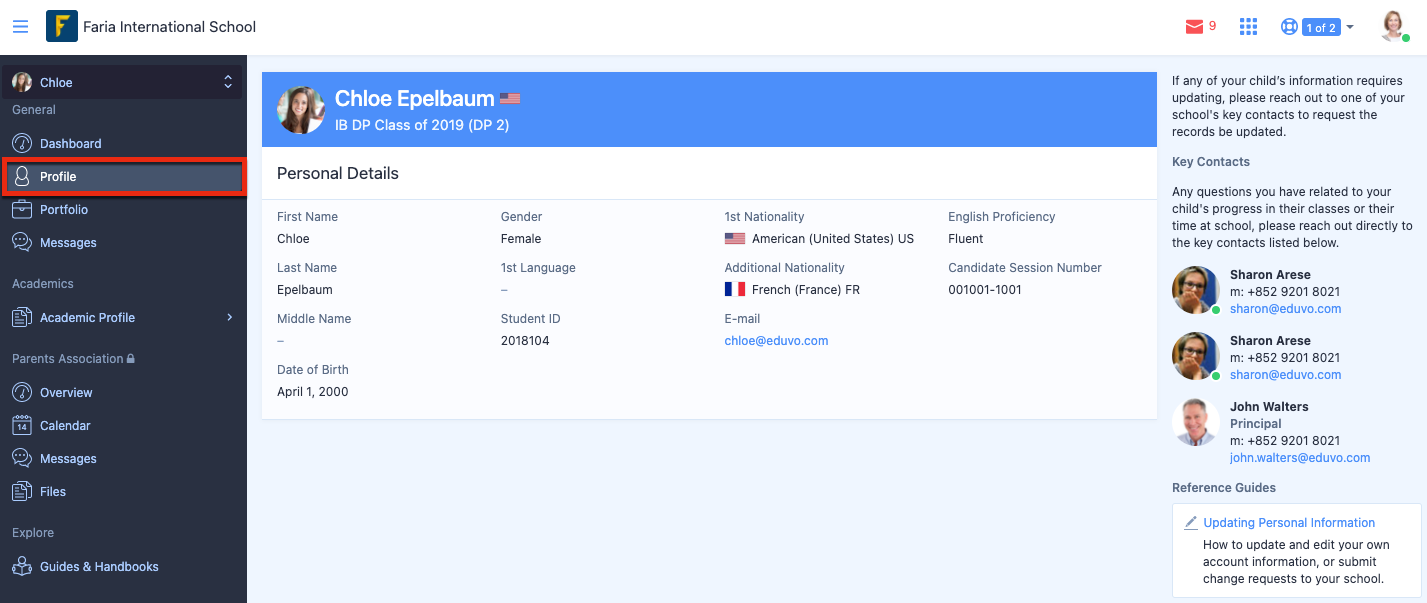 This is where you can see the personal details of your child. Switch children via the top-left dropdown.
Important
Note: It is not possible for a parent user to edit child profile details. Please contact a school administrator for profile update requests.
Messages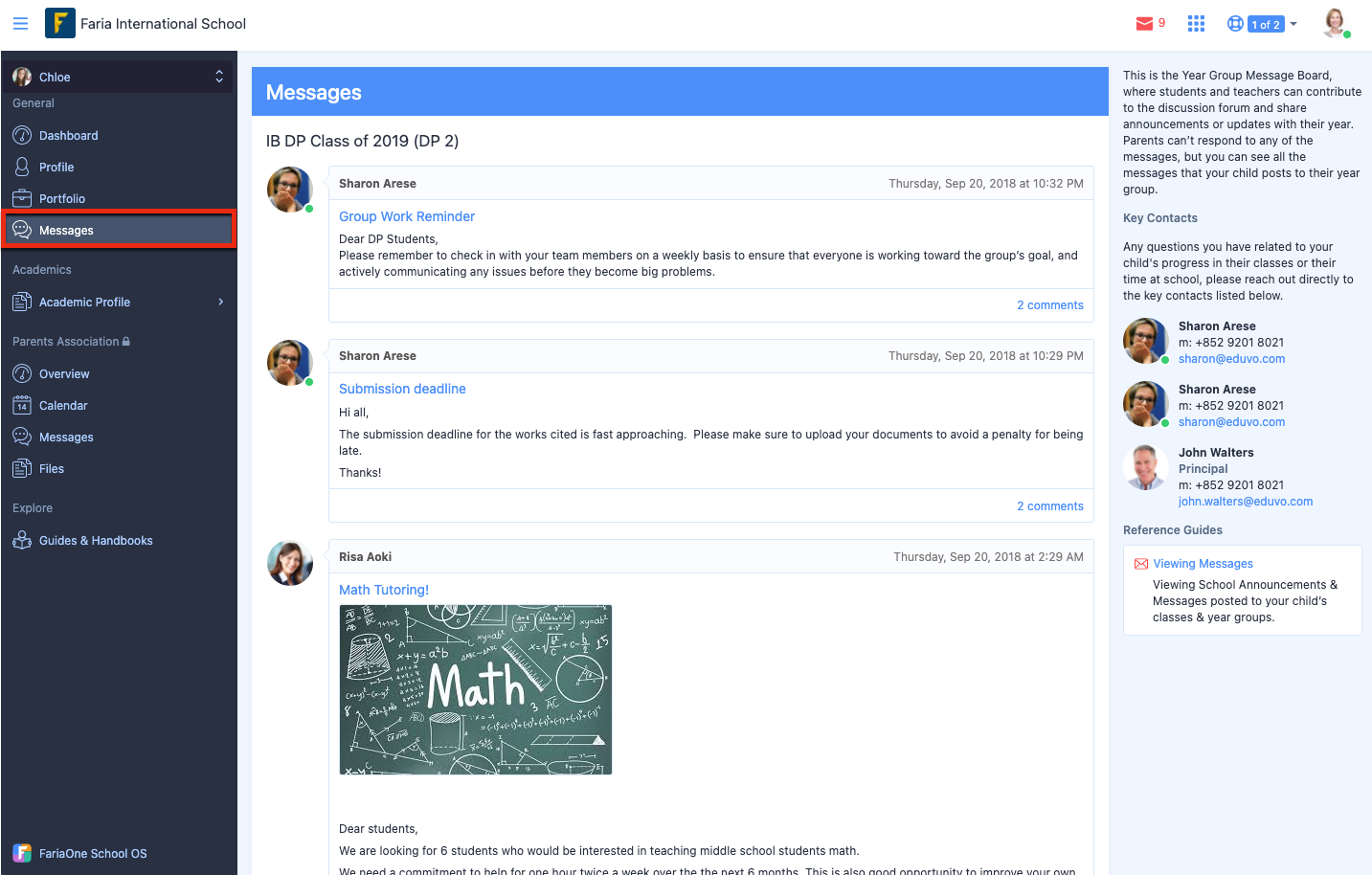 The Messages tab shows the messages written by teachers and students in the Year Group the student belongs to. Class Messages are visible for each class from Dashboard in the Classes panel. Parents can view messages and file attachments but are unable to add comments or post messages here.
Attendance & Timetables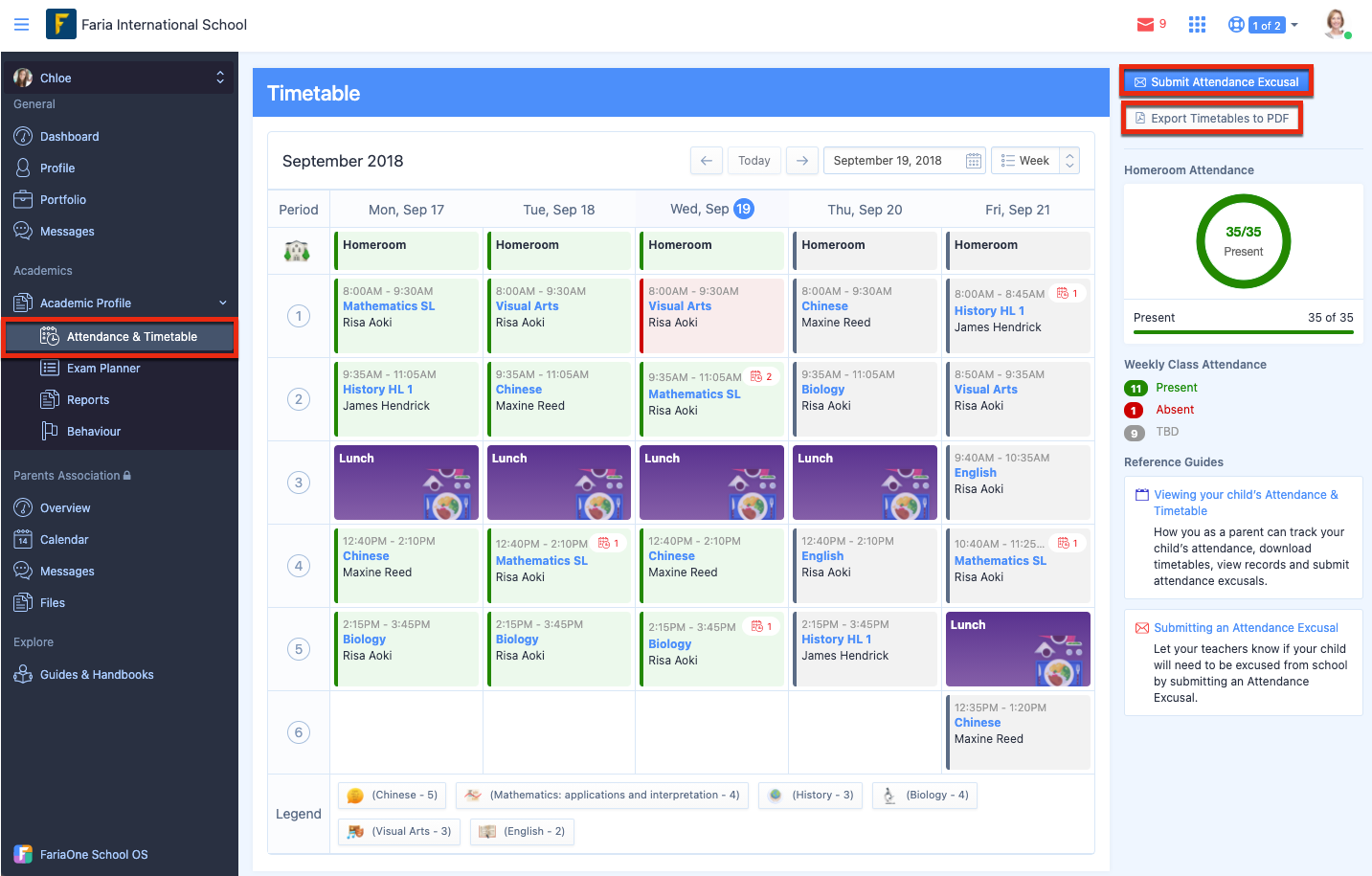 Click the Academic Profile > Attendance & Timetable tab to view your child's attendance records. Click Export Timetables to PDF to get a PDF export of your child's class timetable.
Please Note: A true timetable will only appear if your school is subscribing to ManageBac for Attendance and actively using class attendance.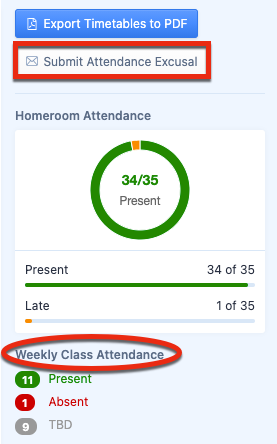 Otherwise the Attendance&Timetable tab shows the attendance information for your child and details how many absences he or she has via the right navigation panel and legends. It is also possible to submit an Attendance Excusal via the 'Submit Attendance Excusal' icon.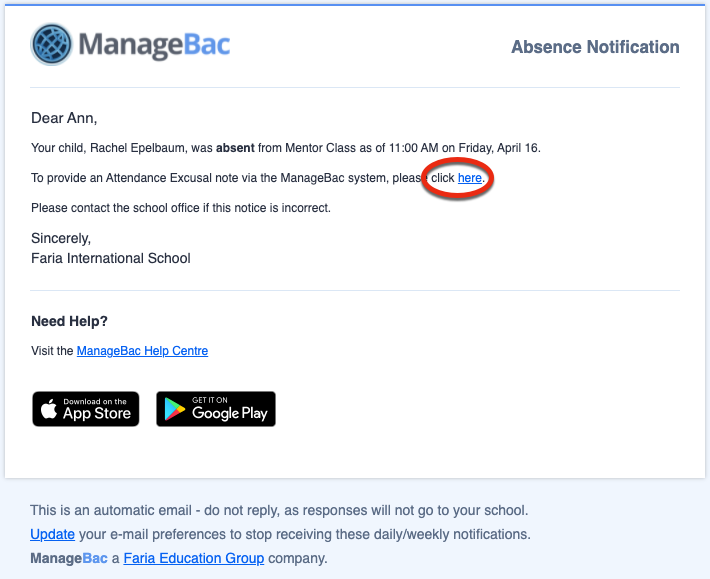 If the school sends Homeroom Absence notifications to parents via email, you will be able to access the Attendance Excusal page via a link in the email notification.
Important
Please Note: Attendance & Timetable will only appear if your school is subscribing to ManageBac for Attendance.
Reports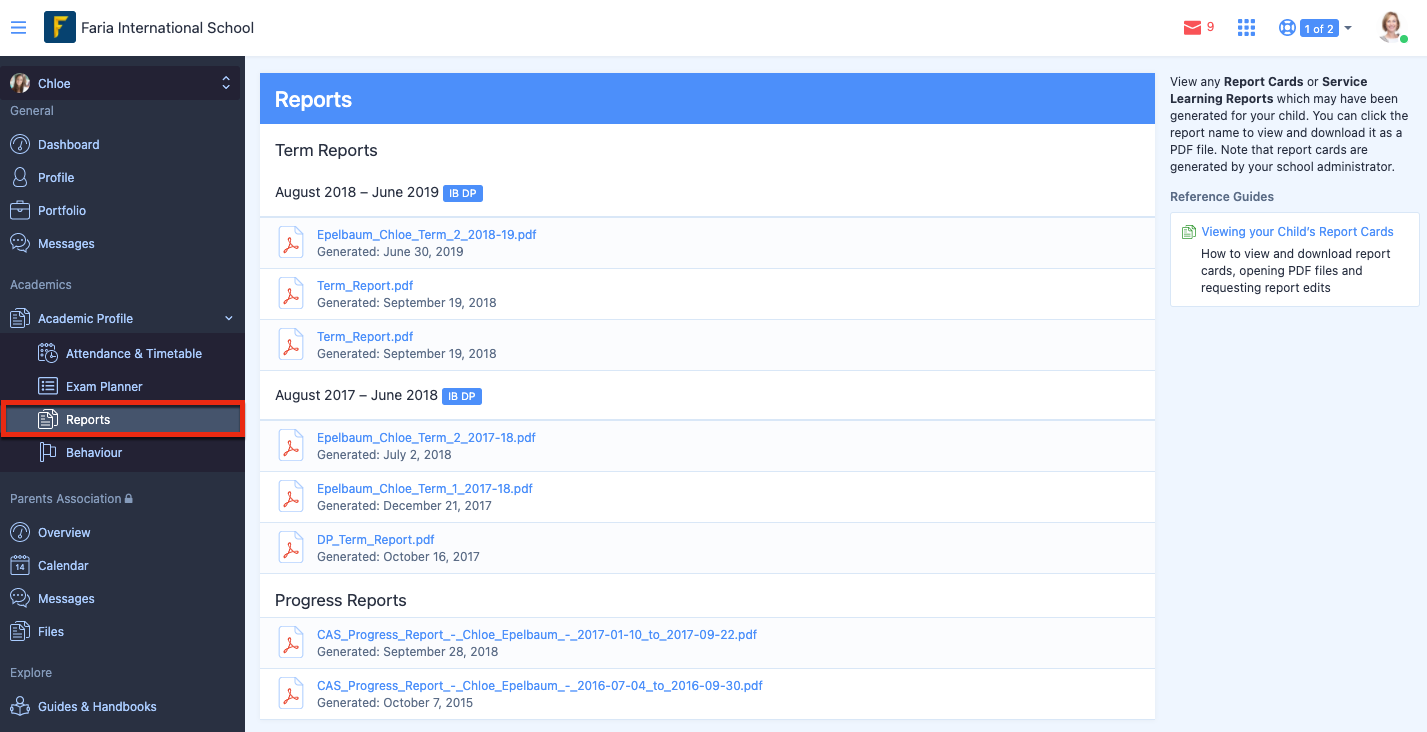 Click on the Academic Profile > Reports tab to obtain a PDF export of your child's report cards.
Important
Note: Reports will only appear if your school is subscribing to ManageBac for Report cards, and when they have generated them.
Parent's Association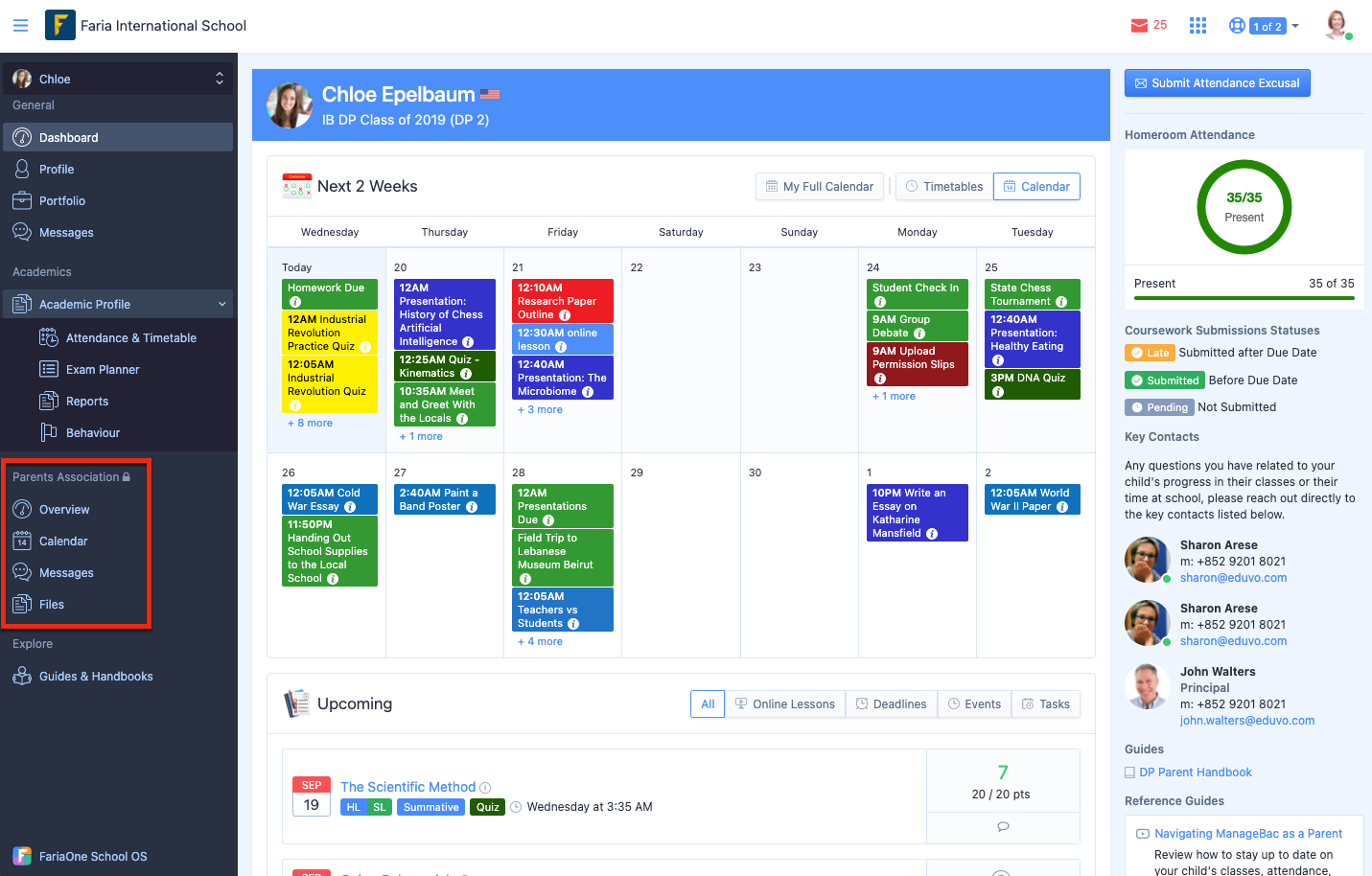 The Parents Association tabs keeps you connected with teachers and other parents. It allows you to send messages and be notified of upcoming parent events.
Important
Note: The Parent Association tab will only show if your school has this enabled. Messages may be locked to view mode only. This group name is customisable by your school.
Your Profile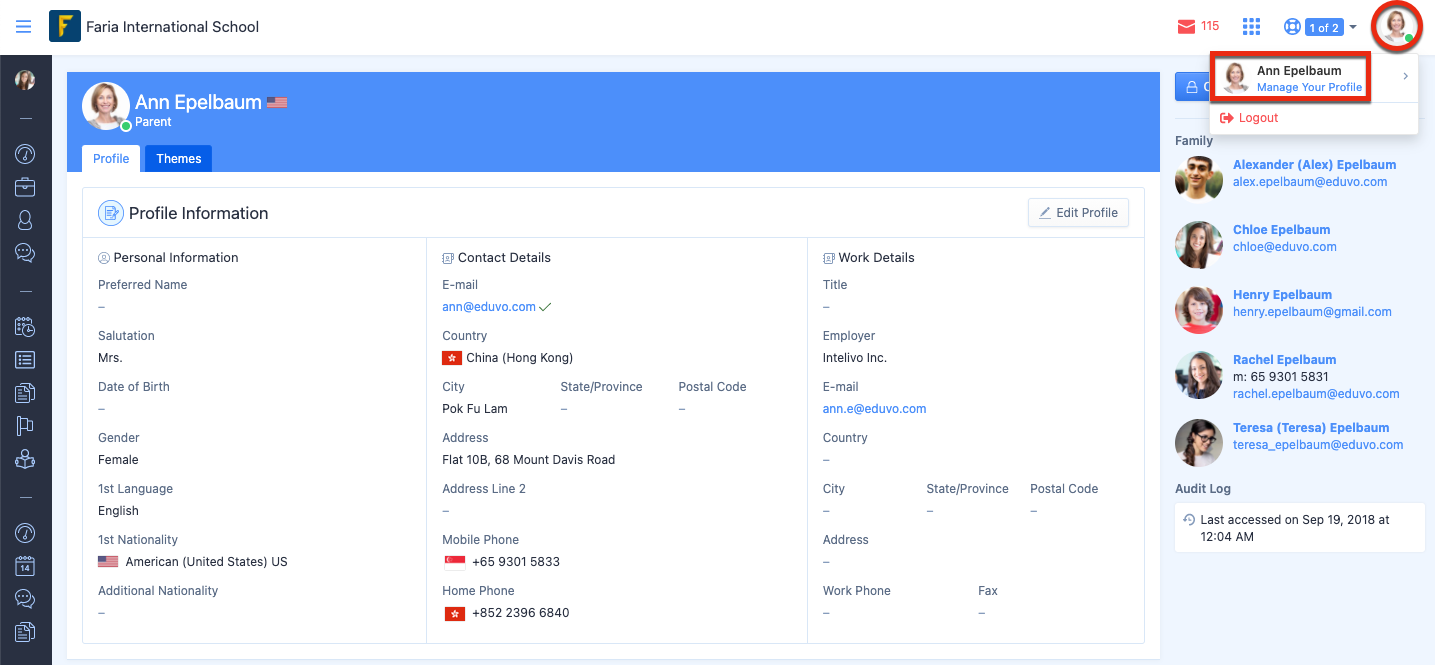 Click Your Name at the top of the page to Manage your Profile to change your e-mail, password and profile information.
Important
Note: You will not be able to edit personal information if profiles are locked by your school. Please contact an administrator at your school directly to request profile changes.