Access your SA Worksheet
Click on the Year Groups tab and select SA to begin.
Your SA Worksheet will appear; then click Add SA Activity.
Adding an SA Activity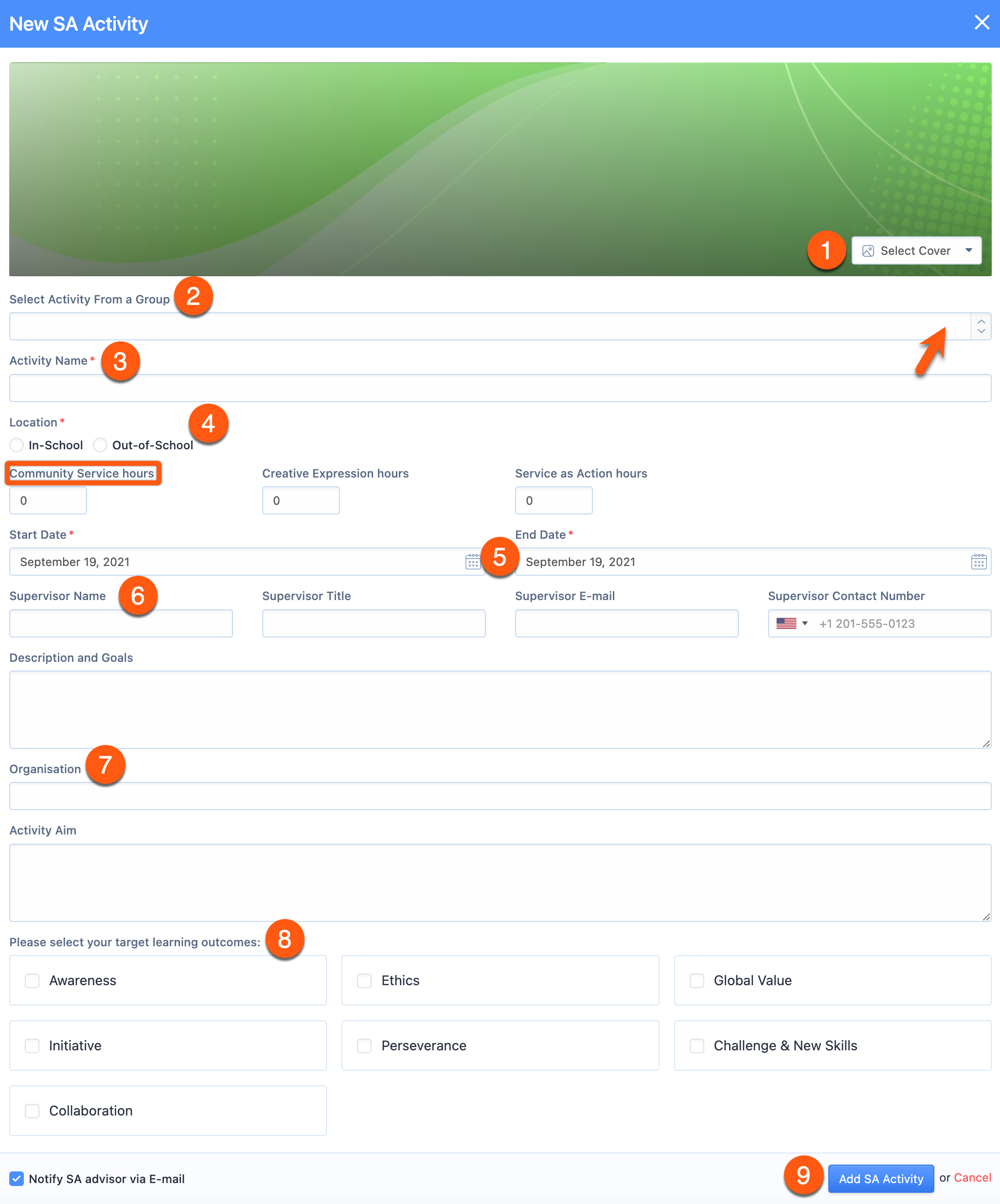 Complete the form that follows:
You have the option to select a Cover Image.
If you are part of an activity 'group' on ManageBac (e.g. the film club), you can select the group in the scroll menu or 'find a new group'.
Fill in the Activity Name.
Indicate whether it is Out-of-School or In-School.
Pick your Start and End Date for the activity.
Add your Supervisor, and the number of hours (if requested by your school). If you have selected a group from the scroll menu, this should fill in automatically.
If you worked with an Organisation, fill in the organisation name and Activity Aim.
Check off which targeted learning outcomes you think you achieved with this activity.
Click Add SA Activity and an email will be sent to your SA Advisor to review & approve.
Once your activity has been added, you will be taken back to your SA Worksheet. Your activity will appear on your list with the icon "Needs Approval;" you can find a legend that explains the meaning of the icons found next to your experiences on the right hand panel of your screen.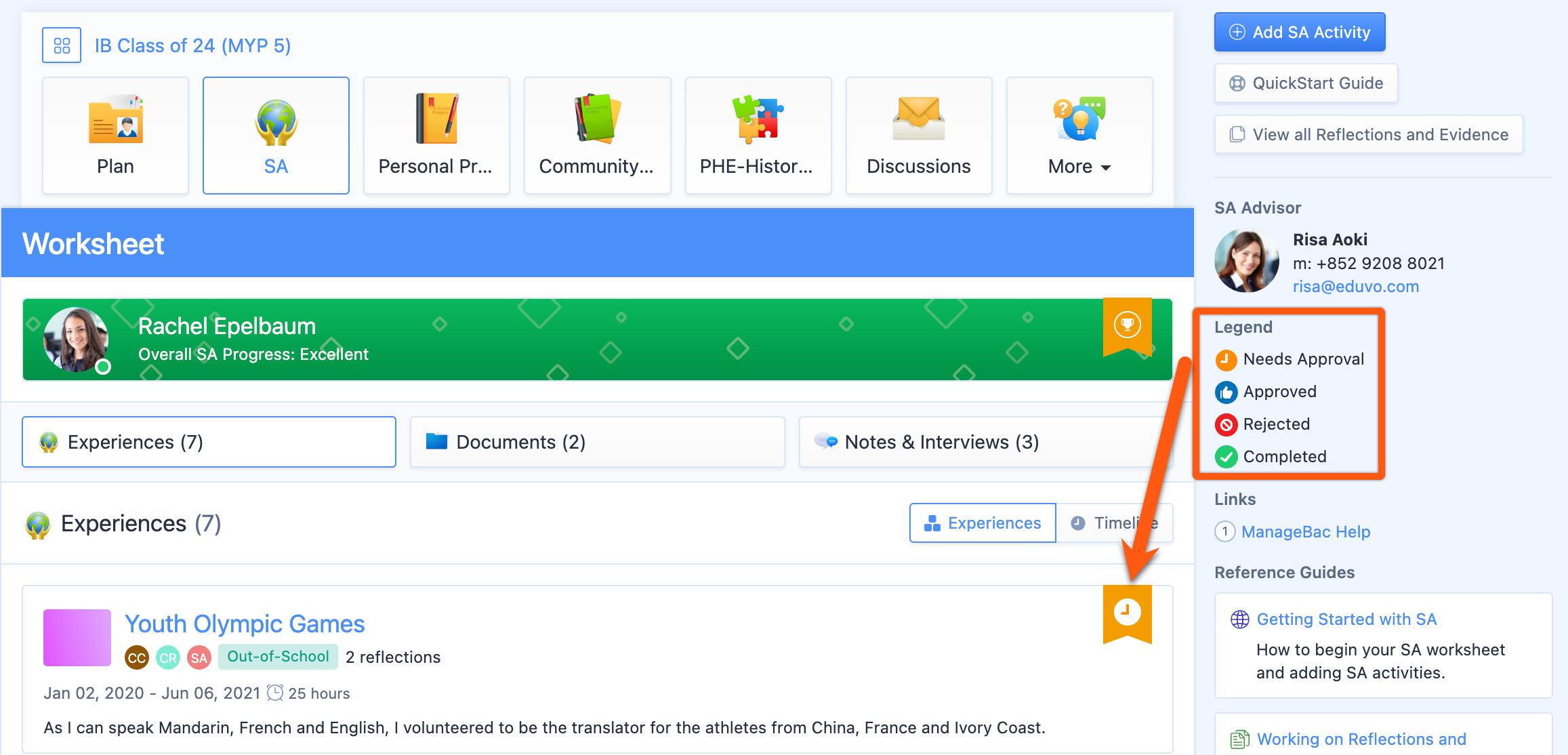 Editing or Deleting an Activity
Via Year Groups > SA
From Year Groups, click on SA, which will lead you to your SA Worksheet. Select an experience from the list to edit or delete.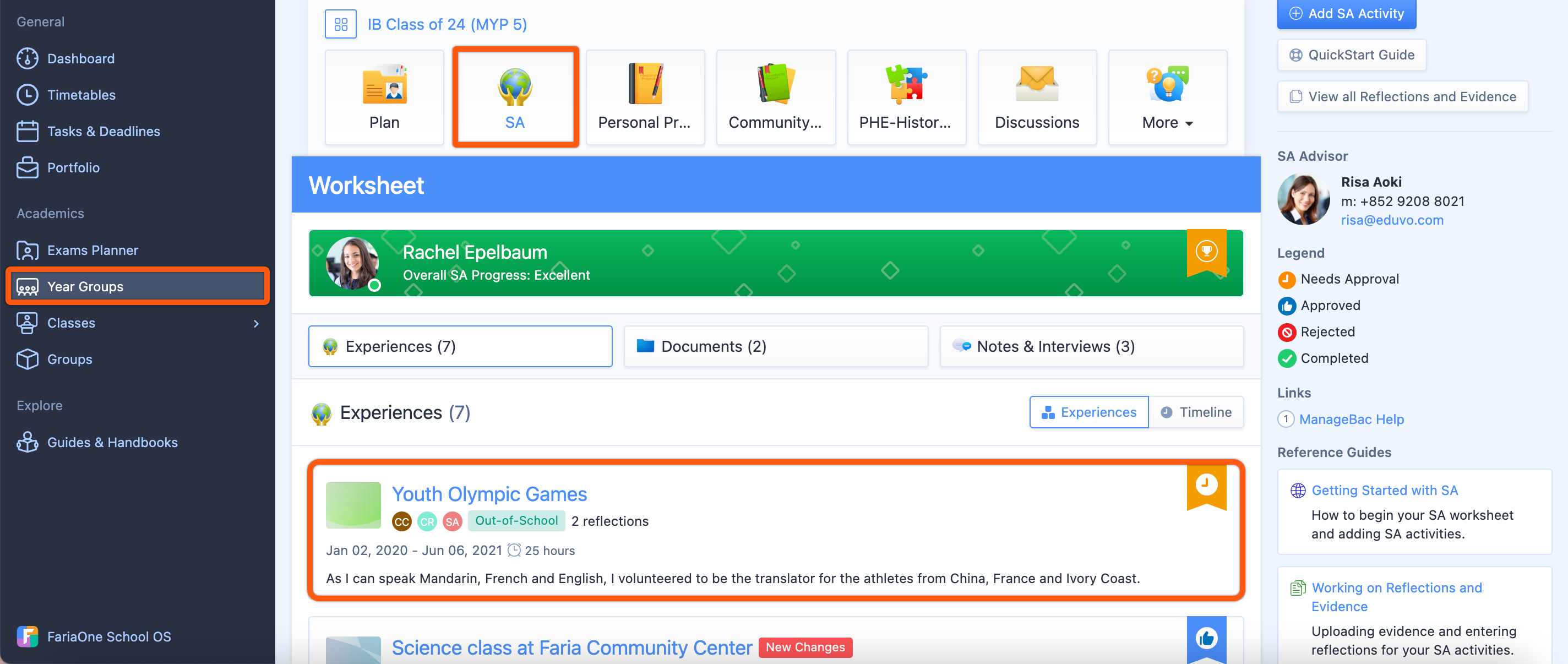 After selecting an activity, make sure you are on the Summary tab in the top menu. At the right-hand side of the worksheet you can click the Edit Activity button to open the Edit SA Activity page; from there you can edit your activity keeping in mind to Save Changes to apply changes.

At the right-hand side of the worksheet, you can delete the activity by clicking the
Delete Activity
button.

Unlocking a Completed Activity
Via SA Worksheet

If you are unable to add reflections or update an activity, you must request that your SA Advisor or Coordinator un-mark your activity as Complete. SA activities are most commonly marked as Complete if supervisor reviews are requested prematurely in advance of completion of the experience. The green check indicates that an activity has been marked as Complete.
By clicking on the specific activity, your SA Advisor or Coordinator simply needs to uncheck the Completed checkbox. Once this is done, you will be able to update your activity and add reflections.