Plans Worksheet
Via the Plan Tab
Your Plans worksheet must be completed in order to register for DP exams via ManageBac. Navigate to the Exams Planner tab and scroll down, then click Edit Subjects to select your Subjects & Levels .
Note: If you do not see the Edit Subjects button next to this section, it means your IB Coordinator has locked your profile / plan worksheet so that you cannot make any changes.
Edit Candidate Personal Info
In your Plan worksheet, first click Edit Candidate Personal Info next to complete the required fields.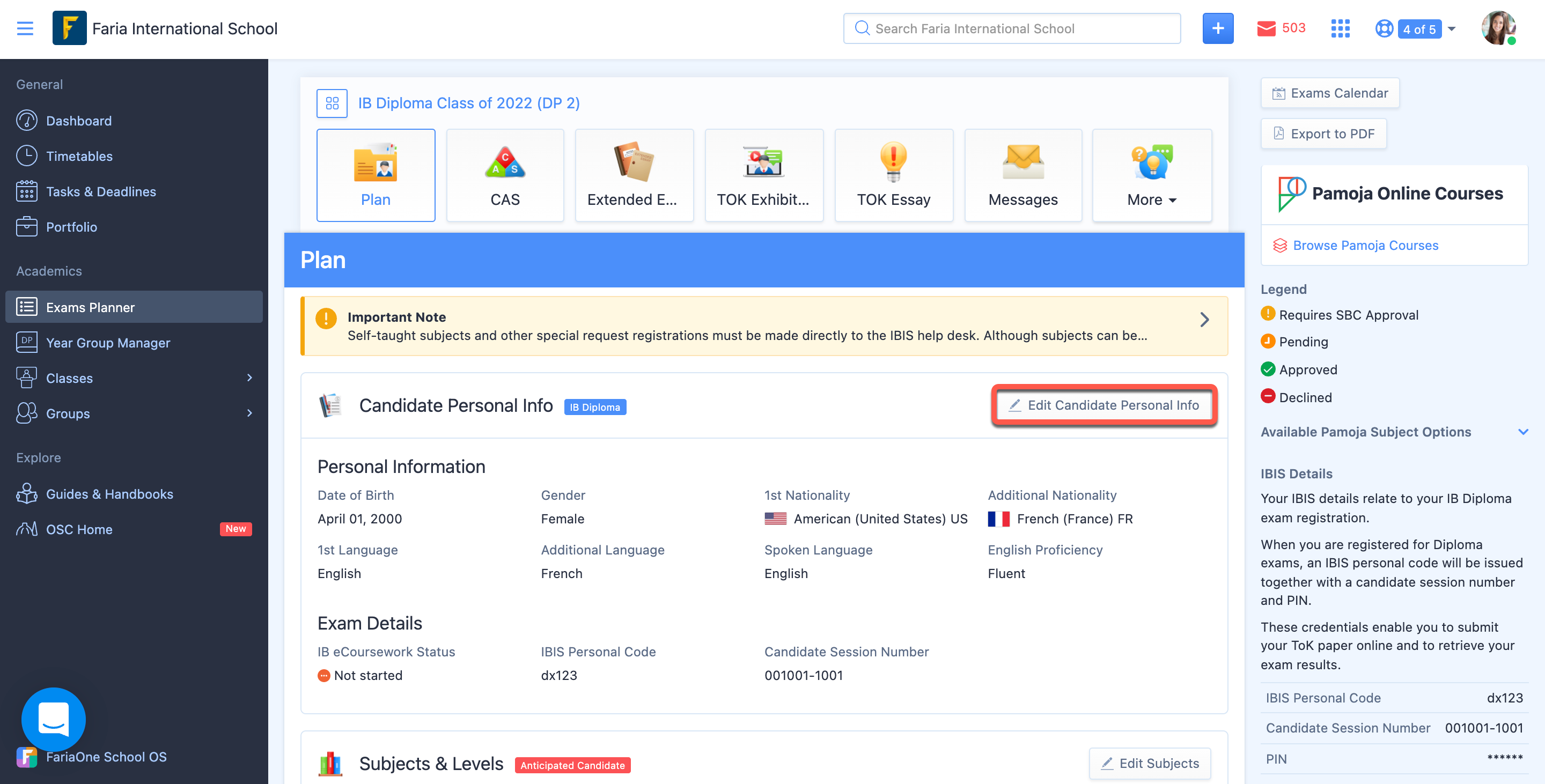 Note: Only the First and Last names are required. Your First and Last Name should be entered as they appear on your passport.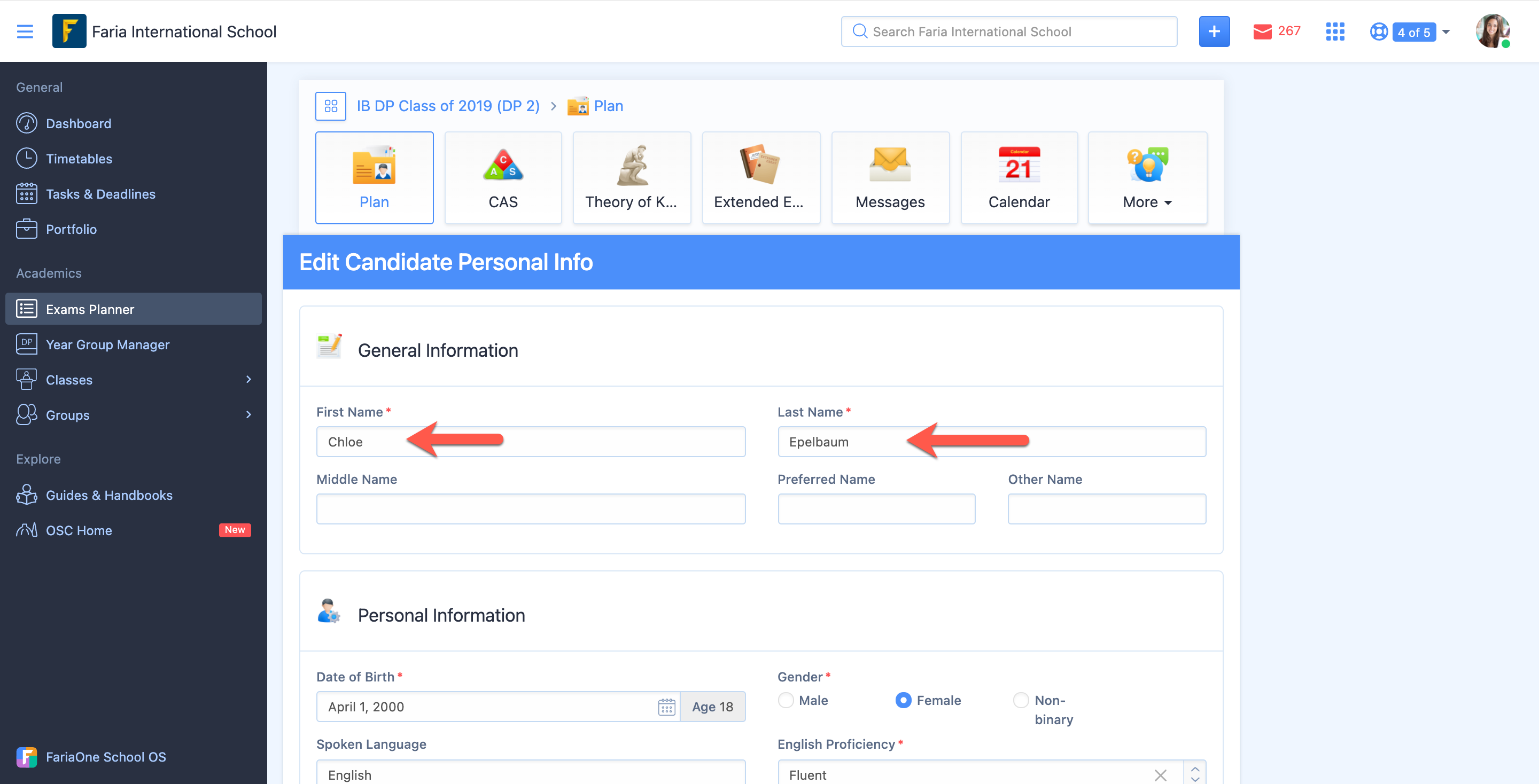 Selecting your Subjects & Levels
Click Edit next to Subjects & Levels. Use the dropdown menus to select the appropriate subjects and levels (HL or SL) for each group, then click Confirm Subject. Once you're finished selecting your subjects for both Grade 11 and 12, click Save Changes. Your Grade 12 subjects will be used for your Diploma exam registration.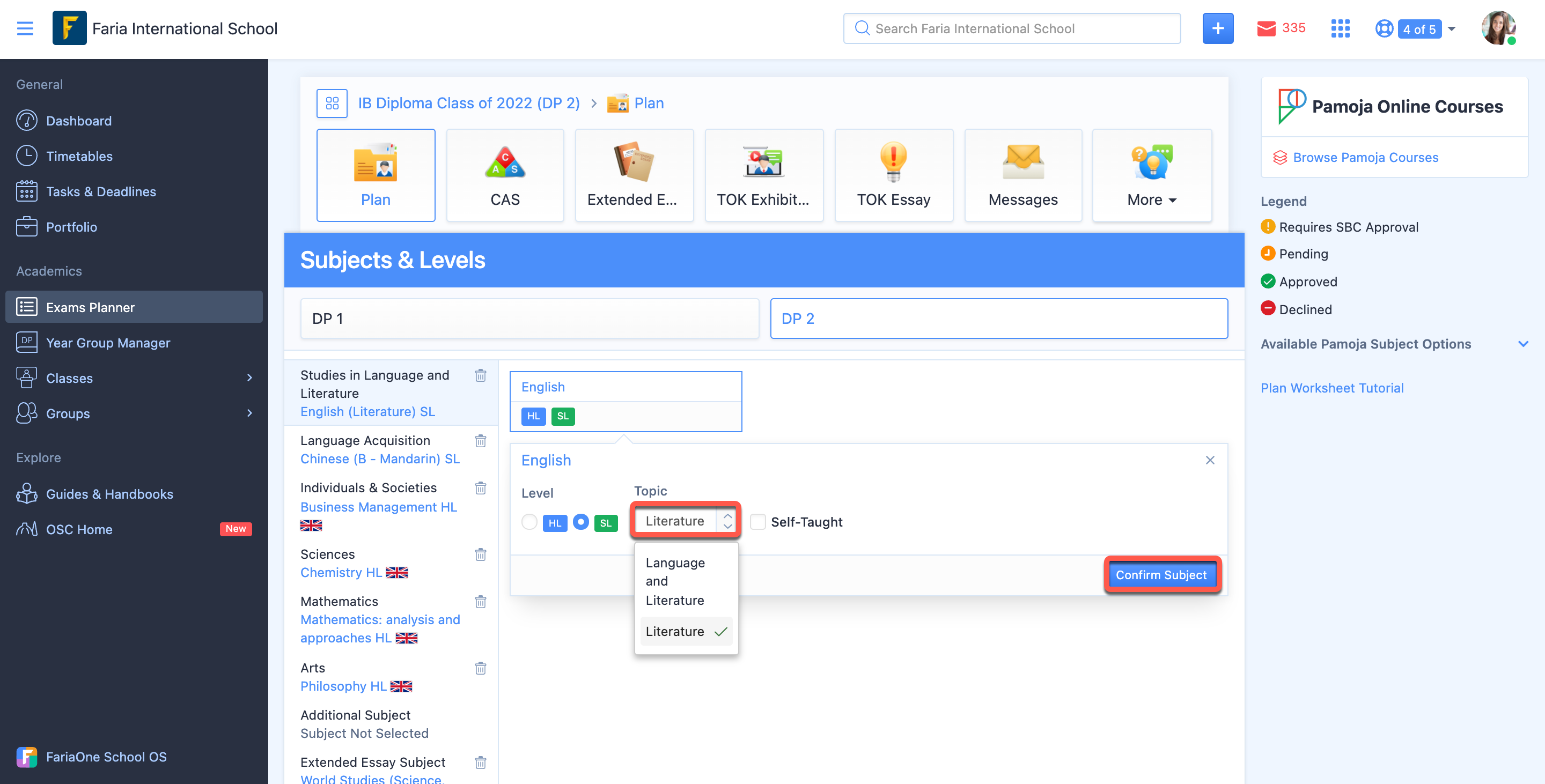 As a full Diploma candidate, ManageBac will automatically check to make sure that you have selected at least 3 HL subjects.
Notes:
Diploma students registering for more than one subject of the same subject group need to add the subject as an Arts subject or by clicking Add New Subject.
If you are taking two Language A exams, the second language A subject can be selected by clicking Add New Subject and selecting "Second Language & Literature".

Diploma students registering for additional subjects outside of or in addition to their 6 exam subjects, or Course students taking multiple subjects from the same group, should add these by clicking Additional Subject.
Registering for Pamoja Online Courses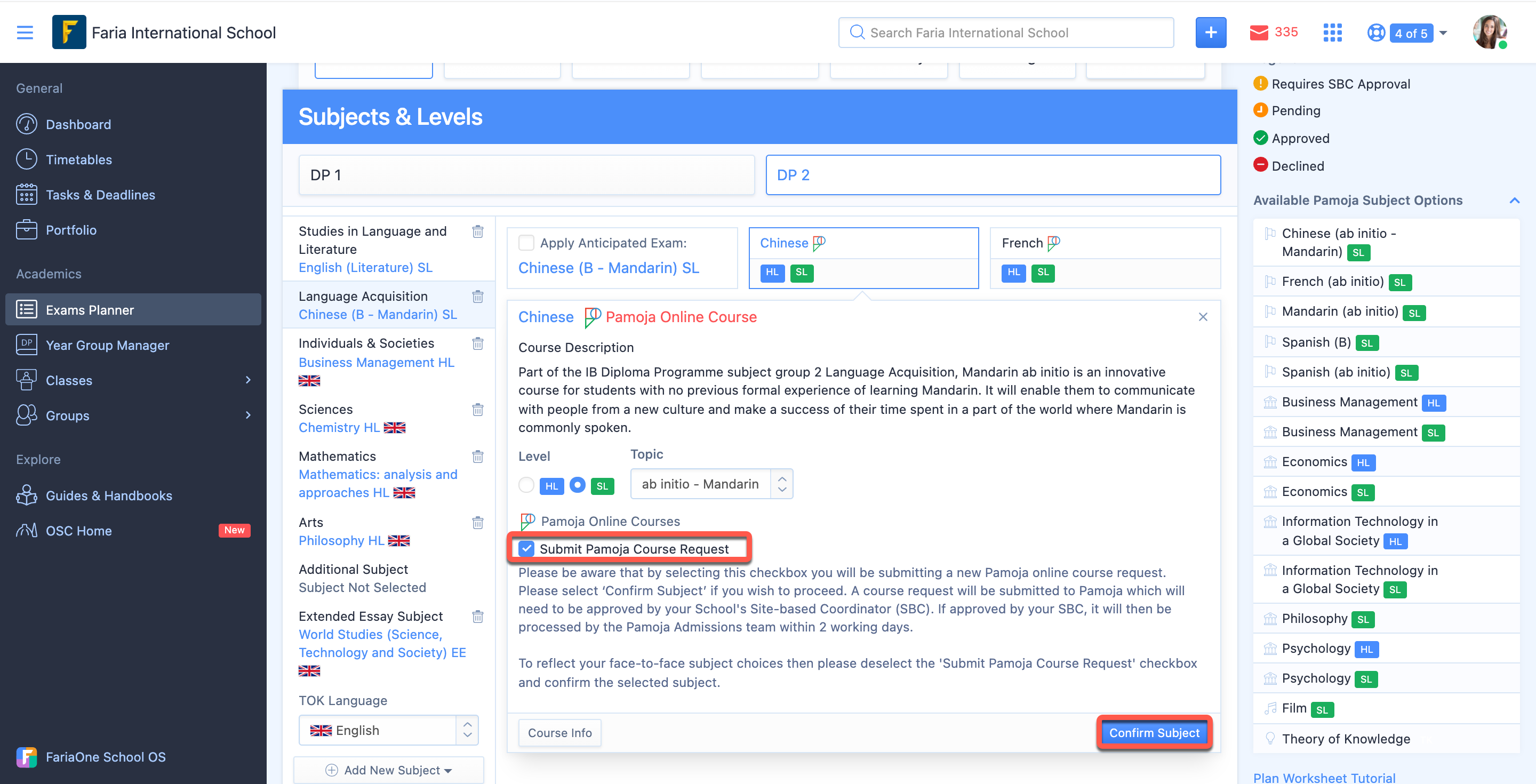 If your school has enabled Pamoja Online Courses, you will see a Pamoja symbol next to each course offered by Pamoja. When clicking on the course, you will see the option to Submit Pamoja Course Request. Tick this box if you are going to be taking this course through Pamoja instead of through your school. Then, click Confirm Subject.
This will send a request to Pamoja to register you for the course. Your registration will be listed as Pending until it is confirmed by your school, usually within 3 business days.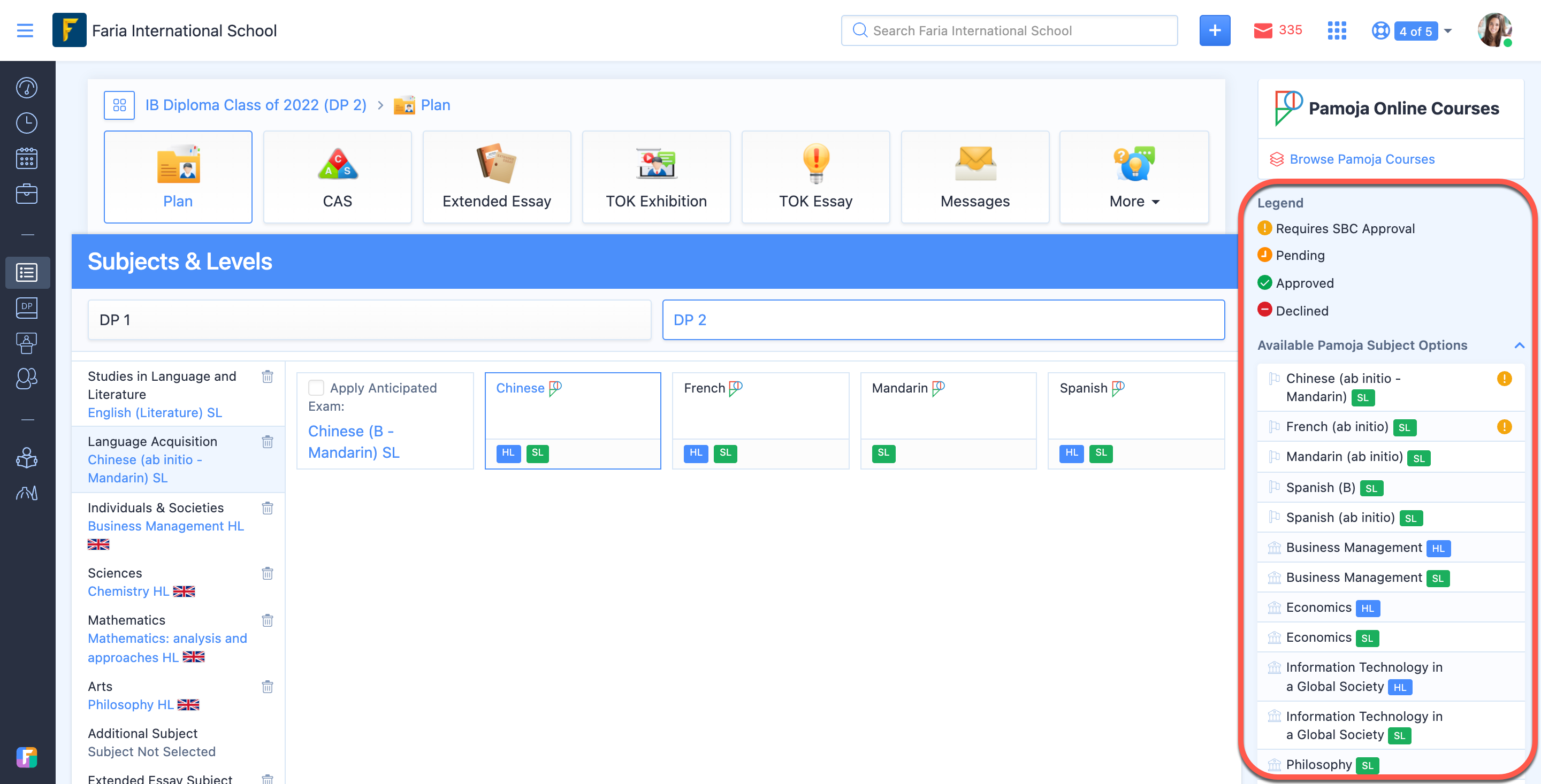 If you've registered, you'll see a Requires SBC Approval, Pending, Approved or Declined icon next to a list of Pamoja subjects on the right navigation panel of your Plans worksheet.
Courses may be taught either exclusively through Pamoja, or may be taught by both Pamoja and your school. If you are taking the course through your school, ensure you do not tick the Submit Pamoja Course Request button before you confirm the subject.
To learn more about the course, click Course Info. This will take you to Pamoja's website, where you can learn more about their online courses.
Anticipated Candidates
The section below applies to anticipated exam candidates only.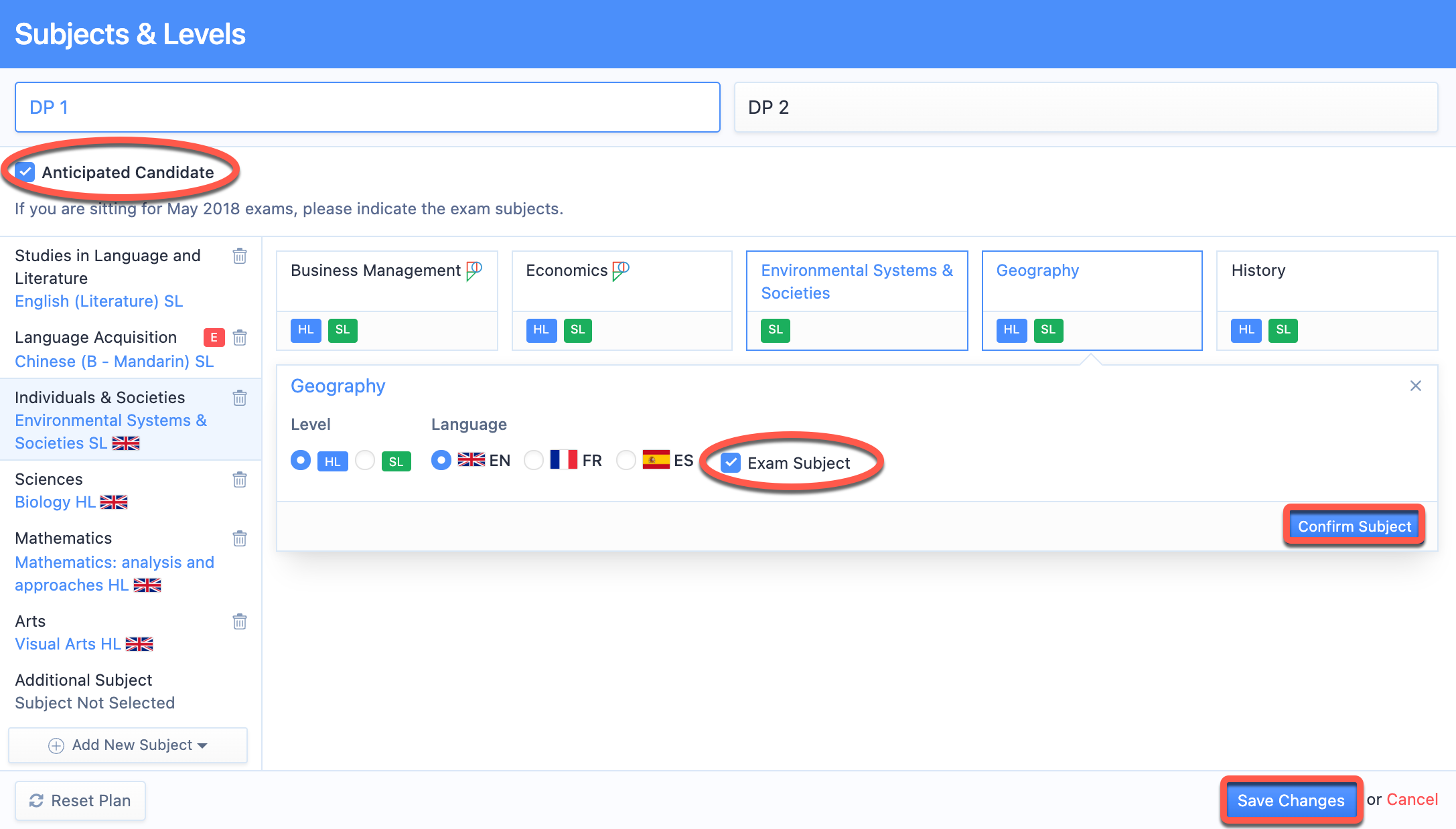 On your Grade 11 worksheet, the DP 1 tab, you must check the Anticipated Candidate checkbox if you will be presented for an exam in your first year of the Diploma Programme. You can indicate the subjects that you will be presented for by checking Exam Subject. An E will appear next to the appropriate subject. Make sure to Confirm Subject and then click Save Changes.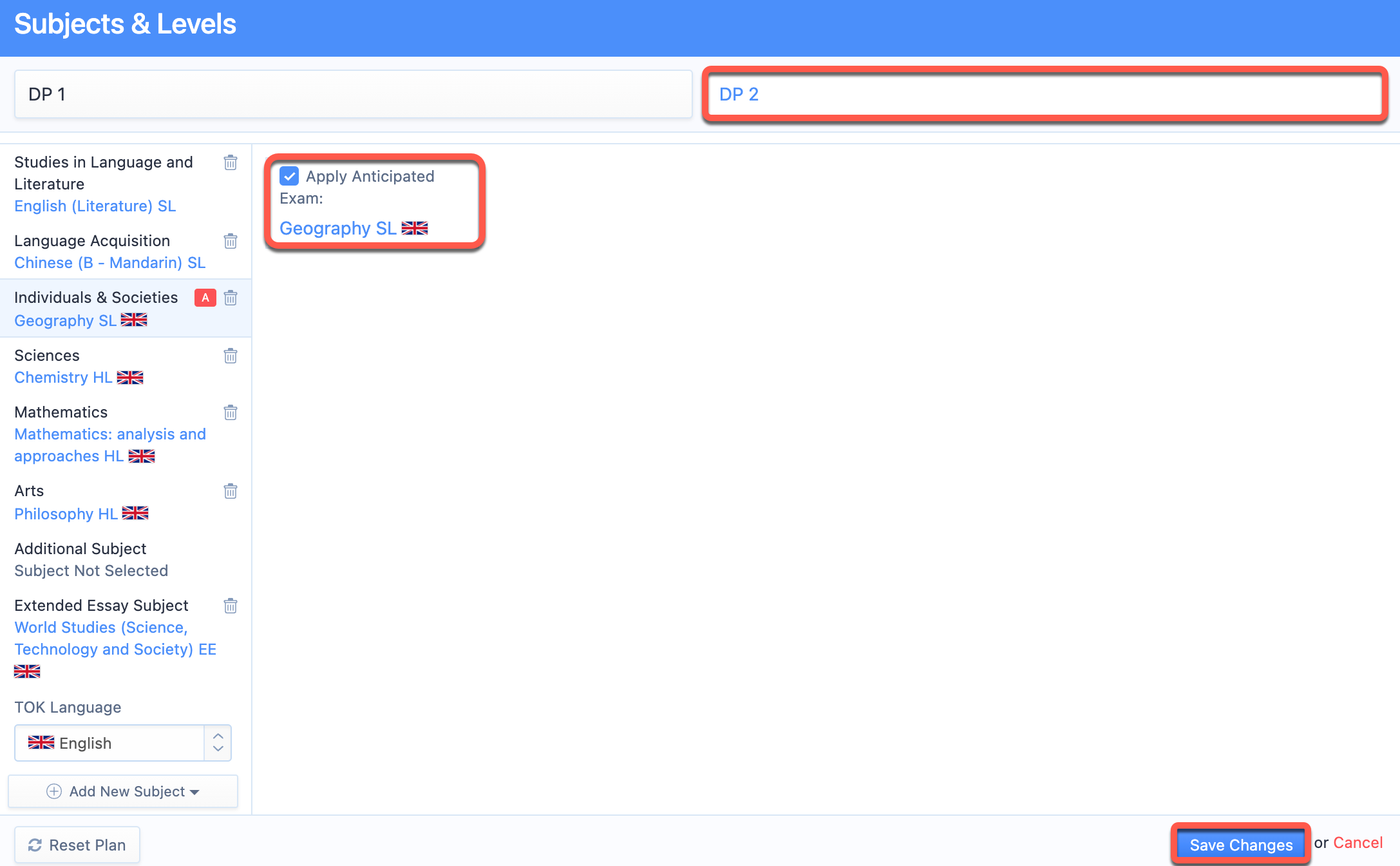 On your Grade 12 worksheet, the DP 2 tab, you must either check your anticipated exam subjects (eg. Geography SL) or select a new subject and level for your final Diploma exams. Ensure to click Save Changes after.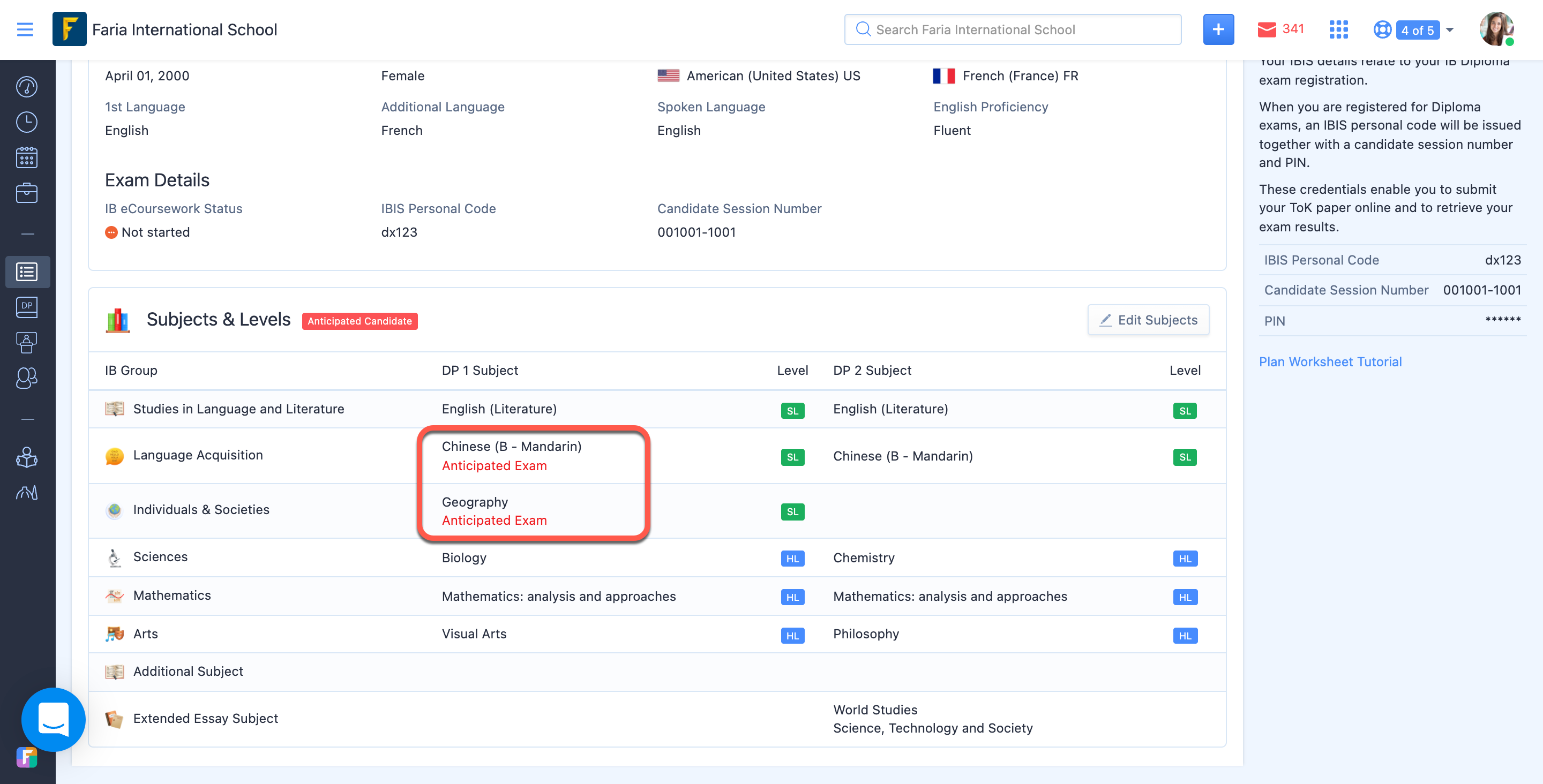 You should double-check your subject package for accuracy and ensure that the appropriate exams are indicated as Anticipated Exam.
Reviewing your Exams Calendar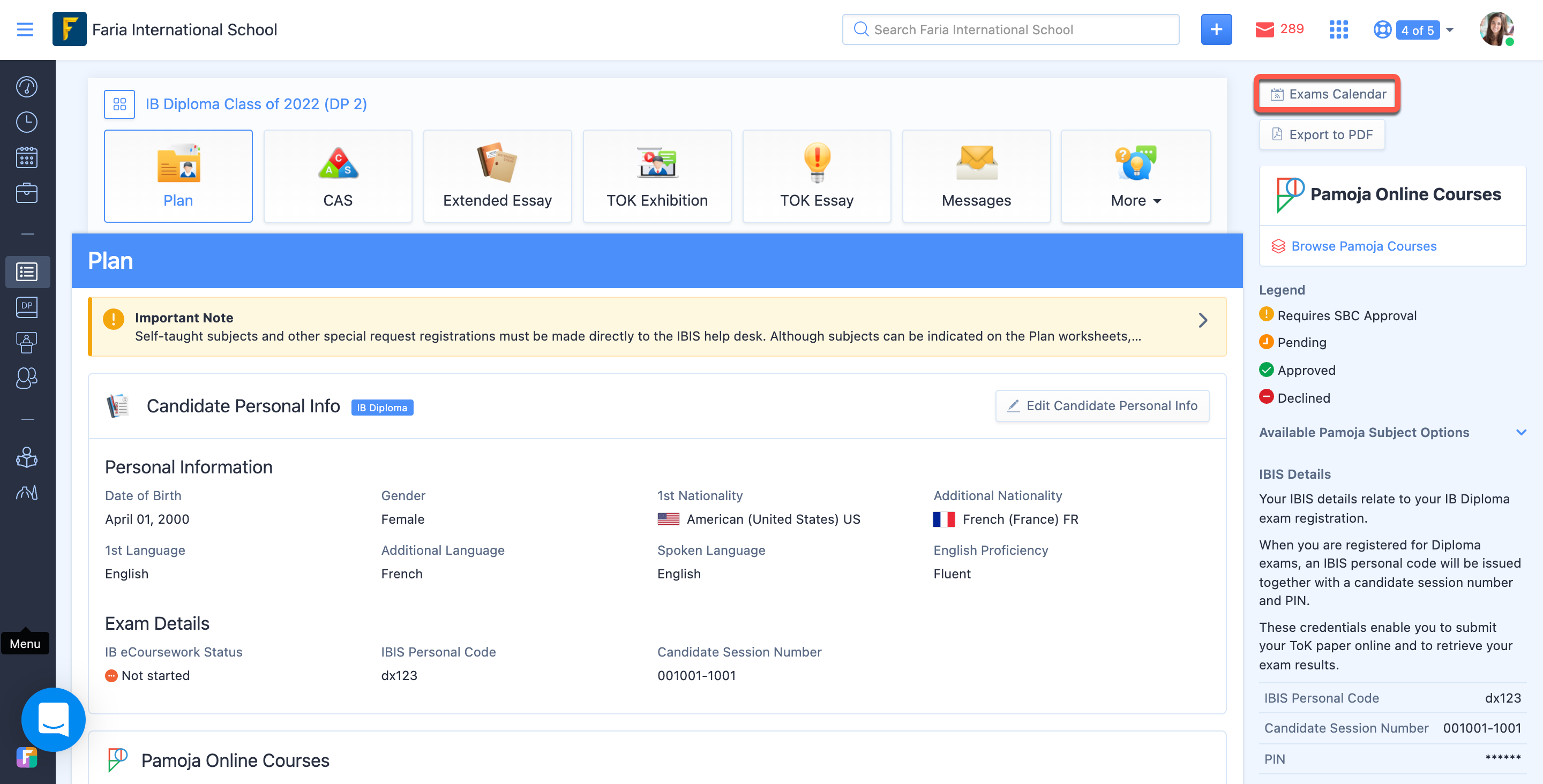 If your IB coordinator has registered you for DP exams via ManageBac and configured your exams calendar, you will be able to view the Exams calendar by clicking Exams Calendar at the right hand side of your plan worksheet.
Note that your coordinator may not be using this function so the exam schedule may be blank.
Accessing your IBIS Details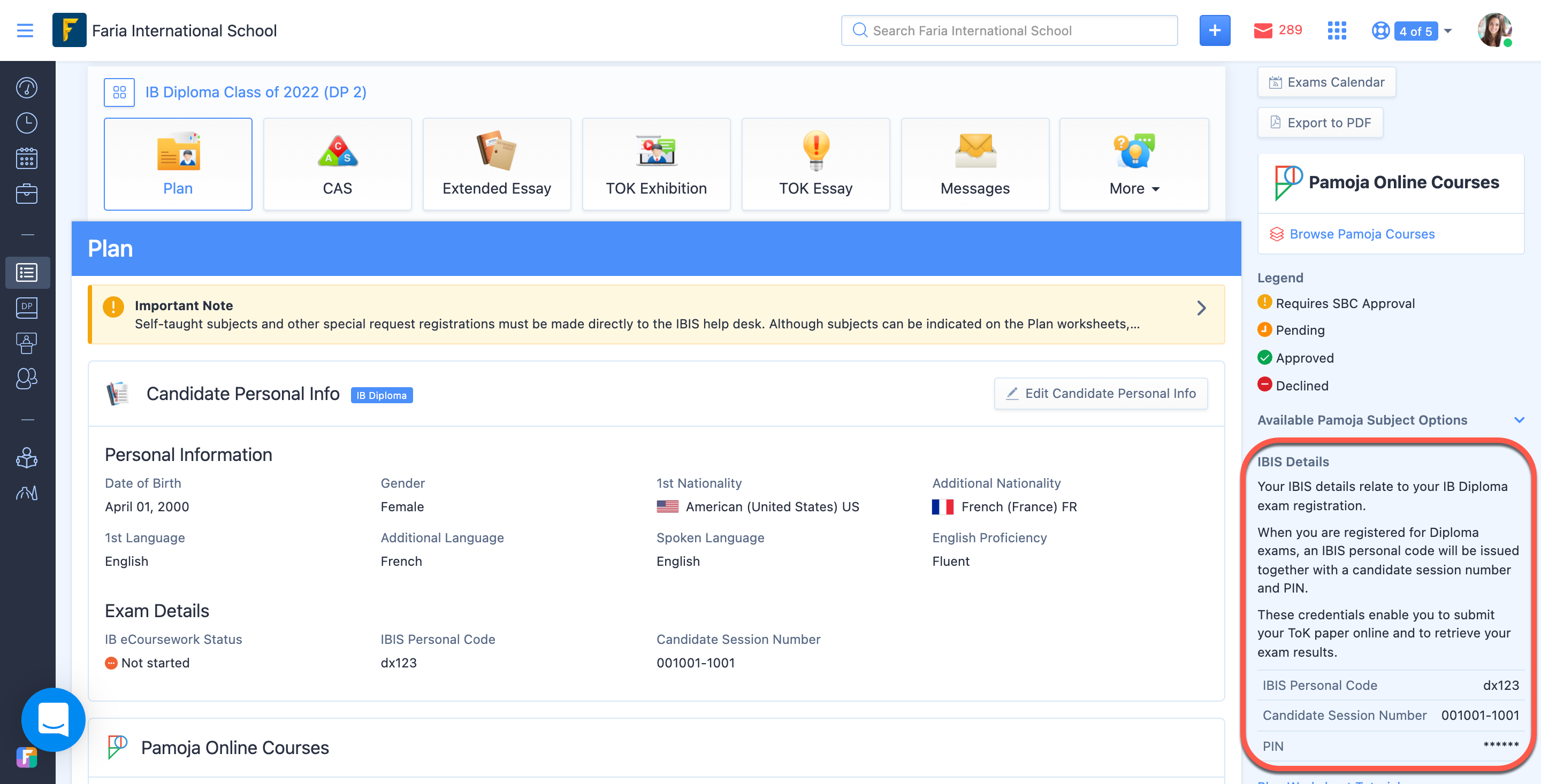 If your IB coordinator has added your personal code, candidate session number and/or IBIS pin to your ManageBac Plan worksheet, you can find this information on the right navigation panel. These credentials enable you to retrieve exam results.
Note that if your coordinator is not using this function, this section may be blank.