ManageBac for remote & online learning
Online Lessons enable teachers to launch a session either from their calendar or from the Stream and Resources in each unit. Teachers are free to choose whatever platform they are most comfortable with to conduct the online lesson. They simply copy and paste the URL of the Online Lesson meeting location. If Zoom is used, the URL will be automatically generated.
We aim to provide teachers, students and parents with a centralised calendar where assignments, tasks and online lesson locations for all classes can be accessed.
Save teachers' time by making Zoom meeting link generation effortless.
Keep the evidence of asynchronous and synchronous learning activities in one place, associated with the written curriculum of the unit to provide educators an opportunity to reflect and adjust strategies as needed.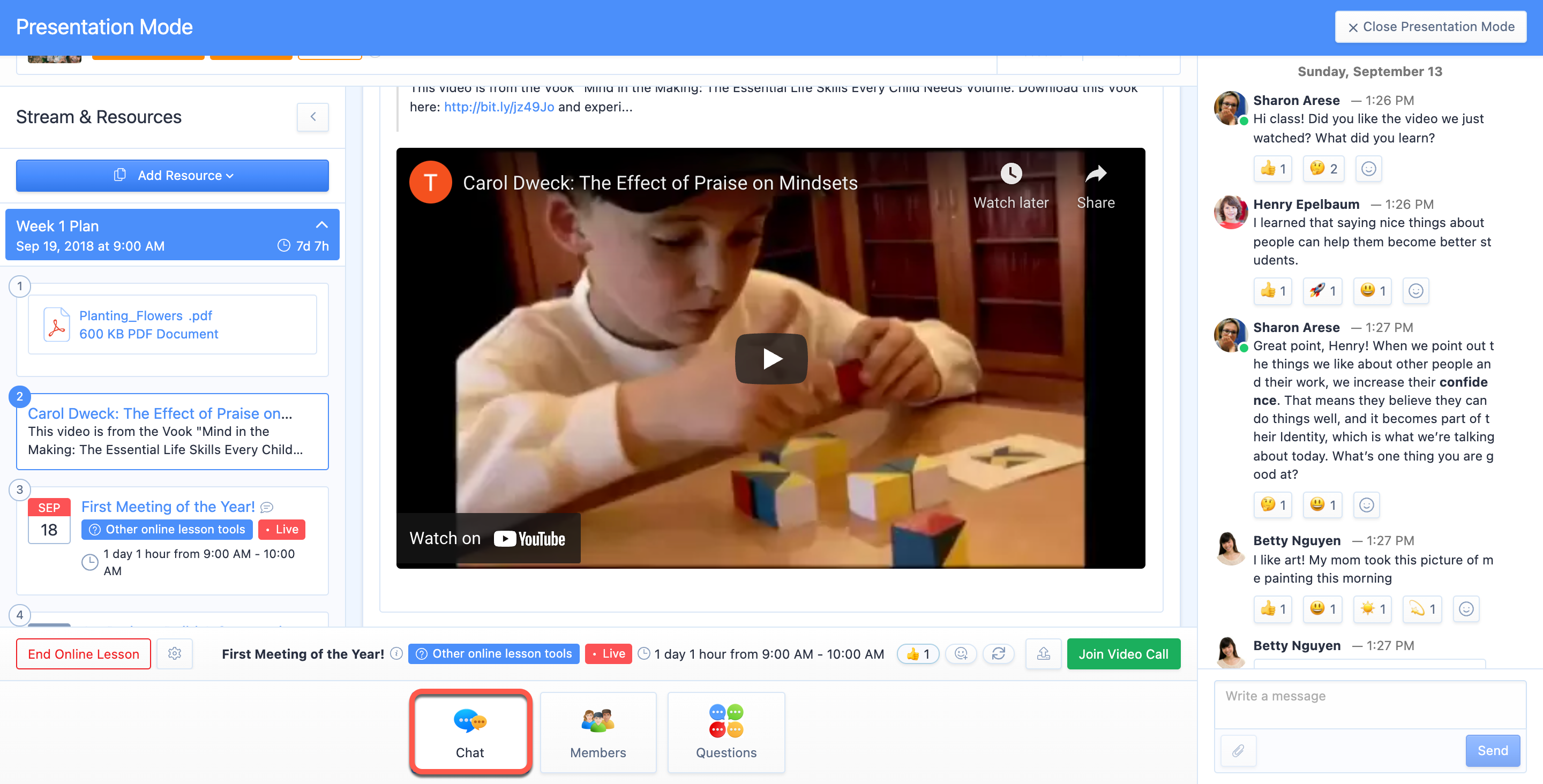 Presentation Mode allows teachers to:
Share their Lessons and Stream & Resources in a full-screen mode with direct integration with Zoom Online Lessons. Presentation Mode can still be used if using other meeting tools, by sharing your screen once in the meeting to share the Presentation.

Deliver the Lesson through a smart board or projector in a face-to-face Class setting.
With one-click, Presentation Mode allows Teachers to go full-screen within each Lesson, where they can toggle through different Resource items and fully preview Documents (including Word, PowerPoint, etc.), Videos, Images and Assessment Tasks.
Presentation Mode was built with the Students in mind. The Notes feature allows students to write personal notes while the Teacher is presenting. A Question board can also be enabled to allow students to ask public or private questions during the presentation.
Chat allows teachers and students to:
Participate in live discussions and post questions, as well as make online learning more fun with Emojis.

All KeyChat interactions are automatically logged into the Online Lesson transcript.
The built-in profanity filters and mute capability allow Teachers to organize class discussions safely and securely for all students. Students can also provide overall Lesson feedback with simple Emojis (e.g. I understand vs. Confused), giving Teachers real-time insight & visibility into student understanding.
Once a Lesson is completed, if the meeting was recorded, the Zoom recording can be saved for playback together with the KeyChat transcript and overall Student feedback. This provides an invaluable way for students to review a Lesson in case of absence and to quickly get up-to-speed. It also ensures that Schools maintain a compliance record for each lesson delivered online.
Online Lessons
Teachers can schedule online lessons with students via ManageBac. If Zoom is used, the meeting link will be auto-generated. Online lesson time and location will be displayed on the students' and teachers' calendars, so that they can better plan their days. They can enter an online meeting with one click from the Unit Stream or Class Calendar.
Via Class > Tasks & Units > Unit > Stream & Resources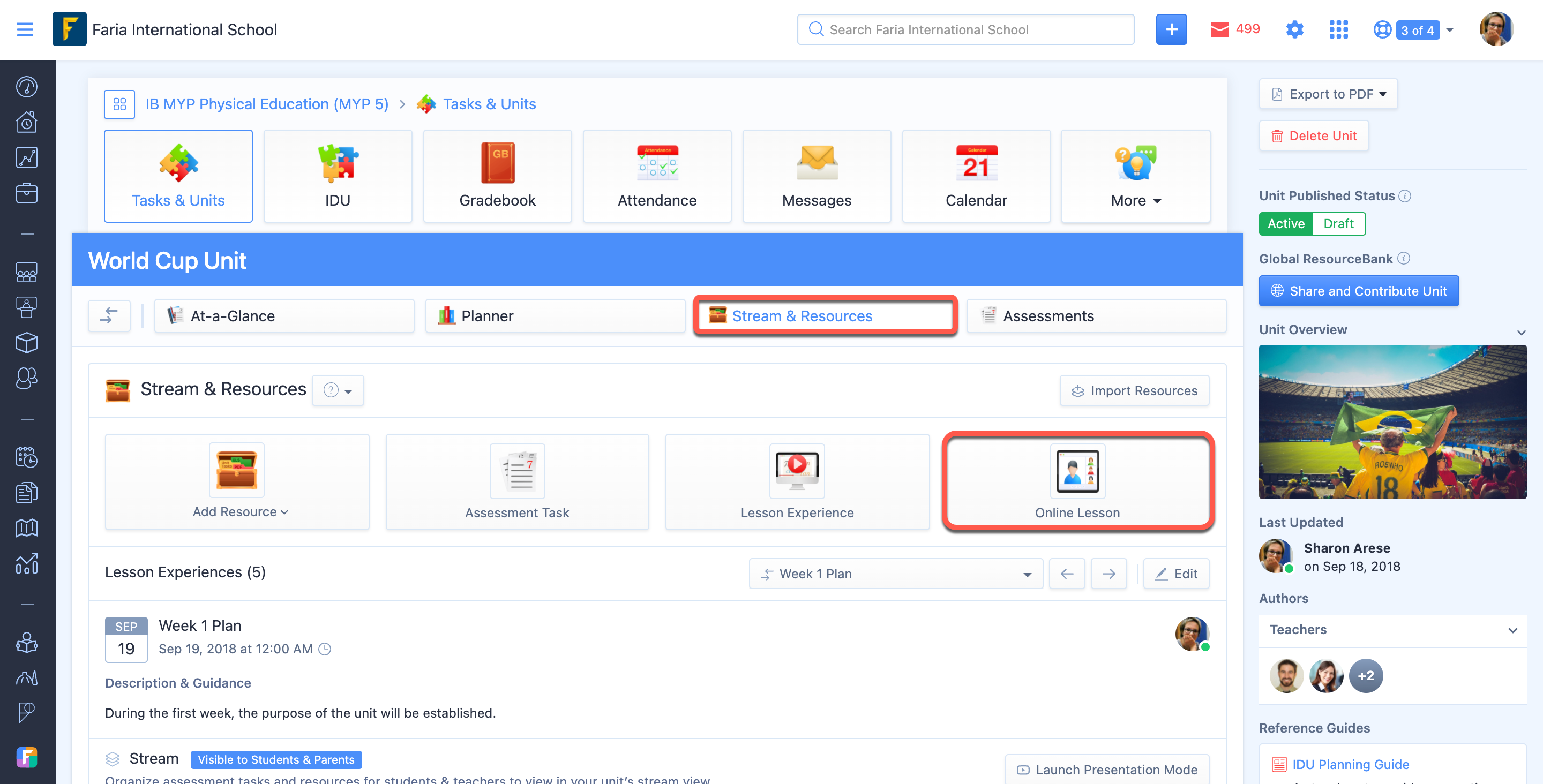 Teachers can schedule online lessons via the Stream & Resources tab of their Units. They can click the Online Lesson button at the top of the Stream & Resources page to create a new online lesson and place it in the Stream of the unit.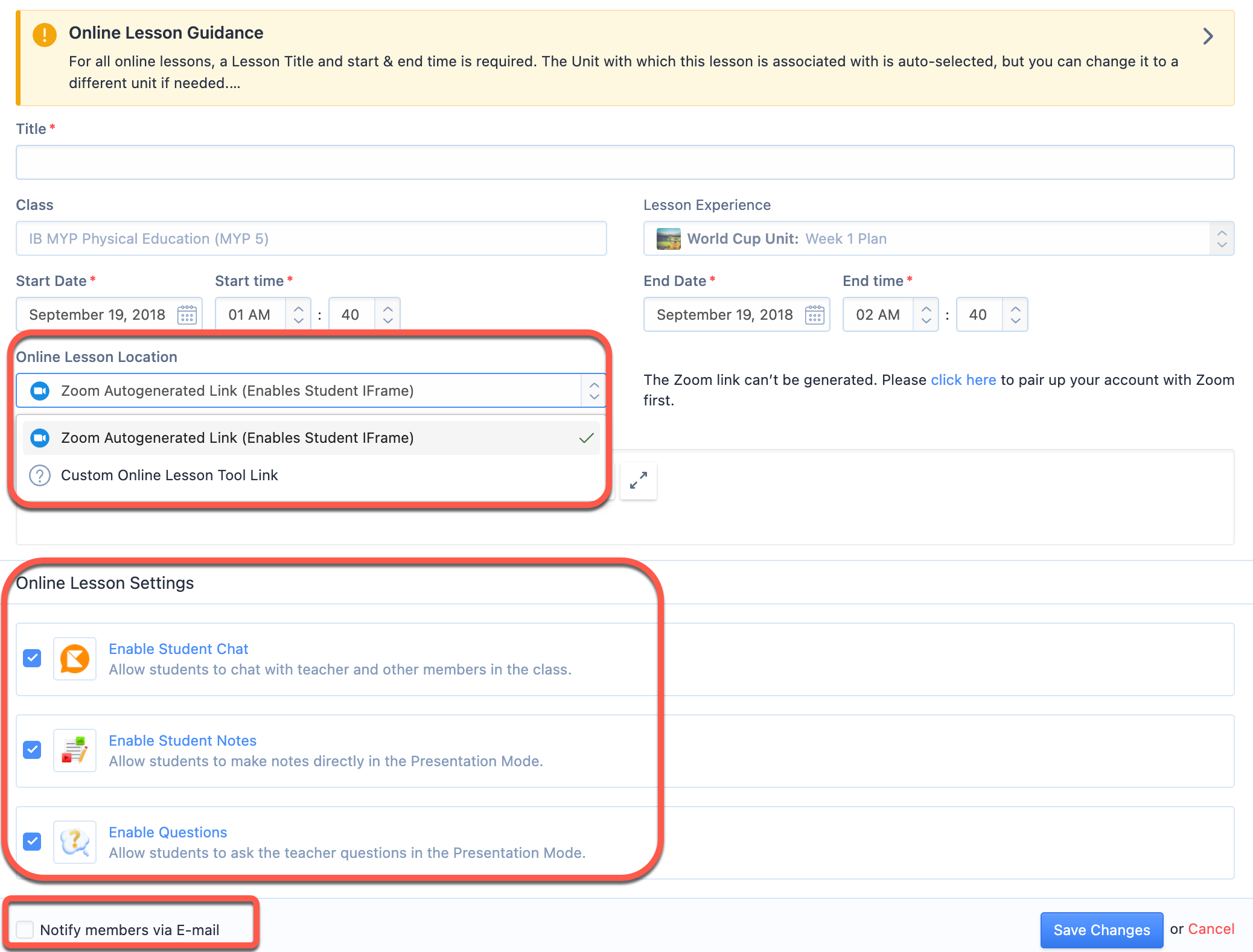 Teachers can determine :
Lesson Title
Online Lesson Location
Start time
End time
Details (for access to meeting for example).
Whether they wish to notify the class via email or not
Please note for the Online Lesson Location, there are two options: 1) Zoom Meeting and 2) Other Online meeting.
If Zoom Meeting is selected, a meeting link will be automatically generated for the meeting. If this is the first time a ManageBac user schedules an online lesson via Zoom, they will need to go through the process to link their Zoom account to ManageBac, which will be remembered by ManageBac for subsequent Zoom meetings scheduled in ManageBac. The system will prompt them to Click Here to set up their integration.
If Other Online meeting is selected, an input box for a link will appear, where users could copy other meeting locations into.
Note: Click the Online Lesson guidance at the top of the page to see more details and information on linking and unlinking your Zoom account.
Unlinking Zoom from ManageBac
Login to your Zoom Account and navigate to the Zoom App Marketplace.
Сlick Manage in the top right corner and then the Installed Apps tab or search for the ManageBac app.
Click the ManageBac app to open it.
Click Uninstall
Prerequisites for using Zoom for online meetings
Users have a Zoom account
Users are logged in to Zoom website in browser
OR Users have the Zoom desktop application installed
Joining Online Lessons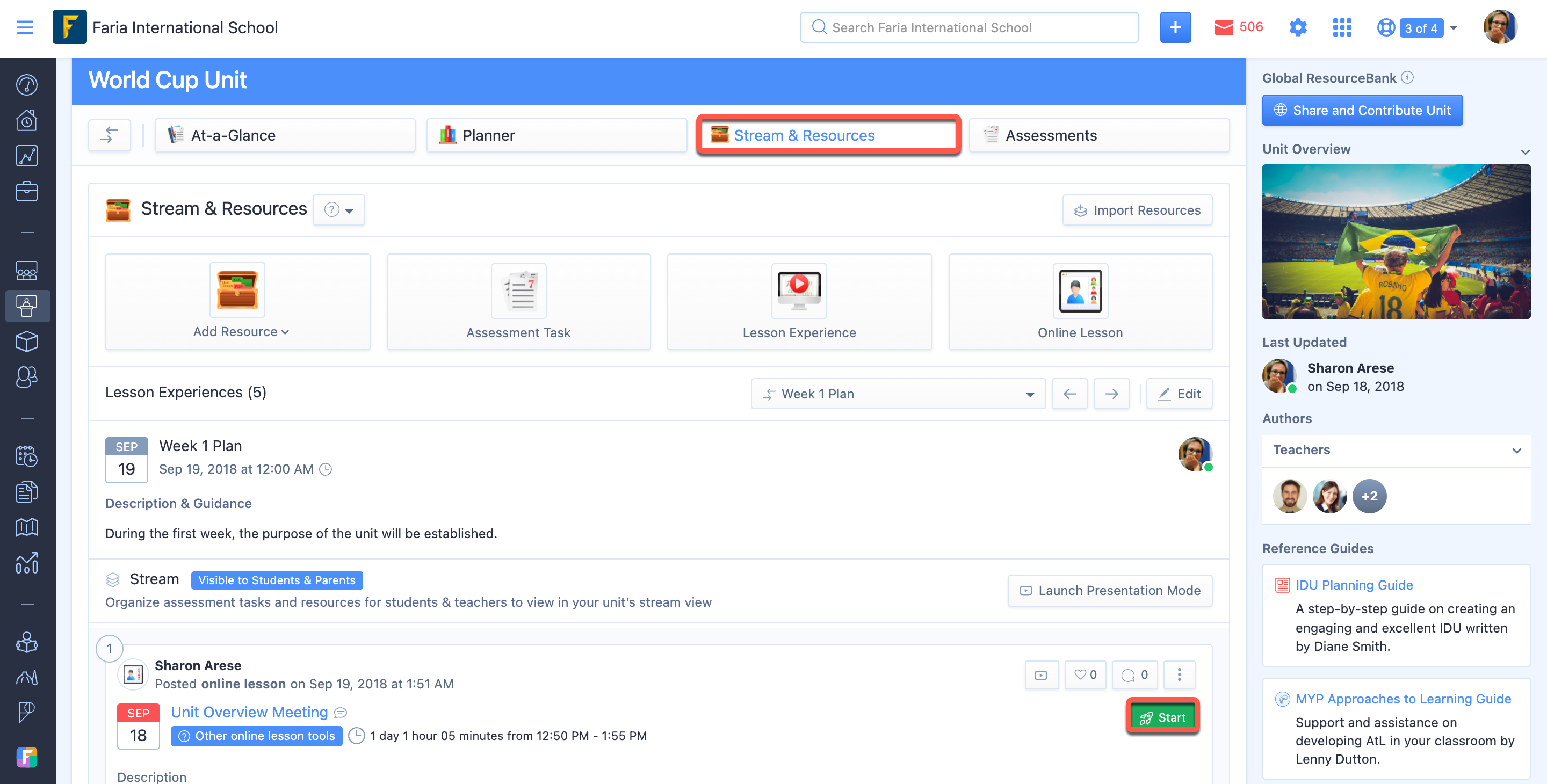 Teachers can see and join the scheduled Online Lessons by clicking the green Start icon in the Stream & Resources tab of the Unit.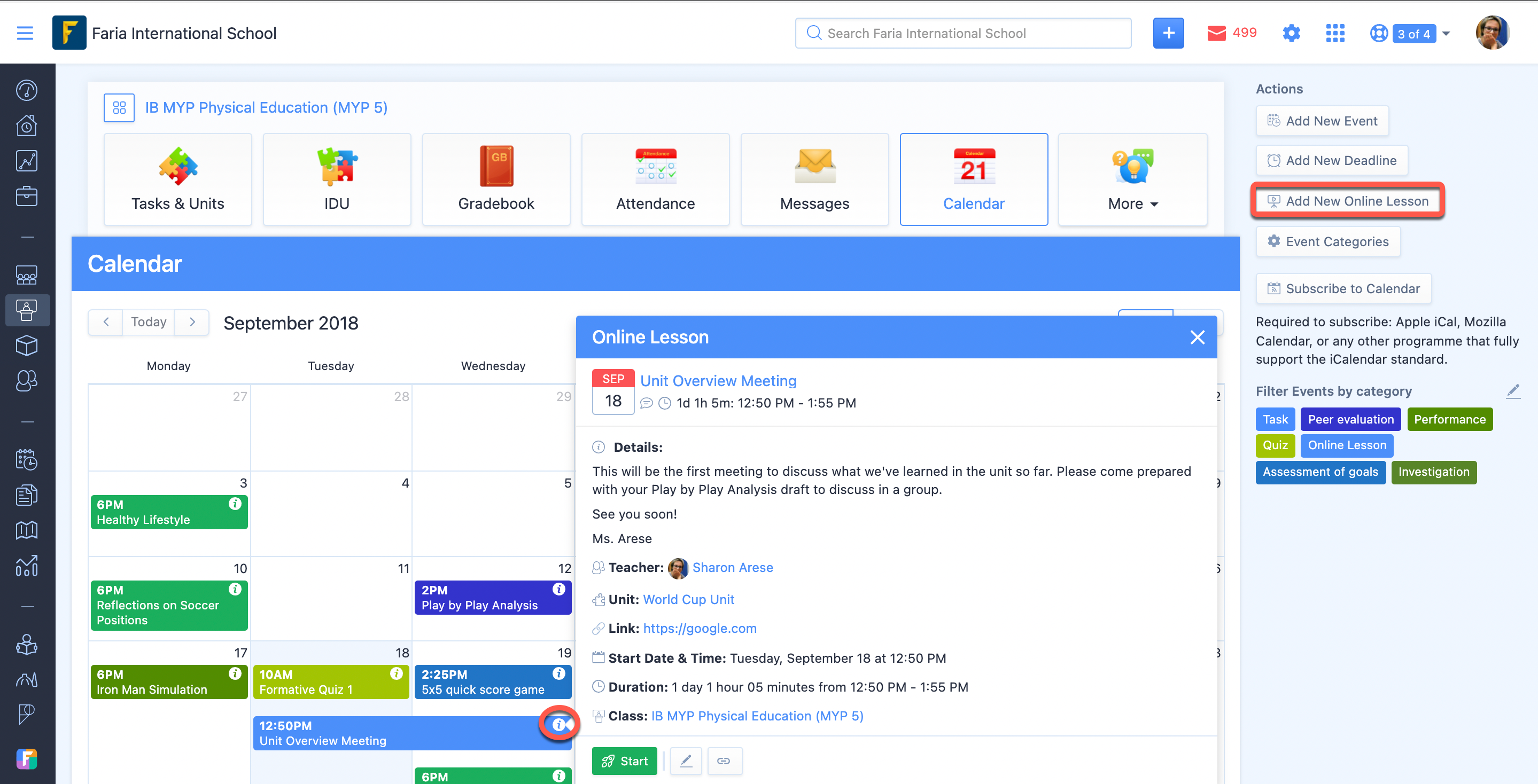 Students and teachers will also see the online lesson in their Calendar and the latest activity list in their Dashboard. All users can join online lessons directly from the Calendar via the link provided.
In addition, teachers are able to add new online lessons from the Class > Calendar via the Add New Online Lesson Button.
Online Lessons FAQ
For all online lessons, a Lesson Title and start & end time is required. If you use Zoom for virtual meetings with your students, please perform the one-time set up to link your Zoom account to your ManageBac account.
For subsequent Zoom meetings, simply select "Use Zoom Meeting", and a meeting link will be automatically generated for you.
Scheduled online lessons will appear in students' calendars, as well as their "Stream and Resources" view for this unit.
To de-link your Zoom account from the MB account, please visit Zoom marketplace https://marketplace.zoom.us/user/installed and search for ManageBac Zoom Integration app. Then click Manage and delete the app.
If you use any other virtual meeting tools, select "Other" as online lesson location, and then add the URL where students can join the online lesson.
Read about how to use ManageBac in a remote environment on: https://www.managebac.com/blog/using-managebac-remote-environment
Linking to ManageBac from Zoom marketplace is possible via the steps listed below.
Installing MB app via Zoom marketplace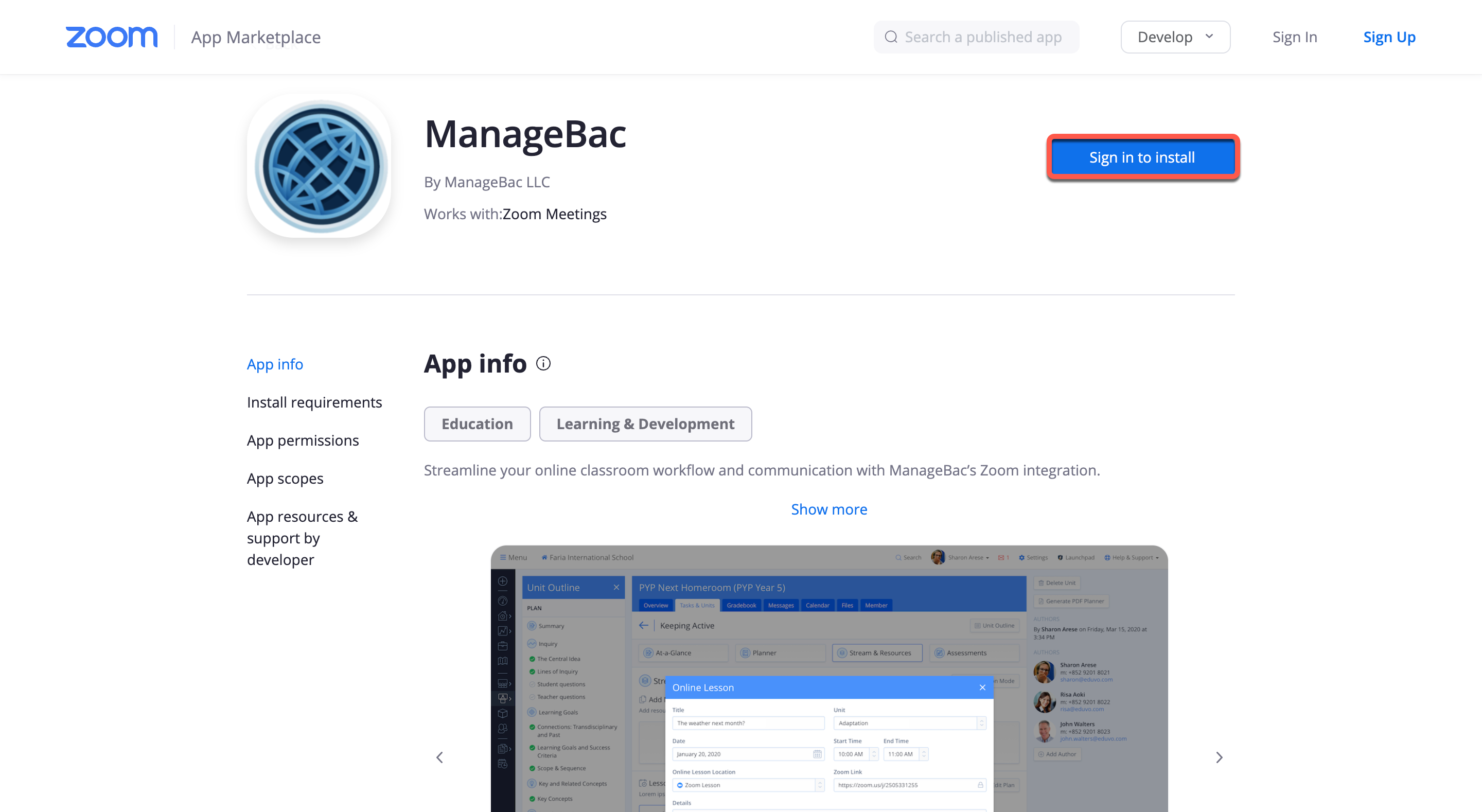 Users can navigate to https://marketplace.zoom.us/apps/kESVYFfuTwWCaFGjxAcpiA to install the MB app directly via zoom.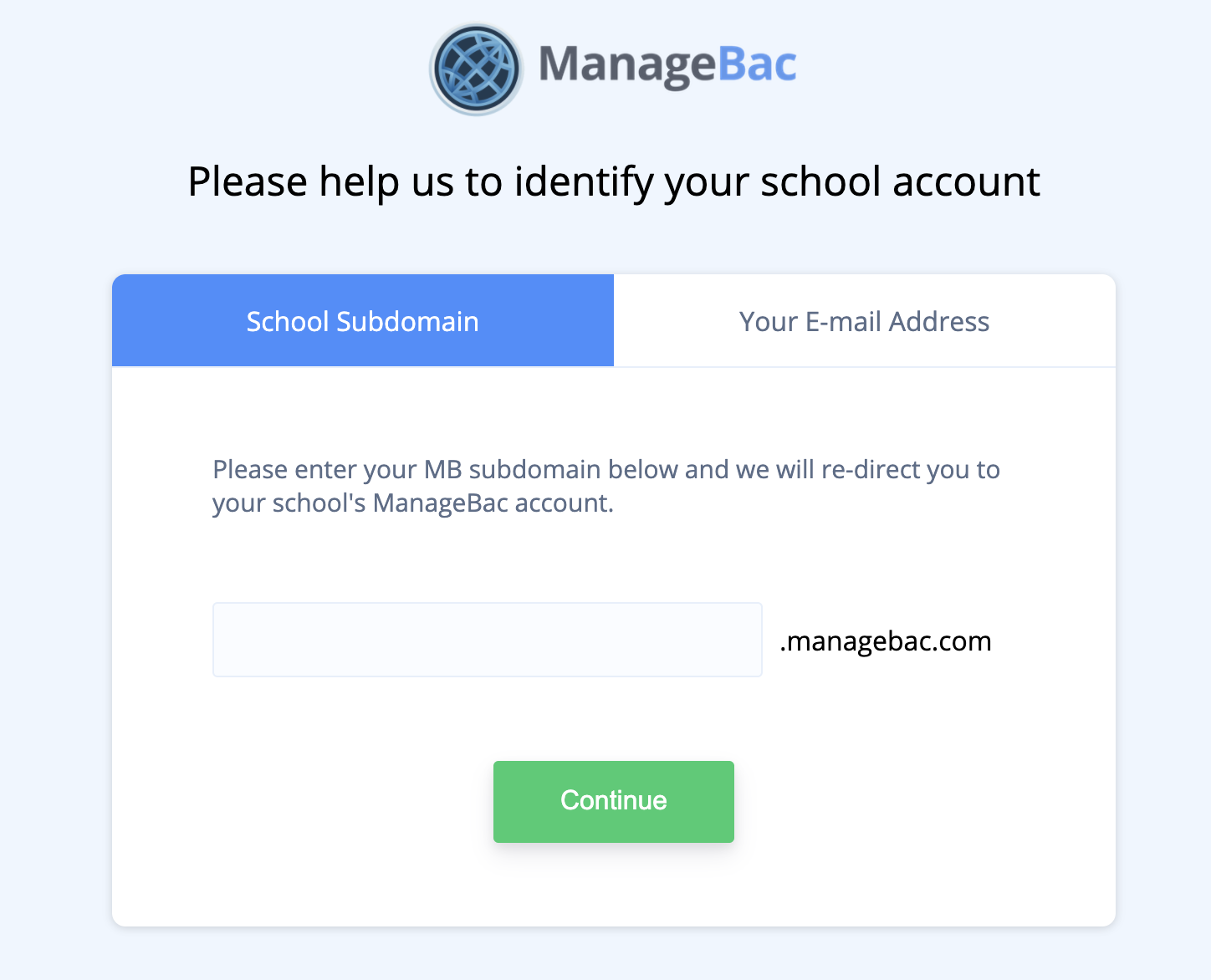 A pop-up window will prompt the user to enter their ManageBac URL or email address to then direct the user to the appropriate ManageBac screen.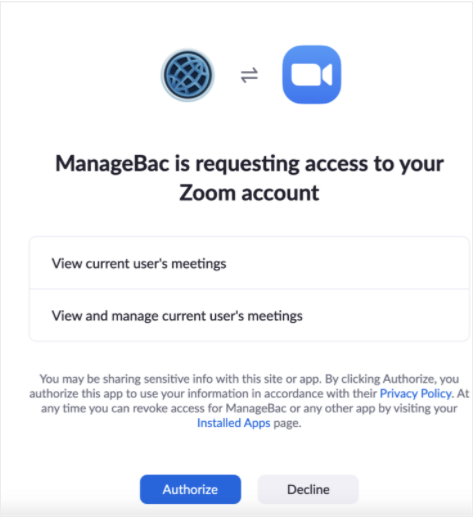 If the user is already logged in to ManageBac, the authorisation screen will appear. If the user is not yet logged in to ManageBac, they will be redirected to the login screen to enter their ManageBac credentials and then will be directed to the authorisation screen.
After successful authorisation, users will be redirected to their ManageBac Dashboard.
Presentation Mode
The Presentation Mode allows teachers to browse all the materials they have prepared within a certain unit and lesson plan, and demonstrate these materials to students either via online tools like (Zoom, Skype, Google Hangouts) or offline in class using a digital board or projector.
The Presentation mode can be accessed in 2 ways:
By launching the Presentation Mode directly, or

By using its integration within the Online Lesson functionality.
Via Unit > Stream & Resources or Class > Calendar
Teachers can join online lessons via the Unit Stream or Class Calendar items with the Start Online Lesson buttons.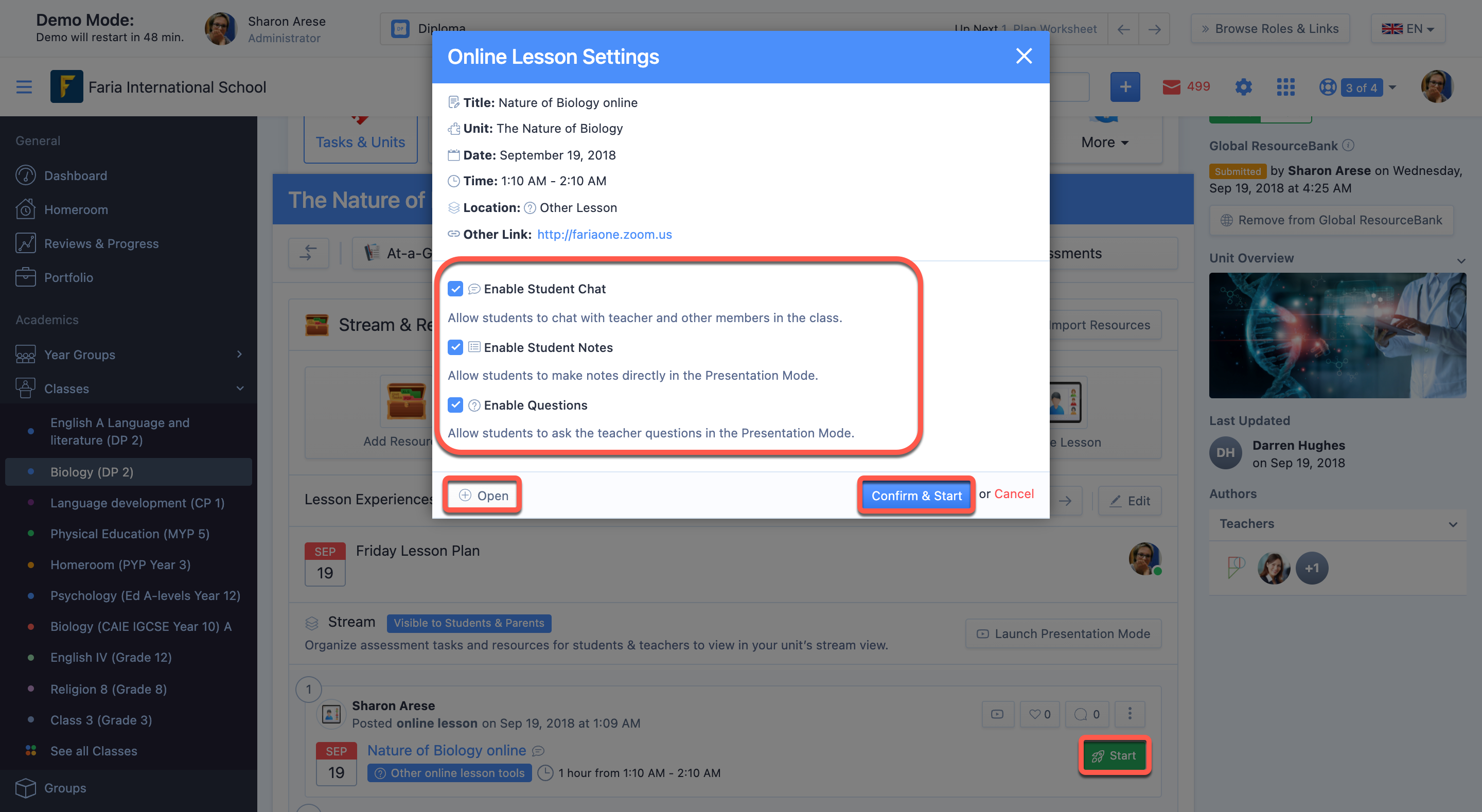 When teachers start an online lesson from the Stream of Units, they will be able to change and configure the meeting settings in a pop-up menu. You can configure the following items:
Enable Student Chat
Enable Student Notes
Enable Questions
Click the green Start rocket button to begin the online meeting and switch to Presentation Mode.

When joining from the Calendar, teachers will have the option to Open Online Lesson or Confirm and Start. Opening the Online Lesson will allow teachers to access Presentation Mode, without officially starting the lesson. Starting the lesson will allow students to join, begin using the Chat tool, and access the information within.
Please note a lesson should only be started if it is the actual start time, as once a lesson is started, ending that lesson will switch the Presentation to 'Browse Completed Lesson' mode, where students can only access what happened during the lesson itself and not add more information.
Teacher View
The Presentation Mode will present three vertical content columns.
The left column shows the Stream & Resources which contains the Unit details and all the resources linked to the unit for quick access during the online lesson. The right column will show either Chat, Members or Questions feature. Chat panel for direct communication with all Members. If you have enabled Questions, a Questions panel for public or private student questions will also be available here.
If you have already started the online lesson, click Join Video Call at the bottom of the screen to begin any online meeting. If there is no online meeting link, this option will not appear.
Click End Online Lesson once the lesson is over to end your class session.

The left column can be collapsed in order to expand the central resource column by clicking the
icon.
Clicking the Close Presentation Mode icon in the top right corner of the screen will end the online meeting for all members automatically.
If you have recorded your meeting, you can add a direct link to the recording to the meeting after it has concluded. The recording will be stored in whatever cloud storage your chosen meeting application uses, but students will be able to access it from within ManageBac.
Details on how students will view the online lessons can be found here Accessing Online Lessons and Study Mode.
Online Events and Meetings with Zoom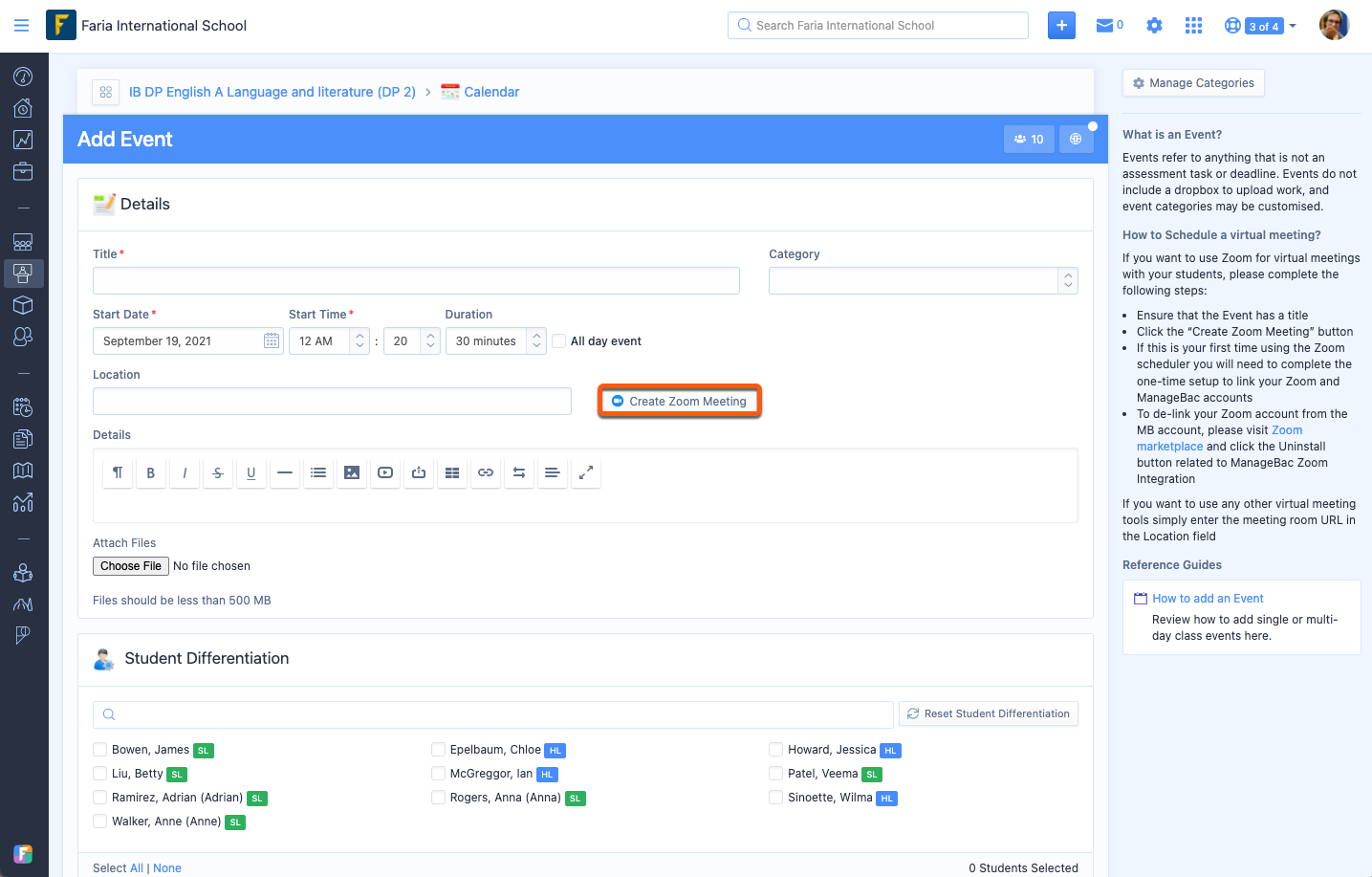 The same Zoom integration that is allowing for Online Lessons to be created and linked to Zoom is now enabled for Calendar > Events. Add a new Event to the Calendar using the Add Event button to see the updated Event interface with Create Zoom Meeting button. Events differentiated for different students will show and allow only linked students to join the Zoom call.
The location field also supports custom meeting room URLs. If a URL is detected in the location field a "Start" or "Join" button will be shown on the Event tile.

For Events that have corresponding Zoom Meetings MB will automatically make any recordings available in MB. After Zoom processes the cloud recordings, which can take up to an hour, MB will show a Download Recording button to immediately download the recording file and a Play Recording button that will open in a new tab and allow for recording playback.
Note: The recording buttons will be available for as long as the recording is present on Zoom Cloud.
Guide to Remote Learning