Organising Student Portfolios video
Via Portfolio
The ManageBac Student Portfolio includes a searchable and filterable roster, a timeline view of submissions, expanded resource types including photos, videos, files & websites, as well as the ability to like, comment and share portfolio resources. This article provides an overview of the following Portfolio pages and processes.
Portfolio Rosters
Portfolios can be accessed via the left-hand side menu > Portfolio, or by navigating to a Student Profile directly.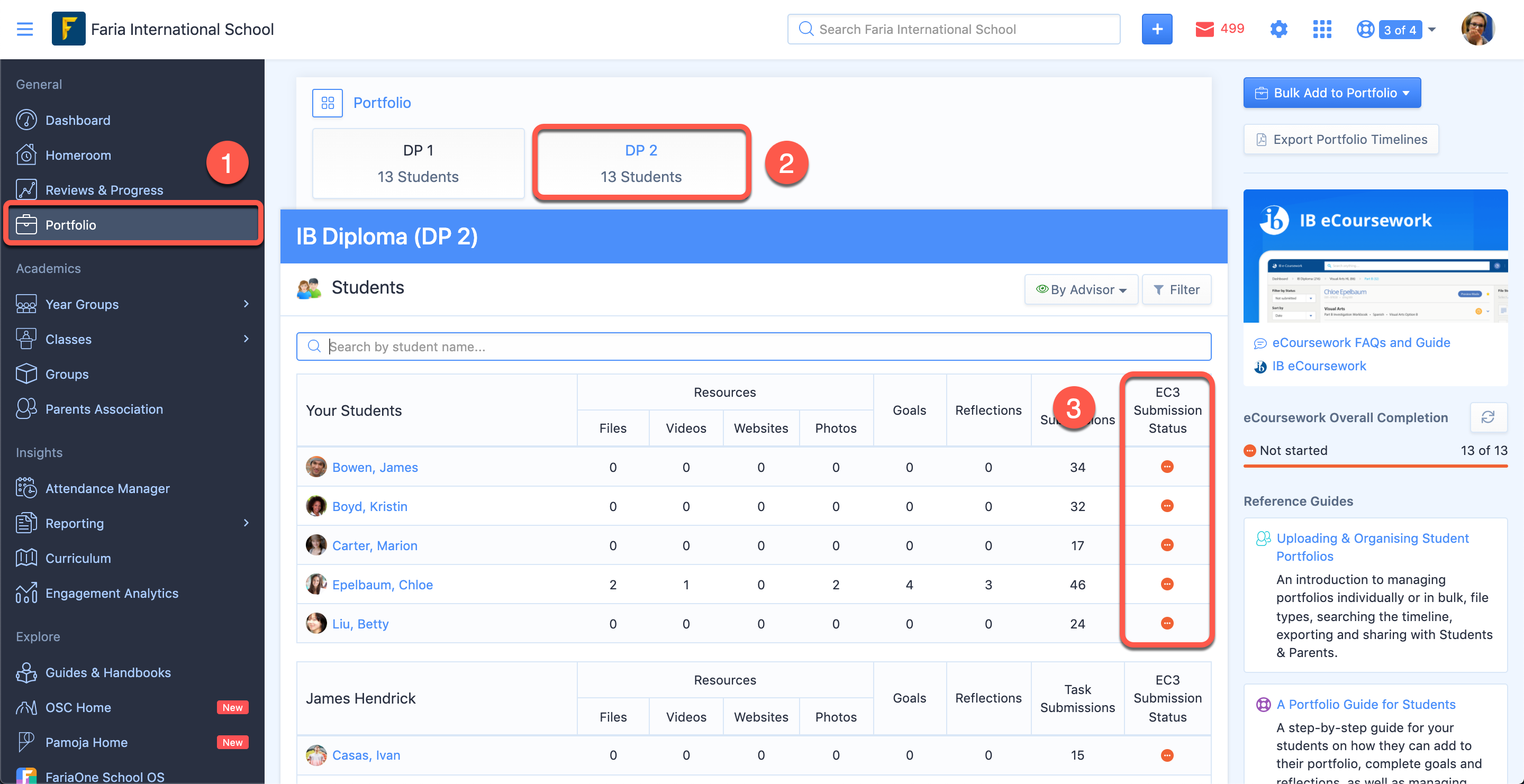 IB DP Portfolio Roster view with added column for eCoursework submission status.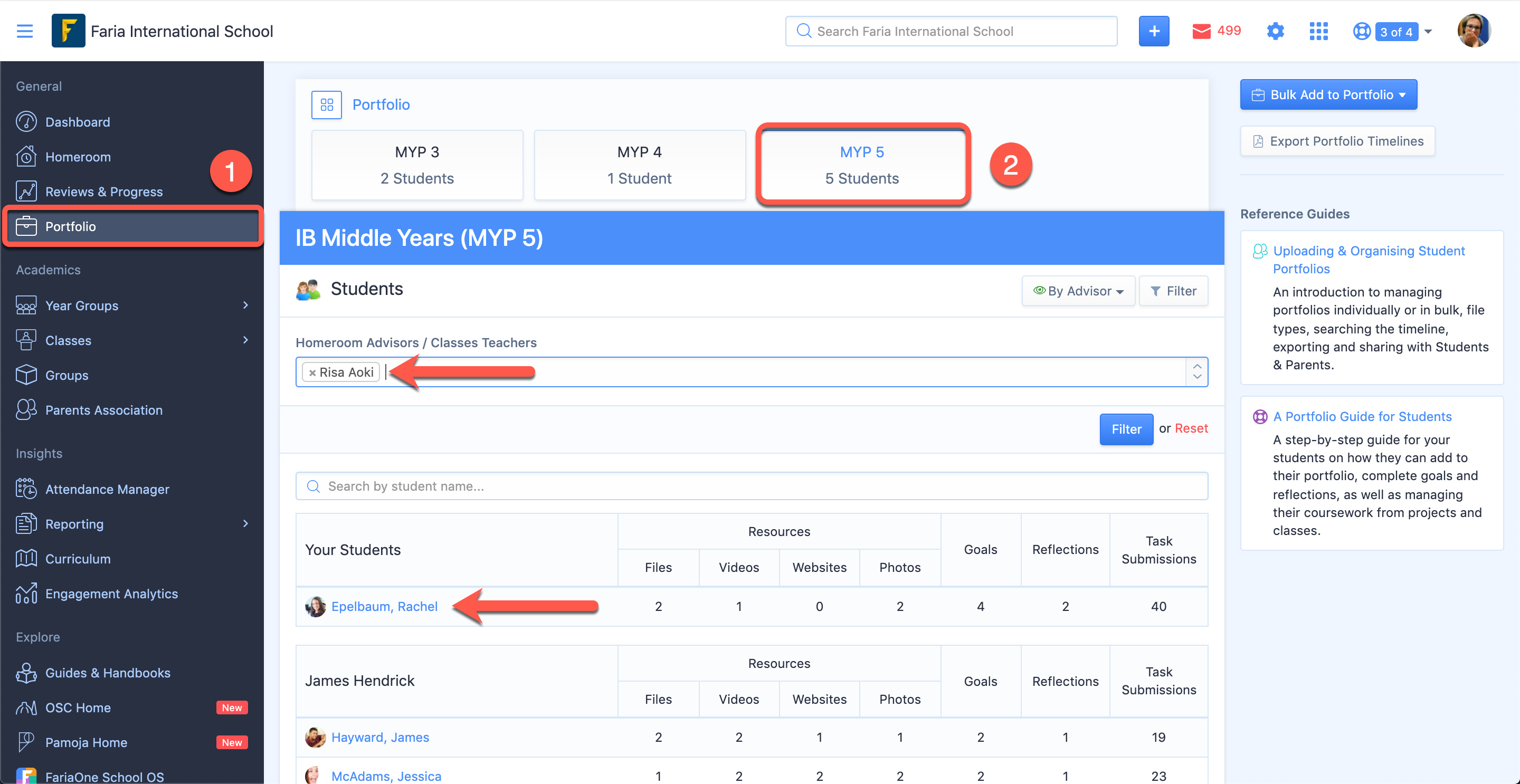 IB MYP Portfolio Roster view
View Portfolio's according to the students' academic programme and year level.
Filter by Homeroom Advisor using the Filter option.
See a snapshot on the number of items, goals or reflections added.
Click a student's name to access their Portfolio.
Goals & Timeline
The timeline provides a visual capture of student work, ordered in descending chronological order.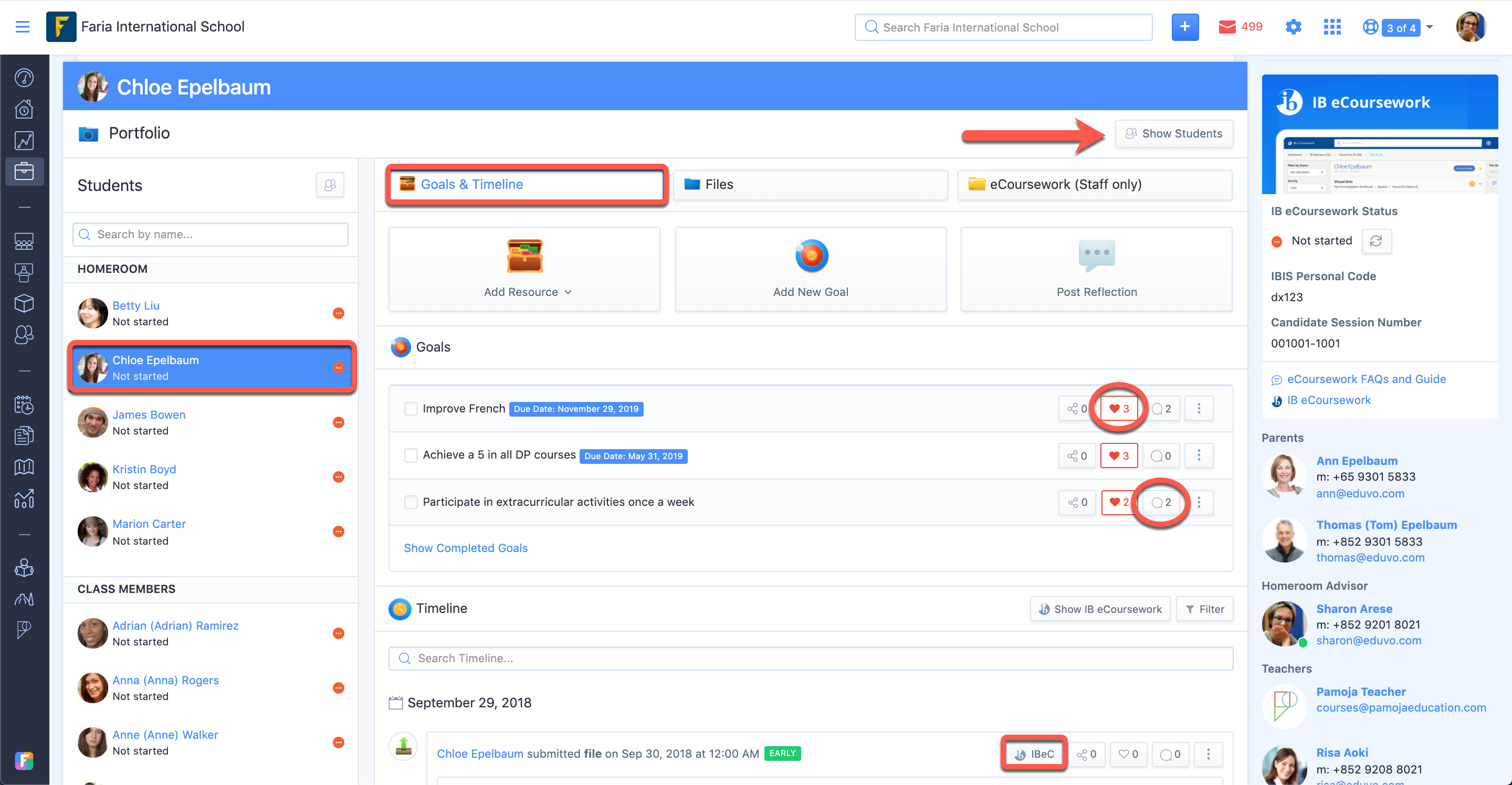 A collection of Portfolio entries the student has accumulated during their academic career. The Timeline lists Photos, Files, Videos, Journal Entries and Goals added to it.
Goals created either by student or teachers are listed at the top.
The Portfolio is available for students and teachers to add items into it. Parents can be granted a read-only access to the entire Portfolio or individual Photos or Files added to the Timeline.
You will see a list of Collaborators (files, items, comments or reactions) on the right navigation panel.
Click Your Students to quickly jump between portfolios via the left-hand side list.
All users will be able to like and comment on each individual item (if Messages permissions are given to Students and Parents). Comments can be entered as public for the student & parent, or kept as private entries amongst the author and teachers/admins only. Optionally notify recipients via email.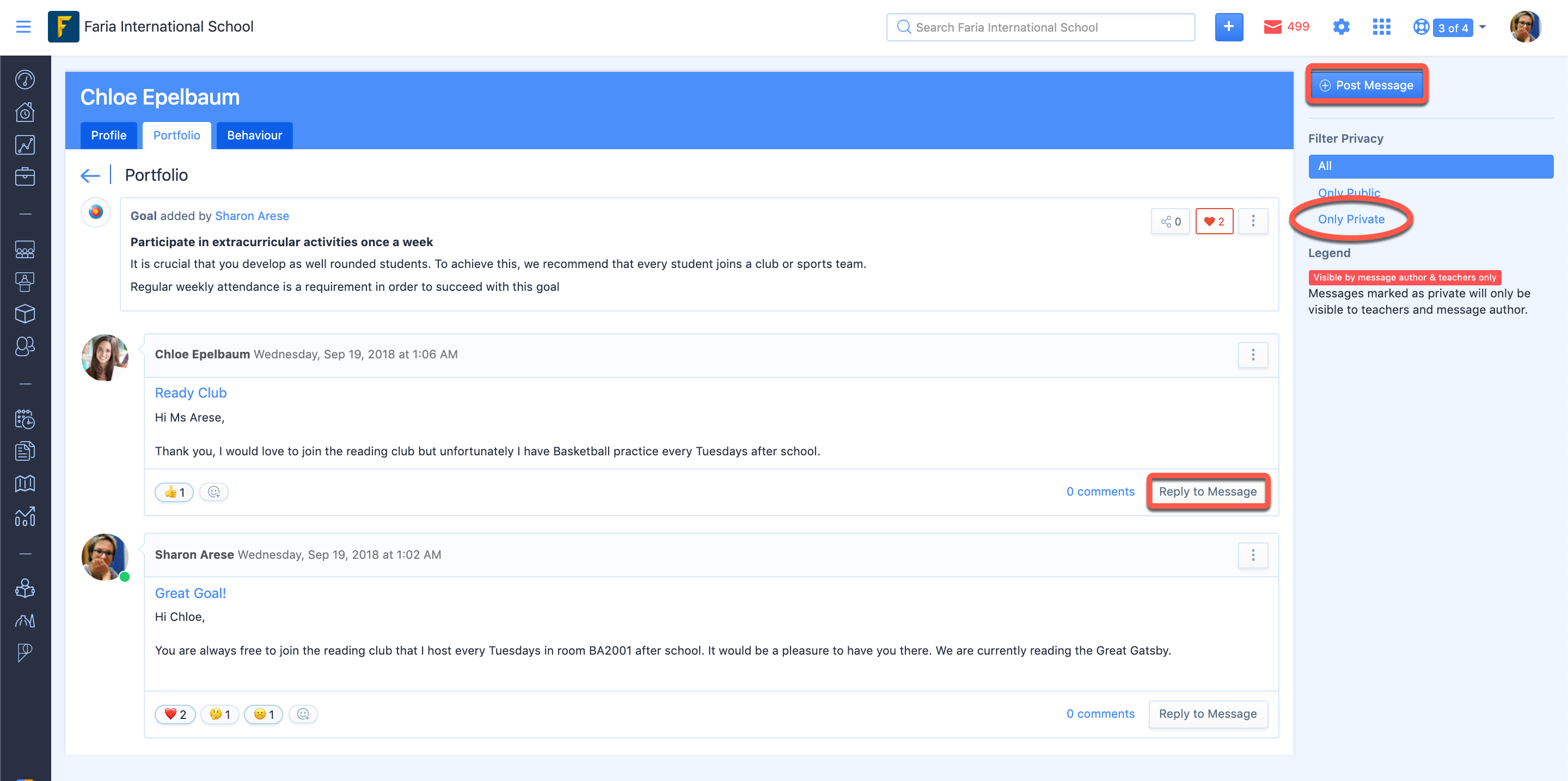 Files submitted to Tasks in Classes the students are assigned to will be included on the Timeline by submission date. Most files can be viewed by teachers directly in the class via the view icon.

Additional options on Portfolio items include:
Sharing a direct link to a resource
Starring, which highlights a particular item
Export, Edit or Delete the item.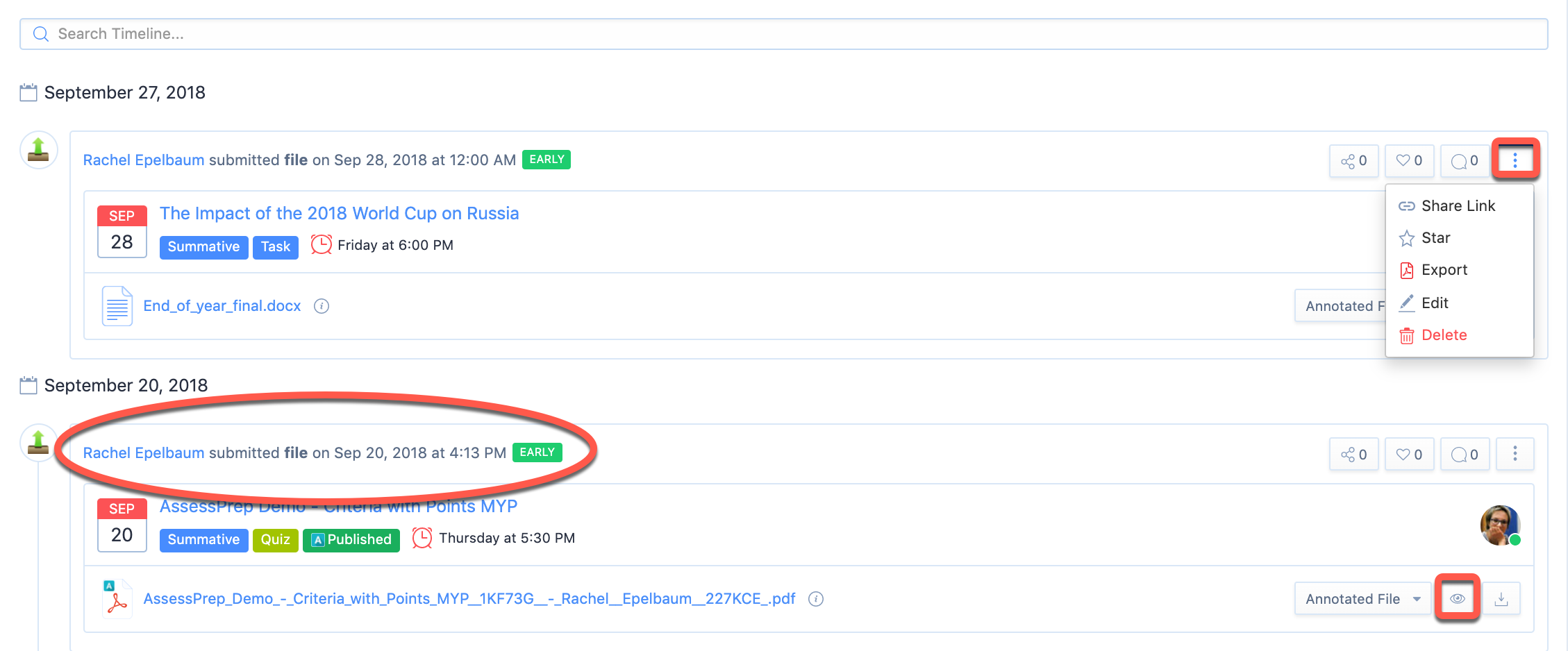 For eCoursework submission and organisation, it also possible to

tag resources that need to be submitted to eCoursework using the EC3 button for IB DP student. (The resources tagged as EC3 will automatically be stored in the eCoursework in the Portfolio.)
use the EC3 filter on the Timeline to highlight the resources that need to be uploaded to EC3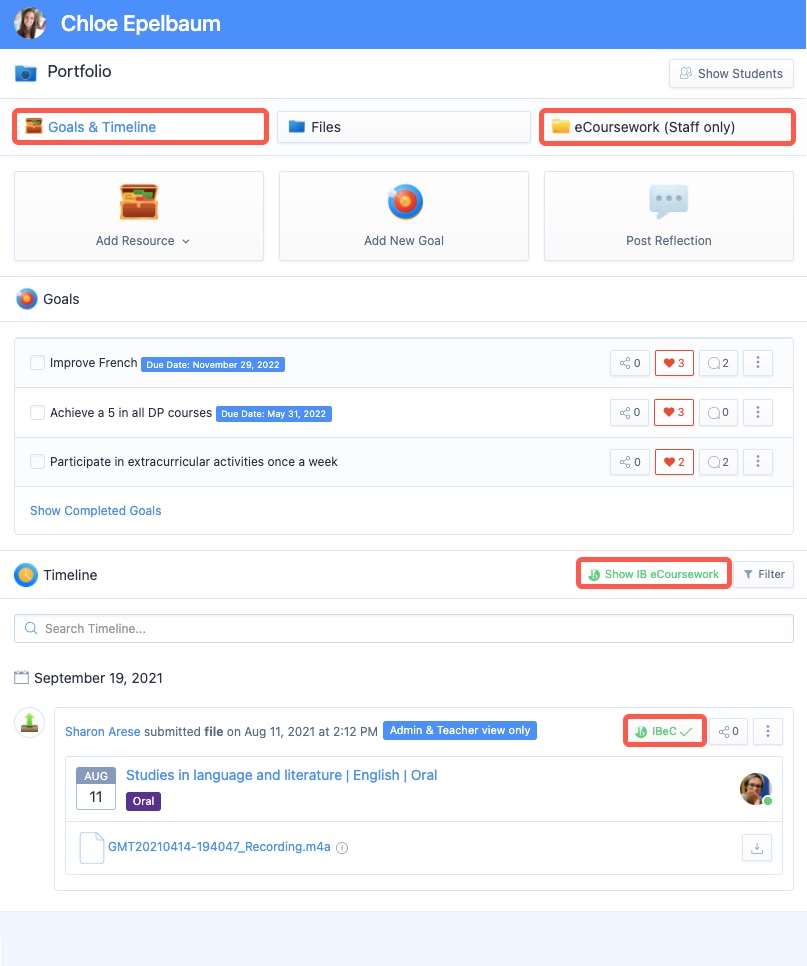 The above menu will appear for each file when the EC3 button is clicked. Administrators and teachers can then identify the subject group and subject the selected file should be labeled for.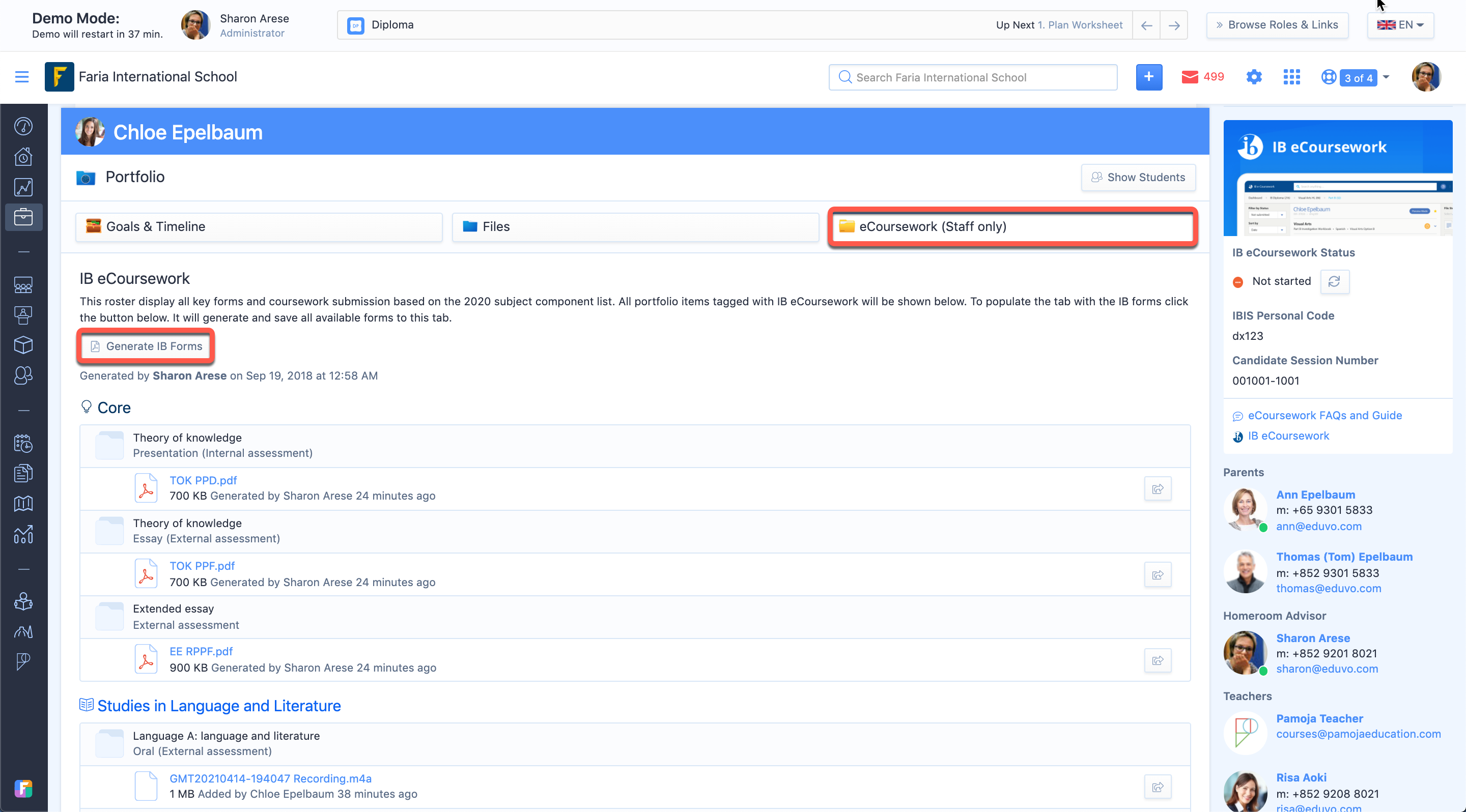 All files tagged with EC3 are automatically added to the teacher-view-only eCoursework folder. The folder will list all files tagged by subject group. You can also generate supported IB forms from the folder by using the Generate IB Forms button. Files that were submitted with annotations in tasks or internal assessments of deadlines can also generate annotated files that can be submitted instead of the originally submitted file. See below for more details on generating annotated files.

Files submitted to Tasks and Deadlines can have the annotated PDFs generated directly from the Timeline. Teachers can click the Annotated File button to open the PDF options for annotated document with user names or anonymised. Click the Generate PDF button to generate the document with annotations. Then, you can either download the annotated document via the download icon or drag and drop the file into eCoursework (for IB DP eCoursework submission)
Files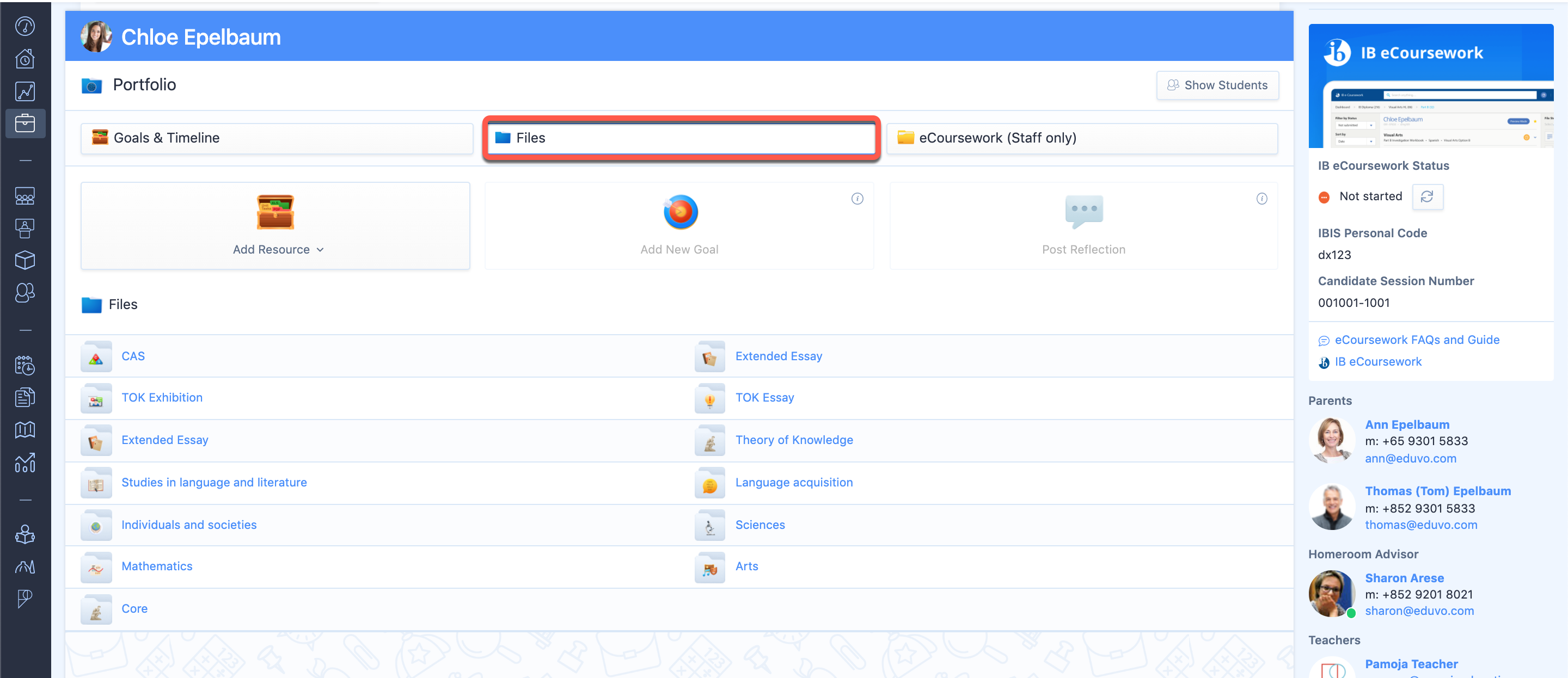 File submissions from Class Tasks & Year Group Deadlines will also appear under the Files, categorized into specific subject or core programme folders. This provides a consolidated location of the students work from their various classes & year groups.
Note: student submissions to tasks & deadlines using Google Docs do not appear on the student portfolio.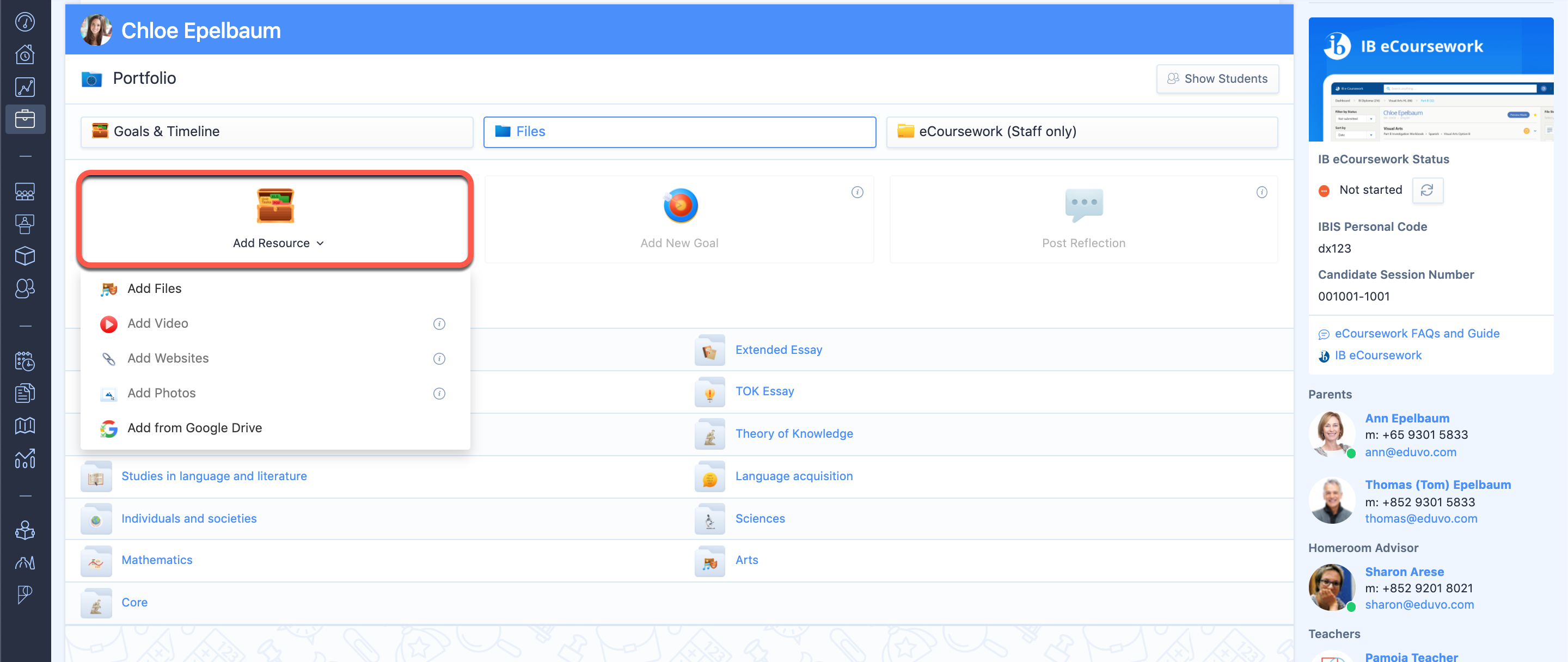 Students and Teachers can also directly add Files to the Personal folder or project folders via the Add Resources button at the top of the Files. If you prefer to add files organised by subject group, these need to be uploaded to Tasks or Deadlines in classes of the subject group.
All other forms of Portfolio item types are disabled in the Files. Up to 10 files can be uploaded at once. The file limit size limit for each is 50MB.
Note: Files directly added to folders in the Files of the Portfolio will not appear on the Timeline list of the Portfolio.
Files listed in folders can be dragged and dropped or downloaded via the file title. Document type files can also be annotated with the built in annotation tool in ManageBac.
Add Items to Timeline
Add text or media content to develop the students portfolio across years.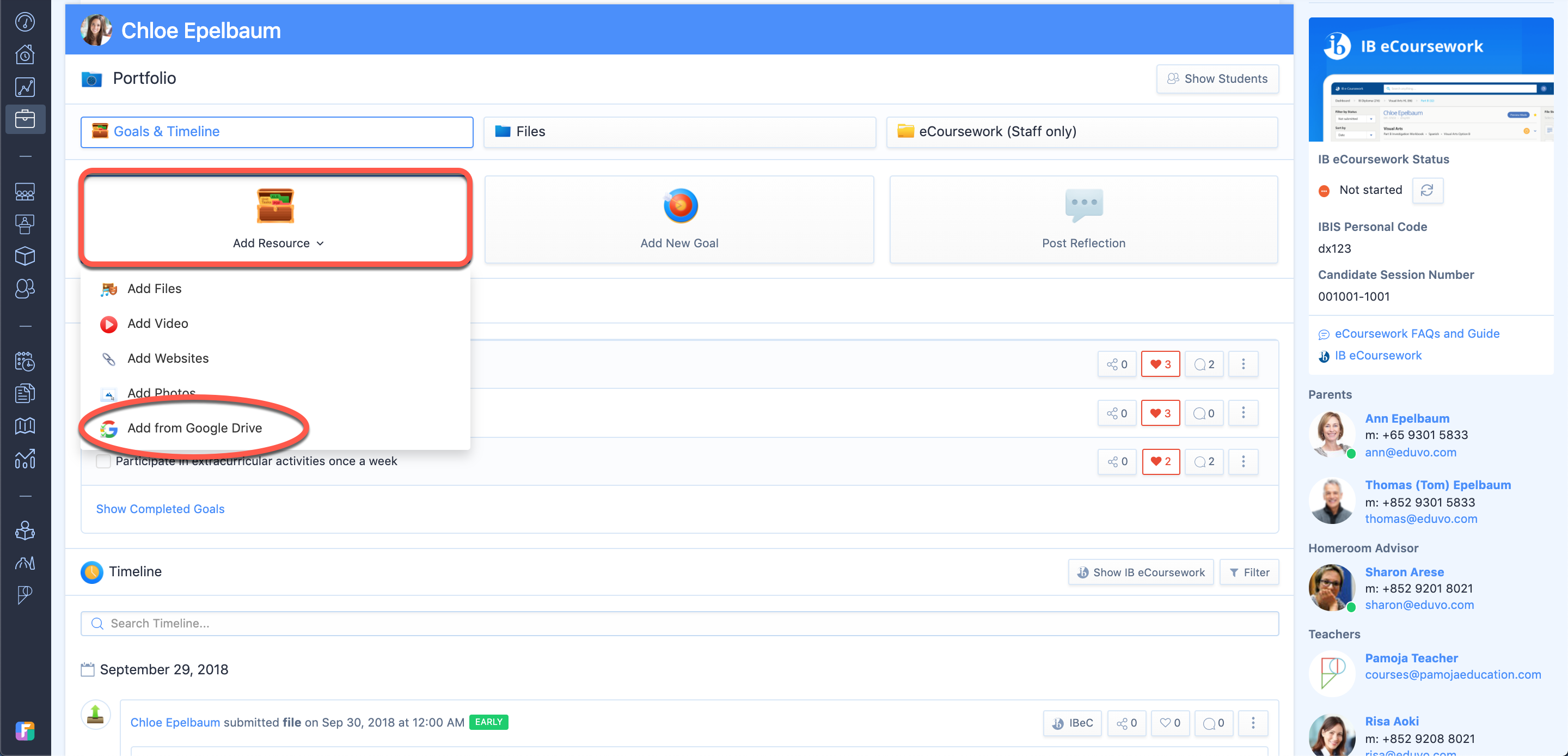 Users can easily add several resource types to the portfolio timeline: Photos, Files, Journal entries with complete set of rich text editor features, video links and website URLs.
Additionally, users can add files from their Google Drive. Google Docs & Sheets, Slides will be converted to PDF documents during the upload process.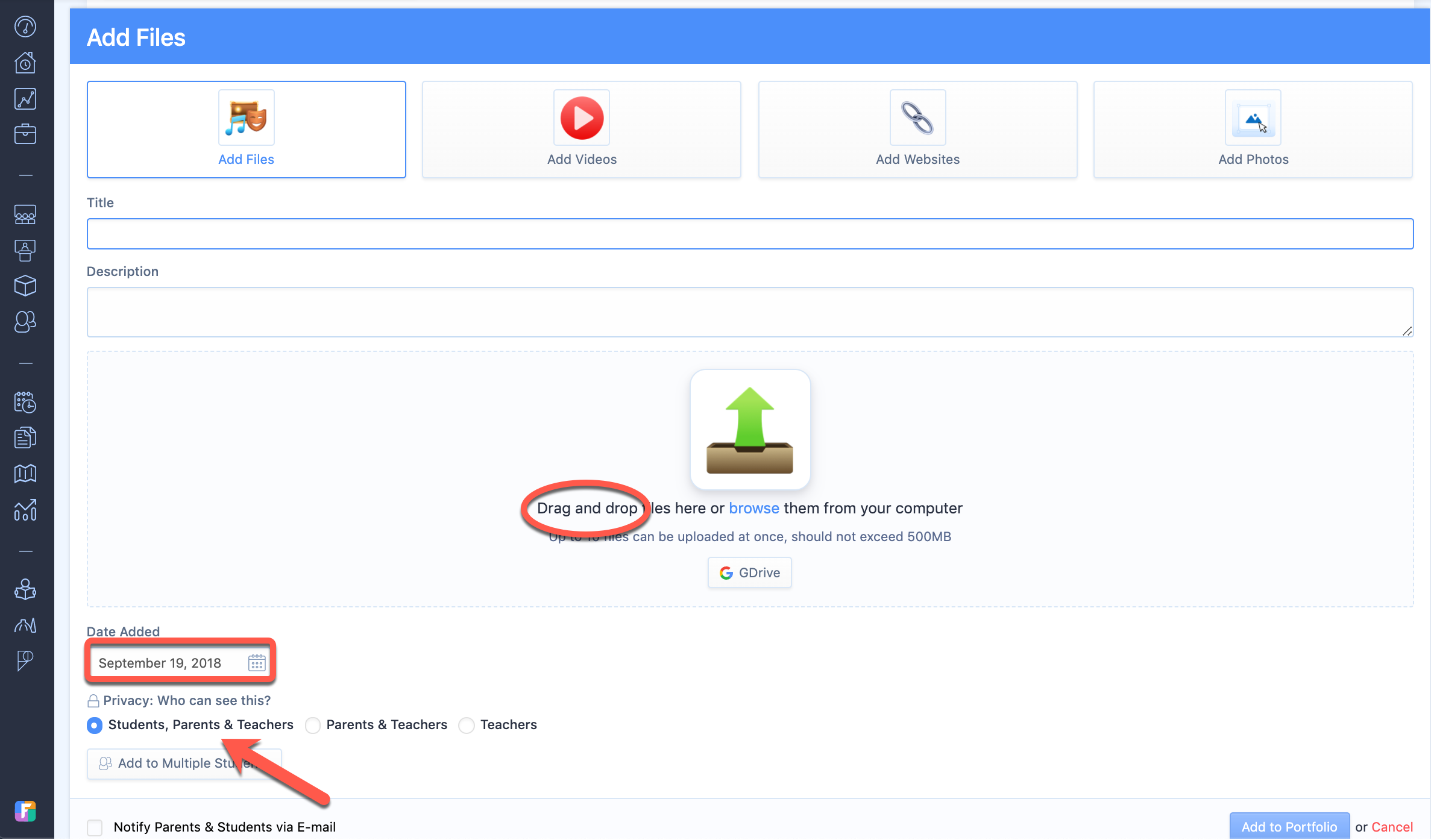 Drag and drop to attach files and photos from your desktop.
Teachers are able to select for which date they want the timeline items to appear. This allows resources to be added retrospectively.
Authors of items can control which items are visible for types of other users via the Privacy options when adding items.

Homeroom Advisors can also add items to Multiple Students if files need to be available for several students at once.
Parents and students can be notified via email of any items added to the Portfolio.
Note: There is no limit to the number of resources added, however each file must be less than 500mb.
Add Learning Goals
Goals can be added for students to target, with the ability to check them off as achieved, and contribute badges to the Portfolio timeline. Optional guidance is provided.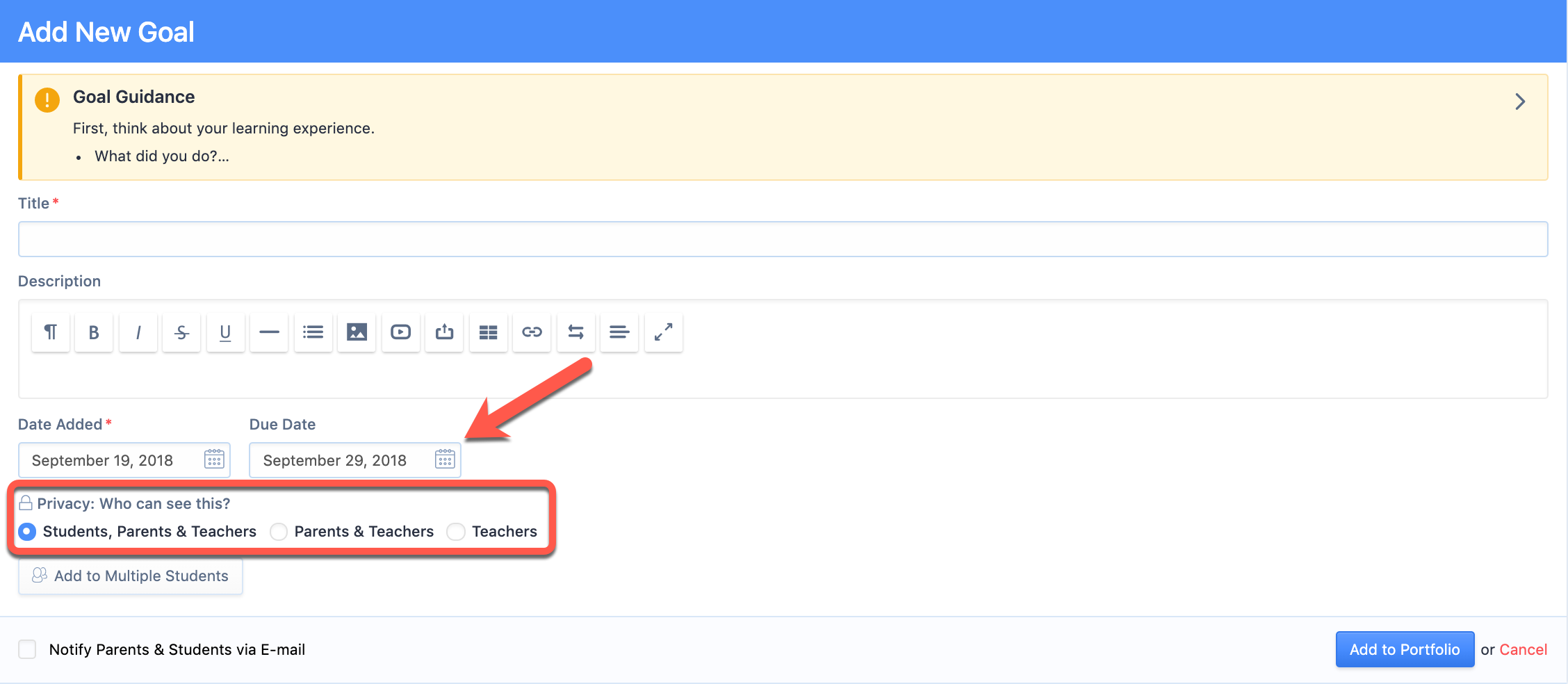 Both Teachers and Students can set goals. Parents, Teachers and Students can comment and like the goals.
Goals can include a due date for students, independent of the creation date.
Teachers can set internal goals that are not visible to students and or parents.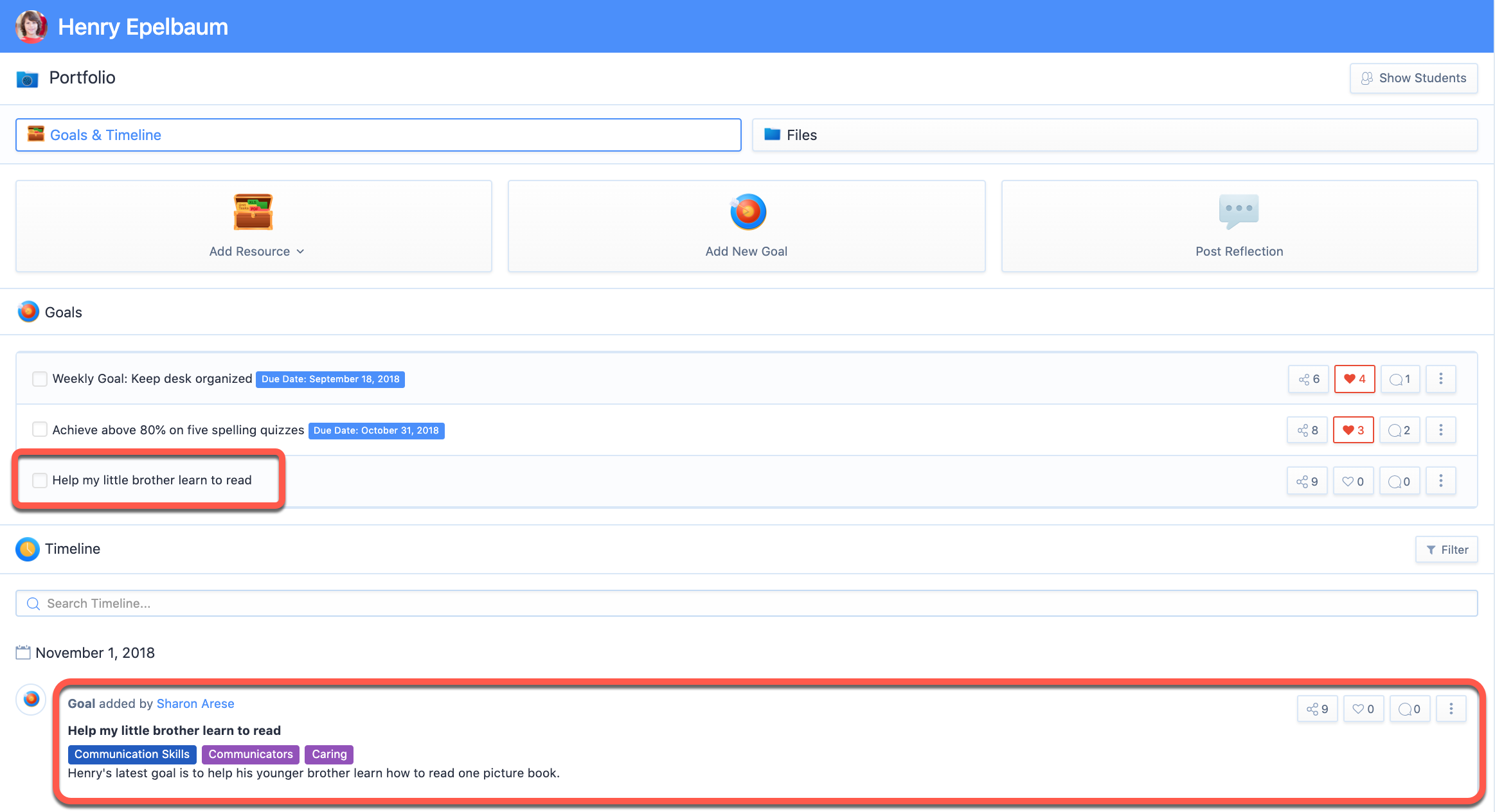 Add Reflections
From basic text entries to formatted multimedia submissions. Optional Guidance is provided.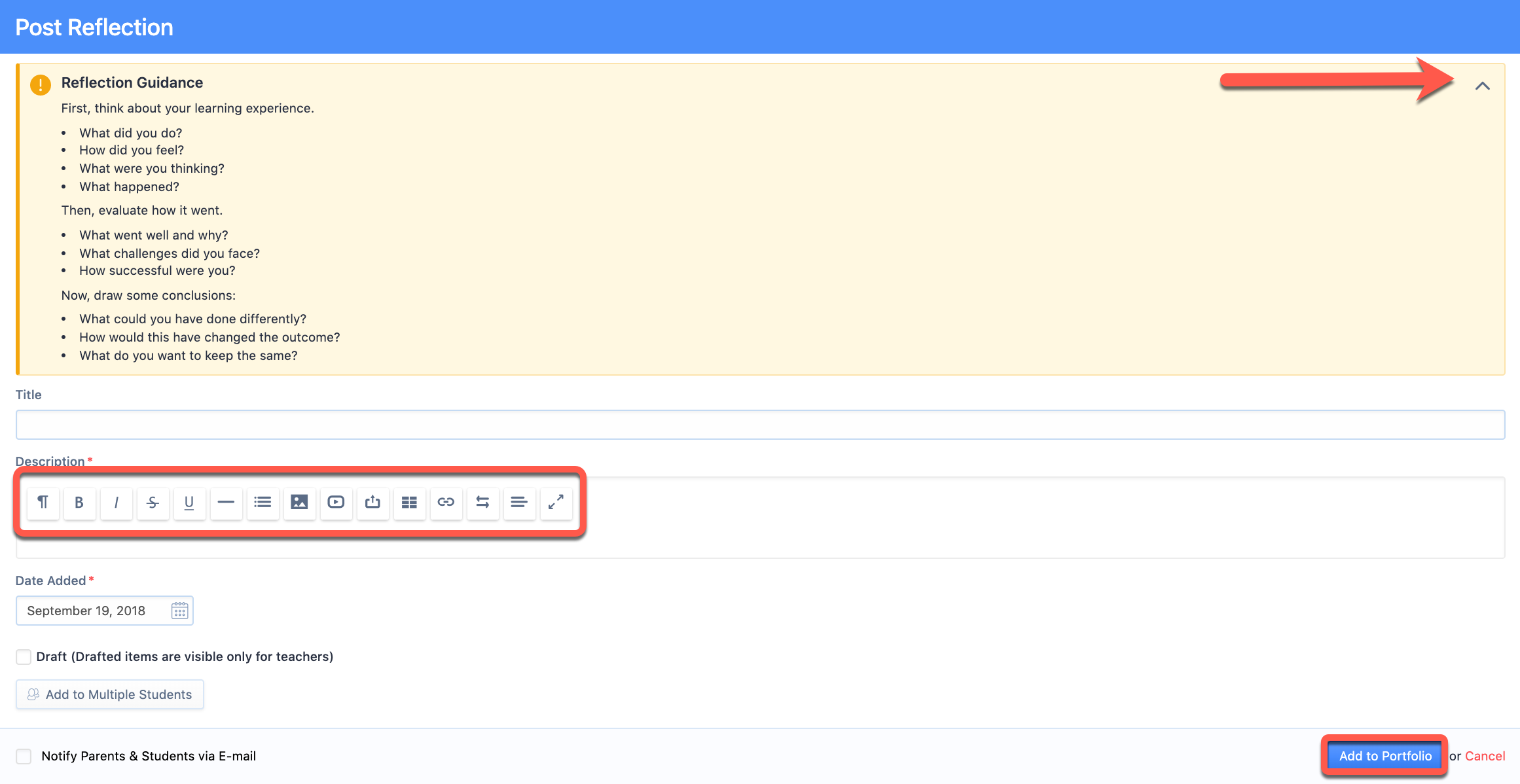 Reflection text boxes support full rich-text editing, meaning the ability to format text, include videos and files, adjust text direction and include hyperlinks.
Reflections can be marked as Drafts.
Expand the text box full-screen for lengthier entries.
Bulk Portfolio Options
Teachers assigned to at least one student as Homeroom Advisor and Administrators can bulk create Portfolio Items from the Portfolio Roster.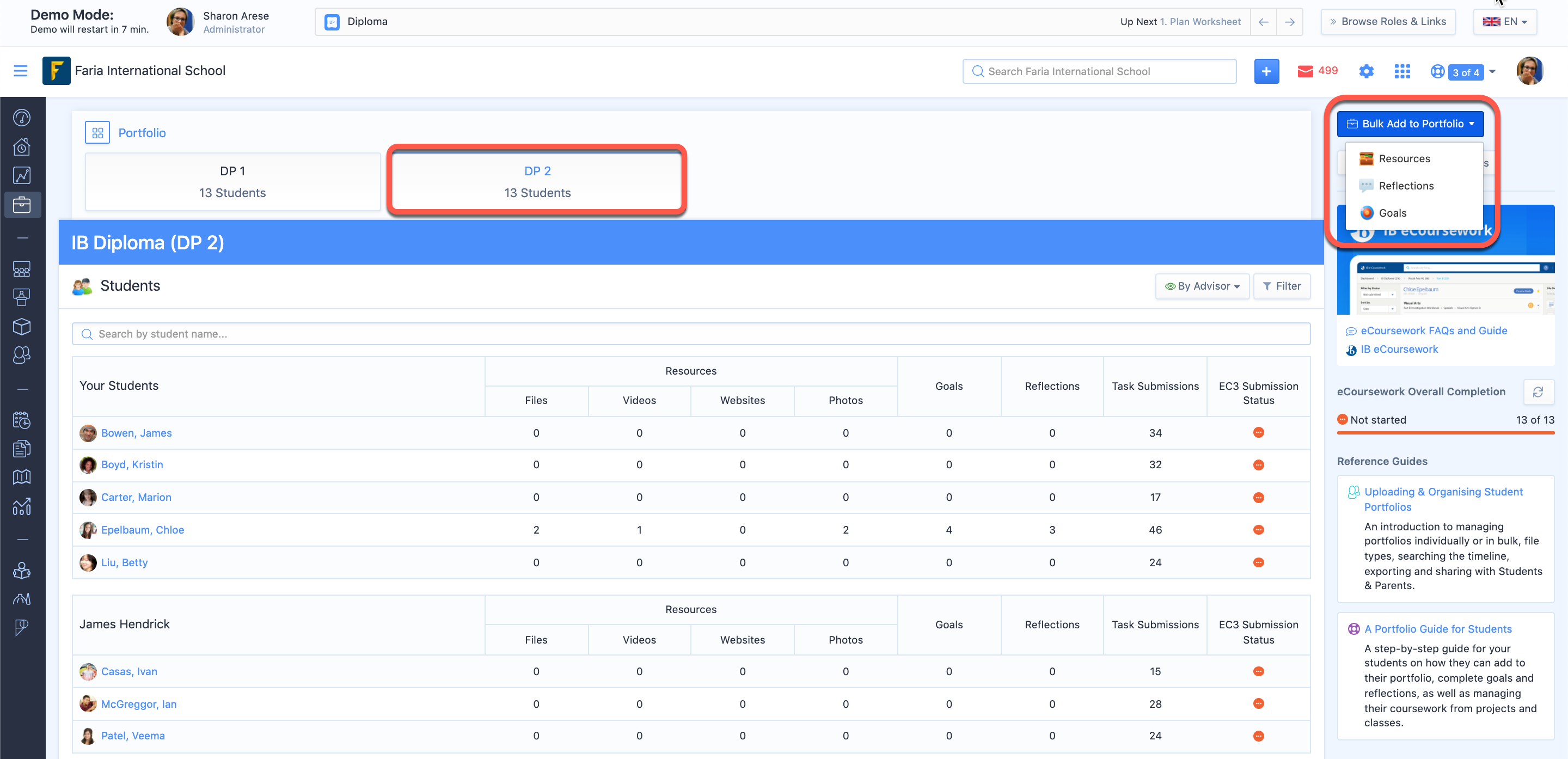 Select a Programme and Year to add Bulk Portfolio items from the right navigation panel.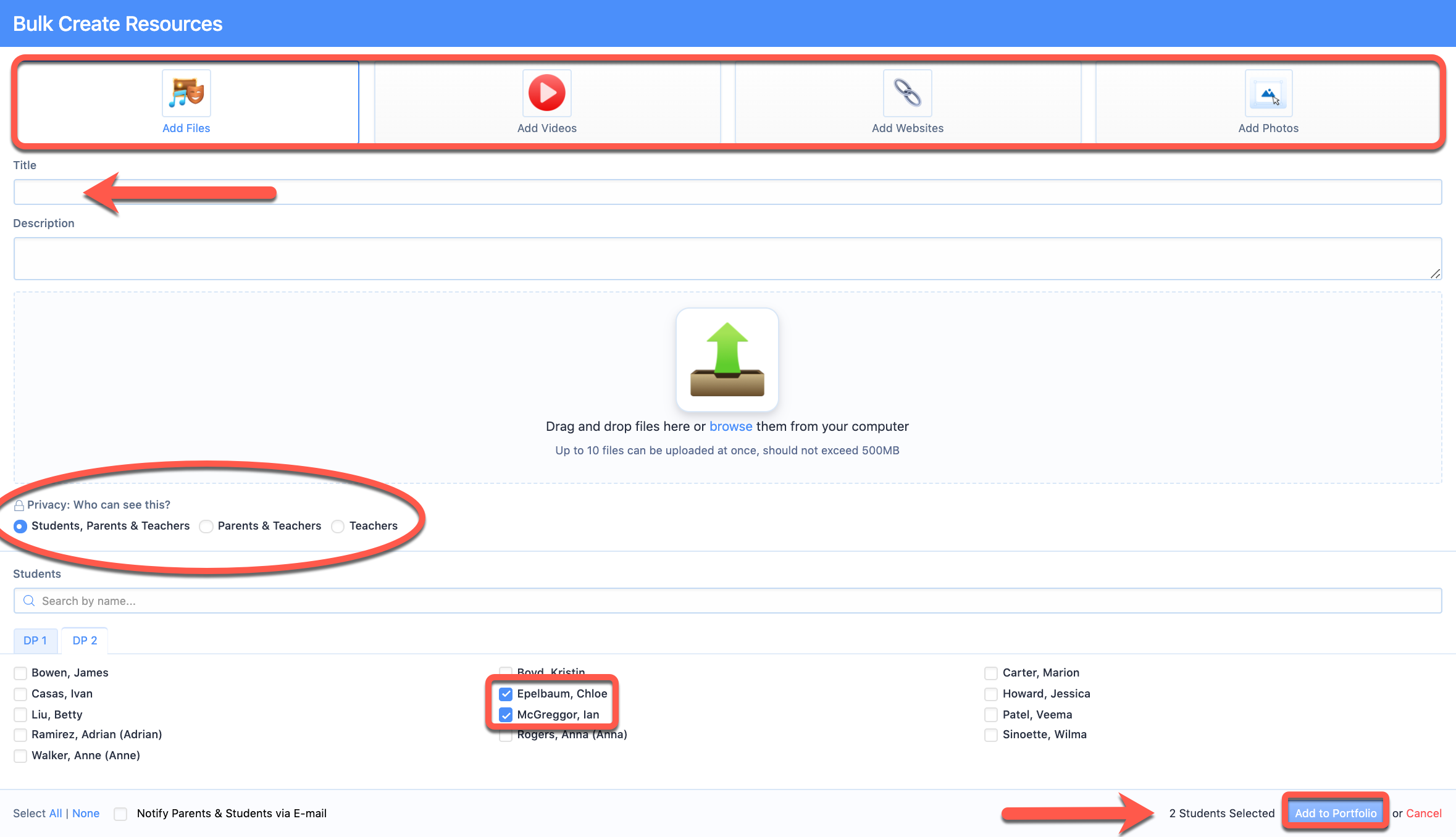 Depending on the item you are adding, additional type options will be available at the top of the page.
Enter a Title for the item to be added
Browse from your computer or drag and drop into the upload space.
Control who can see the items with the Privacy options.
Tick the student name you wish to add the item to their Portfolios for. A total count is given at the bottom right.
Portfolio User Permissions
Students & Parents can be given access permissions to contribute the student's portfolio, and develop further engagement with the student's learning journey. These permission settings are controlled via Settings > Select Academic Programme > Portfolio > Access & Permissions.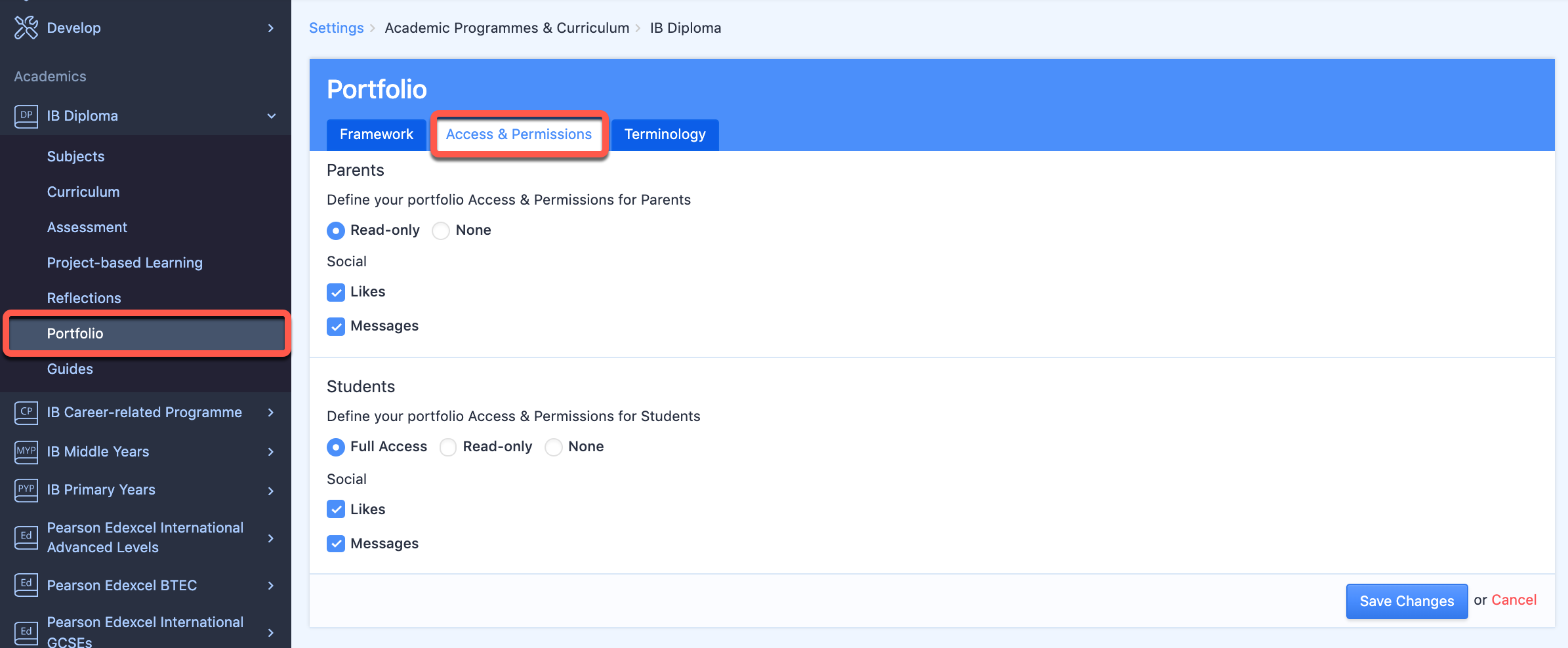 Students
Students can access and add to their Portfolio via the left-hand menu > Portfolio. Students are only able to view content from their own portfolios.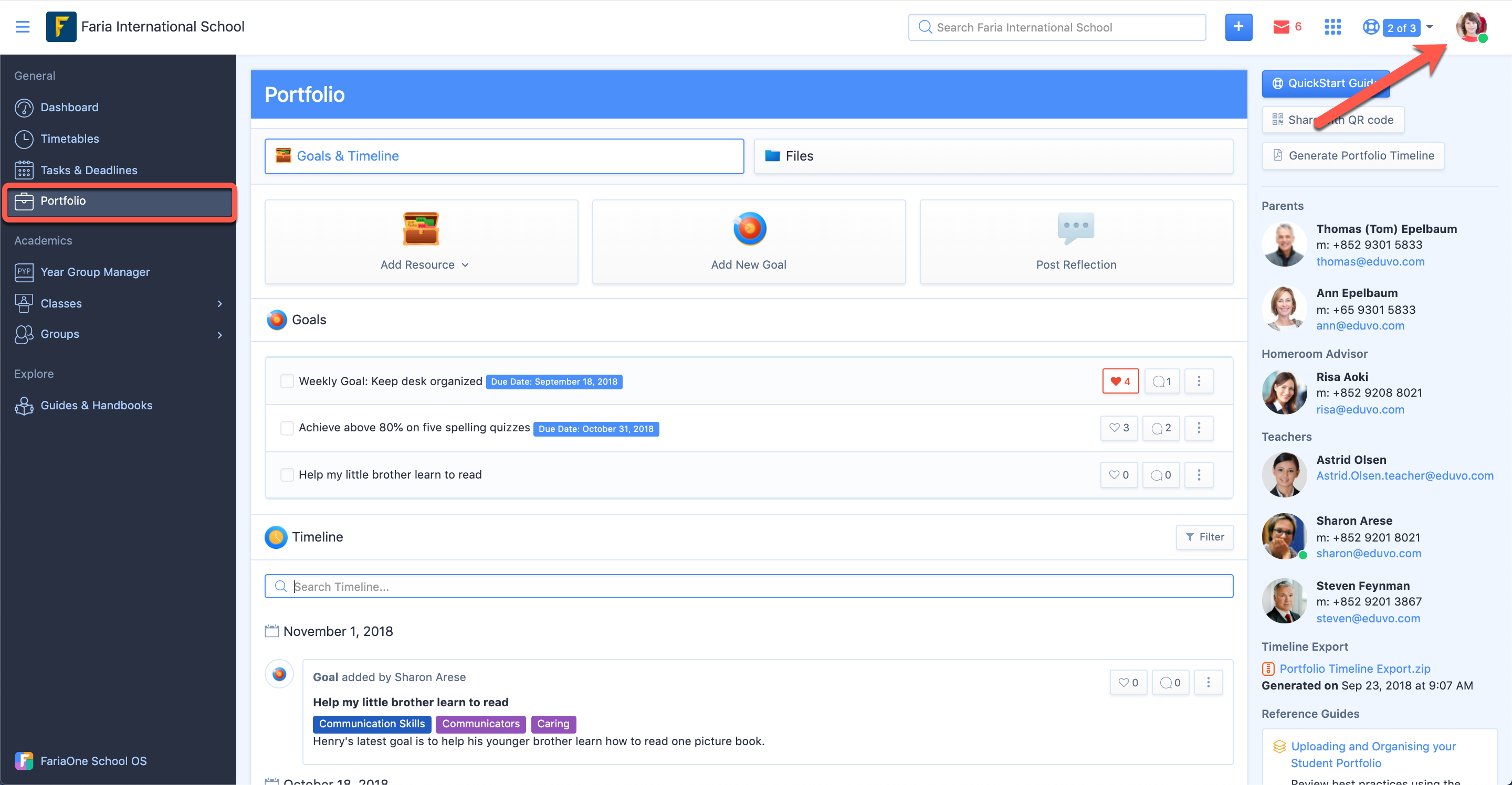 Ability to post on their Timeline. Set and complete Goals, as well as add Reflections.

Ability to upload and edit their Portfolio submissions (Photos, Files, Video, Website)




Ability to add likes and comments to Timeline items.
Parents
Parents can access and engage with their children's portfolio via the left-hand menu > Portfolio. Parents are only able to view content from their own children's portfolios.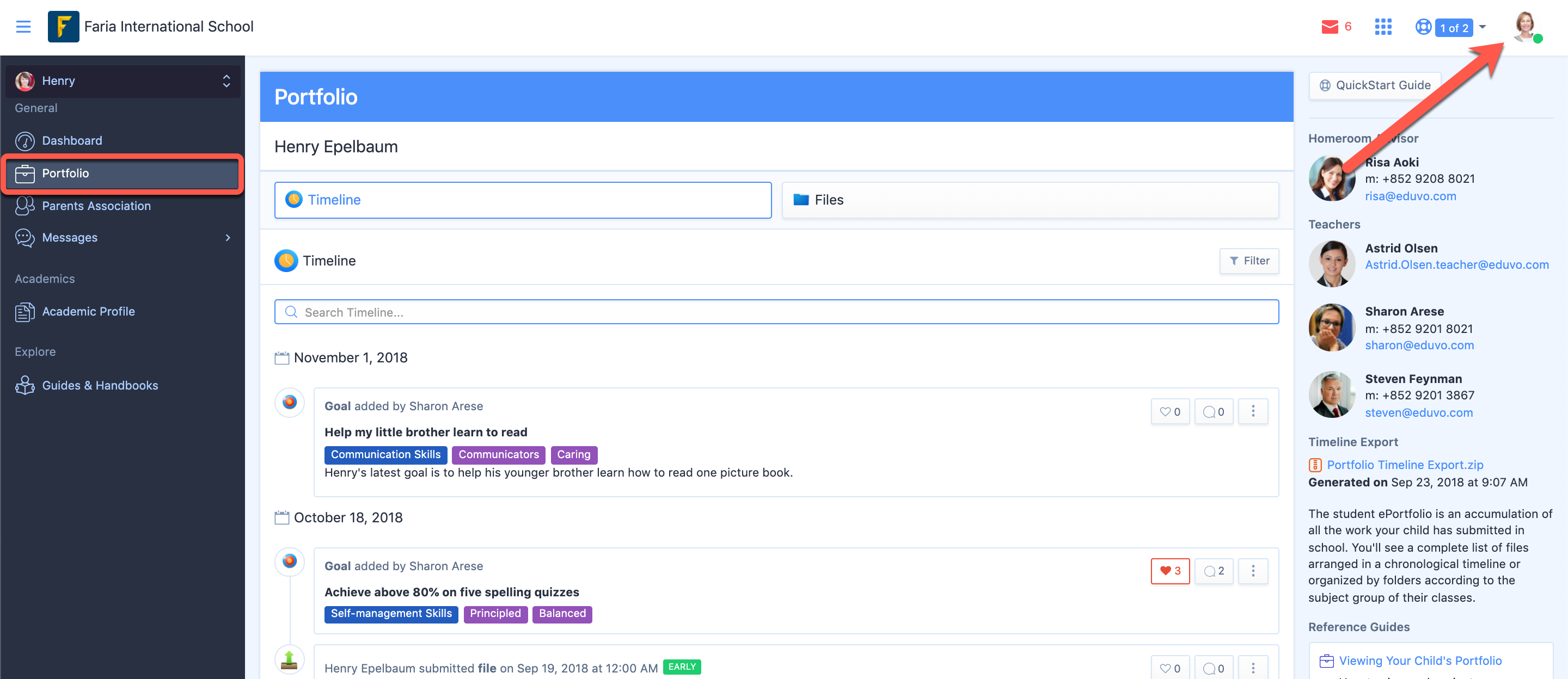 Ability to leave comments and likes on the Timeline.

View only permissions without the ability to edit content or set Goals and post Reflection to the Timeline.
Portfolio FAQs
Q: Can students upload work to their ManageBac portfolios or must this be done by staff?
A: Students can upload work to their ManageBac Portfolios. See here for a student guide on uploading ManageBac portfolios.
Q: I noticed there are two tabs on the portfolio - 'Goals & Timeline' and 'Files'. Does it matter where I upload student work to?
A: Files from either tab can be dragged from ManageBac into IB eCoursework, but we recommend to upload anything considered as eCoursework to the Files as here you can organise student work by subject group. (see below).

Note that if your school is already using ManageBac for class management, any assignments that students have uploaded to their subject classes as well as any documents added to the student's CAS, EE and TOK worksheets are automatically organised here.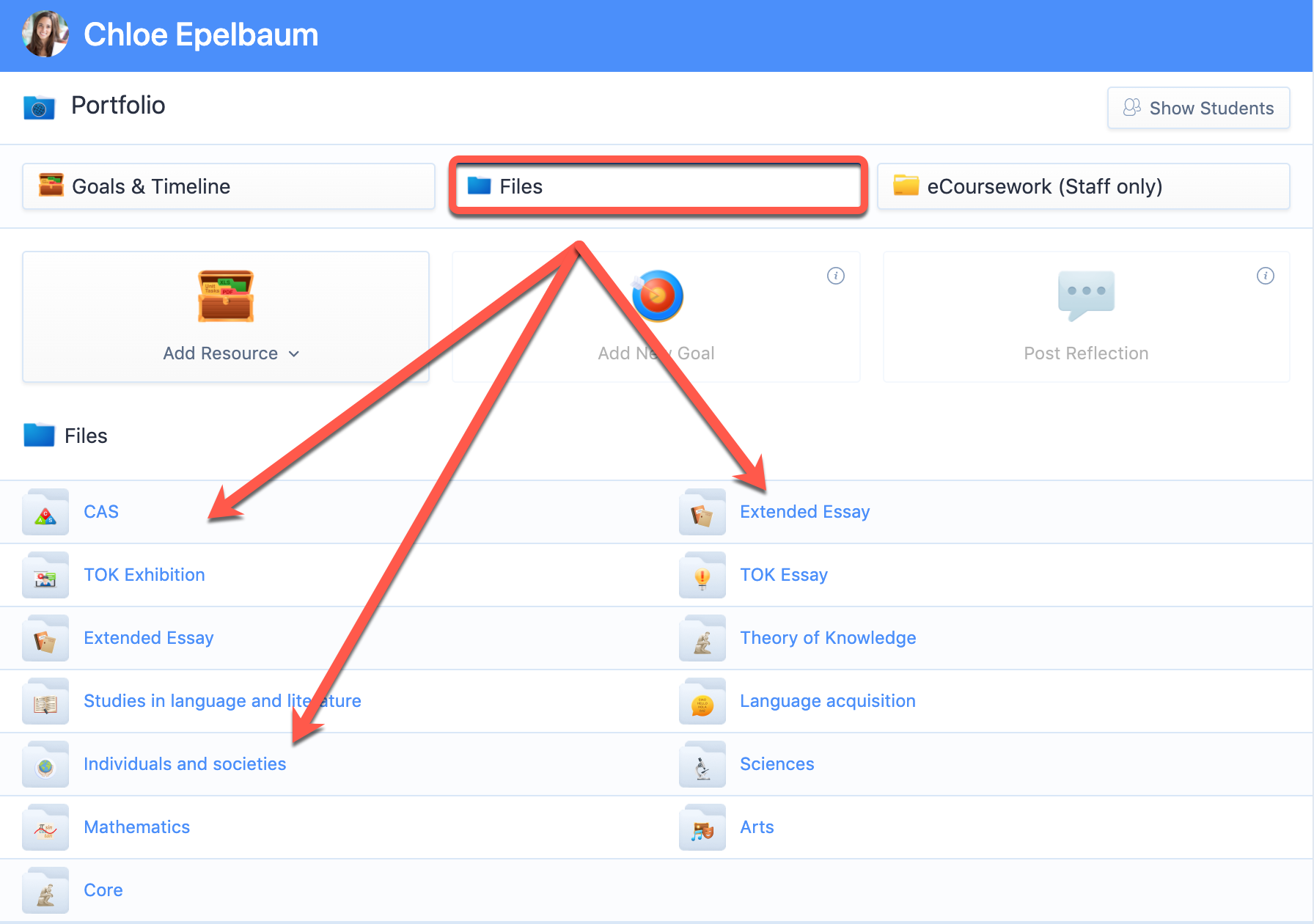 Q: Is there a mobile app where I can work to student portfolios via the iOS or Android app?
A: ManageBac is available on iOS as well as Android devices and can be used to upload files from an iPad or phone. You can download the iOS app via the Apple App Store and the Android app via Google Play Store.
Q: I noticed our IB School Code is wrong on ManageBac. How can I update this?
A: If you notice that your school code is incorrect on ManageBac, please contact support@managebac.com. ManageBac eCoursework integration will not work if the school code is incorrect.
Q: Is it possible to send messages to all students by year level?
A: Yes, you can send messages to all students using the Year Groups Messages function. Navigate to Year Groups > Select a Year Group > Click the Messages > click Post Message (see below).