The guide above provides an overview of ManageBac account setup and maintenance for Curriculum-First curriculum, which include Cambridge Advanced, IGCSEs and Lower-Secondary, Pearson Edexcel A-Levels & International GCSEs, and Advanced Placement.
The steps should be completed by an Administrator user, generally your Programme Coordinator and/or Tech Director
Following on below is a feature overview of ManageBac for UK, US or National Curriculum, to make sure you get the most out of ManageBac!
Designed for the modern International School.
All-in-one curriculum planning, assessment, and report cards for multi-curricula international schools
Supporting all major curricula including Cambridge, Edexcel and American Curriculum with the flexibility for schools to design their own curriculum
Integrated remote learning and communications to support learning in different settings and Unified Family Experience
Students gradually build a digital portfolio over time as they submit coursework into their classes for individual assessments.
Track Progress

Track the progression of a student's core values and focus area through their learning goals and submitted work

Centralise Coursework

All submitted work is automatically grouped into subjects with learning goals

Export Locally

Portfolios can be exported as PDFs or synced to our partners when taking the next step in your students' learning journey
Bring your curriculum to life with a unified remote learning platform on ManageBac with built-in Zoom, AssessPrep, and KeyChat integrations.
Design
Three pillars supported by PD & best practices:
Teaching & Learning

Seamless Online Lesson delivery with Zoom and Presentation Mode

Communication

Whole-school communication with KeyChat

Engagement

Engagement analytics and automated reminders with weekly digests
Collaboratively plan your curriculum with real-time unit planners, integrating assessment and learning experiences with a flexible unit template editor and the world's largest collection of academic standards & benchmarks.
Collaborative Curriculum Planning

Collaboratively create, edit and share unit planners across year levels in real-time

See the Big Picture

Browse whole-school curriculum and analytics to track coverage of concepts and skills

Resources

Embed notes, files, photos, videos and websites with our drag & drop Stream & Resources
C1 Unit Planners
The C1 unit planner allows you to collaboratively organise and plan your curriculum with resources.
Academic Standards & Curriculum Updates
We have added over 607 sets of academic & accreditation standards and benchmarks for our schools comprising the world's largest indexed collection of over 1.5 million fully-licensed academic standards.
ManageBac C1 supports effective implementation of your chosen curricula:
When you create a class, you choose from pre-built subjects linked to exam paper codes, which allow teachers to collaboratively share curriculum, resources, tasks and assignments effortlessly
Differentiation is supported naturally (i.e. Extended and Core classes) allowing units, resources and assessment tasks to be taught separately
When a curriculum review occurs, changes are automatic, saving schools countless hours each year and ensuring that curriculum is accurate & up-to-date
Transition years, when curriculum reviews go into effect, are managed seamlessly, e.g. Year 12 will teach a new subject guide, while Year 13 remains on the old curriculum
Classes
Staff can view events, tasks, deadlines, exams, and entire calendars by year group, individual class or activity group (i.e. Basketball Club). Students also have access to their own calendar, which is populated with their assignments and activities, and updated in real-time.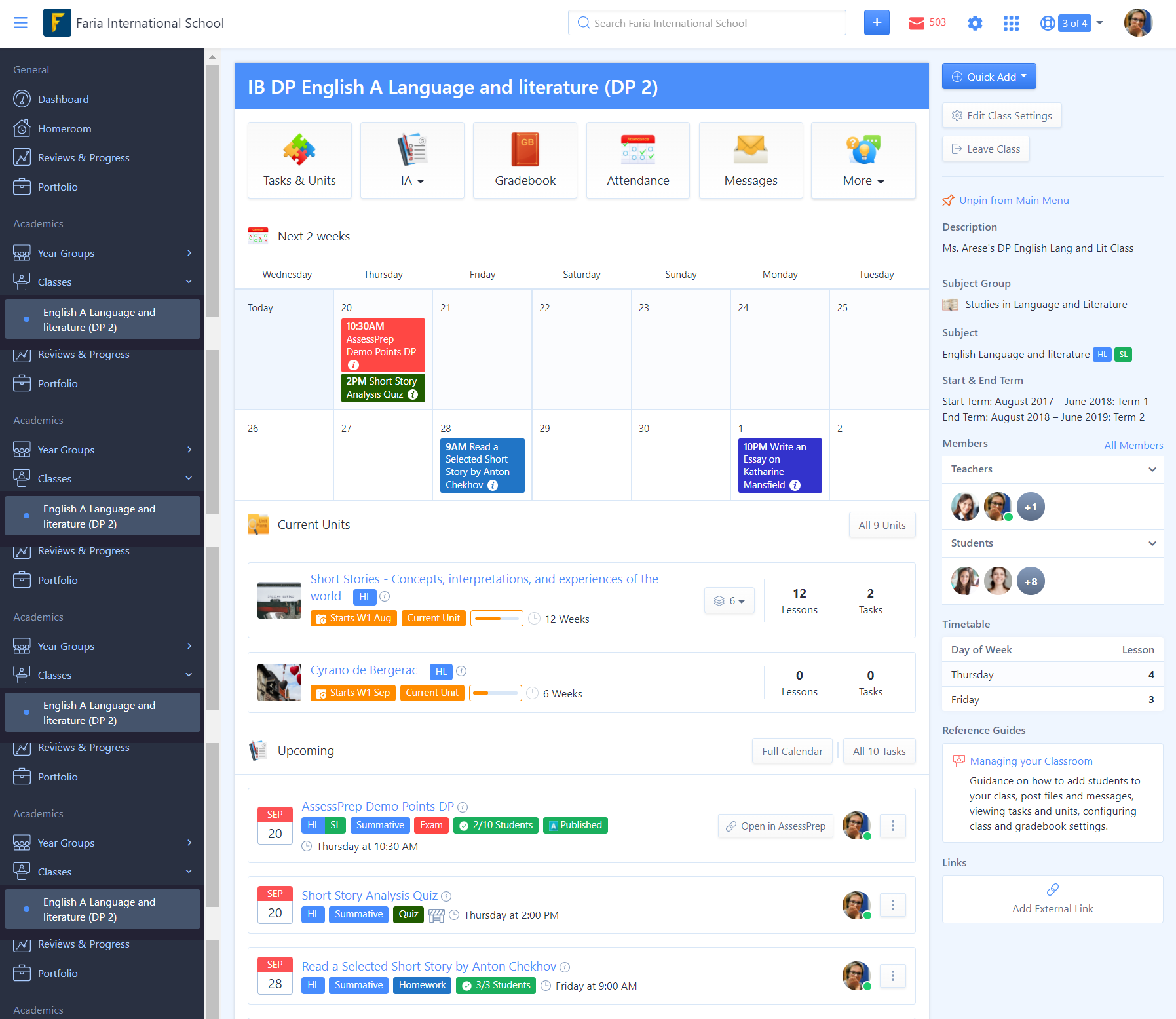 Tailored for the unique needs of international schools, our systems provide customisable gradebooks, built-in assessment and annotation tools, as well as integrations with Google Docs for coursework submission and TurnItIn for plagiarism prevention.
Provide students & families with a consistent, modern and intuitive user experience from initial inquiry to enrolment and school life & beyond.
Teaching & Learning

Our core teaching and learning offering improves the classroom experience for teachers and students with curriculum planning, assessment and reporting and academic management

Admissions & Enrolment

OpenApply, our School Admissions Management System is integrated with ManageBac and supports your entire family throughout the admissions and enrolment process. Streamline family information updates, confirm re-enrolment, and complete the application process for siblings all in one place

Communications

Streamlined communications & notifications support the school-to-home experience as well as increase student and teacher engagement

SchoolsBuddy

Our Extra-Curricular and Activities Management System, is integrated with ManageBac and allows schools to easily book & manage activities and parent-teacher conferences alongside an advanced payments solution supporting student life beyond the classroom