Creating Google Doc Tasks
Via Classes > Add New Task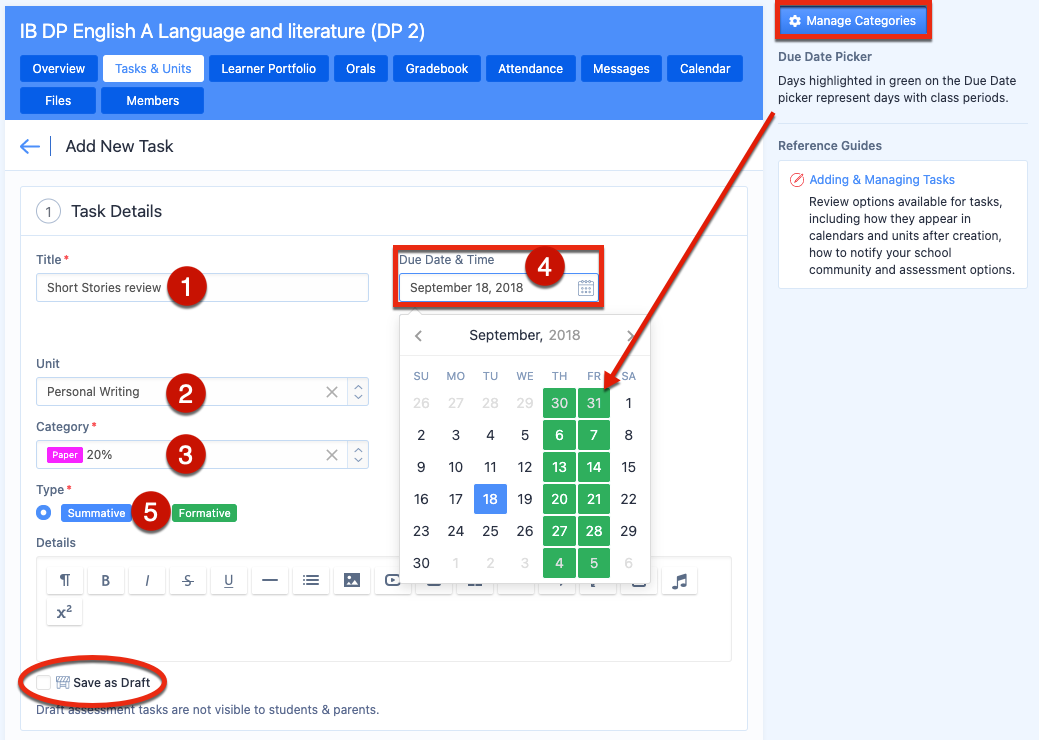 Navigate to Class > Tasks > Add New Task
Complete the necessary task information:
Name
Unit
Category
Due date and time
Type
Assign GDoc Task Templates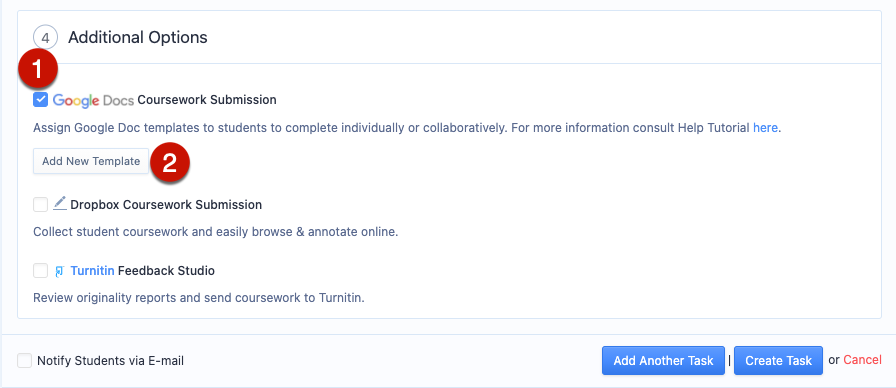 Enable Google Drive Coursework Submission
Click Add New Template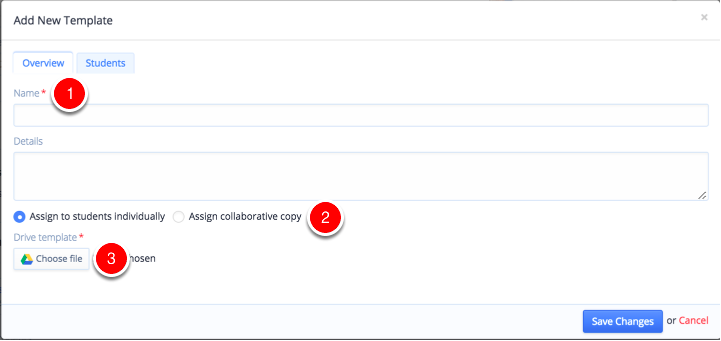 Add Name
Select Assign to students individually or Assign collaborative copy. Individual assignment will create a copy for each student, while collaborative assignment will create one singular (shared) copy of the template for all students to contribute to.
Use the Google Drive file picker to select a template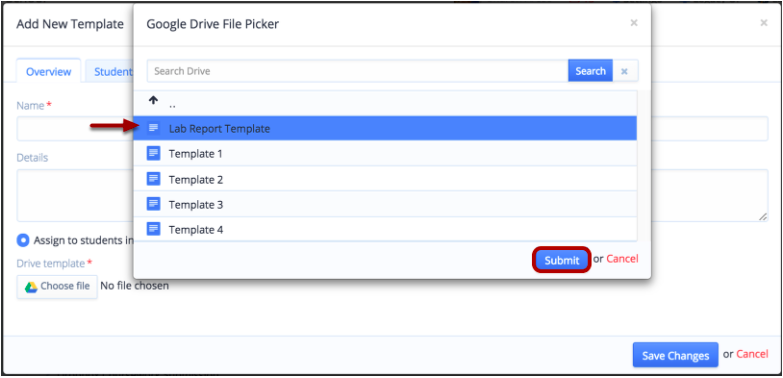 Navigate the school Google Drive account via the File Picker and select the desired template and click submit.

All students will be selected by default but they can be toggled off if needed. Use the All or None shortucts to make quick changes. Afterwards, click Save Changes.
Additional templates can be added by clicking Add New template. Current templates can be edited or deleted using the icons and the template can be opened using the Google Drive logo.
Once all templates are added click Save Changes to create the Task.
Managing Google Doc Tasks
Via the Task View
After creating a task with GDoc templates each student will be able to access it through the GDoc editor within MB if their Google Drive account e-mail address matches the e-mail address in their ManageBac Profile. Students should be logged in to their Google Account in their browsers when accessing GDoc templates in ManageBac. If they are using the ManageBac app, students will need ensure that they are logged in to their GDrive app on the device with the same account as their ManageBac email address.
Until the students open the Task the status will be reported as Waiting afterwards it will be set to In Progress. Lastly, after the GDoc file has been submitted the status will change to Submitted.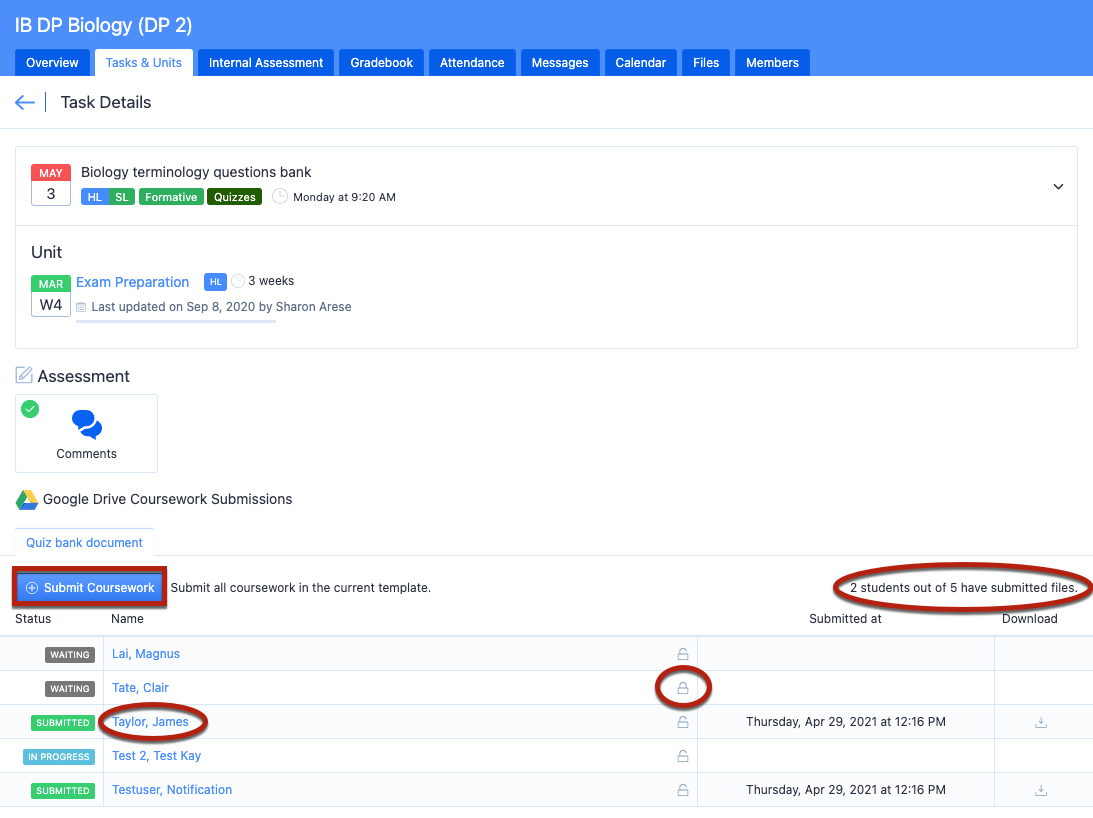 Clicking on the student name will open the GDoc Viewer and Annotations tab in split screen view.
Teachers can lock individual student submissions independently of the submission status of the GDoc template using the lock icon.
You can also bulk force submit all GDocs in a template via the Submit Coursework button below the template title. This will revoke writing access to the GDoc template for all students. Teachers can reset individual student's Coursework submissions so that students can continue to access and edit the GDoc Template.
Annotating, Google Doc View and assessment via split screen view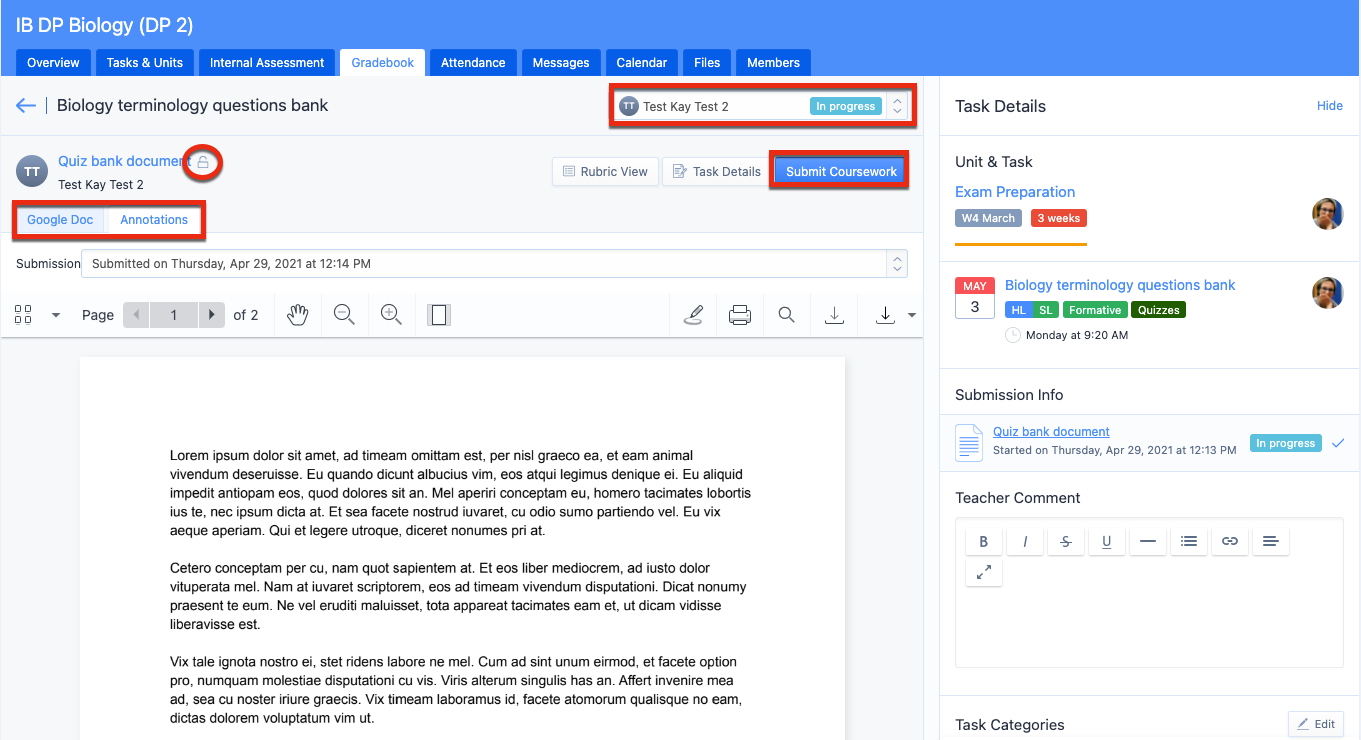 Teachers can switch between students using the top right dropdown menu. The menu will show student submission status for each template in the task.
Switch between Google Docs and Annotations view below the student name on the left to either directly access the GDoc or annotate a PDF version of the submitted documents. The PDF annotated version will appear on the students' portfolio Timeline as task submission.
Teachers can also lock or unlock or Submit and Reset the GDoc Template for individual students.
The right panel fo the split screen view shows submission details, Task and Unit details as well as Assessment options for the Task.