Viewing & Adding to your child's Portfolio
If you have multiple students linked to your account, you can toggle between their accounts by selecting the Student's name in the top left corner of your Dashboard.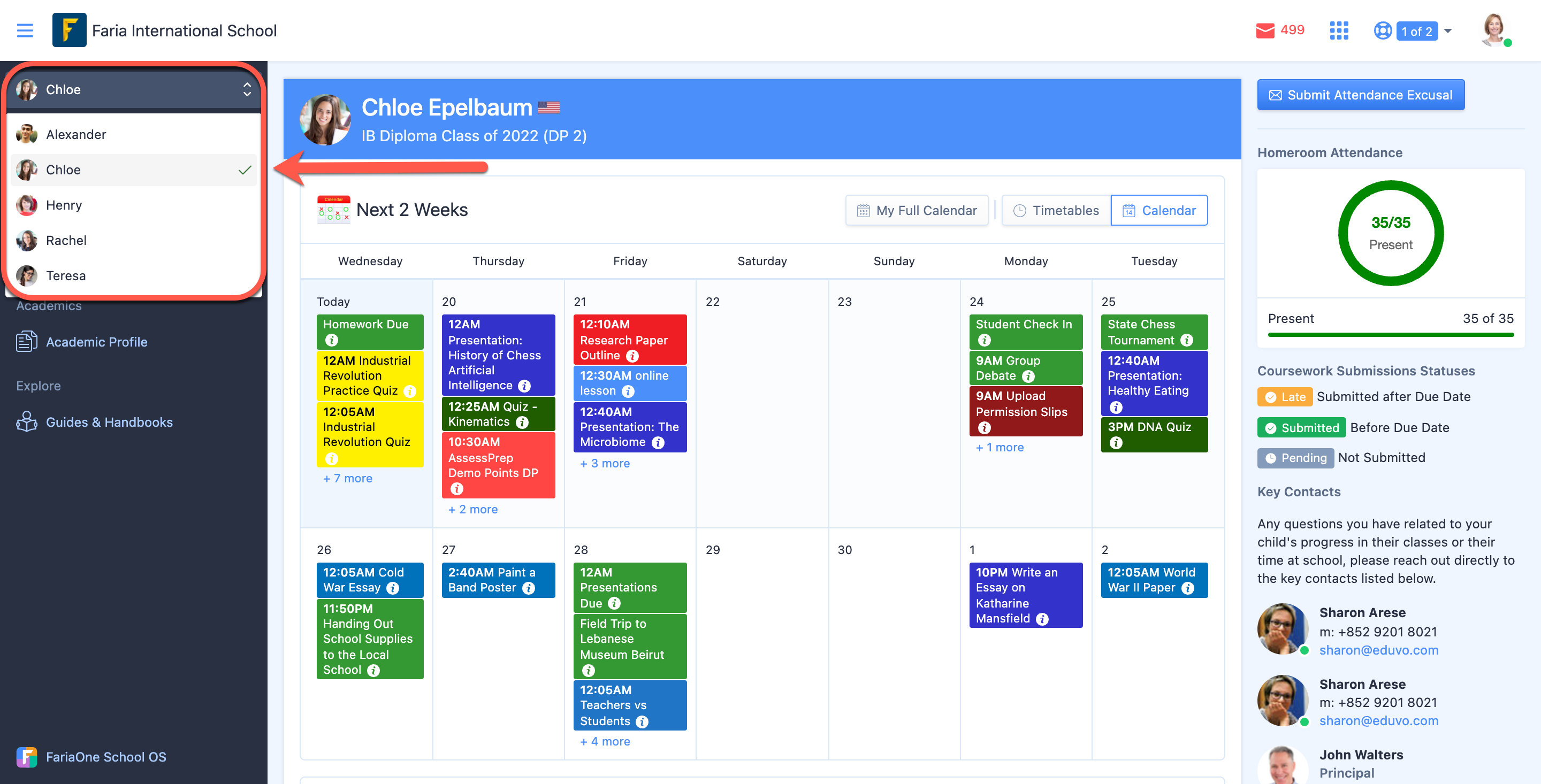 Via the Home page, you can also select which student account to display.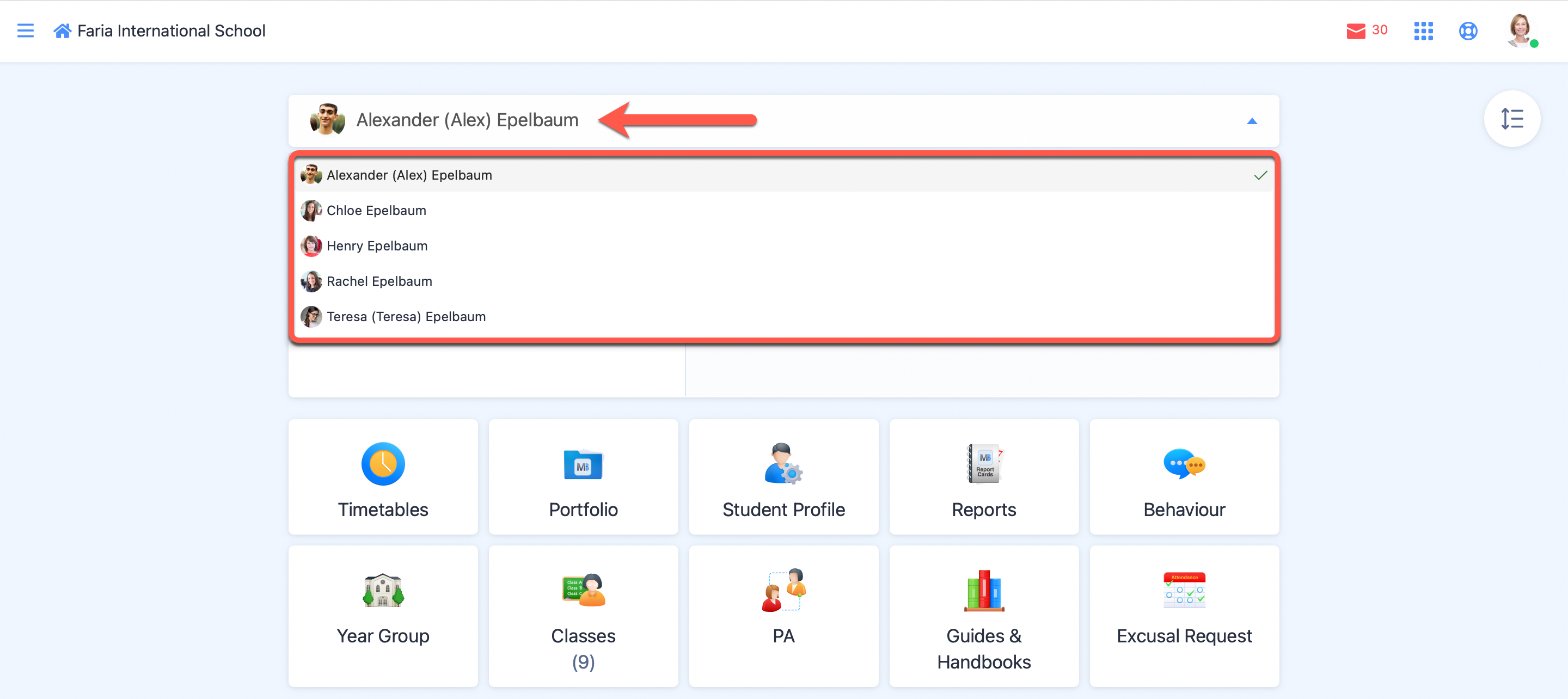 Click the Portfolio tab to access your student's Portfolio Timeline. The Portfolio provides a centralised location of coursework they have uploaded within their classes to assessment deadlines, as well as project submissions or direct uploads to the Portfolio itself.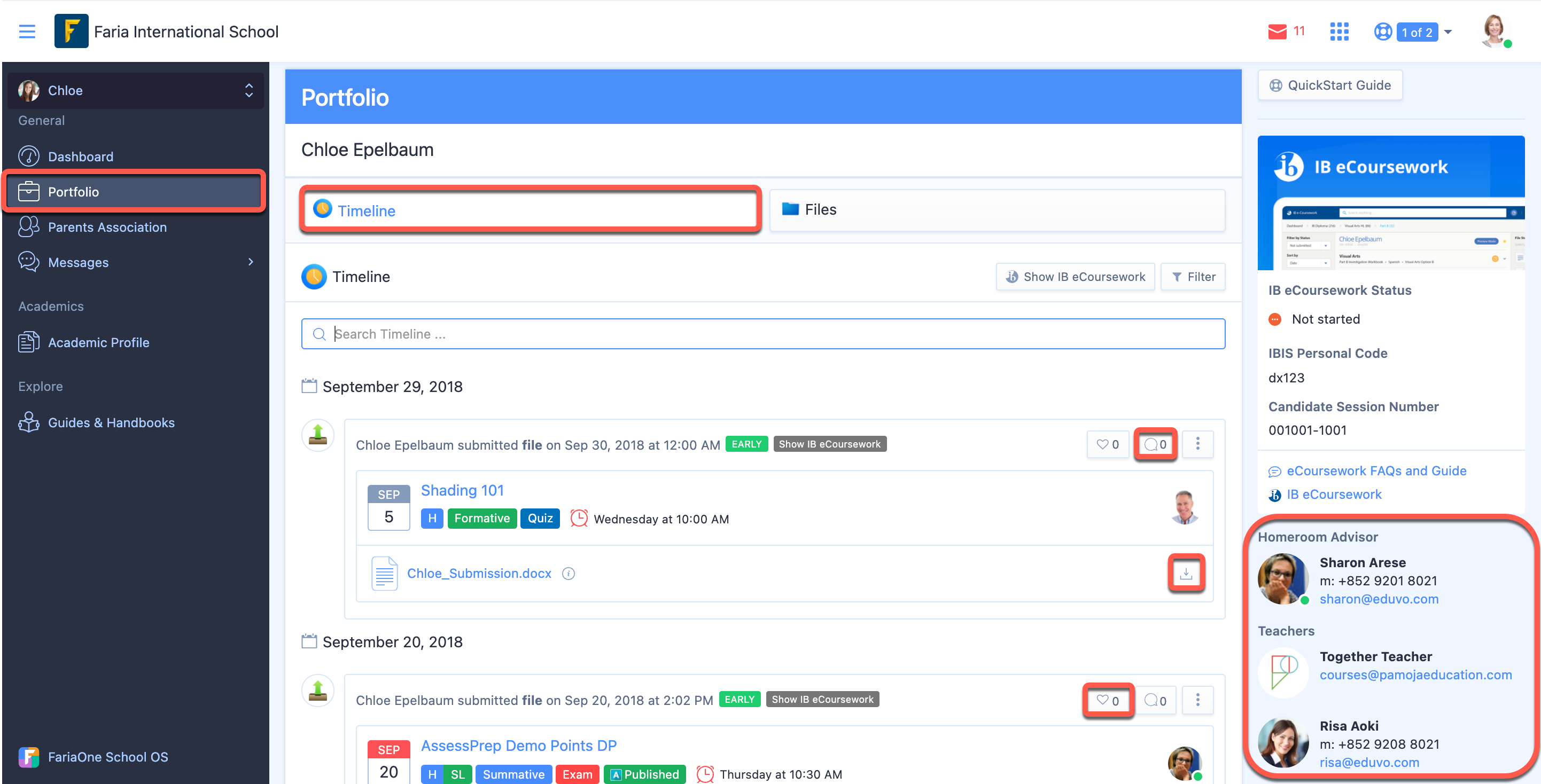 You can download any files via the download button on the right of each file.
If the school has set permissions for parents, you can comment or like items on the Timeline.
You will see all contributors on your student's Portfolio on the right navigation panel listed. You can also react to messages and items on your student's portfolio.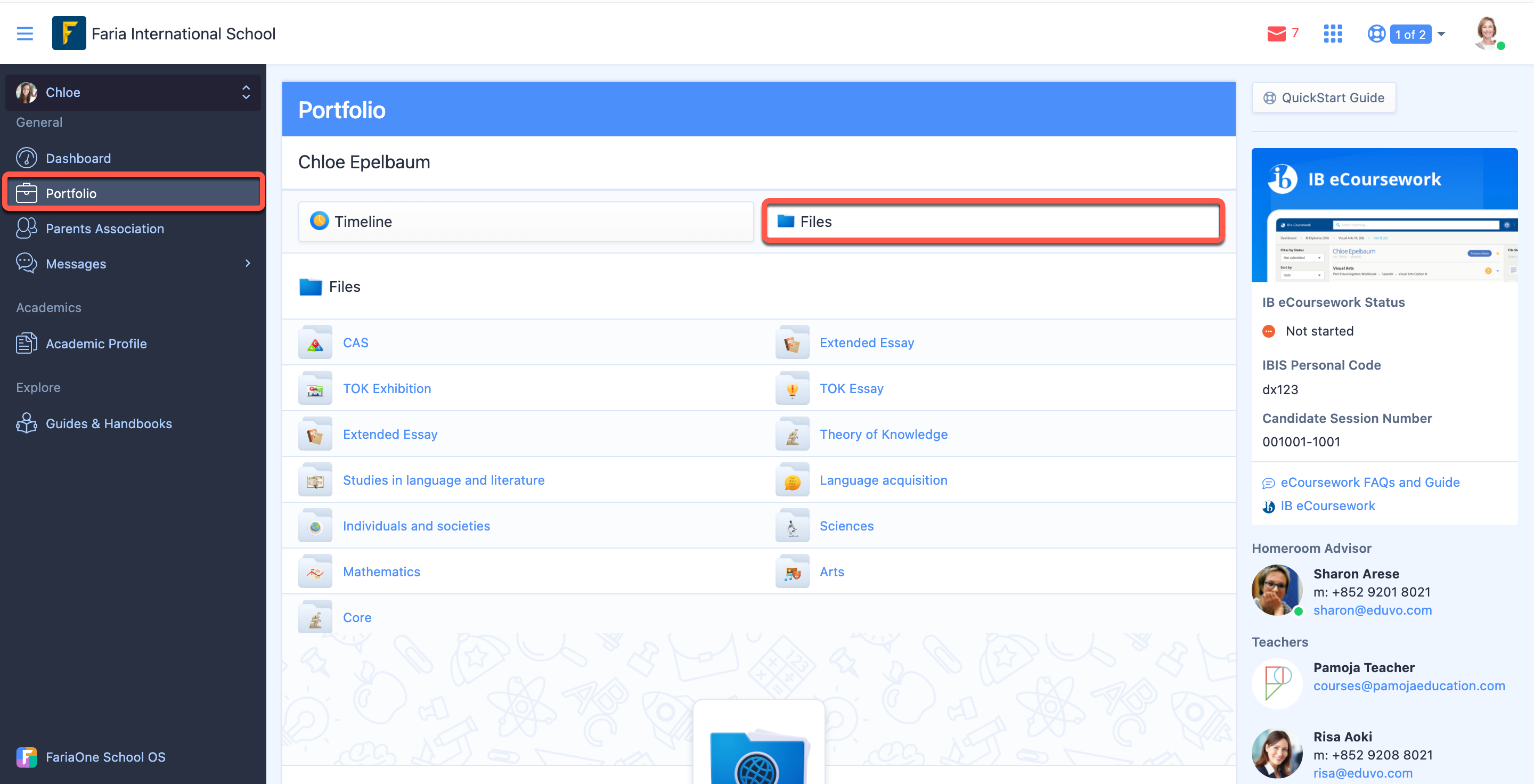 Click the Portfolio > Files tab to view work that your child has uploaded to their classes or programme components.
Viewing Task Coursework & Grades
Via the Academics tab
Click on the tiles of any class to view it in more detail.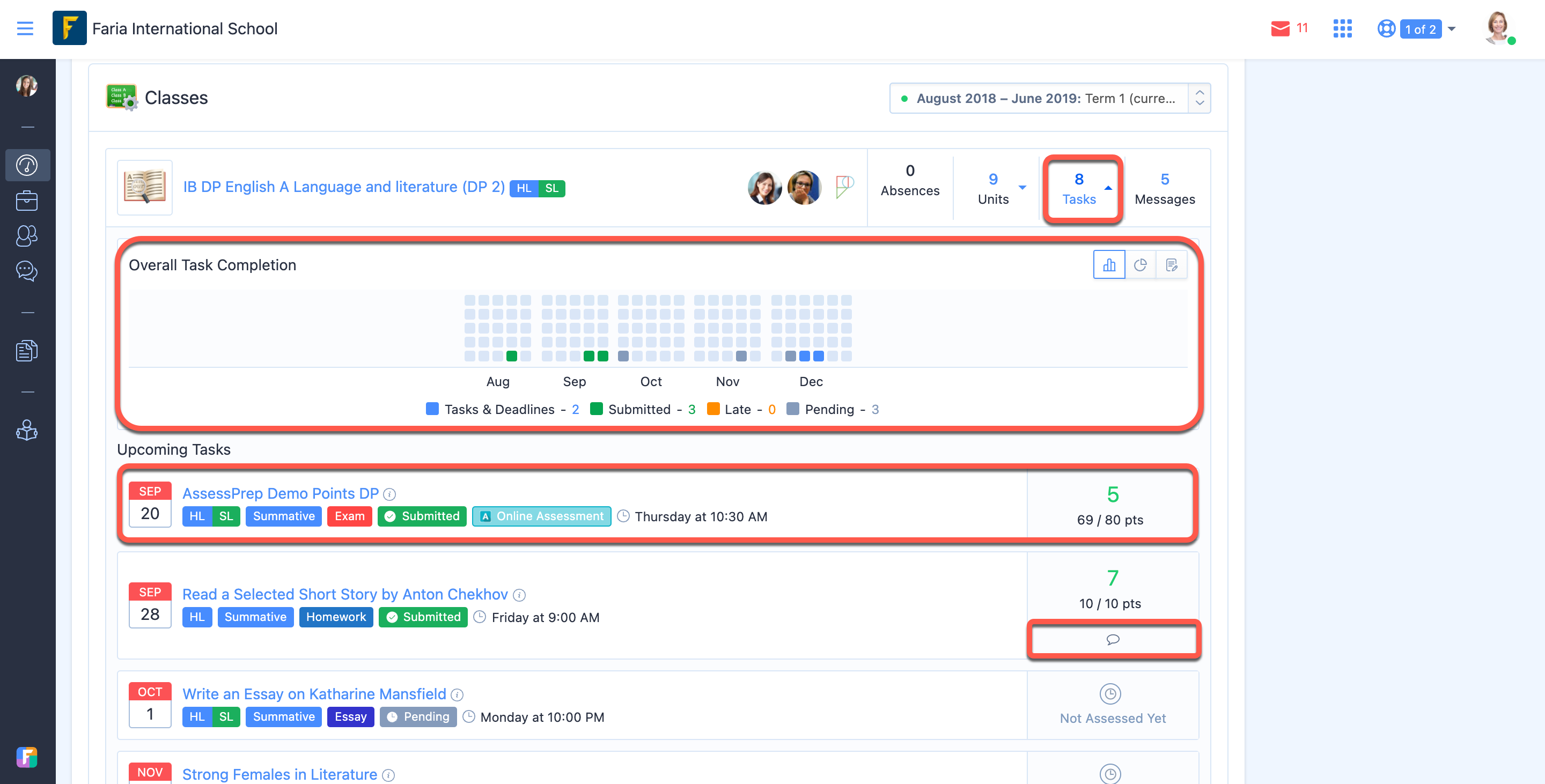 The Tasks tile will show a summary of your child's assessment in the class so far for the term. A bar graph charting their overall progress will be at the top. Below, you'll see their assessed tasks for the term, including the due date, their overall score and any teacher comments (hover over the speech bubble symbol to view comment).
A green Submitted tag next to the task category indicates your child has uploaded work. If you click the title of the Task, you will see a timestamp of when the work was uploaded.
No tag after the Task Category means no dropbox was enabled, which means the teacher did not require students to upload their work to ManageBac for this particular assessment task.
A grey Pending tag means no submission was made to the dropbox for the assignment yet.
A key explaining all the colours is shown at the bottom of the Overall Task Completion section.
If the school has opted to share Task Category averages with parents, you will see the averages calculated in the class for the term for your student on the right navigation panel in all non-MYP classes.
Viewing Report Cards & End of term Grades
Please note: Report Cards are an add-on module. The Reports tab will only be visible to you if your school subscribes to this feature.
Via the Academic Profile tab > Reports
Select the appropriate child from the top of the page (if you have more than one student registered on ManageBac) and select the Academic Profile tab from the sidebar on the left-hand side or from your Home page > Reports tab.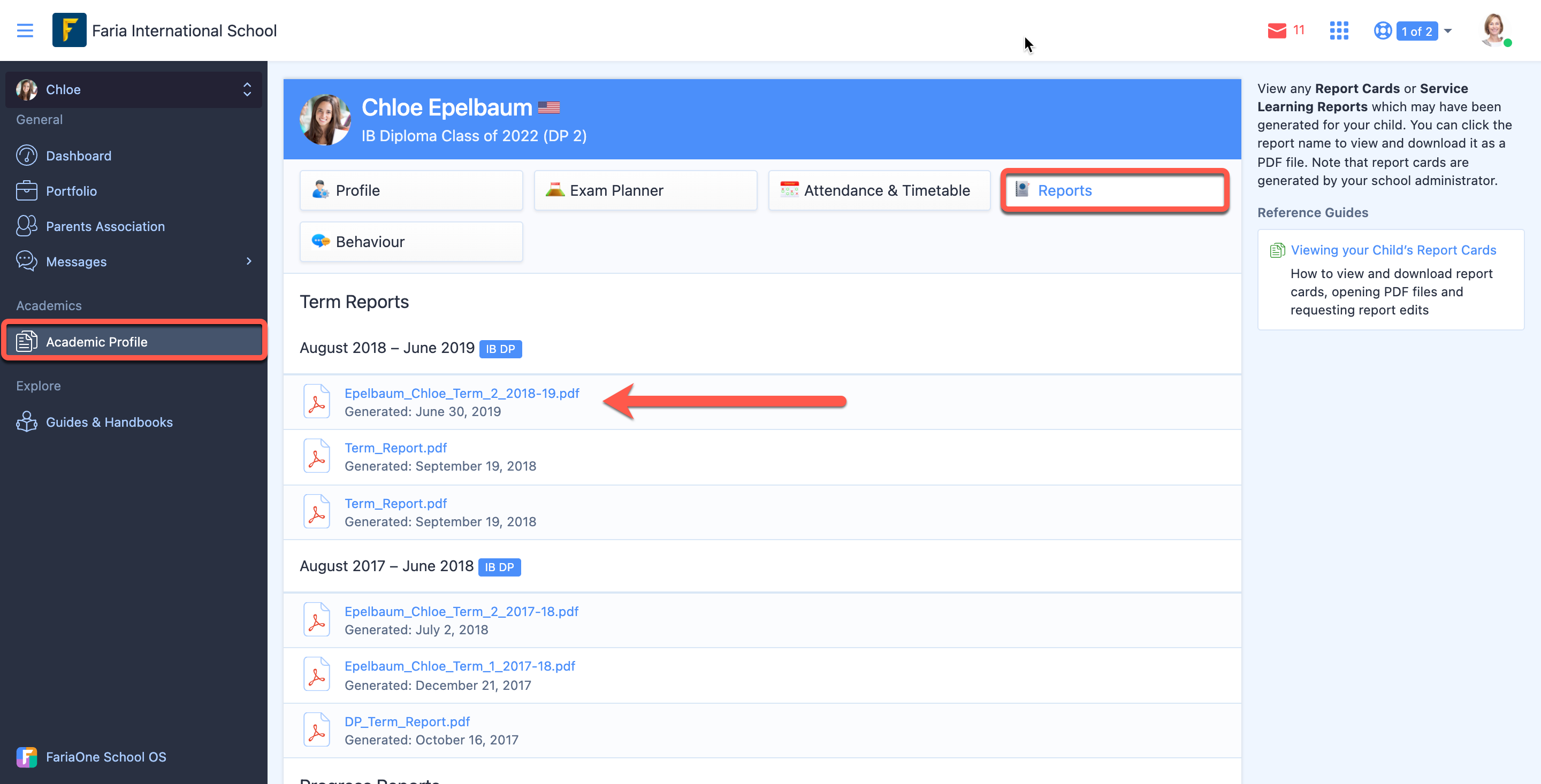 Here you can see your child's Term Reports or Service Learning Progress Reports.
Report templates are customizable by your school. They allow the opportunity to include end-of-term grades and comments from classes to be published, along with summaries from advisors and core projects.
You can click on each report name to view and download it as a PDF file, as well as print it locally. Reports are arranged by Academic Year, with their generation date below each file.
Report Card FAQs
There is something wrong with my child's report card (a class missing, spelling mistake etc)

Reach out to a Key Contact at your school directly for any report edits. You can find a list of key contacts via your Dashboard.

Why is there no report card for X term?

Your school may not have generated or shared the report card for that term. If you believe it has been generated and issued, please reach out to a Key Contact at your school directly.

How can I open a PDF file?
Will reports be accessible indefinitely?

You will be able to view and access report cards for your child for as long as their school subscribe to ManageBac Reports, and for the duration of your child's time on ManageBac.
Most schools will archive graduated students and their parents, and thus its advisable to download local copies of the Report card PDFs, as you will be unable to log-in once your account has been archived.