Published March 27, 2020
CP: Integrating the Core and Unlocking Potential Language Development
Written by Sara Woodcock
Background
In 2010, the International Baccalaureate responded to a worldwide trend to develop a programme that combines academic skills with career-related competencies.
The innovative and adaptable IB Career related Programme was born!
Since then, this youngest and fastest-growing of the four IB programmes has built a network of 214 schools in 23 countries. At the heart of this flexible framework are the core components and the most flexible of these is Language Development.
The mandatory 50 hours of Language Development ensures that all CP students have access and exposure to an additional language that will increase their understanding of the wider world.
"The ability to communicate in a variety of modes in more than one language is essential to the concept of an international education that promotes multilingualism and intercultural understanding, both of which are central to the IB mission "
CP: From Principles into Practice
Course Design – Fixed and Flexible elements
Students are encouraged to begin or extend the study of an additional language that suits their needs, background and context.
This raises key questions for CP schools:
Will all CP students study the same language or will they be given agency over this decision?
Will students be offered the opportunity to individually choose the language and level that best suits their career aspirations or interests?
How do we accommodate different languages and different starting points?
Are our CP students all on Beginners Hill together? At Conversational Ridge? Or are they hoping to ascend to Mount Fluency?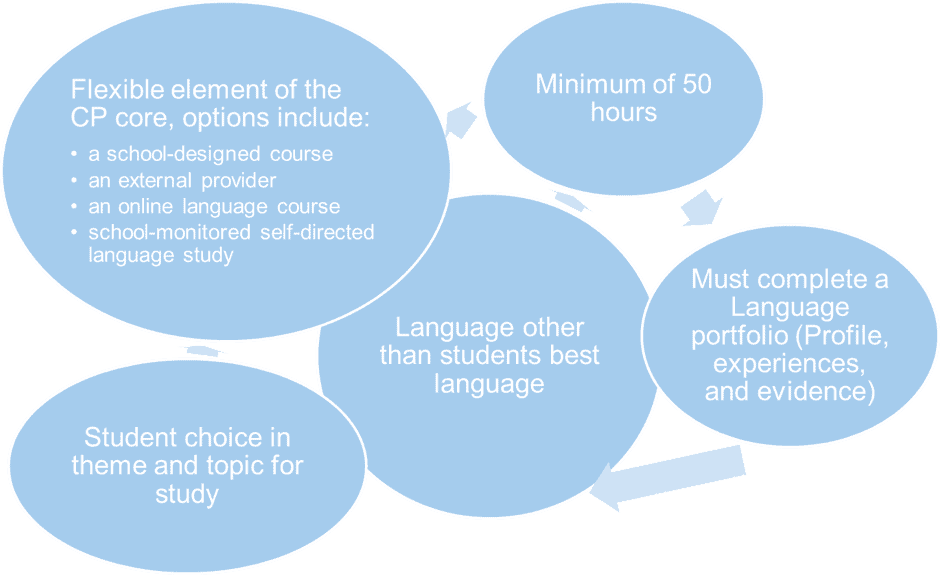 Language Development is more than language acquisition. Language acquisition and intercultural understanding are of equal importance. Cultural competency is a 21st century skill highly valued by employers and looking beyond the classroom and into the workplace will help to make study of the chosen language meaningful and relevant. It becomes more than just "the dangly bit on the side". (Dominic Robeau former IB curriculum manager for the CP)
Context matters
Every school is different, and you have the flexibility and freedom to tailor Language Development to your unique school context. An international school in The Netherlands where the language of instruction is English might consider the language of the host country – Dutch.
Where many students are already trilingual, such as in Andorra, the school might choose to offer English as the most relevant language for career aspirations both for tourism at home or opportunities abroad.
In another school, the study of Japanese might connect with learning in DP Visual Arts, Film or the Career related Study.
There are many options to make the language chosen relevant and applicable.
Course delivery
There is yet more choice with currently 5 options:
School designed course
Extension to DP Group 2 course (although language development must have 50 additional hours and material must not be duplicated)
Online course
Externally provided courses (e.g. Instituto Cervantes, Goethe Institut, Cambridge Proficiency)
Self-directed study
So, with your cohort of CP students with different interests, language abilities and personal & professional ambitions, how to best design a course that is able to offer a meaningful course of study to each CP student? You could consider questions such as:
What Language Development does your school currently offer?
How could your school enrich Language Development?
How can Language Development connect to other components to achieve a really cohesive programme?
What would be the best language, level and mode of delivery for the Career related Study options, for example, for students studying Health and Social Care, perhaps an online course of sign language would be beneficial?
Might the student then have an opportunity to apply these skills in a work placement or as a Service Learning experience?
Joining the Dots
Consider where you can provide opportunities to integrate the language component with other CP elements.
Are there language visits or exchanges or an overseas trip?
Are there links in the local community to offer language support or work with younger students?
Are there any work experience placements which have language elements?
Could CP students run an event as part of the PPS programme to host a language day or international fair of language and culture and invite members of the wider school community?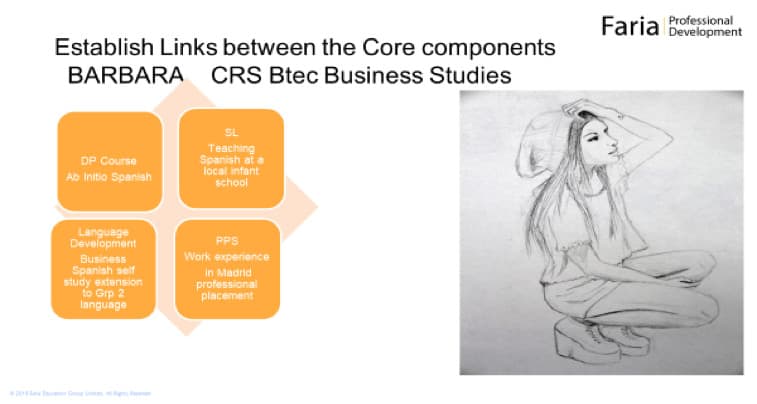 As an example, this student connected her DP course in Ab Initio Spanish with Service Learning as she chose to teach Spanish in a local primary school. She opted to do her professional work placement in Madrid as part of her Career related Study in Business Management and immersed herself in the language and culture.
For Language Development she opted to take an online Business Spanish course further supporting her Career related Study, as well as both her DP courses and her future plans to study Business and Spanish at university.
There were also further links to be explicitly drawn with two of the central themes of the Personal and Professional Skills course: Intercultural understanding and Effective Communication.
This close integration of components successfully fulfilled the aims of the CP core in contextualising the Career related Study and the DP courses, successfully drawing together all aspects of the CP framework.
Finally …
We'll give the IB the final word. Successful completion of Language Development
is the submission of the Language portfolio:
"All CP students are required to maintain and complete a language portfolio. It demonstrates ability, engagement and evidence of language development. The portfolio is for private use by students to reflect on their learning" (IBCP Language development guide)
There are 3 Recommended sections:
Profile
Experiences
Evidence
Once again how you choose to do this is a school-based decision. My advice is straightforward. Use ManageBac! It really facilitates giving the student ownership of their programme and materials for CV, resume and personal statements.
Like the CP itself, ManageBac is a highly flexible framework and makes your role as coordinator or language development supervisor a great deal easier.
About the Author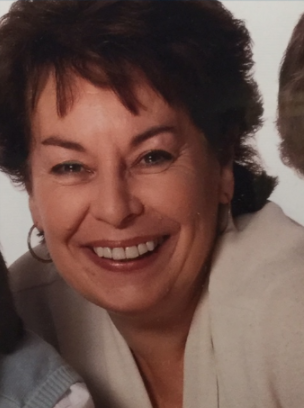 Sara Woodcock worked as the CP coordinator in a school which was one of the original pilot schools for the IBCP. She is a member of the IB Educator Network as consultant, site visitor and WSL. She is a contributor to the book "Moving the CP Foreward."