Published March 13, 2020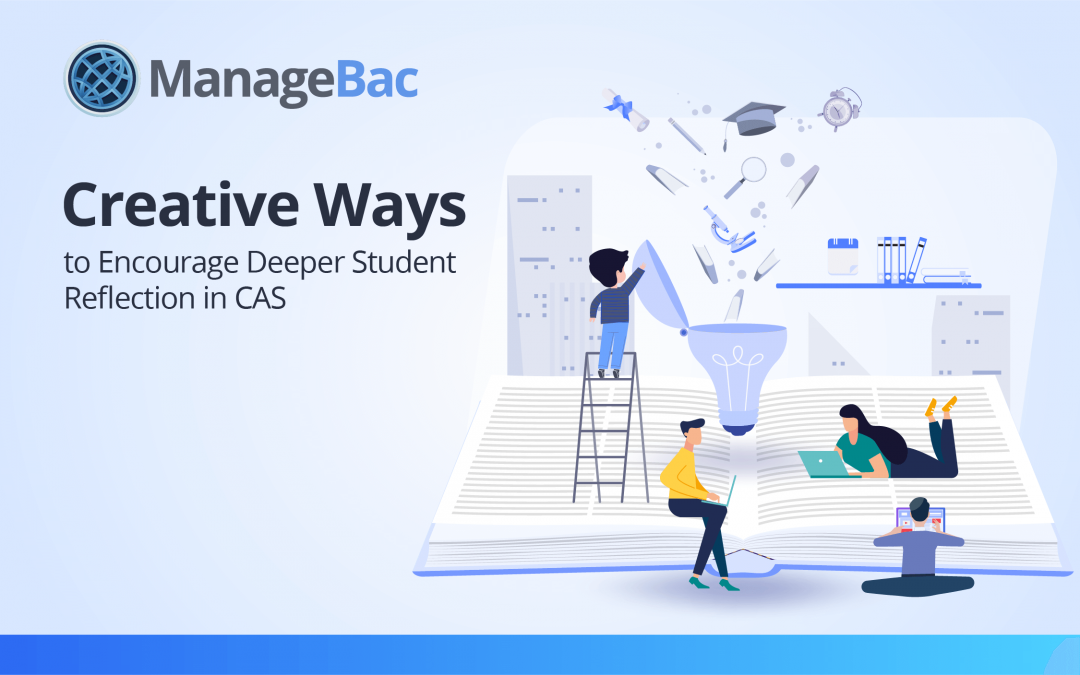 Written by Sara Diaz Gonzalez, International School of Bologna Teacher and CAS Coordinator
Overview
Bologna, Italy to Fuerteventura, Canary Islands: a four and a half hour flight. I took a seat and a mum with her two daughters sat close to me. "This is going to be a very long flight," I thought. But it wasn't. The mum distracted the children with a notebook, a pen, and their imagination. I was amazed and impressed watching the mum's creative ways of sparking the girls' imagination with such basic tools! My own mum came to my mind, drawing many simple games with different dots, squares, and grids. We loved to play Connect 4, Battleship, and paper Pac-man. I don't know how many of these games I played in different waiting rooms or offices, passing the time while we waited with only paper, a pencil, and our imagination!
Fast forward to today and these memories activated another image of myself as a teacher. As a CAS Coordinator, I read and reread many descriptions of events or, when it goes well, a true reflection of experiences from my CAS students and their Service Learning Projects. Reflection paragraph after paragraph turns into a diary of events; my CAS students are not yet able to express a meaningful and deep concept within their experiences. On the other hand I have CAS advisors asking me, "What should I do with this? Should I answer the student? What kind of input should I give him/her after this reflection?"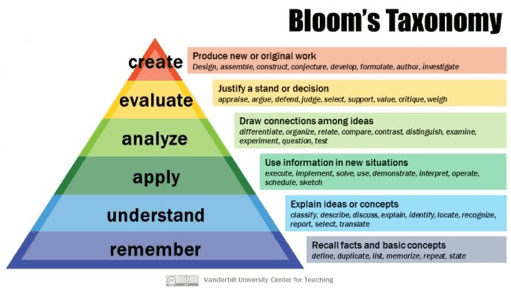 Reflections on Service Learning Projects:
If we look at Bloom's Taxonomy, we see that remembering is a very low level of thinking, but creating is at the very top of the pyramid. Within our students' reflections, we wanted them to move from simply recalling their actions to a deep and meaningful reflection of their experiences.
So, our goal is the transformation of ideas or as Sir Ken Robinson would say "to activate this dynamic process" that requires the use of all the areas of our mind and being.
At this point, taking into account the importance of reflection in CAS, I started asking myself:
Do my students understand why they are developing these CAS experiences?
Are they using what they learned?
Are we as advisors giving them the correct guidance?
And the most important for me, are they creating something new that allows them to flourish?
You can imagine the answer and the frustration I felt.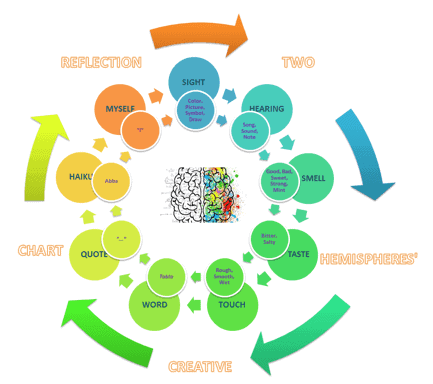 In addition to their CAS responsibilities, our DP students have many things on their minds: Extended Essay, TOK presentations, IAs, mocks…and it seems they sometimes forget about their CAS projects, until they need a reference letter for university admissions.
In thinking about all these issues and ways I could support these deeper reflections from our CAS students; I created a tool in the form of a chart that aims to spark creativity. It attempts to activate the analytical and creative side of the brain.
I developed something called the 2 Hemispheres' Reflection Chart. I wanted to create a tool that could encourage students to reach for the top levels of Bloom's Taxonomy, but in a very immediate and friendly way. Thinking about Sir Ken Robinson again, we needed a tool to promote meaningful and deep reflection that creates transformation of the learning that is used in real life. We also needed a useful and practical tool for my team of advisors (already full of work) to guide their students. And this chart is a handy guide!
As a first attempt
As a first attempt, I used this reflection chart in mindfulness sessions with students. I asked them to close their eyes for 5 minutes and think about the CAS experience they are developing. I asked them a series of questions:
Now, what colour, picture or symbol comes to your mind?
What sound or noise?
What does it smell like? Good? Bad? Acidic?
What does it feel like? Is it soft or flushed?
What is the first word that comes to your mind?
I say, "Now, open your eyes. Can you think about a quote that summarizes something you've learned from this experience?" I wanted to show them there were many other methods of fulfilling their reflection requirements other than written paragraphs.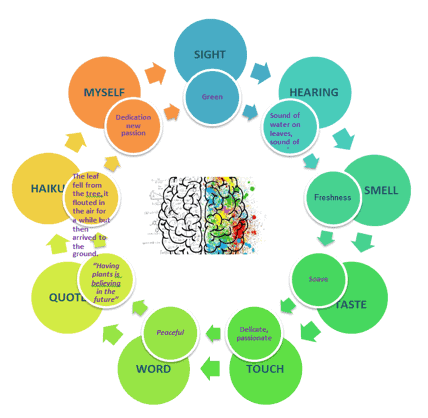 As with any other new method and new way of thinking, my students needed to get confident with it, touch it, and practice with it. Some of my students used to write their reflections in long paragraphs but when I asked them to use a single word, they couldn't do it. By using this chart as a tool that promoted deeper reflection, they are encouraged to translate their experiences into a word, quote, smell, etc. With these directions, some students drew upon their experiences and wrote a Haiku. With practice using the tool, my students' reflections improved! To the left is one of my student's completed charts.
The improvement is because, coming back to Sir Ken Robinson, one of the incorrect "myths" about creativity is that it "cannot be taught." As teachers, we need to help our students to "cultivate" and "refine" their creativity. Or to re-find the creativity that was within them already.
The Spanish writer and economist Fernando Trías de Bes identifies four inhibitors of creativity:
Education and the difficulties to make mistakes and to be risk takers
Society and its protocols
The amount of ideas – small steps are necessary, there is no one BIG idea
The reality and the need to break an idea down into small pieces to create a new creative reality
As a second attempt
As a second attempt: Paper! Something simple that can be turned into anything! Origami is an ancient art that today incorporates advanced mathematical theories. What a great way for my students to practice taking their CAS experiences and representing their reflections in creative and unique ways!
With this in my mind, I tried again to use 2 Hemispheres' Reflection Chart to spark deeper reflection. They used the chart as a guide and were able to represent their reflections as a key chain, a Pac-man, hand fan, a rainbow postcard….and this time they felt more comfortable!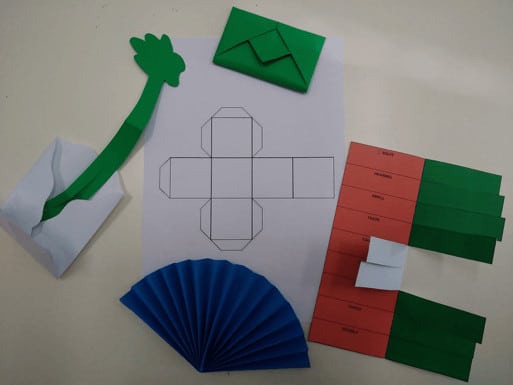 To the left are images of possible origami ideas. These were some of my DP students' opinions of the experience and of using the chart as a tool for deeper reflection:
"But it's difficult."
"It is very helpful, it guides me through the whole reflection, I will definitely keep using it for future reflections!
It makes (reflection) easier!
Even with the paper option, not all my students were comfortable yet. When I offered them different shapes and possibilities, most of them were very skeptical and they chose the same shape and color as mine. That was ok, it was a starting place and we kept practicing our new method of reflection.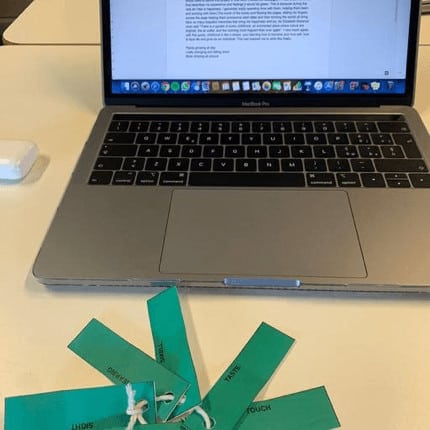 Pro Tip: Service Learning reflections don't have to be a written paragraph! For more information on tips for writing creative reflections, click here. Using the chart as a guide and trying this new method of reflection, students can use their product (i.e. the paper creation and its shapes) and take pictures as evidence for their CAS portfolio. The picture to the right is an example of one student's written reflection alongside her paper creation. Students can also submit a conversation with their advisor and their reflections as their evidence. The reflection doesn't have to be a long paragraph. My students were being more creative and by using the chart as a guide, their reflections were becoming more sophisticated and richer!
As a third attempt
As a third attempt, Why not use recycling materials as a way to inspire deeper reflection? I encouraged them to use these materials in new ways to represent their thinking in creative ways. Here are several ways my students used materials to represent their Service Learning experiences and reflections.

The main goal of these ideas is always the same: to activate students' lateral thinking in an easy and friendly way that guides their reflection in a creative way to reach a deeper understanding of the CAS experiences

. We will continue to try new ways to use the

2 Hemispheres' Reflection Chart

to inspire students to use both sides of their brains in their reflections of their Service Learning Projects.
I just would like to finish this with an important quote that always makes me reflect:
"It took me four years to paint like Raphael, but a lifetime to paint like a child."
Pablo Picasso
About the Author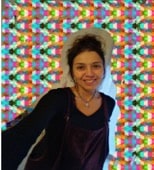 Sara was born in Spain and in her twenties she fell in love with Italy and its people. She has been living in this messy, noisy and friendly country for the past twelve years, six of them teaching at the International School of Bologna as an Italian-Spanish teacher and CAS Coordinator. This role surprised her a lot because she has been able to put service learning in the center of her life and she discovered that – even though it was the opposite of what she always thought and said – she loves creativity and being creative!