Signing In
After receiving your welcome e-mail and setting your password, you can log in to your AtlasNext account at your school's address (e.g. http://yourschool.atlasnext.com).
Note: Welcome e-mail links are only valid for seven days. If you receive a message that the link has expired, please contact your advisor or an administrator at your school directly.
On the login screen, you will see the following fields:
Log in with your e-mail address and the password you've set. If you are using Single-Sign On, you may login in with the appropriate Google or Office 365 account.
Note: For security purposes, you may choose to remain logged in for a maximum of 30 days, after which you will be automatically logged out. If you wish to disable this option, you may do so under Settings > Access Permissions & Security.
Resetting Your Password
If you are unable to log in but do have an account, click "Forgot your password?" and enter your e-mail address to reset.
Note: If you are not receiving welcome e-mails or password reset notifications, make sure to check your spam folder. If the problem persists, check with your coordinator to ensure you have been added to the system with the correct e-mail address.
Tips for creating your password
Think "pass phrase" instead of password. The combination of four simple but random words will be much stronger than a password with many complex characters and symbols.
Strong password and easy to remember (Perfect!): Sarah Battery Staple Yeah
Strong password but hard to remember (Not bad): S8r89H18!
Weak password (Not Good): Sarah18!
The password will not save until you see a green box.
Managing Your Profile
Note: Students may have some parts of their profile locked.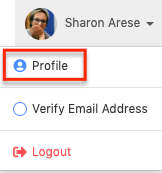 Once you have logged in successfully, you can update your personal information, including profile photo, e-mail address and password by clicking on your name in the upper right corner of your AtlasNext account, and selecting Profile > Edit Profile.
Here you can easily update your personal details including your:
First & Last Name
E-mail address
Profile Photo
Password
Default Landing Page, the page you will be guided to after logging in.
Updating your E-mail
Update your e-mail address via the E-mail text box. An email will be sent to the updated e-mail address for confirmation. Please check your inbox to validate your e-mail.
Changing your Password
Click Change password to update your password. New users setting up their accounts should enter a strong password with many characters, capitalization, and numbers or symbols. The password will not save until all boxes are full to green.
Professional Details
Via Edit Profile, click Professional Details to indicate your programs and subjects taught and school roles.
Note: These do not provide access rights, but will help customize the help tutorials you see when logged in to AtlasNext via the Help tab, filtered to meet your needs.
Roles & Key Contacts
Any user assigned as a Principal will have their details displayed to all Students & Parents under the Key Contacts section when logged in.
Any user assigned as a Coordinator will have their details displayed to relevant Students & Parents respectively under Key Contacts.