What is OSC Study App?

The OSC Study App gives you and your students instant access to the core knowledge that needs to be mastered in each subject. Thousands of flash cards add up to full coverage of the IB Diploma syllabus across six subjects, (with many more currently in development). Each card is a kernel of essential knowledge with concise explanations and clear graphics, building towards mastery one question at a time.
OSC Study App makes it easy to study at home, in school and anywhere in between. Their resources are available in print or as a web-app.
How does ManageBac Integrate with the OSC Study App?
The integration with ManageBac brings the OSC Study App to schools. The ManageBac Unit Stream and Resources interface makes it possible to select the content that matches your teaching points, one class at a time. Select the flash cards you need, add a title and message to the OSC Study Exercise, and push it to your students immediately – before, during or after class.
All Exercises can be integrated into your lessons by slotting them in the Stream & Resources of the units you are planning. Because the integration between Managebac and OSC Study App is seamless, you and your students have instant access to the Exercises you prepare.


How to setup Integration with OSC Study App
Before the integration can be used by teachers, it must be requested by an admin level user in ManageBac. To request it, navigate to Settings > Service Manager.

Scroll to the Add Ons section and select OSC Study to request the integration enabled for your ManageBac account.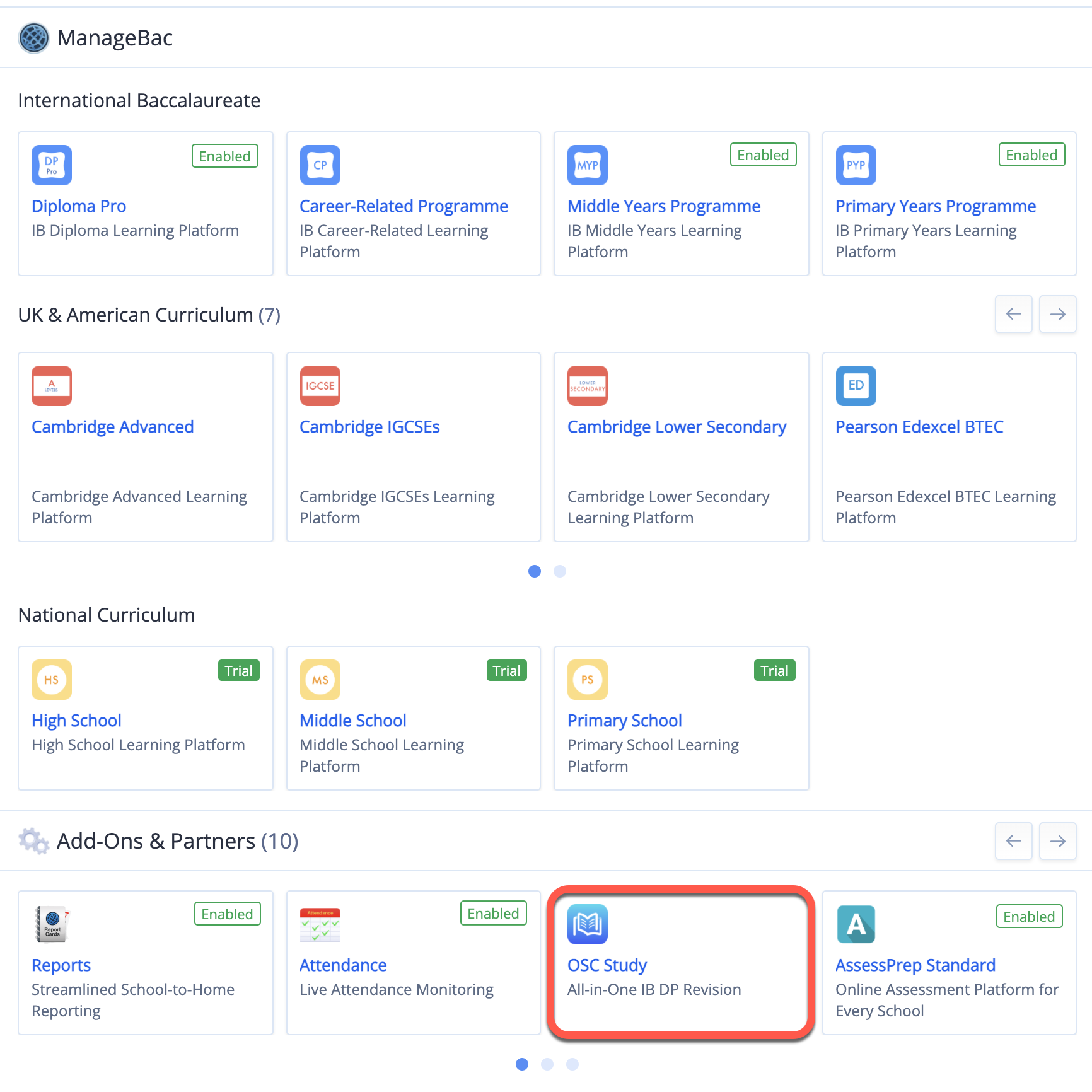 Once integration is set-up, all DP classes will sync from ManageBac to OSC Study App, along with the students & teachers in those classes. Teachers and Students can then use Single-Sign-On to access their OSC Study account with their ManageBac credentials.
Note, the integration does not need to be enabled for students to access OSC Study flash cards via their Dashboard > OSC Home page.
OSC Study App Access
Accessing the app
with ManageBac is seamless, making use of the ManageBac single sign-on (SSO) option.
Navigate to the OSC Study App login page (app.oscstudy.com/login) and click the Login with ManageBac button
Login with your ManageBac credentials and authorise the OSC Study App.
Once logged in, you'll automatically be transferred to the OSC Study App.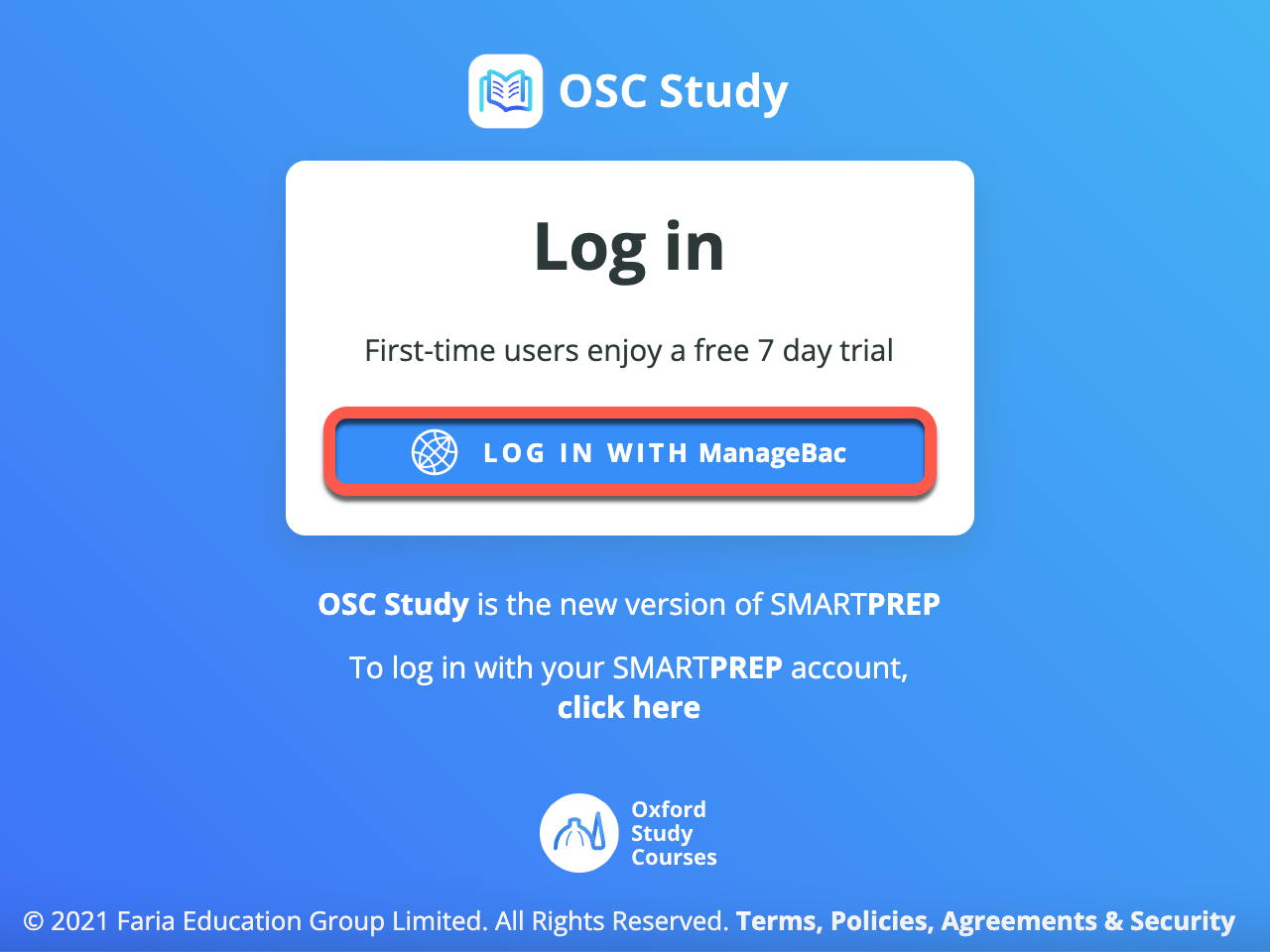 How to Manage the Integration with OSC Study
Once the integration is enabled and you have accessed it at least once with your ManageBac credentials, you will be able to access OSC Study via the Launchpad in your ManageBac account.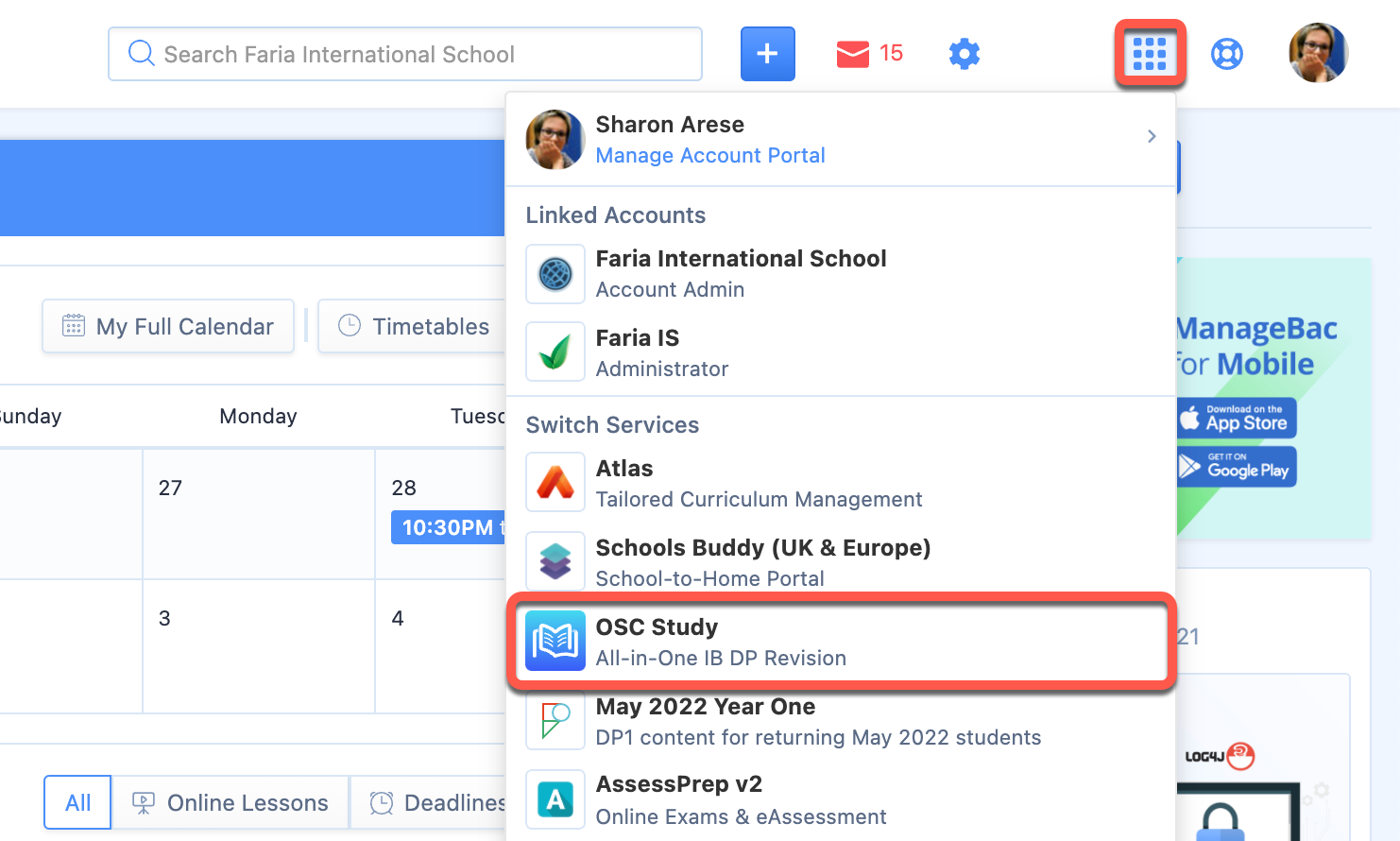 The OSC Study Exercises integration is described in the
tutorial here.
Integration Questions and Support
Contact our support team for issues or questions related to the OSC Study App integration. Please provide the following:
1. Your ManageBac account URL (e.g. faria.managebac.com)
2. Details of issue, including but not limited to URL, video recording, screenshots and steps to reproduce the issue.
Frequently Asked OSC Study Questions
1. What data is shared from ManageBac to OSC?
OSC Study App only receive relevant data that lets us create a seamless user experience. This data is limited to the profile of your DP/CP school members, their parents, and their class memberships.
We understand and acknowledge that your school's data is private, and that's how we treat it. ManageBac and OSC are fully GDPR compliant.
2. I've enabled OSC Study App in my ManageBac Settings. How long will it take for OSC Study Exercises to work?
Depending on how large your school is, it will take 2 hours for all data to be synced with OSC Study. Class membership synching ensures that flashcard Exercises are available for the intended students.
3. How often are class memberships synced from ManageBac to OSC Study App?
New users and updates to class memberships are synced to OSC Study App every 2 hours, meaning it will take a maximum of 2 hours for a new student to have access to all OSC Study Exercises within a class.
Please also see OSC Study Frequently Asked Questions
As well as the Oxford Study Courses Help Centre