OSC Study App Teacher Video
Opening the link from China? Click here
Integration with ManageBac
The classroom integration with OSC Study App allows teachers to create and assign sets of flash cards to students. An Administrator on your school's ManageBac account can follow the Enabling Integration guide to get started.
Once enabled, to create a set of flash cards (i.e. Exercises) teachers should navigate to their Class > Tasks & Units > Select a unit > Edit Unit > Stream & Resources and click Add Resources > Add Flash Card Exercise.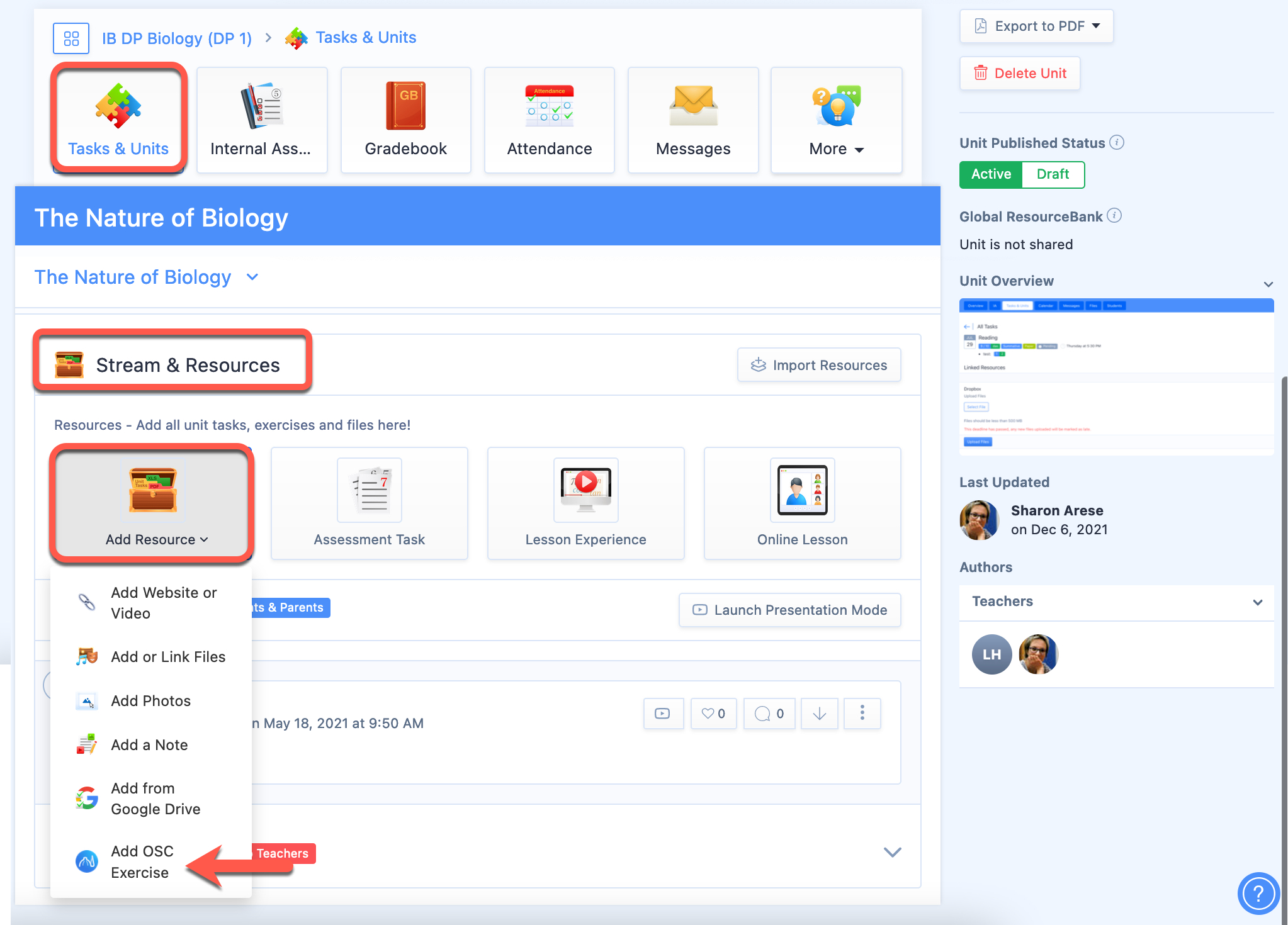 Please note: Teachers or Administrators have to be authors of the unit and members of the class in order to be able to create Flash card Exercises.
Adding Flash Cards
The Add Resources pop-up window allows teachers to browse through all flash cards available for the subject and select the ones to include in their Exercise. Teachers have to have accessed the OSC Study App at least once and authorised access to it with ManageBac credentials. Please see our tutorial on Accessing the OSC Study App for further details
The flash cards are organised by topic and subtopics, and filterable by level, making it easy to find the right ones. SL and HL options will display according to the DP class level setting automatically.
Enter an exercise Title, add an optional description, and select the desired flash cards by clicking the check mark next to the card name. The number of cards selected will be indicated on the left panel. There is no limit to the number of cards that can be included in the Exercise.
Save the Exercise by clicking Add Resource.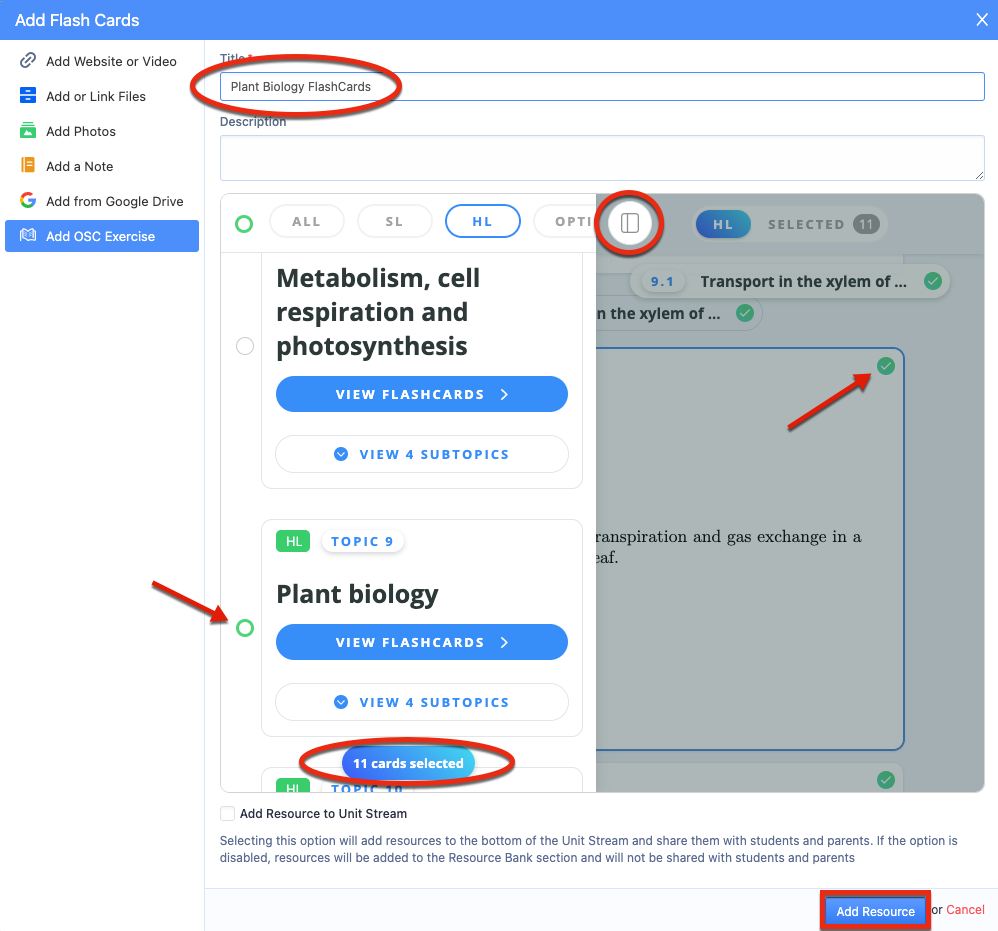 Share with Students
After the successful creation of the Exercise, it will be added to the Unit > Stream & Resources tab and Resources section of the unit. From there, you can add the Exercise to the Stream to share it with all students automatically. The Stream provides teachers with the option of sequencing the resources within the Unit.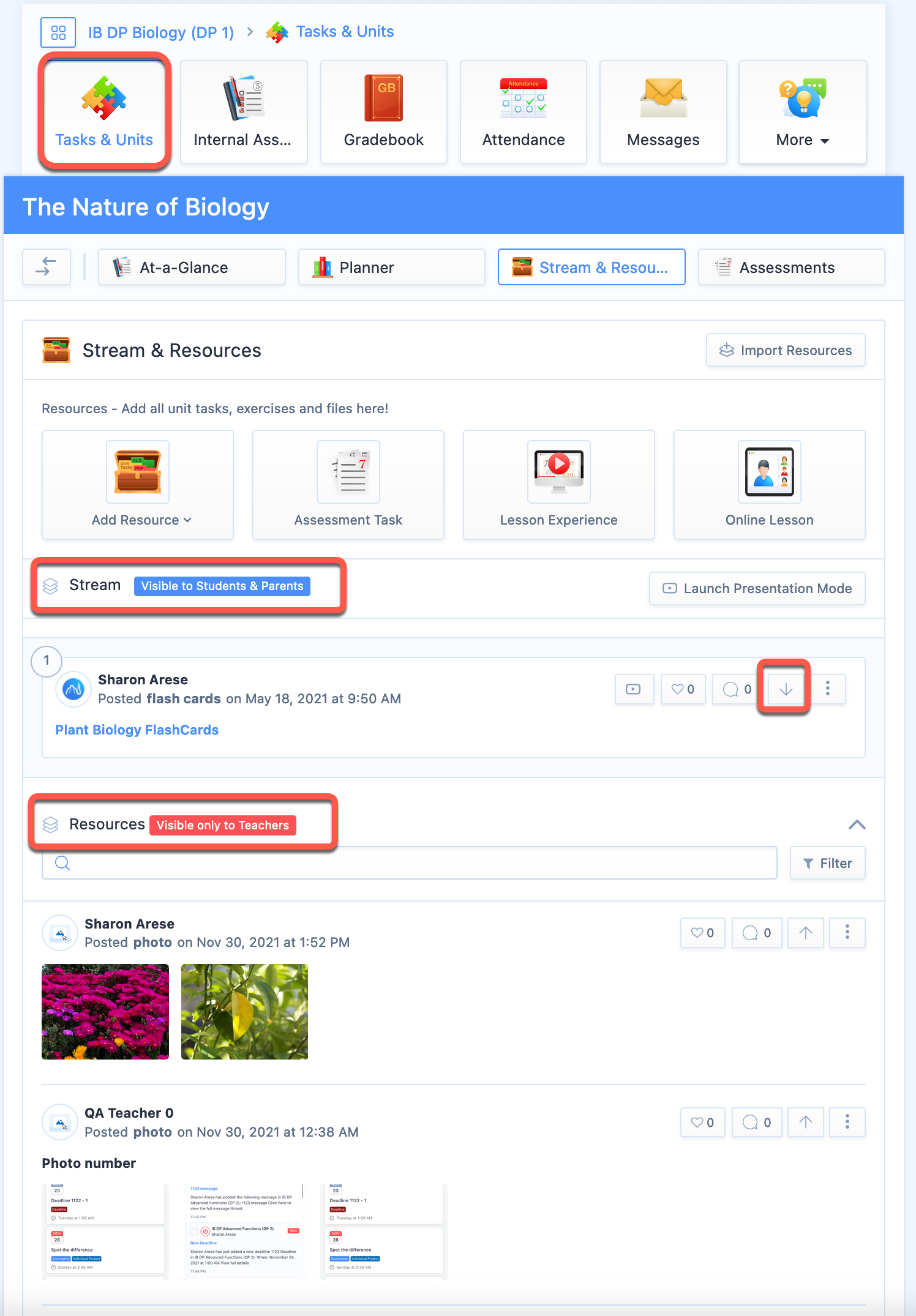 Students will then be able to find the Exercise by navigating to their Class > Tasks & Units > and selecting the unit. If the Exercise was added to the Stream, it will be found in the Stream View at the bottom of the unit.

Once an Exercise is added to a unit as Resource, it is possible to create Tasks and link that Exercise as resource to the task directly. Students will then be able to find the Exercise via their Class > Tasks & Units > selecting the Task, and clicking on the Exercise.
Read more on how students can Complete OSC Study App Exercises.