What is Atlas Bridge?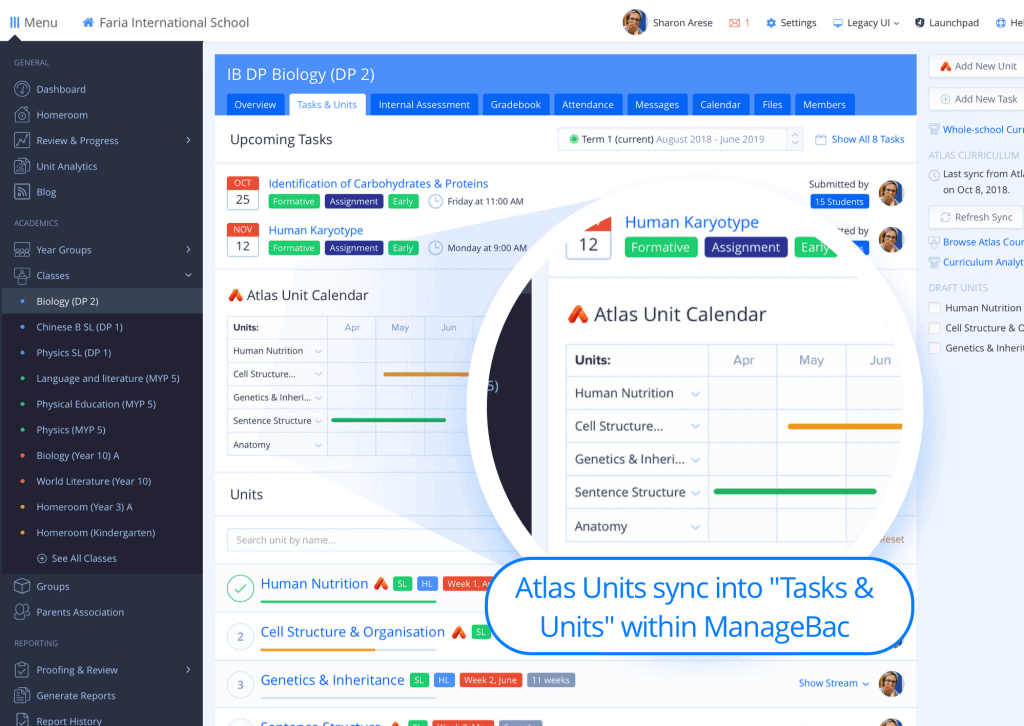 This integration allows mutual Atlas and ManageBac schools to collaboratively plan and edit Atlas units directly within ManageBac classes. No data migration is required and existing Atlas Courses & Subjects can be easily mapped to your ManageBac classes. The integration is API-based and works within iFrame to allow teachers to access their units within ManageBac.
Atlas, like ManageBac, is a service in the Faria Suite. Read more about Atlas and our Unified Family Experience offering.
How to enable Atlas Bridge
Atlas Bridge can be enabled by programme, grade level, and/or subject. To enable this in your school, any administrator on your ManageBac account can contact our support team. Please include the programmes, grade levels and subjects, using ManageBac's terminology, that you would like to see synced from Atlas to ManageBac.
For example:
Please include IB Middle Years units for Grades 6-8, for Mathematics.
Once Atlas Bridge is enabled, the settings we have added may be viewed via Settings > Integrations > Atlas. Please do not edit these settings without first consulting us via support@managebac.com.
Note: Once we have confirmed your request via email, it may take up to two weeks for the Atlas Bridge implementation process to complete on our end. We will keep you informed via email once the process is complete.
Managing the Atlas Bridge Integration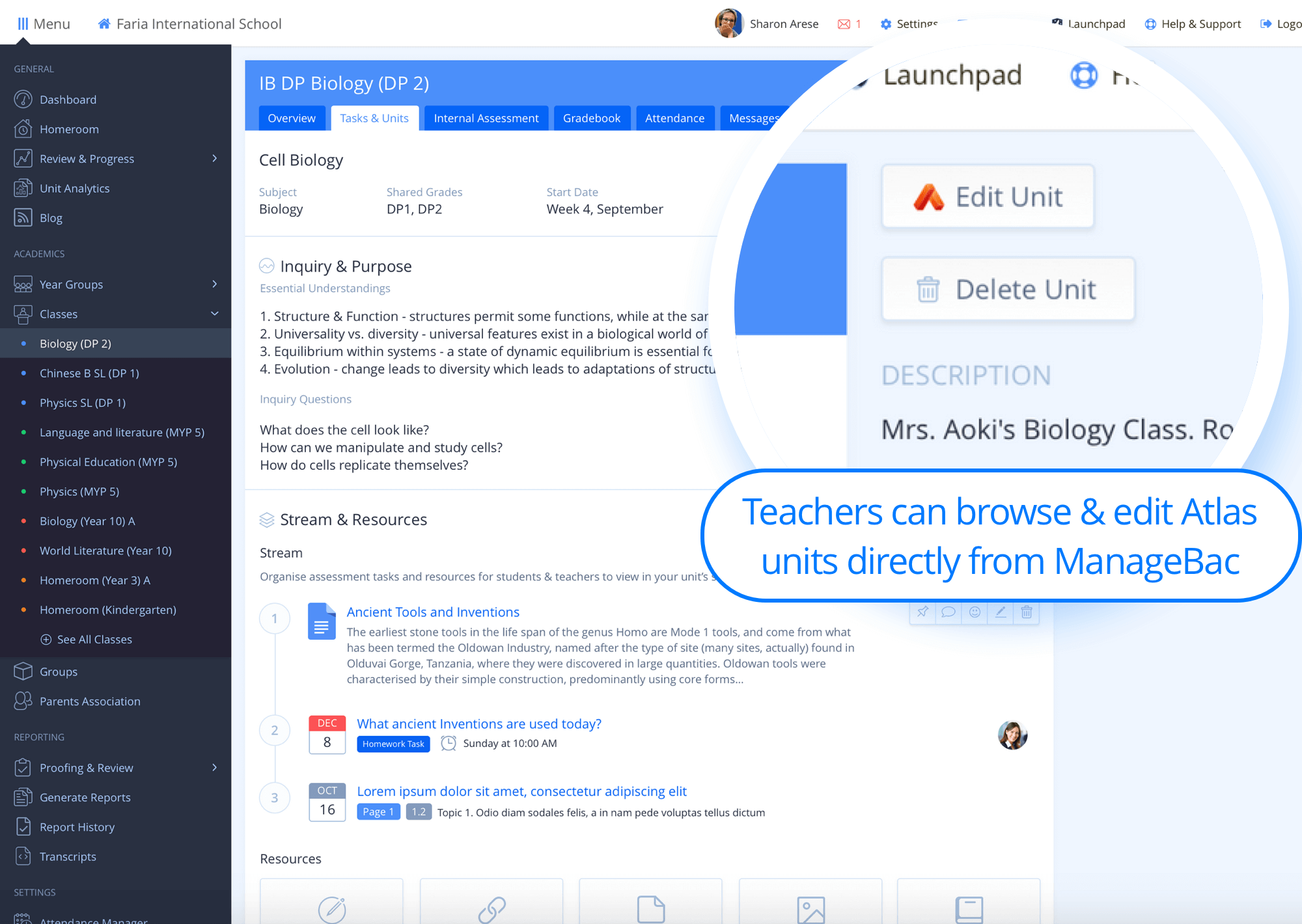 Teachers will see their Atlas units in their ManageBac unit calendars, and can view them on ManageBac. They can also add resources to the ManageBac Stream, which will extend the unit and allow students to interact with it by following the Stream timeline.
Teachers can edit the unit via the Edit Unit button at the top right-hand side of the page. Please note depending on your browser width, this button may be moved to the bottom of the page.
Note: Atlas does not currently use a Draft system, so all units synced across to ManageBac that fall within the requested programme, subjects and/or grade levels will be considered Active units on ManageBac. If parents and students log into ManageBac, they will be able to see the titles of these units.
Integration Questions & Support
With the integration, will my Atlas units transfer to the ManageBac unit planner template?
The AtlasBridge integration allows your users to review, edit and use their Atlas units in ManageBac. At this time, when your users access the Atlas unit plan, it will remain on the Atlas unit plan template. Units can be manually recreated on the ManageBac unit planner template.
Is there a way to distinguish between an Atlas unit or a ManageBac?
The Atlas units will show with the Atlas logo next to the units.

Will my Atlas unit remain in ManageBac from year to year?
Yes, your Atlas units will remain in ManageBac as long as the integration is in place.
Feel free to reach out to support@managebac.com for further guidance on the integration steps.