Adding your Extended Essay Proposal
Via Year group / IB Manager
Navigate to the Year Group Manager in your left-hand side menu and click Extended Essay.
Note: The Year group Manager tab is customizable for your school and so this may appear as something different.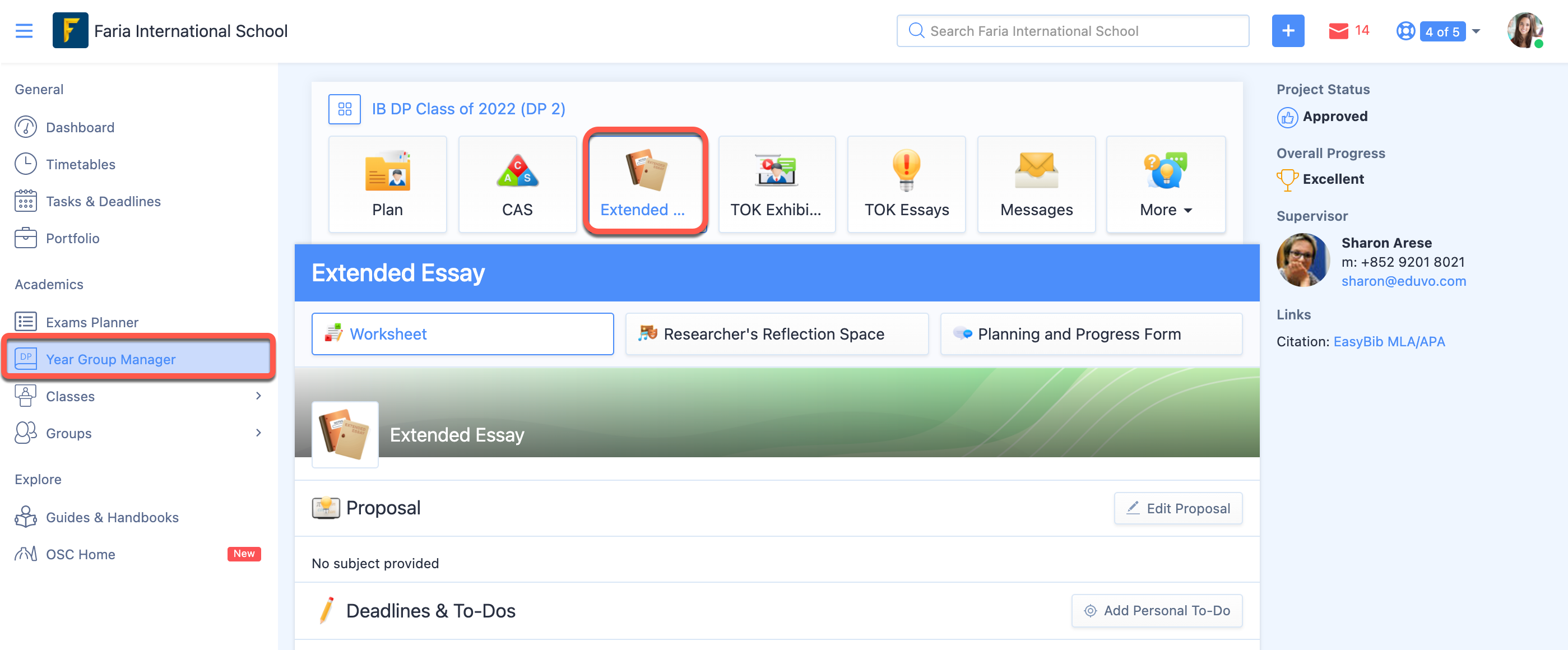 You can start working on your EE by clicking on Edit Proposal.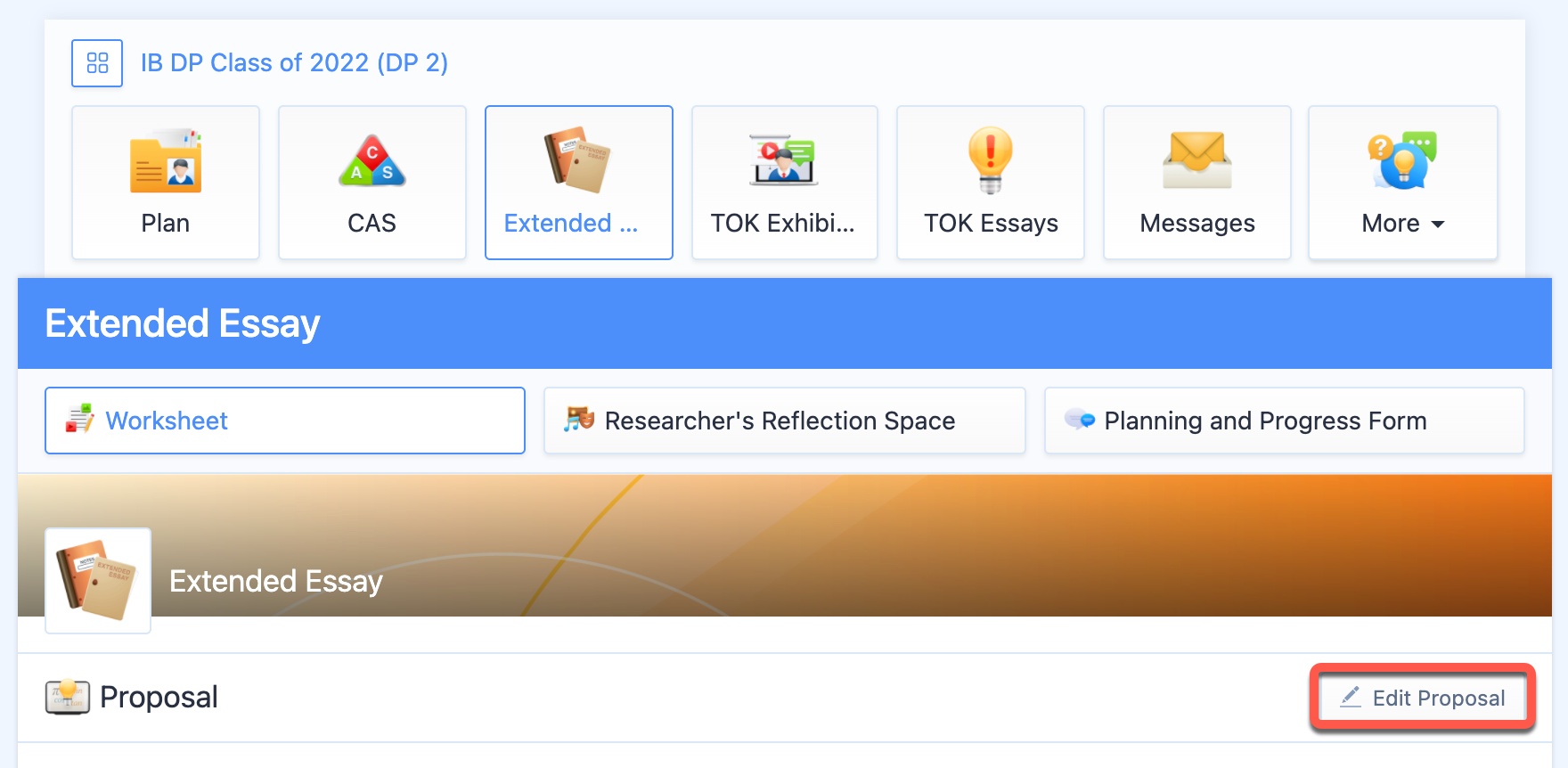 Make sure to enter your Subject, Topic, and Research Question, and select your Supervisor, if you have not yet been assigned. If you don't see your subject or EE supervisor on the list, you'll have to wait until your EE coordinator has added your supervisor to the system and configured the offered subjects. When you finish filling in all the relevant information, don't forget to Save Changes.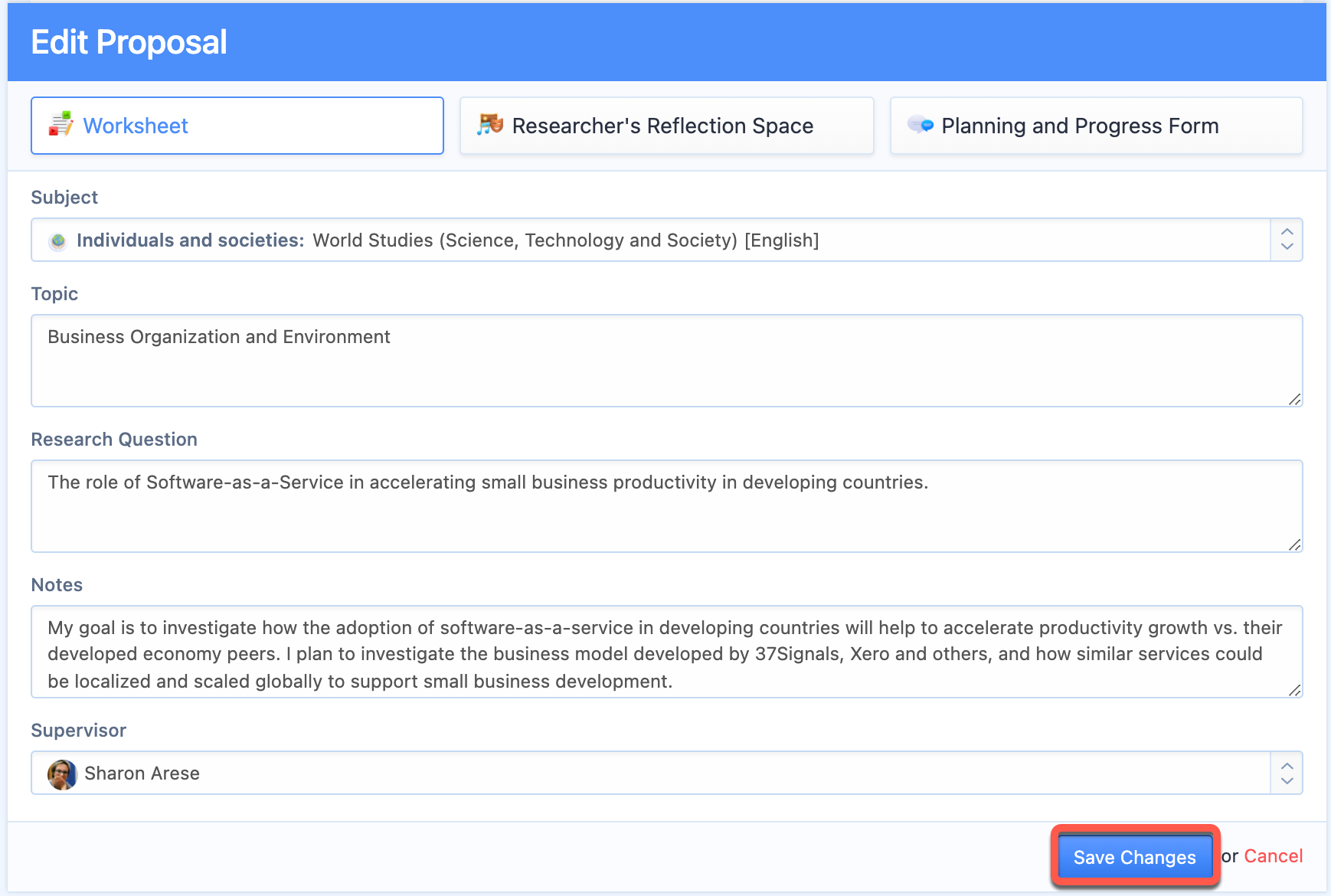 Extended Essay Progress
On the right-hand side of your worksheet, you will find a range of details to help you keep track of your Extended Essay.
Project Status - Once your Proposal is approved, the status will update on the right-hand side. You can review here from Pending, to Approved, to Complete
Overall Progress - Your Supervisor is able to directly communicate your progress throughout the Diploma Programme, such as are you On-Track, Excellent, To Be Determined, or any ongoing Concerns.
Supervisor details - You will be able to view your assigned Supervisor and their contact details, which you can reach out to via Phone or Email
Links - Any links for Citation can be provided by your school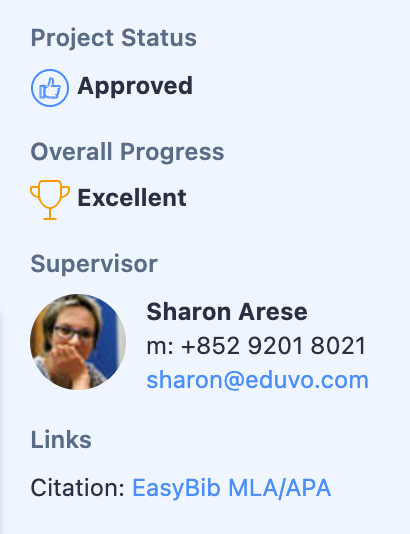 Deadlines & To-Do's
After saving your project, you'll be able to see upcoming EE deadlines and To-Dos.
Deadlines and To-Dos can be actioned by checking them off, so you can track your own progress. You can add your own To-Dos via Add Personal To-Do, which is exclusive to your worksheet.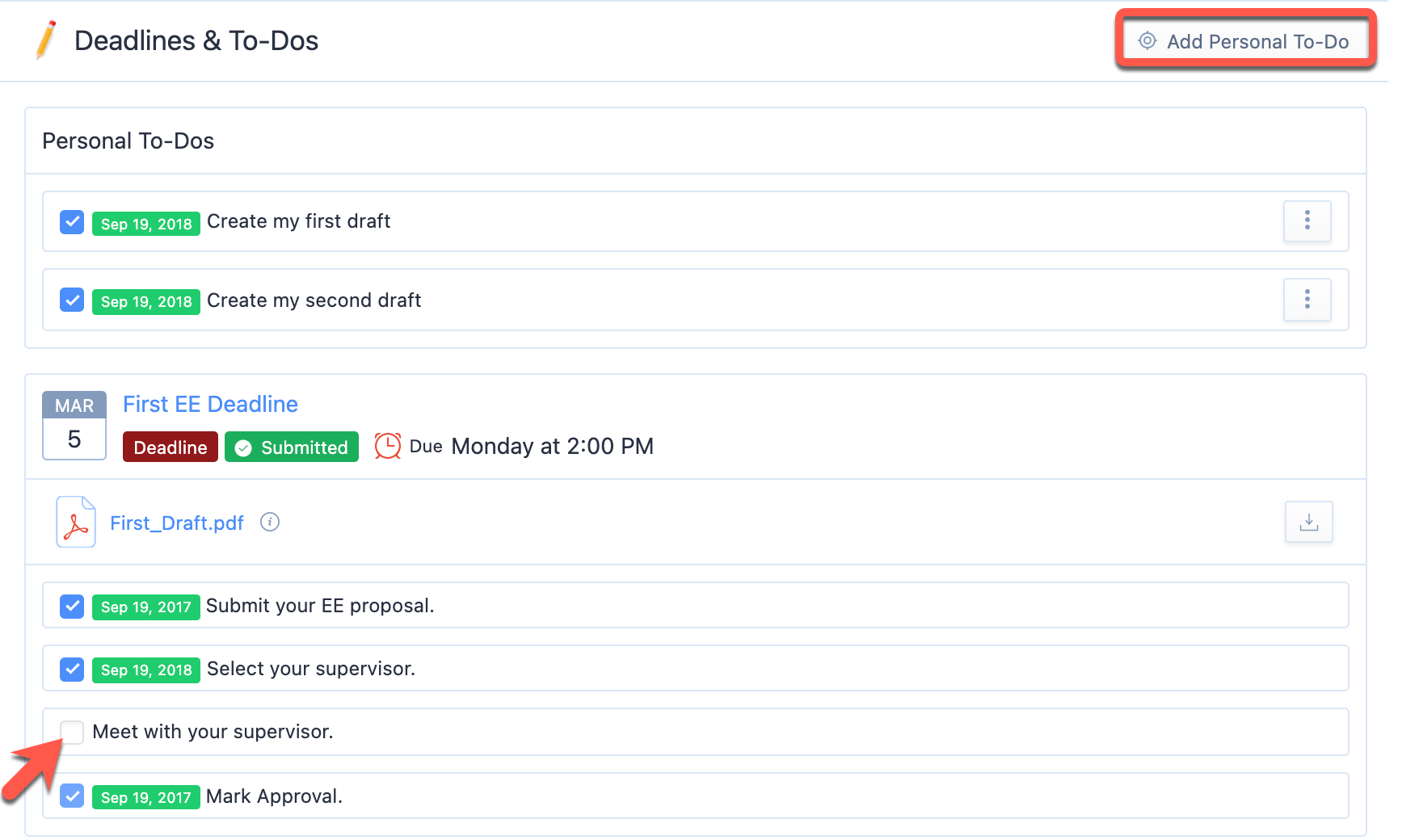 You will be able to see the deadline due date and time. You can click on a deadline name to navigate to it directly to view any further details.

Extended Essay Documents
You or your Supervisor can also submit your outlines, drafts, or reference documents under the Extended Essay Documents section. Add to your worksheet via Upload from G-drive or Add Document.

Uploaded documents can be annotated by either yourself or your Supervisor via the three-dot icon > Annotate Document.

Note: This section is not intended for final submission, please see Viewing & Uploading to Extended Essay (EE) Deadlines
Notes & Interviews
Under Notes & Interviews, you can leave messages for your EE supervisor. This is ideal for posting questions and scheduling meetings.
Add your text comment and click Post Note. This will be delivered via E-mail to your EE Supervisor.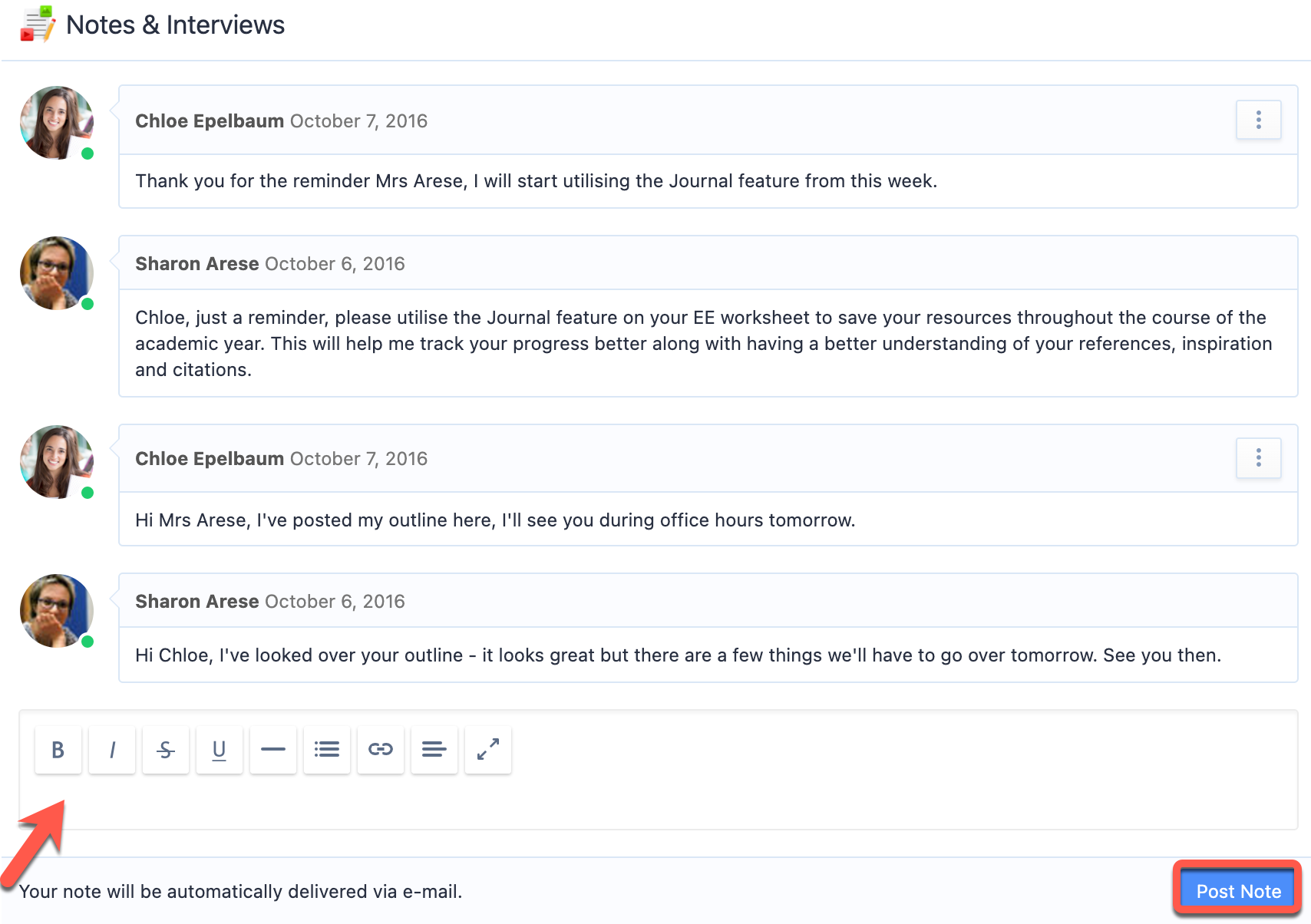 You can Edit and Delete existing notes.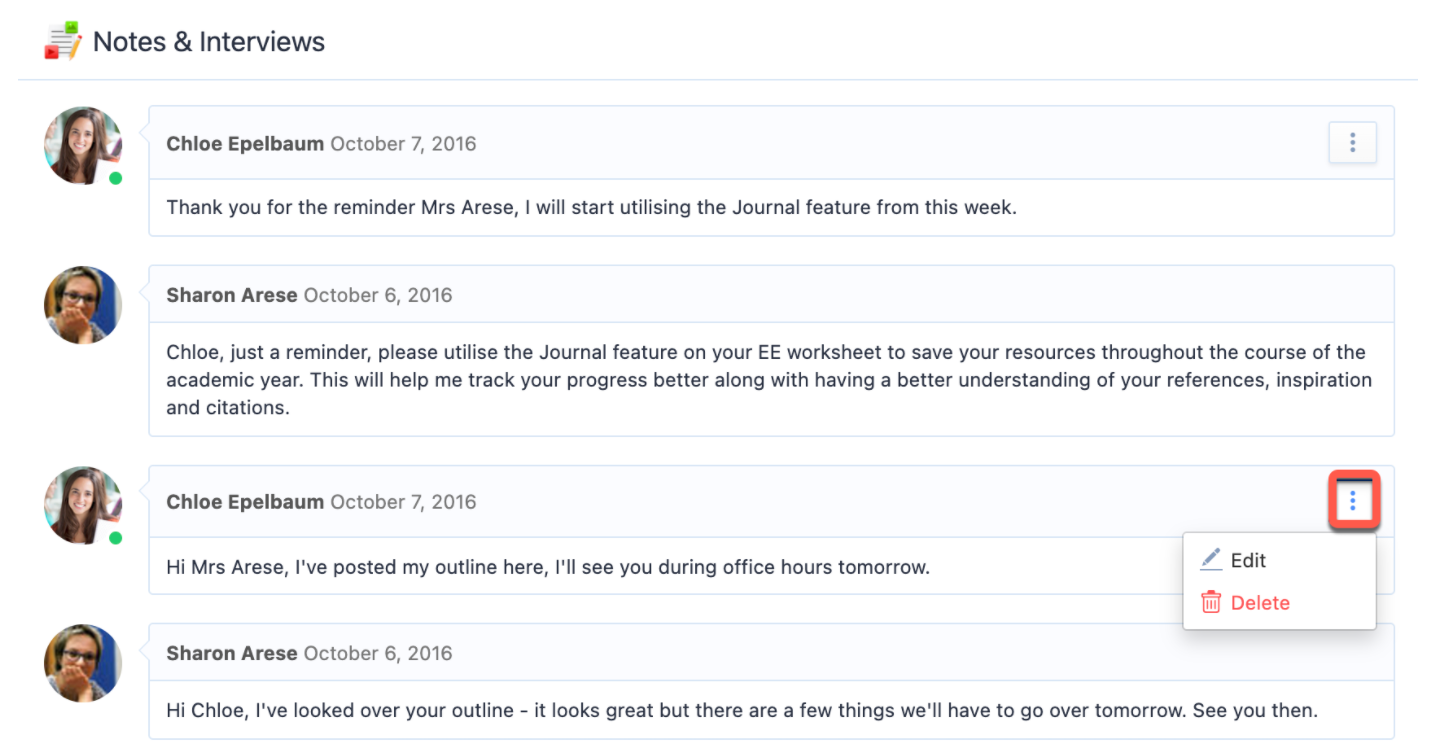 Note: Interviews may be restricted depending on your school's configuration
Researcher's Reflection Space
Via Extended Essay, click Researcher's Reflection Space.
To add a new entry to your journal, click on the Add Resource. You can choose from a variety of mediums, including journal entries, attaching files, video links, website links, or adding photos.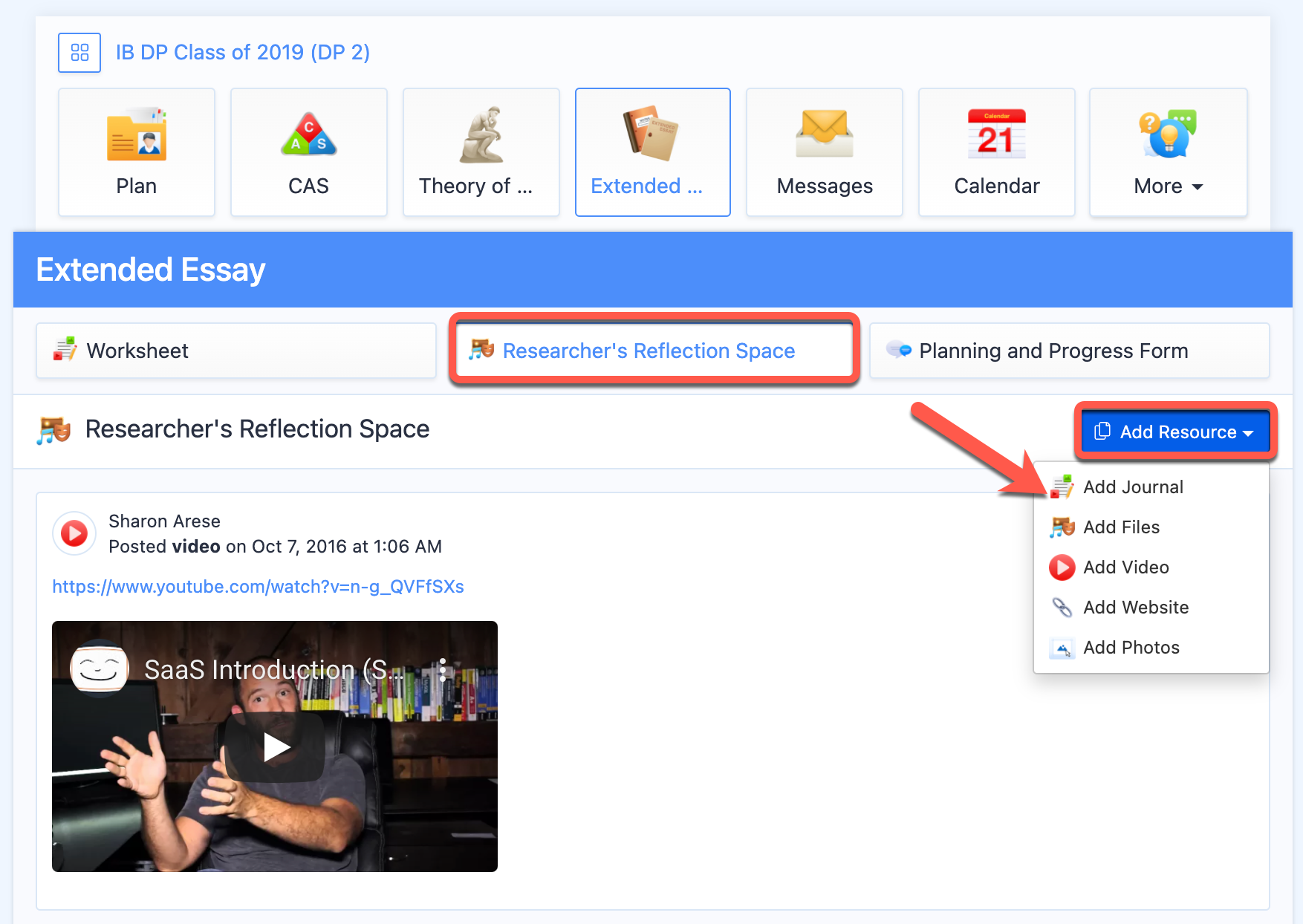 You can also Star, Edit, and Delete your Reflection entries.


Reflections on Planning and Progress Form
The Planning and Progress Form records your planning and progress, and the nature of your discussions with your supervisor.
You can add new reflection sessions in the comment boxes, and add the IB DP year and date of each by clicking on the calendar icon in the Date box. The reflection box will lock 5 minutes after you have finished entering text and clicked Save Changes.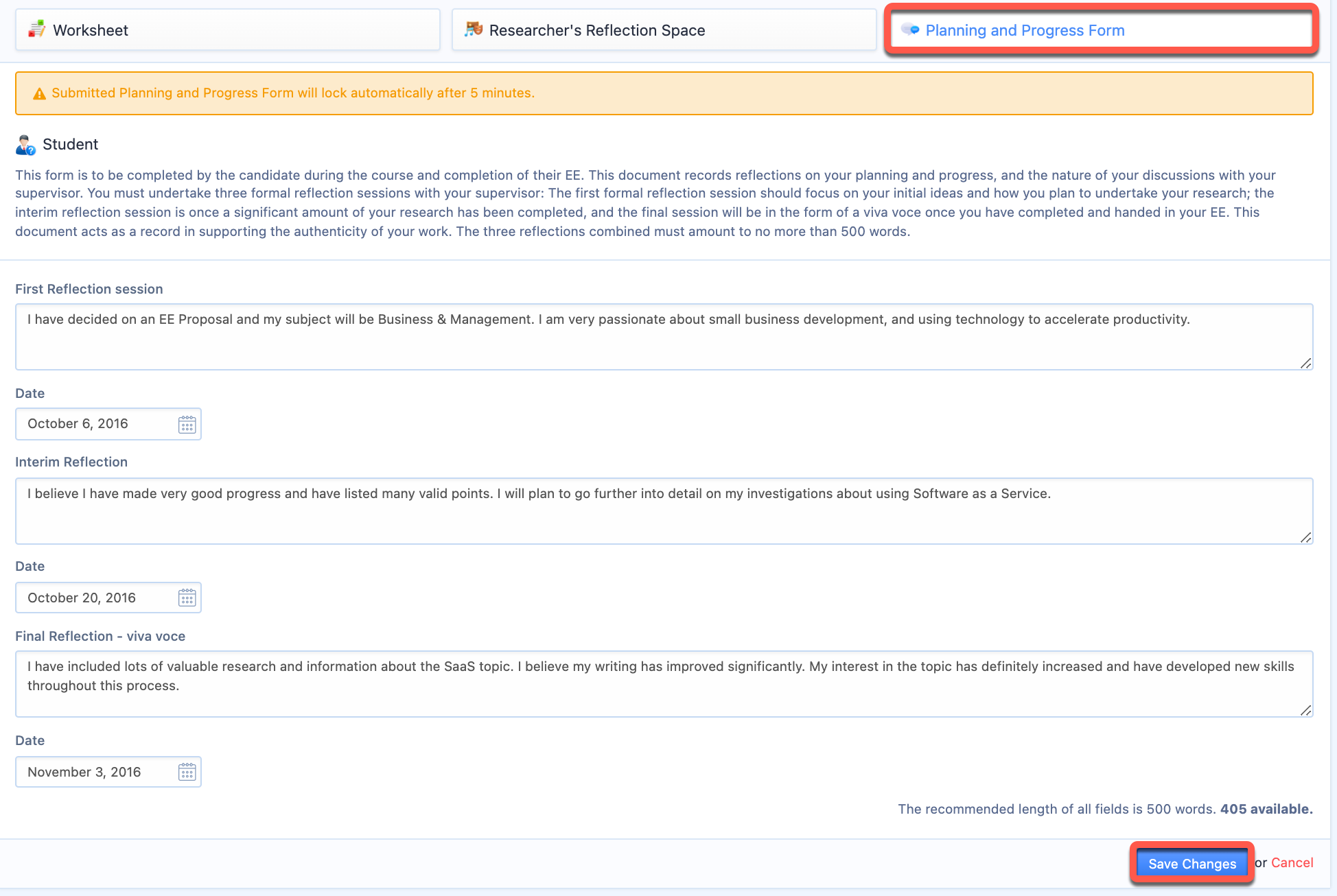 Note: In line with IBO regulations, you cannot re-edit your reflection. This can be unlocked by your school administrator as needed.