Introducing the Passport
ManageBac Passport bundles up five amazing Faria services to support every step of your IB journey as a Coordinator, Educator or Student.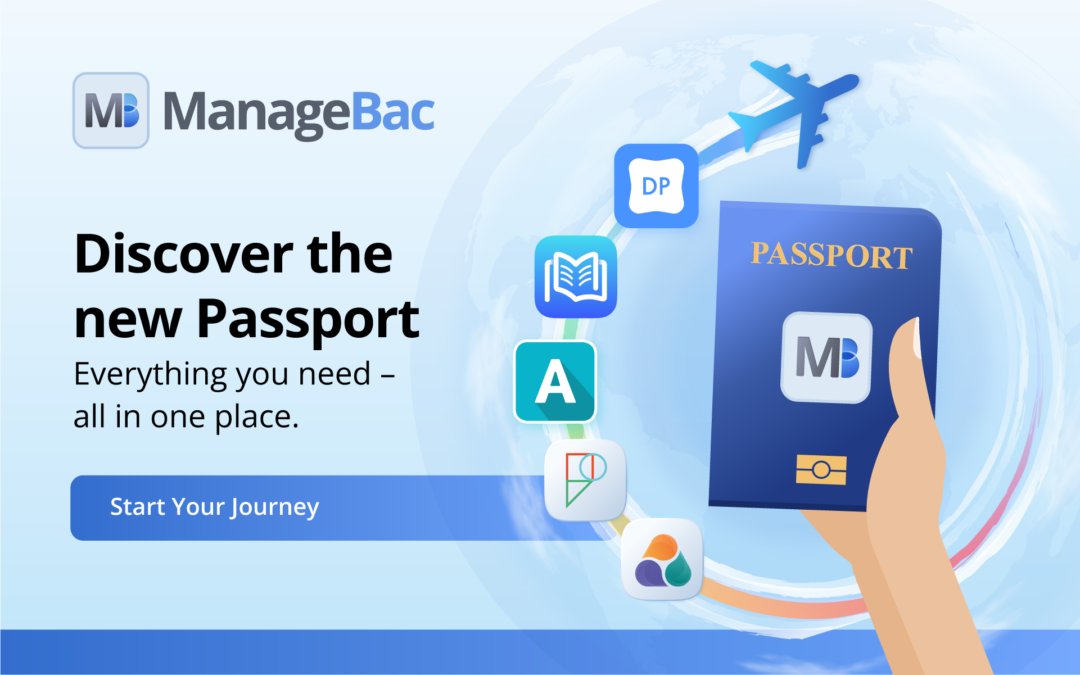 Launched to coincide with our 15-year anniversary, ManageBac Passport combines five innovative Faria services within one integrated and streamlined solution – covering everything you need for the IB Diploma and Career-related Programmes, from start to finish.
Built by former IB DP students with the future in mind, ManageBac has been supporting the IB Diploma school community for over fifteen years. Now, through ManageBac Passport, this experience is combined with the rich heritage and innovation of Oxford Study Courses, Pamoja, AssessPrep and MiniPD to offer unrivalled levels of support across all aspects of teaching, learning and assessment.
What's included?
ManageBac Passport provides your school with an ultimate collection of services, all tailored to the unique context of the IB Diploma and Career-related Programmes:
Learning PlatformFully aligned to the IB Standards & Practices and supported by a host of powerful integrations, ManageBac scaffolds and streamlines all aspects of teaching and learning, including curriculum management, lesson planning and delivery, and assessment.
Study & Exam PreparationOSC Study provides clear and structured opportunities to consolidate students' understanding and skills – with expert-written revision guides, explanatory videos, interactive flashcards and a suite of IB exam papers, all directly linked to the latest DP syllabus.
Online AssessmentAssessPrep allows you to create rich and interactive online assessments, drawing on a diverse range of question types and tools, and a comprehensive DP question bank. Sophisticated auto-marking and analytics deliver quick insights into your students' progress.
Ready-Made ResourcesTake your online teaching and learning to the next level, with pre-prepared units, lessons and materials – all matched to the latest DP syllabus. Pamoja Lesson Suite supports teachers in engaging with the latest digital methodologies, while saving vital time and effort.
Professional DevelopmentMiniPD represents an entirely new way to deliver professional development. Within a global community of learners and coaches, MiniPD shifts how learning happens to make the experience more personal, flexible and impactful – helping educators to drive their own development.
Passport Benefits
ManageBac Passport offers unbeatable value for your school – allowing you to leverage the combined power of five Faria Services within a single package, and with pricing starting from just $38* per student. (*Please note that pricing varies by region; contact our team for a quote tailored to your school).
FAQs
1.

How can I enable a trial for the ManageBac Passport and what does it cost?

Our Services Manager allows ManageBac Administrators to easily enable a 30-day Self-Service trial, it can be accessed via Settings > Services Manager within ManageBac. Otherwise, please reach out to us at sales@managebac.com, and your account manager will enable a trial for you within 24 working hours.

ManageBac Passport is provided as an annual subscription service, and the cost varies with the total number of students. For more information and an official quotation, please contact us with your student numbers at sales@managebac.com.
2.

We already use ManageBac for our Diploma/Career-Related cohort, can we upgrade in the middle of our billing cycle?

Absolutely, upon confirmation from your team, we will be happy to upgrade your subscription and issue a supplementary invoice on a pro-rata basis to match your billing cycle.
3.

Do these services integrate with each other?

ManageBac Passport is a fully integrated & complete solution for the Diploma/Career-Related Programme(s). All the services included in the Passport work seamlessly with one another.
4.

Is the Passport available for the Middle/Primary Years Programme(s) as well?

Currently, the Passport offering is only for the Diploma and Career-Related Programme. Having said that, ManageBac is our learning platform that supports planning, assessment, reporting, and analytics for the IB Continuum, Cambridge International, Pearson Edexcel, Advanced Placement, and other National/Build-Your-Own Curricula as well. Feel free to contact our sales team here.
5.

We are interested in one (or two) of the above services, can we make a standalone purchase?

Yes, these services can be availed individually as well. However, the Passport offering serves as an all-in-one, budget-friendly solution for your school & Diploma/Career-Related Programme students.

For more frequently asked questions, please see https://www.managebac.com/passport